Jill Tahmooressi, the mother of jailed in Mexico Sgt. Andrew Tahmooressi went to Facebook to dispel the earlier rumors about an immeent release of the jailed, tortured and starved Marine with severe PTSD. Jill Tahmooressi mentions in her Facebook post that not only are the rumors of his release false, but the filthy Mexican government forces the prosecutor to
'respond' to Tahmooressi's attorney resting his case. This will take at least another a couple of weeks.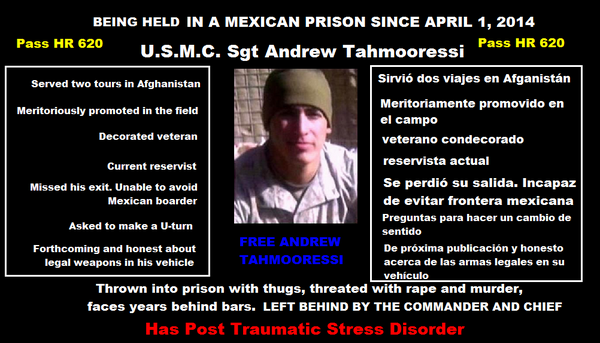 Jill Tahmooressi: Rumors of Andrew's release untrue – at least another couple weeks
Ebola in Hawaii? It's possible as a patient has been placed in isolation in a Honolulu possible with possible Ebola. This is from Obama's birth state too.
Patient in isolation in Honolulu hospital, possible Ebola
Michelle Obama has opt-ed out and wouldn't campaign for Senate Democrats. This according to a New York Times story expected tomorrow, but details posted by Drudge Report tonight. Even the first witch has come to realize that the Democrat majority in the Senate is toast, so she doesn't want to waste time away spending tax payer dollars and eating like a pig. The first witch will campaign for some Democrat governor candidates, but not Senate.

Michelle Obama wouldn't campaign for Senate Democrats
Why is the first witch not campaigning for Senate Democrats? One reason is she's mad because they haven't been supportive enough in her Nazi style kids lunch programs that have been dropped by several schools already. She also 'hates' to be away from home. You know, that 24/7 room service is hard to give up.
Read more
New York Democrat William Scarborough arrested in expense scam.Scarborough, the Queens Democrat Assemblyman was first elected 20 years ago in 1994. According to Jammie Wearing Fools, he was was arrested following an investigation of his daily expense claims. As is typical, this corrupt Democrat's arrest only got a few mentions in the New York local media, and many of them left out his party identification. I can't imagine why.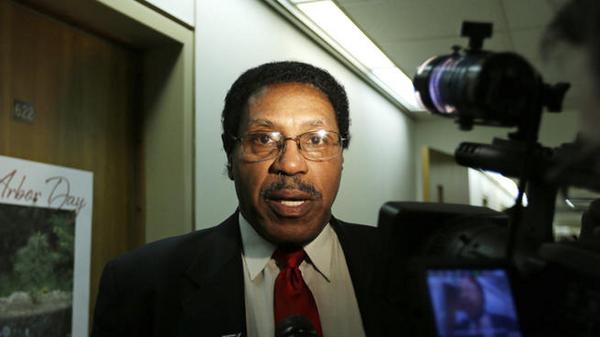 New York Democrat William Scarborough arrested in expense scam
8:24 am this morning, Obama propaganda minister Josh Earnest told CNN that he 'stands solidly behind' Secret Service Director Julia Pierson. Just about four hours later, the Obama regime forced out Pierson after her failures at the Secret Service. This is the same Obama regime we are supposed to trust with our health care, our national security and destroying ISIS? The video explains it all.
8:24 am – Obama stands 'Stands Solidly Behind' Julia Pierson VIDEO
Thanks Obama! Think Obama allowing Ebola into America some big 'right wing conspiracy'? Then tell that to Jessica Vaughan, the director of Policy Studiess at the Center for Immigration Studies.
Obama responsible for letting Ebola into America
Sgt. Andrew Tahmooressi has been held hostage by the Mexicans in a jail since March 1st. The filthy Obama regime still hasn't lifted a finger to secure his release. Tahmooressi, who has been beaten, tortured and starved in the Mexican prison also has severe PTSD. So what's the Obama regime's response when asked about Tahmooressi? It's 'Go ask the State about that guy.'
Obama and his regime not concerned about Sgt. Tahmooressi
Question to WH: Is this WH concerned about Sgt. Tahmooressi being in a Mexican prison w/ PTSD. WH: Ask the State Dept. about that guy

— Katie Pavlich (@KatiePavlich) October 1, 2014
So this is the Hussein regime. He trades five dangerous terrorists for an Army deserter like Bowe Bergdahl, yet has no concern about a Marine with severe PTSD held basically hostage by Mexico who made a wrong turn. Welcome to Obama's AmeriKa.
Secret Service Director Julia Pierson resigns, another incompetent Obama regime hack has been forced to resign because she couldn't handle the Secret Service. Julie Pierson becomes just the latest Obama regime hack having to resign because of their inability to do their jobs. Pierson joins Eric Shinseki and Kathleen Sebelius as the biggest embarassments in the Obama regime forced to resign because of their failures.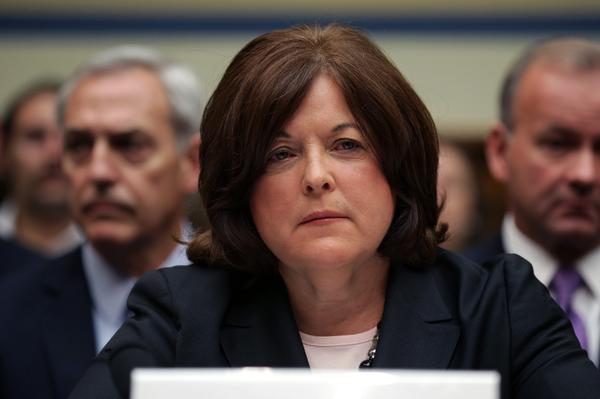 Secret Service Director Julia Pierson resigns
Hit the road Julia Pierson. You should have been fired a long time ago.
Read more
Elijah Cummings, Chuck Schumer and even Lindsey Graham are all calling on Secret Service Director Julia Pierson to resign, or be fired. Of course we all know Obama. He sticks with his pawns as long as he can before he's ready to toss them under the bus.
Chuck Schumer becomes latest Democrat to call for Secret Service director's resignation.

— Jeremy W. Peters (@jwpetersNYT) October 1, 2014
And the beat goes on @GrahamBlog says it is now time "for new leadership at the agency" #SecretService

— Major Garrett (@MajorCBS) October 1, 2014
Even Botox Pelosi is saying it's time for Pierson to go.
Pelosi joins Reps. Elijah Cummings & Jason Chaffetz in calling for Secret Service director to resign or get canned http://t.co/GVMtFq8P70

— Francesca Chambers (@fran_chambers) October 1, 2014
Nancy Pelosi a war monger? Wow, how things in this country have changed. According to The Hill, stretch Pelosi says to expect a war authorization vote on ISIS when the lame-duck session of Congress resumes after the November 4th, mid-term elections. Old botox Pelosi even wants to have the vote in the lame duck session without waiting for King Hussein Obama t request it. Boehner on the other hand wants to wait for Obama's request. The Democrats are becoming the 1960's LBJ Democrats, in their lust for war.
ISIS war authorization vote in lame-duck session of Congress?