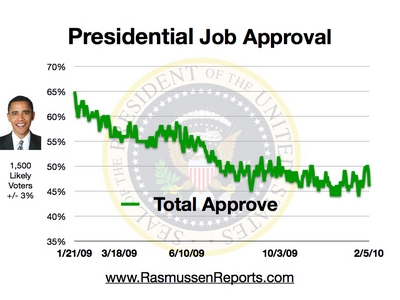 After his brief bump in the polls, mainly due to Democrats who approved of Obama's disgusting attack on the Supreme Court judges, and believing the lies of no lobbyists in the administration, etc, people are waking up again. Today's Rasmussen Poll shows Obama's approval rating back down to 46%, after hitting 50% for a few days after the address.
New data released this morning shows that the American people overwhelmingly reject the basics of Keynesian economics. Only 11% believe more deficit spending is needed to spur the economy while 70% say deficit cutting is the answer.

The Presidential Approval Index is calculated by subtracting the number who Strongly Disapprove from the number who Strongly Approve. It is updated daily at 9:30 a.m. Eastern (sign up for free daily e-mail update). Updates are also available on Twitter and Facebook.

Overall, 46% of voters say they at least somewhat approve of the President's performance. Fifty-three percent (53%) disapprove.