Barack Hussein Obama becomes the first U.S. President to hold press conference without any American Flags present
Here is yet another first for the "historic President." One thing that few people noticed while Obama gave his press conference at the White House last week was missing. The American Flag! Progressive liberal's can't use the excuse of "lack of time in planning" because this press conference was known about nearly a week before it occured. Look at this picture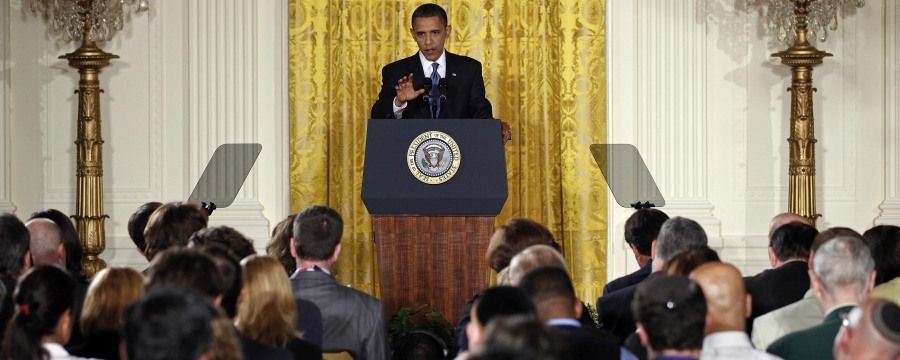 Picture from AIPNEWS
Behind him was just yellow curtains, and a couple of gold columns with chandeliers, but no American flag! A poster at Free Republic researched and looked at all photos of many press conferences (not press briefings) of past presidents. What the poster found was Obama is the only President to not have an American Flag or flags standing proudly behind or off to the side.
So, maybe there was another motive for the flags absence. We know Obama (or his handlers) carefully choreograph his image, his appearances… It's why he's so teleprompter-dependent. Surely he and his advisers know that flag issues have been a lightning rod — even before he was elected. I think this was deliberate. Could it be that Obama really is ashamed of America? Could it be that he thinks he is the citizen of the world which has no flag? Ladies and gentlemen this is very disturbing coming from the office of the Presidency. This is not normal to not have the symbol of the United States and its government in the east room of the White House and it is not very Presidential either. Many patriotic brave men and women have died under the stars and stripes called old glory. This fiasco coupled with the President skipping the laying of the Wreath at the Tomb of the Unknown Soldier at Arlington Cemetary this Memorial Day speaks volumes of the man (or Usurper) that sits in the Oval Office. What say you?
http://www.fireandreamitchell.com/2010/05/29/barack-hussein-obama-becomes-the-first-u-s-president-to-hold-press-conference-without-any-american-flags-present/
Barack HUSSEIN Obama
obama
Here is yet another first for the 'historic President.' One thing that few people noticed while Obama gave his press conference at the White House last week was missing. The American Flag! Progressive liberal's can't use the excuse of 'lack of time in planning' because this press conference was...
webmaster@fireandreamitchell.com
Administrator
Fire Andrea Mitchell!
\