Obama FAIL: Obama hits record low approval rating on Rasmussen polling at 42 percent
After receiving very little bounce from his boring oval office speech about the Iraq combat mission coming to an end, Obama's approval ratings are starting to free fall again. On Rasmussen's latest polling, the daily Presidential Tracking Poll shows that 24% of the nation's voters Strongly Approve of the way that Barack Obama is performing his role as president. Forty-five percent (45%) Strongly Disapprove, giving Obama a Presidential Approval Index rating of -21. This is one point off his record low PAI of -22. His overall approval rating has sunk to 42%, which has tied his record low for Rasmussen Polling. 56% of those polled disapprove of Obama. On Gallup, Obama sank to 43% approval which is just two points off his record low approval and 49% disapproval, also two points off his record.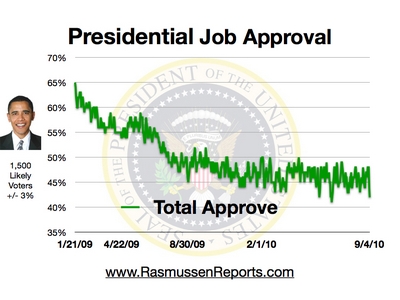 Overall, 42% of voters say they at least somewhat approve of the president's performance. This matches the lowest approval rating yet measured for President Obama. Fifty-six percent (56%) now disapprove.
Comments