Here are the facts for Piers Morgan and other anti-gun leftists using Great Britain as comparison
For Piers Morgan and the rest of you leftist loons trying to use Great Britain as comparison to America for it's 'anti-gun' violence, here are some statistics that are just a bit too inconvenient. Yes, I know leftists, whomever made the following image calls Piers Morgan 'Pierce.'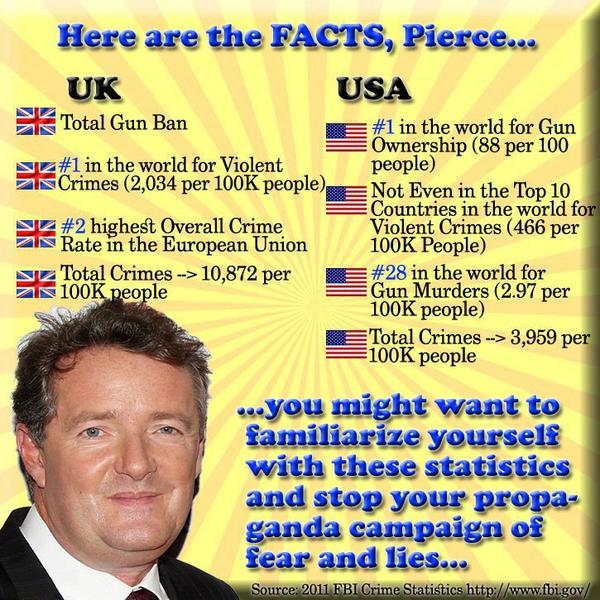 Now go back to trying to gin up ratings using something else Piers, like how America is developing a monarch like your homeland.
http://www.fireandreamitchell.com/2013/01/26/here-are-the-facts-for-piers-morgan-and-other-anti-gun-leftists-using-great-britain-as-comparison/
Gun Control
Gun Control
For Piers Morgan and the rest of you leftist loons trying to use Great Britain as comparison to America for it's 'anti-gun' violence, here are some statistics that are just a bit too inconvenient. Yes, I know leftists, whomever made the following image calls Piers Morgan 'Pierce.' Now go back to...
webmaster@fireandreamitchell.com
Administrator
huss31nch1mp
Fire Andrea Mitchell!
h1
Comment Policy: Everyone is free to comment, even progressive liberals. If you want to debate the posts, or others, do so in a respectful way. Do not turn this comment section into to leftist insult cesspool. Leftist insults and violence related keywords will trigger moderation. Also, all off site links most be verified by moderators. You can thank leftist spammers for this policy.