People in California being told turn in their guns for ObamaCARE
There are a lot of grifters and hippies in California who possibly will sign up for ObamaCARE. If you own a gun, be prepared to answer a questionnaire about it, and in some cases, you will be required to turn in your firearms in exchange for ObamaCARE. Check out this Facebook post that revealed California is now requiring people not only to answer questions if they own firearms, but if they want health care, they must turn the firearms in. This incident happened in Imperial County (in Southern California near San Diego.)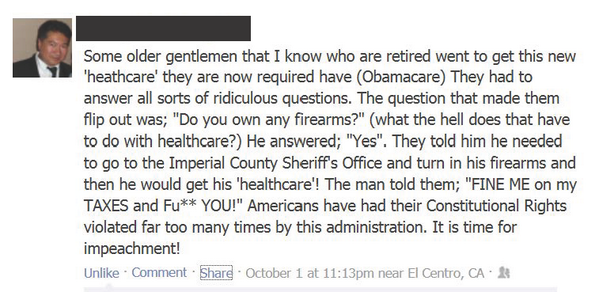 People in California being told turn in their guns for ObamaCARE
The story was posted at Weasel Zippers, after a Tweet from someone named @sealystar
Welcome to Obama's AmeriKa.
http://www.fireandreamitchell.com/2013/10/04/people-california-told-turn-guns-obamacare/
People in California being told turn in guns for ObamaCARE
Gun Control
Obama's Government shut down October 2013
ObamaCARE
Gun Control,Obama's Government Shut Down of October 2013,ObamaCARE
There are a lot of grifters and hippies in California who possibly will sign up for ObamaCARE. If you own a gun, be prepared to answer a questionnaire about it, and in some cases, you will be required to turn in your firearms in exchange for ObamaCARE. Check out...
webmaster@fireandreamitchell.com
Administrator
Fire Andrea Mitchell!
\