Time to change the state name of Oklahoma? It means red people
Now that the government shut down is over and the debt ceiling is raised, leftists and the media can go back to really important things, like how 'offending' the name Redskins is for a football team. It's still going on, as even on the Kelly File, Dana Loesch had to school arrogant far left progressive liberal Democrat Richard Fowler about why Redskins isn't offensive. While we are on the subject of how 'offensive' the name of the football team is, do we have to change the name of Oklahoma too to not 'offend' people? The name Oklahoma comes from the Choctaw phrase okla humma, which literally means red people. Obviously, this must be offensive.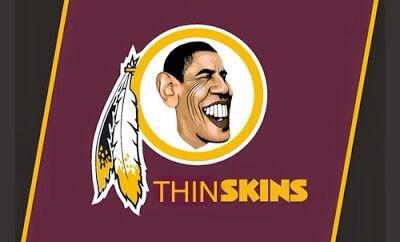 Change the name of the Redskins to the Washington Thinskins
The name Oklahoma comes from the Choctaw phrase okla humma, literally meaning red people. Choctaw Chief Allen Wright suggested the name in 1866 during treaty negotiations with the federal government regarding the use of Indian Territory, in which he envisioned an all-Indian state controlled by the United States Superintendent of Indian Affairs. Equivalent to the English word Indian, okla humma was a phrase in the Choctaw language used to describe the Native American race as a whole. Oklahoma later became the de facto name for Oklahoma Territory, and it was officially approved in 1890, two years after the area was opened to white settlers.
I heard NBC hack Bob Costas wrote an op-ed in the L.A. Times doubling down his 'Redskins' is offensive crap. We all "eagerly" await Costas' opinion on a state being called the Red People.
Comments