LOL! Now that Kathleen Sebelius has been kicked to the curb by Obama after her disasterous perform as HHS Secretary, the New York Times says Sebelius is considering a run for Senate in Kansas! That should be a real show. Kansas hasn't elected a Democrat to the Senate since the 1930′s. I can already see her campaign slogan now! Kathleen Sebelius 404 Senate! The old hag is 65 years old and doesn't look a day over 85.
Harry Reid really wants the Bundy Ranch. The so called 'backing off' over the weekend apparently was just a ploy to get to get people to back off and back away. According to Ben Swann, Sheriff Richard Mack of the Constitutional Sheriffs and Peace Officers Association has revealed stunning information on his radio show: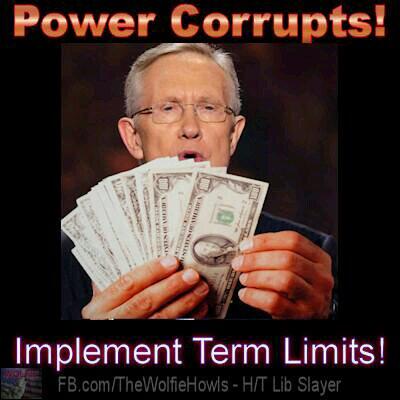 Sources inside BLM say feds are planning raid on Bundy Home
Mack said that he has received intelligence from multiple, credible sources inside the BLM and the Las Vegas Metro that there is "no question" that the federal government is planning a raid on the Bundy home and the homes of their children who live on the property.
Kayvon Edson is Boston's biggest douchebag. Edson, the so called art student pranced barefoot down the marathon race route (which is next week) yelling 'Boston Strong' and leaving an unattended backpack. The people in Boston were scared thinking it was a repeat of last year. It turned out the backpack left by Kayvon Edson idiot contained a rice cooked filled with confetti.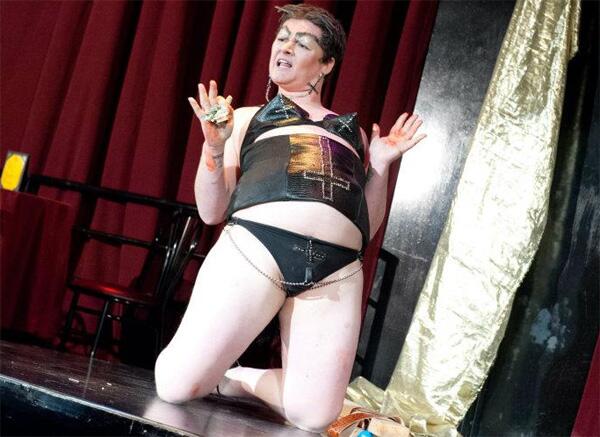 Kayvon Edson – Boston bomber hoax is an art student – Image credit EveryJoe
A South Korean ferry Sewol has sunk off the coast of Incheon, just west of Seoul. At least two people are dead, hundreds of others are unaccounted for. The Sewol ferry was carrying mostly students that were on a four-day trip to the resort island of Jeju.
Korean ferry Sewol sinks – two dead, hundreds missing
The ferry, Sewol, was carrying 447 passengers and 27 crew members — among them, about 320 students.
The group left from the port city of Incheon, just west of Seoul, for a four-day trip to the resort island of Jeju.
Around 9 a.m. local time, the ferry sent out its first distress call. It had begun to list.
A rescued student, Lim Hyung Min, told CNN affiliate YTN that he heard a loud bump. The ferry began to sink after that. Everyone was ordered to don life jackets and jump, he said.
Lim said he jumped into the sea before swimming to a rescue vessel.
"I had to swim a bit to get to the boat to be rescued," he said. "The water was so cold and I wanted to live."
Meet Michael Roop. He is one of Harry Reid's BLM goons from Oregon, and he apparently is the one who threw a woman to the ground near the Bundy Ranch last week. Michael Roop is quite the man, throwing down a 57 year old woman and hiding behind a German Shepard dog.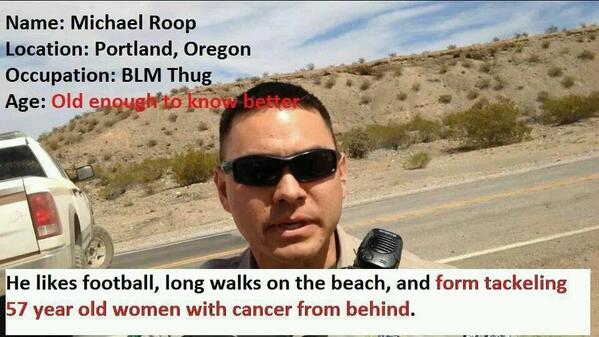 Mike Roop Oregon BLM Ranger threw woman to ground near Bundy Ranch
Michael Roop is so famous now, that he even made the website Ripoff Report.
Bad Ben Carson! You strayed off the progressive liberal plantation during your 2013 National Prayer Breakfast speech. Obama was so offended that the White House demanded that Ben Carson apologize for his speech which preached conservative ideals. Ben Carson refused to apologize.
Obama demanded apology from Ben Carson after 2013 National Prayer Breakfast speech
"But within a matter of minutes after the conclusion of the program, I received a call from some of the prayer breakfast organizers saying that the White House was upset and requesting that I call the president and apologize for offending him. I said that I did not think that he was offended and that I didn't think that such a call was warranted."

The passage was verified Tuesday by publisher Sentinel, a division of Penguin Group (USA).
Obama couldn't be bothered with attending the one year memorial of the Boston Bombing by Russian Muslim terrorists. Instead, he sent idiot Joe Biden who said the Boston Bombing was 'worth it.' Yes, Biden the moron actually said the terrorist attack was worth it. Imagine for a second of Dick Cheney said in 2002 on the anniversary of 9/11 that it was worth it. Yea…
Dumbass Joe Biden says Boston Bombing was worth it
VP Biden just told Boston bombing survivors: "It was worth it"

— RickLeventhalFoxNews (@RickLeventhal) April 15, 2014
VP Biden: "my god, u have survived & u have soared. it was worth, it was worth it. i mean this sincerely, just to hear each of u speak."

— RickLeventhalFoxNews (@RickLeventhal) April 15, 2014
One heartbeat away.
Looks like Harry Reid's BLM is getting ready for a really big land grab. The next target appears to be 90,000 of acres of Texas Ranchers' Land near Red River. This amounts to about 116 miles of land near the Texas-Oklahoma border. On this Red River land grab, the Texas Ranchers have a deeed and have paid taxes on for over a hundred years. But of course, that doesn't matter to the BLM thugs.
According to the BLM, the Red River is always Accretion (gradual accumulation of sediment) to the south, and always Avulsion (rapid formation of a new river channel) to the north. So according to the BLM, the boundary only moves one direction, never in the direction that favors the ranchers. They are looking to re-draw the entire portion of the Red River boundary. That includes 90,000 acres of land along a 116 mile stretch of the river.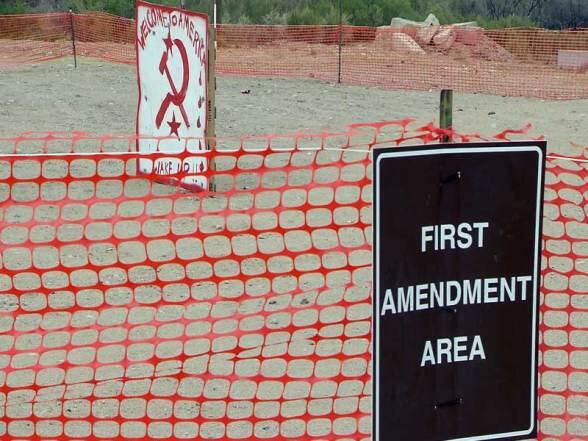 BLM next land grab: 90,000 acres of Texas Ranchers' Land near Red River
David Embree is a far left Missouri State University professor of 'religious studies.' Back in 2012, Embree invited anti-Semite Frazier Glenn Miller to lecture his class. Embree claims it was to illustrate the hatefulness of white supremacy to his students. Really David Embree? You couldn't just play a video that anti-Semitic scumbag to illustrate his hate? You actually invite him on campus ground to lecture your class? Give me a f*cking break. Conservatives can't even get invited on college campuses to speak, but bring a felon, neo-Nazi to speak about white supremacy is ok? This is why the progressive liberal education system is such a failure. Shame on you David Embree and Missouri State!
David Embree – far left Missouri State University professor invited Frazier Glenn Miller lectured class in 2012
Mike Bowman became the latest victim of black thug mob violence. Riding his bike this past Saturday night, Bowman was attacked by the black thug mob, knocked off his bike, threw a bottle at his head, then punching him. As usual, in the seeBS Baltimore write-up about this story (which isn't getting any national coverage) there is no mention that the attackers were black and the victim was white. Yet again, another hate crime that wouldn't be called a hate crime by the political correct media or probably the Baltimore police. Watch the following video:
Black thug mob attacks whitey Mike Bowman in Baltimore (VIDEO)
Nazi Frazier Glenn Miller finally found a Jew he liked. Max Blumenthal, a far left progressive liberal Democrat hack who previously worked for Media Matters was a favorite of Miller. Max Blumenthal is notorious self loathing Jew who constantly bashes conservatives and Israel. Kind of like Nazi boy Frazier Glenn Miller. I guess those Southern Democrats aren't really all that different than the 21st century Democrats of today.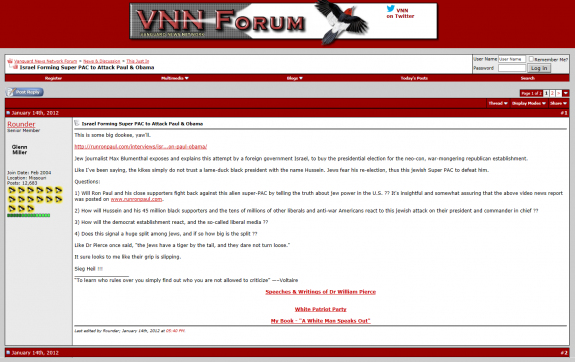 Nazi Frazier Glenn Miller found inspiration from progressive Democrat Max Blumenthal
Neil Kornze is the BLM Chief in charge of the whole Bundy Ranch fiasco. Neil Kornze also just so happens to have been a senior adviser to Harry Reid on land-use issues. You just can't make this stuff up.
Neil Kornze BLM Chief was senior adviser to Harry Reid on land-use issues
Neil Kornze is responsible for rounding up Bundy's cattle, and their mistreatment. Kornze is also responsible for spending $966,000 tax dollars to a company in Utah to help round up the cattle.
Neil Kornze, the new head of the Bureau of Land Management recently served as senior policy adviser to Nevada's Democratic Sen. Harry Reid.

— Dale Randolph (@Warming_Whiners) April 13, 2014
Harry has a lot of profit at stake,he will not let this go.Nevadan BLM Chief Former Reid Adviser Neil Kornze http://t.co/Sj4WnRTSqM #Bundy

— Peni Basse (@pmbasse) April 14, 2014

See, you don't have to be from Chicago or New Jersey to be a corrupt bastard. Harry Reid proves that they are just as corrupt out in Nevada. He's supported by casino union thug money. Harry Reid even took money from the Koch Brothers in 2004, the same people he whines about today.
Read more