These spoiled brats just wouldn't stop. The thugs have now been successful in closing down the St. Louis mall to black friday shoppers, and merchants trying to cash in on the shopping frenzy. Doesn't anyone really believe this is really about Mike Brown anymore? It's more like this a bunch of anarchist thugs throwing tantrums like spoiled brats.
#BREAKING Ferguson protesters close St. Louis shopping mall http://t.co/JXJ4dj8c6m

— USA TODAY (@USATODAY) November 28, 2014
St. Louis Galleria Mall has reportedly been shut down by #boycottblackfriday protestors. In my… http://t.co/ODP5KSsBQZ

— Helen Stride (@loveandfriction) November 28, 2014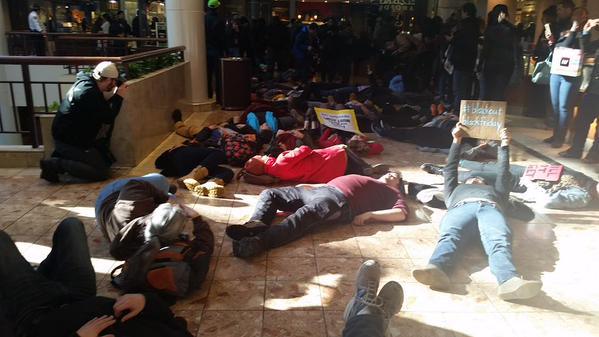 Ferguson protesters close St. Louis shopping mall
Target is next on the Mike Brown Ferguson thug mob agenda. They've already shut down one Walmart in Ferguson. Now they are trying to (some reports say they have actually) shut down Target in Brentwood near Ferguson. Because, you know, all those Brentwood Target shoppers are directly responsible for shooting Mike Brown or something.
Mike Brown mob tries to shut down Target
One Walmart & one target already shut down in St Louis. And the night isn't over yet. #Ferguson #BlackOutBlackFriday

— Shawn Carrié (@shawncarrie) November 28, 2014

If these leftist losers insist on portesting, why not protest at the police station or something? WTF do Walmart and Target shoppers have to do with the death of Mike Brown?
Read more
A black thug named Juwanza Hoard in Georgia has 'allegedly' beaten up and robbed an elderly florist in Georgia. Why did the black thug Juwanza Hoard 'allegedly' assault the Red n Gold Florist in Forest Park? It's because he was mad that there wasn't more money in the cash register for him to steal. Such a wonderful individual.
The owner of the Red n Gold Florist in Forest Park was working alone when a man walked in with a knife and demanded money. Mayor David Lockhart says White opened the cash register, but it wasn't enough.
"He was upset it wasn't more and he commenced to beat her unconscious and so badly her eye socket has been completely destroyed," said Lockhart.
As usual, the media is silent, and out to lunch on this latest black on white hate crime, except the local Fox news station.
Lets reverse the situation for a minute. Say so white redneck rube beat up and robbed an elderly black florist. What do you think the national media reaction would be? What do you think the race hustlers reaction would be?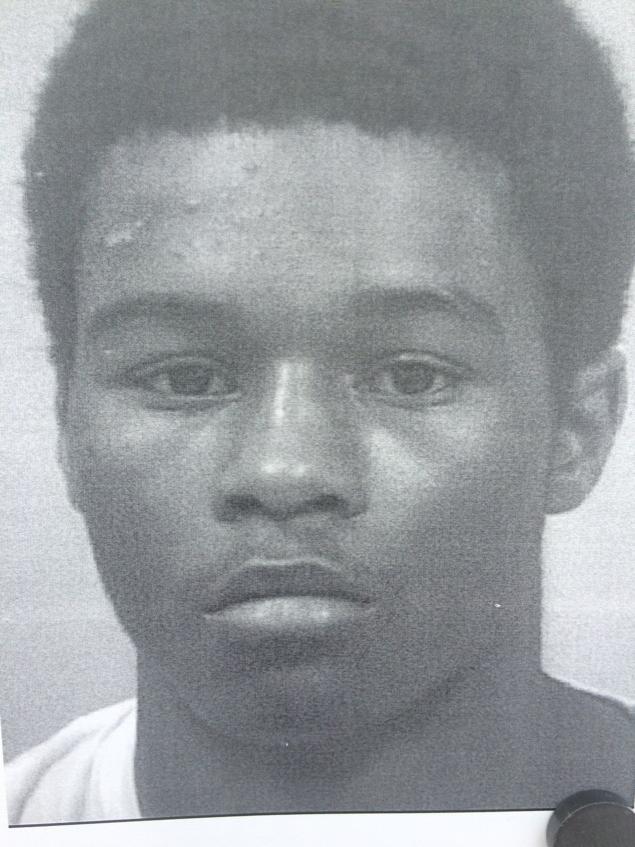 Black thug Juwanza Hoard beats, robs elderly florist – media silent
Maplewood Walmart is now under siege by the Mike Brown thug mob and they are bragging about it on Twitter:
So, here's what happened: #Ferguson #Walmart preemptively shut down. So a friend & I went to #Maplewood & acted sketchy to confuse cops.

— Keith Rose (@KWRose) November 28, 2014
Maplewood mo. Walmart patrons at the starting gate for 8 pm electronics sale.#Ferguson. A lot of cops too pic.twitter.com/WOaMs6TvLd

— Jesse Bogan (@JesseBogan) November 28, 2014
Just got word that protestors are inside the Maplewood Walmart. We protest. #Ferguson

— deray mckesson (@deray) November 28, 2014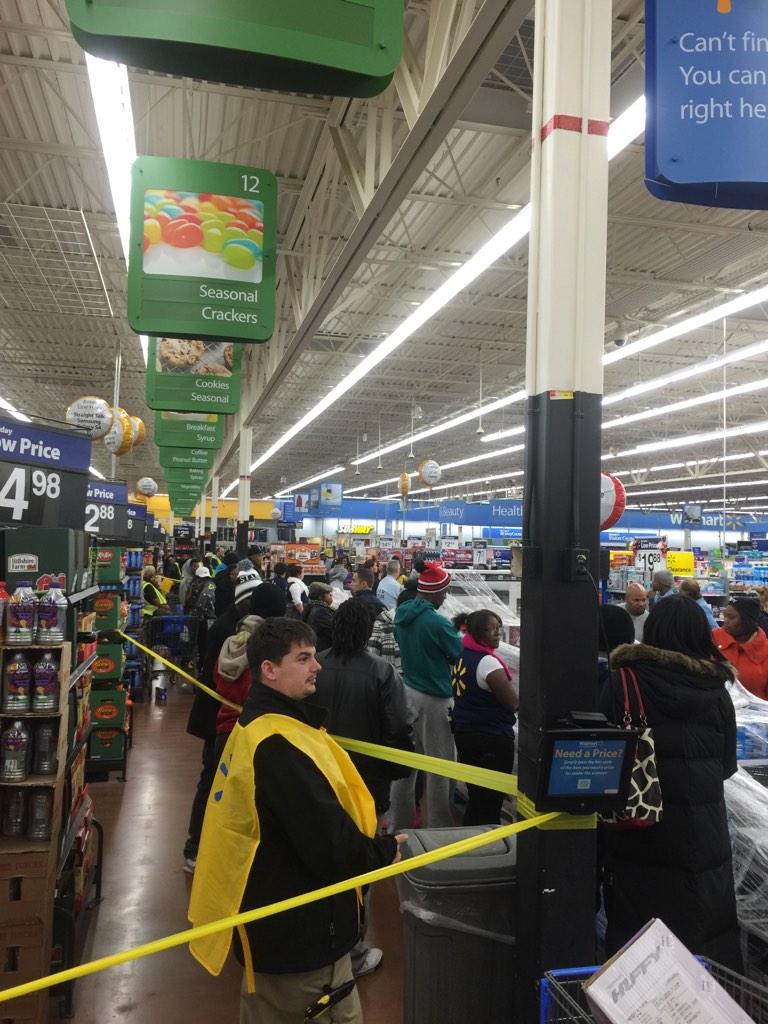 Maplewood Walmart under siege from Mike Brown mob
Violent Mike Brown thugs have forced the closure of Walmart in Ferguson. It's gotten so bad, tha National Guard had to be called in to deal with the mob thugs that forced Ferguson Walmart to close. Now that most people have eaten their Thanksgiving meal, most people's attention shifts to Black Friday and Christmas shopping. If you planned to go to Walmart in Ferguson, you are SOL.
NOW #Ferguson: Shopper showed up at @Walmart for deals, Store is Closed & guarded by PD + Nat'Guard (@CaseyNolen) pic.twitter.com/NcJFXTHSgS

— COMMUNICATION CENTER (@stacos) November 27, 2014
#Ferguson #Walmart closed. National Guard defending it. Who do you protect? Who do you serve? pic.twitter.com/FhgRB5plcj

— Keith Rose (@KWRose) November 27, 2014
If you are at Walmart in Bridgeton, you are the next target. Better wrap up that shopping quickly.
"We shut this one down. Let's go to Bridgeton," says protestor. Store closed since last night. #Ferguson #Walmart pic.twitter.com/FaDj43OXEx

— Casey Nolen KSDK (@CaseyNolen) November 28, 2014
Violent Michael Brown protesters force WalMart in Ferguson to close
There are also of problems in Kirkwood.
Read more
Liberal progressives failed (again) when they tried to shut down the Macy's Thanksgiving Day parade. They didn't get very far. The parade went on as scheduled, but watching the videos of the left wing lunatics stumble and bumble in yet another failure was worth the price of admission. Check out the following videos of leftists failing to stop the Macy's Thanksgiving Day parade.
So what's next for these nut jobs? The Hollywood Christmas Parade this weekend? The Rose Parade, or any other parade on New Years Day?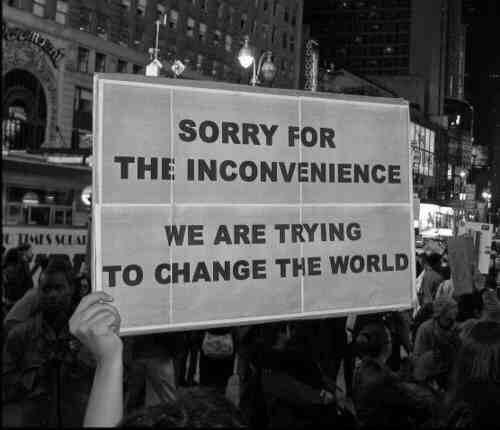 Watch video of pathetic leftists fail to shut down Macy's parade
Yea you losers. You are really going to change the world by interrupting a parade..
All of this in the name for a gangsta thug like Mike Brown. Their parents must be so proud.
Natalie Lcdubose, owner of Natalie's Cakes and more in Ferguson original goal was to raise $20,000 on Go Fund Me to fix the damage to her store caused by rioters in Ferguson in Monday. But this is America, and we are generous. As of Thanksgiving, Natalie's Cakes and more Go for Me has raised more than $235,000 in for the feel good story of the day. This iconic photo of Natalie Lcdubose was taken after her store was destroyed by Ferguson thug rioters on Monday.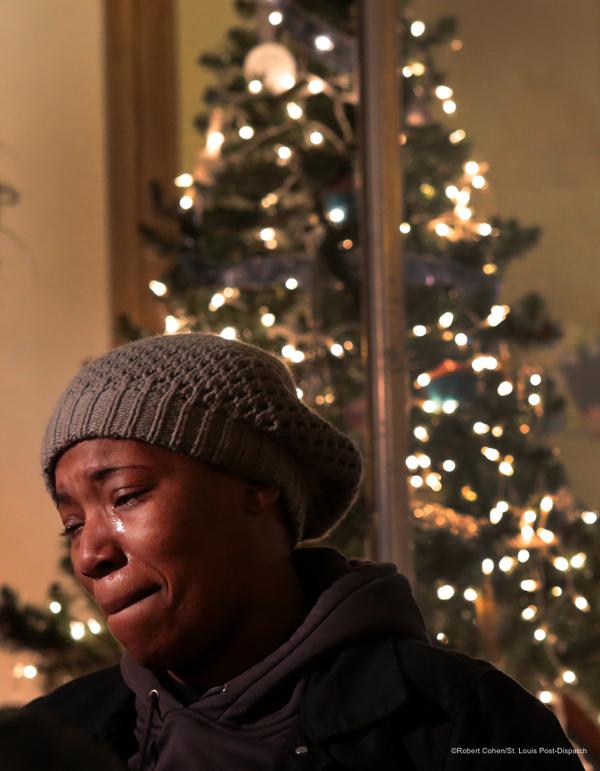 Natalie's Cakes has raised more than $230,000 on GoFundMe
Natalie Lcdubose also has a Facebook page if you would like to 'friend' her.
So let this sink in a bit to all the filthy leftists and race hustlers out here. In just two days, Natalie Lcdubose plea to raise funds for her cake shop has yielded over $235,000 in donations, when the original goal was $20,000. Over 7,200 people have donated in just two days. It must be all those racist white 'supremacist' Americans who have donated to Lcdubose. How much have you donated Al Sharpton, Jesse Jackson, or any of you race hustling media hacks?
How about you Obama or Joe Biden? Have much have you donated?
Read more
St. Louis Alderman Antonio French wouldn't come out and directly say it. But he kind of suggested that Louis Head's yelling 'burn this bitch down' after the non-indictment of Darren Wilson came out sparked the Ferguson riots on Monday. That left dozes of businesses burned, looted and destroyed. French said things got out of hand when Louis Head yelled 'burn this bitch down'
He was expressing a sentiment that a lot of folks in that crowd felt and when he said those words, though, the mood did change and things got a little bit out of control," said St. Louis Alderman Antonio French, who was there when Head made the remarks.
Duh. Ya think so Mr. French?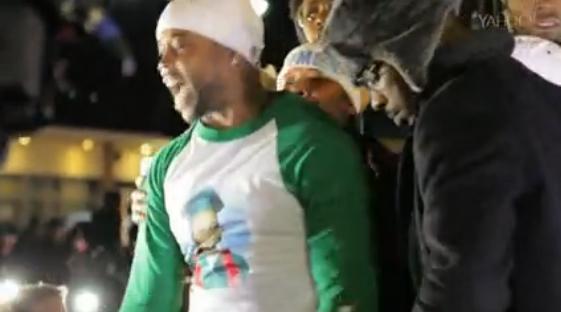 St. Louis Alderman Antonio French says things got out of hand when Louis Head yelled 'burn this bitch down'
Guess who Time Magazine has nominated for one of their 'person of the year'. None other than the Ferguson rioters! Currently leading the 'poll' is Prime Minister of India, Narendra Modi. But in close second is none other than the Ferguson rioter. I suppose it would be fitting if the Ferguson rioter won Time's person of the year. They did have an article defending the rioting, looting and burning of buildings on Tuesday. Should the Ferguson rioter be named Time Magazine's person of the year, I suggest the following picture for their magazine cover.
Up for nomination Time magazine person of the year: The Ferugson rioter
Jason La Canfora decided to tweet and delete Arbeit Macht Frei. That's a Nazi slogan which means "work makes you free." Signs with this phrase were on signs at Auschwitz camps too. Arbeit Macht Frei is the title of The Libertines' song but is best known for having been placed over the entrances to numerous Nazi concentration camps during World War II. Well done CBS and Jason La Canfora. Your Nazi mask slips off yet again as you reveal what your entire organization is all about. Below is a picture of La Confore's Nazi tweet of Arbeit Macht Frei before he deleted it:
CBS now tweeting Nazi slogans Arbeit Macht Frei
Be proud CBS and Jason La Canfora. You just revealed once again what your true feelings are.