Apparently, left wing Buzzfeed Evan-McMorris-Santaro thinks signing a woman's torso is newsworthy, even when David Perdue didn't. The left wing hack for the left wing propaganda site claimed Perdue signed a woman's torso earlier at a Georgia campaign event. What David Perdue did sign was a diabetic woman's diabetic pump. The Senate race in Georgia is close, and left wing hacks like Evan McMorris-Santaro are desperate to try and push far left Marxist Michelle Nunn over the top. This blew up nicely in McMorris-Santaro's face and yet again embarassed Buzzfeed.
Buzzfeed hack Evan-McMorris-Santaro falsely claims David Perdue signs woman's torso
Jaylen Fryberg is the name going around on social media earlier as the name of the Marysville-Pilchuck High School. Jaylen Fryberg has been confirmed as to being the shooter. Fryberg did leave some ominous tweets in his Twitter timeline, including his last on October 23rd:
It won t last…. It ;ll never last….

— Jaylen Fryberg (@frybergj) October 23, 2014
another one from October 21st:
Alright. You fuckin got me…. That broke me

— Jaylen Fryberg (@frybergj) October 21, 2014
and this one from September:
I'm tired of this shit I'm sooo fucking done!!!

— Jaylen Fryberg (@frybergj) September 20, 2014
Reports are that Jaylen Fryberg was a popular kids, but recently bullied. We'll see later if this was in fact the Marysville-Pilchuck High School shooter. Other reports say he had a rough breakup with his girlfriend.
Right on cue, the patheic left wing nut jobs in this country have begun to politicizing the shooting at Marysville-Pilchuck near Seattle. You had to know this was coming. I just don't expect it so quickly. Here are a few gleeful leftists who are already politicizing the Marysville-Pilchuck shooting and guns. Maybe if the shooter used a hatchet like the Muslim in New York yesteday, they wouldn't mind as much.
Marysville Pilchuck High School – https://t.co/TpVAfLDdDw … OMG – so furious at #TeaParty #GOP Pro- #Guns FU @NRA #NRA #nutjobs #tcot #STOP

— Laurie (@detous) October 24, 2014
Hey look another school shooting. But I guess this isn't the right time to talk about restricting access to guns either, right?

— Dr. Dave (@Neurocat) October 24, 2014
WE THE MAJORITY HAVE SPOKEN, LOUD & CLEAR. Guns make us unsafe, Guns make us dead, Guns NEED TO BE REGULATED. #BackgroundChecks #NOTONEMORE

— Christine Holbrook (@christineyhsd) October 24, 2014
Exactly!! "NO TO GUNS" RT@MichaelWelchAct: This school shooting nonsense has got to stop. People shouldn't feel terrorized to go to school."

— Shada (@Utopia76) October 24, 2014
The left can't even let the blood dry before going into their anti-gun rants. So typical, so pathetic.
Being that this near Seattle, I'm going to assume the gunman was some pasty white grungy male with mental problems. If this turns out to be a Muslim, these left wing nuts like scatter like cockroaches.
Let me sum it up for you about how leftists are:
Leftists: don't judge Muslims on actions of a few.
On guns – judge all gun owners on actions of a few.
Yea. Leftists = hypocrites.
Read more
Shooting has been reported at Marysville-Pilchuck High School near Seattle. The shooter is still believed to be at large. As of yet, we don't know if their are any injuries are causalities at Marysville-Pilchuck High School as this news is just breaking.
Update: 3 people shot dead, including gunman from self-inflicted gunshot wounds.
UPDATE: 3 reported dead, several injured in shooting at Washington state high school http://t.co/dolPuhHQz7

— Fox News (@FoxNews) October 24, 2014
Students seen leaving #Marysville-Pilchuck High School with their hands in the air. Reports of gunfire – KIRO pic.twitter.com/U0RPTTxdl5

— Brian Ries (@moneyries) October 24, 2014
According to KOMO news, multiple people have been shot at Marysville Pilchuck High School. Not known if shooter has been stopped yet.

— Michael Skolnik (@MichaelSkolnik) October 24, 2014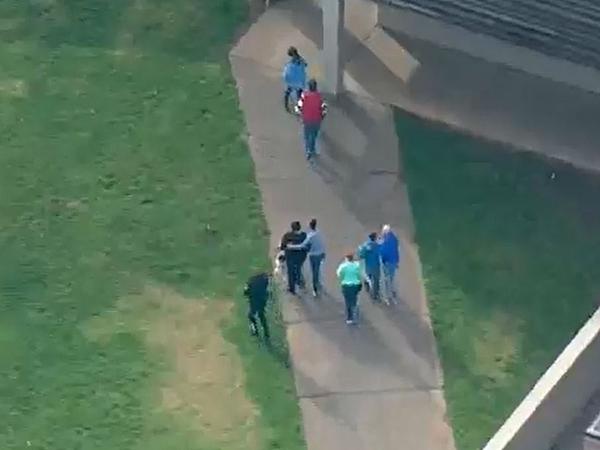 Shooting at Marysville-Pilchuck High School near Seattle
This tweet says people have been shot at Marysville-Pilchuck High School, though I haven't heard or see that mentioned anywhere else.
Here were some live tweets once the shooting began: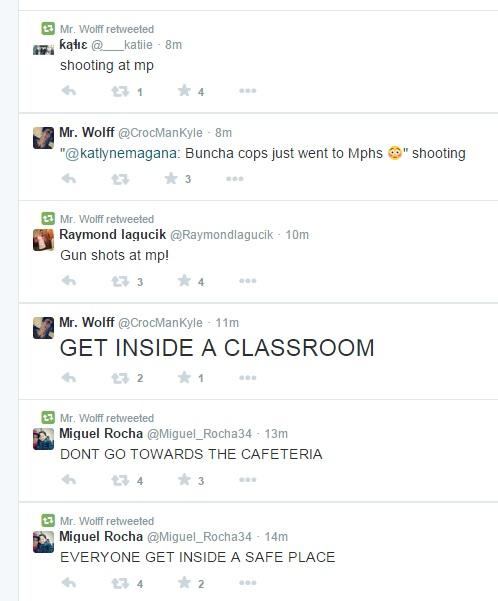 Live tweets of Shooting at Marysville-Pilchuck High School near Seattle
Seems the earlier report was true. At least six injured, two airlifted to hospital. Looks like we have a grungy Adam Lanza clone on our hands.
#BREAKING: Police: #Shooting At #Washington HS. At least two airlifted, possibly 6 injured «CBS Seattle http://t.co/KAD1U9sZWA @CBSSeattleWA

— CBS Los Angeles (@CBSLA) October 24, 2014
Zale Thompson Youtube comments talked about Jihad fisabeelallah while blaming 'Zionists' and 'Crusaders' that invaded and colonized the Islamic lands after World War I. If you didn't know any better, you'd think Zale Thompson was your typical leftist, who hates Jews and Christians, but the Jihad fisabeelallah is one more step ahead of leftists in their hatred. Fisabeelallah basically means "In the Cause of Allah". The media has done their best to ignore this story. If you watch Fox News today for instance, you'll hear plenty about the Ebola patient in New York, and about the terrorist attack in Ottawa, but very little if anything about Zale Thompson's terrorism.
CNN gave a passing mention to Thompson, claiming already that he has no ties to outside Jihadist groups, and downplaying the terrorism angle.

Zale Thompson youtube comments talked about Jihad fisabeelallah
For those wondering about what the background of his page meant, it's basically says "In the name of Allah" and concludes by cursing Jews and Christians with, "The path of those whom Thou hast favored; Not the (path) of those who earn Thine anger nor of those who go astray."
Read more
Zaim Farouq Abdul-Malik is the Muslim name of Zale Thompson, the NYPD hatchet attacker in Queens. There is one picture of of this posted to Twitter and via Twitchy that shows Thompson's Muslim name Zaim Farouq Abdul-Malik.
Zaim Farouq Abdul-Malik the Muslim name of Zale Thompson
Zaim Farouq Abdul-Malik attacked two NYPD cops earlier today in Queens with a hatchet or axe. His Facebook page is loaded with Islamist propaganda.
The media of course will do all they can to downplay the jihad in Queens. The story may get a passing mention or two in the next couple of days in between all the Ebola news. You'll never hear the media use his Islamic name of Zaim Farouq Abdul-Malik though.
Zaim Farouq Abdul-Malik or Zale Thompson is dead, and has his 72 virgins in Muslim paradise, aka hell. Now it's time to pray for the cop who is in critical condition who was struck by this terrorist with the hatchet.
Read more
Zale Thompson Facebook page gives some clues about his Muslim radicalization. He has over 300 Facebook friends, most of whom have Muslim names, and he even has a couple of pictures up of Muslim propaganda. Surely, Facebook friends of Zale Thompson can see more of what he left behind there, now that he's dead as a doornail.
Zale Thompson Facebook page
According to his Facebook profile, Zale THompson says he studied at Teacher's College, Columbia University. He also studied at the College of New Rochelle and High School of Graphic Communication Arts. He says he was born in Queens, New York.
Zale Thompson has been identified as the Muslim or convert who attacked NYPD officers with a hatchet in Queens earlier today. Check out a photo of Zale Thompson in full Muslim Garb:
Zale Thompson – hatchet Muslim who attacked NYPD in Queens
Zale Thompson has put one cop in the hospital in critical condition after being struck in the head with the Muslim's hatchet or axe. This becomes the third terrorist attack in North America in four days. Two in Canada, and now Zale Thompson. This is getting out of hand.
Zale Thompson of course isn't a Muslim name. He's probably another convert radicalized on the Internet.
A Muslim attacked cops in NYPD in Queens with an axe in Queens, New York earlier today. One cop is currently in critical condition in the hospital after getting the axe from the Muslim terrorist in the head. Another NYPD cop was hit in the arm. Those in New York have been trying to hush up this axe terrorist attack on the NYPD as it's only gotten passing coverage. The Muslim, who hasn't been identified yet reportedly had disturbing posts on social media.
Muslim attacks cops in NYPD in Queens (Video)
This is now the third terrorist attack in North America over the last four days. Two in Canada, and now in New York. The NYPD shot this terrorist dead. We'll wait for the name to be released and how Communist Bill de Blasio spins this.
Jared Polis, the slimy Democrat from Colorado wants you to vote for Mark Uterus Udall in this Colorado erection. He says so hiself in the following video:
Jared Polis wants you to vote Udall in this Colorado ERECTION (Video)
Do Democrats like Polis or Udall ever get their minds out of the gutter. Where do you erection when talking about election? WIll Jared Polis get an erection if Mark Udall pulls it out and wins on November fourth? Maybe.
I can't wait for the Jared Polis memes to come out after this. Oh wait, I know! Polis could blame his potty mouth on the partial solar eclipse today!