Two young black thugs (ages 11 and 13) 'allegedly' torched a Wal-Mart store in South Carolina back on New Years Eve. Being that these thugs are well under the age of 18, their names aren't being made public.
Black thugs torch Wal-Mart in South Carolina
An 11-year-old South Carolina boy is facing an arson charge after allegedly setting a fire inside a Walmart that caused millions of dollars in damages to the business, police report.

The boy's 13-year-old cousin has also been charged in connection with the December 31 blaze.

According to investigators, the boy stole a lighter while inside the Columbia store and, with his cousin, used it to set a fire in the Walmart's greeting card aisle. The ensuing blaze caused significant damage to the store, though no injuries were reported.
American Sniper ticket revenues after just two weeks of being in theaters. American Sniper will soon surpass Saving Private Ryan as the number one grossing war movie in American history. To Michael Moore, Seth Rogen and the rest of you whiny leftists who hate this movie, suck on that!
Clint Eastwood's American Sniper remained a phenomenon in its second weekend, earning a stunning $64.4 million from 3,705 theaters and quickly becoming the No. 2 war film of all time at the North American box office, not accounting for inflation. Its domestic total through Sunday is $200.1 million for Warner Bros. and Village Roadshow.

In only 10 days in release, American Sniper has eclipsed the $198.5 million earned all in by Michael Bay's Pearl Harbor, and it will soon overtake the $216.5 million grossed by Steven Spielberg's Saving Private Ryan in 1998. Taking inflation into account, Private Ryan would have earned more than $300 million by today's terms; Sniper is sure to eclipse that number when all is said and done.
American Sniper is even doing well in Europe, especially Italy.
American Sniper tops $200 million – Suck it Michael Moore!
WHOOT @AmericanSniper has made over $200 Million, 2nd biggest movie of all time in North America, @HonorChrisKyle

— DonnaBlockedByIdiots (@izzyjsmom) January 26, 2015
#AmericanSniper Crosses $200 Million Mark; keep it up! This signifies the ballot box of the real views of Americans

— RockPrincess (@Rockprincess818) January 25, 2015
Zacary Evans was killed in machete attack Gloucester at a pub called The Pike and Musket. There are three suspects arrested in the machete attack on Zacary Evans in Gloucester. Yet the British media refuses to list the names, or post pictures of the three suspects who attacked and killed Zacary Evans with a machete. So this begs the question. Where the three who killed Zacary Evens Muslims on a jihad?
Teen hacked to death with MACHETE outside Gloucester pub: Zacary Evans, 19, was pronounced dead outside the Pike and Musket pub in Tu…

— Jung-Su Nu (@NooJunga) January 24, 2015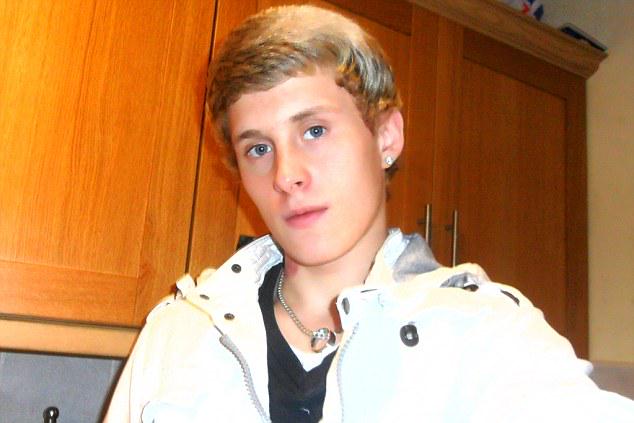 Zacary Evans killed in machete attack Gloucester – done by Muslims?
If the machete killers i Gloucester were not Muslims, do you think the British media would have media their names and pictures public by now? The machete killing in Gloucester didn't just happen hours ago, it happened days ago. The information on all the suspects is known by British media, yet they wouldn't make the information about the three 'alleged' killers public?
If three white British people attacked and killed a Muslims outside of The Pike and Musket pub in Gloucester, the media in Britian would be all over the place posting information and pictures of the attacker. Yet, several days later, and we still no nothing about the Zacary Evans killers, other than their ages.
Democrat Dianne Feinstein wants to send ground troops to Yemen, after the collapse of the country's government this week. Feinstein, a far left whack job who couldn't stop bashing Bush on Iraq and Afghanistan suddenly is become the John McCain of California. Apparently far left progressive liberal Democrats love sending American troops into harm's way when a Democrat is president.
Two political heavyweights US Senate, Democrat Feinstein & Republican McCain, criticize Obama's policy in Yemen "Send in Marines SpecialOPs"

— Stephen W. Day (@DaySWTweet) January 25, 2015
Sen. Feinstein opposed Vietnam, but now she wants to send U.S. troops to Yemen! In the past, she's called her 'politics' 'The Third Way'.

— Gina Genochio (@GinaGenochio) January 25, 2015
Feinstein opposed Vietnam? That's funny, considering it was Democrats who initiated the Vietnam war. Hey Hey, LBJ, hey many boys have you killed today ring a bell?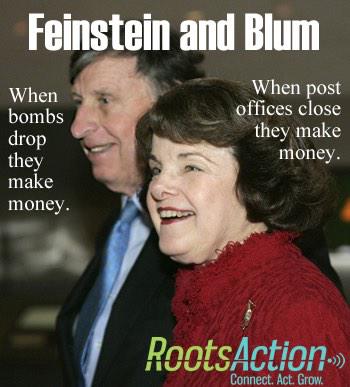 Democrat Dianne Feinstein wants to send ground troops to Yemen
Of course, this wouldn't have anything to do with her husband profiting off the government contract he got now would it? You do the math.
Obama's Chief of Staff Denis McDonough: lied yet again on Fox News Sunday. While disusing with the Japanese hostages of ISIS, Obama's Chief of Staff Denis McDonough claimed we don't pay random money to terrorists in exchange for American hostages. Of course, that is complete and utter bullshit as Obama $5 billion and released five terrorists from Gitmo in exchange for deserter Bowe Bergdahl. Anyone remember Bowe Bergdahl? The results of the investigation on if he deserted was due weeks ago, and the Obama regime is still keeping this hidden.
Obama Chief of Staff claims we don't pay ranson (except Bowe Bergdahl)
It's bad enough when Obama wouldn't call Islamic terrorism what it was. Now, it seems Obama wouldn't even call terrorism what it is. When calling and offering condolence to Japan Prime Minister Abe over over the ISIS beheading of Haruna Yukawa, Obama simply called it a 'brutal murder.'
Hmm. Obama: The US "strongly condemns" brutal murder of H. Yukawa by ISIS. "Our condolences today are w the ppl of Japan." Isn't O in KSA?

— Lily (@LilyIsFree) January 24, 2015
"Obama Condemns 'Brutal Murder' of Islamic State Hostage" http://t.co/szpPgTQfmS

— Steve Miller (@SteveMillerANW) January 24, 2015
Again, to all you political correctness wimps out there, this was an act of Muslim terror, not simply a brutal murder.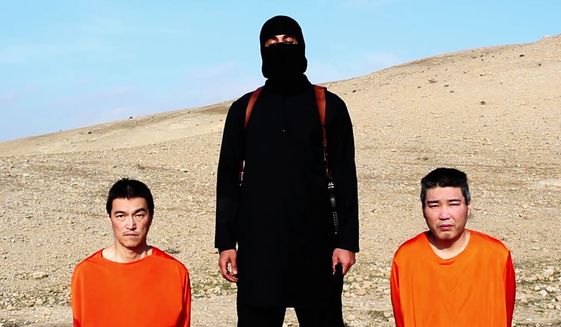 Obama refuses to call killing of Haruna Yukawa terrorism
The people of France weren't important enough for Obama. But the new King of Saudi Arabia is apparent very important. Obama will cut his trip to India short to make time to visit the new King in Saudi Arabia. Isn't that sweet?
Obama to shorten India trip, visit Saudi Arabia
While Obama is heading to Saudi Arabia to honor the "reformer" King Abdullah, let's see how reformed Saudi is. pic.twitter.com/RM26Z5cdzA

— Nat Shupe (@NatShupe) January 24, 2015
@JulieBanderas Obama couldn't go to Paris couldn't visit with the Prime Minister of Israel what can fly to Saudi Arabia for the funeral

— Don Hlousek (@DonHlousek) January 25, 2015
News: Obama will travel to Saudi Arabia Tuesday to pay his respects to newly appointed King Salman, White House says.

— Curtlyanna Network (@CurtlyannaNetw1) January 25, 2015
Muslims are on the rampage in the Philippines too. Two people are dead, 54 are injured after a bomb blast from Muslim militants.
Explosion in Philippines kills 2, leaves 54 woundedhttp://fxn.ws/18buDem Similar blasts blamed on #Muslim militants. "Abu Sayyaf" #Islamic

— Spirit de Charlie (@SpiritdeCharlie) January 24, 2015
Of course the world media doesn't want to cover this latest attack of Muslim terror in the Philippines because Islam is not Muslim or something.
Never on the BBC More Muslim bombings in the Philippines: Islamic jihadis suspected as bomb bar kills two, injures 54 http://t.co/8zeBg2ilyJ

— Exposing BBC bias (@MGPB1936) January 24, 2015
Well, one news outfit in America covered the terrorist attack in the Philippines Can you guess which one?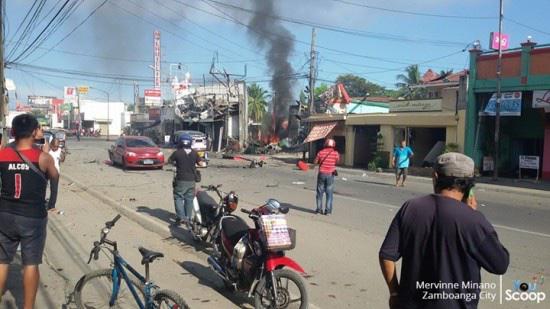 2 killed, 54 wounded by Muslim terrorist attack in Philippines
Blimey! WTF were you Brits thinking? Lowering your country's flag over buildings because the Saudi dictator aka King kicked the bucket? We expect crap like this here in America with Obama and his Muslim loving cronies. Obviously the British still haven't learned a damn thing about Islam.
"Your flag flying insults every woman in the United Kingdom, HOW DARE YOU," tweeted former Conservative lawmaker Louise Mensch.

Lawyer and journalist Glenn Greenwald tweeted: "UK orders flags flown at half-mast for King Abdullah. Will return to lecturing the world about democracy tomorrow."

The case of Saudi blogger Raif Badawi, who has received 50 lashings as part of a 1,000-lash punishment for insulting Islam, has triggered a global outcry and focused attention on Saudi laws.

Conversion to Christianity is punishable by death, for example, prompting many online commentators to lambast Westminster Abbey's decision to also lower its flag out of respect for Abdullah.

The flag has also been lowered on the Houses of Parliament, following a statement from the Department for Culture Media and Sport calling for the Union Flag and other national flags to be flown at half-mast.

"He will be remembered for his long years of service to the kingdom, for his commitment to peace and for strengthening understanding between faiths," British Prime Minister David Cameron said in statement.
UK lowers flags after death of Saudi king
Sajida al-Rishawi a female suicide bomber, held in Jordan is the terrorist that ISIS is demanding in a trade for surviving Japanese hostage Kenji Goto Jogo. Who is Sajida al-Rishawi? She is the failed suicide bomber who planned to blow herself at a wedding reception in the Radisson SAS hotel in the Jordanian capital city of Amman in November 2005. Other al-Qaeda members succeeded in blowing themselves up, and 57 people were left dead after the terrorist attack in 2005 in Amman.
Sajida al-Rishawi is in her forties and was sentenced to death by hanging in Jordan. She's in the middle of her appeals process (yea, it takes forever in Jordan too.)
ISIS releases vid of Goto; says Yukawa was beheaded. ISIS "no longer wants money," he says, instead demands release of Sajida al-Rishawi

— J.M. Berger (@intelwire) January 24, 2015
ISIS now want the release of their terrorist "sister" Sajida al-Rishawi against Japanese hostage Kenji Goto Jogo.

— USofJ (@usofjews) January 24, 2015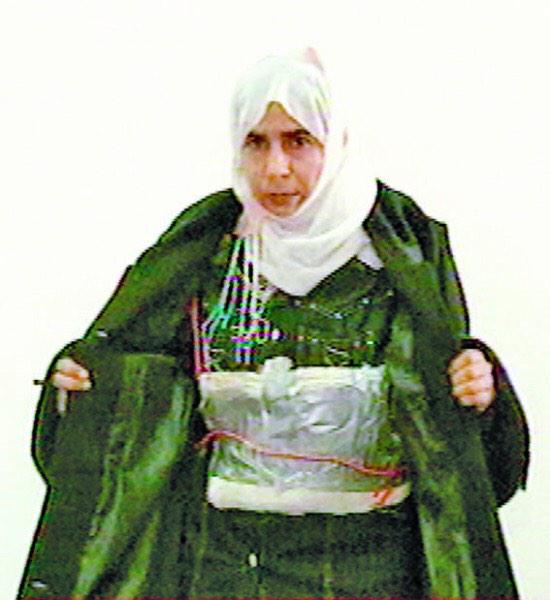 Sajida al-Rishawi – ISIS wants to trade for Kenji Goto Jogo
I don"t think Jordan is going to cower to ISIS by releasing Sajida al-Rishawi and I think the Japanese are fully aware and understand
Jordan's stance on Sajida al-Rishawi.