More than two years after the Benghazi terrorist attacks and the presidential elections, it's now coming out that CBS intentionally hid a clip from an Obama interview with 60 minutes refusing to call the Benghazi attack an act of terrorism. It's not hard to understand why. The Obama regime is well connected with CBS. One of Obama's main advisers is Ben Rhodes, who just so happens to be the brother of David Rhodes. He is the president of CBS News. Nice connections there Barry. Just another fine example about how corrupt the media in the country really is.
CBS intentionally hid 60 minutes clip of Obama refusing to admit Benghazi was a terrorist attack
All leftists are whining about how voter turnout was down this year, and that's why they got their asses kicked in the mid-term election. Problem for leftists is that facts are a stubborn thing. Voter turnout as actually up over 1010 levels in key states like North Carolina, Montana, Alaska, Arkansas, Louisiana, Colorado, Iowa and New Hampshire. In key governors races in states like Florida, Wisconsin and Maine, voter turnout was also higher than 2010 levels. But let's now confuse the poor progressive liberals with actual facts. Check out this tweet from a whiny ABC:
US voter turnout was down from 2010 in almost every state: http://t.co/JIVikr6G7i – @NateSilver538 pic.twitter.com/UE3AkRC5Yo

— ABC News (@ABC) November 8, 2014
Hey ABC and lefties, not all states had important elections. Also, propositions in each's states ballots drove turnout, and not every state that anything important worth voting for. The key states had higher voter turnout over 2010 and that's all that matters. Sorry ABC.
Take for instance California. Voter turnout was down 9.2% from 2010 levels. They had no senator up for re-election and everyone in the state knew Moonbeam Jerry Brown was going to win easily. What's the point of voting in California?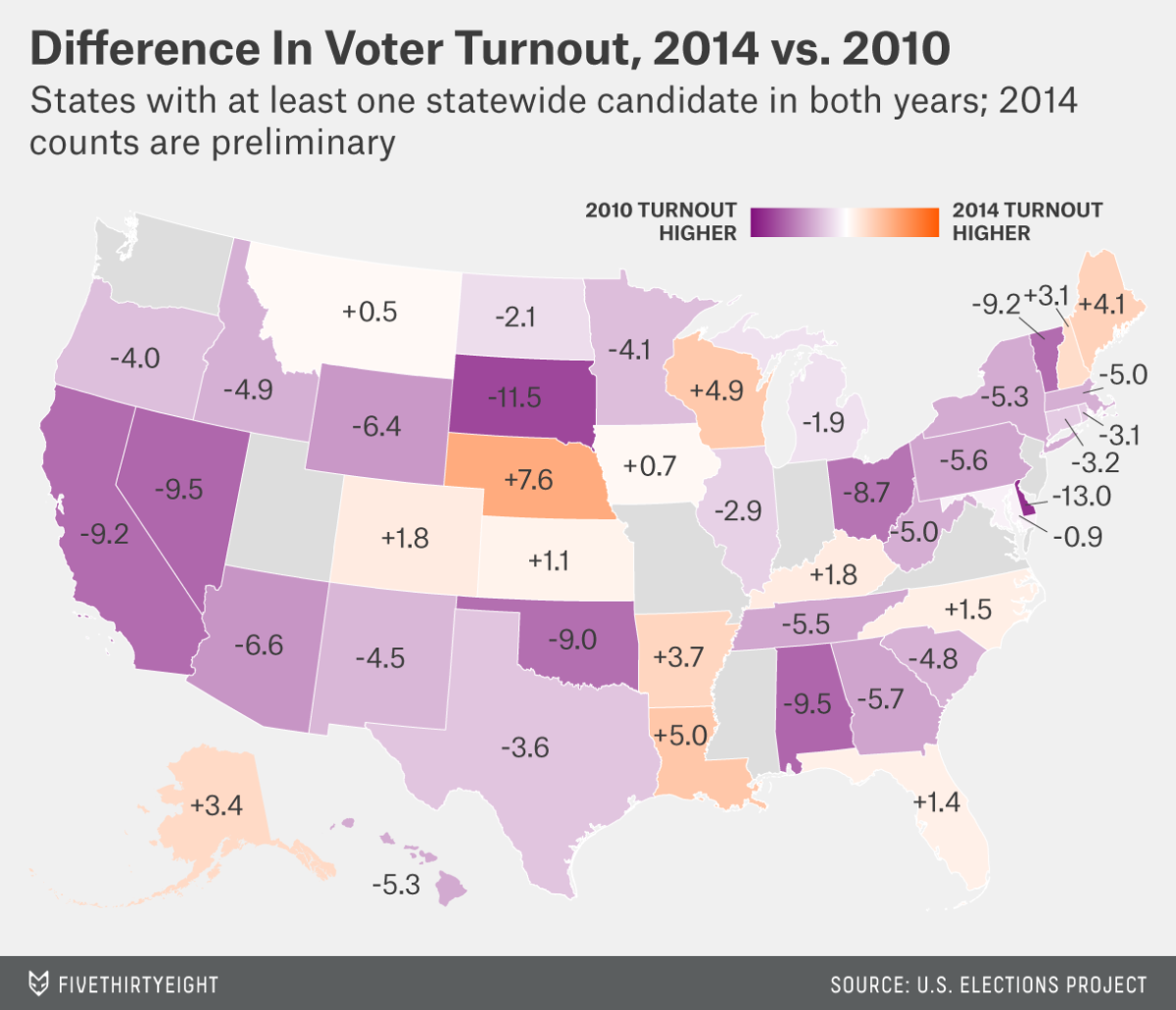 Voter turnout up in key Senate races over 2010
Great news! Not only are thousands of border hoppers getting to stay in American, getting better treatment than veterans waiting for medical help than the VA,and being fed better than America's homeless, they are now spreading diseases to Americans too! As Kirsten Powers said, let them all stay, and pay for their care! So we not only have a border crisis, now we have a health crisis too, all thanks to the thousands of illegal border hoppers, orchestrated by Obama and the progressives.
Democrats are all giddy that Mitch McConnell with run again for the Senate in Kentucky, and their far left progressive liberal darling Alison Lundergan Grimes won her primary. But Democrats have a bigger problem before their wet dream about winning the Senate in Kentucky and Georgia. Democrat voter turnout continues to plummet over 2010 levels (the last non-presidential election primary year.) In 2010, the 'big tea party year', Democrats got a total of 521,659 votes between their various Senate candidates. The winner Jack Conway faced Rand Paul and got crushed in the general election. Republicans in 2010 in Kentucky only got 352,275 between their 2010 Senate candidates.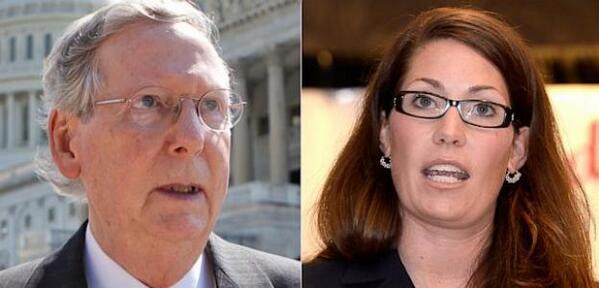 Democrat turnout in Kentucky plummets compared to 2010 levels
This year with about 98% of the vote counted, the Democrats only got around 400,000 total votes. A nice drop of 121,000 or so primary votes of 2010. Maybe leftists and the media can blame the weather like they did for the crappy economy or something.
Read more
Why am I not surprised. seeBS is reporting that the Obama regime not only delayed ObamaCARE regulations, but also EPA regulations to make sure they occurred after last year's election. That of course doesn't excuse the fact that there were enough rubes who actually voted to reelect Obama in the first place. Actually, it might not have been Obama. It could have been Valerie Jarrett. Whoever, it's typical of Chicago thug politicians.
So Obama purposely delayed ObamaCARE rules that are now causing thousands of Americans to lose their health care plans before the 2012 election. It's wonderful that CBS has finally decided to report on this inconvenient truth. Would have been nice if CBS and other media hacks reported this last year when it was relevant. Sharyl Attkisson, one of the few actual reporters CBS (or any lame stream media has) reports on Obama's purposely delaying ObamaCARE rules:
Obama delayed ObamaCARE rules before 2012 election
OpenSecrets.org is a legit site and they have nothing to gain by spreading a false story about Ron Paul. If it's true that Ron Paul presidential campaign tried to buy endorsements in the Iowa Caucuses, they may damage his son more than anything. I don't know why Paul would have to buy endorsements as they mean little anyway. According to Open Secrets:
Welcome to Obama's America in 2013. Much like the Stasi of East Germany, Obama and Eric Holder's DOJ is looking for 'tips' to prosecute a male Hispanic. Eric Holder's DOJ is now begging the public for 'tips' to prove that George Zimmerman is a racist and even set up an e-mail address at Sanford.florida@usdoj.gov. This is getting beyond creepy. The sad thing is, Americans are just accepting this Nazi style of government.
On Monday afternoon, the US Department of Justice appealed to civil rights groups and the general public across the country for "tips" on George Zimmerman in their pursuit of potential federal civil rights charges against the just-acquitted defendant in the Trayvon Martin killing. The DOJ actually went so far as to set up an e-mail address to allow such tips: Sanford.florida@usdoj.gov. The email address is slated to go operational by the end of the week.
Barbara Arnwine, president and executive director of the Lawyers' Committee for Civil Rights Under Law told the Orlando Sentinel that the DOJ had held a Monday conference call "calling on us to actively refer anyone who had any information" that would help build a case against Zimmerman. "They said they would very aggressively investigate this case," Arnwine stated.
Well this explains a lot. Joe Garcia, who surprisingly won election this past November for Florida's 26th Congressional district chief of staff is resigning. Florida's new 26th district has a Republican +4 rating according to Cook PVI, yet the Marxist won. Joe Garcia's Chief of Staff's name is Jeff Garcia, there is no word if they are related. Jeff Garcia resigned Friday after being implicated in a voting-fraud scheme.
Read more
Frank VanderSloot was a big donor to Mitt Romney during the 2012 presidential campaign. VanderSloot was routinely attacked by the Obama campaign. Frank VanderSloot was one of eight Romney supporters to be defamed as "wealthy individuals with less-than-reputable records" on the Obama campaign's website. Now, Frank VanderSloot is being audited not only by Obama's corrupt Internal Revenue Service, but by the Labor Department as well!