The Texas primary turnout smashed the voter turnout of 2010 during the conservative 'wave.' What we can tell from the Texas primary voter turnout is that Wendy Davis has about a snowball's chance in hell of winning the Texas gubernatorial election this coming November. Not only did Abortion Barbie Wendy Davis get nearly 100,000 less votes in the Democrat primary than 2010 challenger Bill White did, she couldn't even capture 80% of the Democrat vote. Davis even lost a few counties to Democrat no-name challenger Ray Madrigal. But that's not the only bad news for Abortion Barbie Wendy Davis. While Democrat turnout was much lower than the 2010 primary, Republican turnout skyrocketed. Greg Abbott received 1.2 million votes. Contrast that with Rick Perry in 2010 who only got about 750,000.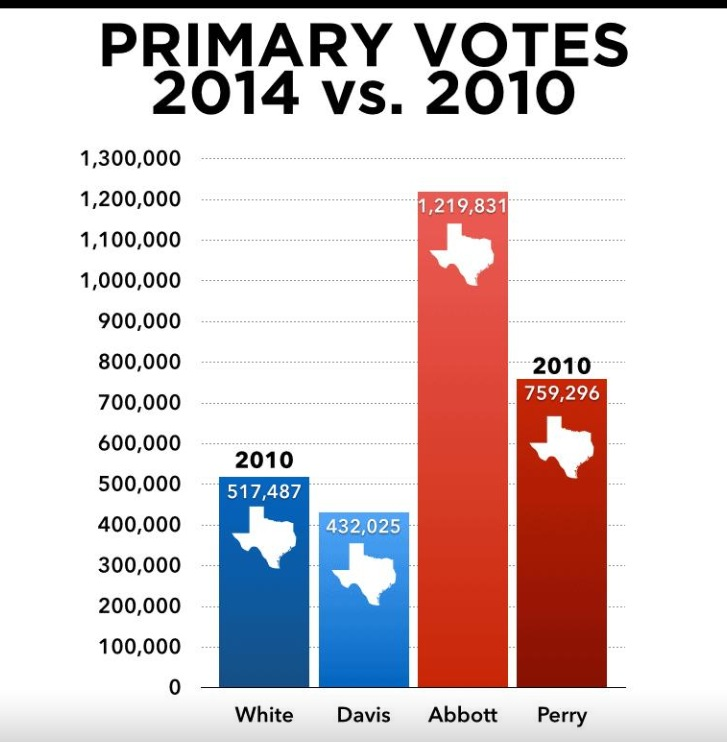 Texas primary turnout smashes 2010 levels – Wendy Davis is toast
Slip slidin' away. Obama has fallen to 38% in the latest Fox News poll, his lowest approval rating ever recorded. Of course leftists will try and claim 'oh it's Fox News, it's biased and racist.' Bad news for the left is that this a scientific poll, compressed of 40% Democrats and 34% Republicans. Obama is even tanking among Democrats. Only 71% of those polled approve of the job he's doing, the lowest ever recorded among Democrats. Republicans as you would expect give Obama low marks. But the key to this poll is the independents. Obama's approval ratings among non-affilated voters stands at a meager 28%.
On the economy, health care and foreign policy, it gets over worse for Obama. Gee, I can't imagine why that would be could you?
No amount of Bill O'Reilly's constant ass kissing of Obama and those in regime could save him in this poll.
In even more bad news for progressives (Republicans this time) is that most people polled don't think Krispy Kreme Chris Christie would make a good president. Fat boy is done.
Read more
King Obama once again unilaterally changed ObamaCARE this afternoon, without a peep from Republicans. Health Care plans that were cancelled this year can now be kept through 2017 (ironically, not only helping Democrats this year, but Hillary Clinton in 2016.)
King Obama unilaterally changes ObamaCARE AGAIN! – health plans canceled this year may stay active into 2017
#Breaking: Insurance plans supposed to be canceled this year may stay active into 2017 under new Obamacare policy change

— POLITICO (@politico) March 5, 2014
This is an obvious payback to the Clintons for campaigning for Democrats in states that Obama wouldn't dare enter this year.
Tonight's Texas primary elections kick off the 2014 primary election season in Obama's second mid-term election. Democrats are in worse shape today than they were in 2010 when they got shellacked by Republicans in Obama's first mid-term. Unless Republicans manage to screw this mid-term election up (which wouldn't surprise me) they should probably be able to take control of the Senate and add to their lead in the House.
As Obama becomes Jimmy Carter on the international stage, and as more and more people learn that they will either lose their current health care coverage, or pay up the ass just to keep their existing coverage under ObamaCARE, November's elections could be a bloodbath.
the progressive 'transformation' ends starting this November. The leftist experiment has failed and the Democrat party of today is basically no better than Vladimir Putin in Russia (except they like gays.)
Texas held the first in the nation primary tonight, and as expected Greg Abbott and Abortion Barbie Wendy Davis won their primaries and will face off for Governor of Texas. Greg Abbott is currently the Texas Attorney General, while Wendy Davis is the boilfaced leftist who is loved by progressives and the media because of her stance on abortion. Turnout in this primary election seems to be 3:1 Republican. Greg Abbott should easily defeat Abortion Barbie when the Texas gubernatorial election is held on November 4th.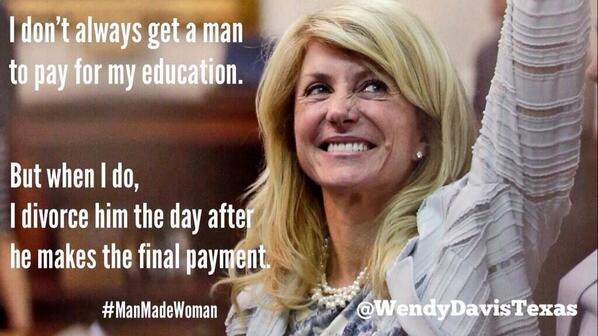 It's official! Texas gubernatorial race is between Greg Abbott and Abortion Barbie Wendy Davis
Unfortunately, RINO John Cornyn also won his primary, so he can go back and quit trying to act like a conservative. Progressive RINO Cornyn can go back to 'compromising' with Obama and the radical leftist Democrats and stroll to an easy win in November.
Ken Buck, who was considering challenging far left extremist progressive Mark Udall for Senate is instead going to run for Colorado's 4th district House of Representatives seat. The district is heavily Republican, and whichever Republican wins the primary should win election easily. I don't know much about Cory Gardner, so I don't know if he's a progressive, Karl Rove RINO or not. Gardner on the other hand is dropping his bid to run again for his House seat, and will challenge Mark Udall for Senator.
Alex Sink is a far left progressive liberal Democrat running in Florida's special election to fill the seat vacated by the now deceased Bill Young. The Republican, David Jolly is leading Sink, by just a few points in the polls. The election is scheduled for March 11th. Last night, during a televised debate, Alex Sink revealed the typical progressive liberal Democrat mantra. Alex Sink thinks Immigrants are nothing more than landscapers and hotel maids, so that's why we need amnesty for them. Here is Alex Sink in her own words:
Progressive Democrat Alex Sink thinks immigrants are just landscapers and hotel maids
Louie Gohmert says that Weeper John Boehner will be gone come January 2015. This is great news if true, but it's also a double edged sword. If Louie Gohmert is right, then who do the Republicans pick to be Speaker of the House? The election this fall wouldn't affect which party the Speaker comes from. The Democrats have about as much of a chance to take back the House of representatives as a conservative has of winning in San Francisco. Who replaces the mentally unstable Boehner if he's gone? Eric Cantor? Kevin McCarthy? Paul Ryan? You know full well that the Karl Rove establishment RINO GOP will never allow a real conservative to become Speaker. Weeper Boehner may simply retire, because he knows conseratives have turned against him, or run and easily win his district again. But it only takes 12 GOP votes in the House to dethrone Boehner as Speaker.
One of the tea-party leaders in Congress believes the days of Rep. John Boehner, R-Ohio, as speaker of the House of Representatives are numbered.

Rep. Louie Gohmert, R-Texas, told WND he predicts Boehner will no longer be speaker "by next January," regardless of the outcome of the midterm election in November.

The Texan doesn't think it will take a coup to remove Boehner, believing the tide is already moving in that direction, and saying, "I think people are ready for a change."

And Gohmert would see that as a change for the better, because, he says, "We've got to have someone who is smart enough to realize" it was (Sen. Majority Leader) Harry Reid (D-Nev.) who shut down the government, not the GOP.

…Gohmert feels GOP leadership is making a key mistake by listening to insiders like Rove more than tea-party voters, and he cited last autumn's government shutdown as an example.
Dave Brat is running a primary challenge against Eric Cantor, the RINO GOP Majority leader in the House. Dave Brat is a Professor of Economics at Randolph-Macon College. The Virginia primary is June 10th, so Dave Brat has time to make up ground on Cantor.
Dave Brat to primary RINO Eric Cantor
John Dingell, the far left extremist progressive liberal Democrat from Michigan has been in Congress since 1955. Dingell is the poster boy for term limits. Now, Dingell is finally retiring, after 59 years in Congress. Think about it. 56 years this dingelberry has been collecting a tax payer funded pay check to try and bring the country down.
John Dingell – the poster boy for term limits finally retires
Term limits are needed so that dirtbags like Dingell can't make it a career out of screwing the American people as politicians.
Read more
Just how slimy are the Democrats? Gary Peters, the Democrat running for the Michigan Senate seat vacated by Carl Levin (retirement) is trying to silence Julie Boonstra, a woman with leukemia who appeared in anti-ObamaCARE ads. Peter's desperation goes beyond trying to silence Julie Boonstra. He's even threatening lawsuits against TV stations that run the anti-ObamaCARE ad with Boonstra in it. This is how slimy and desperate Democrats are.
The follow is a video of the ad that has lead Gary Peters threatening Boonstra and television stations:
Democrat Gary Peters trying to silence Julie Boonstra (woman with leukemia)
Battleground Texas Field Organizer Jennifer Longoria was caught on video by James O'Keefe's group Project Veritas violating Texas law. According to the Secretary of State of Texas, it is unlawful to transcribe, copy, or otherwise record a telephone number furnished on a voter registration application. Battleground Texas and Jennifer Longoria don't seem to care though. Battleground Texas is pushing for Wendy Davis to be elected as Texas Governor this coming Fall. Battleground Texas is the new Acorn.
Democrat group Battleground Texas illegally copying voter data