The DCCC is so desperate they are sending out e-mails to those on their mailing list entitled 'everything has failed.' Apparently the DCCC is also drowning after sending out e-mails from Obama, Wasserman-Schultz Pelosi and serpent-head James Carville this weekend.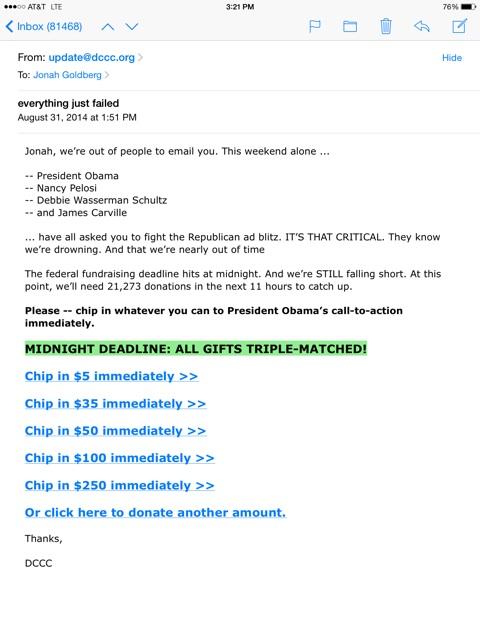 DCCC: everything failed e-mail begging for money
Pathetic isn't it?
Former Alaska Attorney General Dan Sullivan won the Republican Senate primary last night in Alaska and will face Obama rubber stamp Mark Begich for the Alaska Senate seat in November. Sullivan is supported by GOP establishment hacks like Karl Rove which is a black mark against him. Still, I'd take Sullivan over Begich anytime. The only concern for the media is that Sullivan beat 'tea party candidate' Joe Miller who was damaged good from 2010 anyway.
Former state Attorney General Dan Sullivan became the latest mainstream Republican to turn back a tea party challenger, winning the Alaska GOP primary to become his party's candidate to take on U.S. Sen. Mark Begich in the fall. AP/ABC gloat because 'tea party challenger' Miller lost.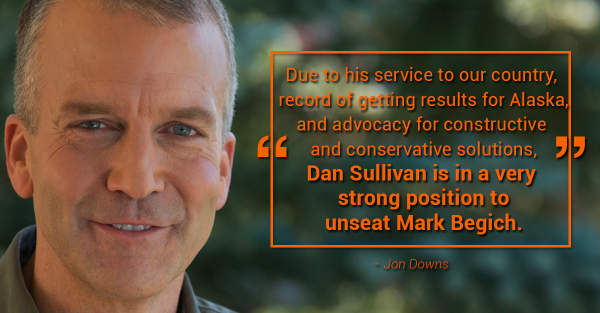 Dan Sullivan wins Alaska GOP primary to face Begich
Mia Love is kicking ass and taking names in her run for Congress. Mia Love is running for Utah's fourth congressional distract seat against Democrat Doug Owners. The latest polling according to Legal Insurrection shows Mia Love crushing Owens with a 12 percentage-point lead.

Mia Love kicking Democrat ass in latest polling (UT-04)
War on women or something! Why do Democrat Senators like Mary Landrieu, Kay Hagan and Mark Begich pay female staffers so much less than their male counterparts?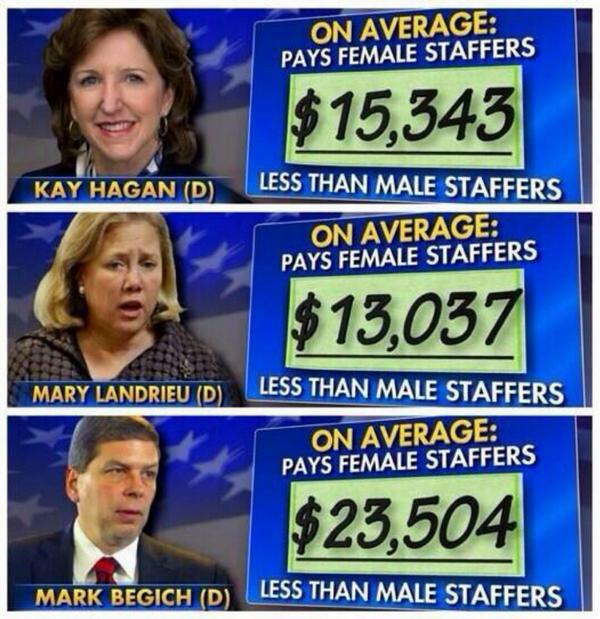 Who do Hagan, Landrieu and Begich pay female staffers so much less than men? Image credit: Sister Toldjah
So where is all the feminist outrage over the big pay differences between men and women? Oh that's right. These are all progressive liberals, so they get a free pay in their own war on women. Only conservatives who dare want women to pay for their own birth control are conducting a war on women or something.
Plagiarist Democrat John Walsh is ending his Montana Senate campaign as he continues to tumble in the polls. Walsh is claiming that the plagiarism charges against him have become a 'distraction.' Too bad though, I would looking forward to seeing him get crushed in November.
Montana paper — Sen. John Walsh said Thursday he is pulling out of the Senate race b/c his campaign was distracted by plagiarism allegation

— Bret Baier (@BretBaier) August 7, 2014
Montana Sen. John Walsh quits re-election bid. http://t.co/gYIl7AKEhf

— Chris Cillizza (@TheFix) August 7, 2014
Since Walsh is a plagiarist like Joe Biden, this is likely a copy of Walsh's letter ending his Senate campaign: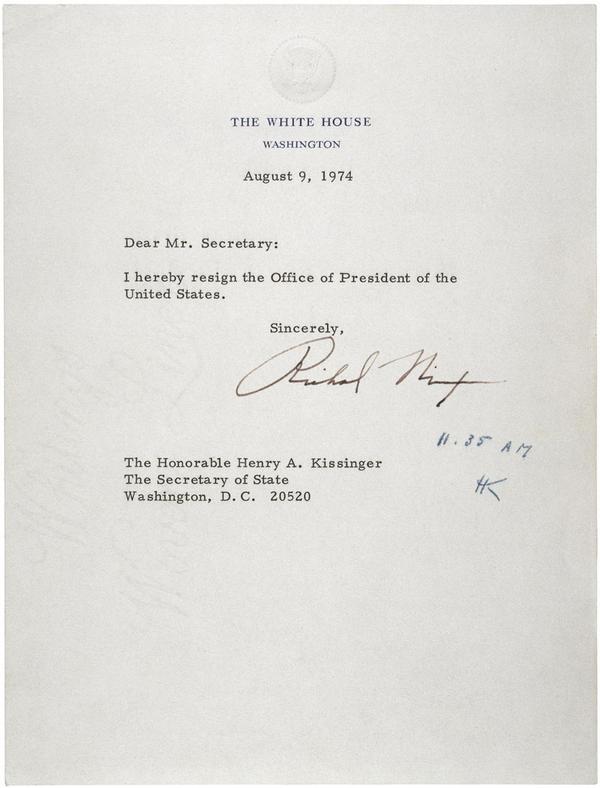 Plagiarist Democrat John Walsh ends Senate campaign
Chris McDaniel has finally announced that he will formally challenge the Mississippi runoff results that put old, corrupt GOPe Thad Cochran in the lead because black voters who voted in the earlier Democrat primary, voted again for Cochran. This is supposed to be illegal according to Mississippi election law. Of course, nothing until now was done about it, as Boss Hogg Haley Barbour pulled the strings to run race hustling ads against McDaniel.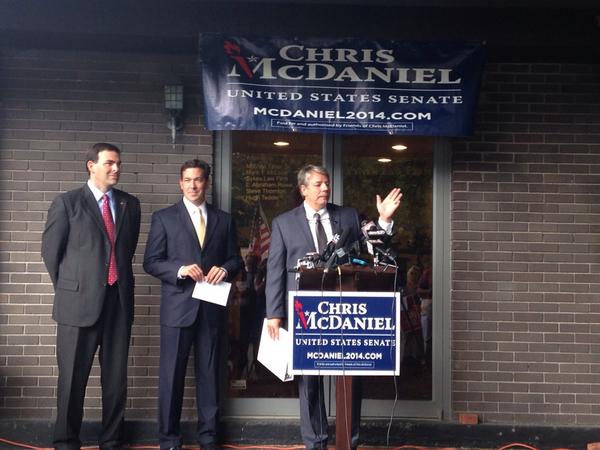 Chris McDaniel to make formal ballot challenge Mississippi runoff
BREAKING: Tea party-backed candidate challenging GOP primary loss to Sen. Thad Cochran in Mississippi.

— The Associated Press (@AP) August 4, 2014
Notice that the AP wouldn't even mentioned Chris McDaniel by name. Just 'tea party challenger.'
Why can't Chris McDaniel just go away? #mssen

— Andrew Wagner (@andrewwagner) August 4, 2014

As usual, the GOP hacks are up in arms over this. Check out Minnesota GOP's Andrew Wagner whining:
Read more
Hit the road jack! After being crushed in the GOP primary and despite being in Congress for over 14 years and being the GOP Majority leader, slimy Eric Cantor will step down from Congress for good on August 18th. Don't let the door hit you on the way out you amnesty shill.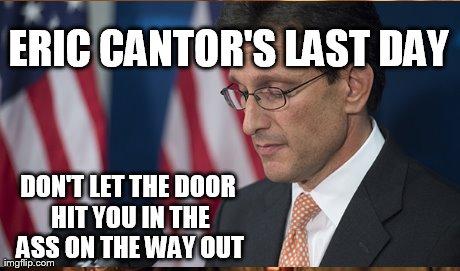 Eric Cantor to resign from Congress on August 18
Yawn. David Perdue defeats Jack Kingston for Georgia GOP Senate nomination. In the battle of the RINOs, Perdue won and will face far left socialist Michelle Nunn for the Georgia open Senate seat. The race was close, but the bigger RINO won in the end. Think of David Perdue as a younger Thad Cochran.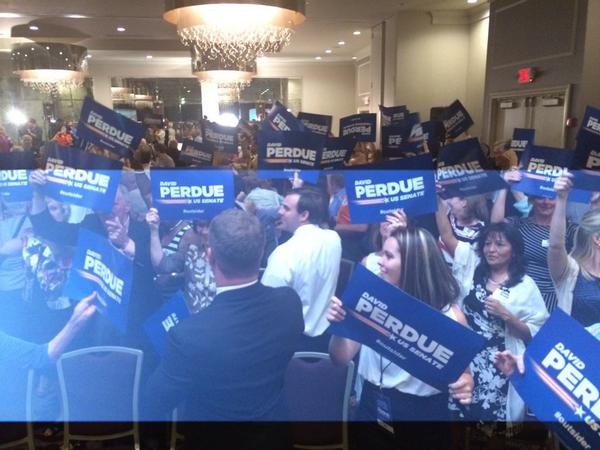 David Perdue defeats Jack Kingston for Georgia GOP Senate nomination
BREAKING: Former CEO David Perdue defeats Jack Kingston to win Georgia's Republican US Senate nomination.

— The Associated Press (@AP) July 23, 2014
BREAKING: Businessman David Perdue defeats Rep. Jack Kingston in runoff to win Georgia GOP Senate nomination, AP projects

— Fox News (@FoxNews) July 23, 2014
Former CEO David Perdue defeats Jack Kingston to win Georgia's Republican US Senate nomination – @AP http://t.co/KCvwAM3VLZ

— Breaking Politics (@breakingpol) July 23, 2014
Of course, whoever wins in November will replace another old and crusty retiring RINO in Saxby Chambliss. Perdue is a big amnesty pimp too.
Read more
The GOPe is really terrified of Charles Johnson. Each day, more and more comes out, mostly from Johnson about the corruption involved in the Mississippi run off election. Now, A GOP Political Communications is bashing Johnson (and James O'keefe) as info continues to drop out. This is a so called GOP 'profession' and her name is Alyssa Farah:
So @ChuckCJohnson seems to be a wannabe O'Keefe with half the brain who will end up with twice as many criminal charges.

— Alyssa Farah (@Alyssafarah) July 2, 2014
Alyssa Farah GOP Political Communications hack bashes Johnson and O'Keefe
It's really beyond pathetic when these GOPe hacks go ahead someone like Charles C. Johnson with such vigor, yet when it comes to the left wing media hacks at ABC, NBC, or CBS they are far too timid to challenge them. This is why the Republican party's registration numbers continue to circle the toilet as more and more conservatives register as independents instead of Republican.
Read more
Haley Barbour's SuperPAC 'Citizens for Progress' was behind at least one of the racist ads, run in favor of Thad Cochran against Chris McDaniel before the run off election. According to Charles C. Johnson on Twitter, Haley Barbour's SuperPac didn't report this to the FEC as is required by law. Bad Boss Hogg!
Barbour SuperPAC which racist mail & radio ads didn't report it to FEC
BUSTED! Crudup/Barbour SuperPAC did racist mail & radio but illegally reported NOTHING 2 FEC. #mssen pic.twitter.com/UZY4xR7Okt

— Charles C. Johnson (@ChuckCJohnson) July 2, 2014