While the news about Barbara Boxer being done in 2016 may be good, you know California will just find another radical liberal-extremist Democrat to replace her. Breitbart reports that Boxer onl has $200,000 in her campaign 'war chest'. The old hag Boxer is already 73 years old.
Barbara Boxer done in 2016?
Think of the possibility of Democrats who may run to replace the old witch if she does retire after. How does Senator Sandra Fluke sound? Republicans have no chance in the land of fruits and nuts If Boxer couldn't be beat in 2010, there is no reason to think a Republican can win in 2016.
I like Ben Carson, mostly. I don"t like his stance on guns, but otherwise I think he would be a great Republican candidate for 2016. Now Breitbart is mentioning that Carson is giving serious consideration to running for president in 2016. Carson of course drives the left nuts (like other black conservatives).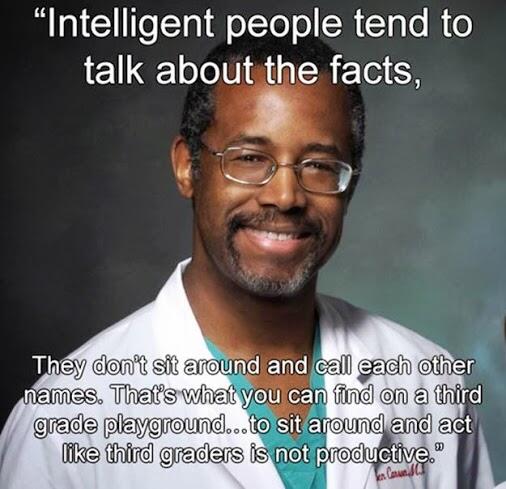 Ben Carson 2016?
Progressive liberal Democrats in modern day America remind a lot of people of Hitler and the Nazi party. The Nazi Party was the National Socialist party, the American Democrat party is the 21st century equivalent of the American socialist party. Both the Nazis and Democrats are fascists. You write a book about them, and they get it banned from stores. And finally, both the progressive Democrats and Nazis hate Jews. This weekend, the nut job Elizabeth Warren who may run for President in 2016 released what she calls the '11 commandments of progressivism.' Warren has a cult like following on the left, just like Hussein Obama had in 2008-2009. It's actually rather remarkable how similar the two are.
Elizabeth Warren 11 commandments of progressivism sounds like Hitler 25 Points of Nazi
- "We believe that Wall Street needs stronger rules and tougher enforcement, and we're willing to fight for it."

– "We believe in science, and that means that we have a responsibility to protect this Earth."

– "We believe that the Internet shouldn't be rigged to benefit big corporations, and that means real net neutrality."

– "We believe that no one should work full-time and still live in poverty, and that means raising the minimum wage."

– "We believe that fast-food workers deserve a livable wage, and that means that when they take to the picket line, we are proud to fight alongside them."

– "We believe that students are entitled to get an education without being crushed by debt."

– "We believe that after a lifetime of work, people are entitled to retire with dignity, and that means protecting Social Security, Medicare, and pensions."

– "We believe—I can't believe I have to say this in 2014—we believe in equal pay for equal work."

– "We believe that equal means equal, and that's true in marriage, it's true in the workplace, it's true in all of America."

– "We believe that immigration has made this country strong and vibrant, and that means reform."

– "And we believe that corporations are not people, that women have a right to their bodies. We will overturn Hobby Lobby and we will fight for it. We will fight for it!"

And the main tenet of conservatives' philosophy, according to Warren? "I got mine. The rest of you are on your own."
Compare this to the 25 Points of Hitler's Nazi Party and notice the similarities (23 of Hitler's Nazi party points are below, courtesy of Gateway Pundit)
What is Cleveland famous for? Ariel Castro? Their loser sports teams? The weather? Well, the stupid GOP party has picked Cleveland for their 2016 RNC Convention. You had a choice of Dallas or Cleveland. I would think the choice would have been obvious. You had a possibility of Las vegas which would have been rather interesting, and somehow they end up in Cleveland? The mistake by the lake?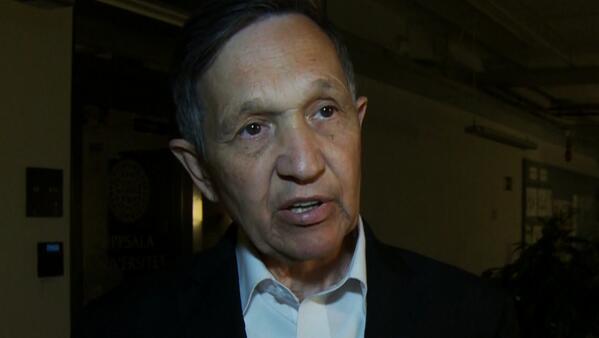 Craphole Cleveland to host 2016 RNC convention
After a couple weeks of disastrous book sale numbers and fumbling around like the old drunk that she is, Hillary Clinton is off Great Britain for America's birthday on July 4th. What difference at this point does it make? Hillary Clinton is giving an interview to the UK Guardian newspaper, one of the most anti-American European papers out there. Seems fitting I guess.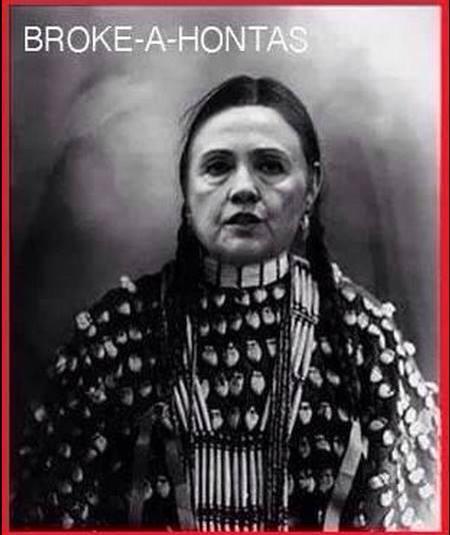 Patriotic Hillary Clinton off to Great Britain for July 4
The GOPe is really terrified of Charles Johnson. Each day, more and more comes out, mostly from Johnson about the corruption involved in the Mississippi run off election. Now, A GOP Political Communications is bashing Johnson (and James O'keefe) as info continues to drop out. This is a so called GOP 'profession' and her name is Alyssa Farah:
So @ChuckCJohnson seems to be a wannabe O'Keefe with half the brain who will end up with twice as many criminal charges.

— Alyssa Farah (@Alyssafarah) July 2, 2014
Alyssa Farah GOP Political Communications hack bashes Johnson and O'Keefe
It's really beyond pathetic when these GOPe hacks go ahead someone like Charles C. Johnson with such vigor, yet when it comes to the left wing media hacks at ABC, NBC, or CBS they are far too timid to challenge them. This is why the Republican party's registration numbers continue to circle the toilet as more and more conservatives register as independents instead of Republican.
Read more
No matter how much free, fawning press Hillary Clinton got for her 'book tour', it still can't help sell 'Hard Choices.' Hillary Clinton's books continued it's epic fail, dropping on sites like Amazon and getting really bad reviews. Now, even in your local bookstore, the prices of 'Hard Choices' is being slashed after just two weeks of it's release.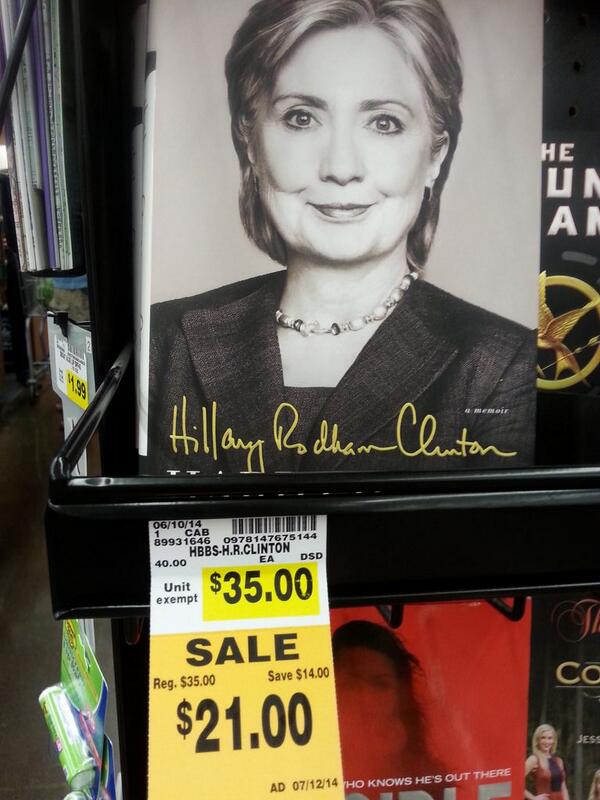 Hillary Clinton's book continues to flop – prices cut nationwide
So Hillary Clinton is a racist too? Not really that hard to guess I guess. Washington Free Beacon posted their second installment of the 'Hillary Clinton Tapes.' The interview from the '80s with donor Roy Reed:
Clinton also expressed reluctance to move to place where there were a large number of non-English speakers.

"I don't know. I could, as long as they speak English," she said. "I have a terrible ear for foreign language. As long as they speak English, I could be comfortable."

"How would you feel about living in Washington?" asked Reed.

"I don't know," Hillary Clinton responded. "I like Washington. I think Washington is an interesting city … it's not a place I'd prefer to live."

"How about if a job opens up there?" Reed asked.

"It would depend on the job," she replied.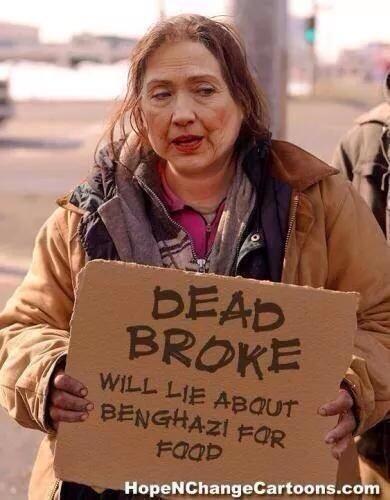 Hillary Clinton doesn't want to live in area of non-English speakers
Using progressive 'theory', this must mean Hillary Clinton hates Latinos since they speak Spanish. Why do you had Latinos Hillary? Did they use your face as a pinata one day?
Read more
Oops. Hillary Clinton stepped in it again. Now, after claiming she was dead broke when her and BJ Bill Clinton left the White House, Hillary Rotten Clinton is defending the wealth the two have accumulated because Hillary Clinton isn't like the 'truly well off' or something. This comes from left wing site Talking Points Memo. One thing I could will say about Obama, as at least when he was campaigning for president, he never made gaffes like this. He made his 57 states gaffe, or his Muslim faith gaffe, but no one paid attention to those. He never discussed his wealth and how he was so unlike the 'truly well off.'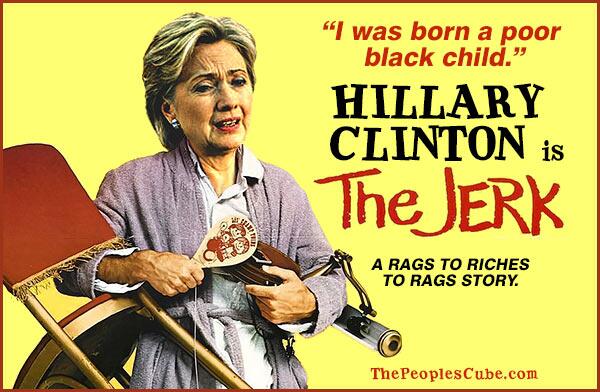 Hillary Clinton defends her wealth: because she's 'unlike the 'truly well off'
Hillary Clinton had to steal the cover idea from Carly Fiorina. Clinton had all the media fawning over her, giving her free press to pimp her crappy book on EVERY network, including Fox News. So what happens? Hillary Clinton's book turned out be a big flop, has already dropped out of the top 10 in Amazon, and hasn't even had a quarter of the first week sales that Sarah Palin's book America by Heart.
Sarah Palin didn't have the benefit of the fawning media. Didn't get puffball interviews with every network to pimp her book, and certainly didn't get a faux town hall event put on by CNN. Yet Palin's book sold nearly half a million in it's first week put, while Hillary Clinton couldn't even sell 100,000 of her book.
Sarah Palin VS. Hillary Clinton first week book sales, LOL!