Chelsea Clinton pregnant. Since the enter Democrat motto is abortion, shouldn't she have one? Do you really want a grandmother Hillary Clinton running in 2016? This outta be one ugly kid if it's not aborted by Chelsea Clinton.
Marc and I are so thrilled to be expecting our first child in the fall! Thank you for all of the kind words!

— Chelsea Clinton (@ChelseaClinton) April 17, 2014
Chelsea Clinton pregnant – Time for an abortion?
Jeb Bush told Fox News' Shannon Bream that Illegal immigration is 'an act of love.' Oh, and Bushie also says, yea illegal immigration is illegal, but who cares since it's not a felony or something. Bush pimps amnesty as the Republican elites try to position him as the only 2016 Republican candidate 'who can win.'
There are three Republicans who if they run in 2016, will NEVER get my vote. If either Bush, Christie or Paul Ryan are the GOP nominee in 2016, my vote goes to a third party candidate. Enough is enough of these political dynasties. Enough of the Bush, Clinton, Kennedy dynasties. The American people would NEVER vote for a third Bush to ruin this country, even after eight years of the Obama failure. H.W. was a disaster for the economy and got this country horndog Bill Clinton, W. Bush was the reason Obama ever got elected in the first place, and this Bush wants to open the floodgates to amnesty. HELL NO!
Read more
Here's another reason to #ditchMitch. Mitch McConnell gave an interview to leftist Time magazine. In the interview, McConnell told Time that he wants to emulate George Mitchell, a Democrat should become Senate Majority Leader next year. George Mitchell, the Maine Democrat who held the job from 1989 to 1995. You'd expect to hear this kind of bullshit from a Republican RINO in a blue state like a Mark Kirk or a Susan Collins, but Kentucky? If McConnell is ever elected Senate Majority Leader again, he will make John Weeper Boehner look like a strong conservative. Let this be a warning to you Republicans. If you take back the Senate thanks to us conservatives getting out the vote and re-elect McConnell as majority leader, you'll see your power stripped in 2016. If you want to suck Democrat toes, then do it elsewhere.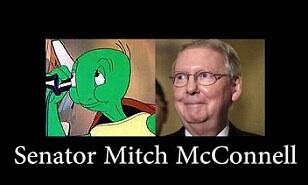 Mitch McConnell wants to govern the Senate like a Democrat
Rand Paul gave a speech at loony leftistville Berkeley. Below is a video of Rand Paul's speech. In what has already been a strange year, the leftist whack jobs at Berkeley actually gave Rand Paul a standing ovation over his criticism over Obama's NSA spying. A Republican getting a standing ovation in Berkeley? Have we entered the twilight zone? The video of Rand Paul's full speech at Berkeley is about 40 minutes.
Rand Paul full speech at Berkeley Forum VIDEO
Rick Perry gave a rousing speech that fired up the CPAC crowd today in DC. If you didn't know any better, you'd think he was going to try again to run for president in 2016. He's not my first, second, third or fourth choice. But i'd vote for him over a Chris Christie or Jeb Bush. At least he remembered the words of his speech and didn't have another ooops moment.
Are you ready for Hillary Clinton? Apparently progressive loons at the Democrat Executive Committee conference are ready for Hillary. Only one problem though. These progressive liberal Democrats can't name a single accomplishment by Hillary Clinton that would qualify her to be President. The following video of these progressive liberals not being able to name a single accomplishment from Hillary Clinton may make you laugh, cry or simply cringe.
Progressives can't name a single Hillary Clinton accomplishment
King Obama once again unilaterally changed ObamaCARE this afternoon, without a peep from Republicans. Health Care plans that were cancelled this year can now be kept through 2017 (ironically, not only helping Democrats this year, but Hillary Clinton in 2016.)
King Obama unilaterally changes ObamaCARE AGAIN! – health plans canceled this year may stay active into 2017
#Breaking: Insurance plans supposed to be canceled this year may stay active into 2017 under new Obamacare policy change

— POLITICO (@politico) March 5, 2014
This is an obvious payback to the Clintons for campaigning for Democrats in states that Obama wouldn't dare enter this year.
Everyone is convinced that Hillary Clinton will run for president in 2016 and waltz into the White House in 2017. But will she? Daily Caller reports that Hillary Clinton's health issues may be worse than originally reported. Of course, being a drunk like she is, this could be true. The Democrats have NOBODY to run for president in '16 other than Hillary. Who are they going to run? Joe Biden? Martin O'Malley? Elizabeth Warren?. Tabloids have even reported that Hillary Clinton has brain cancer, but I don't believe that. She would first need a brain in order to have such a problem.
Big, breaking news from the leftist Huffington Post! Did you know Scott Walker broke college campaign rules while he was running for college president at Marquette? Yep, that's their big breaking news tonight, a story from the year 1988. Forget Obama doing cocaine in high school, or Hillary Clinton getting thrown off the Watergate committee because of ethics and fraud. Scott Walker broke some college rules 26 years ago! OMG! You know what rule Scott Walker broke in college? He started campaigning for president about a week before he was supposed to. Can you imagine? HOW CORRUPT IS THIS GUY!? .
Even during NBC's Olympic coverage, they can't put away their cheering for Hillary Clinton to win in 2016. Meredith Vieira who was subbing for Matt Lauer (who was subbing for pink eyed Bob Costas) used her Olympic platform to lobby for TJ Oshie to be Hillary Clinton's running mate in 2016. why? Because TJ Oshie scored the winning goal in the eight round of a shoot out to beat Russia in hockey. I don't know what Oshie's political preferences are, but it's no doubt what Vieira's are. Watch the following video of Meredith Vieira discussing how Oshie should be Hillary's running mate with Al Micheala and Mike Emrick.
Meredith Vieira wants TJ Oshie to be Hillary Clinton's running mate
The Hillary Papers, or the Diane Blair papers, whom Hillary Clinton once described as her closet friend wasn't supposed to get out into the public. What the Hillary Papers reveal about Clinton is just how ruthless she really is. Prior to this release, Hillary Clinton was best known for being fired from Watergate committee for fraud, ethics violations. But tonight, the Free Beacon reveals in never before seen memos what Hillary Clinton is truely all about. There's even the Clinton 'Sex Files' which has yet another woman named Kathleen Willey who claims that BJ Bill Clinton sexually assaulting her. This was in 1997, before the whole Monica Lewinsky fiasco.
The Free beacon's uncovering of these Blair memos reveals so much about Hillary Clinton. Progressive liberal will love the fact that she's for a single-payer health care system, like they have in Cubs. Hillary Clinton also didn't like all those 'whiny women' back in her days as first lady, because she needed Republican Senator Bob Packwood to help her get HillaryCare passed.
Hillary Clinton's blunt assessments were not confined to Monica Lewinsky. In a Dec. 3, 1993, diary entry, Blair recounted a conversation with the first lady about "Packwood"—a reference to then-Sen. Bob Packwood, an influential Republican on health care embroiled in a sexual harassment scandal.

"HC tired of all those whiney women, and she needs him on health care," wrote Blair. "I told her I'd been bonding w. creeps; she said that was the story of her whole past year. Fabio incident—sweeping her up, sending her roses."

Privately, the Clinton White House was acutely sensitive to public perceptions of President Clinton's treatment of women.

Supreme Court nominations were not immune from such considerations. In a three-page May 11, 1994, memo, Blair recounted her phone conversation with President Clinton about reservations he had about his preferred nominee to the high Court, the late Arkansas Judge Richard Arnold.

Noting Clinton allies had "really been trying to keep the women's groups in line since Paula Jones filing," Bill Clinton, according to Blair's account, was concerned feminist groups "might blow sky high" if he appointed Arnold to the Supreme Court. Arnold had ruled that the Jaycees club could bar women from full membership—a decision later overturned by the highest court in the land.
Read the Hillary Papers at the Washington Free Beacon.
Monica who? Now there are reports that Bill Clinton carried on a torrid year-long love affair with British supermodel Elizabeth Hurley behind White House walls. Hillary's response? What difference does it make? No wonder BJ Cllnton wants to get back into the White House so badly. Imagine all the women he can bang if Hillary wins.