Dr. Joseph Booker Jr. an abortionist and hero of the progressive liberal left wing Democrats kept 36 bags of aborted babies in a storage unit met karma and has been found dead. Dr. Joseph Booker Jr. a leftist hero suffered a stroke and drowned in his shower in his Mississippi home. Joseph Booker had a history of tax evasion, botched abortions, and unusual disposal of aborted babies. Basically, Booker was your typical, run of the mill progressive liberal.
Dr. Joseph Booker Jr – abortionist kept 36 bags of aborted babies is dead – Image credit LifeSiteNews.com
Authorities say an abortionist with a history of tax evasion, botched abortions, and unusual disposal of aborted babies has died.
Police found the body of Dr. Joseph Booker Jr., 69, at his home Thursday night after relatives complained they could not reach him. Investigators said Booker suffered a stroke and drowned in his shower in his Madison, Mississippi, home.
Tanya Britten of Pro-Life Mississippi said, "From a Christian perspective, I pray that he repented on the lives that he has taken, and that God is merciful,"
In 1999, Booker served time in prison for tax evasion. Later in the year, police learned that a local resident discovered 36 bags of aborted babies in a storage unit he purchased from Booker in Ocean Springs, Mississippi. The new owner said Booker stowed the babies there shortly before going to prison.
The Supreme Court has refused to block Texas' new abortion laws, sending leftists and so called 'feminists' to the brink of suicide. Boil face Wendy Davis is somewhere draining the puss from her face.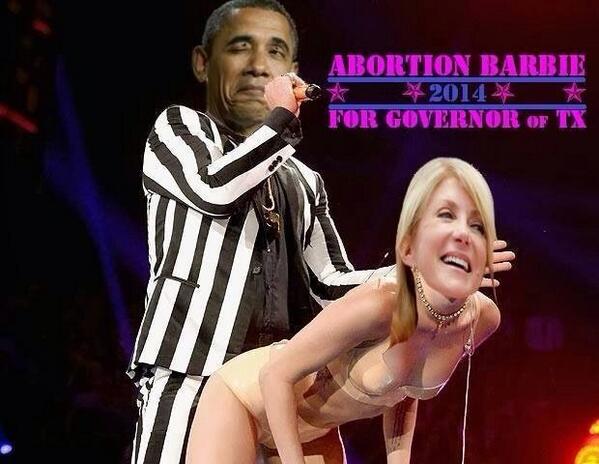 Abortion Barbie Wendy Davis
The U.S. Supreme Court has declined to block controversial Texas abortion restrictions that have been called some of the strictest in the country.

The court by a 5-4 vote denied a request by Planned Parenthood to block a ruling by the Fifth Circuit Court of Appeals, which allows key parts of the Texas abortion law to stay in effect while the case plays out.
Meet abortionist Gloria Martinez. She's doing well for herself killing babies, and trotting around El Paso, Texas in her BMW. She's also a bully who threatened to run over a pro-life praying man Miguel Abaunza. He caught the incident on video where Gloria Martinez drove her BMW directly towards Miguel Abaunza. Martinez pressed on the breaks at the last second, rolled down her window and told Miguel that "one of these days I am going to run over you." Such class.
Abortionist Gloria Martinez threatens to run over pro-life Miguel Abaunza in her BMW
Josh Lederman, an Associated Press reporter found himself blocked from entering his own apartment building by Obama's Secret Service earlier tonight. Is Obama getting revenge on the AP for an earlier report about Virginia gubernatorial candidate Terry McAuliffe?
Currently being prevented from entering my own apartment building by Secret Service. Agents all over but they won't tell me why

— Josh Lederman (@joshledermanAP) October 10, 2013
BREAKING: Associated Press withdraws story about documents in a federal fraud case alleging that Terry McAuliffe lied to a federal official.

— WTOP (@WTOP) October 10, 2013

Why was Josh Lederman blocked by Obama's Secret Service? Lederman either doesn't know, or isn't reporting it, after he finally got into the building:
Back in my apartment. Whoever was in the building has left via motorcade.

— Josh Lederman (@joshledermanAP) October 10, 2013
If this isn't some sort of revenge by Obama for the AP releasing a story unfavorable about Terry McAuliffe, then maybe Obama is mad at the AP for releasing their poll earlier today showing him with a record low approval rating of 37%, despite their liberal bias and Democrat oversampling.
Unless Lederman tells us why he was blocked from entering his own apartment building by Obama's Secret Service, it will just remain a mystery.
Hey Josh, Welcome to Obama's AmeriKa.
Good news Texans! Abortion Barbie Wendy Davis, the grim reaper and media darling is planning to run for Governor of Texas. In what was probably the most obvious campaign run since the 2016 Hillary Clinton run, Wendy Davis, who is adored by the media, and leftist baby killers everywhere will likely be the Democrat nominee to challenge the likely GOP nominee Greg Abbott. Wendy Davis' whole platform will about late-term abortion. Sounds like a winning formula, especially for Texas .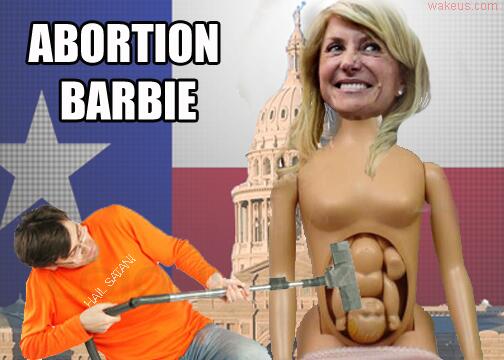 Wendy Davis – Abortion Barbie, media darling and boil face to run for Governor of Texas
Better hide the children. During Wendy Davis' campaign for Texas governor, she may break out the dead fetus to get her left wing fringe fans to cheer her on.
Isn't ObamaCARE great? Not only does it take over the entire health care system of this country, but your tax dollars will get to subsidize as many as 111,500 abortions per year! Sandra Fluke must be smiling from ear to ear.
The Communist China are now eating human embryos and fetuses for sex. Thanks to China's 'one child' policy, the Chinese are eating 'baby herbal soup' to increase overall health and stamina and the power of sexual performance in particular. This comes from the Seoul Times in South Korea. No wonder the American left has so much in common with this Communist Chinese. There are very graphic images posted at the Seoul Times, if you think you have the stomach to view them. Abortion Barbie Wendy Davis couldn't be reached for comment.
The Government Accountability Office (GAO) will investigate how Planned Parenthood is using the millions of taxpayer dollars it receives each year. All I can say is what took so damn long?
From Newsmax:
Texas Governor Rick Perry released the following statement on the passage of pro-life legislation that got the left so fed up they brought jars of feces and urine to the capitol building to throw at law makers.
Gov. Rick Perry today issued the following statement applauding the Senate's passage of pro-life legislation, HB 2:

"Today the Texas Legislature took its final step in our historic effort to protect life. This legislation builds on the strong and unwavering commitment we have made to defend life and protect women's health. I am proud of our lawmakers, and citizens who tirelessly defended our smallest and most vulnerable Texans and future Texans."
Oops. Sucks to be you leftists. Now back mommy's basements.
HB2 better known as the Infant Pain Capable Protection Act passes Texas Senate. It now goes to Govenror Rick Perry to sign. Leftists can take their jars of urine and feces and go back to crying in their mother's basement. If leftists are so mad about Texas preventing abortions after 20 weeks of pregnancy, they can just leave and move to California and STFU. There are of course exceptions in this bill in regards to the health of the mother. Leftists earlier threw tampons at lawmakers and had jars of feces and urine that they were reportedly planning to toss after the bill's passage. Primates toss their feces around when they get mad, just like progressive liberal Democrat or so called 'feminists.'
BREAKING: Texas State Senate Passes Bill to Ban Late-Term Abortions Despite Abortion Mob http://t.co/40jRevo8s9 #stand4life

— Steven Ertelt (@StevenErtelt) July 13, 2013

The bill passed the Texas State Senate by a margin of 19-11.
Read more
Just like Hitler, leftists in Texas are using kids as pawns. One of the more disgusting signs held by pre-teen kids in Austin is this one: Jesus isn't a dick; so keep him out of my vagina! Kids say the darnedest things these days don't they?
Honestly, this nasty sign at #txlege represents the failure of modern day "feminism" so well –> pic.twitter.com/vhQMXJSG0d #HB2 #SB353 #ncga

— Sister Toldjah (@sistertoldjah) July 12, 2013
This is the mind of a liberal 'feminist.' Using kids to do your protesting for you. I wonder if this girl holding the sign even knows what she's protesting. Must be fun having to do this over this summer vacation break from school too.
Read more
Pro aborts, pro-Satanist, pro-Kermit Gosnell late term abortion supporters in Texas planned to throw tampons and maxi pads at legislators to show their 'displeasure' for the 20 week abortion law that is likely to pass the Texas Senate today and then go to Rick Perry to sign. Of course these Gosnell, pro-satan abortions are all leftists who claim to be 'educated, independent thinkers.' I guess this is what an education gets you these days.
Read more