Obama's lawless regime continue on. Dianne Feinstein is mad. She's mad because she claims Obama's CIA improperly searched a stand-alone computer network established for Congress as part of its investigation into allegations of CIA abuse in a Bush-era detention and interrogation program. The spying occurred in 2010, under Obama's reign of terror (about the same time the IRS started targeting conservatives.) Yep, typical Obama. Why Feinstein is all of a sudden mad, after the Obama regime has broken numerous laws is something she'll have to explain.
Jeri Wright, the daughter of Obama's former pastor Rev. Wright who married the Obamas and baptised their kids was found guilty on multiple counts of fraud in a money laundering scheme.. Remember that 'WE are our brother's keeper' crap Bill O'Reilly was pimping? Jeri Wright was found guilty of wasting thousands of tax dollars that went to this program on a spending spree. Wright was caught yelling 'I didn't do it' as she was taken out of the court room after her conviction. Somewhere, Jeremiah Wright is probably yelling God Damn America again! Don't expect this to get any coverage by the corrupt media.
Read more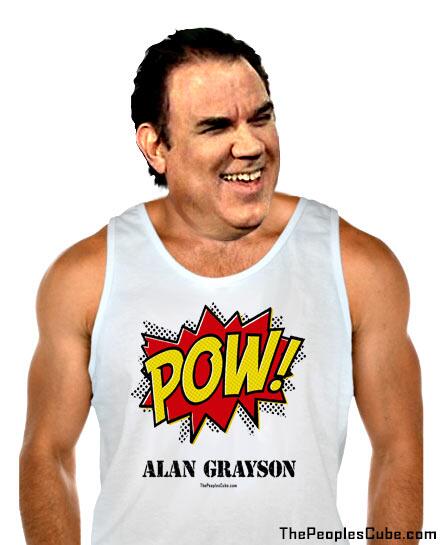 Alan Grayson's wife Lolita accused him of shoving her during domestic incident. Pictures released to News 13 Orlando (via Gateway Pundit) show bruises sustained by Lolita Grayson (she says during his tirade.) Only Lolita and Alan Grayon know if this really occurred. If it did, it just continues the progressive liberal's left war on women, Grayson, Filner, Weiner, Spizter, Clinton, etc. The list goes on and on.
Alan Grayson's wife shows off her bruises from his alleged domestic violence – Image credit News 13
If leftists didn't have double standards, they wouldn't have any at all. Just as expected, leftists are bitching and moaning and crying racism over Darrell Issa cutting the mic to pathetic tantrum throwing Elijah Cummings at the Lois Lerner hearing. Yet, the same leftists don't seem to want to mention, or remember 2008 when pig nose Henry Waxman threatened to physically remove Darrell Issa from a hearing because Waxman wasn't folowing regular order. Remember this video? in 2008, Democrats held the majority in the House.
Remember when Henry Waxman threatened to kick Issa out of hearing room in 2008?
Pay to play? Dr. Joseph Piacentile, who was convicted in 1991 for Medicare fraud and tax evasion donated $100,000 to Obama's Organizing for America PAC. NBC claims that Joseph Piacentile is seeking a presidential pardon from Obama. In order to grease Obama's palms, I guess the doctor felt the $100,000 would be enough. The money was allegedly accepted by OFA consultant Samantha Maltzman. This woman is no stranger to fund raising for corrupt Democrats. She's also been a fundraiser for Cory Booker and Hillary Clinton.
According to emails obtained by NBC News, Maltzman had collected the check as part of an effort to raise money from big donors for an OFA dinner with President Barack Obama on Tuesday. She also took steps that could have kept the doctor's cash secret, returning the check and asking Piacentile to write a new one to another political nonprofit that she described as "one of our partner organizations." That group — unlike OFA — does not have a policy of voluntarily disclosing its donors.
OFA officials said Maltzman, who previously had worked as a fundraiser for New Jersey Sen. Cory Booker and Hillary Clinton during her 2008 presidential campaign, had been dismissed. One OFA official, who spoke with NBC News on condition of anonymity, said Maltzman "consistently did great work but made a mistake in this instance."
On Feb. 6, with the pardon application pending, Piacentile wrote a $100,000 check to Organizing for Action. The emails obtained by NBC News show that Piacentile's check was written in response to an OFA fundraising appeal for the dinner and reception with Obama. "It is $25,000 per person to attend and for those that raise or write $100K, there will be small clutch with the president," Maltzman wrote in a Jan. 15 email to another New Jersey doctor and potential donor, Munr Kazmir, who was an acquaintance of Piacentile and invited him to be his guest at the dinner.
Are you ready for Hillary Clinton? Apparently progressive loons at the Democrat Executive Committee conference are ready for Hillary. Only one problem though. These progressive liberal Democrats can't name a single accomplishment by Hillary Clinton that would qualify her to be President. The following video of these progressive liberals not being able to name a single accomplishment from Hillary Clinton may make you laugh, cry or simply cringe.
Progressives can't name a single Hillary Clinton accomplishment
Wow look, Obama lied again! It's almost a broken record at this point. Obama blocked his aides from cooperating with the investigation on IRS probe, even after promising that he would allow those same aides to cooperate with the investigation.
In Hillary Clinton's world, the four Americans dead in Benghazi were the result of a Youtube. Also in her world, Vladimir Putin is doing the same thing Adolf Hitler did. Only problem for Hillary Clinton is that Putin hasn't killed 6 million Jews, 2 million Poles, or millions of others. Hillary Clinton might wish Putin was like Hitler since she hates Jews, just like her Muslim Brotherhood linked Chief of Staff.
Elijah Cummings meltdown at today's IRS targeting hearing was such an Oscar award winning performance that Cummings may be in the running for the award next year. Elijah Cummings, a black race hustler who is desperate to shield the Obama regime for their corruption and involvement in the IRS targeting scandal had a meltdown today after Lois Lerner pleaded the fifth again (after Issa claimed she wouldn't on Fox News Sunday.)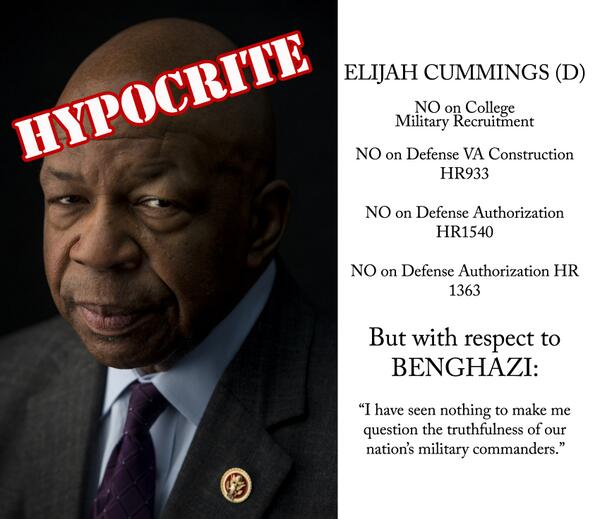 Elijah Cummings meltdown at IRS targeting hearing
Cummings also tries to pull similar stuff during the Benghazi hearings, although never quite going off the rails like today. It should be obvious now that the Cummings and the Democrats are hiding something for Obama. Maybe it's time to give Lerner immunity and get those answers.
Joe Wilson was given a resolution of disapproval by the Nancy Pelosi controlled House after he yelled 'YOU LIE' during an Obama State of the Union address. Elijah Cummings deserves at least this, and probably contempt of Congress for his pitiful actions.
Read more
Lolita Grayson is the wife of neanderthal progressive liberal Democrat Alan Grayson. Lolita Grayson claims that Alan shoved her during a domestic incident and has been granted a protective order. Alan Grayson, the nut job leftist Democrat has denied he shoved his wife. Just another fine example of the true war on women Democrats are conducting every day. Don't expect this to get any press coverage though. Since nutty Alan Grayson is a Democrat, he will get a free pass if it turns out he really did shove his wife. Remember, Alan Grayson is the same nut job who claimed Republicans want you to 'die quickly' without ObamaCARE and compared the tea party to the KKK even though the KKK is a Democrat legacy.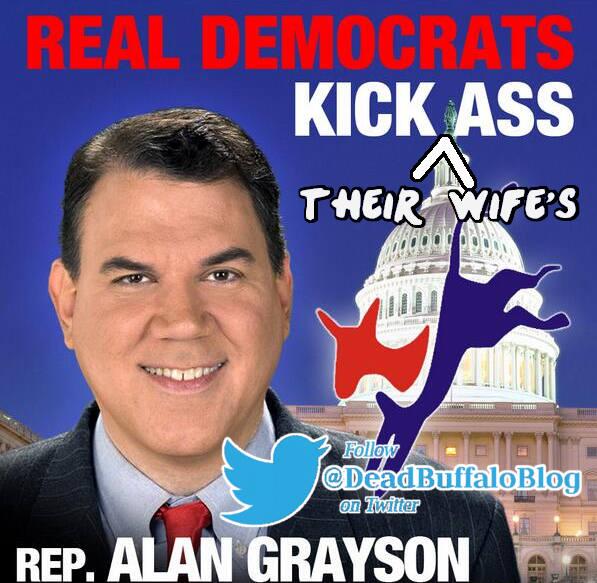 Lolita Grayson wife of Alan Grayson claims he shoved her during domestic incident
Michelle Obama sure loves her vacation time. 24 days in Hawaii ending January, a ski trip in Colorado during the president's day holiday, and now a week long trip to China later this month. Michelle Obama will have a couple of token appearances at high schools and universities, but the rest of it is party time for Mooch. Michelle Obama is taking the kids along, along with Mama Robinson (her mother) and we get to pay the bill.
OCZARS – anti Obama artwork has popped up all around Beverly Hills and the Los Angeles area prior to the Oscar awards. I guess people in these leftist areas are even getting tired of Obama.
OCZARS – Anti Obama artwork pops up in Beverly Hills and L.A.
And the OSCZAR goes to…..
Obama's Oscar