Just how batshit crazy is Nancy Pelosi? Now she's claim Hamas is a Humanitarian Organization. Yes, the Hamas that kills Jews, Americans and is designated a terrorist organization by our own State Department. Watch the following video of Nancy Pelosi claiming Hamas is a Humanitarian Organization:
Nancy Pelosi says Hamas is a Humanitarian Organization VIDEO
There must be something in the water in San Francisco. Either that, or the botox seeping into Nancy Pelosi's veins has really screwed up whatever brain she had left.
Imagine if Saturday Night Live was still funny. Could you imagine the skits mocking Nancy Pelosi calling a terrorist group like Hamas a 'Humanitarian Organization.' Maybe all the wine Pelosi has been sipping from her private vineyards has gone to her head.
Progressive liberal Democrats are always terrorist sympathizers. Progressives in America like Pelosi are a lot like Hamas. Either you agree with their warped ideology, or you are targeted, threatened, smeared and some times even the victim of violence.
At least 23 dead Americans, 295 dead total of people from all over the global. So what does Obama say about it? Obama says the MH17 crash 'May have been a terrible tragedy.' Seriously Obama? It may have been? It IS a terrible tragedy you jackass! There is no doubt about the fact it's a terrible tragedy. It MAY have been terrorist, it MAY have been shot down by Russian separatist.
The media of course is trying to protect Obama's ass as usual. Check out how they drop the 'it may be' part of Obama's stupid statement:
BREAKING: Obama: Downed Ukraine plane `terrible tragedy,' working to confirm if Americans were on board.

— The Associated Press (@AP) July 17, 2014
Obama calls downed #MH17 'terrible tragedy,' says U.S. will offer assistance to determine cause http://t.co/OvUSy0a5aZ

— NBC News (@NBCNews) July 17, 2014
President Obama says Malaysia Airlines crash in eastern Ukraine was a "terrible tragedy" http://t.co/9j3rsHylXw

— BBC News (World) (@BBCWorld) July 17, 2014
I guess Obama needed his teleprompter again. Valerie Jarrett out to hire these media hacks to be official propaganda ministers for the regime. They are basically just 'unofficial' at this point. Yea, it 'may have been' a terrible tragedy when nearly 300 people die. *Facepalm*.
I'm really getting sick and tired of these slimy Democrats comparing these diseased illegals to Holocaust victims. Patrick Leahy, a loony Democrat Senator from Vermont actually compared sending back these 60,000+ illegals to Nazis throwing Jews in ovens during the Holocaust. Watch the following video if you can stomach it, or your blood pressure can stand it.
Really now Vermont? Howard Dean, socialist Bernie Sanders, and now Patrick Leahy comparing deporting border invaders to Jews thrown in the ovens by the Nazis? Of course, none in the media will cover this outrageous compassion, but this is beyond offending.
I'm no fan of Apple. I don't particularly like the iPhone (as I have a Samsung), and their laptops/tablets are overpriced and overrated IMO. Now, Apple may really jump the shark. According to the site MacRumors, Apple is considering adding Jay Carney, the one time Obama propaganda minister and chief liar. If Apple does in fact go ahead and hire Carney for their PR chief position, then they will do irreparable damage to their brand, even among their most loyal users. Wouldn't matter with me though, as after having an Apple Laptop once, with it overheating, and the battery bursting, I'd never buy another Apple product again anyway.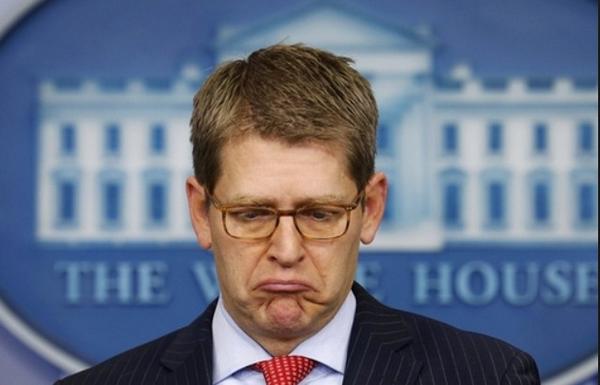 Apple may hire Jay Carney for PR Chief Position
Texas RINO John Cornyn and Democrat Henry Cuellar have been working on the 'Humane' act, which will allow for quicker deportation of the diseased illegals invading the southern border. Turns out they are just wasting their time actually trying to get something done, because Dingy Harry Reid will not support the Humane Act, and wouldn't allow a Senate vote on it in the first place.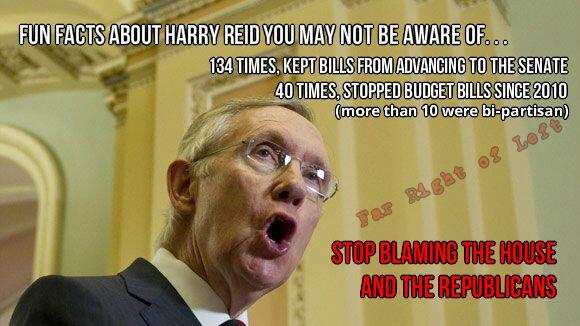 Dingy Harry Reid wouldn't support Cornyn-Cuellar HUMANE Act
Reid says he won't support cornyn-cuellar border bill

— Burgess Everett (@burgessev) July 15, 2014
Ah yes. Eric Holder. the same racist goon that while in college participated in 'armed' takeover of former Columbia U. ROTC office. Eric Holder also called this country a nation of cowards shortly after being hand picked by Valerie Jarrett, errr Obama to be Attorney. He got a softball interview on ABC today, and took time to whine about how Americans are racist if they disagree with Obama on policy. He even got a jab in at Sarah Palin.
Racist Eric Holder bashes Palin on ABC
The Democrat war on women continues, well at least the offspring. Carroll Cullerton, is the son of Illinois State Senate President (and Chicago Democrat) John Cullerton. The son was arrested n Memphis was arrested and charged with sexual battery for 'allegedly' fondling her breast of the victim. CBS Chicago waited until the last paragraph to mention that Cullerton is a Democrat. I suppose that's an improvement for CBS, as they usually don't mention the political party at when a scandal involves a Democrat.
Carroll Cullerton – son of Chicago Democrat arrested on sexual battery
After a couple weeks of disastrous book sale numbers and fumbling around like the old drunk that she is, Hillary Clinton is off Great Britain for America's birthday on July 4th. What difference at this point does it make? Hillary Clinton is giving an interview to the UK Guardian newspaper, one of the most anti-American European papers out there. Seems fitting I guess.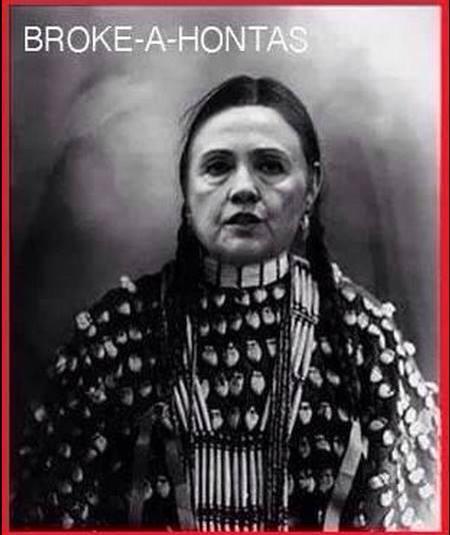 Patriotic Hillary Clinton off to Great Britain for July 4
Apparently, in Nancy Pelosi's world, all illegals that have been flooding the Texas/Arizona borders with Mexico are 'all Americans.' Botox faced Pelosi wants to use the border crisis as an 'opportunity' to give amnesty to all these diseased border hoppers. Pelosi also said she wished she could take all the border hoppers home with her. So why don't you put your money where your plastic surgery mouth is and do it? San Francisco is a sanctuary city anyway. Imagine the keep labor Pelosi will have to pick the grapes and her wine vineyards.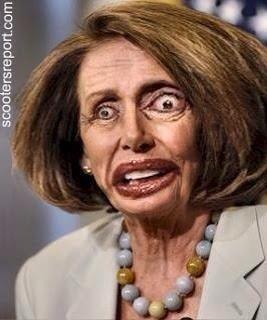 Saturday at a press conference from the Rio Grande Valley, Rep. Nancy Pelosi (D-CA) discussed her tour of a border holding facility and addressed the humanitarian crisis of thousands unaccompanied minors flooding across the U.S.-Mexico border, which she called a "humanitarian opportunity."
Pelosi explained, "We are all Americans — north and south in this hemisphere," and urged America to see this as not a crisis but an opportunity "to be helpful." She also said she wished she could simply "take home" the thousands of children temporarily housed in the overburden facilities.
No matter how much free, fawning press Hillary Clinton got for her 'book tour', it still can't help sell 'Hard Choices.' Hillary Clinton's books continued it's epic fail, dropping on sites like Amazon and getting really bad reviews. Now, even in your local bookstore, the prices of 'Hard Choices' is being slashed after just two weeks of it's release.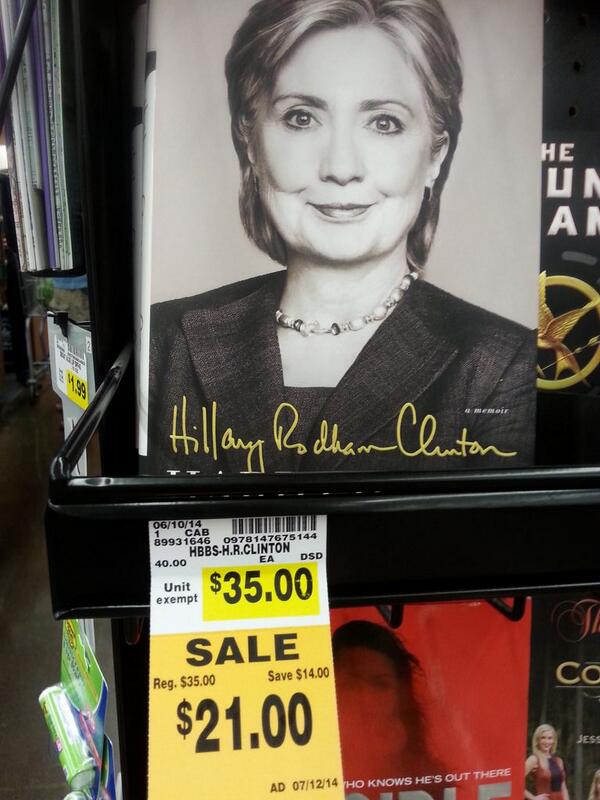 Hillary Clinton's book continues to flop – prices cut nationwide