Michelle Obama turnip for what 'dance' is I guess the new sensation in Washington DC. Remember when the 1st Lady of America actually had dignity and class? Check out Michelle Obama turnip for what dance video.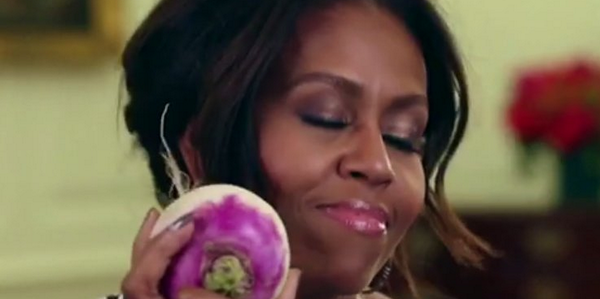 Michelle Obama turnip for what 'dance' (VIDEO)
Must be almost time for another Obama family vacation.
Read more
The investigation into deserter Bowe Bergdahl has been delayed, conviently until after the November mid-term elections. Yet again, Obama is playing politics after trading five dangerous Muslim terrorists for this deserting POS. Via MoonBattery: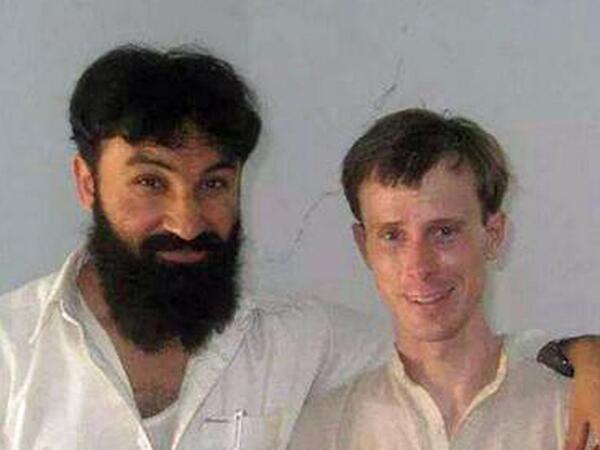 Bowe Bergdahl investigation until after mid-terms
Is Bowe Bergdahl — the useless sad sack for whom Obama traded five top Islamic terrorists — merely a deserter, or did he actively defect to the Taliban? The government knows we won't like the answer, because it is making us wait until after the election to find out:

There is one more election left before the one that choses our next president. After next month, Obama will have no reason to postpone these revelations. Prepare for two straight years of having it rubbed in our face again and again just what liberals were able to install in the White House.
Regardless of who wins majority control in the Senate next month, Obama has a lot of slimy things up his sleeve. One of them may be closing Gitmo via executive order and bringing the remaining terrorists to American soil, giving them full Miranda rights. But Obama wouldn't ban flights from Ebola infected countries in West Africa.
Obama may close GITMO and bring terrorists to America via executive order
Jail Eric Holder. That has a nice ring to it doesn't it? Of course, it's probably just a pipe dream at this point, but the House Oversight Committee is sopposedly pursues new contempt charges, fines, ans even jail Eric Holder according to Breitbart.
Jail Eric Holder?
Eric Holder for jail 2016!
Read more
The crimes of Eric Holder. I don't have enough server space to type out all of the corrupt resigning Attorney General, the absolute worst, and most partisan in American history. Infowars goes over Eric Holder's three most Holder's most egregious cases of lawlessness.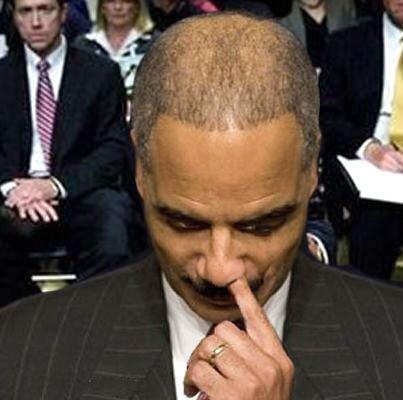 The crimes of Eric Holder
Fast and Furious – Duh, the most obvious. Running guns into Mexico, resulting in the deaths of at least three Americans and hundreds of Mexicans.
Between 2006 and 2011, the Bureau of Alcohol, Tobacco, Firearms and Explosives (ATF), under the direct command of the Justice Department, secretly pushed southern gun dealers to sell weapons to suspected drug cartel traffickers in order to allegedly track the weapons into Mexico.

Despite the administration's attempt to paint the countless deaths associated as unintended consequences after the program went public, documents obtained by CBS News revealed that the ATF had planned to use the deaths to push a gun control agenda.

Eric Holder, who has publicly stated his desire to "brainwash" children to think negatively about gun ownership, has actively worked to keep Fast and Furious documents from becoming public. Unfortunately for Holder, a judge has denied his request to delay the release of a list of Operation Fast and Furious documents currently being protected under the President's assertion of executive privilege.
Attack on Whistleblowers & the Press (AP, James Rosen of Fox News, etc)
The Obama administration has charged more journalists and legitimate government whistleblowers with espionage than all other presidents combined since the passage of the 1917 Espionage Act.

Whether it be targeting CIA whistleblower John Kiriakou for exposing the agency's torture program, seizing Associated Press phone records, prosecuting Chelsea Manning or going after journalists James Risen and James Rosen, Holder has undoubtedly overseen the largest attack on the First Amendment in modern history.

"The Obama administration has moved beyond protecting government secrets to threatening fundamental freedoms of the press to gather news," the New York Times noted.
Slimy progressive liberal Democrats always manage to quit just before the sh*t is about to hit the fan. Many found Eric Holder's sudden resignation today odd. Well now we know why. According to Breitbart, Holder's resignation comes on the heels of another court ruling that the Justice Department must finally cough up documents about how Holder's Justice Department lied to Congress and the American people about the Operation Fast and Furious scandal. Why am I not surprised?
Eric Holder's resignation comes as DOJ forced to cough up Fast and Furious documents
Oh good grief. Al Sharpton is helping the Obama White House pick who the next Attorney General will be. What could possibly go wrong here? BTW, wtf is an NBC paid employee doing anything with the corrupt Obama regime. Isn't this like some sort of conflict of interest? I guess they just don't have to hide it anymore.
Al Sharpton helping Obama pick next Attorney General
Now that Eric Holder is on his way out, what race hustler will Obama choose to replace Holder? Maybe Obama's mentor at Harvard, Charles Ogletree. Obama's Harvard mentor Charles Ogletree declared he wants to see the first "white victim" of the Stand Your Ground law back in 2012 during the Trayvon Martin fiasco. Seems like a logical pick for Obama. Replace one race hustler with another.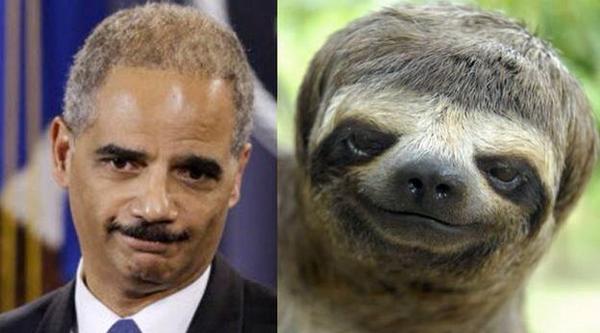 Will racist Charles Ogetree replace Eric Holder as AG?
Other candidates could include Thomas Perez (a Latino race hustler). Maybe even Massachusetts Gov. Deval Patrick who isn't running for re-election. Others being rumored are Kamala Harris (Attorney General of California) and butch Janet Napolitano. The best choice at this point would be a sloth. It would look like Eric Holder, but would run the DOJ better than Holder did, or any of his rumored replacements.
Read more
Eric Holder, the biggest race hustling Attorney General in American history is suddenly resigns! Why? The media wouldn't let that information out, but where's there's smoke, there's fire. I'll bet something about this corrupt, racist bastard is going to drop withing the next few weeks. Eric Holder is the only Attorney General n American hsitory to be held in contempt of Congress. Maybe Holder get hook up with Al Sharpton at NAN or something.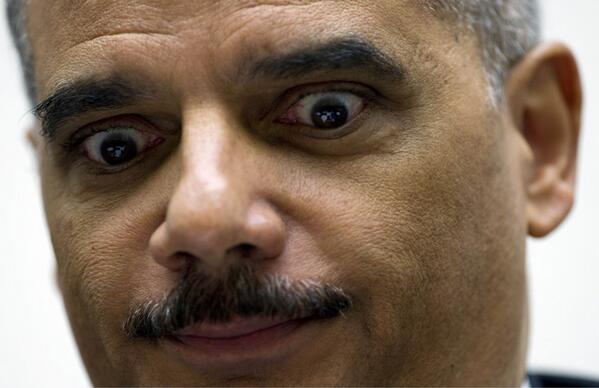 Corrupt Eric Holder resigns
Hillary Clinton admires racist, segregationist, Margret Sanger. Should I really be surprised? Well, I'm not. Margaret Sanger's biggest claim to fame, aside from her racism was the founding of the baby butchers Planned Parenthood. Sanger is a leftist icon, and her racism is always overlooked by the pro-abortion crowd. It's funny how you never hear about some famous Margaret Sanger quotes about blacks like:
[We should] apply a stern and rigid policy of sterilization and segregation to that grade of population whose progeny is tainted, or whose inheritance is such that objectionable traits may be transmitted to offspring.
Give dysgenic groups [people with "bad genes"] in our population their choice of segregation or [compulsory] sterilization.
Birth control must lead ultimately to a cleaner race.

We should hire three or four colored ministers, preferably with social-service backgrounds, and with engaging personalities. The most successful educational approach to the Negro is through a religious appeal. We don't want the word to go out that we want to exterminate the Negro population, and the minister is the man who can straighten out that idea if it ever occurs to any of their more rebellious members.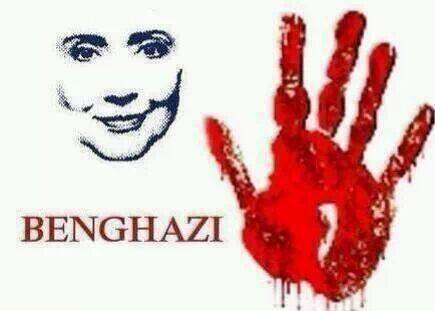 Hillary Clinton admires racist Margaret Sanger
This is the progressive liberal extremist standard bearer of the 21st century. Funny, how these quotes are never heard by the public.
Former Secretary of State Hillary Clinton, an abortion advocate, is expected to seriously consider her own presidential bid in 2016. For most Democrats, according to polls that have been taken throughout the year, Hillary is the number one choice to replace pro-abortion President Barack Obama.

Obama has a laundry list of actions he's taken as president to promote abortion on demand paid for at taxpayer expense. Clinton would continue that pro-abortion legacy and the abortion advocacy of her husband, pro-abortion ex-President Bill Clinton.

Here's one example of Clinton's fondness for abortion and promotes of abortion: She says she admires Margaret Sanger, the racist founder of the Planned Parenthood abortion business…