So Eric Holder personally signed off on Department of 'Justice' search warrants that allowed them to spy on and read James Rosen's personal and private e-mails. Here's my shocked face: :-O As if i'm supposed to be surprised? What's really surprising is that NBC actually reported on this. Now that's a shocker there. So how long does Holder last? Some leftists aren't exactly thrilled with this either, even though Rosen is a Fox News reporter. Something tells me Holder is going to get the ax since this was leaked to Obama's main media propaganda outfit NBC. Either that or there is something else fishy going on.
Obama gave another one of his propaganda press conferences. This time it was on GITMO and drone strikes. This is yet another feeble effort to try and take the heat off the IRS scandal, Benghazi and the Fox News scandal. Yet again, Obama uttered one of his famous lines, I am not a dictator.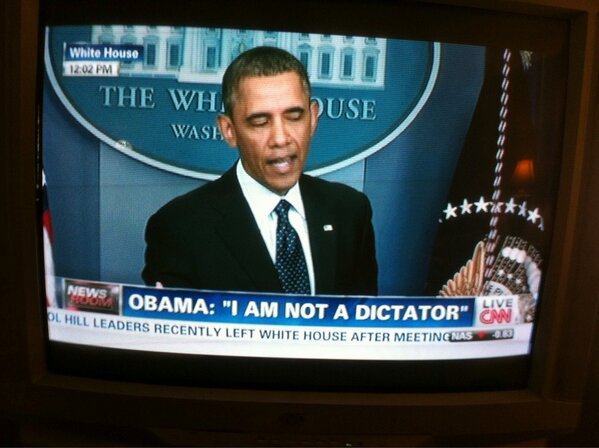 Obama at GITMO propaganda presser – I am not a dictator
He sure acts like a dictator. He sure wishes he were a dictator. Replace dictator with crook and you have Barack Milhous Obama.
The IRS' own internal investigation of targeting conservatives and religious groups was completed in May of 2012. A full six months before the last year's election. Not only did they hid this information from Congress, they hid it from the American people. Leftists and media hacks can keep trying to claim to Obama or his 'staff' had no knowledge of this investigation or targeting of conservatives.
Lois Lerner, isn't too smart. She had an audience member ask a planted question about the IRS scandal targeting conservative and religious groups. Today, she blew her Fifth Amendment rights when she gave an opening statement, denying any wrongdoing and professing pride in her IRS government service. Lerner said:
"I have not done anything wrong," she said. "I have not broken any laws. I have not violated any IRS rules or regulations, and I have not provided false information to this or any other committee."
Darrell Issa told Politico that Lois Lerner waived her Fifth Amendment rights with her statements and will be recalled to testify.
Read more
Is Cindy Thomas the Cincinnati agent giving orders in IRS scandal? According to FOX19, Cindy Thomas is the individual who signed off on the IRS release of private information on nine conservative groups to ProPublica.
It turns out Cindy Thomas' name is one we have heard before. The independent journalism group ProPublica says in November of 2012 they had requested information on conservatives groups that had received non-profit status. Along with that information, the IRS released private information on nine conservative groups that had not yet been approved and personal information had not been redacted. The person who signed off on that release, Cindy Thomas.

What this means for you… consider this chain of command since the story broke.

Former Acting IRS Commissioner Steven Miller… retires

Joseph Grant, Commissioner of Tax Exempt and Government Entities… retires.

Lois Lerner, Head of Exempt Organization…says she will invoke her 5th amendment right to not incriminate herself when called before Congress on Wednesday.

Holly Paz, Director of Exempt Organizations, subpoenaed to Washington to be interviewed by members of Congress.

All of this IRS leadership, in Washington D.C.

Then one level down is Cindy Thomas, the highest ranking employee in Cincinnati in this Tax Exempt and Government Entities Department that no one in Congress is talking to… yet.

And that is Reality Check.
So not only did the DOJ seize James Rosen (and five Fox News reporters records) but they seized the phone record of James Rosen's parents too! Bret Baier reported on Special Report that latest chapter in the Obama regime's attack on James Rosen, his parents and Fox News. Twitchy reports:
Obama-Holder DOJ seized James Rosen parents phone records
The net cast by the Department of Justice into the media pool just keeps getting bigger. The original story of Associated Press phone records being seized alone was enough to qualify as the Obama administration's third big scandal of the moment, right up there with Benghazi and the IRS' targeting of conservative groups. Then we learned that the Justice Department had looked into not only the work calls of Fox News' James Rosen, but his personal cell phone, his movements and his Google emails as well. And now, reports say that the DOJ looked into his parents' phone records too.
Bret Baier just reported that the freakin' DOJ seized the phone records of James Rosen's PARENTS!

— John Nolte(@NolteNC) May 21, 2013
Chicagoland politics unfettered. RT @nolenc: Bret Baier just reported that the freakin' DOJ seized phone records of James Rosen's PARENTS!"

— NumbersMuncher (@NumbersMuncher) May 21, 2013
@brithume Did I just hear @bretbaiersay @jamesrosenfnc 's PARENTS phone records were also seized by DO? #AbuseOfPower #FirstAmendment

— ★♥ Harriet Baldwin(@HarrietBaldwin) May 21, 2013
Ronald Machen was nominated by Obama and confirmed in 2010 to be United States Attorney for the District of Columbia. Last year Ronald Machen was selected by Eric Holder to 'prosecute' security leaks that many believed were coming directly from the Obama White House to make him look good. Over the weekend it was revealed that the DOJ seized James Rosen's phone records. Then it was revealed yesterday that Holder's DOJ also seized the phone records of reporter William La Jeunesse & producer Mike Levine. Now, according to Breitbart, Ronald Machen has seized up to five Fox News reporters phone records.
Read more
So now that former IRS commissioner Douglas Shulman has admitted that he knew 'tea party' was on the Obama/IRS enemies list, does that mean it's time to send him to jail for lying under oath to Congress?
Former #IRS Commish Shulman: " I knew there was a list. I knew the word Tea Party was on the list. I don't know…I don't know…"

— Paula Bolyard (@pbolyard) May 21, 2013
Even with Shulman admitting he knew there was a list and that tea party was on the list, he still had the audacity to claim he was 'unaware.'
Read more
Sharyl Attkisson is a rarity. She's a CBS journalist who's tried to get answers on Benghazi. Rumors started that the eggheads at CBS were so frustrated by Attkisson's reporting on Benghazi, that they were getting ready to dump her because of it. Now we learn someone (or some agency) has been snooping around Sharyl Attkisson's computer.
Sharyl Attkisson, the Emmy-award winning CBS News investigative reporter, says that her personal and work computers have been compromised and are under investigation.

"I can confirm that an intrusion of my computers has been under some investigation on my end for some months but I'm not prepared to make an allegation against a specific entity today as I've been patient and methodical about this matter," Attkisson told POLITICO on Tuesday. "I need to check with my attorney and CBS to get their recommendations on info we make public."

In an earlier interview with WPHT Philadelphia, Attkisson said that though she did not know the full details of the intrustion, "there could be some relationship between these things and what's happened to James [Rosen]," the Fox News reporter who became the subject of a Justice Dept. investigation after reporting on CIA intelligence about North Korea in 2009.
It's hard enough being a conservative in college today. Between the Marxist professors indoctrination and the limiting of conservative free speech being conservative in college is rough these days. Apparently, if you were a conservative college intern it was even worse. Obama's IRS demanded information about conservative groups' college-aged interns.
When the AP spying scandal broke, I was surprised it didn't include Fox News. After last night's revelation that Obama and Eric Holder's Department of Justice spied on James Rosen of Fox News, I wasn't surprised. Today, when news came out that Obama and Holder's DOJ also spied on other Fox News reporters and producers like William La Jeunesse and producer Mike Levine I just kind of chuckled. I laughed because gasbag Bill O'Reilly dismissed the AP spying scandal as nothing. Now that the spying has been revealed to include Fox News, I'm betting Bill O'Reilly will be all over this 'looking out for the people.' Now, Drudge Report editor & Washington Times columnist Joseph Curl has dropped another bombshell. Curl says that a CIA source says the Fox News scandal is the "4th Shoe" to drop. This means you will have Benghazi, IRS, AP and now Fox News Scandals engulfing the Obama regime. Curl says that the Fox News case goes much deeper than has been reported so far. The Obama White House is sitting on "something" that has top aides terrified.
CIA source says Fox News scandal the "4th Shoe"; says it goes much deeper; says WH also sitting on "something" that has top aides terrified.

— joseph curl (@josephcurl) May 20, 2013
… says only a few in WH know that "something" — "It's been deep sixed, like Osama bin Laden." Will there be a Fifth Shoe?! #ImeldaObama

— joseph curl (@josephcurl) May 20, 2013
"Uh, this your captain. Buckle up, Mr. President. Gonna' be a bumpy ride. Pretty socked in by this fog of scandal." tinyurl.com/mxl4wop

— joseph curl (@josephcurl) May 20, 2013
Nothing would surprise me anymore. I'm just surprised it's taken this long to come out. Rosen was spied on back in 2009. I can't wait to see what else drops. I wonder if this will get into Bret Baier, Sean Hannity and Megyn Kelly.
IRS union chief Colleen Kelley met with Obama day before Tea Party targeting began
Is Colleen Kelley meeting with Obama one day before the IRS started targeting conservative and tea party groups the so called 'smoking gun?' According to American Spectator the president of the anti-Tea Party National Treasury Employees Union, Colleen Kelley, visited the White House at 12:30pm and directly with Obama. The day after Obama met with Colleen Kelley, she suggested the need for a sensitive case report on the Tea Party cases.
Colleen Kelley president of the anti-Tea Party National Treasury Employees Union
Now-chief counsel of the IRS, William Wilkins helped Rev. Jeremiah Wright's church get out of an IRS probe in 2008. William Wilkins was working as a private attorney at the time. I'm sure this yet another amazing coincidence, isn't it Hussein?
Read more
When last week when the IRS scandal broke, Obama claimed he just heard about it on the news? Most people with a brain knew that was pure BS. So Jay Carney was in damage control mode again over the IRS, and changing the timeline of when the Obama regime knew about the probe. Jay Carney is now saying that Obama's White House counsel was told about the IRS probe back on April 24th.
White House counsel told on April 24 that IRS audit was likely to find inappropriate action #breaking

— Reuters Politics (@ReutersPolitics) May 20, 2013
Obama's own Chief of Staff Denis McDonough was also alerted on April 24th.
. @presssec: WH Counsel learned about the IG IRS report on April 24. She told the Chief of Staff. But no one intervened.

— Anita Kumar (@anitakumar01) May 20, 2013
So are you going to tell me that with these two knowing about the probe, Obama didn't? I call bullshit.