Poor media lapdogs. They are mad because they can't take their own pictures of Obama to kiss every night they go to sleep. The White House press corps blew up at Obama's propaganda minister Jay Carney over it.
Press corps erupt in protest pver Obama lack of access
Of course, these same press hacks would never talk to Obama the way they do to Carney. They don't like being shut out of Obama's photo op's. Remember when Obama claimed he would be the most transparent president ever? Umm, yea. Sorry lapdogs. Even with your devoted love to Obama, he still just uses you for his own propaganda.
Obama gave out kisses today to Denmark PM Helle Thorning-Schmidt, Nelson Mandela's widow Graca Machel, and Michelle Obama's hand. Maybe this is why Mooch had such a sour face and switched seats with Barry before the selfie. Obama kissed Denmark PM Helle Thorning-Schmidt goodbye after the memorial ended. Michelle was undoubtedly fuming.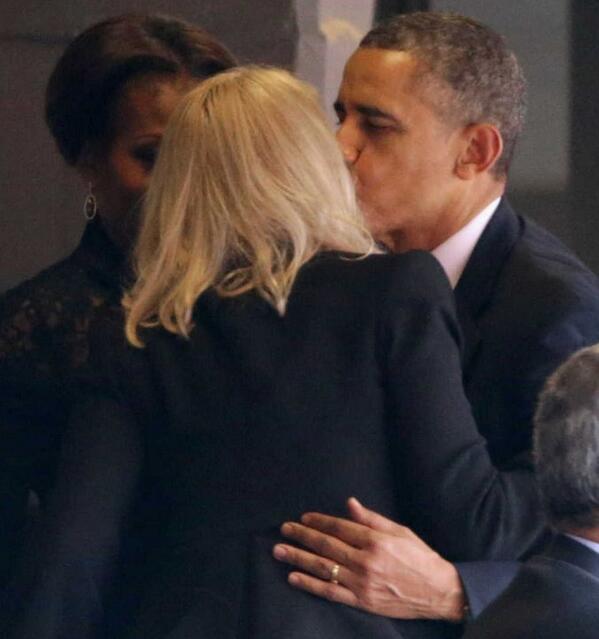 Obama kisses Denmark PM Helle Thorning-Schmidt – Mooch not amused
Obama also had an awkward kiss for Nelson Mandela's widow Graca Machel, and Michelle Obama's hand.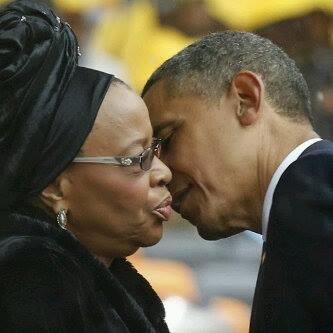 Obama awkward kiss for Nelson Mandela's widow Graca Machel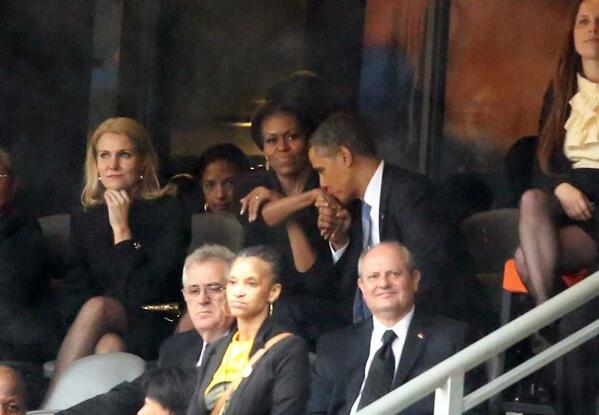 Obama kisses Michelle Obama's hand at Nelson Mandela memorial
Apparently, Michelle Obama doesn't like the Prime Minister of Denmark Helle Thorning-Schmidt. At first Michelle Obama was seated next to the PM of Demmark. But something happened, and Michelle Obama decided to swap seats with Barry to not sit next to Helle Thorning-Schmidt. Look at the glares Michelle Obama gives Thorning-Schmidt. I don't know what happened between the two, but you can see the bad blood in Michelle's eyes. So classy.
Michelle Obama doesn't like Prime Minister of Denmark Helle Thorning-Schmidt
Barry Obama had a grand ole time. Sucking up to Castro, Mugabe, and taking selfies. I'd sure like to have been a fly on the wall to what pissed off Michelle Obama and Helle Thorning-Schmidt
The lovefest between Chris Matthews and Obama at American University is over. Chris Matthews had his usual thrill up his leg for an hour with Obama and the young rubes thought Obama was God or something. So what was the biggest take away from the Obama/Chris Matthews 'Hardball' interview? You can now get free contraception under ObamaCARE without the fear of going bankrupt! That's right, you don't have to worry about spending $9 a month for birth control anymore because of ObamaCARE.
Obama to Chris Matthews – You can get free contraception without fear of going bankrupt under ObamaCARE
Michelle Obama just oozes with class doesn't she? Michelle Obama said to Hollywood assclown Will Ferrell 'Bitch, where's my money.' Ferrell, who's entire life Hollywood fame and fortune is built on that Ron Burgundy character from Anchorman (and soon Anchorman 2.) Over 5.6 million Americans should be saying to Michelle Obama 'Bitch, where's my healthcare?'
As Obama begins his latest campaign, called ObamaCARE 2.0 by the media, his approval ratings have hit record lows everywhere. The averages from the various polls, including the left wing biased ones that oversample Democrat between 8 and 10 percent have fallen under 40% for the first time ever on Real Clear Politics. Ironically, Obama does best on Rasmussen. Remember when all the leftists claimed they were a 'right wing' polling outfit?
Obama really loves them Mullahs in Iran. Reports now (from the Weekly Standard) and some Arab newspaper have Obama working (undoubtedly with Iranian born Valerie Jarrett) to arrange a trip to Iran. Valerie Jarrett must be missing her homeland. The corrupt Obama White House is trying to deny that this trip to Tehran is ever going to happen. But as we've learned time and time again, nothing that comes from Obama or his White House hacks ever is true. Obama and Jarrett will probably make sure the trip to Iran is after the 2014 mid-term elections.
Obama posed with '70s porn photograher Terry Richardson. All the rumors about Obama and the Chicago bath houses don't seem as far fetched these days. According to CNSNEWS then Senator Barack Obama's 2007 had a 'portrait session' in 2007 in his Capitol Hill office with Terry Richardson. Who is this Terry Richardson? He's a photographer known at that time the man who "took 1970s porn esthetic and made it fashion chic."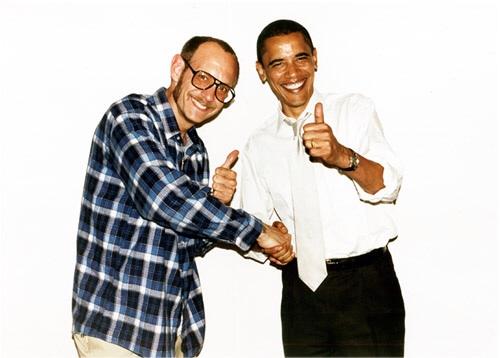 Obama posed for photo with '70s porno photograher Terry Richardson
CNSNEws also has a photo that appears to show Richardson having sex with a sheep. Don't know if he really did and this was just a doctored picture or not. The photo CNSNEWS posted the picture that came from Terry Richardson's 2004 book 'Terryworld.'
The Department of Justice is supposed to remain a non-partisan part of government. Regardless of who's appointed, the DOJ can't take a political position (at least publicly.) Well, in this lawless Obama regime, even the DOJ and Eric Holder are being used illegally as propaganda. Weasel Zippers caught the DO twitter account posting propaganda pictures and information about Eric Holder making purchases for 'Small Business Saturday.'
Attorney General Holder grabs lunch from @redapronbutcher after shopping at @UnionMarketDC #shopsmall #SmallBizSat pic.twitter.com/TC3gsGxLua

— Justice Department (@TheJusticeDept) November 30, 2013
Time for a milkshake…. AG Holder makes stop at @TSCreamery stand at @UnionMarketDC #SmallBizSat #ShopSmall pic.twitter.com/ZBeWtAv9Ot

— Justice Department (@TheJusticeDept) November 30, 2013
AG Holder makes one more purchase @UnionMarketDC before heading home. Support local merchants on #SmallBizSat pic.twitter.com/PZQOHCNcUl

— Justice Department (@TheJusticeDept) November 30, 2013
The Saturday after Thanksgiving has become known for those on the left as "Small Business Saturday" and you are supposed to shun large retailers in favor of mom and pop shops.

While Obama can take a political position if he so chooses, the Justice Department is supposed to be apolitical.

Yet today, someone from the Justice Department apparently was given the unenviable job of having to follow Eric Holder around and take his picture at the Union Square market complex as Holder shopped at various small shops, and it was tweeted out over the Justice Department's official twitter account.
If this country had a real leader for POTUS he (or she) would stand up and fix the problem known as ObamaCARE. Alas, we have Barack Hussein Obama as POTUS and his merry gang of Marxists, so they don't do leadership or take responsibility. Herman Cain via Director Blue reminds of us seven lies by seven Democrats on ObamaCARE. LIke your health care before ObamaCARE? You could keep it, period according to these seven liars:
1. Max Baucus
"If you like what you have you can keep it."

2. Harry Reid
"Those fortunate enough to have health insurance will be able to keep theirs."

3. Mark Begich
"If you have an insurance program or a health care policy you want of (inaudible), you keep it"

4. Mary Landrieu
"While those individuals who like the coverage they already have will be able to keep their current plan. This is a very accurate description of this bill before us – The Patient Protection and Affordability Act. It's very accurate."

5. Hillary Clinton
"You keep the insurance you have if you like it."

6. Nancy Pelosi
"If you like what you have and you want to keep it, you have the choice to do that."

7. Barack Obama
"If you like your health care plan you will be able to keep your health care plan. Period."
Liars. Every single one of them. The only conceivable defense against this charge would be for them to say th
How presidential. Valerie Jarrett's puppet Obama apparently called up Bibi Netanyahu today and begged him to 'take a breather' from criticizing Iran's deal of the century.
President Obama requested Israeli Prime Minister Benjamin Netanyahu take a "breather" from his harsh criticism of the U.S. strategy regarding Iran during a call betwee the two leaders

The request came as the administration girds up for a push in the next six months to reach a final settlement on Iran's nuclear program. The president reportedly urged Netanyahu to tone down his rhetoric for the sake of diplomacy and urged him to dispatch officials to Washington who could help negotiate a resolution agreeable to both countries.
Thomas J. Ritter is some leftist kook who sadly teaches fifth grade Sally B. Elliott ­Elementary in Irving, Texas. Thomas Ritter isn't much of a fan of ObamaCARE, but just loved how Obama mocked Sarah Palin and the 'tea baggers.' Ritter has since put the letter up for sale. I guess even leftists likw the idea of capitalism when they can make a quick buck.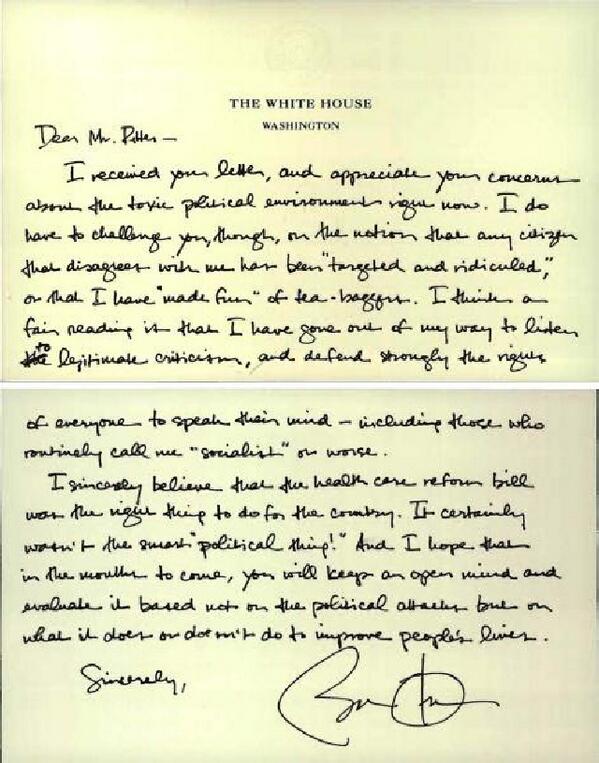 Obama calls conservatives 'tea baggers' in letter to Thomas J. Ritter