Michelle Obama turnip for what 'dance' is I guess the new sensation in Washington DC. Remember when the 1st Lady of America actually had dignity and class? Check out Michelle Obama turnip for what dance video.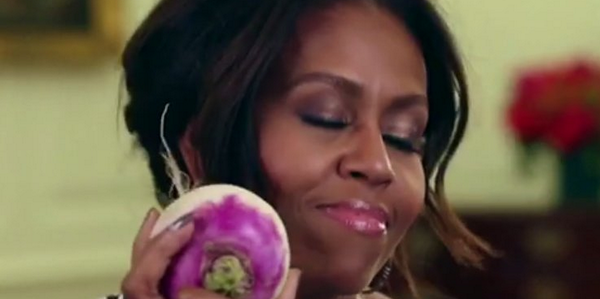 Michelle Obama turnip for what 'dance' (VIDEO)
Must be almost time for another Obama family vacation.
Read more
This is how far America has come as a country. Muslim terrorists from Boko Haram 270 teenage girls in Nigeria and are reportedly auctioning them off as sex slaves to other Muslims. So what does America do about it? Use the First Witch Michelle Obama and a sad face selfie holding a sign with the Twitter hashtag #BringBackOurGirls.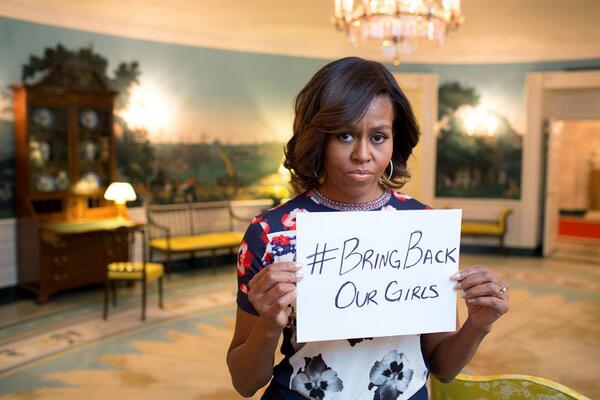 Michelle Obama sad face selfie about Nigerian girls #BringBackOurGirls hashtag
Wait, Nigeria teenage girls are 'our girls' as in Americans? I'm all for helping the Nigerians recover those 270 teenage girls from those terrorist pedophiles, but this is what's going to scare Boko Haram? We've seen more outrage by the Obama over this than any of the Americans held basically as hostages in other countries like Mexico, North Korea, Iran and Cuba.
Hey Mooch! How about at least trying to care about Americans and hold up a sign that says 'bring back our people' for the aforementioned countries?
The only reason why Craig Robinson even got the head coaching job at Oregon State is because of who he's related to. He is the brother of Michelle Obama, and thus Hussein's brother in-law. After six years of failure (much like Obama), Craig Robinson has been fired by Oregon State. Seems he coaches as well as Obama governs. Now Craig Robinson can join sister Michelle on those lavish, tax payer funded vacations.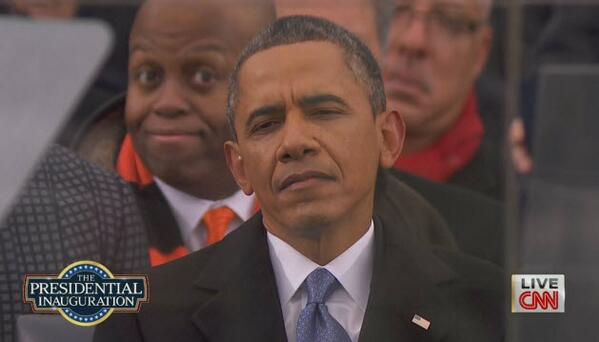 Mooch's brother Craig Robinson fired as head coach of Oregom State
After over 2,000 petition signatures by students, Michelle Obama has been forced to cancel her graduation speech in Topeka Unified School District 501. Most students were pissed off about being allotted only six tickets to their graduation because of all the space Mooch and her 'staff' would have taken up, plus security. Now, after the uproar, Michelle Obama has been forced to cancel her speech to the Topeka Unified School District 501 high school graduating seniors. We'll wait for the cries of racism to fly. The Hill is reporting 1,750 signatures, but as usual they are just down playing to make Michelle Obama look better. The number of petition signatures has soared passed 2,000.
Why so bossy Marian Robinson? According to reports in the UK Daily Mail (again while the American media sleeps), Michelle Obama's mama is giving the staff at the Westin Beijing Chaoyang Hotel hell. You see, Marian Robinson, like daughter Michelle Obama is entitled to waste our tax payer dollars on multi-million dollar vacations. The Obamas'/Robinsons are staying in a$8,350-per-night Beijing presidential suite, which includes a 24 hour butler, a private steam room, silk pillows and a 3,400 square foot room. But that's not good enough for Mama Robinson as she's been 'barking at the staff' Of the Westin Beijing Chaoyang Hotel for God knows what. The Chinese can't wait for the Obamas' to leave. Now they know what we've been dealing with since 2009. Why so bossy Mama Robinson?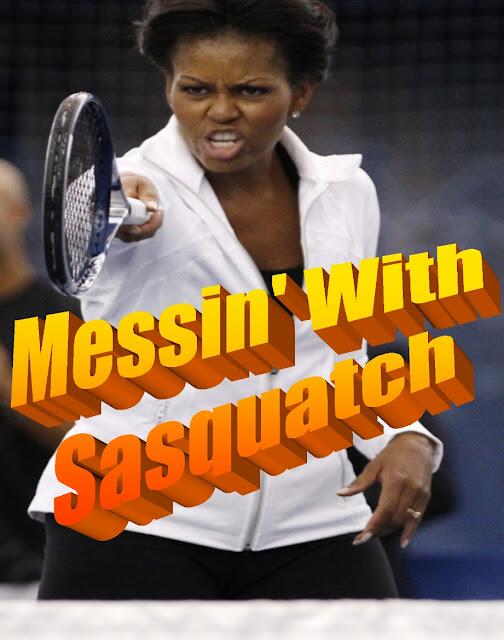 Why so bossy? Michelle Obama's mama 'barking at the staff' on China vacation
Michelle Obama has begun her multi-million dollar tax payer funded vacation to China by playing ping-pong. Since the ping-pong ball is white, I'm sure it's racist every-time Michelle Obama missed it.
Michelle Obama thanked Xi for the warm welcome she'd received. "We have a had a wonderful first day here in China. I tried my hand at ping pong. Not so good," she said as Xi smiled.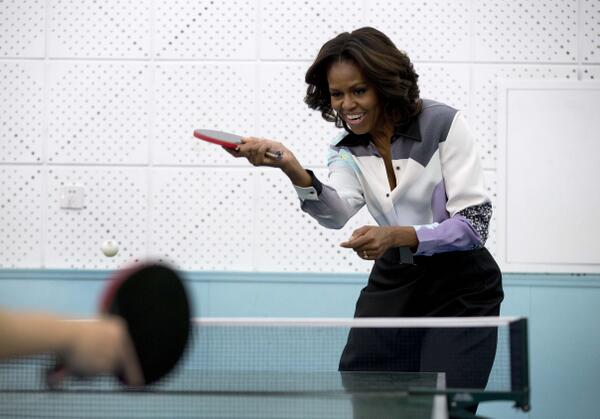 Michelle Obama begins China vacation by playing ping-pong
What little media is actually covering Queen Michelle Obama's lavish vacation to China is trying to play it up as if the Chinese are fawning over her arrival. The Chinese have bigger things to worry about than America's Queen devouring their food. They still need to find out what happened to those 150+ Chinese passengers who vanished on MH370.
Queen Michelle Obama is off to China with the kids and Mama Robinson for a lavish, expensive, tax payer funded vacation to China. Obviously, being queen is tiresome for Mooch as she is headed on yet another vacation of Aspen last month and Hawaii in January. The lapdog press has been banned from covering Michelle Obama and friends Hawaiian vacation, and yet they still make excuses for this lawless regime and it's queen.
Michelle Obama, the kids, Mama Robinson, and various staff and friends are off for a lavish, tax payer funded vacation to China starting on March 19th. Michelle Obama is keeping up her monthly vacations, vacationing in Hawaii in January, skiing in Colorado in February and now China in March. This trip to China for Mooch and friends will cost taxpayers around the same amount of money as her Spain trip costed in 2010, at least half a million tax payer dollars (just for security.) Good thing Michelle Obama and her buds are getting out of this 'downright, mean country.'
The first lady, her mother, her two kids, plus numerous White House aides and security personnel are going to tour China this month, but White House officials are refusing to say how much the taxpayers will pay for the trip.

However, they did say it would be a thrill for everyone on the trip, including for Michelle Obama's top aide, Tina Tchen.

Read more: http://dailycaller.com/2014/03/17/michelle-obama-and-family-take-another-taxpayer-funded-trip/#ixzz2wHYLOgl7

The first lady and the family will travel to China from March 19 to March 26. She will visit the capital Beijing and two northwest cities, Xi'an and Chengdu.

She'll be accompanied by her mother, Mrs. Marian Robinson, and daughters, Malia and Sasha Obama.

The first lady has taken her mother on several previous trips, including to Spain.

The 2010 trip to Spain cost taxpayers at least $487,000. A 2011 trip to southern Africa cost at least $424,142. The cost estimates were uncovered by Judicial Watch, a D.C.-based watchdog group.
Read more: http://dailycaller.com/2014/03/17/michelle-obama-and-family-take-another-taxpayer-funded-trip/#ixzz2wHY3Dbrp
Michelle Obama sure loves her vacation time. 24 days in Hawaii ending January, a ski trip in Colorado during the president's day holiday, and now a week long trip to China later this month. Michelle Obama will have a couple of token appearances at high schools and universities, but the rest of it is party time for Mooch. Michelle Obama is taking the kids along, along with Mama Robinson (her mother) and we get to pay the bill.
Apparently, Michelle Obama thinks you are a 'knucklehead' if you are young. Queen Michelle Obama made these comments on the Fallon Tonight SHow last night. The change from Leno to Fallon by NBC was an attempt to get a younger audience to watch the show. Calling them 'knuckleheads' isn't exactly a smart thing to say. But Queen Michelle Obama can say and do whatever she wants and the eggheads at NBC will still fawn.
Michelle Obama: Young people are knuckleheads VIDEO
I'm so glad Queen Michelle Obama found time out of her busy schedule like skiing in Aspen to call young people names.
"Well, thanks to the Affordable Care Act, young people can stay on their parents' insurance until they are 26," said the first lady of the United States. "But once they hit 26 — they're on their own. And a lot young people think they're invincible. But the truth is, young people are knuckleheads. They're the ones who are cooking for the first time and slice their finger open, they're dancing on the bar stool."

"Young people?" said Fallon. "Yeah, yeah, yeah."

"Yeah, the young people," said Obama.