Michelle Obama sure loves her vacation time. 24 days in Hawaii ending January, a ski trip in Colorado during the president's day holiday, and now a week long trip to China later this month. Michelle Obama will have a couple of token appearances at high schools and universities, but the rest of it is party time for Mooch. Michelle Obama is taking the kids along, along with Mama Robinson (her mother) and we get to pay the bill.
Apparently, Michelle Obama thinks you are a 'knucklehead' if you are young. Queen Michelle Obama made these comments on the Fallon Tonight SHow last night. The change from Leno to Fallon by NBC was an attempt to get a younger audience to watch the show. Calling them 'knuckleheads' isn't exactly a smart thing to say. But Queen Michelle Obama can say and do whatever she wants and the eggheads at NBC will still fawn.
Michelle Obama: Young people are knuckleheads VIDEO
I'm so glad Queen Michelle Obama found time out of her busy schedule like skiing in Aspen to call young people names.
"Well, thanks to the Affordable Care Act, young people can stay on their parents' insurance until they are 26," said the first lady of the United States. "But once they hit 26 — they're on their own. And a lot young people think they're invincible. But the truth is, young people are knuckleheads. They're the ones who are cooking for the first time and slice their finger open, they're dancing on the bar stool."

"Young people?" said Fallon. "Yeah, yeah, yeah."

"Yeah, the young people," said Obama.
Everyone must sacrifice, well unless you are Michelle Obama. Michelle Obama, her kids and entourage arrived in Aspen, and shut down the airport. People were pissed off, and the media just shrugged. The media has been silent about Michelle Obama's lavish ski trip to Aspen, and shutting down the airport for her entourage. It's been just three weeks since Michelle Obama returned from a 24 day vacation in Hawaii. But with Hussein in California golfing and flying in pals from Hawaii, Michelle Obama didn't want to get cheated out of her own vacation. So she took the kids and her entourage to Aspen Colorado for a skiing trip. No media has posted any stories or pictures of Michelle Obama in Aspen. Below is believed to be the only picture of her in Aspen this year (parody):
Michelle Obama and her entourage shut down Aspen Airport for ski trip
Michelle Obama and idiot Joe Biden's wife Jill Biden were used as propaganda during a Constitution and Declaration of Independence TV ad before the start of the Super Bowl. I find it not only disgusting, but ironic. Obama and Biden have been doing whatever they can to rip apart the Constitution. The level of propaganda that the Obama regime will go through has gotten to the point of a Communist country. Shame on Fox Sports for allowing this piece of propaganda to air in the first place. Of course, the Declaration of Independence ad was going nicely, until Michelle Obama and Jill Biden ruined it.
For some reason, Michelle Obama was used to 'kick off' Puppy Bowl 2014. I don't know if she was just looking for some future meals for Barack Obama with his taste in dog, or whatever. Why is Michelle Obama all of a sudden being used as a PR tool? Is the Obama regime this desperate that they have to resort to using someone who hates this country as much, if not more than he does?
Michelle Obama used to start Puppy Bowl 2014 or something
Seems you can't put anything on TV anymore without seeing either Barack Hussein Obama or Michelle Obama be used a propaganda tools.
The most transparent regime ever strikes. Over the past week, Michelle Obama had her multi-million dollar tax payer funded lavish birthday party at the White House. Guests included: Beyonce, Stevie Wonder, Paul McCartney, James Taylor, Smokey Robinson, Gladys Knight, Janelle Monae, Mary J. Blige, Angela Bassett, Courtney Vance, Herbie Hancock, Samuel L. Jackson, Grant Hill, Alonzo Mourning, Ledisi, Emmett Smith, Star Jones, Al Roker, Steve Harvey, Magic Johnson, Billie Jean King, Michael Jordan, Angela Bassett, Jennifer Hudson, Gayle King, Ahmad Rashad, Kal Penn, and Ashley Judd. Notice a pattern here? Very few evil whites at the party. One person who I can guarnatee wasn'pt invited to as a guest to Mooch's big 50th birthday party was Denmark PM Helle Thorning-Schmidt
Read more
What's this? Barack Obama unfaithful to Michelle Obama? They are reportedly going to divorce after the 2016 presidential election. But how could it be? The media has presented these two as the model American family. After the National Enquirer came up exposing the sham Obama marriage being on the rocks as she was kicking back in Hawaii with CBS' Gayle King and Oprah, the Daily Mail UK has posted a followup story. They say that there are now reports that Barack Obama has been unfaithful to Michelle Obama. It's not just about the selfie at Mandela's funeral. Seems that during the trip to Hawaii, the marital problems got even worse. That might explain why Barack Obama played nine rounds of golf during his 'family' vacation with his prostitute loving pal Bobby Titcomb.
When Reggie Love announced that he was playing 'spades' with Barry Obama during the Osama Bin Laden raid, you kind of got the hint that the writing was on the wall then. If you look at Michelle Obama (and even the kid's) faces whenever they appear in appeal, it's always a sour, nasty scowl. The kids obviously are upset about their parents marriage problems, Michelle Obama is just a bitter, black supremacists who hates whitey (and apparently her husband.)
So until the next election, you'll still get all the BS from the Obama regime and the media about what a 'loving' couple these are too. But like just about everything else in Obama's life, the marriage is just a sham.
Happy 50th birthday Queen Michelle Obama. You are finally back in DC after your 24 day tax payer funded Hawaii extravaganza. Queen Michelle will appear with King Barry Hussein as he delivers remarks at an event on expanding college opportunity in the South Court Auditorium.
Sure was quiet about Michelle Obama's 'seperate' trip back from Hawaii in the media. Didn't hear a peep out of any of them, including Fox News. With Michelle Obama's seperate trip back to DC on Air Force One, it cost tax payers an estimated $4.5 million in operating expenses alone. Air Force One costs $187,000 per hour to operate. It had to fly from DC to Hawaii and back to DC just to pick up Michelle Obama. The average flight time from DC to Hawaii is 12 hours, then another 12 hours back. 24 hours at $187,000 per hours is $4.5 million. Who knows what it cost just to feed her and keep her secure in Hawaii all those extra days after King Barry came home with the kids.
Queen Michelle Obama has often said Americans need to eat their peas and they must sacrifice. That obviously doesn't include her. Getting ready for her big 50th birthday party at the White House, Michelle Obama will return from her 24 day Hawaii vacation this coming Wednesday, January 15th. That will include 10 days in Hawaii chillin' with her pal Oprah Winfrey in her Maui home.
After 24 days on vacation in Hawaii, including ten without her husband and children, First Lady Michelle Obama will return to Washington by Wednesday.

Michelle, who has been holed up at Oprah Winfrey's fabulous spread on Maui since President Obama and their daughters departed Hawaii January 4, has an event – a White House screening of an educational movie – scheduled for Wednesday at 4 pm. That means she'll leave Hawaii Tuesday night at the latest.
Air Force One will fly from DC to Hawaii and back again. The flight time from DC to Hawaii is about 12 and a half hours. The cost to operate AIr Force One is nearly $182,000. If you go by the average flight time from DC to Hawaii back to DC, that's about 37 and a half hours to operate the plane. That alone is $6,900,000 of tax payer dollars wasted on Michelle Obama's Hawaii 'birthday present.' This of course doesnt even include Secret Service protection, food, and whatever else Mooch did in Hawaii. Let them eat cake!
Aww. Barack Obama and mooch Michelle Obama's marriage is in trouble and on the rocks. I guess that would explain why Michelle Obama is still in Hawaii more than a week after her husband and kids returned to DC. Of course Michelle Obama loves to party on our tax dollar, but the so called 'birthday present' Hussein gave Michelle as extra time in Hawaii is rather odd for such a close knit, tight family (as the media would have you believe.) Michelle Obama has been chilling in Maui with Oprah, Valerie Jarrett and CBS hack Gayle King. When the 'loving couple' was in Hawaii, Obama golfed an astounding nine times in 15 days. Not exactly spending much time with his loving wife and kids. Check out the differences in Michelle Obama's facial expressions, with Barry and with Oprah.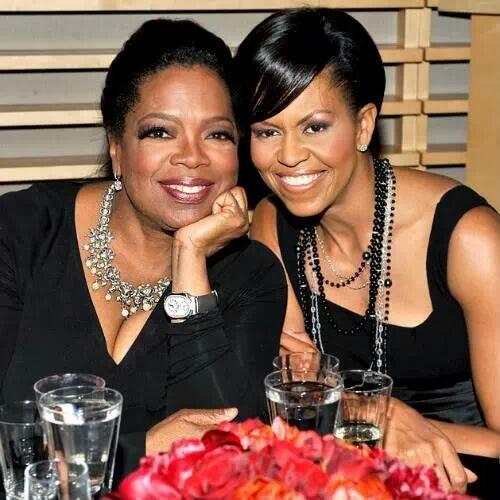 Nichelle Obama all smiles with Oprah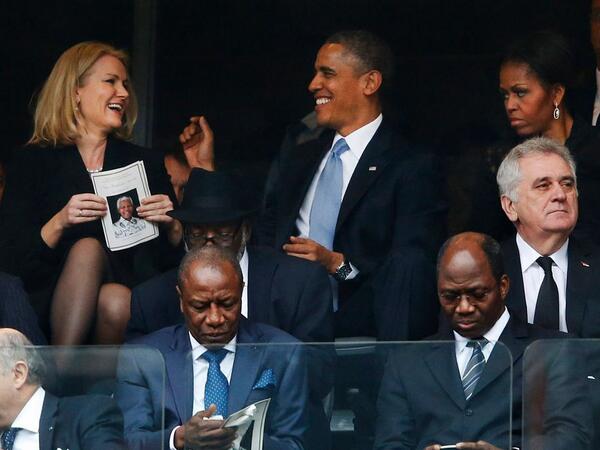 Michelle Obama not so happy with her husband Barack Hussein Obama
Michelle Obama is all smilies with Oprah in Hawaii wasting our tax dollars. She isn't exactly friendly looking at the Nelson Mandela funeral. Maybe it's time for bathhouse Barry to finally come out. Reggie Love would be proud.
Time for another Michelle Obama scowl. CGI Federal has been fired from the disaster healthcare.gov site. Why is Mooch going to be pissed? Because Toni Townes-Whitley is BFFs with Michelle Obama and an executive CGI federal. Maybe this is why Michelle Obama stayed back in Hawaii with Oprah and CBS' Gayle King. Toni Townes-Whitley is a Senior Vice-President, Civilian Agency Programs at CGI and was a classmate at Princeton and pal of Michelle Obama (then Michelle Robinson) back in 1985.
Read more
Michelle Obama and Oprah's reuniting their friendship in Hawaii in costing the tax payers millions per day. It's also pissing off home owners and neighbors of Oprah blimp's Maui home. Michelle Obama's security details is also blocking entrances to businesses in Maui in what is probably their busiest time of the year. As Michelle Antoinette said, everyone must eat their peas or something.