Benghazi could have been prevented. If Obama hadn't switch sides in the war on terror and given al-Qaeda $500 million worth of US weapons, Benghazi wouldn't have happened. Yet again, we have Obama and Hillary Clinton to thank for four dead Americans in Benghazi Libya, all because Obama and Clinton wanted to play footsies with the Muslim terrorists.
Obama switched sides in the war on terror – gave al-Qaeda $500 million worth of weapons
Citizens Committee on Benghazi claims the US government allowed arms to flow to al-Qaeda-linked militants who opposed Muammar Gaddafi
Their rise to power, the group says, led to the Benghazi attack in 2012
The group claims the strongman Gaddafi offered to abdicate his presidency, but the US refused to broker his peaceful exit
The commission, part of the center-right Accuracy In Media group, concluded that the Benghazi attack was a failed kidnapping plot
US Ambassador Chris Stevens was to be captured and traded for 'blind sheikh' Omar Abdel-Rahman, who hatched the 1993 WTC bombing plot
More from Daily Mail UK (as usual, not American media):
Billions missing from the State Department under Hillary Clinton? What difference at this point does it make!? Six billion is reportedly missing, and Hillary Clinton reportedly wrote a check worth $50 million for 'services performed' under the State Department, that no one can find. The paperwork for Hillary Clinton's $50 million 'services rendered' was misplaced. Under Hillary, the Iraq Embassy in Baghdad us missing $2 billion alone that was allocated for it's construction.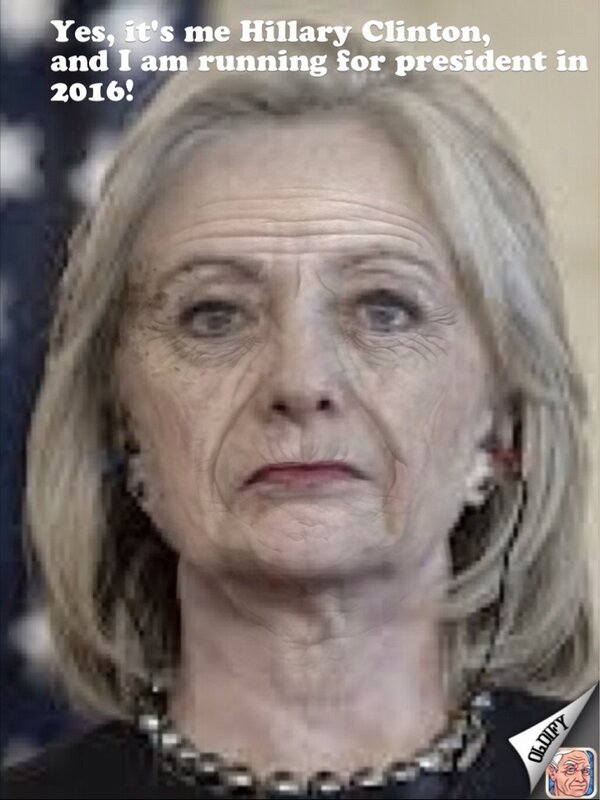 Hillary Clinton linked to missing State Department Billions
If the corrupt Obama regime can't get them with the IRS, then he uses the corrupt Eric Holder Department of in(justice) instead. Holder's DOJ is reportedly blocking company mergers that include CEOs that are Republican. Luckily for Comcast and Time Warner, each company is loaded with Obama boot lickers so there shouldn't be any problem with those two companies merging. However, if you have a Republican as a CEO who believes in free market capitalism, then you can might be blocked by the corrupt Obama/Holder reign of terror: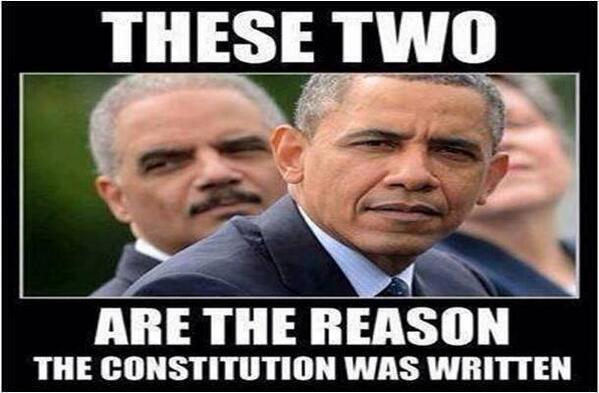 Obama-Eric Holder DOJ now blocking company mergers with Republican CEOs
Jay Carney and his ABC hack wife Claire Shipman love Soviet Communism. So much so they decorated their home with Soviet propaganda. If Hillary Clinton doesn't run for president in 2016, Vladimir Putin may be the Democrat's best candidate. they obviously have the Obama/Carney endorsement locked up. Obama's state run media is run like the Soviet media was, so I guess it all makes perfect sense. Don;t worry Ukraine. Obama has your back or something.
Hillary Clinton shoe dodging in Las Vegas yesterday has inspired many photoshop 'artists' to create parodies of Hillary. Twitchy found some of the best photoshop jobs of Hillary Clinton's 'dodge' yesterday: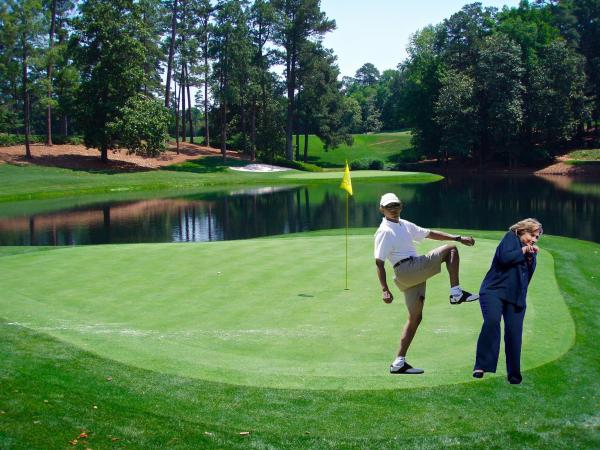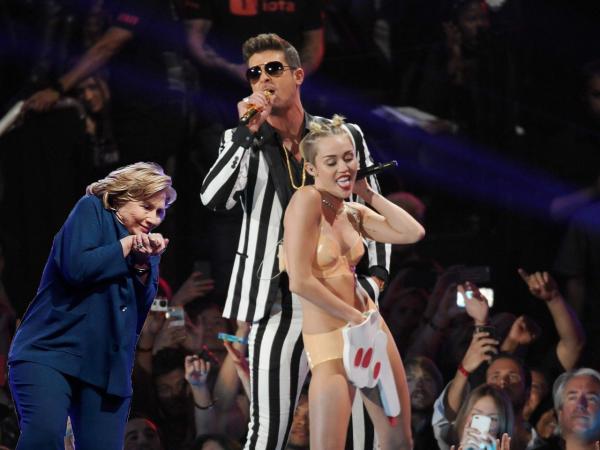 Funny Hillary Clinton shoe dodging photoshops
Heh. A woman was arrested in after allegedly tossing a shoe at Hillary Clinton during a speech in Las Vegas at the Mandalay Bay Convention Center. Hillary Clinton was already forced to cancel a speech in San Diego because she caused an uproar over her appearance and Benghazi. I guess they don't like her much in Vegas either. Hillary Rotten Clinton isn't beloved out west like everyone in the corrupt lame stream media would have you believe. Usually it's Muslims that throw shoes at people out of disrespect. Remember how the media had such a fun time when a Muslim tossed one at George W. Bush near the end of his presidency? Don't know if this woman was a Muslim and just jealous of Hillary love affair with Weiner's wife Huma Adebin, or just a regular American woman who hates Hillary's guts. Don't worry though. Hillary Clinton can always blame this on some Youtube video and use tax payer dollars to apologize to Muslims in Pakistan like she did Benghazi. There are plenty of those out there. Below is a photo of Hillary Clinton ducking to get out of the way of the shoe: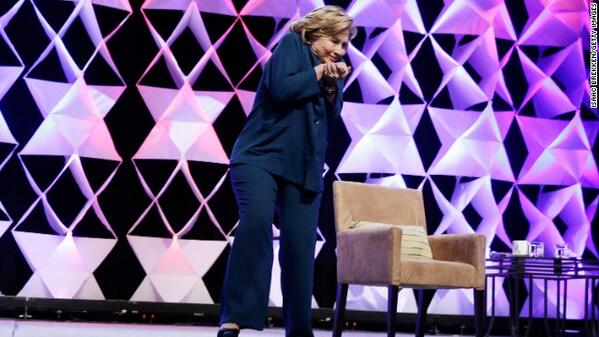 Woman throws shoe at Hillary Clinton during Las Vegas speech – Image credit: CNN
Eric Holder decided to pay FBI rat Al Sharpton a visit and speak at the race hustling NAN event organized by Sharpton rat. Holder lost it during his speech, throwing a tantrum, and playing the race card. ABC deems Eric Holder as 'fed-up.' I got a little news for you hacks at ABC. We, the American people are fed up with Eric Holder, his lawless regime, and constant race hustling. Get it ABC hacks? Message to Eric Holder. If you've got it so bad, and America is so racist, then resign and move to a more 'friendly' country. Cuba comes to mind.
Eric Holder throws another tantrum at Al Sharpton's NAN event
This is so awesome. Benghazi protesters in San Diego forced the cancellation of a Hillary Clinton appearance. Hillary Clinton is not welcome in San Diego. At least there's one major city lease in California that doesn't completely gone down the progressive liberal crapper like Los Angeles and San Francisco. The Butcher of Benghazi Hillary Clinton was scheduled to appear at the 17th Annual Western Healthcare Leadership Academy this month.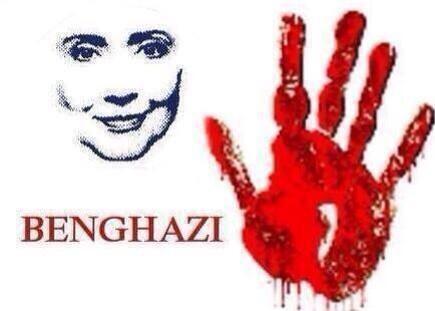 Hillary Clinton appearance in San Diego cancelled because of Benghazi protesters
Some of Obama's U.S. Postal Service union employees are now using agency credit cards to pay for gambling sprees, personal travel and even bowling. This is yet another 'smidgen' of corruption going on in the Obama regime that the Holder Department of (in)Justice just sits back and let happen. The USPS has over 500,000 employees, obviously not all are involved. The biggest crime here isn't just a few bad apples at the USPS using our tax dollars on gambling. The crime is that the Eric Holder DOJ just sits back, twiddle their thumbs and does nothing about it.
U.S. Postal Service employees used agency credit cards to pay for gambling sprees
For those wondering about the picture, it's supposedly from a bowling alley in Florida.
Read more
Do Hillary Clinton PAC, Al Franken, and other progressive liberals support pedophiles? Then why else would they be following someone who guess the Twitter handle of @The_SRP or 'Max' on Twitter? According to Weasel Zippers, 'Max' is a member of "Virped" or "Virtuous Pedophiles." This is group of adult age men who claim they are pedophiles but do not act on their fantasies. They basically just fantasies about doing young kids, without actually doing it. The Ready for Hillary Clinton PAC, AL Franken, Unite Blue, and other progressive liberals are following this slug on twitter. Why?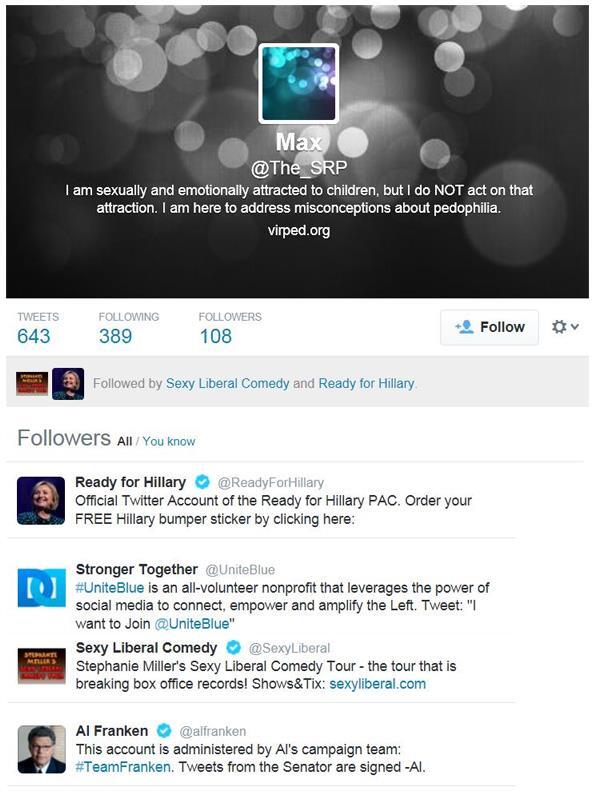 Hillary Clinton PAC, Al Franken follow Max of Virtuous Pedophiles on Twitter – Image credit @LeftyBollocks
Is it now considered 'progressive' to support pedophiles? @The_SRP is also followed by several other progressive liberal accounts, such as the NOh8 campaign, No labels campaign, various gay rights and atheist groups.
Read more
Hillary Rodham Clinton in 1975 defended an alleged pedophile who allegedly raped a 12 year old in his car. According to a 2008 Newsday article (which has suddenly disappeared from the Internet) Hillary Rodham supposedly questioned the sixth grader's honesty and claimed she had made false accusations in the past. Rodham/Clinton implied that the girl often fantasized and sought out "older men" like Taylor. The proof of Rodham/Clinton part is in a July 1975 affidavit signed "Hillary D. Rodham" in compact cursive. A year earlier, Hillary Rodham/Clinton was kicked off the Watergate committee for fraud and ethics violations. The alleged rape victim suffered severe depression and other personal problems since the incident. Here is yet another fine example of the progressive liberal Democrats war on women that they always accuse Republicans of waging. But you know, abortion on demand and all is really what are important to women according to these progressive Democrats like Hillary.
Hillary Rodham Clinton attacked 12-Year old rape victim's credibility in 1975
This is not a sick joke. Jay Carney, Obama's propaganda minister who is rumored to be leaving his job as press secretary is rumored to be lobbying Obama to become the next U.S. Ambassador to Russia. This is real, if you believe the Obama water carrying rag The Daily Beast. Also, in response to Obama's slap on the wrist to Putin earlier today, Putin plans on sanctioning U.S. Senators like crazy John McCain, Turban Dick Durbin and horndog Robert Menendez.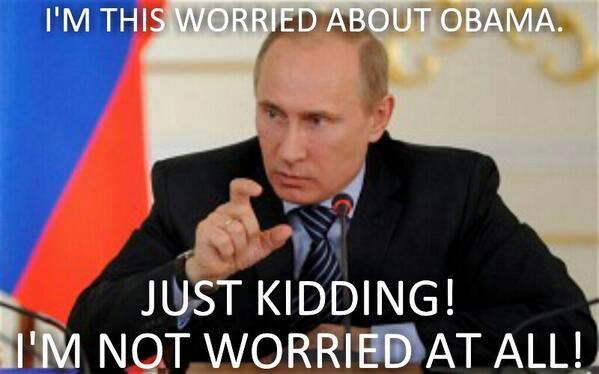 Jay Carney lobbying to become U.S. Ambassador to Moscow, Russia to sanction Senators
One U.S. official who can rest easy is White House Press Secretary Jay Carney, who will not be on Putin's sanctions list. Carney is rumored to be lobbying to replace former Ambassador Mike McFaul as the next U.S. Ambassador to Moscow, who will also not be on the list.