If the corrupt Obama regime can't get them with the IRS, then he uses the corrupt Eric Holder Department of in(justice) instead. Holder's DOJ is reportedly blocking company mergers that include CEOs that are Republican. Luckily for Comcast and Time Warner, each company is loaded with Obama boot lickers so there shouldn't be any problem with those two companies merging. However, if you have a Republican as a CEO who believes in free market capitalism, then you can might be blocked by the corrupt Obama/Holder reign of terror: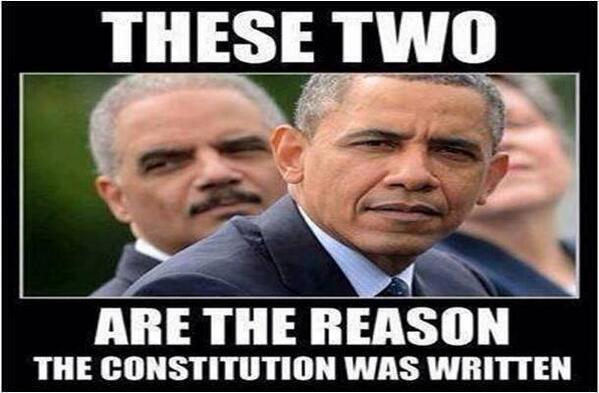 Obama-Eric Holder DOJ now blocking company mergers with Republican CEOs
Eric Holder decided to pay FBI rat Al Sharpton a visit and speak at the race hustling NAN event organized by Sharpton rat. Holder lost it during his speech, throwing a tantrum, and playing the race card. ABC deems Eric Holder as 'fed-up.' I got a little news for you hacks at ABC. We, the American people are fed up with Eric Holder, his lawless regime, and constant race hustling. Get it ABC hacks? Message to Eric Holder. If you've got it so bad, and America is so racist, then resign and move to a more 'friendly' country. Cuba comes to mind.
Eric Holder throws another tantrum at Al Sharpton's NAN event
Some of Obama's U.S. Postal Service union employees are now using agency credit cards to pay for gambling sprees, personal travel and even bowling. This is yet another 'smidgen' of corruption going on in the Obama regime that the Holder Department of (in)Justice just sits back and let happen. The USPS has over 500,000 employees, obviously not all are involved. The biggest crime here isn't just a few bad apples at the USPS using our tax dollars on gambling. The crime is that the Eric Holder DOJ just sits back, twiddle their thumbs and does nothing about it.
U.S. Postal Service employees used agency credit cards to pay for gambling sprees
For those wondering about the picture, it's supposedly from a bowling alley in Florida.
Read more
Karma is a bitch eh Eric Holder? The corrupt AG was hospitalized earlier after he felt faint and complained about 'shortness of breath.' Nothing was seriously wrong with Holder, as he was later released. Maybe he was near whitey and he just wanted to get out of there. Or maybe he saw one the guns he ran to Mexico under Fast and Furious and got scared.
Eh, why not? Eric Holder wants to give felons the ability to vote in elections now. Why not? They already are allowed to be ObamaCARE navigators and handle people's personal information while being ObamaCARE navigators. Since felons are about 90% more likely to vote Democrat, let's give them that ability, because you know, those poor felons are such victims or something.
There may be a more severe impact on minority communities, but that's a function of the convictions, not the voting laws.

Perhaps there should be a waiting period, or lifetime exclusions only for certain levels of criminal convictions.
Hey, remember when we had something called states rights? Obama and Eric Holder have proven over and over again that states rights don't matter. The imperial presidency, and his ruling elite have once again ignored the Constitution and state's rights and decided to recognize same-sex marriage in all 50 states, including the 34 that don't allow same-sex marriage. Must be nice to pick and choose which laws you will follow and which laws you wouldn't. It's kind of Hiteresque.
Kent Terry is the brother of murdered border patrol agent Brian Terry. You remember Fast and Furious don't you? Eric Holder and Obama's gun running program to Mexico's drug cartels that resulted in the death of Brian Terry and hundreds of Mexicans? Terry's family had been pretty quiet about the murder, until now. Kent Terry slammed Eric Holder in a letter written to the corrupt AG:
In a blistering letter to Attorney General Eric Holder delivered Wednesday, Kent Terry – the brother of murdered Border Patrol agent Brian Terry – questioned why, years later, the Terry family still does not have the truth about Operation Fast and Furious.
"Mr. Holder I am going to get right to the point of this letter," he wrote. "I am not pleased with your behavior as America's Attorney General. Simply denying that you had no knowledge about Operation Fast and Furious is troubling in itself, but for you to not comply with Congress is even more troubling. It is shocking to know that the Attorney General of the United States had no knowledge or was not made aware of Fast and Furious until after the death of my brother, Brian Terry."
Terry continued his letter by writing that he questions why – if Holder really did not know about Fast and Furious – he has not held anybody in the Department of Justice or the Bureau of Alcohol, Tobacco, Firearms and Explosives accountable for the scandal.
Of course, this will never get coverage from the corrupt media. They are still busy with Bridgegate, covering Obama's ass on ObamaCARE and the tanking economy and whining about global warming.
Read more
The corrupt Eric Holder Department of Injustice will not allow an investigator of the IRS to testify in front of Congress. Obviously, Holder's DOJ is trying to stonewall the investigation into Obama's IRS targeting of conservative and religious groups.
The Other McCain (via Government Executive):
The Justice Department has rebuffed a House Republican's plan to hold an oversight hearing this Thursday featuring a key criminal investigator from the team reviewing mishandling of tax-exempt status applications by the Internal Revenue Service.
Rep. Jim Jordan, R-Ohio, asked Justice attorney Barbara Bosserman on Jan. 28 to testify "due to the administration's failure to provide necessary information about its IRS investigation." Bosserman, who is a leader in the Justice investigation into the IRS controversy, has donated money to President Obama's political campaigns, which GOP lawmakers including Jordan believe represents a conflict of interest. Bosserman is a career attorney; career employees are allowed to donate money to political candidates.
The Feb. 6 House Oversight and Government Reform Committee hearing is titled, "The IRS Targeting Investigation: What is the Administration Doing?"
But Bosserman will not appear, said Deputy Attorney General James Cole in a Jan. 30 reply to Jordan, as published in a tax-exempt organizations newsletter edited by attorney Paul Streckfus.
"The department's longstanding policy, applied across administrations, is to decline to provide Congress with non-public information about ongoing criminal investigations," Cole wrote.
Preet Bharara is the United States Attorney for the Southern District of New York. Preet Bharara filed charges this past week against Dinesh D' Souza with violating the federal campaign finance laws. Basically this is the Chicago thug Obama regime getting D'Souza back for his movie 2016: Obama's America. The fact that Preet Bharara is an Obama inauguration donor presents a conflict of interest. There is no way Dinesh D' Souza can get a fair trial.
Have you heard about Eric Holder and Operation Choke Point? It's the latest Eric Holder/DOJ scandal in which Holder abuses his power by intimidating banks. Don't expect to hear about Operation Choke Point from the media, as they are far too busy digging up stuff on tubby Chris Christie. Darrell Issa did what he does best. Talk a big game in a letter to Holder, but continues to otherwise ignores Holder's and Obama's abuse of power.
Obama and Eric Holder's authoritarian DOJ is now making demands to school about students who 'misbehave.'
The Obama administration, concerned that "zero tolerance" policies are sending too many students to court instead of the principal's office, on Wednesday urged schools to back off — particularly in the case of minority students and other federally protected groups.
"Racial discrimination in school discipline is a real problem today," said Education Secretary Arne Duncan, who joined Attorney General Eric Holder in speaking about the new guidance. Holder said "students of color and those with disabilities" often receive "different and more severe punishment than their peers."

While the nation's schools are under local control, they must follow federal civil rights and disability laws. And the new guidance for the nation's schools could subject more of those schools to federal discrimination lawsuits. In fact, the crackdown already is happening, as CNSNews.com previously reported.
Apparently, Eric Holder didn't like Richard Leon's ruling on his and Obama's NSA spying, calling it "almost-Orwellian technology." So now Eric Holder is willing to waste more tax payer dollars and appeal Leon's ruling.