Your tax dollars at work. The Eric Holder Department of Social Justice had meetings with Ferguson residents about 'white privilege'. And your tax dollars paid for them too.
When Department of Justice officials arrived in Ferguson, Mo., one day after the death of Michael Brown, it wasn't just to conduct an investigation on potential civil-rights violations. In fact, officials from one Justice Department office were conducting meetings with Ferguson residents to educate them on subjects such as "white privilege."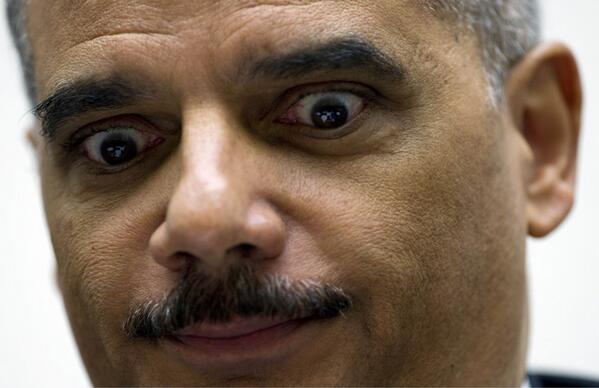 DOJ had meetings with Ferguson residents about 'white privilege'
Not a smidgen of corruption. Remember when Bill O'Reilly let Obama get away with that lie? Well, looks like the IRS scandal is about to expand. According to Conservative Tree House, Obama's IRS illegally sent taxpayer information via Schedule B's to the U.S. Department of Justice. The Department of Justice then assembled a "Target List" from the entities contained on the schedule B's (individuals and organizations).
This probably explains why Eric Holder all of a sudden decided to resign, as he knew this was coming down the pike.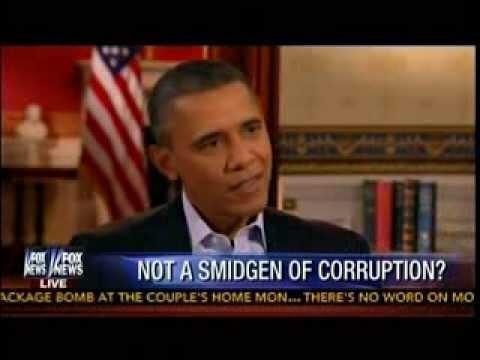 Obama IRS scandal about to expand
So Lorreta Lynch is friends with Eric Holder's wife Sharon Malone. The pick of Lynch to replace Holder makes even more sense now that Sharon Malone's BFF Loretta Lynch will act as sort of a 'gate-keeper' to prevent any investigation into the corruption of Eric Holder. He needs all the help he can get with the IRS targeting scandal, Fast and Furious gun running, the targeting of AP and Fox News reporters, etc. There's just so much to investigate about Eric Holder. But Loretta Lynch will make sure that never happens. Of course, anyone who dares critcize Loretta Lynch for not following up on the Holder corruption will instantly be called racist and sexist. So she's the perfect pick to replace Holder.
Loretta Lynch friends with Holder's wife
Jail Eric Holder. That has a nice ring to it doesn't it? Of course, it's probably just a pipe dream at this point, but the House Oversight Committee is sopposedly pursues new contempt charges, fines, ans even jail Eric Holder according to Breitbart.
Jail Eric Holder?
Eric Holder for jail 2016!
Read more
The crimes of Eric Holder. I don't have enough server space to type out all of the corrupt resigning Attorney General, the absolute worst, and most partisan in American history. Infowars goes over Eric Holder's three most Holder's most egregious cases of lawlessness.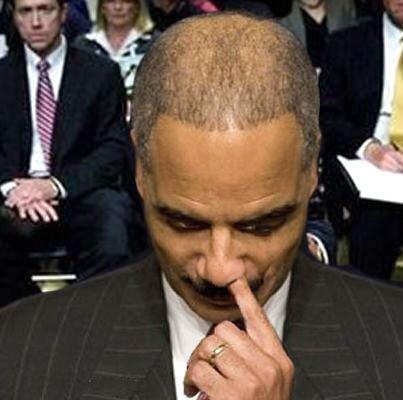 The crimes of Eric Holder
Fast and Furious – Duh, the most obvious. Running guns into Mexico, resulting in the deaths of at least three Americans and hundreds of Mexicans.
Between 2006 and 2011, the Bureau of Alcohol, Tobacco, Firearms and Explosives (ATF), under the direct command of the Justice Department, secretly pushed southern gun dealers to sell weapons to suspected drug cartel traffickers in order to allegedly track the weapons into Mexico.

Despite the administration's attempt to paint the countless deaths associated as unintended consequences after the program went public, documents obtained by CBS News revealed that the ATF had planned to use the deaths to push a gun control agenda.

Eric Holder, who has publicly stated his desire to "brainwash" children to think negatively about gun ownership, has actively worked to keep Fast and Furious documents from becoming public. Unfortunately for Holder, a judge has denied his request to delay the release of a list of Operation Fast and Furious documents currently being protected under the President's assertion of executive privilege.
Attack on Whistleblowers & the Press (AP, James Rosen of Fox News, etc)
The Obama administration has charged more journalists and legitimate government whistleblowers with espionage than all other presidents combined since the passage of the 1917 Espionage Act.

Whether it be targeting CIA whistleblower John Kiriakou for exposing the agency's torture program, seizing Associated Press phone records, prosecuting Chelsea Manning or going after journalists James Risen and James Rosen, Holder has undoubtedly overseen the largest attack on the First Amendment in modern history.

"The Obama administration has moved beyond protecting government secrets to threatening fundamental freedoms of the press to gather news," the New York Times noted.
Slimy progressive liberal Democrats always manage to quit just before the sh*t is about to hit the fan. Many found Eric Holder's sudden resignation today odd. Well now we know why. According to Breitbart, Holder's resignation comes on the heels of another court ruling that the Justice Department must finally cough up documents about how Holder's Justice Department lied to Congress and the American people about the Operation Fast and Furious scandal. Why am I not surprised?
Eric Holder's resignation comes as DOJ forced to cough up Fast and Furious documents
Oh good grief. Al Sharpton is helping the Obama White House pick who the next Attorney General will be. What could possibly go wrong here? BTW, wtf is an NBC paid employee doing anything with the corrupt Obama regime. Isn't this like some sort of conflict of interest? I guess they just don't have to hide it anymore.
Al Sharpton helping Obama pick next Attorney General
Now that Eric Holder is on his way out, what race hustler will Obama choose to replace Holder? Maybe Obama's mentor at Harvard, Charles Ogletree. Obama's Harvard mentor Charles Ogletree declared he wants to see the first "white victim" of the Stand Your Ground law back in 2012 during the Trayvon Martin fiasco. Seems like a logical pick for Obama. Replace one race hustler with another.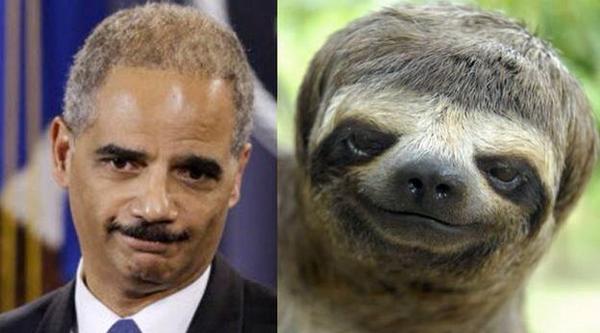 Will racist Charles Ogetree replace Eric Holder as AG?
Other candidates could include Thomas Perez (a Latino race hustler). Maybe even Massachusetts Gov. Deval Patrick who isn't running for re-election. Others being rumored are Kamala Harris (Attorney General of California) and butch Janet Napolitano. The best choice at this point would be a sloth. It would look like Eric Holder, but would run the DOJ better than Holder did, or any of his rumored replacements.
Read more
Eric Holder, the biggest race hustling Attorney General in American history is suddenly resigns! Why? The media wouldn't let that information out, but where's there's smoke, there's fire. I'll bet something about this corrupt, racist bastard is going to drop withing the next few weeks. Eric Holder is the only Attorney General n American hsitory to be held in contempt of Congress. Maybe Holder get hook up with Al Sharpton at NAN or something.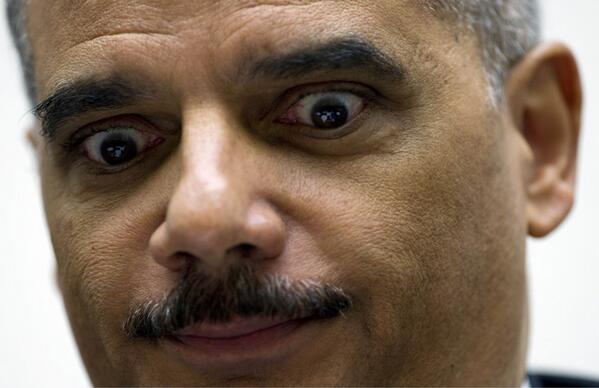 Corrupt Eric Holder resigns
And the corruption continues. The big news today is that Dinesh D'Souza has been sentenced to 8 months in a 'community confinement center' and fined $30,000 by the Obama/Holder DOJ. But what's not being mentioned by the national media is that the Obama/Holder DOJ misled U.S. District Court Judge Richard Berman in the case against D'Souza during their pursuit of 10-to-16 months of prison time for a federal felony charge. According to Town Hall: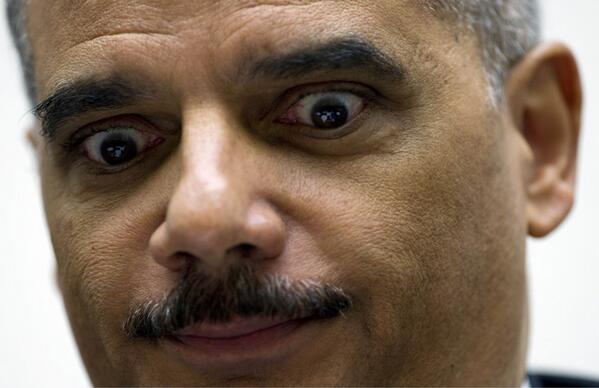 Eric Holder DOJ misled Judge in case Dinesh D'Souza