Botox face Nancy Pelosi is either trying to fool the 'dumb' American voters, or she is just forgetting things in her old age. When asked about Jonathan Gruber comments about deception and dumb voters, Nancy Pelosi said she didn't know who Jonathan Gruber was. However, in 2009 she was signing a different tune about Gruber. Back in 2009 as Gruber was writing the ObamaCARE bill for progressive liberal Democrats like Pelosi, she told everyone at a press conference that everyone in Americans Should Read Jonathan Gruber's ObamaCare analysis.
Nancy Pelosi 2009: Read Jonathan Gruber's ObamaCare Analysis
Nancy Pelosi 2014: Who is Jonathan Gruber?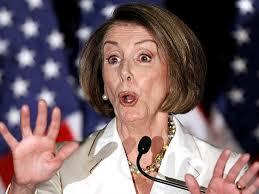 Funny how things change in five years. Again, Nancy Pelosi must think we are all stupid if we are to believe her.
Nancy Pelosi a war monger? Wow, how things in this country have changed. According to The Hill, stretch Pelosi says to expect a war authorization vote on ISIS when the lame-duck session of Congress resumes after the November 4th, mid-term elections. Old botox Pelosi even wants to have the vote in the lame duck session without waiting for King Hussein Obama t request it. Boehner on the other hand wants to wait for Obama's request. The Democrats are becoming the 1960's LBJ Democrats, in their lust for war.
ISIS war authorization vote in lame-duck session of Congress?
Nancy Pelosi thinks Africa is a country. Botox on the brain doesn't seem to realize that Africa is not a country, but rather a continent. Nancy Pelosi, your brain is insignificant.
Honored to join my colleagues & @OfficialCBC at #USAfrica Leaders Summit to discuss the valuable relationship between our two countries!

— Nancy Pelosi (@NancyPelosi) August 6, 2014
Update: looks like Botox on the brain deleted her tweet, here's a copy of it:
Dumb ass Nancy Pelosi thinks Africa is a country
Progressive liberal Democrat education at it's finest. Time for Nancy Pelosi to take all her millions she gained while in Congress and retire to the winery. It's obvious the bat-shit crazy Pelosi is beginning to show signs of dementia.
Just how batshit crazy is Nancy Pelosi? Now she's claim Hamas is a Humanitarian Organization. Yes, the Hamas that kills Jews, Americans and is designated a terrorist organization by our own State Department. Watch the following video of Nancy Pelosi claiming Hamas is a Humanitarian Organization:
Nancy Pelosi says Hamas is a Humanitarian Organization VIDEO
There must be something in the water in San Francisco. Either that, or the botox seeping into Nancy Pelosi's veins has really screwed up whatever brain she had left.
Imagine if Saturday Night Live was still funny. Could you imagine the skits mocking Nancy Pelosi calling a terrorist group like Hamas a 'Humanitarian Organization.' Maybe all the wine Pelosi has been sipping from her private vineyards has gone to her head.
Progressive liberal Democrats are always terrorist sympathizers. Progressives in America like Pelosi are a lot like Hamas. Either you agree with their warped ideology, or you are targeted, threatened, smeared and some times even the victim of violence.
Apparently, in Nancy Pelosi's world, all illegals that have been flooding the Texas/Arizona borders with Mexico are 'all Americans.' Botox faced Pelosi wants to use the border crisis as an 'opportunity' to give amnesty to all these diseased border hoppers. Pelosi also said she wished she could take all the border hoppers home with her. So why don't you put your money where your plastic surgery mouth is and do it? San Francisco is a sanctuary city anyway. Imagine the keep labor Pelosi will have to pick the grapes and her wine vineyards.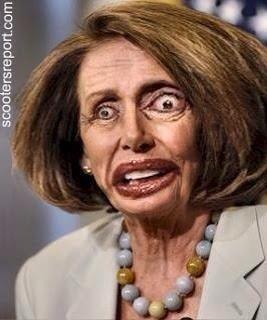 Saturday at a press conference from the Rio Grande Valley, Rep. Nancy Pelosi (D-CA) discussed her tour of a border holding facility and addressed the humanitarian crisis of thousands unaccompanied minors flooding across the U.S.-Mexico border, which she called a "humanitarian opportunity."
Pelosi explained, "We are all Americans — north and south in this hemisphere," and urged America to see this as not a crisis but an opportunity "to be helpful." She also said she wished she could simply "take home" the thousands of children temporarily housed in the overburden facilities.
Nancy Pelosi is making a trip to the US/Mexican border to greet illegal aliens who are flooding in because they know amnesty is coming. This may be good news. The illegals may be so scared by Nancy Pelosi's botox face, they may run back to their side of the border. We can hope can't we?
Botox Pelosi to greet illegals at border on Saturday
Considering all the wine vineyards the Pelosi's own, I can understand why they'd want the cheap labor.
Read more
I don't know if there's just something in the water in San Francisco or maybe just botox on the brain, but Nancy Pelosi is claiming that 500,000 people got coverage in October through ObamaCARE.
FACT: Despite website glitches, ≈1m have applied and are eligible to #getcovered on #ACA marketplaces. 500,000 have already secured coverage

— Nancy Pelosi (@NancyPelosi) November 13, 2013
Actually Botox Pelosi, only 26,794 actually enrolled in ObamaCARE via federal exchange. Progressive liberal Democrat extremists like Pelosi have never been known to be any good at math. Over 5 million Americans have already lost coverage thanks to Nancy Pelosi and ObamaCARE. If you include those who haven't paid a dime towards ObamaCARE, the state exchanges, and all the abandoned shopping carts, you barely get over 106,000 sign ups. Not exactly 500,000 San Fran Nan. Botox face is probably including the Medicare signups in October, which are not counted towards 'signing up for ObamaCARE.'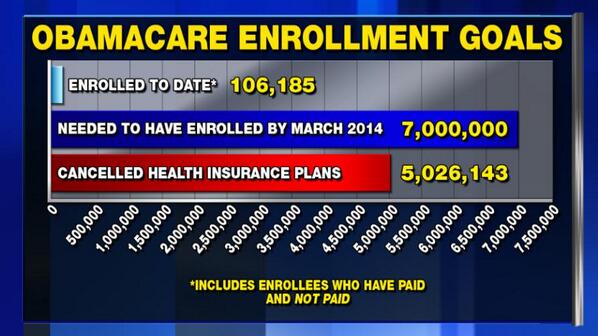 Nancy Pelosi falsely claims 500,000 have secured coverage
There is only one good thing about ObamaCARE being funded and actually going into effect. It's such a train wreck that it will eventually collapse under it's own weight, crushing Obama and the Democrats who voted for it (oh and the RINOs who vote to fund it.) Otherwise, it's a disaster and now DC is already starting see problems. ObamaCARE healthcare 'exchange' wouldn't be able to determine tax subsidies until November. Good thing for the corrupt politicians in Congress that they are exempt from ObamaCARE.
Yikes: DC's exchange sends out a press release saying they won't be able to determine tax subsidies until *November.* Post coming shortly!

— Sarah Kliff (@sarahkliff) September 25, 2013

As Nancy Pelosi said, we had to pass the bill to find out what's in it.
Nancy Pelosi Obamacare
Nancy Pelosi, San Francisco own 99 percenter Marxists wants to go to war with Syria. What a difference this is from when went to war with Iraq earlier in this century. Leftists are always anti-war when there's a Republican president. But when there's a Democrat, we must do something about what Bashar Al-Assad has done to 'human-rights.' Maybe botox face will profit if we attack Syria. A much more inexpensive way to hurt Syria would be to just drain all the botox in her face over the country Syria. That would really teach Assad a lesson!
Nancy Pelosi was best buds with Bashar Al-Assad
"What Assad has done is outside the realm of basic human rights," Pelosi said in a statement issued after the 90-minute call. "On this evening's call, I expressed my appreciation for the measured, targeted and limited approach the President may be considering."
The comments go further than Pelosi's previous statement from two days ago, when she called the Assad regime's alleged use of chemical weapons a "clear violation of any moral standard" and said lawmakers "stand ready to consult with President Obama to consider the appropriate course of action in response to these acts of brutality."
Nancy Pelosi looked like her botox was about to start leaking out of her face after she was booed by the Netroots Nation crowd when she called Edward Snowden a criminal. Someone even yelled YOU SUCK at her which was awesome. Watch bellow:
Nancy Pelosi booed calling Edward Snowden criminal: You Suck!