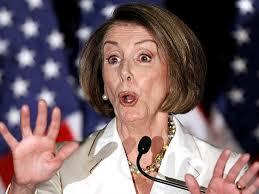 Botox face Nancy Pelosi is either trying to fool the 'dumb' American voters, or she is just forgetting things in her old age. When asked about Jonathan Gruber comments...
Nancy Pelosi a war monger? Wow, how things in this country have changed. According to The Hill, stretch Pelosi says to expect a war authorization vote on ISIS when...
Nancy Pelosi thinks Africa is a country. Botox on the brain doesn't seem to realize that Africa is not a country, but rather a continent. Nancy Pelosi, your brain is insignificant. Honored to join my colleagues & @OfficialCBC at...
Just how batshit crazy is Nancy Pelosi? Now she's claim Hamas is a Humanitarian Organization. Yes, the Hamas that kills Jews, Americans and is designated a terrorist organization by...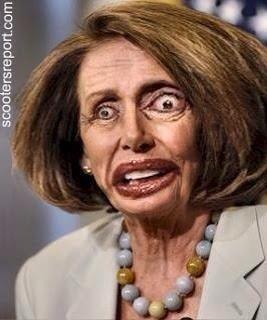 Apparently, in Nancy Pelosi's world, all illegals that have been flooding the Texas/Arizona borders with Mexico are 'all #8217; Botox faced Pelosi wants to use the border crisis as...
Nancy Pelosi is making a trip to the US/Mexican border to greet illegal aliens who are flooding in because they know amnesty is coming. This may be good news. The illegals may be so scared by Nancy Pelosi's botox...
I don't know if there's just something in the water in San Francisco or maybe just botox on the brain, but Nancy Pelosi is claiming that 500,000 people got...
There is only one good thing about ObamaCARE being funded and actually going into effect. It's such a train wreck that it will eventually collapse under it's own weight,...
Nancy Pelosi, San Francisco own 99 percenter Marxists wants to go to war with Syria. What a difference this is from when went to war with Iraq earlier in this century. Leftists are always anti-war when there's a Republican...
Nancy Pelosi looked like her botox was about to start leaking out of her face after she was booed by the Netroots Nation crowd when she called Edward Snowden...