Christiane Amanpour was such a failure at ABC that she had to be scooped up by CNN. Amanpour, like CNN (especially CNN International) are widely known to be anti-Semitic. Now, Christiane Amanpour somehow found South Africa during the apartheid era to present day Israel.
Obama (and Iranian born Valerie Jarrett) really wanted to meet Iran president Rouhani when he was here in September for the UN. Now, (and Iranian born Valerie Jarrett) may get their wish and get to meet Rouhani at Nelson Mandela's funeral tomorrow.
The ObamaCARE Health Insurance tax was quietly finalized this past week during the Thanksgiving Holiday. The ObamaCARE Health Insurance Tax will cost nearly $60 billion over the next five years and raise health care premiums by 3 percent.
Read more
ObamaCARE for illegals? Now it's been proven that even illegals will qualify for Obama and tax payer funded subsidies under ObamaCARE, check out one of the questions asked as a user (in this case @DixieRedRocket from Twitter) got while signing up for ObamaCARE: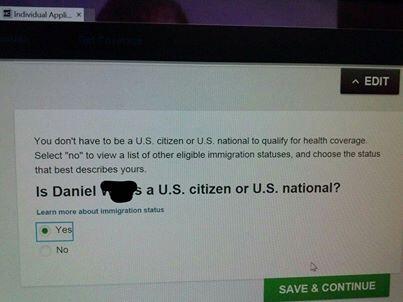 Illegals get ObamaCARE and tax payer funded subsides
You don't have to be a US Citizen of US National to qualify for health coverage.
So not only does ObamaCARE suck, not only are people getting thrown off their health care polices and seeing premiums and deductibles skyrocket, but now we are paying for illegal immigrants ObamaCARE too!
Read more
Everyday it seems Obama and Valerie Jarrett look for new ways to allow Iran to get their nuclear bomb. This latest report that says the Obama White House (aka Valerie Jarrett and Obama) are 'exploring' new ways to allow Iran to enrich uranium should come as no surprise who has been following this clown show with Obama and Iran. George W. Bush of course had his chance to take out Iran and any chances of getting a nulcear bomb and didn't. Obama (and Valerie Jarrett) are determined to let them get the bomb.
The White House is currently examining ways to enable Iran to have its own "domestic" uranium enrichment program, according to a senior Obama administration official.

As the details of a six month interim nuclear deal between Iran and Western nations are hashed out, the White House is exploring the practicality of permitting Iran to continue certain enrichment activities, an issue that Iranian officials have described as a "redline."

"Over the next six months, we will explore, in practical terms, whether and how Iran might end up with a limited, tightly constrained, and intensively monitored civilian nuclear program, including domestic enrichment," White House National Security Council (NSC) spokesman Caitlin Hayden told the Washington Free Beacon.
Obama really loves them Mullahs in Iran. Reports now (from the Weekly Standard) and some Arab newspaper have Obama working (undoubtedly with Iranian born Valerie Jarrett) to arrange a trip to Iran. Valerie Jarrett must be missing her homeland. The corrupt Obama White House is trying to deny that this trip to Tehran is ever going to happen. But as we've learned time and time again, nothing that comes from Obama or his White House hacks ever is true. Obama and Jarrett will probably make sure the trip to Iran is after the 2014 mid-term elections.
Seyed Mojtaba Atarodi an Iranian scientist who was arrested in California in 2011 was a part of the 'historic' nuke deal that Obama and John Kerry cut with the Iranians. Pastor Saeed Abedini, a naturalized American citizen who has been held hostage by the Iranians for over a year on the other hand wasn't even part of the discussion.
How presidential. Valerie Jarrett's puppet Obama apparently called up Bibi Netanyahu today and begged him to 'take a breather' from criticizing Iran's deal of the century.
President Obama requested Israeli Prime Minister Benjamin Netanyahu take a "breather" from his harsh criticism of the U.S. strategy regarding Iran during a call betwee the two leaders

The request came as the administration girds up for a push in the next six months to reach a final settlement on Iran's nuclear program. The president reportedly urged Netanyahu to tone down his rhetoric for the sake of diplomacy and urged him to dispatch officials to Washington who could help negotiate a resolution agreeable to both countries.
Far left progressive liberal Democrat Senator Robert Menedez who recently won re-election for another six year term is accusing the Obama regime of 'fear-mongering' rhetoric telling Congress not to pass more sanctions on Iran.
Ju Hong, the man who 'heckled' Obama yesterday in San Francisco about amnesty was personally invited by the Obama regime to the rally. This means Ju Hong's 'heckling' was nothing more than staged propaganda. Ju Hong is an illegal alien from South Korea who recently graduated from leftist cesspool UC Berkeley. Hong also has a long history of 'vocal' protesting, so he's basically a professional protester. That's what UC Berkeley is churning out these days.
Iran got the deal of the century on the so called 'historic' deal. Lets take a look at exactly what Iran got in the deal and what this country got:
Iran's deal of the century
Iran gets $3 billion in cash, $9.6 billion in gold, $5+ billion in petrochemicals, $1.3 billion in automobiles, enriched uranium for one bomb, 3000 new centrifuges and 1 plutonium reaction.
America gets: no centrifuges disabled, no ounces of uranium shipped out, no facilities closed, no stop to miisile testing, no stop to terrorism supports and no stop of Iran's human right's abuses. Oh yea, we also don't get American Pastor Saeed Abedini released as a hostage in Iran. Abedini wasn't even a topic of discussion in the nuke deal. Obama and Valerie Jarrett aren't very good negotiators.
This Iran nuclear not only a lousy deal, but it has loopholes. Like ObamaCARE, it's 'we had to sign the deal to find out what's in it' from the Obama regime. According to the Jerusalem Post, a loophole in the Iran nuclear deal bans "further advances" at Arak nuclear reactor. But off-site component work is not explicitly banned.
But the gap, which one diplomat described as a potential "loophole", could provide a test of Iran's intentions, and demonstrates how difficult it will be to reach a final deal to resolve Iran's nuclear standoff with the West once and for all.

Iran's uncompleted heavy-water research reactor near the town of Arak emerged as one of the most important issues in marathon negotiations in Geneva last week that ended early on Sunday with a breakthrough deal.

Tehran has earlier said it could open the reactor as soon as next year. It says its purpose is only to make medical isotopes, but Western countries say it could also produce plutonium, one of two materials, along with enriched uranium, that can be used to make the fissile core of a nuclear bomb.

Much of the final day of negotiations was taken up with the major powers pressing hard for language that would stop Iran from completing the reactor.
But no language explicitly prevents it from making components elsewhere, which could then be installed later.