Something strange is going on. Russia has amassed 30 nuclear bombers at an airfield adjacent to Borisoglebsk according to Before It's News (Via Red Alert.) The news comes from Turner Radio Network and also reveals that US satellites have seen "numerous transfers from the storage facility to the aircraft." Don't sleep on Russia. KGB thug Putin may be smart, and kicking Obama's ass internationally, but he's still a nut.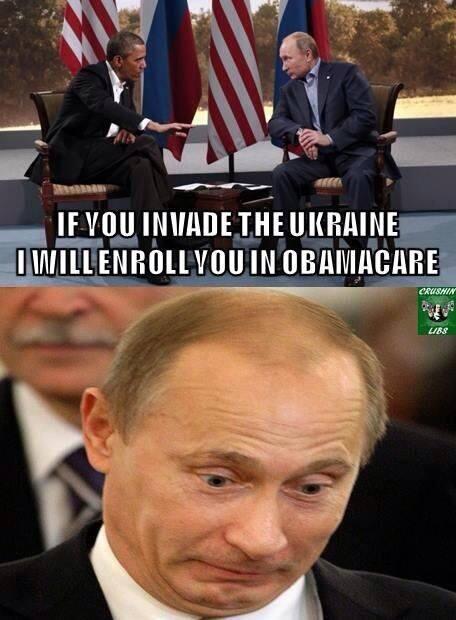 Russia has amassed 30 nuclear bombers at an airfield adjacent to Borisoglebsk
The Ukraine Defense Minister confirms Russian attack on Army unit in Crimea. I guess those three phone calls from Obama to Putin have really worked out well huh? Meanwhile, Obama is on vacation in Florida for the weekend. FORE!
Ukraine Defense Minister confirms Russian attack on Army unit in Crimea
UKRAINE DEFENSE MINISTRY CONFIRMS ATTACK ON ARMY UNIT IN CRIMEA. Need another phone call between Obama and Putin

— zerohedge (@zerohedge) March 7, 2014
Journalists in Crimea right now trying to work out if (and how) Russians took over a Ukranian military post: http://t.co/njWSgwqxCE

— Paul Lewis (@PaulLewis) March 7, 2014
BBC News – Ukraine crisis: Armed men 'seize Crimea military base' http://t.co/FjtVPDRVkz

— Norma Ramos (@amronsomar) March 7, 2014
#Russian soldiers attack #Ukrainian military base in #Crimea http://t.co/eWVrsywqws #Obama is on vacation tho, please leave a message. #GOP

— Kobeissi™ (@Gopic) March 7, 2014
Putin, a former KGB agent is a thug and a tyrant. Obama, is only a thug and a tyrant to Americans. But there's one big difference between the two. Their earlier years. One was a stone faced KGB agent, while the other was just a stoned faced college kid with his transcripts now sealed. Can you guess which is which?
Stone faced *Putin) vs. Stoned face (Obama) 'leaders.'
That nuke deal is really working great huh? Over half a billion dollars is being given by Obama to Iran this coming Friday just as Iran was caught shipping weapons to Gaza. Even the Iranians are laughing at how easy it is to play Ayatollah Obama.
Read more
RACISM! DOG WHISTLE! Pro-Russian protesters in Crimea called Obama black-ass as they protested in favor of Putin's takeover outside a hotel as they waited for OSCE delegates.
Where are all Al Sharpton? Jesse Jackson? Any of the race hustlers on NBC/CNN/ABC/CBS? WHy is it when there is actual racism, the progressive liberals hide.
RACISTS! Pro-Russian protesters in Crimea call Obama black-ass
About 40 angry Pro-Russian protesters waiting for OSCE delegates outside hotel in Crimea. "Black-ass" is the nicest thing they called Obama

— Simon Shuster (@shustry) March 5, 2014
About 40 angry Pro-Russian protesters waiting for OSCE delegates outside hotel in #Crimea. "Black-ass" is the nicest thing they called Obama

— UkrainaSOS (@UkrainaSOS) March 5, 2014
How far Crimea has come from the genteel Czar's playground to current GANGSTER land where the BEST they can say about Obama is 'black-ass'.

— UkraineInEurope (@UkraineInEurope) March 5, 2014
In Hillary Clinton's world, the four Americans dead in Benghazi were the result of a Youtube. Also in her world, Vladimir Putin is doing the same thing Adolf Hitler did. Only problem for Hillary Clinton is that Putin hasn't killed 6 million Jews, 2 million Poles, or millions of others. Hillary Clinton might wish Putin was like Hitler since she hates Jews, just like her Muslim Brotherhood linked Chief of Staff.
Vladimir Putin has been nominated for a Nobel Peace Prize. After Obama won the Nobel Peace Prize in 2009 having accomplished nothing, nominating Putin doesn't seem so far fetched. The Nobel Peace Prize is a joke, Putin is a thug, tyrant and dictator, so it's the perfect match. I say give Putin the prize. Maybe the Euro-Leftists in charge of this farce 'prize' think it will make Putin lay off the Ukraine or something.
Vladimir Putin nominated for Nobel Peace Prize
Tonight's Texas primary elections kick off the 2014 primary election season in Obama's second mid-term election. Democrats are in worse shape today than they were in 2010 when they got shellacked by Republicans in Obama's first mid-term. Unless Republicans manage to screw this mid-term election up (which wouldn't surprise me) they should probably be able to take control of the Senate and add to their lead in the House.
As Obama becomes Jimmy Carter on the international stage, and as more and more people learn that they will either lose their current health care coverage, or pay up the ass just to keep their existing coverage under ObamaCARE, November's elections could be a bloodbath.
the progressive 'transformation' ends starting this November. The leftist experiment has failed and the Democrat party of today is basically no better than Vladimir Putin in Russia (except they like gays.)
Reports from the New York TImes (America's Pravda) have Ukrainian troops surrendering to Russian troops in Crimea. Looks like Vladimir Putin won again while Obama continues to be Chicken Kiev (or Jimmy Carter's half white brother.)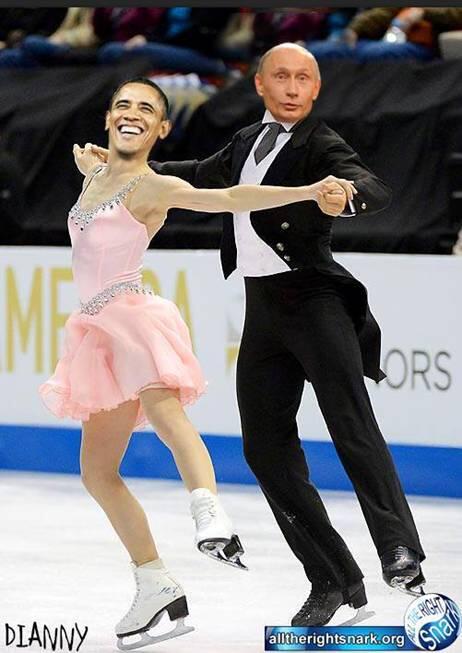 Ukrainian troops in Crimea surrendering to Russians
Just as expected, the media is covering Obama's ass during the Ukraine crisis as Obama becomes a laughing stock not only in this country but all around the world. Obama's foreign policy of of the late 1970′s is Jimmy Carter on steroids. Robert Stacey McCain exposes the media Obama licking as yet again they try to save his ass.
Read more
Comrade Vladimir Putin and the Russians are threatening to retaliate if the US and other western nations put sanctions on Russia over their invasion of the Ukraine. Obama, being the coward he is will probably take his golf ball and go home.
Russia says it would retaliate for US sanctions over Ukraine
Vladimir Putin has ended military exercises near the Ukraine border. This means Russians troops have been ordered back to their bases. One has to wonder why, and if Putin will decide to use these troops to cease more territory in the Ukraine.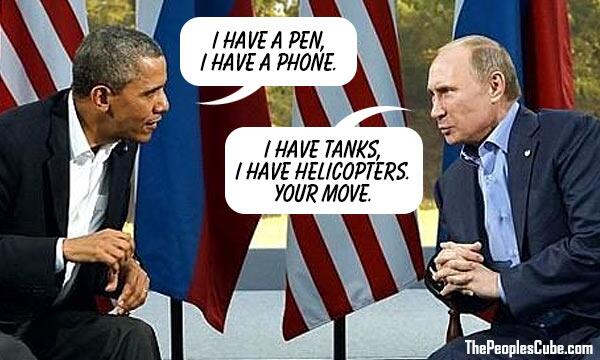 Putin ends military exercises near Ukraine border – will he now cease more terrority?
Putin reportedly ends military exercises near Ukraine border http://t.co/DKTe4bQrGl

— CBS Top News (@CBSTopNews) March 4, 2014
Putin reportedly ends war games in western Russia, but no sign of change to 16K-strong Russian force inside Ukraine: http://t.co/0R8qfJkpqL

— CBS News (@CBSNews) March 4, 2014
Putin orders Russian troops in military exercises back to base http://t.co/CTStIHEFxT

— The Jerusalem Post (@Jerusalem_Post) March 4, 2014