U.S. District Court Judge Arthur Schwab is the first to declare Obama executive amnesty unconstitutional. That is, if he even signed the order which there have been conflicting reports about it. This will likely end up in the Supreme Court eventually.
While a small group of Senate Republicans were busy causing procedural chaos over the #CRomnibus, a lower-profile court case bringing a direct challenge to the constitutionality of Obama's "executive amnesty" was quietly making its way through the federal court system.

And guess what—the conservative position won.

Although the decision declaring executive amnesty unconstitutional came down within the context of a criminal case, meaning that we don't yet know what the courts would do in the civil context, the holding delivers a blow to those who have chosen to back Obama's disregard for the separation of powers.
Judge Arthur Schwab declares Obama executive amnesty unconstitutional
ANother one of Obama's 'dreamers' has killed two more Americans in a hit and run in Raleigh North Carolina. His name is Mateo Guzman-Palacios. The media in North Carolina has found a new, creative way to try and hide the fact that Mateo Guzman-Palacios is an illegal. At the end of the story they mention that ICE gave them to the corrupt name of this illegal. No where in this ww story does it mention that Mateo Guzman-Palacios is an illegal from Mexico. You just have to connect the dots with the ICE report. Sorry media, you can't hide Obama's illegals anymore.
Obama illegal caught after fatal hit-and-run accident in North Carolina
It's all cool though, as Weeper Boehner and House Republicans will fund Obama's amnsty via the CROmnibus.
So it turns out Obama never signed the amnesty executive order after all. He knew it wasn't legal. Instead, he lied, went on TV and claimed to sign the amnesty executive order to try and curry favor with Latinos. Instead, what Obama really did was send a memo to instructing Homeland Security not to deport 5 million illegals.
And the media still wouldn't tell Americans the truth.
Radio host Rush Limbaugh is now broadcasting the fact that President Obama never personally signed any executive order in connection with his recent move providing amnesty for up to 5 million illegal immigrants.
"Do you know that Obama has not signed any executive action or order for this?" Limbaugh stated on his top-rated national program Tuesday. "Folks, this is even more corrupt than anybody conceived!
"He just wrote a memo instructing Homeland Security not to deport 5 million people. There is no actual executive order."
Obama never signed amnesty executive order – sent memo to ICE
This way, Obama covers his ass legally since he never actually signed the executive order, but stupid people are lead to believe by Obama and his media allies that he really did give amnesty to five million illegals.
Florida has finally decided to join Texas and 16 other states in the lawsuit against Obama's illegal executive order amnesty. Originally Florida didn't join the group of states to file the suit, leaving some to scratch their heads, wondering why.
Florida Attorney General Pam Bondi announced on Friday that Florida would be joining the lawsuit filed by Texas Attorney General Greg Abbott against the Obama administration for the President's executive immigration actions to grant amnesty to millions of illegal immigrants.
As Breitbart Texas reported on Wednesday, Abbott, joined by seventeen other states, filed a complaint in the United States District Court in the Southern District of Texas, alleging that Obama's executive action violates the Take Care Clause of Article II, § 3, clause 5 of the United States Constitution and the Administrative Procedure Act, 5 U.S.C. §§551 et seq.
In a press release posted on the Florida Attorney General's website, Bondi released the following statement:
Florida joins Texas in Obama amnesty lawsuit
If you like your nuclear capabilities, you can keep them, period. I guess this is what Obama and/or John Kerry told the Irans today when their nuclear program was supposed to be shut down. As usual, Iran played games, and played John Kerry, giving them until July 2015 now to get rid of nukes.
Obama-Kerry fail – Iran given another 7 month extension for nuke program
Time is running out to stop Iran from getting a nuclear weapon. Israel knows this, and they also know that the King Hussein regime here is on the side of the mullahs. So now there are reports that Israel is considering a strike on Iran to take out their nuclear weapons program. The top mullah in this country (Obama) will likely condemn Israel for even thinking of protecting themselves. Iranian born real POTUS Valerie Jarrett can't like this either.
Israel considers strike on Iran
Without an exit ramp, Israel insists its hands will not be tied by an agreement reached this week, this month or next, should it contain a clause that ultimately normalizes Iran's home-grown enrichment program.
Not a lot of attention has been paid to the reaction of blacks on Obama's executive order amnesty. Many blacks feel Obama's amnesty is a slap in the face for all their support of Obama, even during the roughest times over thse past six years. Below is a collection of some reactions by leading black voices in America, compiled by Amy Ridenour's National Center Blog.
Joe R. Hicks, former executive director of the Greater Los Angeles chapter of the Southern Christian Leadership Conference:
President Obama strode into the White House promising to give the American people the audacity of hope. What we are witnessing instead, with his immigration agenda, is an audacious grab for power and an evisceration of the Constitution.

Having kicked the can down the road, obviously refusing to ruin his own chances for re-election in 2012, and tap-dancing on the issue until after the 2014 mid-term elections, Obama now disdainfully punches the amnesty card for upwards of five million illegal residents with the knowledge that almost half of all Americans polled oppose his maneuver.

With the stroke of a pen, Obama rewards those who arrogantly mock our border laws while simultaneously telling those hopeful immigrants still waiting patiently to lawfully come to America that they are chumps.

After these five million or so, what then? The magnet that draws illegal immigrants across the border just got stronger. They will come expecting, — no, demanding — to get "Obama's amnesty."

In 2010, defending his inaction on immigration issues, Obama said, "I'm president, I'm not king. I can't do these things just by myself." That's all changed, and the Constitution lies in tatters as a result.
Demetrius Minor, youth minister and motivational speaker:
Barack Obama really had the potential to be an iconic president. It's a shame he's now relegated to someone who will be remembered most for not only dividing a nation, but for circumventing Congress in order to push his personal agenda.
Stacy Washington, talk radio host:
Well, black liberals, sorry — but I have to put you on blast.

Every time this country has pardoned illegal immigrants, crime and black unemployment have gone through the roof. Don't believe me? Check the statistics from Reagan's congressionally-approved amnesty package. Not only did three times as many illegal immigrants as were promised become legal through the undiscovered intricacies of chain immigration, but the crime rate soared and black unemployment went through the roof.

Sorry again, black liberals. You just got dumped!
Black activists speak out against Obama amnesty
Great news! Not only will Obama's amnesty allow illegals to get benefits in this country such as welfare, but it will let criminals stay too. Illegals charged in kidnappings, rapes, drug running and drunk driver homicides will be allowed to stay in this country under Obama's amnesty. ¡Bienvenidos a los Estados Unidos de América illegals!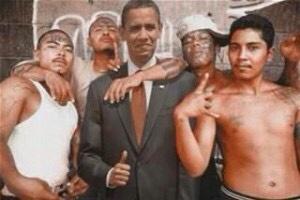 Obama Amnesty allows kidnappers, rapists, drug runners and drunk drivers to stay in US
On the not-so-tough side, the administration views convicted drunk drivers, sex abusers, drug dealers, and gun offenders as second-level enforcement priorities. An illegal immigrant could spend up to a year in prison for a violent crime and still not be a top removal priority for the Obama administration.
I guess nothing will satify the amnesty pimps in this country. Even after Emperor Obama gave amnesty to five million illegals, they still want more. Obama got heckled in Las Vegas during his propaganda speech about amnesty. BTW, why is Obama flying around the country campaigning? The mid term elections are over, and Obama is not up for any future election. Oh I get it, the 'stupid' AMerican people get to pay for it, so Obama goes to party in Las Vegas.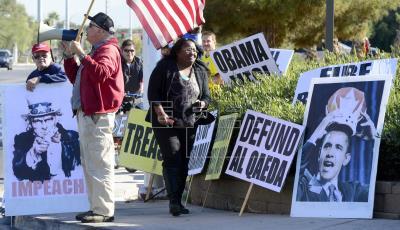 Amnesty pimps heckle Obama in Las Vegas (Video)
During Obama's amnesty speech last night, he quoted quoted scripture, specifically Exodus 22:21.
"And a stranger shalt thou not wrong, neither shalt thou oppress him; for ye were strangers in the land of Egypt."
So like, we oppress foreigners now, and we're in Egypt? Exodus 22:21 shows that Obama is now only corrupt, but also a biblical illiterate.
So let's see if I get this straight. If we give illegals the priorities over legal citizens who are trying to become legit citizens of this country, we are somehow oppressing them? If we don't want our tax dollars going to illegals draining the welfare system meant for actual, poor American citizens we are oppressing them?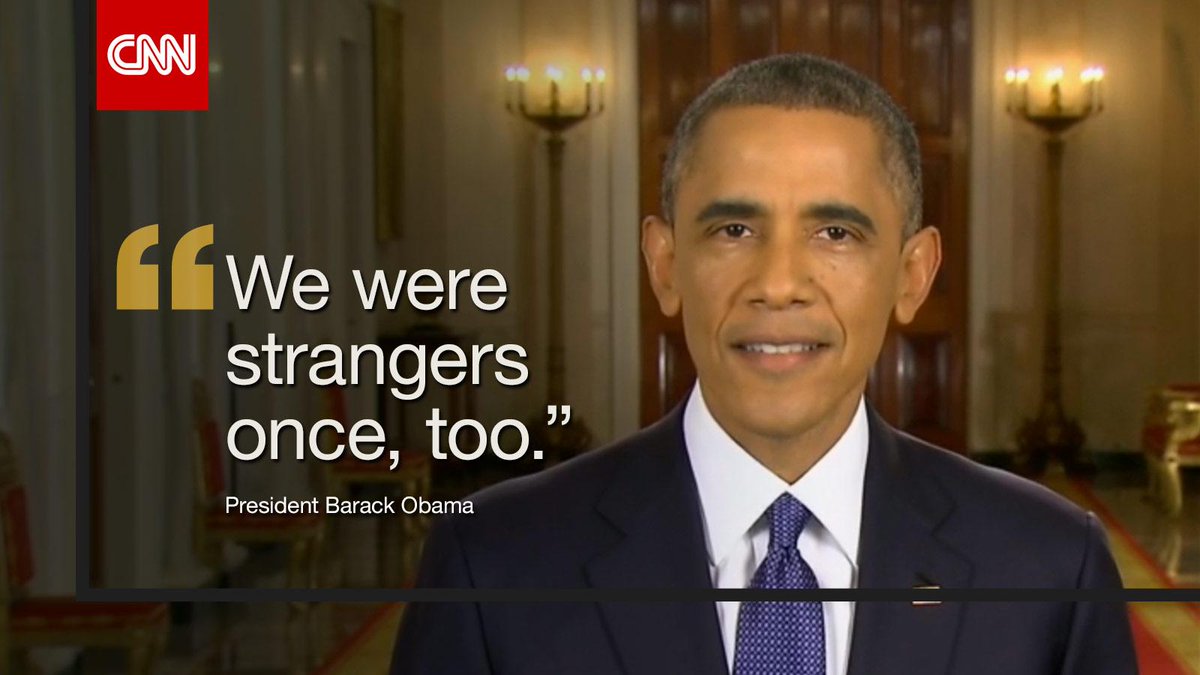 Obama quoted Exodus 22:21 in his amnesty speech
There's a big difference between the people who immigrated to this country in the late 1800's and early 1900's. They came her legally. They didn't hop any border fences meant to keep them out. And the vast majority of the first immigrants to this country never took a dime from the government, unlike illegal aliens today.
Read more