ObamaCARE for illegals? Now it's been proven that even illegals will qualify for Obama and tax payer funded subsidies under ObamaCARE, check out one of the questions asked as a user (in this case @DixieRedRocket from Twitter) got while signing up for ObamaCARE: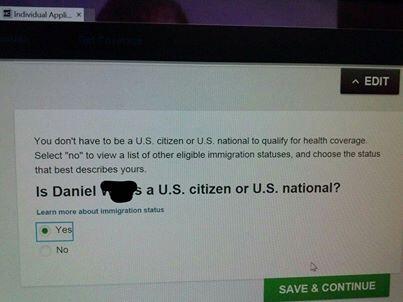 Illegals get ObamaCARE and tax payer funded subsides
You don't have to be a US Citizen of US National to qualify for health coverage.
So not only does ObamaCARE suck, not only are people getting thrown off their health care polices and seeing premiums and deductibles skyrocket, but now we are paying for illegal immigrants ObamaCARE too!
Read more
Ju Hong, the man who 'heckled' Obama yesterday in San Francisco about amnesty was personally invited by the Obama regime to the rally. This means Ju Hong's 'heckling' was nothing more than staged propaganda. Ju Hong is an illegal alien from South Korea who recently graduated from leftist cesspool UC Berkeley. Hong also has a long history of 'vocal' protesting, so he's basically a professional protester. That's what UC Berkeley is churning out these days.
Salvador Cervantes was one of a handful of leftist paid hecklers of Ted Cruz today. According to Weasel Zippers, Salvador Cervantes is the director of the Illinois Coalition for Immigrant and Refugee Rights. Salvador Cervantes goes by the handle @Salce on Twitter and doesn't even have 50 followers at the time of this post. In case you missed it, Ted Cruz owned the Obama paid hecklers at the Values Voters Summit in DC today:
Ted Cruz destroys Obama paid amnesty hecklers at Values Voters Summit
I wonder how much Cervantes and the rest of the these illegal alien protesters got paid to heckle today? The last time leftist paid hecklers were exposed, they weren't being paid very much.
Oh and these illegals also have a march planned in DC tomorrow called Immigrant Dignity and Respect. I bet you it gets more coverage than the truckers or the Million Veteran March on the Memorials set for Sunday.
Remember, Americans and tourists who want to visit sites such as the National Mall in DC are banned from the Obama regime and the Democrats because of their shut down. Yet the National Mall was mysteriously opened for amnesty protesters today, which featured Democrats such as Charlie Rangel, Luis Gutierrez, Keith Ellison, Joseph Crowley, Al Green, and John Lewis getting arrested. These Democrats should have been arrested for treason years ago (or in Rangel's case, tax cheating.) These same Democrats who are shutting the National Mall to the general public, forcing the elderly out of their homes, threatening veterans with cops and police dogs has time to march with amnesty protesters in a closed site? Does anyone else see what a load of bullsh*t this is? Is that what these Democrat scum are paid for with my tax dollars? To march for illegal aliens? The amnesty protesters, like typical leftists left the National Mall full of trash, and had police cleaning up after them once the amnesty rally was done. The only ones missing from this rally where John McCain, Jeff Flake, Marco Rubio and Lindsey Graham.
Amnesty leave garbage on the National Mall during protest – Image Credit: Breitbart
Thankfully, Ayvani Hope Perez captive who was kidnapped by four thugs in Atlanta is has been found and is safe. But the media doesn't want to tell you that one of the kidnappers, Juan Alberto Contreras-Ramirez aka Contreras-Rodriguez is an illegal alien, and is one of the those people who will get citizenship if Congress goes ahead and passes amnesty. The other three kidnappers were black thugs. Last year, Juan Alberto Contreras-Ramirez aka Contreras-Rodriguez was arrested during a drug bust. Apparently, they don't check immigration status anymore during drug busts.
Read more
Earlier in the day the left wing media was trying to make the claim that Reince Prebius called Mitt Romney's 'self deport' quote last year as 'racist.' As usual, the left wing corrupt media was lying as Prebius never said 'racist.' Instead, Reince Priebus called the self-deport comment 'horrific' that said the comment 'hurt us.' Regardless, I've had it with Reince Priebus. I thought he's be better than that schmuck Michael Steele, but he's in fact worse. As the GOP and it's 'elites' like chair Reince Priebus continue to pander to corporations for amnesty they seem to forget one very important thing. The illegals in this country BROKE THE LAW by coming here illegals. I know Democrats want them because they will vote for them, But Republicans are stupid to think they will get more than 20% of any of the new illegals granted amnesty. I'm sick of Priebus and other Republicans whining about how 'unfair the system is to illegals.'
Reince Priebus must go! – call's Romney self deport horrific
Who needs amnesty? Illegal aliens are being taught a loophole and coached on what key words and phrases to use so they can get into American and stay here for as long as they see fit.
Laura Ingraham filled in for Bill O'Reilly tonight and had a heated debate with Daniel Hernandez, an amnesty shilling attorney from Texas. Ingraham who brought up the crimes committed by illegals in this country (aside from coming here illegally in the first place) destroyed Hernandez as he continued to try and make excuses. Laura Ingraham exposed Daniel Hernandez when she brought up the topic of a simple burglary at someone's home. Hernandez says its wrong to say if the burglar is an illegal or not. Watch as Laura Ingraham schools amnesty shill Daniel Hernandez.
Watch: Laura Ingraham schools amnesty shill Daniel Hernandez
More 'great' news from the Gang Rapers of Eight amnesty bill. According to Legal Insurrection, there is a major loophole in the amnesty bill that will allow DHS Secretary Janet Napolitano to waive key security provisions in the bill. Basically, it will be able to Janet Napolitano to decide who gets to stay and who doesn't in this country.
Yesterday Dana Loesch had a series of tweets about a section of the original Gang of 8 bill giving the Secretary of Homeland Security almost complete discretion to waive all other provisions of the law as to removal, deportation and inadmissibility.

It took me many hours to run that down and confirm.  And I have done so.

This is extremely dense material.  I've extracted and uploaded sections 3214 and 3215 from the May 28 version of the bill (the most recent listed on the Thomas website) along with the Corker amendment (3214 and 3215) as to these sections (which did not change anything relevant to this discussion) so you can read them yourself.  The text references 8 U.S.C. 1182.

Here is the key provision, as part of section 3214(b) dealing with family unification.  The section gives the Secretary discretion to waive the provisions as to removal, deportation and inadmissibility of illegal aliens not just for family "hardship" (which itself is huge) but for any reason the Secretary deems in the "public interest."

I have highlighted and marked the key portion of the section to point out key wording:
Bob Schieffer is an old, crusty, left wing hack at CBS who tries to help cover Obama during scnadals and push left wing amnesty via his Sunday 'news' program called Face the Nation. Bob Schieffer had a nasty interview with Jeff Sessions who is against amnesty. Schieffer had a Bill O'Reilly type interview, reading La Raza talking points shilling for amnesty. Jeff Sessions wasn't having any of Schieffer's crap.
Read more
More great news from the RINO amensty bill. Corrupt Nevada Senators Dingy Harry Reid and 'Republican' Dean Heller have slipped in a provision into the amnesty bill that is basically hand outs to Las Vegas casinos. It stems from the Travel Promotion Act of 2009. The bill back in 2009, a sort of stimulus gave the Secretary of the U.S. Treasury the ability to spend up to $100 million on promoting travel to specific areas of the country, including Vegas. The funding was supposed to go away by the end of the 2015 fiscal year. But Reid/Heller made one little change:
(22 U.S.C. 2131(d)(2)(B)) is amended by striking ''For each of fiscal years 2012 through 2015,'' and inserting ''For each fiscal year after 2012."
Stimulus to pimp Las Vegas casinos that was supposed to end in 2015 will go on indefinitly thanks to the Gang Rape of 8 amnesty bill.
So far we've learned two things about the 'big security compromise' in the Corker–Hoeven-Schumer amnesty 'security' amendment. Not only does it grant permanent citizenship to those who overstay visas, but it also doesn't even hire any new border agents until the year 2017. A full four years will go by before one new border patrol agent is put on the border to help 'secure the border.'
The Schumer-Corker-Hoeven amendment doesn't change the bill's amnesty first framework. Instead it goes even further and creates an automatic amnesty for future illegal aliens. Section 2302 says if you overstay your visa in the future you can still apply for a green card and become a citizen. It is permanent lawlessness. Joined with existing language that restricts future enforcement, it guarantees unending illegal immigration.
Contrary to their rhetoric there is no border surge. The Secretary [of Homeland Security] doesn't even have to start hiring new border patrol agents until 2017, and the amendment only gives her until 2021 to increase the number by 20,000. According to the National Association of Former Border Patrol Agents, this hiring process could take up to 20 years. Much like the 2006 law requiring a 700-mile border fence, it's never going to happen.
To raise money, the amendment increases fees on visas for legal immigrants, but keeps the same low fees and fines for those applying for amnesty – favoring illegal over legal immigrants. Under the 2007 comprehensive immigration bill, amnesty applicants had to pay up to $8,000 – vastly more than the fines in the current plan which total only $2,000 and are subject to numerous waivers. The Gang has repeatedly claimed their bill is completely paid for by fees. However, under the Schumer-Corker-Hoeven amendment, the American taxpayers are on the hook for $38 billion.