Since the start of the year, the Obama regime via the HHS has released 30,340 diseased illegals in this country. Obama has released these illegals in all 57… err 50 states. Here is the list, with Texas leading the way with most illegals dumped: Totals from Gateway Pundit.
Obama regime has released over 30,340 illegals in the US
ALABAMA 407
ALASKA 5
ARIZONA 186
ARKANSAS 166
CALIFORNIA 3,150
COLORADO 221
CONNECTICUT 325
DELAWARE 117
DISTRICT OF COLUMBIA 187
FLORIDA 3,181
GEORGIA 1,154
HAWAII 8
IDAHO 8
ILLINOIS 305
INDIANA 245
IOWA 122
KANSAS 179
KENTUCKY 237
LOUISIANA 1,071
MAINE 8
MARYLAND 2,205
MASSACHUSETTS 773
MICHIGAN 92
MINNESOTA 173
MISSISSIPPI 179
MISSOURI 121
MONTANA 1
NEBRASKA 192
NEVADA 122
NEW HAMPSHIRE 13
NEW JERSEY 1,504
NEW MEXICO 18
NEW YORK 3,347
NORTH CAROLINA 1,191
NORTH DAKOTA 4
OHIO 360
OKLAHOMA 212
OREGON 50
PENNSYLVANIA 386
RHODE ISLAND 119
SOUTH CAROLINA 350
SOUTH DAKOTA 21
TENNESSEE 760
TEXAS 4,280
UTAH 67
VERMONT 3
VIRGIN ISLANDS 4
VIRGINIA 2,234
WASHINGTON 211
WEST VIRGINIA 10
WISCONSIN 50
WYOMING 6
TOTAL 30,340
Over 1,000 in Lousiana. They really are desperate to try and help Mary Landrieu win this fall huh? 2,234 in Virginia, over 1,100 in North Carolina? When did those two states become 'border states'? The pattern seems rather odd.
Obama and Valerie Jarrett's new, 'bold' idea to stop the border invasion from Mexico is to send US officials down to Honduras, to actively recruit people who want to claim refugee status and get citizenship (and all the benefits) in America. The New York Times latest puff piece explains just exactly what Obama/Jarrett are up to now with the so called 'refugees' from Honduras. Basically, this is just a fast track way to lure in the illegals, eliminating the need to cross through the 'dangerous' part of mexico. Excited yet?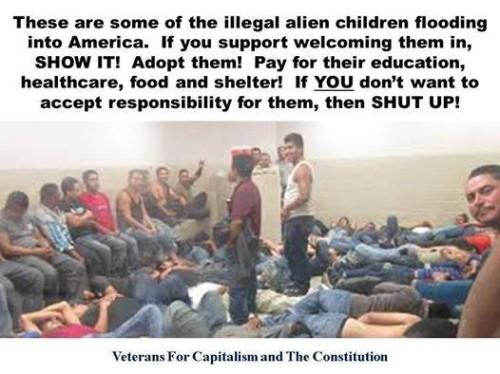 Obama to send officials to Honduras to give out refugee status
Quick! Someone get these 'kids' more toys and soccer balls! Meet the latest example of illegal 'children' that may soon by released by Obama. Jorge is a "confessed murderer" and member of the 18th Street gang. Jose Enrique is 16 years old and has what The Blaze calls "severe substance abuse" issues. Jose Enrique also likes to self-mutilate, and has demonstrated "very aggressive" and "vicious" behavior. Then we have 15-year-old Pablo Alexander admitted to federal law enforcement officers that he had "murdered two rival gang members." The last of the group is known as Jacob Alexander and is 17. He was been "involved in shootings/murder attempts". All four of these gangbangers came to Amwrica this month, starting in Honduras, going through El Salvador and Mexico, and arriving in Texas with no fear of punishment. These vermin scum, like other gangbangers flooding the southern border will be released to their guardians soon.
Obama to release illegal teens including 18th Street gang members
Roger Simon is Politco's Chief Political Columnist. He's also your typical left wing hack, as that's all that Politico has. On Twitter (caught by Twitchy), Roger Simon said something so stupid that it's a wonder how he has a job. Well, actually not really. He writes for Politico after all. Simon claimed on Twitter that Rick Perry is sending 1,000 National Guard troops to the Tex/Mex border to 'shoot small children.' Yes, he really tweeted that.
Politico leftist Roger Simon: National Guard is going to shoot small children
Rick Perry sending 1,000 National Guard troops to border to shoot small children. Could make good headlines — in Russia.

— Roger Simon (@politicoroger) July 22, 2014
But, it's all for the children right? You do the math. Over a four year period (2008-2012), 143,000 gang banger illegal aliens were jailed in Texas prisons. Their crimes aren't petty theft like stealing a loaf of bread to feed their families either. Of that four year period alone, illegal alien gang bangers committed 5,000 rapes and 2,000 murders. And those are just gang member illegals, this number doesn't even take into consideration all the crime committed by other illegals.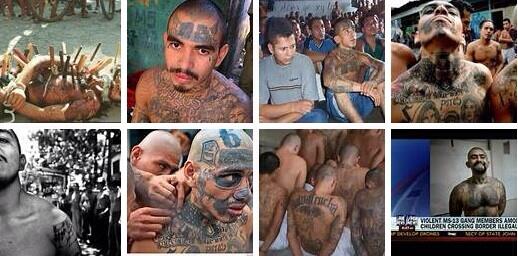 143,000 illegal alien gang bangers jailed in Texas
Obama (or maybe Valerie Jarrett) has been ordering border patrol agents in Texas to release pregnant illegals so that they can drop their anchor baby and become a future Democrat voter. Also, if an illegal alien claims to be pregnant, but really isn't she can get released too, according to Infowars. Pretty soon, you're going to have to get a second or third job, just to support these diseased illegals.
Obama orders border patrol to release pregnant illegals
I'm not a big fan of Rick Perry, especially after what he pulled during the 2012 primaries. But Perry's leadership on the southern border invasion has been impressive, especially compared to Valerie Obama. Perry announced today that he is sending 1,000 National Guard troops to the border as Obama golfs and fundraises before his Martha's Vineyard vacation. Hopefully, these National Guard troops wouldn't get any of the diseases being spread by the border invaders as the flock here.
Rick Perry sends 1,000 National Guard troops to border as Obama golfs
Personally, I think this 1 in 5 number is a low, 'conservative' estimate. But Breitbart reports that at least 1 in 5, or 20% of these disased illegals invading our southern border have criminal records in their native country. With all the MS-13 gang-bangers flooding the border, the number sure seems low to me.
1 in 5 illegals have criminal records
The border invasion from Central America via Mexico has been going on since at least last fall, but Obama was warned about this invasion nearly two years aoo. So what did Obama did? Absolteutly noting. Valerie Jarrett must have told him to ignore it. In fact, in August 2013 Obama assigned 30 Border Patrol agents to drive illegals around to off-site showers, wash their clothes and make them sandwiches. Of course, the number in August of 2013 was minimal compared to the numbers today. Washington Post: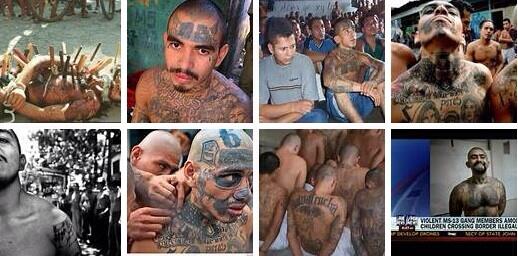 Obama ignored border invasion warnings for two years
Those poor, poor children! Illegals are now using high-caliber weaponry to fire on border patrol agents from the Mexican side of the border near Rio Grande in Texas. According to a Fox News, the weapons were fired at the U.S. side of the riverbank in the area of the Rincon Peninsula across the Rio Grande from Reynosa, Mexico, at about 8:30 p.m.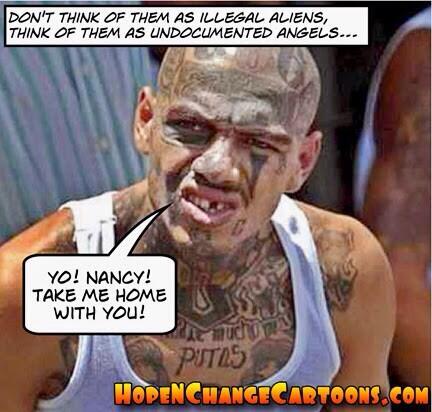 Illegals now firing on border patrol agents near Rio Grande
The weapons were fired at the U.S. side of the riverbank in the area of the Rincon Peninsula across the Rio Grande from Reynosa, Mexico, at about 8:30 p.m., sources said. Bullets ricocheted into an area where Border Patrol agents were positioned, Rep. Louie Gohmert, R-Texas, told FoxNews.com.

Border Patrol sources confirmed Gohmert's account, and said the shots may have been fired by .50-caliber weapons.

"We don't have any armor that can stop a .50-caliber round, so our Border Patrol agents had to take cover when the rounds were richocheting around them," said Gohmert, who has been in the area for the last week to get a first-hand look at the border situation.

"When the shooting stopped, about 40 to 50 people came out on the U.S. side and turned themselves in. So clearly the rounds were being fired to suppress every effort to stop anybody intervening with anyone or anything coming across," Gohmert added. "We have no idea what or how many or whom came across with the other illegal immigrants."