A small commercial plane crashed at Tehran's Mehrabad Airport on Sunday morning, killing at least 40 passengers who were on board. Below is believed to be a picture from the crash site in Tehran at Mehrabad Airport (from Twitter)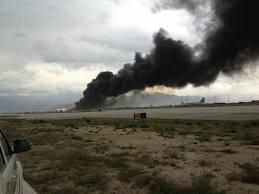 Passenger jet crashes Tehran's Mehrabad airport – 40 onboard
#BREAKING: A passenger airplane crashes in #Tehran airport MehrAbad. All passengers likely killed. – @abasinfo

— NewsBreaker (@NewsBreaker) August 10, 2014
#BREAKING Passenger jet crashes near Tehran's Mehrabad airport

— Agence France-Presse (@AFP) August 10, 2014
MORE: All 40 Passengers likely killed in Plane that crashed at Tehran Airport. – Tasnim News Agency's @abasinfo

— Breaking911 (@Breaking911) August 10, 2014
Just as expect, Lurch Kerry and the rest of the cowardly Europeans gave Iran a 4 month extension to meet the requirements for the so called 'nuclear deal.' The dead was supposed to be this coming Sunday, and anyone who knows Iran and how pathetically cowardly the US and Europeans are in the 21st century, knew this would happen.
Cowards: Iran nuclear dead extended till November 24th
#BREAKING Iran nuclear deadline extended to Nov 24: Western diplomat

— Agence France-Presse (@AFP) July 18, 2014
Breaking: Iran, six powers agree to extend nuclear talks until late November. http://t.co/tYCeEMbSEk

— Wall Street Journal (@WSJ) July 18, 2014
Yet again, progressive liberal Democrats in America turn out to be just like dictators like Iran's Ayatollah Khamenei. They think the same way, smell the same way, and lust for power the same way. You see, just like progressive liberals Democrats in America, Iran's Ayatollah Khamenei is blaming George W. Bush and America for the meltdown happening in Iraq now. This must be why Obama is so anxious to work with Iran. Obama is basically our version of Ayatollah Khamenei. Blame Bush and America, never take responsibly for actually blame those who are truely resonsible for Iraq's meltdown. That would be Obama's failed policy of yanking all troops.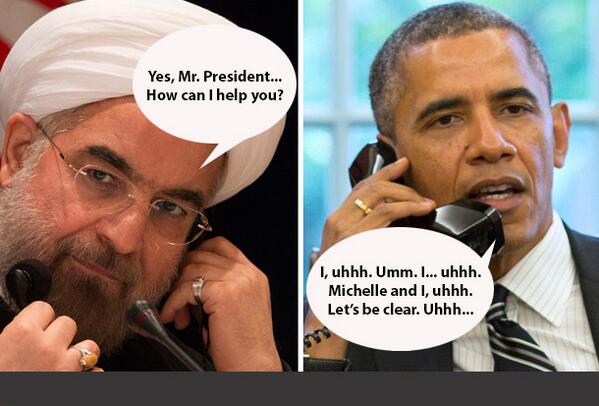 Just like progressives! Ayatollah Khamenei blames America, Bush for Iraq meltdown
The US government should answer why waves of insecurity and storms of instability and #terrorism have swept #Iraq? 9/14/07 #ISIS

— Khamenei.ir (@khamenei_ir) June 16, 2014
While Obama has been golfing and wasting tax payer dollars on yet another vacation in Palm Springs this weekend comes this. Obama is ready to talk with Iran over Iraq's meltdown. Yet, Obama wants to work together with Iran, the country which has weekly 'Death to America' chants. I saw this over at Weasel Zippers and had to do a double take. This is absolutely inexcusable.
Obama's sudden unilateral appeal to Iran smacks of the same opportunism the Taliban 5 deal did. "Never let a crisis go to waste."

— Chris Coon (@Coondawg68) June 15, 2014
Obama always said he'd enter into unilateral talks with Iran. He just never said it'd be with him grovelling to them for their help. #Iraq

— Razor (@hale_razor) June 15, 2014
Obama will ask Iran to protect our Baghdad embassy and Iran will laugh and laugh and laugh.

— jon gabriel (@exjon) June 15, 2014
Delavar Seyed Mohammad Reza is/was 29 years old and the other Iranian aboard Malaysia Airlines Flight MH370 with a stolen passport. Like the other Iranian, the is no connection to terrorism (at this time) for Delavar Seyed Mohammad Reza. His final stop was reportedly Denmark.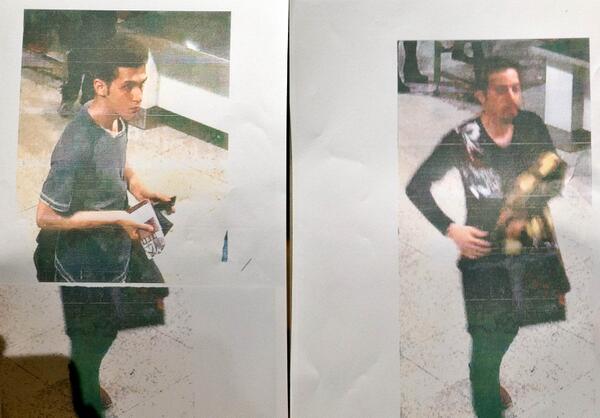 Delavar Seyed Mohammad Reza (right) other Iranian with fake passport aboard Malaysia Airlines Flight MH370
A high school friend named of Pouria Nour Mohammad Mehrdad named Mohammad Mallaeibasir says he drove the two Iranians to the airport, and did not know they had stolen passports until the news broke on TV. Mohammad Mallaeibasir is also from Iran, but moved to Malaysia to study business.
Pouria Nour Mohammad Mehrdad also spelled Pouria Nourmohammadi on some sites has been identified as one of the Iranians with the fake passport aboard Malaysia Airlines Flight MH370. Pouria Nour Mohammad Mehrdad was reportedly going to seek asylum in Germany where the mother lives. As of now, Pouria Nour Mohammad Mehrdad has no link to terrorism. Mehrdad is/was 19 years old.
Pouria Nour Mohammad Mehrdad Iranian with fake passport aboard Malaysia Airlines Flight MH370 headed for Germany
Pouria Nourmohammadi was identified by Interpol and had his tickets purchased by the mysterious Iranian businessman 'Mr. Ali.' He did not have a criminal record, and even left Iran legally.
Kazem Ali is the Mr. Ali, an Iranian businessman who allegedly purchased the tickets for the two Iranian nationals on flight MH370 who used fake passports to get on. The the Daily Mail UK reports that Kazem Ali is the mystery man who purchased the tickets, but Mayalsia Civil aviation chief Azharuddin Abdul Rahman declined to confirm. Other than the report about Ali purchasing the tickets, there is no other ties to a bigger plot implicating him.
The fake passport holders on Malaysian Airlines flight MH370 were Iranian nationals. This again makes the disappearance of MH370 a terrorist act. Valerie Jarrett's home country was also the home country to the two who used the fake passports on the flight to Beijing. One of the Iranians with the stolen passport was on his way to Frankfurt, Germany (where his mother lives.) The other Iranian was supposedly on his way to Denmark.
Read more
Mr. Ali an Iranian businessman is reported to have booked the Malaysia Airlines Flight MH370 flight tickets for the two individuals who used stolen passports to get on the flight. This adds even more mystery to the disappearance. As usual, it's the UK Daily Mail with this story as the American media is out to lunch about Mr. Ali booking the tickets.
Authorities have revealed one of the two men who used stolen passports to board the missing Malaysian Airlines plane looked like Mario Balotelli.
As it emerged an Iranian businessman known only as Mr Ali was understood to have booked the tickets for the two passengers using the stolen passports, the men who boarded the plane were said to have not been of 'Asian appearance'.
Malaysia's police chief was quoted by local media as saying that one of the men had been identified.
Civil aviation chief Azharuddin Abdul Rahman declined to confirm this, but said authorities were looking at the possibility the men were connected to a stolen passport syndicate.
Ali bought the tickets trhough a Thai travel agent who arranged the tickets for the two passengers who used the stolen passports.
That nuke deal is really working great huh? Over half a billion dollars is being given by Obama to Iran this coming Friday just as Iran was caught shipping weapons to Gaza. Even the Iranians are laughing at how easy it is to play Ayatollah Obama.
Read more