Delavar Seyed Mohammad Reza is/was 29 years old and the other Iranian aboard Malaysia Airlines Flight MH370 with a stolen passport. Like the other Iranian, the is no connection to terrorism (at this time) for Delavar Seyed Mohammad Reza. His final stop was reportedly Denmark.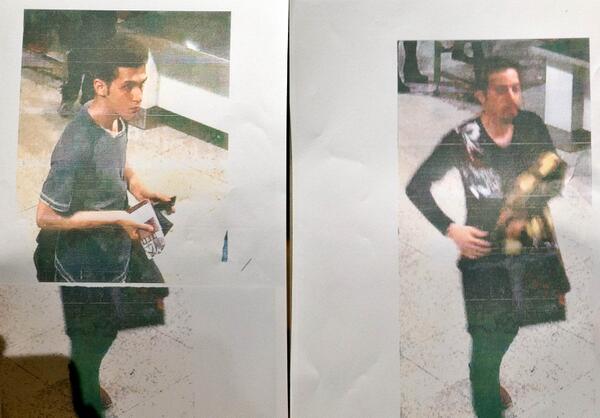 Delavar Seyed Mohammad Reza (right) other Iranian with fake passport aboard Malaysia Airlines Flight MH370
A high school friend named of Pouria Nour Mohammad Mehrdad named Mohammad Mallaeibasir says he drove the two Iranians to the airport, and did not know they had stolen passports until the news broke on TV. Mohammad Mallaeibasir is also from Iran, but moved to Malaysia to study business.
Pouria Nour Mohammad Mehrdad also spelled Pouria Nourmohammadi on some sites has been identified as one of the Iranians with the fake passport aboard Malaysia Airlines Flight MH370. Pouria Nour Mohammad Mehrdad was reportedly going to seek asylum in Germany where the mother lives. As of now, Pouria Nour Mohammad Mehrdad has no link to terrorism. Mehrdad is/was 19 years old.
Pouria Nour Mohammad Mehrdad Iranian with fake passport aboard Malaysia Airlines Flight MH370 headed for Germany
Pouria Nourmohammadi was identified by Interpol and had his tickets purchased by the mysterious Iranian businessman 'Mr. Ali.' He did not have a criminal record, and even left Iran legally.
Kazem Ali is the Mr. Ali, an Iranian businessman who allegedly purchased the tickets for the two Iranian nationals on flight MH370 who used fake passports to get on. The the Daily Mail UK reports that Kazem Ali is the mystery man who purchased the tickets, but Mayalsia Civil aviation chief Azharuddin Abdul Rahman declined to confirm. Other than the report about Ali purchasing the tickets, there is no other ties to a bigger plot implicating him.
The fake passport holders on Malaysian Airlines flight MH370 were Iranian nationals. This again makes the disappearance of MH370 a terrorist act. Valerie Jarrett's home country was also the home country to the two who used the fake passports on the flight to Beijing. One of the Iranians with the stolen passport was on his way to Frankfurt, Germany (where his mother lives.) The other Iranian was supposedly on his way to Denmark.
Read more
Mr. Ali an Iranian businessman is reported to have booked the Malaysia Airlines Flight MH370 flight tickets for the two individuals who used stolen passports to get on the flight. This adds even more mystery to the disappearance. As usual, it's the UK Daily Mail with this story as the American media is out to lunch about Mr. Ali booking the tickets.
Authorities have revealed one of the two men who used stolen passports to board the missing Malaysian Airlines plane looked like Mario Balotelli.
As it emerged an Iranian businessman known only as Mr Ali was understood to have booked the tickets for the two passengers using the stolen passports, the men who boarded the plane were said to have not been of 'Asian appearance'.
Malaysia's police chief was quoted by local media as saying that one of the men had been identified.
Civil aviation chief Azharuddin Abdul Rahman declined to confirm this, but said authorities were looking at the possibility the men were connected to a stolen passport syndicate.
Ali bought the tickets trhough a Thai travel agent who arranged the tickets for the two passengers who used the stolen passports.
That nuke deal is really working great huh? Over half a billion dollars is being given by Obama to Iran this coming Friday just as Iran was caught shipping weapons to Gaza. Even the Iranians are laughing at how easy it is to play Ayatollah Obama.
Read more
So much for Obama and Lurch's 'nuke deal' with Iran. Iraq and Iran have cut a $195 million arms deal, which is a clear violation of the U.N. embargo. But because Obama is the laughingstock of the international state, neither Iran or Iraq care. Iraqi Prime Minister Nouri al-Maliki pressed begged Obama for more weapons, but King Putt was too busy golfing. So Iraq went to Iran instead.
Andrea Mitchell is showing her age again. She is so dumb that she's claiming Iran was 'more or less' an American ally before George W. Bush became president. What planet is Andrea Mitchell living on? Planet Greenspan?
Old bag Andrea Mitchell thinks Iran was an America ally before George W. Bush
It's getting time for old Andrea to retire. She was never very sharp to begin with, but iran was an American ally in the 80s and 90s? She needs a drool cup, quickly!
King Hussein Obama don't need no stinkin' Constitution. You see, King Hussein Obama thinks he can rule by executive fiat and do whatever he wants regardless if Congress authorizes him or not. And you know what? King Hussein Obama pretty much can do everything with executive fiat because the ball-less members of Congress have yet to challenge King Hussein Obama over his name, unconstitutional power grabs. Now he wants to unilaterally lift all sanctions on, even if Congress authorizes new ones.
The White House has been exploring ways to circumvent Congress and unilaterally lift sanctions on Iran once a final nuclear agreement is reached, according to sources with knowledge of White House conversations and congressional insiders familiar with its strategy.

The issue of sanctions relief has become one of the key sticking points in the Iran debate, with lawmakers pushing for increased economic penalties and the White House fighting to roll back regulations.

While many in Congress insist that only the legislative branch can legally repeal sanctions, senior White House officials have been examining strategies to skirt Congress, according to those familiar with internal conversations.
In a very surprising move, UN leader, a notorious wimp and apologist for Iran has dis-invited the terrorist country from attending UN Syria Peace Talks. Iran is a big ally of Syria.
Read more
Debbie Wasserman Schultz is the perfect chairperson for the DNC. She's a filthy liar, she's a far left progressive hack, and she's obnoxious. Debbie Wasserman Schultz was caught in a lie about supporting Debbie Wasserman Schultz on Iran. According to the Free Beacon, Wasserman-Schultz, is trying to block House efforts for more Iran sanctions and even told the DC press she doesn't support them. However, it's a different story in her district in Florida. Wasserman-Schultz is lying to her constituents tell them and the local press that she supports more sanctions on Iran. The district that re-elects this hag year after year deserve the filthy liar they have gotten.
Jewish community leaders in South Florida say they are growing frustrated with Rep. Debbie Wasserman Schultz (D., Fla.) over her conflicting statements regarding a bipartisan Iran sanctions measure in the House.

Following a Washington Free Beacon report detailing her efforts to block a House resolution backing new sanctions on Iran, Wasserman Schultz has told her hometown press that she is open to new sanctions, while telling D.C. reporters that she opposes them.

The conflicting statements are a sign that Wasserman Schultz is torn between her support for the White House, which opposes the sanctions, and her constituents, who are less convinced of Iran's good intentions and more supportive of tough congressional action.

Her disparate stances have spurred confusion and worry in South Florida, where pro-Israel leaders have failed to get Wasserman Schultz to explain her stance on the record.
Hassan Rouhani has been going all over Iran bragging about how the west (especially America) surrendered to Iran on the nuke deal cut by Obama and John Kerry with the wimpy European countries. Here's an example of Rouhani's bragging on Twitter:
Our relationship w/ the world is based on Iranian nation's interests. In #Geneva agreement world powers surrendered to Iranian nation's will

— Hassan Rouhani (@HassanRouhani) January 14, 2014
Now there's word (surprisingly from the L.A. Times) that not only does the deal suck, but there's even a secret side deal cut by Obama:
In the interview, Araqchi referred to the side agreement using the English word "nonpaper," a diplomatic term used for an informal side agreement that doesn't have to be disclosed publicly.
The nonpaper deals with such important details as the operation of a joint commission to oversee how the deal is implemented and Iran's right to continue nuclear research and development during the next several months, he said.
Araqchi described the joint commission as an influential body that will have authority to decide disputes. U.S. officials have described it as a discussion forum rather than a venue for arbitrating major disputes.