Associated Press photographer Anja Niedringhaus was killed and AP journalist Kathy Gannon seriously injured in eastern Afghanistan by Muslim Afghanistan 'police'. Tell me again why we are still in Afhgnaistan when that POS Hamid Karzai is about to give the country to the Taliban?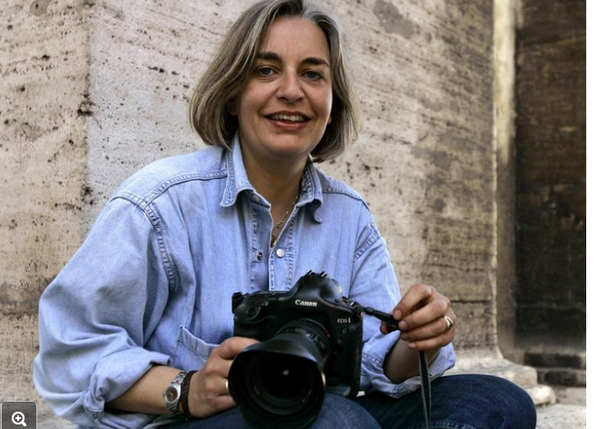 Anja Niedringhaus Associated Press photographer killed in eastern Afghanistan
Remember when Obama claimed the Afghanistan war was the 'good war?' There has been nearly three times as many US troops killed in Afghanistan under Obama's reign of terror compared to Bush. If you compare US troop causalities under Obama vs. George W. Bush, the war hasn't been a good war for America. It's been a bad, bloody war that needs to end. Screw Karzai and national building in that stone age country.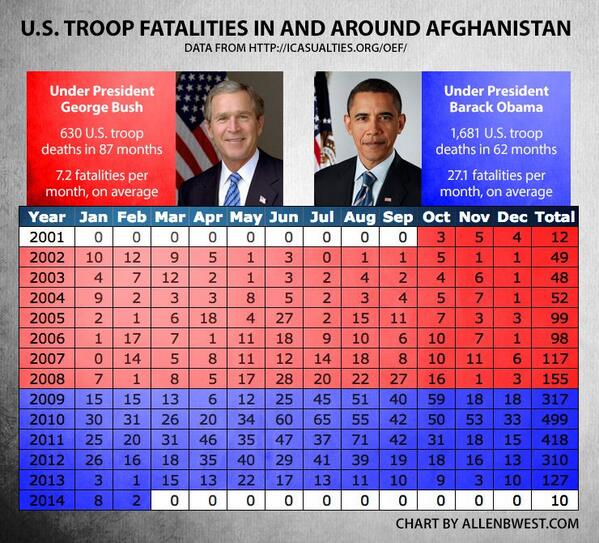 US Troop fatalities in Afghanistan under Obama Vs. Bush
Jake Tapper's 'fair' mask slipped off yet again during an interview with Marcus Luttrell discussing the movie Lone Survivor. Operation Red Wings is the battle that the movie revolves around. Tapper told Marcus Luttrell that he doesn't want any more 'senseless Americans deaths.' Watch the video of the interview below:
Jake Tapper disrespects Marcus Luttrell during Lone Survivor Interview
To the conservatives who continue to defend and fawn over Fake Tapper, I again ask why? Jake Tapper i no different than the rest of the leftist media hacks out there. Why Tapper gets so much love from some conservatives on some conservative sites really boggles the mind.
Read more
Finally, the truth comes out. Obama's peace partners in Afghanistan (the Taliban) killed fix American troops on December 6th after they shot down a Black Hawk helicopter.
Read more
Another 119 deaths in Obama's war in Afghanistan occured in 2013, bringing the total deaths of American troops to 2,162 in what Obama described as 'the good war' in Afghanistan. Remember wheh the media used to report daily on the Iraq 'body counts' of dead troops in Iraq? Somehow, it's different in Afghanistan as the media never reports on the amount of dead troops there. Oh yea, it's because it's Obama's war. Obama has managed to get 1,604 Americans killed in Afghanistan in just under five years. The war there started in 2001.
Read more
Yet another campaign promise by Obama thrown down the toilet. Remember when US troops were supposed to be out of Afghanistan in 2014? After the bilateral security deal with Afghanistan that John Kerry just cut (with Obama's permission), US troops will be in Afghanistan for decades to come well past 2014. Yet again, Obama pulls the wool over the eyes of all the rubes who voted for him last year.
Afghanistan is the 'good' war for Obama. But it's yet another lie that Obama told the American people last year to get reelected. Remember when Obama claimed that all troops would be out of Afghanistan? Well that's BS. American troops will be in Afghanistan for decades to come as a part of Obama and Karzai's deal on AFghanistan.
Obama does a lot of things that get my blood to boil. But one of the most disgusting is going to Muslim countries and apologizing for America and all the 'mistakes' we've made. Well, he's doing it again. As a part of the security agreement reached with Afghanistan, Obama will apologize for America's 'mistakes' on the war on terrorism.
Mohammed Basindawa the Prime Minister Yemen escaped an assassinated attempt as a gunman opened fire on his motorcade. How about that Arab Spring thing?
Yemen prime minister escapes assassination attempt by gunmen who opened fire on his motorcade: aide to prime minister #breaking

— Reuters World (@ReutersWorld) August 31, 2013
BREAKING: @Reuters quoting aide to Yemeni PM, gunmen open fire on motorcade of Yemen's prime minister, he escapes unharmed.

— Charlie Kaye (@CharlieKayeCBS) August 31, 2013
Report: The Yemen prime minister has escaped an assassination attempt by gunmen who opened fire on his motorcade http://t.co/DehcUkzUyn

— ITV News (@itvnews) August 31, 2013
Mohammed Basindawa the Prime Minister Yemen escaped unharmed.
Egypt is considering outlawing the Muslim Brotherhood according to the latest reports. All I can say is, what took so long Egyptians? This is an absolutely brilliant idea that should have been done decades ago.
#Egypt considers outlawing #MuslimBrotherhood. Now #USA should ban #ShariaLaw. @BarackObama @glennbeck @OFA

— 912er (@jbisc1701) August 17, 2013
US: Egypt mulls disbanding Muslim Brotherhood as security forces storm mosque … – Fox News http://t.co/DAvUYFirCy #EgyptNews #Egypt

— Egyptian News (@140Egypt) August 17, 2013
Of course this will make Obama and John Kerry mad, especially considering the Muslim Brotherhood operatives within the Obama regime.
Read more
Remember back around July 4th when Lurch John Kerry was sitting on his yacht as Egypt was on fire and Americans got killed? Well, this time with Egypt on fire he's gone kiteboarding in Nantucket. The Blaze has obtained exclusive photos of Secretary of State John Kerry's kiteboarding adventure in Nantucket. Wish I could afford swanky vacations like Lurch and Obama and take off whenever I damn well pleased.
Egypt burns, Christians killed, John Kerry goes kiteboarding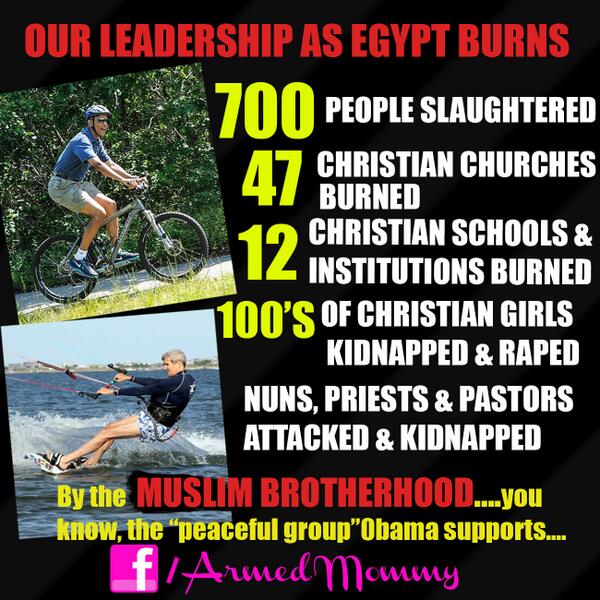 Egypt burns, Christians killed, American 'leadership'
Today was the 'Day of Rage' by the Muslim Brotherhood in Egypt. While Obama rides his bike like a girl, 60 more people were killed and again Coptic Christians were set on fire.