Getting a Christmas tree? Get ready to pay a USDA tax on any fresh cut tree you decide to buy. The Obama federal government created a national marketing program to advertise the virtues of real Christmas trees. And this Christmas tree tax is what will pay for that marketing program.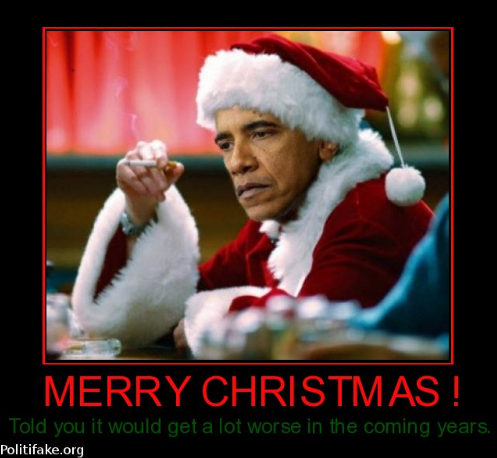 Getting a Christmas tree? There's a tax for that
The Christmas tree industry requested this initiative to fund Christmas tree research and marketing, the program will be funded solely by the industry, and the government is not imposing any tax on Christmas trees," an Agriculture Department spokesman explains.
Want to know why the IRS insists that you pay your taxes on time (unless you are a Democrat)?
1. Even if tax payers like low tax rates, they can't keep them
2. Taxpayers can't blame Bush
3. Taxpayers can't blame the Fox News
4. Taxpayers can't blame the tea party
5. Taxpayers can't blame the Koch brothers
6. Taxpayers can't get the CBO to score their returns and extend payments over the next 10 years
7. Taxpayers can't give themselves a special exemption from the law like members of Congress gave themselves from ObamaCARE
8. Taxpayers can't blame a glitchy website
9. Taxpayers can't get a waiver from paying taxes
10. Taxpayers can't plead the Fifth like former IRS director of exempt organizations Lois Lerner
When you file your taxes next year, you will notice a new tax called the Shared Responsibility Payment. Obama's IRS which added 16,500 IRS agents because of ObamaCARE will include this new tax on your 2014 tax return. An almost Orwellian term will be the ObamaCARE tax you will be forced to pay if you don't have health care coverage this year.
House of Cards is a popular Netflix with the upside down flag. I don't watch it, but know many who do. House of Cards is filmed in Maryland, and now they may leave the overtaxed, over regulated, Marxist state because of taxes. Wouldn't that be ironic? House of Cards provides about 6,000 jobs to Maryland and brings an estimated $250 million to Maryland's economy. I'm sure Texas of Florida would love to have those jobs and that revenue.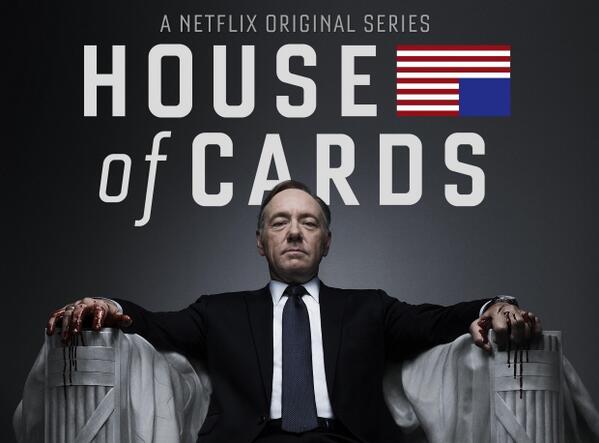 House of Cards may leave Maryland because of taxes
As if ObamaCARE itself isn't bad enough, get ready for some brand new taxes in less than a week as we approach 2014. Lets again thank all the clueless rubes and leftist nuts who voted to re-elect Obama in 2012! Give yourself a standing ovation!
Regardless of what health plan you end up with in 2014 and beyond, ObamaCARE implements a 2% levy on ALL plans.

There's a new $2 fee per policy that goes into a new medical-research trust fund called the Patient Centered Outcomes Research Institute.

3.5% 'user fee' to sell medical plans on the HealthCare.gov Web site.
2.3% medical-device tax that will inflate the cost of items such as pacemakers, stents and prosthetic limbs.

hose with high out-of-pocket medical expenses also will get smaller income-tax deductions.
Americans are currently allowed to deduct expenses that exceed 7.5 percent of their annual income. The threshold jumps to 10 percent under ObamaCare, costing taxpayers about $15 billion over 10 years.
Individual tax filers earning more than $200,000 and families earning more than $250,000 will pay an added 0.9 percent Medicare surtax on top of the existing 1.45 percent Medicare payroll tax. They'll also pay an extra 3.8 percent Medicare tax on unearned income, such as investment dividends, rental income and capital gains.
New ObamaCARE taxes in 2014 information provided by New York Post (via Weasel Zippers)
The ObamaCARE Health Insurance tax was quietly finalized this past week during the Thanksgiving Holiday. The ObamaCARE Health Insurance Tax will cost nearly $60 billion over the next five years and raise health care premiums by 3 percent.
Read more
A new ObamaCARE tax of 9.5% has been revealed by Blue Cross / Blue Shield of Michigan. They call it a 9.5% 'fee' when it's really just another unforeseen ObamaCARE tax. @MyCancellation has been posting cancelled health insurance plans on Twiter since Obama. This one plan hasn't been cancelled, instead it informs the person starting January 1st, 2014 will be 'new taxes and fees' collected on 'behalf of the state and federal government.' The 'fee' aka tax collected by Blue Cross / Blue Shield on behalf of the US Government is 9.5% of the the current premium. This particular individual pays a monthly premium of $600 starting next year because of ObamaCARE. That will be $57 per month, or $684 dollars for the year in new taxes all because of ObamaCARE.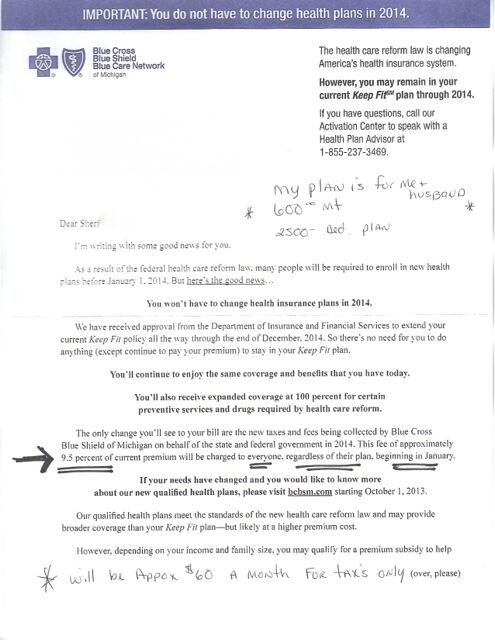 New ObamaCARE tax of 9.5 percent in Michigan
This will apply to everyone in Michigan who has insurance from Blue Cross / Blue Shield. I don't know if this is limited to just Michigan or is in other states too.
Read more
Get ready for the ObamaCARE wedding tax. If you are a married couple, especially with no kids, and are getting up their in years, you'd better stop earning. Otherwise, you will be taxed into oblivion thanks to the ObamaCARE wedding tax. Let's use the PJ Media example:
ObamaCARE wedding tax
If they have identical earnings totaling $65,000, which will usually net down to $50,000 or below after all income and payroll taxes, their Obamacare exchange Silver Plan premium next year with the same earnings will be $16,382, or about one-third of what used to be their take-home pay. (And they call it the "Affordable Care Act"?)

What can this couple do? Well, they could decide to earn a few thousand dollars less, which will negate the five-figure premium hit. Encouraging ordinarily willing workers to put in less effort isn't good in any economy, but especially not this one. But if either spouse's earnings are unpredictable or hard to precisely track, they could still "mess up" and get socked with a premium they can't afford.

The "easiest" solution would be to avoid the "wedding tax" entirely by getting divorced while still living together. Here's what would happen if they make that choice:
Not only are RINO Reps. bashing Ted Cruz, pimping amnesty and cowering to Obama and Democrats on whatever they tell them, but they are now leading the charge to institute an Internet tax with the Marketplace Fairness ACT or MFA for short. The Marketplace Fairness Act or Internet tax idea was floated by Democrats back in May. Now, it's Republicans who are trying to push it. The bill for the Marketplace Fairness Act in the House sponsored by Rep. Steve Womack 'Republican' from Arkansas has 24 Republican co-sponsors. Who are the Republican co-sponsors of the Marketplace Fairness Act of 2013? Here are their names: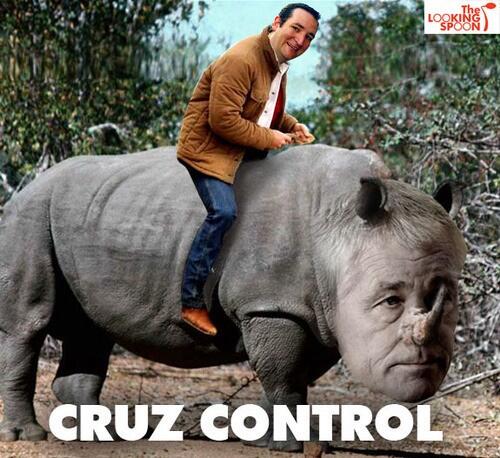 RINOs in House want Internet tax with Marketplace Fairness Act (MFA)
Rep. Kristi Noem [R-SD-At Large]*
Rep. Tim Griffin [R-AR-2]*
Rep. Ted Poe, Ted [R-TX-2]*
Rep. Mark Amodei [R-NV-2]*
Rep. Mario Diaz-Balart [R-FL-25]*
Rep. Ross, Dennis A. [R-FL-15]*
Rep. Aaron Schock [R-IL-18]*
Rep. Renee Ellmers [R-NC-2]*
Rep. Lou Barletta [R-PA-11]*
Rep. Ander Crenshaw, [R-FL-4]*
Rep. Eric Crawford [R-AR-1]*
Rep. Charles Dent [R-PA-15]*
Rep. Todd Young [R-IN-9]*
Rep. Michael Grimm [R-NY-11]*
Rep. Christopher Gibson [R-NY-19]*
Rep. Michael Conaway [R-TX-11]*
Rep. Steve Stivers [R-OH-15]*
Rep. Austin Scott [R-GA-8]*
Rep. John Duncan [R-TN-2]
Rep. Morgan Griffith [R-VA-9]
Rep. Scott Rigell [R-VA-2]
Rep. Spencer Bachus [R-AL-6]
Rep. David Joyce [R-OH-14]
Rep. Joe Barton [R-TX-6]
Julian Bond is chairman emeritus of the National Association for the Advancement of Colored People (NAACP.) The NAACP has a long history of racism and corruption, but they are tax exempt status. Julian Bond appeared on MSNBC to spew that it is legit for the IRS to be targeting the tea party and conservative groups is legitimate because they are racists or something. The pile of sh*t Bond also declared that the tea-party is 'the Taliban wing of American politics.' If that were the case you would think leftists like Julian Bond, Obama, Hillary Clinton etc would embrace the tea-party. These 'people' are apologists for the Taliban and Muslim terrorists.
NAACP Chairman Julian Bond: 'Legitimate' For IRS To Target 'Admittedly Racist' Tea Party