Wayne LaPierre full speech at CPAC 2014 is about the only other thing that could drive leftists as crazy as the earlier Ted Cruz speech. Wayne LaPierre's 18 minute speech was about what you'd expect. Expect the NRA to fight gun grabbing Democrats in the 2014 mid-terms. He also made the state 'government itself has proven unworthy of our trust.' He's right on the button with this, but this isn't only a recent trend.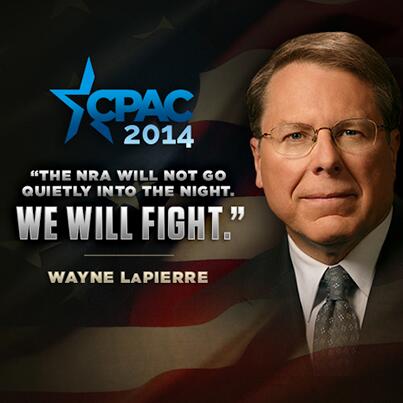 Wayne LaPierre full speech at CPAC 2014
Here's a sample from the transcript:
Read more
What happens when the gun control movement starts losing steam? You revert to progressive fascist tactics. Facebook is now reportedly considering banning all gun related pages. If you have one, or like one on Facebook, you'd better enjoy it while you can as the fascist left again tries to silence those they don't agree with.
Facebook considering banning gun related pages
Facebook may announce company policy changes for gun-related pages in the coming weeks, VentureBeat has learned.

The social network has been under pressure from the powerful Mayors Against Illegal Guns and the Moms Demand Action civic group to ban gun-themed fan pages on the site.

"Talks are progressing. The discussions are ongoing; there have been positive developments," sources close to the conversations told VentureBeat.

An extensive VentureBeat investigation last week revealed that adults and children were making arrangements to buy, sell, and trade guns through the many Facebook fan pages devoted to guns and the people who use them, sometimes in violation of federal and state gun laws.
Remember back in December of 2012 when David Gregory of NBC's Meet the Press pulled out a 'high-capacity' magazine and waved it around on camera to make his anti-gun rights point? Even though the magazine was empty, Gregory violated DC gun laws. Reportedly, Gregory and NBC even asked DC police if they could use the magazine as a prop on Meet the Press, and they were denied, but that didn't stop them from using it anyway. As is typical, nothing happened to David Gregory for violating the law because he's not a commoner like us. Legal Insurrection has filed a FOIA suit against the Distric of Columbia seeking records related to the non-prosecution of David Gregory and NBC News. NBC tried to file a motion to dismiss Legal Insurrection's FOIA request, and were denied.
Legal Insurrection FOIA case for David Gregory non-prosecution records can proceed
Yesterday I posted that Connecticut is sending out gun confiscation letters to legal gun owners in the state. Below is an example of one of the Connecticut gun confiscation letters.
Connecticut gun confiscation letter
Connecticut 'assault weapon' owners have been given four choices on what they can do with their legally purchased gun.
1. Render the 'assault weapon' or 'large capacity magazine' inoperable.
2. Sell the 'assault weapon' or 'large capacity magazine' to a licensed gun dealer.
3. Remove the 'assault weapon' or 'large capacity magazine' from the state of Connecticut.
4. Make arrangements to turn in your weapon or magazine to Connecticut police department or 'Department of emergency services and public protections' aka confiscation.
Gun confiscation letters are being sent out to legal gun owners in the state of Connecticut. Obviously the model for far left Connecticut is to follow in the footsteps of The Don Andrew Cuomo in New York with gun confiscation. What part of the Second Amendment that states the right of the people to keep and bear arms shall not be infringed don't these fascist progressive liberal Democrats understand? The fascist progressive Democrats are playing a very dangerous game right now.
New Jersey Democrats are looking to pass their own version of New York's 'SAFE Act' and limit ammo magazines to 10 bullets. With fatboy Chris Christie on the ropes because of the faux scandal known as 'BridgeGate' they know they have him in a corner. Christie even before all his scandals was into gun control and cowering to Democrats so he could make the appearance of being a 'moderate.' As is typical for slimy progressive liberal Democrats, and the media enablers, they are using the Sandy Hook massacre as an excuse to pass this stupid law limiting ammo. This is another reason why important things never get done like balancing budgets, tax code reform and fighting crime. They are too busy on their high horses passing stupid laws that only harm the people and do nothing more than stroke their egos.
Read more
Congratulations Obama and other progressive liberal Democrat gun grabbing extremists! Thanks to the progressive liberal Democrats' gun grabbing policy, people are buying firearms in record numbers. Sturm Ruger and Smith & Wesson produced a record number of firearms in 2012, all thanks to the gun grabbing Democrats increasing demand for firearms. In fact, there were nearly as many guns produced in the first four years of Obama's reign of terror as there were for eight years under Dubya Bush. Now that's true economic stimulus.
Here's something you don't see everyday. Nancy Grace actually standing up for America's Second Amendment. Last night on the limey Piers Morgan show, Grace owned Piers Morgan for lecturing Americans about gun control.
Video: Nancy Grace owns Piers Morgan on Gun Control
Personally, I can't stand Nancy Grace, but kudos to her for owning the Brit on gun control. The British have no right to lecture us on gun control. Piers Morgan thinks people actually respect his opinions. No one does, and they don't even want him back in the UK.
Read more
Little fascist Michael Bloomberg's gun confiscation plan has been leaked to the public. The backlash of this gun confiscation plan from Bloomberg has forced 50 hypocritical Mayors who were part of Bloomberg's 'Mayors Against Illegal Gun' group to bail and quit.
Leftists are going to hate this. Cuomo is probably punch walls. A new AR-15 design prototype makes them 'legal' under New York's SAFE act. This comes from ClashDaily (via Guns and Freedom):
Read more
Beretta is the world's oldest firearms manufacturer. After centuries of being located in Maryland, they are taking their business to Gallatin, Tennessee. With this, Beretta will take the thousands of jobs they provided in Maryland to Tennessee, and generate tax revenue there instead. Maryland, because of it's loony far left progressive governor Martin O'Malley and Democrat legislation loses jobs, tax revenue, and one of the most historic businesses in American history. Well done far left loons in Maryland. You, like New York and Colorado deserve this.
An officer involved shooting in Honolulu at Roosevelt High school had leftists chomping at the bit to blame the NRA, the GOP and anyone else for gun rights. Even though the incident is now over, and it turned out to be a cop firing at a 17 year old runaway who sliced the cop with a knife, that didn't stop left wing whack jobs from blaming the NRA and GOP:
Another day, another School Shooting: http://t.co/3L0jAETwbK Roosevelt HS in Honolulu. NRA scores again. #p2 #tcot #teaparty #tgdn

— HGTomato (@HGTomato) January 28, 2014
CNN says two people shot at Roosevelt High School in Honolulu; injuries non life-threatening; suspect in custody. NRA shrugs.

— Jade Reindl (@JadeReindl) January 28, 2014
#NRA #GOP Enough :: Shots fired at high school in #Honolulu, Wayne #LaPierre at large… > http://t.co/9nwf0D0BRI

— Balkingpoints.com (@Balkingpoints) January 28, 2014
Progressive liberal Democrats are so damn pathetic. It's like the wish for mass shootings now so they can blame the NRA, the GOP, the Tea Party or anyone else who believes in gun rights and the Second Amendment. The tea party is also branded as the 'extremists' when it's these progressive liberal Democrats who the true extremists.