Jennifer Lawrence, Kate Upton nude photos leak are now being investigated by FBI, unlike Lois Lerner's e-mails targeting conservatives. Apple is even getting involved in the investigation. As if I' supposed to care about some Hollywood hacks nude photos being spread around the Internet. This just shows you what a bizarre world we live in. High crimes at the IRS with an e-mail trail gets completely ignored by the FBI while Jennifer Lawrence, Kate Upton nude photos leak gets priority. Welcome to Obama's America.
Ariana Grande and Mary Elizabeth Winstead photos were also leaked. No, I'm not providing any links to where you can find the nude photos. Google is your friend and so is Twitter, Facebook and Instgram if you are that desperate to get the nude photos.
Jennifer Lawrence, Kate Upton nude photos leak being investigated by FBI
To those of you looking at photos I took with my husband years ago in the privacy of our home, hope you feel great about yourselves.

— Mary E. Winstead (@M_E_Winstead) August 31, 2014
So now we know what Obama and Kerry do when a US Embassy is taken by Muslim extremists in Libya. Obama goes golfing while John Heinz-Kerry goes kiteboarding in Nantucket.
Lurch Kerry goes kiteboarding as US Embassy is taken in Libya – Image credit Daily Caller
Isn't it comforting to know what our 'leaders' are hard at work dealing with the imminent ISIS terrorist threat that could hit America any time now? Isn't it great to know they are trying to get our sovereign territory back in Libya? Maybe it's time for more hashtahg diplomacy. #BringbackOurEmbassy
Remember when the corrupt media and other leftists used to complain when George W. Bush would golf during the Iraq war? Remember, how they always harped on that video of George W. Bush saying 'watch this drive' as he tee'd off? Well now that the world is about to explode and the US Embassy in Libya has been taken over by Muslim radicals, lets compare George W. Bush's number of golfing outings in eight years compared to Obama as he nears his sixth year of his reign of terror.
Rounds of golf played by George W. Bush VS. Obama
The US Embassy in Libya has been taken over by Islamic radicals. So what? Ukraine and Russia are in the brink of war? Mulligan. ISIS continues to grow and threatens a 9/11 style attack in the US. Obama's response? FORE! Yep, he went golfing AGAIN today after after a weekend of fundraisers and attending a MSNBC hack's wedding.
After 4-hour round of golf at Ft. Belvoir, Pres Obama is back at the WH.

— Mark Knoller (@markknoller) August 31, 2014
Obama took time out of his busy golf schedule to spend your tax dollars to attend the wedding of an MSNBC anchor. http://t.co/ijkETdwj8Z

— Doc Thompson (@DocThompsonShow) August 31, 2014

Obama golfs as US Embassy in Libya is taken
Chances are, since Monday is a holiday, he'll be playing with it putter again tomorrow. It's not like being president is a 24/7 job for Obama or anything.
Looks like Ukraine and Russia are on the brink of a full blown war. But don't worry. Obama and the EU have a plan. More 'tough' sanctions against Vladdy Putin is supposed to make him stop invading the Ukraine or something. As far as I'm concerned, let them fight it out. As long as Ukraine and Russia don't pose a security threat to this country like ISIS, I don't give a rat's ass what they do to each other. Maybe the whole Russia-Ukraine conflict just looks worse than it actually is because of social media or something.
Ukraine-Russia on the brink of a full blown war
The Twitter reaction to Michael Sam getting cut is just as expected. The left is now claiming that the NFL and the St. Louis Rams are homphobes, hate gays, etc. On Twitter, after it was announced Michael Sam was cut for being a scrub, leftists took to their keyboards and cell phones to moan about how anti-gay the NFL is now or something. Apparenrly cutting Sam is also a hate crime to some leftists.
Leftists claim NFL-St. Louis Rams hate gays after Sam cut
A white cop shoots a black person then the Rams drop a gay person. Now people say we are hate crime central

— Brad (@hradbutton) August 30, 2014
St. Louis Rams anti gay? NFL anti gay? Looks like both hate gay people-Michael Sam, has been cut by the Rams http://t.co/yce2Ov5JfQ via @WSJ

— hihowareya (@Rotobomber) August 30, 2014
WELL THE RAMS MUST HATE GAY PEOPLE

— David Snyder (@supersweeper12) August 30, 2014
Seems we also have some arm-chair GMs on Twitter too:
I hate hearing about Michael Sam but the Rams had no reason to cut him. He's a great defensive player gay or straight. #MichaelSam

— Blake Wright (@Wright11_ERA) August 30, 2014
Michael Sam only got fawning press coverage because he is gay. Otherwise, he was a 7th round draft pick, and basically a scrub college football player. Today, the drama of Michael Sam and ESPN covering his showers is over as the Rams cut the gay scrub because he isn't NFL material. I'm sure the left wing fascist gay groups will start whining Sam was cut only because he is gay. Maybe the San Francisco 49ers will pick up the gay scrub or something. Your 15 minutes of fame are up Mikey. Kiss your NFL 'career' goodbye.
Gay scrub Michael Sam cut by St. Louis Rams
Here's a feel good story for the Labor Day holiday week. George Galloway, a limey MP who hates Israel and America got the snot beat out of him in limey-land. Infact, Galloway was beaten so badly, that he had his jaw and rib broken by attacker. More from Blazing Cat Fur: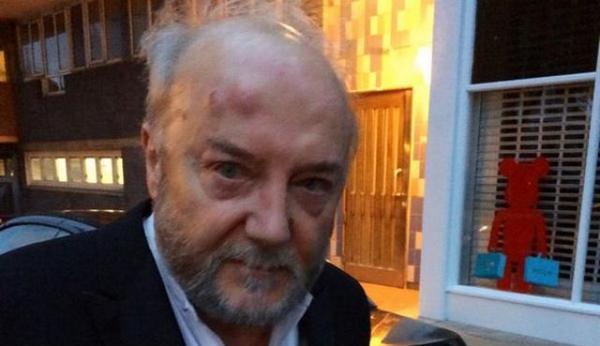 Anti-Israel limey MP George Galloway gets the snot beaten out of him – Image credit: Haaretz
ISIS next target could be Europe, or the Pope. That's the latest information about ISIS of which the Obama regime has no strategy to deal with. Don't fear Pope fans, Obama has a strategy this weekend. Three fundraisers, attending a MSNBC hack's wedding, and likely golf.
Obama's JV: ISIS targeting Pope Francis
It's come to this. The world president in American history has said that the world has always been 'messy.' But we only know about it know because of social media like Twitter, Faceboook and Instagram. Thanks again you idiots who voted for Obama (again).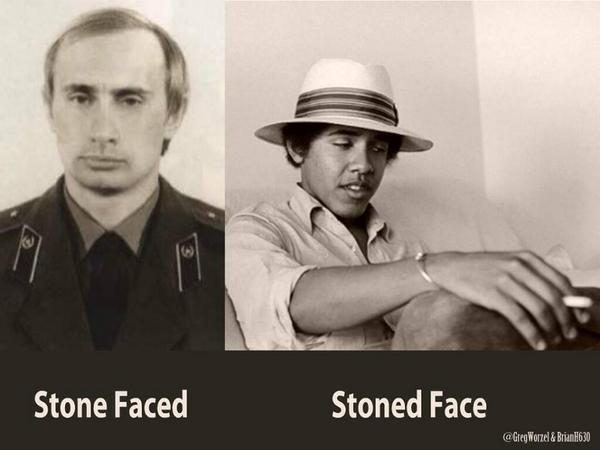 Obama: Only reason why we notice world is messy is because of social media
Pres Obama said "The world's always been messy … we're just noticing now in part because of social media."

— Mark Knoller (@markknoller) August 29, 2014
This quote, along with the 'we don't have a strategy for ISIS' will go down as Obama's legacy. Well, the quotes and the failed polices and ObamaCARE. Either Barry Obama needs to lay off the choom, or Valerie Jarrett is going to have to do a better job programming the empty suit.