Obama is the wedding crasher. He bragged about how he likes killing people a few months ago and recently proved it in Yemen. An Obama authorized drone strike killed 15 civilians on their way to a wedding in Yemen. Well done killer.
Yemen: Obama Drone Strike Hits Wedding Convoy Killing 15 Civilians, Injuring 5 http://t.co/GhbD5FgktS #tcot #teaparty #p2 #uniteblue

— Velvet Hammer (@velvethammer) December 12, 2013
US drone killings against Muslims continues in Yemen also – latest drone killed 15 wedding guests. Obama's killing instincts alive & active!

— Shireen Mazari (@ShireenMazari1) December 13, 2013
So a US drone killed 15 innocent people, but obama has sworn these things are precise and innocent wont die

— KillerKali (@RGEEZY) December 13, 2013
Another Obama drone strike kills 15 innocent people at a wedding – http://t.co/kW3TLISpMz

— Paul Joseph Watson (@PrisonPlanet) December 12, 2013
Obama once again has embarrassed this country and it's gone international. Five different UK papers mocked Obama for his actions at Mandela's funeral. One of the best headlines was 'No Selfie respect.'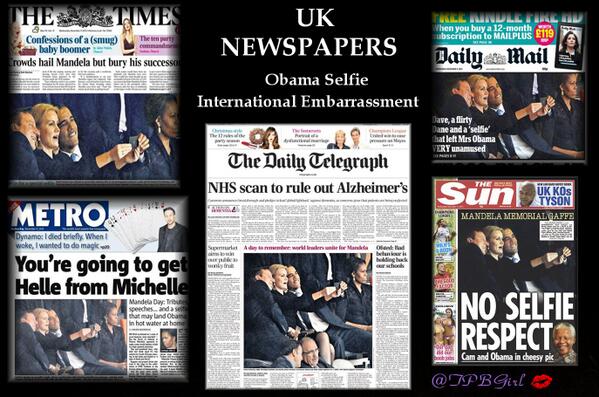 Obama is an international embarrassment – mocked in five different UK papers for selfie
The times UK, The Sun, the Daily Telegraph, Metro and the UK Daily Mail all featured Obama (or mocked) Obama taking his selfie during the Mandela funeral yesterday in South Africa. How presidential.
Read more
How much did Obama's little trip to South Africa cost us taxpayers? At least $5 miilion. That figure only covers the costs of operating Air Force One for 28 hours back and forth. Obama's 10 minute propaganda speech praising the Communist Mandela cost us $500,000 per minute (at least.) That $5 million doesn't include the security or food costs for Obama and his posse that included Valerie Jarrett, Ben Rhodes, Eric Holder and Susan Rice. $5 million doesn't buy what it used to. All America got was a bow and a handshake with Raul Castro and Michelle Obama's sour face towards Denmark's Prime Minister Helle Thorning-Schmidt.
"Obama kept his usual quarters in the front of the plane, while the medical unit cabin was transformed into the Bushes' quarters for the flight. Clinton stayed in the senior staff cabin."
Henri Le Riche estimates "Obama's expected 10-minute speech at Nelson Mandela's memorial will cost taxpayers at least $500,000 per minute."
That's not counting any cakes and coffee he and his inner circle consume aboard Air Force One during the 18,000-mile round trip to Johannesburg, via Dakar, in Senegal.
The 28-hour two-way flight will cost $5 million because the four-engined Boeing 747 costs roughly $180,000 an hour to operate, according to a May 2012 report by the Congressional Research Service.
The cost includes jet fuel and subsequent maintenance of the aircraft's engines, electronics and hotel-class facilities.
Obama has been accompanied by the First Lady, Attorney General Eric Holder, national security advisor Susan Rice and confidante Valerie Jarrett.
In addition to Obama and his entourage aboard Air Force One, the government sent along the presidential security detail – armed guards, bullet-proof limos, and other equipment – on a far less luxurious C-17 cargo lifters based out of Andrews Air Force base. Cost: $23,811 per hour.
Not only did Obama bow and shake the hands of Cuba dictator Raul Castro, but he also shook the hands of a mass murdered. Robert Mugabe, the President of Zimbabwe is a mass murder and apparently a good friend of Obama. Of course you wouldn't know that if you relied on the media reports about Obama's day at the Mandela memorial. All the buzz is around Obama and Castro. The media has been doing back flips to try and claim it was no big deal that the president of the United States would bow and shake hands with the Cuban dictator. In fact, NBC originally reported that Obama shook hands with the mass murdered Mugabe. Then, it was quietly deleted from their news story.
Read more
While Obama was busy shaking hands and bowing to Cuba Communist leader Raul Castro, Alan Gross an American contractor is still jailed in Cuba. Obama smiled, bowed, and shook the hands of Castro with Alan Gross imprisoned in Cuba. Castro is trying to use Gross as a pawn to swap Cuban spies that were arrested in this country back in the '90s under BJ Clinton.
Obama honored the Communist/Terrorist Nelson Mandela by shaking hands and smiling with Cuba's Communist leader Raul Castro. This despite the fact Americans are still being held as political prisoners in Cuba. Fidel Castro was too old to attend, so Obama shook hands with the next best thing with Raul Castro.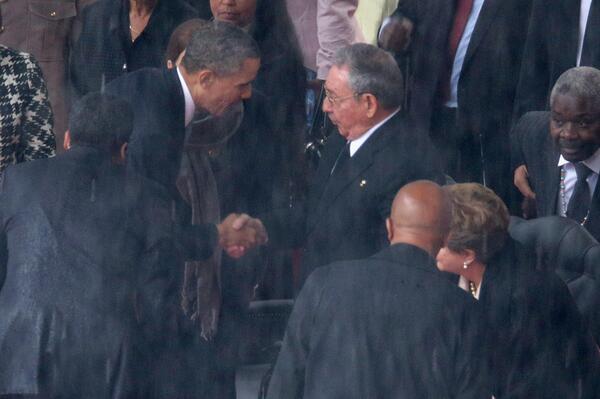 Obama shakes hands with Cuba Communist leader Raul Castro at Mandela funeral – Image Credit: Getty Images
Obama won the Cuban vote in Florida last year. I wonder how they feel about him now.
Read more
Ok, Obama, his wife, kids, mother in-law are all going to Mandela's funeral. So are three other living presidents to honor the Communist/Terrorist Mandela. But why in the hell are Eric Holder, Valerie Jarrett, Benghazi liar Susan Rice and lily white Ben Rhodes to go too? Oh yea, I forgot, they aren't paying for it, we are, so lets have a big party on the tax payers' dime. We know why Valerie Jarrett is going. She's the unelected POTUS who pulls Obama's strings. He can't go anywhere without her.
Filhy New Hampshire progressive liberal Democrat Rep. Ann Kuster refused to answer a constituent's question about Benghazi. At first Ann Kuster tried to dodge the question:
"I'm certainly not here to talk about it, we're here to talk about the Middle East,"
Umm, escuse me Ann Kuster, where do you think Benghazi is? San Francisco? Benghazi is in the middle east!
Eventually Kuster just went silent when pressed by the constituent.
Democrat Rep. Ann Kuster refuses to answer constituent Benghazi question
Leftists have a new civil rights issues to fight for. You see Leftists over at the Huffington Post (via American Spectator) now claim it is homophobic to criticize gay men who use Internet sex sites to meet teenage partners, You are a bigot if you are against "nurturing intergenerational bonds.
"Publicity about a relationship between 39-year-old Hollywood screenwriter Dustin Lance Black and 19-year-old British diving champion Tom Daley has inspired criticism even from some gay rights activists.

Joshua Epstein, a blogger who identifies himself as a gay progressive Democrat, reacted to the Black-Daley affair on Twitter: "He could be his father. Yuk." That reaction was condemned by Huffington Post columnist Michelangelo Signorile, who said only "internalized homophobia" could cause gays to criticize such relationships.

"There is an undercurrent in these comments — the 'chicken hawk' charge — that suggests that gay men are more likely to sexually abuse underage teens, the ugliest lie about gay men out there," Signorile wrote Friday in Huffington Post's "Gay Voices" section. "Hardcore homophobes are predictably pointing to Black and Daley as supposed proof. But many gay men too, so defensive about the charge and deathly fearful of how it's used, overcompensate by saying 'yuk.'"

Signorile specifically defended sites that promote "intergenerational" gay sex. "Some younger people are attracted to older people, and vice versa," he wrote. "There's even a gay website called Daddyhunt. The famed novelist Armistead Maupin's 27-years-younger husband, Christopher Turner, founded it. They met on another one of Turner's sites, HotOlderMale.com. If that's not your thing, it's totally cool, but in that case just shut your mouth." Gay people who criticize older men having sex with teens need to "open our minds, refrain from the impulsive outbursts and stop feeding the bigots," Signorile wrote.
Have you heard about the Trans-Pacific Partnership Agreement? If not, it's time you learn what it's all about. The Trans-Pacific Partnership (TPP) is a secretive, multi-national trade agreement that threatens to extend restrictive intellectual property (IP) laws across the globe and rewrite international rules on its enforcement. The main problems are two-fold according to EFF: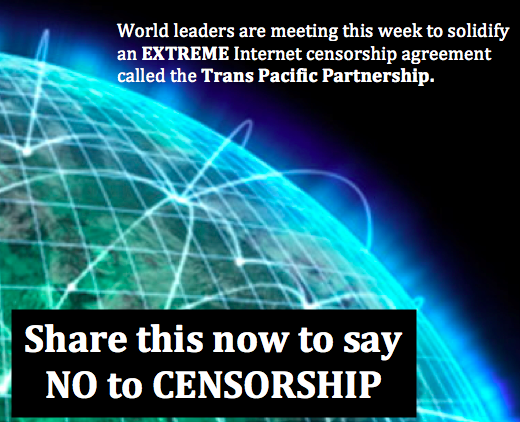 Where Obama stands on the Trans-Pacific Partnership Agreement
(1) IP chapter: Leaked draft texts of the agreement show that the IP chapter would have extensive negative ramifications for users' freedom of speech, right to privacy and due process, and hinder peoples' abilities to innovate.

(2) Lack of transparency: The entire process has shut out multi-stakeholder participation and is shrouded in secrecy.

The twelve nations currently negotiating the TPP are the US, Japan, Australia, Peru, Malaysia, Vietnam, New Zealand, Chile, Singapore, Canada, Mexico, and Brunei Darussalam. The TPP contains a chapter on intellectual property covering copyright, trademarks, patents and perhaps, geographical indications. Since the draft text of the agreement has never been offically released to the public, we know from leaked documents, such as the February 2011 draft US TPP IP Rights Chapter [PDF], that US negotiators are pushing for the adoption of copyright measures far more restrictive than currently required by international treaties, including the controversial Anti-Counterfeiting Trade Agreement (ACTA).
What does the TPP mean for you? If write a blog, or post a quote of an article to social media, using a snippet of copyrighted content, you will be liable for copyright infringement, even if you give proper credit to the copyright holder, and only use a snippet. Basically any 'online rights' you have will be gone if this is ratified.
Remember ACTA, SOPA and PIPA? TPP is that on steroids. I'm not a fan of Wikileaks, but they do deserve credit for leaking these documents. They show exactly where every country, including the US (under the Obama regime) stands under TPP.
Watching the people of Kiev, Ukraine topple the Vladimir Lenin statue has been especially tough on progressive liberal leftists, in America and all over the world. Check out some of the tweets below where leftists whine about why the people of Kiev toppled the statue. It's really quite funny.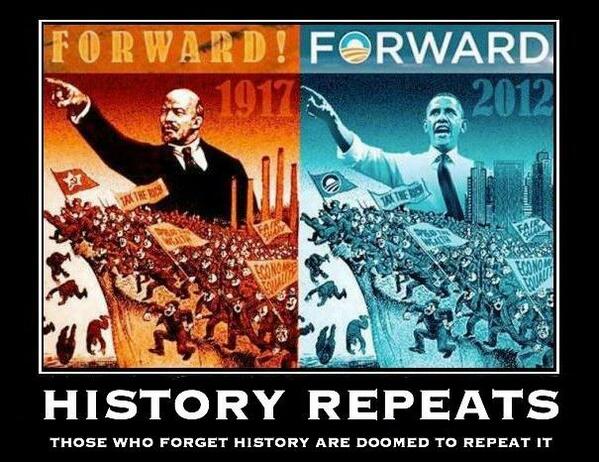 Forward – campaign slogans for both Obama and Lenin
The pulling down of the #Lenin statue in #Kiev demonstrates the uncouth nature of the protesters involved in it. #Ukraine

— Marcus Papadopoulos (@DrMarcusP) December 8, 2013
Uncouth? Really now Marcus Papadopoulos.
Ugh before we all do the 'omg why did the Ukraine even have a statue of Lenin' can we remember that Lenin was the not-so-bad one?

— Justin Ling (@Justin_Ling) December 8, 2013
Lenin was the 'not-so-bad-one.' Ummm..
why did they need to topple the Lenin statue? #ukraine #euromaidan

— Gulliver Cragg (@gullivercragg) December 8, 2013
The power of these Lenin toppling images is a reminder why governments spend money and guards protecting monuments.

— Joseph Weisenthal (@TheStalwart) December 8, 2013
So is that why Obama barricaded the WWII memorials during the government shut down?
Why are they ripping down Lenin statues, he basically founded modern Russia. It's like spitting on your granny

— Soph (@sophietea) December 8, 2013

Unless your granny was a murderous Communist, then it's nothing like that.
Why they fuckin up my homie Lenin's statue though?

— Julius Curving (@PlayboyClay) December 8, 2013
Because 'your homie' killed about 40 million people perhaps?
A phoned in report from the felling of poor old Lenin in Kiev tonight. http://t.co/z0wzWFUV2c

— Roland Oliphant (@RolandOliphant) December 8, 2013
'Poor ole Lenin' – this from a Telegraph UK reporter no less.
Read more
I'm getting sick of all the tributes for Communist/Terrorist/America hater Nelson Mandela. Every time I turn on the news, someone is praising Mandela for whatever reason. Pickens County South Carolina Sheriff Rick Clark finally showed someone actually has balls and defied Obama's demand to lower flags for tribute for Nelson Mandela. Whatever Mandela did for apartheid in South Africa doesn't overshadow the the fact he hated America, was a Communist and a terrorist. It's amazing how the media, leftists and race hustlers have tried to whitewash the Church Street Bombings in 1983.
Pickens County Sheriff Rick Clark defies Obama to lower flags for Mandela