Facebook and Instagram are down both, at the same time. Is it the weather back east affecting servers, or has then been a digital jihad with hacking of Facebook and Instgram? Needless to say, some people really freak out when their favorite social media site suddenly goes down.
INVESTIGATING: @facebook appears to be down. Stay tuned…

— David (@dnp_david) January 27, 2015
Facebook and Instagram appear to be down. Let us all pray.

— BuzzFeed (@BuzzFeed) January 27, 2015
Facebook and Instagram are down. pic.twitter.com/9AAOLm8xHG

— Breaking News Feed (@PzFeed) January 27, 2015
Facebook and Instagram are down – the end is near!
Why are we still waiting to hear that Bowe Bergdahl is officially a deserter? The investigation into Bergdahl and his desertion was completed in October, an announcement was expected around Thanksgiving. Here we are in 2015, and we still haven't had an official announcement on Bowe Bergdahl. The reason is because Ben Rhodes (who just so happens to the brother of CBS News president David Rhodes is stonewalling. Ben Rhodes is a national security adviser to Obama. Amazing coincidence don't you think?
Ben Rhodes (brother of CBS News president) stonewalling Bergdahl announcement
Loretta Lynch, the witch who will replace Eric Holder as Attorney Generaal is not only a racist like Holder, but a corrupt liberal Democrat too. Loretta Lynch quietly dropped $450,000 civil forfeiture case just a week before the hearings. You know it's bad when even a far left nut job site like Raw Story is dishing the facts about Loretta Lynch's action.
When Long Island businessman Jeff Hirsch stepped up to the bank window to make a deposit one morning in May, 2012, the teller shot him a worried look. "You know, your account has been frozen," she told Hirsch. "I'm not sure you want to put any money in there this morning."

In fact, the disbelieving Hirsch soon learned, the office of the U.S. Attorney for the Eastern District of New York had, without warning, seized the entire working capital — $447,000 — of Bi-County Distributors in Ronkonkoma, N.Y., the business Hirsch co-owns with his two brothers.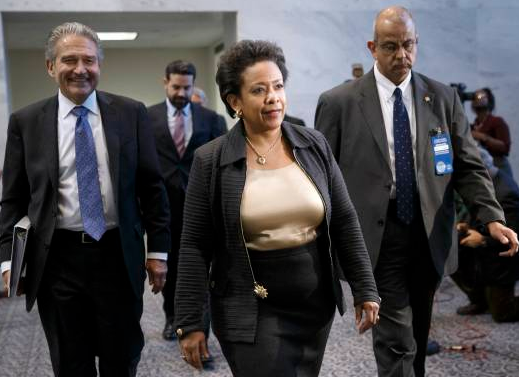 Loretta Lynch quietly dropped $450,000 civil forfeiture case
Juan Williams jumped the shark yet again, and defended leftist blimp Michael Moore over his dissing of American Sniper. Juan Williams is so pathetic he even called Michael Moore a hero! I don't know if Williams meant the sandwich or a real, genuine hero. But Juan Williams yet again displays why I watch less and less of Fox News. Between leftist idiots like him, Blob Beckel and Geraldo Rivera, it's just like MSNBC at times.
If I want to her the left-wing drivel, there are plenty of other networks to choose from. I understand the whole 'fair and balanced' thing, but if I want droolling leftists, I don't need to watch Juan Williams or Beckel pig. Fox News has tolerable Democrats on like Joe Trippi, Doug Schoehn and Pat Caddell. Unfortunately, they don't get nearly the air time idiots like Juan Williams, Beckel and Geraldo get.
Please tell me Juan Williams did not just say Michael Moore is a hero.

— Dolly Key (@cherokeehottie) January 26, 2015
@TheJuanWilliams @mmflint a hero? He s hypocrite coward gets publicity from others who make sacrifices he won t. Very disappointed in u.

— John Raftery (@johnraf) January 26, 2015
@TheJuanWilliams although I don t agree with your views, you always raise valid points. But I'm sorry, Michael Moore is a coward, not a hero

— Lucas Hood (@mattlamosek) January 26, 2015
Juan Williams defends blimp Michael Moore calls him hero
You get that conservatives? A Fox News pundit (Juan Williams) thinks Michael Moore is a big hero. Oy.
It's not only leftists like fat pig Michael Moore who hate American Sniper. American Muslims are also whining about American Sniper (which will soon become the number one grossing war movie of all time.) According to Pamela Geller, American Muslim Group Attacks American Sniper and are demanding that Cliton Eastwood and Bradley Cooper denounce fictional 'Islamophobia.'
Muslims attacks American Sniper, demand Eastwood denounce 'Islamophobia'
Obama is so crass he couldn't even sit through the Republic Day parade in India without chomping on some Nicorette gum, even spitting it out at one point. The media in India isn't exactly happy about Obama's disgusting and crass antics.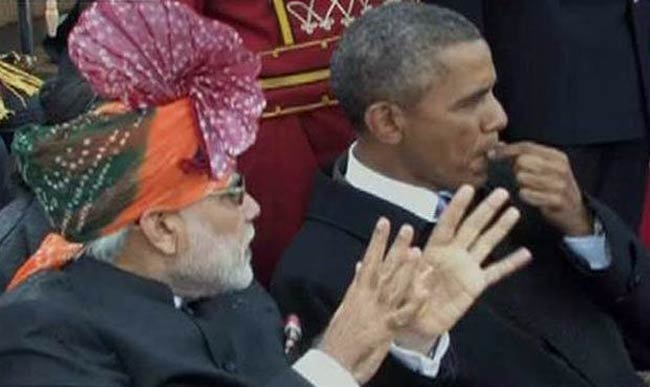 Crass Obama chews, spits out Nicorette gum in India
American Sniper ticket revenues after just two weeks of being in theaters. American Sniper will soon surpass Saving Private Ryan as the number one grossing war movie in American history. To Michael Moore, Seth Rogen and the rest of you whiny leftists who hate this movie, suck on that!
Clint Eastwood's American Sniper remained a phenomenon in its second weekend, earning a stunning $64.4 million from 3,705 theaters and quickly becoming the No. 2 war film of all time at the North American box office, not accounting for inflation. Its domestic total through Sunday is $200.1 million for Warner Bros. and Village Roadshow.

In only 10 days in release, American Sniper has eclipsed the $198.5 million earned all in by Michael Bay's Pearl Harbor, and it will soon overtake the $216.5 million grossed by Steven Spielberg's Saving Private Ryan in 1998. Taking inflation into account, Private Ryan would have earned more than $300 million by today's terms; Sniper is sure to eclipse that number when all is said and done.
American Sniper is even doing well in Europe, especially Italy.
American Sniper tops $200 million – Suck it Michael Moore!
WHOOT @AmericanSniper has made over $200 Million, 2nd biggest movie of all time in North America, @HonorChrisKyle

— DonnaBlockedByIdiots (@izzyjsmom) January 26, 2015
#AmericanSniper Crosses $200 Million Mark; keep it up! This signifies the ballot box of the real views of Americans

— RockPrincess (@Rockprincess818) January 25, 2015
Zacary Evans was killed in machete attack Gloucester at a pub called The Pike and Musket. There are three suspects arrested in the machete attack on Zacary Evans in Gloucester. Yet the British media refuses to list the names, or post pictures of the three suspects who attacked and killed Zacary Evans with a machete. So this begs the question. Where the three who killed Zacary Evens Muslims on a jihad?
Teen hacked to death with MACHETE outside Gloucester pub: Zacary Evans, 19, was pronounced dead outside the Pike and Musket pub in Tu…

— Jung-Su Nu (@NooJunga) January 24, 2015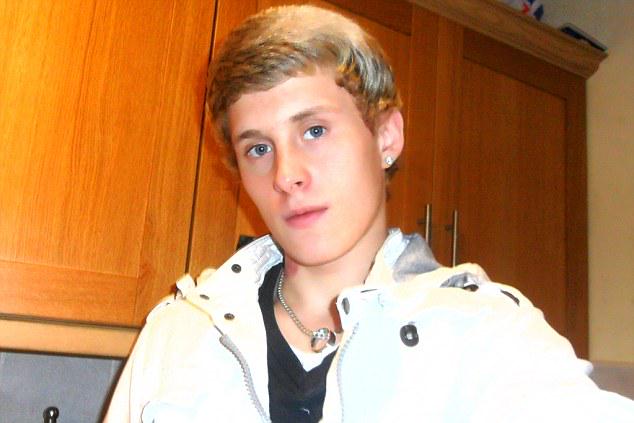 Zacary Evans killed in machete attack Gloucester – done by Muslims?
If the machete killers i Gloucester were not Muslims, do you think the British media would have media their names and pictures public by now? The machete killing in Gloucester didn't just happen hours ago, it happened days ago. The information on all the suspects is known by British media, yet they wouldn't make the information about the three 'alleged' killers public?
If three white British people attacked and killed a Muslims outside of The Pike and Musket pub in Gloucester, the media in Britian would be all over the place posting information and pictures of the attacker. Yet, several days later, and we still no nothing about the Zacary Evans killers, other than their ages.
Democrat Dianne Feinstein wants to send ground troops to Yemen, after the collapse of the country's government this week. Feinstein, a far left whack job who couldn't stop bashing Bush on Iraq and Afghanistan suddenly is become the John McCain of California. Apparently far left progressive liberal Democrats love sending American troops into harm's way when a Democrat is president.
Two political heavyweights US Senate, Democrat Feinstein & Republican McCain, criticize Obama's policy in Yemen "Send in Marines SpecialOPs"

— Stephen W. Day (@DaySWTweet) January 25, 2015
Sen. Feinstein opposed Vietnam, but now she wants to send U.S. troops to Yemen! In the past, she's called her 'politics' 'The Third Way'.

— Gina Genochio (@GinaGenochio) January 25, 2015
Feinstein opposed Vietnam? That's funny, considering it was Democrats who initiated the Vietnam war. Hey Hey, LBJ, hey many boys have you killed today ring a bell?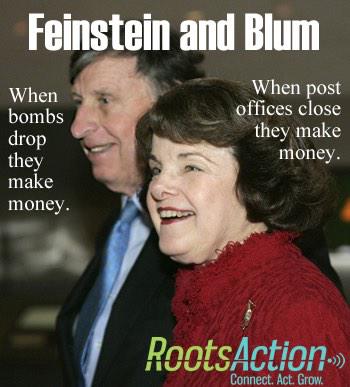 Democrat Dianne Feinstein wants to send ground troops to Yemen
Of course, this wouldn't have anything to do with her husband profiting off the government contract he got now would it? You do the math.
Obama's Chief of Staff Denis McDonough: lied yet again on Fox News Sunday. While disusing with the Japanese hostages of ISIS, Obama's Chief of Staff Denis McDonough claimed we don't pay random money to terrorists in exchange for American hostages. Of course, that is complete and utter bullshit as Obama $5 billion and released five terrorists from Gitmo in exchange for deserter Bowe Bergdahl. Anyone remember Bowe Bergdahl? The results of the investigation on if he deserted was due weeks ago, and the Obama regime is still keeping this hidden.
Obama Chief of Staff claims we don't pay ranson (except Bowe Bergdahl)