Eric Frein – leftist cop killer has finally been captured in Pennsylvania. Eric Frein's MySpace page (which has since been scrubbed) showed his love for leftist hero Che Guevara and the 13th Guards. The 13th Guards were the Soviet Red Army rifle division. Oh, and Eric Frein hated cops too just like your run of the mill progressive liberal Democrat. Eric Frein's capture takes takes a dangerous left wing extremist off the streets.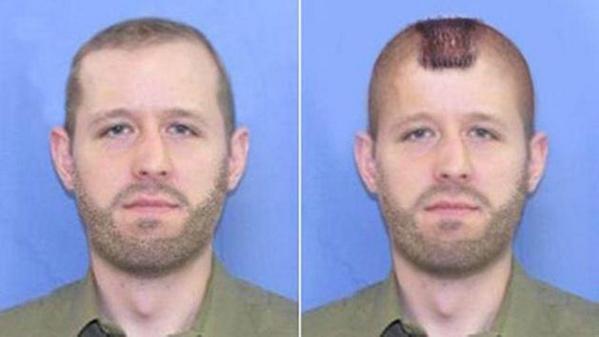 Eric Frein – leftist cop killer captured
After nearly seven weeks on the run, suspected cop killer Eric Matthew Frein is in custody, Pennsylvania State Police spokeswoman Connie Devens said Thursday.
"I can confirm that we have taken Eric Frein into custody. Further information will be released at a later time. No further information will be released or confirmed at this time," she said in an email to reporters.
Why am I not surprised that the media ignored this. During the various #FergusonOctober protests over this past weekend to mourn the loss of gang banger and blood , protesters tossed rocks at cops. Protesters (black) also yelled 'crack some cracker skulls' and 'kill the white racker'. Basically, the 'protesters' did what all left wing extremists do. Toss rocks at cops like a third world country, and make death threats. All in all, another typical weekend of leftist protesting.
Protestors now throwing rocks at the police. Arrests have been made for continued illegal behavior.

— Chief Sam Dotson (@ChiefSLMPD) October 12, 2014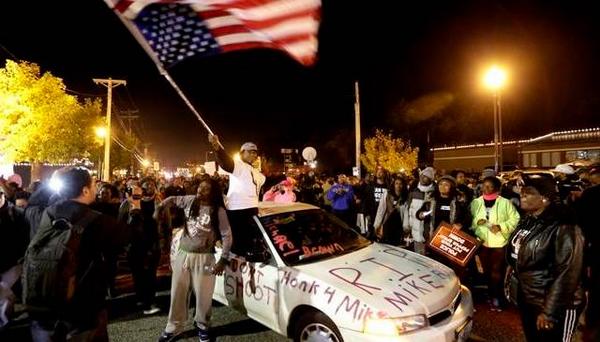 #FergusonOctober protesters throw rocks at police
No word yet if any more American flags were stolen and burned by these protesters.
Read more
People who defend Fox News pig Bob Beckel claim he's there to expose what liberals are really are. The latest example is pig Beckel threatened physical violence against Jason Mattera over his asking Lois Lerner why she doesn't like being targeted after she targeted the conservatives. Fat pig Beckel even threatened Mattera to 'bring a knife punk'. Yes, this is a Fox News head, that represents the network threatening physical violence against a man who exposed Lerner for the coward she is.
Jason Mattera accepts Bob Beckel threat of violence
You expect this kind of crap at MSNBC, but a real news station like Fox News? I'm sorry, but this (along with Beckel's antiseminism) is unaccepable. There are many reasons why I watch less and less of Fox News, and Blimpy Beckel is one of the main reasons. I'm tired of these obnoxious liberal Democrat mouthpieces spewing their crap. If i want to hear stuff like this, I'll just watch MSNBC.
As far as Jason Mattera goes, he's not scared of the blimp, and gladly accepted Beckel's violent threats. From the Daily Signal:
The blood bucket challenge is just the latest left wing charade to support Hamas. Just days before the holiest day of the Jewish calender of Yom Kippur, Jew hating leftists like copied Ohio State's Megan Marzec and did the 'blood bucket challenge' at Yad Vashem, the Holocaust Memorial and Museum in Jerusalem. The group calls themselves 'Jews against Genocide'. Now, it isn't bad enough that they had to copy the pitiful Ohio leftist Megan Marzec with the blood bucket challenge, and mock the ALS Ice Bucket challenge right? But these left wing nut jobs have to do it during the period of Rosh Hashana and Yom Kippur too. Really classy leftists. As usual, the media is no where to be found covering this latest example of leftist antisemitism and terror sympathizing.

Jew hating perform blood bucket challenge at Yad Vashem
And the mask slips off yet again. Moms Demand Action for gun sense in America is lead by gun grabber leftist Alison A. Martin, and affiliated with Nanny Bloomberg's Mayors against illegal guns in America. Both groups, like other leftist groups are nothing but fascists groups masquerading as 'watchdog' groups. On Twitter, Alison A. Martin was arguing with someone for increased background checks, then argued that the Joseph Goebbels Nazi propaganda are 'wise words to live by'. Since the backlash grew, Martin has deleted her Twitter account thinking that this will suddenly disappear. Well, sorry for you Alison Martin. Here is a screen-grab of Martin's support for Nazi propaganda.
Moms Demand Action for Gun Sense in America leader Alison A. Martin tweets, deletes support for Goebbels Nazi propaganda
Uh oh, spaghetti ohs!
For those of you who are actually stunned or speechless over Martin's support for Nazi propaganda, I have to ask you, why? This is the progressive liberal extremist Democrat party of the 21st century. Hitler took away guns, and the Nazi party was the National Socialists party in Germany. In America today, the Democrats are the socialist party of the 21st century. Democrats want control over everything, just like Hitler and other tinpot dictators. Why are you surprised?
#FloodWallStreet is the extremist left wing Democrats latest anti-Capitalist movement. Ever since Occupy Wall Street died a stinky death, George Soros and other radical leftist extremists were looking for new ways to cause problems against those 'evil' capitalists. Today, as the day of stock trading came to an end, the #floodWallstreet nut job protesters started their usual crap. Soon, you may see rape tents spring up near Wall Street. Below is video and some pictures from the smelly, dirty #floodwallstreet protest. You'll also notice something else from today's protest and yesterday. 99.9% of the 'protesters' are lily white trash. Where's the diversity?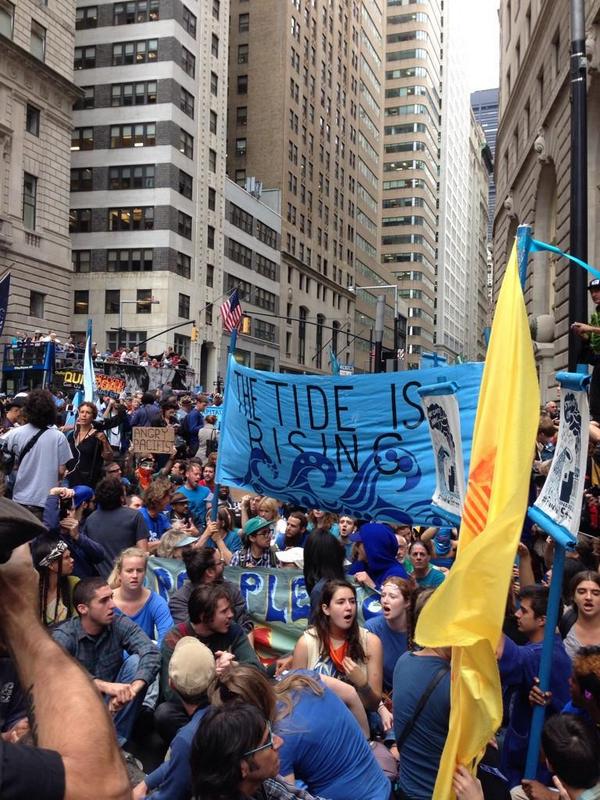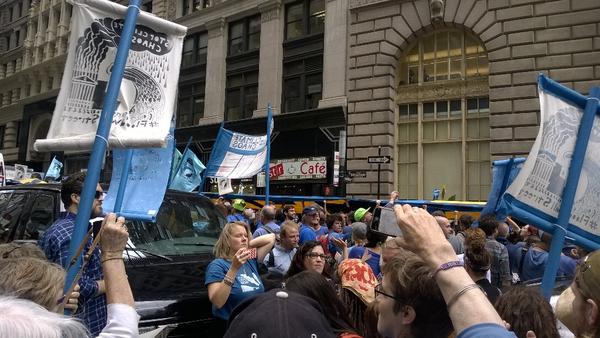 Left wing extremists start trouble at #floodwallstreet (Pictures, video)
You know, if you dirty Occupy/Flood Wall Street hippies hate capitalism so much, why are you still carrying around your smartphones and tablets? Evil capitalist corporations made those products you use. You are hypocrites if you hate Wall Street, corporations and capitalism if you use products created by corporations, for the sole purpose to make a profit.
If you listen to the media, you'd think Omar J. Gonzalez was the victim in his fence jumping escapade on Friday. Turns out, little ole Omar had 800 rounds of ammo in his car. He also 'allegedly' had a knife on him when he jumped the fence on Friday and made it all the way to the front door of the White House which was supposedly left unlocked. Of course, Obama and his family (and a few friends of the Obama kids) had already left for yet another vacation at Camp David anyway.
Omar J. Gonzalez – White House fence jumper had 800 rounds of ammo in car
BREAKING: Prosecutor: White House intruder had 800 rounds of ammo, machete in car http://t.co/2jRGcN0QVp

— Fox News Politics (@foxnewspolitics) September 22, 2014
Remember all those media reports about Omar Gonzalez not having any previous police issues? Well…..
Omar Gonzalez was arrested in VA back in August. Police found a sawed off shotgun, sniper rifle & map of DC area w/ the White House circled.

— Kara Rowland (@kararowland) September 22, 2014
Meet the newest poster boy of the progressive liberal extremist left, Eric King. He was charged for 'allegedly' throwing two Molotov Cocktails through Democrat Rep. Cleaver's office window. Why hasn't the media run wild with this story and try to blame 'racist conservatives' for the attack on Cleaver's office? Probably because of the note that Eric King left behind.
Anti-capitalism leftist federally charged for allegedly throwing Molotov cocktails at Rep. Cleaver's office
King was arrested on Tuesday as he was leaving his apartment. According to the affidavit he was carrying a backpack that contained red spray paint, charcoal lighter fluid and a clear plastic bottle with a tube sock placed over it. Acting on a search warrant, agents found a hand-written letter entitled "Operation House Committee" in his apartment. The letter detailed supplies and steps that aligned with what King is accused of doing.

It also specifically read: "The Missouri congress has been a willing partner in the US governments (sic) capitalist war hungry agenda." It also listed other potential targets that included the Federal Reserve, banks and pay day loan shops.

U.S. attorney's office spokesman Don Ledford said that he didn't think King had an attorney.
When it comes to conservative pages, or anti-Obama pages or groups on Facebook, they are totally fascist and block the pages or groups immediate. However, if you are a leftist and have a 'Shoot Scott Walker' page up, Facebook turns the other way to that. This is the world we live in were Democrat liberal-extremists control the media, social networking and other means of communications and allow this double standard to continue. The page didn't pop up overnight either. It's been on Facebook since August of 2013.
Glenn Thrush is a leftist, hack who writes for leftist Politico, a left wing propaganda site, often used by NBC and ABC. Glenn Thrush hopped aboard the race card bandwagon and tweeted about all the 'All white GOP.'
Amazing: In 1964 blacks braved violence to vote in all-white Democratic party. In 2014 they assert franchise by gate-crashing all-white GOP.

— Glenn Thrush (@GlennThrush) June 25, 2014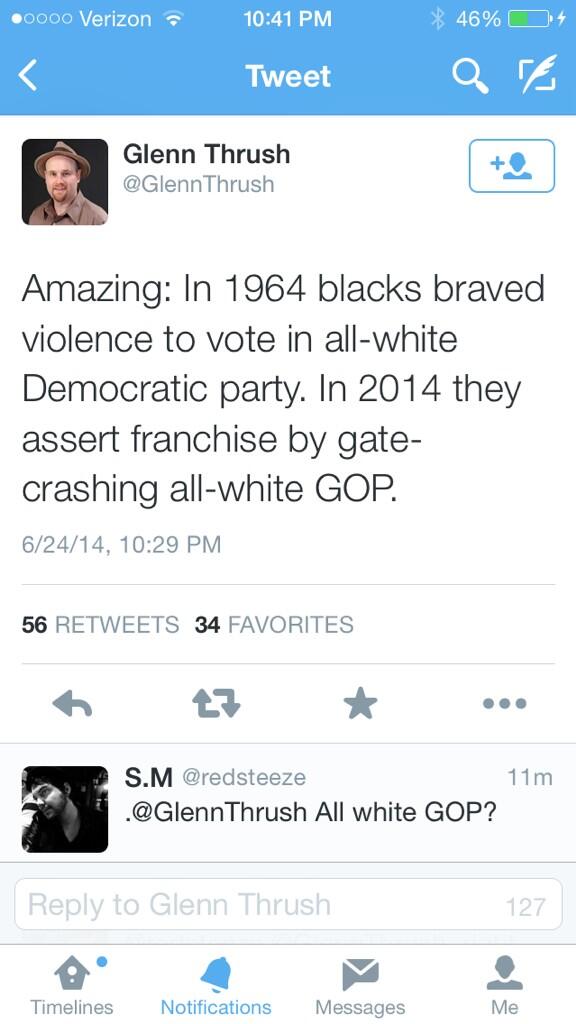 Politico hack Glenn Thrush tweets, deletes 'all white GOP'
Of course, Mr. Thrush is giddy about Thad Cochran getting the black and Democrat vote to barely win tonight's Mississippi runoff. This is your modern progressive liberal Democrat media. Play the race card, smear conservatives (especially minorities or females) and cheerlead establishment Republicans when they vote with a liberal record.
Oh this is classy @GlennThrush. Hint: #stayclassy pic.twitter.com/VoznXRTgwe

— Accuracy In Media (@AccuracyInMedia) June 25, 2014
Indeed, you stay classy Glenn Thrush.