This has become all too predictable, Any time something bad happens to a Republican, the leftists take to social media and celebrate. It's kind of like how the Muslims danced in the streets in Palestine after 9/11/01 and passed out candy. Here is just a few fine example of the 'peace loving' NOH8 leftists glee at the news that Perry Inhofe died in a plane crash:
Unlike his vile swine of a father, Perry Inhofe seems 2hv been a decent guy. @DssdentAggrssor @koconews

— thepoliticalcat (@thepoliticalcat) November 11, 2013
Sen inhofes son died in that crash? Sad for the son; inhofe, how PATHETIC YOUR karma wasn't bestowed to YOU. Aftr wat u did to those ppl

— amy cummings (@biddyaes) November 12, 2013
Sorry but I have no sympathy for Inhofe. This man STARVES children and denies healthcare to ppl. #karma

— Marlboro.Stan (@MarlboroStan) November 11, 2013
Inhofe's son was a doctor. Inhofe opposes Obamacare. #karma

— Marlboro.Stan (@MarlboroStan) November 11, 2013
Mary Pat Foster is Chris Christie's wife. I don't like Chris Christie as a conservative, in fact, I can't stand him. But I don't find the need to mock his wife. Leftists on the other hand, all butt-hurt because Christie crushed their New Jersey Nancy Pelosi tonight resorted to mocking his wife. The next time any leftists whines about someone complaining about Michelle Obama, show them some of these tweets about Mary Pat Foster:
Had to turn off Chris Christie; his wife was scaring the children.

— Chris Connelly (@nirvana454) November 6, 2013
Chris Christie may have won but his wife's face can never win

— Alexandra (@ohemgeeitsal) November 6, 2013
Chris Christie's wife is a dog. #woof

— Andrew Colaizzi (@acolaizzi) November 6, 2013
I can't decide whose uglier Chris Christie or his wife. #fuckinHIT

— CJ (@cj_ave) November 6, 2013
Radical progressive liberal far-left Democrat extremists are good at making threats. They always threaten violence, and a lot of the time follow through on it. Radical leftists are also great keyboard cowboys as they threaten to kill people like Ted Cruz anonymously over the Internet and get away with it on Twitter and Facebook because they are run by leftists who sympathize with these nuts.
Law enforcement officials are investigating a threat against Sen. Ted Cruz (R-Texas), who was vaulted into national prominence with his push to defund ObamaCare.
A person identifying himself as Troy Gilmore Jr., posted on Twitter Friday morning: "Take down Ted Cruz, at his home" and listed Cruz's home address in Houston.
"What goes around comes around CRUZ!!" the person wrote.
The author of the threat uses the Twitter handle @ArmyVet54 and identifies himself as having served in the U.S. Army and Navy.
Sean Rushton, Cruz's spokesman, said, "We're aware of it and have alerted the proper authorities."
"I can't comment further on security matters," he said.
Meet abortionist Gloria Martinez. She's doing well for herself killing babies, and trotting around El Paso, Texas in her BMW. She's also a bully who threatened to run over a pro-life praying man Miguel Abaunza. He caught the incident on video where Gloria Martinez drove her BMW directly towards Miguel Abaunza. Martinez pressed on the breaks at the last second, rolled down her window and told Miguel that "one of these days I am going to run over you." Such class.
Abortionist Gloria Martinez threatens to run over pro-life Miguel Abaunza in her BMW
Joe Crowley, an extremist progressive leftist Democrat has anger issues. Crowley reported go into a physical altercation with a GOP staffer.
Spox for @GOPLeader says @RepJoeCrowley "put his hands" on Cantor's floor dir. earlier while he was "delivering a message to the minority"

— Frank Thorp V (@frankthorpNBC) October 12, 2013
Cantor's floor dir. was telling Dems that they were moving on from a bill, stopping dems from using tactics to bring up clean CR, per spox

— Frank Thorp V (@frankthorpNBC) October 12, 2013
Spox for @GOPLeader says @Repjoecrowley "put his hands on our staffer in an inappropriate way"

— Frank Thorp V (@frankthorpNBC) October 12, 2013
Here's yet another perfect example as to why nothing can get done in DC. Far left progressive liberal extremist Democrats like Joe Crowley have to resort physical violence if they don't get their way.
Crowley of course is from New York, so the anger issues are typical.
Is Occupy Wall Street back or something? Jonah Goldberg of National Review Online snapped a picture of someone (don't know if it's a male of female) defecating aka taking a dump near the US Treasury and White House.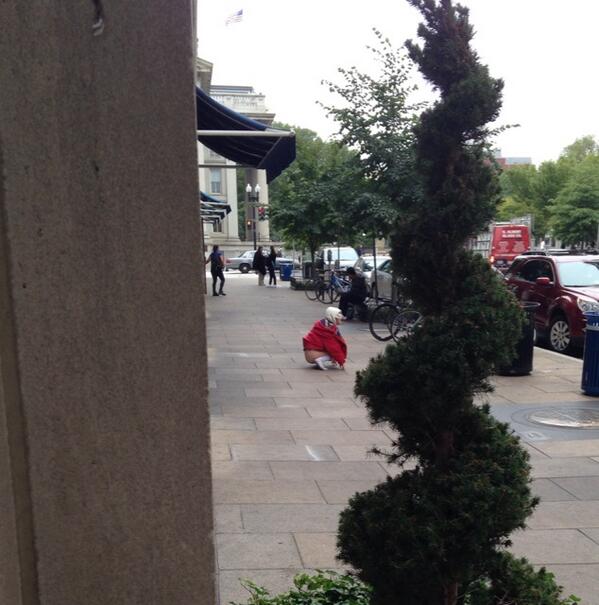 Someone defecates (taking a dump) near Treasury-White House
Home for 5 minutes. Nearly walked into this person trying to defecate near WH/treasury. Add your own caption. pic.twitter.com/YclhfPmANl

— Jonah Goldberg (@JonahNRO) October 9, 2013

Maybe it was whiny Democrat Rep. Bruce Braley. You know, he's sad now that Congress has to do their own laundry in the Congress gym now because of the shut down. Braley has all the ideolgies as an Occupy Wall Street hippy. He obviously feels entitled enough not having to do his own laundry and he's pasty white. Just like Occupy Wall Street.
Progressive liberal leftist radicals on Twitter have issued a fatwa and want to kill the Speaker of the House John Boehner
@rcfwilmette So you're saying he should send the military to kill John Boehner? I doubt you mean that, but I can't make any more sense of it

— Shawn Smith (@Zaklog) October 2, 2013
@thegibbyzone just kill john boehner and michelle baccmann, they are domestic terroists that dont give a shit about the american people

— Igor Banaszuk (@Igor_Banaszuk) October 1, 2013
Kill Boehner @trutherbot

— Michael. (@bison_pride30) October 4, 2013
@FNthefive #AddaWordRuinaMovie A Time To Kill #Boehner

— James (@PhearlessLeader) October 5, 2013
@petersagal Democrat John Connor reprograms a former GOP governor and sends him back in time to kill Boehner a week ago. #dorksolutions

— Benjamin Reed (@RangerRick) October 2, 2013
Sweet dreams @johnboehner. Hopefully an upset govt employee who can't feed his family doesn't come to you with a gun he easily obtained.

— Beefaroni (@ashleybuccille) October 1, 2013
Imagine if any conservative went on Twitter while Nancy Pelosi was Speaker of the House and made these same tweets? Think the FBI would be knocking at their door? Of course. The other hypocrisy is Twitter itself. They allow death threats against Speaker of the House John Boehner, but if you speak ill-will of any radical progressive liberal leftist Democrat, they suspend your account.
This is a direct result of the language of the left.
Steve Cohen, a nut job extremist progressive liberal Democrat is just the latest in a series of extremist progressive liberal Democrats who seem to do nothing more but throw around pejoratives when they don't get their way. Want to know people have been going nuts and killing themselves in DC lately? Look no further than the vile, disgusting rhetoric coming from the Democrats. Steve Cohen, took to the House floor to spew:
Republicans are like arsonist who didn't realize there were children& #vets in building they set on fire
Cohen even proudly tweeted his arsonist crap:
Republicans are like arsonist who didn't realize there were children& #vets in building they set on fire http://t.co/SKK0b5paTx #GOPshutdown

— Steve Cohen (@RepCohen) October 5, 2013
Cohen follows in a long line of extremist progressive liberal extremists who have been throwing a tantrum because (so far) the GOP wouldn't buckle and cave to their demands. Lets look at some more language of the left:
Nancy Pelosi calls Republicans arsonists (stolen by Steve Cohen):
Read more
Aside from all the chaos from the shooting on Capitol Hill, Sean Duffy, a Wisconsin Republican Rep. was assaulted by a left wing lunatic, simply because he supports the current Republican position to not fund ObamaCARE. This story will never be reported by the media because the perpetrator is obviously a left wing extremist progressive liberal Democrat.
Sean Duffy Assaulted (Updated): http://t.co/p8UdGr4ZBu via @ha_nah_nah

— Roll Call (@rollcall) October 3, 2013
GOP Rep. Assaulted by Screaming Man at Capitol: U.S. Rep. Sean Duffy is unharmed after a confrontation outside… http://t.co/ZPSbyflc96

— Democracy In Motion (@DemocracyMotion) October 3, 2013
Of course, radical leftist progressive liberal extremists are cheering on the assault on Wisconson Rep. Sean Duffy:
Congressman Assaulted Outside Capitol http://t.co/vv2fHnJjjB <I just can't work up any sympathy for this Rep. He deserves to be yelled at!

— Siri (@siristone) October 3, 2013
The Ted Cruz filibuster pissed off the left so much that they are now issuing death threats at Cruz on Twitter. You know, it's the typical keyboard cowboy game these cowards play and wouldn't dare saying anything like this to their face. Lets take a look at just a few example of progressive liberal tolerance, love, peace and getting along:
LETS KILL TED CRUZ

— King Beaver_Dynasty_ (@KingBeaver1) September 25, 2013
Will SWAT come to my house if I say that I feel like the CIA is secretly going to kill Ted Cruz because he speaking out against Obamacare?

— Michael Gustin (@OneWhoGodLoves) September 25, 2013
@calebparke If I were Ted Cruz daughters I would kill myself.

— Dawn (@Forever_Dusk) September 25, 2013
@foxnation @msnbc @CNN let the GOP have its way and the family of the first American who dies due to repeal of ACA gets to kill Ted Cruz

— Shadow Warrior (@seminolesteve) September 21, 2013
Leftists had a busy weekend. At a sports park in Temecula, California radical progressive torched a bronze, life-size statue of Ronald Reagan. Arson is suspected of course.
The 1-year-old statue was set ablaze at the Ronald Reagan Sports Park in Temecula, Calif. — a park Reagan praised in the early 1980s because it was built through volunteerism and fundraising and not through government handouts. The statue shows the former president in casual clothing, holding a shovel in one hand and a cowboy hat in another. The suspected arson was discovered around 7 a.m. Friday by a park worker.

"It's an insult to the president as well as to the community," Perry Peters, founder of the nonprofit Friends of Ronald Reagan Sports Park, told the newspaper.
Allan Brauer the Communications Chair of the Democrat Party of Sacramento who was elected in June of 2012 has resigned in disgrace. Earlier today, Brauer wished Amanda Carpenter's children would all die from debilitating, painful and incurable diseases. Amanda Carpenter is a speechwriter and senior communications advisor to Senator Ted Cruz. Frankly, I'm a little surprised that Allan Brauer resigned. Usual, filthy Democrats like him get away with such behavior as the media covers it up. I guess this case is too high profile for Brauer to get away with it.
Sac County Dems Chair tells KCRA @allanbrauer has resigned position following tweets to @amandacarpenter

— Kevin Oliver (@KCRAKevin) September 20, 2013
Sac County Dems chair calls comments made by volunteer communications directior "appalling and inexcusable"

— Kevin Oliver (@KCRAKevin) September 20, 2013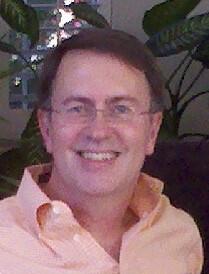 Allan Brauer resigns after death wishes on Amanda Carpenter family
Yea, Sacramento Democrats found it so appalling and inexcusable that they did nothing about. They didn't fire him. Instead, Allan Brauer resigned in disgrace. Brauer had issues last year on Twitter too, showing his racist side:

Read more