A few weeks ago, pictures of some white hippie trying to stop dumpster fires in Oakland losing his two front teeth were all over social media. Now, there's a video of the incident. What's ironic in this video is that is this hippie gets his two front teeth knocked out and loses his glasses in the dumpster for a bit, it's mostly white trash yelling at him. You should take notice of one particular leftist 'feminist' hag who keeps going around, cussing the hippie out, and screaming at the top of 'her' lungs.
If you want to watch the video, be forewarned that this is basically seven minutes of pure profanity.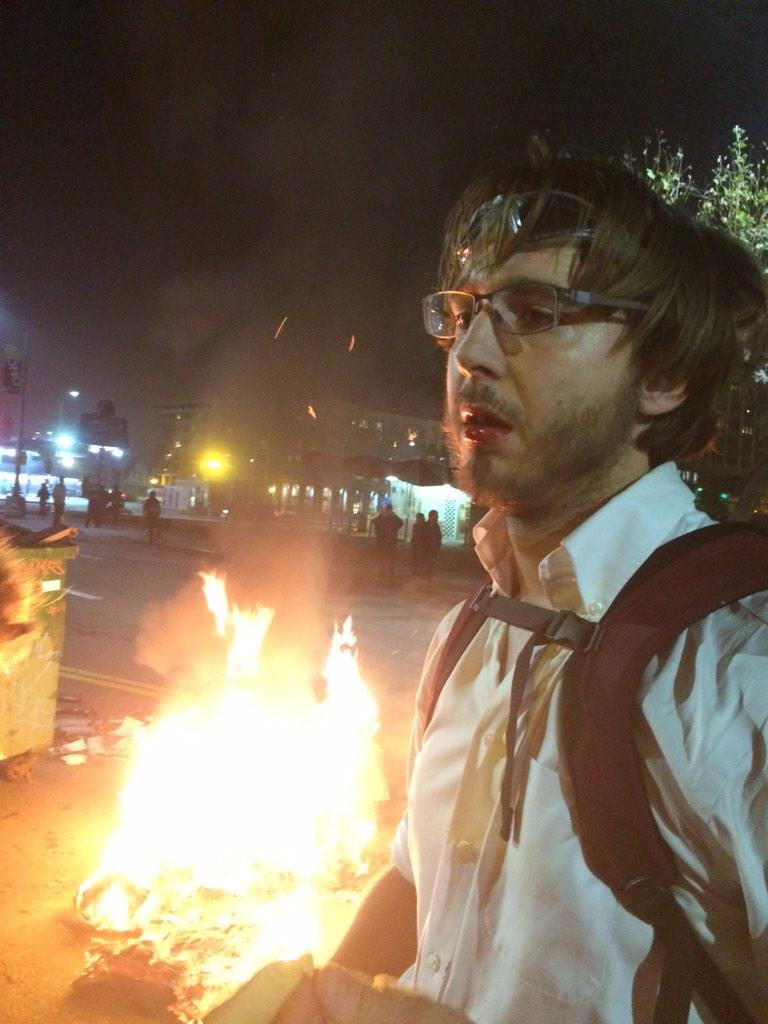 Video: Hippie in Oakland called cracker, white boy, popped in the face
This video footage was taken on Telegraph Avenue in Oakland.
Read more
Eric Linsker a professor at City University of New York or CUNY has been arrested and charged with thirteen counts of assaulting two NYPD officers. If you want to see what the definition of white privilege is, or at least should, take a good look at Eric Linsker and his Twitter time line: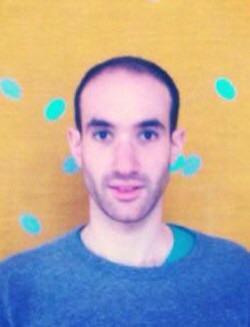 Eric Linsker – CUNY Professor arrested on 13 charges for assaulting NYPD
American education at it's finest right?
Contact @cunynewswire Chancellor & @BaruchCollege President: discipline Prof. Eric Linsker re: PO assault: info: https://t.co/WF3DfuAqbc

— Mike Reilly (@MikeWReilly) December 14, 2014
What else is Eric Linsker known for, other than 'allegedly' attack cops? Writing erotic poetry or 'sonnets'.
Eric Linkser writes "erotic sonnets" that include the line "Fuck the Police" – You must be proud, @BaruchCollege http://t.co/1Ll9rVzJwQ

— Cameron Gray (@Cameron_Gray) December 14, 2014
So this is what it's like to be a cop in the NYPD under Communist Mayor Bill de Blasio. Black thugs are now ambushing cops during their 'paaceful' millions march Sharpton protest. They kick the two NYPD officers in the face and toss hammers at the cops.
NOT PEACEFUL: #NYPD FIND HAMMERS IN NUMEROUS protester bags during #BrooklynBridge arrests after items thrown at officers #MillionsMarchNYC

— Breaking911 (@Breaking911) December 14, 2014
NYPD recover bag with hammers, mask on Brooklyn Bridge during protests @ABC7NY http://t.co/ppsSbodlAO pic.twitter.com/7FRHe8mdWp

— New York City Alerts (@NYCityAlerts) December 14, 2014
2 NYPD officers ambushed by thug-protesters – knocked to ground, kicked in face and head. Use your guns, officers.

— toddstarnes (@toddstarnes) December 14, 2014
NYPD confiscate hammers from "peaceful" thug-protesters in NYC.

— toddstarnes (@toddstarnes) December 14, 2014
Black thugs toss hammers, injure two NYPD cops
After Al Sharpton riled up people with his 'Millions March' earlier today in New York, the thugs are out again, burning flags in Oakland. Of course Oakland, and basically all of Northern California is about as un-American as it gets here.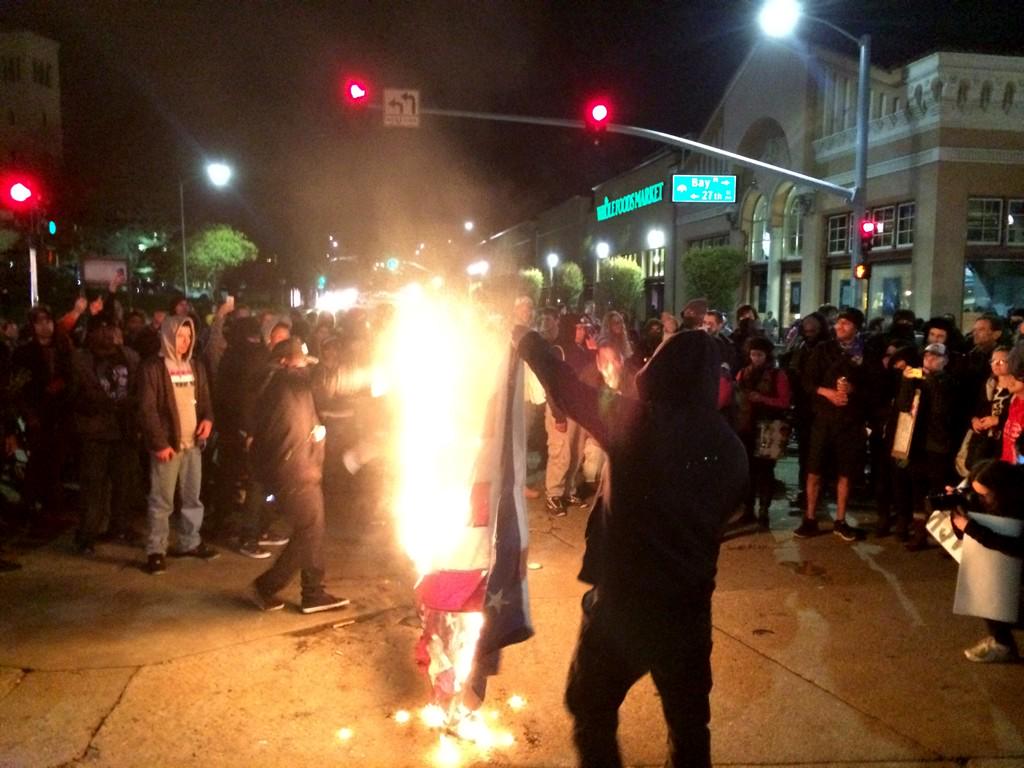 Leftists thugs burn American flag in Oakland
The perfect response to these leftist thugs is simple. If you insist on burning an american flag, wrap yourself in it first. Then burn, baby burn.
Of course, you have leftists reacting to the flags burning with their typical schtick.
Demonstrators burn the Amerikkka flag #Oakland #MillionsMarch pic.twitter.com/WKqS9McLpC can you blame them?

— Viva la causa! (@70torinoman) December 14, 2014
This is what passes for a demonstrator these days? A bunch of leftist thugs out protesting that criminals got killed by police? To the flag burners in Oakland, GFYS.
Read more
Poor white privilege hippie. Up in Berkeley, the home of the so called 'peaceful protest' that the media claims. They are knocking out the front teeth of dumb hippies are try and prevent fire starters. The other night it was some old hippie getting a hammer to the head for trying to prevent some idiots from looting a Radio Shock. Watch the following video as the hippie gets cussed out as he whines about his front teeth being knocked out by other 'peaceful' people #berkeleyprotests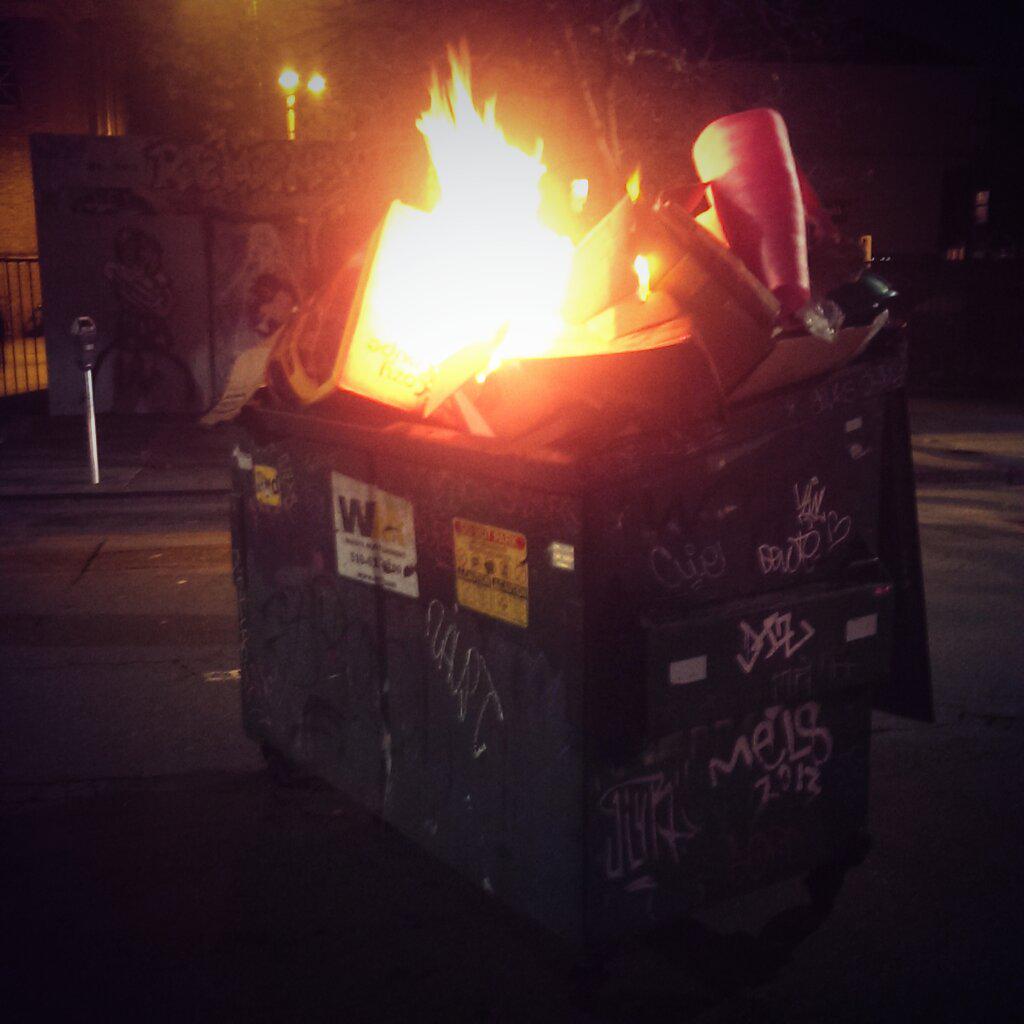 Hippie gets two front teeth knocked out at 'peaceful' #berkeleyprotests VIDEO
Of course you'll never see this story reported on the news, so I guess we'll never know the name of the hippie who got his two front teeth knocked out by other 'peaceful protesters'. This is the Ferguson and Eric Garner protests in a nutshell. This is what the left in America is.
The good news is that a big storm is expected to hit California starting THursday. This may clean up some of the left wing vermin on the streets for at least a couple of nights.
Read more
A video of the Berkeley protests shows just 'peaceful' left wing protests really are. As the spoiled Berkeley thugs continued their #icantbreathe protests, the media continues to call them peaceful. Here is a video from the so called 'peaceful protest' of a man getting bashed in the side of the head with a hammer. Why was he hit? Because he was trying to stop the thug from looting a Radio Shack up in Berkeley. Here's the video:
Berkeley thug bans man's face with hammer VIDEO
Hammers smashing people's heads is Northern California at it's finest.
Read more
An inferno of fires in Download Los Angeles started shortly after 1am local time last night. These fire came on the same night as Northern California protesters set fires in the streets, looting, and bashed people in the head with hammers. In Los Angeles, there were protests too, that got very little coverage. There were fires set by #icantbreathe protesters in garbage cans, earlier SUnday night.
Someone is lighting Los Angeles on fire. Garbage can of fire in front of my apartment and another around the corner. pic.twitter.com/ZOU2zuFAoD

— Jordan K. Paul (@Jkp815) December 8, 2014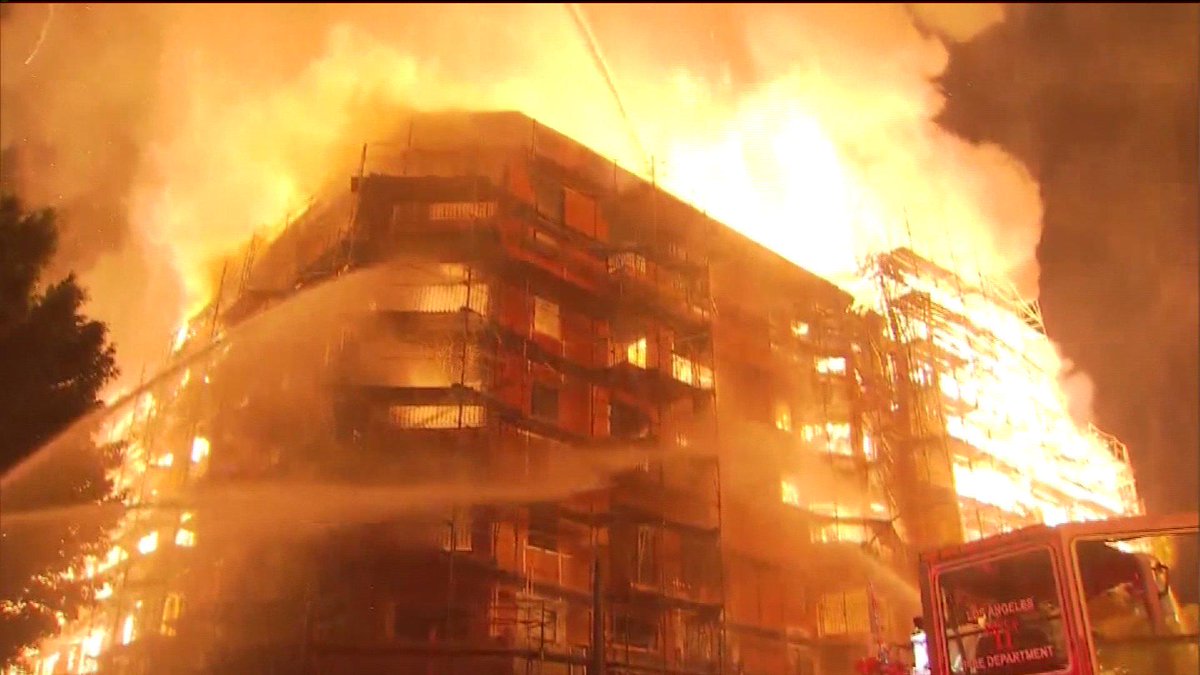 Were fire in Downtown LA arson? Set by #icantbreathe protesters?
A cop car has been set on fire in Oakland as protesters chant 'peaceful protest'. These 'peaceful' protests up north just got more peaceful. After a man was bashed in the head with a hammer trying to prevent looting at a Berkeley Radio Shack.
Crowd chanting "peaceful protest" as cop car set on fire. Line of cops charge in. #EricGarner #Oakland pic.twitter.com/xb6RUNOZbC

— Kale Williams (@sfkale) December 8, 2014
Before the 'peaceful protesters' set this evil, racist cop car on fire, they were smashing it on a freeway:
Cop cars smashed. Huge crowd on freeway. #EricGarner #MikeBrown pic.twitter.com/rPRVCR0BzP

— Kale Williams (@sfkale) December 8, 2014
Maybe all the 'peaceful protester' thugs in Oakland were just celebrating the Raiders second win of the season earlier today. You know how they love their football in Northern California. You idiots in Berkeley and Oakland should be really proud.
Cop car set on fire in Oakland
Seems that hammers are the new weapon of choice for left wing radical thugs. A man, who was trying to prevent the looting going on now at Radio Shack Berkeley was bashed by a protester or protesters in the head with a hammer:
#BREAKING Berkeley Police Say a man was hit in the head with a hammer while trying to prevent looting at a Radio Shack in Berkeley.

— KRON 4 News (@kron4news) December 8, 2014
No name of the victim has been released, and of course no information on the suspect or suspects has been released either. Just another night of 'peaceful protesting' as the media likes to call it.
Try to prevent looting at Radio Shack in Berkeley, get your head bashed in with a hammer. Yep, sounds like Northern California to me.
Update: Victim appears to be white (big surprise) and a supporter of the protesters. He just didn't want them looting. So much for that.
Man hit in head with hammer trying to prevent looting at a Radio Shack in Berkeley
A medic helps a demonstrator who tried to stop looting at the Radio Shack on Shattuck. #berkeleyprotests pic.twitter.com/Fkz3am8HSh

— Sergio Quintana (@svqjournalist) December 8, 2014
Another shot of the demonstrator who tried to stop looting at Radio Shack. He was hit by an agitator with a hammer. pic.twitter.com/kZTNkhSyAh

— Sergio Quintana (@svqjournalist) December 8, 2014
Northern California 'peaceful protests' are now evolving into looting Radio Shack. Reports on Twitter of looting in Berkeley and Oakland. Once again, these Eric Garner and Mike Brown leftists prove that they aren't interested in justice for those two. Instead, it's just an excuse for leftists to looting, riot, race bait, and cause problems. That's all it is at this point. If you aren't protesting in front of police stations, then you have no credibility.
And the assholes ruin it by looting the other radio shack in Berkeley. #shattuck #berkeley #yourenotdoingitright

— Good Luck Jonathan (@jdscranton) December 8, 2014
Crowd protesting downtown #Berkeley, some elements breaking out windows at Radio Shack, Shattuck/Dwight. Traffic heavy, avoid area/

— KTVU (@KTVU) December 8, 2014
Window broken at Radio Shack, people looting #berkeleyprotests

— Jessica Guynn (@jguynn) December 8, 2014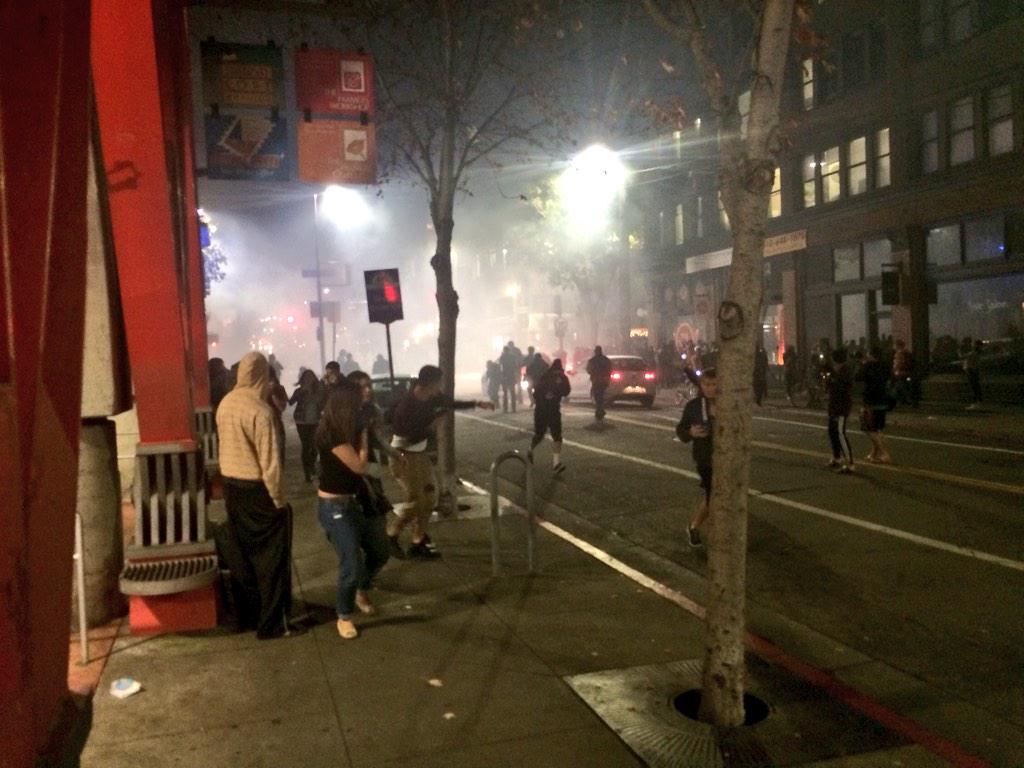 The looting begins in Berkeley and Oakland
Radio Shack is getting a double dip in looting. They were looted last night in Berkeley, and got little if any media coverage. Tonight, the leftist thugs are at it again.
Read more