So now CBS/WRAL is running telethons for ObamaCARE? Raleigh is basically the San Francisco of North Carolina, but this is beyond ridiculous. CBS WRAL even offered bilingual ObamaCARE navigators for Spanish speaking people. Does North Carolina have that many Latinos?
With the deadline for enrollment fast approaching, Raleigh's WRAL brought in 27 Obamacare "experts" — including navigators, certified application counselors, and marketplace-savvy insurance agents – to answer callers' questions from noon until seven in the evening. WRAL's news broadcast also cut into its normal coverage to advertise the experts and the number to reach them.

"For 1.3 million North Carolinians who are currently uninsured now is the time to think about getting coverage," Renee Chou, a WRAL reporter explained, while standing in front of people answering phones. "More than 160,000 people in our state have already enrolled in the marketplace as of January. Ninety percent — get this — 90 percent qualified for subsidized premiums and only the right plans sold on the marketplace offer lower premiums based on household size and income."

"See if you can qualify for a subsidy by calling 919-744-3861 or 1-800-424-WRAL," she said.
In addition to the phone bank, WRAL has been offering an entire resource center for the ACA, including tutorials about the benefits of Obamacare coverage and an online questions and answer session with an Obamacare marketplace agent named Tony Gutierrez.

Read more: http://dailycaller.com/2014/03/05/local-news-station-opens-phone-lines-for-7-hours-to-obamacare-navigators-video/#ixzz2v7o967Aq
Read more: /#ixzz2v7nufyFB
Just as expected, the media is covering Obama's ass during the Ukraine crisis as Obama becomes a laughing stock not only in this country but all around the world. Obama's foreign policy of of the late 1970′s is Jimmy Carter on steroids. Robert Stacey McCain exposes the media Obama licking as yet again they try to save his ass.
Read more
Ellen DeGeneres Oscar selfie is going for a retweet record on Twitter.
If only Bradley's arm was longer. Best photo ever. #oscars pic.twitter.com/C9U5NOtGap

— Ellen DeGeneres (@TheEllenShow) March 3, 2014
ABC decided to add a picture of Barack Obama hugging Michelle Obama as a part of the Ellen DeGeneres Oscar selfie, as they hype the tweet for a 'retweet record.' It's actually kind of cute that ABC wants to use the 'Four more years' tweet from 2012 (the previous record holder). Funny, though, if there's a new retweet record coming, don't you think you should show the Ellen tweet as the big picture? Talk about state run media!
How many retweets does this @TheEllenShow tweet need to beat the world record? She's close. https://t.co/JmqhCfXH3w pic.twitter.com/if5JBCVrz2

— ABC News (@ABC) March 3, 2014
How many retweets does this @TheEllenShow tweet need to beat the world record? She's close. https://t.co/54RpuTaF6d pic.twitter.com/HxGmpkmdd4

— Good Morning America (@GMA) March 3, 2014
John Kerry made time for four Sunday news shows today. Unsurprisingly, they were all Obama/liberal friendly. Kerry appeared on ABC, CBS, CNN and of course NBC. But Lurch Kerry refused to appear on Fox News Sunday, in yet another FU from the Obama regime to Fox News. This despite Bill O'Reilly's constant Obama ass kissing, and letting Valerie Jarrett spew her crap last week.
John Kerry refuses to appear on Fox News Sunday even after all of Bill O'Reilly's Obama ass kissing
Of course Lurch may have done Fox News Sunday viewers a big favor. Nothing he said on the four other Democrat propaganda shows amounted to anything but the usual bluster.
Ukrainian protesters are gathering outside to White House to protest Obama's pitiful response to Vlad Putin's invading of their home country. From the White House press pool report: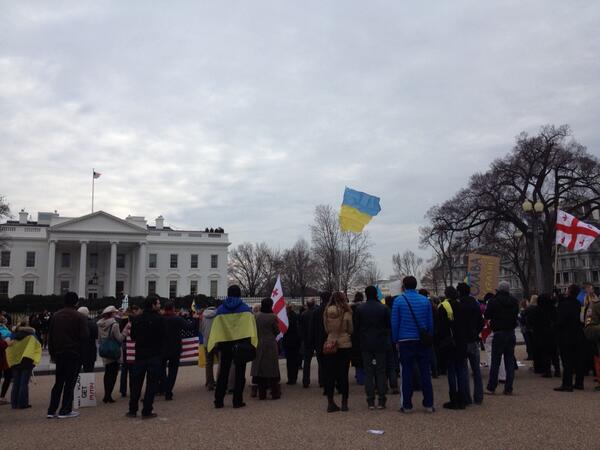 Ukrainian protesters gather in front of White House
small group of Ukrainian protestors gathered in front of the White House around 4pm to call on the US and EU to do more to combat Russian aggression in Crimea.

Ilona Doerfler, a young woman from Kiev who carried the megaphone, urged economic sanctions and a naval blockade. "Nato ships in the Black Sea should organise a non-invasive blockade to stop Russian ships exiting," she said. Asked about the dangers of escalation, she replied: "It's already escalating. It is not about the Ukraine, it's about the integrity of promises to respect territorial sovereignty."

The group of around a dozen protestors said it had assembled spontaneously. Earlier in the day, there were much larger protests outside the White House over Venezuela and Turkey in the same spot.
So many great memories from Andrew Breitbart. One of which was when Andrew Breitbart completely destroyed then MSNBC hack Martin Bashir. Of course we know what happened to Bashir since then. The British leftist hack was forced to resign after talking about defecating in Sarah Palin's mouth. Watch the following video of Andrew Breitbart completely destroying Martin Bashir over the whole Shirley Sherrod media driven fiasco:
Flashback: Andrew Breitbart destroys former MSNBC hack Martin Bashir
Sarah Palin in 2008 said that an Obama Presidency would embolden Vladimir Putin to invade Ukraine. Palin was the butt of all jokes in the media, and of course the now infamous SNL skit with Tina Fey's "I can see Russia from my House." Here is a video of Palin claiming that under an Obama presidency, Russia would invade the Ukraine:
Sarah Palin in 2008 – Obama Presidency would Embolden Putin to Invade Ukraine
The media laughed, leftists smeared, and Obama ignored.
Fast forward four years to 2012 during the third and final presidental debate between Mitt Romney and Obama. Romney said in that debate that Russia was our 'number one geopolitical foe.' Obama arrogantly replied "the Cold War is over.' Seems that someone forgot to tell that to Putin.
Obama to Romney: Cold War is Over
So not only does Obama re-write the wording for Russian invasions and terrorists, but his main propaganda network has brought back Czechoslovakia, a country that hasn't existed since 1992.
MSNBC map has Czechoslovakia, a country that hasn't existed for 22 years
In case you've been asleep or in a coma for the last twenty-two years, Czechoslovakia broke into three countries back in '92. Czechoslovakia js made up of the Czech Republic, Slovakia and Ukraine. NBC gets the redraw maps now and invent countries? Or maybe this is just part of the idiots at MSNBC Common Core education.
MSNBC – the place for dumbasses.
Remember back in December of 2012 when David Gregory of NBC's Meet the Press pulled out a 'high-capacity' magazine and waved it around on camera to make his anti-gun rights point? Even though the magazine was empty, Gregory violated DC gun laws. Reportedly, Gregory and NBC even asked DC police if they could use the magazine as a prop on Meet the Press, and they were denied, but that didn't stop them from using it anyway. As is typical, nothing happened to David Gregory for violating the law because he's not a commoner like us. Legal Insurrection has filed a FOIA suit against the Distric of Columbia seeking records related to the non-prosecution of David Gregory and NBC News. NBC tried to file a motion to dismiss Legal Insurrection's FOIA request, and were denied.
Legal Insurrection FOIA case for David Gregory non-prosecution records can proceed
Don Lemon, the bitter fruit of CNN finally let the cat out of the bag. The media refuses to criticize Obama over all of his failures for one reason. His skin color. Lemon said it point blank today:
"As a journalist, you weigh how much you should criticize the president because he's black."
So it's not only liberal media bias, it's also racial media bias. Despite the fact Obama is half white, and an epic failure in the mold of Jimmy Carter, you can't criticize him simply because he's half black.
This is of course complete and utter BS. If a president is a failure, no matter what his or her skin color, he needs to be criticized by what used to be the 'watchdog' media. It's also hypocritical. Do you think for one second that if a black conservative like Allen West or Tim Scott became POTUS that the media wouldn't pound them when they screwed up simply because of their skin color? Of course they would hammer a black conservative if they ever became POTUS. In fact, it would be far worse than any white Republican has ever seen, even worse than when Dubya was president.
I'll try to translate Lemon and the media for you. You can't criticize a Democrat president for their screw ups. If that POTUS is of another race other than white, you really can't criticize them.
Just as expect Bill O'Reilly had a softball, fawning interview with the current 'real' POTUS Valerie Jarrett. O'Reilly who always like to claim 'he's looking out for the 'folks.' He had a chance to challenge Jarrett over Obama's abuse of power via executive orders. Jarrett didn't hide anything. She said it right to O'Reilly's face that Obama will bypass Congress whenever he sees fit. Yet, O'Reilly acted like a coward and didn't once challenge Valerie Jarrett over Obama's abuse of power. Instead, most of the interview was about O'Reilly and Obama's lovefest at the White House earlier today. Apparently, O'Reilly really think's this 'My Brother's Keeper' schtick that Obama bloaviated about today is actually going to work.
Coward Bill O'Reilly fails to challenge Valerie Jarrett over Obama's abuse of power
Obama went out of his way to praise Bill O'Reilly at his My Brother's Keeper propaganda event. No wonder bill O'Reilly has gone out of his way lately to praise Obama, calling him a 'patriot' who 'loves America.' All of the gasbag O'Reilly bluster about Al Sharpton was just for show too as the two attended, and were praised by Obama at the 'My Brother's Keeper' event. This is yet another way for the Obama regime to discriminate against whitey. The My Brother's Keeper initiative is aimed at 'young men of color' aka not whites, and certainly not 'white-Hispanics.' Valerie Jarrett is going to be the O'Factor tonight. More propaganda for the Obama regime to get out to 3 million people.
The remains that under Obama's reign of terrorist, all minority groups have fared worse under Obama than any other president in american history. Yet somehow, blooter Bill O'Reilly thinks Obama is helping young minorities.
Soon they are going to have to change the name of the O'Reilly Factor to the Obama Factor. At this point, Bill O'Reilly is basically turning into Chris Matthews for his love of Obama and Sharpton. I guess gasbag BillO doesn't mind being used as a political prop.
Read more