Ellen DeGeneres Oscar selfie is going for a retweet record on Twitter.
If only Bradley's arm was longer. Best photo ever. #oscars pic.twitter.com/C9U5NOtGap

— Ellen DeGeneres (@TheEllenShow) March 3, 2014
ABC decided to add a picture of Barack Obama hugging Michelle Obama as a part of the Ellen DeGeneres Oscar selfie, as they hype the tweet for a 'retweet record.' It's actually kind of cute that ABC wants to use the 'Four more years' tweet from 2012 (the previous record holder). Funny, though, if there's a new retweet record coming, don't you think you should show the Ellen tweet as the big picture? Talk about state run media!
How many retweets does this @TheEllenShow tweet need to beat the world record? She's close. https://t.co/JmqhCfXH3w pic.twitter.com/if5JBCVrz2

— ABC News (@ABC) March 3, 2014
How many retweets does this @TheEllenShow tweet need to beat the world record? She's close. https://t.co/54RpuTaF6d pic.twitter.com/HxGmpkmdd4

— Good Morning America (@GMA) March 3, 2014
Donna Brazile is a far left, racial hustling progressive liberal who always appears on CNN and ABC. Today, her mask slipped off and she wants Obama to go full dictator mode.
.@BarackObama. Enjoy #PresidentsDay. With Congress on recess, this is action day! Let's move America forward.

— Donna Brazile (@donnabrazile) February 17, 2014
Sorry Donna. This is still America. We don't have Kings or dictators. I'm sure you'd like Obama to be dictator, but it don't work that way. Donna Brazile is just another fine example as to why the media in America is a joke. Activist progressives like Donna Brazile should stick to ginning up fake racial tension, or the phony war on women.
If you don't like how the political system is set up in this country, I suggest you move to Cuba, Venezuela, or North Korea.
ABC displayed their own brand of progressive liberal 'humor' when Jon Karl went on a rant about Ted Cruz's popularity among establishment Republicans. According to Karl, Ted Cruz is so hated by establishment Republicans that 'he's going to need a food taster' or something. Is ABC and Jon Karl suggestion someone should poison Ted Cruz? If Ted Cruz is that unpopular among establishment RINO hacks like John McCain, Mitch McConnell and John Cornyn, then he must be doing something right. Watch the following video:
ABC humor: Ted Cruz is so unpopular he's going to need a food taster
As you watch the video, listen to Bill Clinton lackey George Stephanopoulos chuckle in the background. Apparently, ABC progressive humor now includes jokes about poisoning people they don't agree with politically.
Imagine for one split second, if Fox News joked about Obama's policies being so unpopular, that he may need a food taster. All hell would break loose in the corrupt media, lead by ABC calling Fox News racist and saying that Fox News is suggesting someone assassinate Obama. But since it's Ted Cruz, it's funny to ABC and the eggheads at the network. Making jokes about killing Ted Cruz is considering ABC's progressive humor.
Apparently the media isn't done stalking Mitt Romney. Even though the election was in 2012, the corrupt media (ABC's Liz Kreutz) is still stalking Mitt Romney and his wife Ann Romney. Kreutz followed them around in New York, then claimed the Romney family 'scuffled' into the Mormon Church. Oh my God! They went into a Mormon church and a Sunday! How dare they!
Just followed behind MITT and Ann Romney up Columbus Ave

— Liz Kreutz (@Liz_Kreutz) February 2, 2014
Just followed behind MITT and Ann Romney up Columbus Ave

— Liz Kreutz (@Liz_Kreutz) February 2, 2014
After a few blocks they quickly scuffled into the Mormon Church at 64th pic.twitter.com/06i0xdJw7q

— Liz Kreutz (@Liz_Kreutz) February 2, 2014
Robert Zimmerman Jr, brother of George Zimmerman was getting trolled by ABC leftist hack Matt Gutman. The ABC hack called Robert Zimmerman a 'hypocritical douchebag' because Gutman got fooled by a fake, parody George Zimmerman twitter account. The Zimmerman family still lives rent free in the heads of crazy media leftist hacks like Matt Gutman.
.@mattgutmanABC @TherealGeorgeZ is my brother, @GunTotinGeorge is NOT. Remember your words 2 me last time U were confused by a parody acct?

— Robert Zimmerman JR (@rzimmermanjr) January 31, 2014
The ABC POS who called Robert Zimmerman a hypocritical douchebag did what all leftists do when they get owned. He deleted it, but a screen shot is still available.
.@ChuckGLP @mattgutmanABC @ABC "opportunistic, hypocritical douchebag"-Speaking of #classy: See attached & back off. pic.twitter.com/draBd9y81P

— Robert Zimmerman JR (@rzimmermanjr) January 31, 2014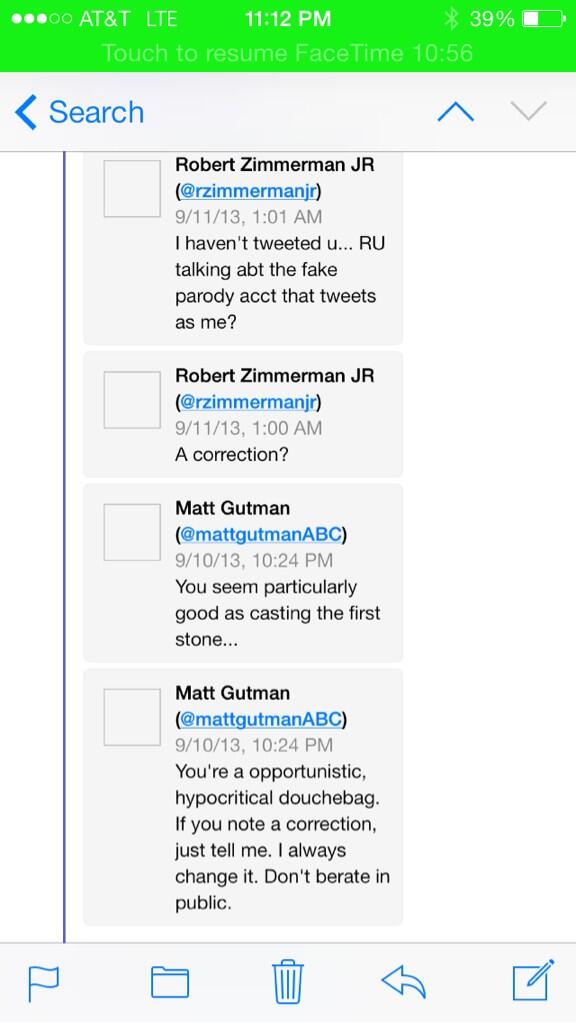 ABC's Matt Gutman calls Robert Zimmerman Jr douchebag after falling for parody Twitter account post
About 150 employees at St. Anthony'S Hospital in Houston haven't been paid in over a month, which includes Christmas, all thanks to ObamaCARE. The biased ABC Houston report claims 'dozens' of employees weren't paid when the actual total was 150.
Robin Roberts is a lesbian! This is about as shocking as Anderson Cooper coming out of the closet as gay. I have no problem with Robin Roberts. Not a fan of her, her being a lesbian wouldn't make me a fan, or dislike her anymore than usual. Roberts has been through a lot this year with her bone marrow transplant. While Robin Roberts is a leftist, and loves Obama simply because the both of them are black, she's really no worse than any other hacks on ABC like George Stephanopoulos or Martha Raddatz.
Read more
A National Boycott against A&E (it their parent networks ABC, Disney and ESPN) have been launched. People are sick and tired of censorship of Christians, and equally as appalling the ignoring of the first amendment of the Constitution. When Phil Robertson made his now 'controversial' statements about gays, he was just quoting the bible, which is what he believes in. He didn't do so on the show (which gets cable rating records) of about 15 million viewers per episode. He did so in an interview with GQ Magazine when he was point blank asked about his opinion on gays. Robertson didn't say all gays will burn in hell or anything, he just stated his stance that he doesn't believe in gay relations. Remember when this was actually allowed in this country? Remember when you could have a different opinion than someone else that wasn't meant to instigate anything, and you could actually get away with it because of your Freedom of Speech rights? That's gone now under the progressive liberal totalitarianism regime. Here's a message to any company that advertises on A&E, or any of the ABC/Disney/ESPN networks. If you continue to sponsor a network that does not believe in Freedom of Speech, then expect to see the boycott go viral and your products left on the shelves by consumers.
ESPN's Kevin Blackistone is a far left hack. He even compared Herman Cain to southern segregationists. Kevin Blackinstone is such a radical progressive liberal, that he doesn't even like our national anthem. In his eyes, the Spangled Banner is nothing more than a 'war anthem' on Around the Horn.
Blackistone is so offended, that the 'war anthem' Star Spangled Banner shouldn't be played before sporting events. ESPN is owned by ABC, so that explains why Blackistone is employed there, and will never be fired.
The Obama regime is losing it over the ObamaCARE meltdown. Propaganda minister Jay Carney became so flustered from a question by ABC's Jon Karl, he resorted to sneering, mocking, yelling, and then claiming 'he gives up.'
Watch: Jay Carney meltdown against ABC hack Jon Karl over ObamaCARE lies
Carney knows he can get away with this. While Karl is the White House corrspondent, this story will probably never see the light of day on ABC, or any other channel outside of Fox News.
Read more
All the bon-bon eating bimbos who make up the audience of The View haven't exactly taken a liking the Elisabeth Hasselbeck's replacement Jenny McCarthy. According to Radar Online, people who actually watch The View are turning off every time Jenny McCarthy opens her crazy mouth. Barbara WaWa, the show's creator isn't happy about this, and is reportedly already considering dumping her.
Wah! Rick Klein is another ABC/Obama licking hack who's trying to spew propaganda and protect the Democrats from their government shut down. Rick Klein, the brother of Washington Post leftist hack Erza Klein bemoaned an NRCC post that revealed the Democrats shut down the World War II memorial earlier today. The hashtag #WWIIMemorial is currently the top trending topic on Twitter.
really, NRCC? "Democrats Shut Down WWII Memorial." Really? http://t.co/ygVybUIpc6

— Rick Klein (@rickklein) October 1, 2013
Yes, really Rick Klein. In fact, your Messiah Obama denied these veterans a visit to the World War II memorial. But we don't want to confuse Erza's brother with facts now, do we?
Predictably, conservatives have bashed Erza's brother on Twitter. What was Klein's response? 'Spare me.'
@lansing spare me.

— Rick Klein (@rickklein) October 1, 2013
Erza needs to bring his little brother a box of Kleenex.