Obama's million dollar big Bill Maher is whining again. After the Boston Redsox won the World Series, and fans sung God Bless America and chanted 'USA USA USA' Pig Maher was offended. Boston fans of course are still recovering from the April Muslim terrorist attacks.
Pig Maher whines about Red Sox fans chanting USA USA USA
Boston is a progressive liberal city, and a progressive liberal state. I wonder what they think of Pig Maher feeling offended? Communist progressives are very much like Pig Maher.
Read more
Anthony Weiner continues to try and audition for a TV job now that his political career is officially dead. Weiner the putz went on another putz's show Bill Maher. The two misogynist pigs tried their best to spin and defend ObamaCARE. Maher and Weiner were their typical self's, pulling out the Bush card as a way to defend ObamaCARE.
Anthony Weiner and Bill Maher try to defend ObamaCARE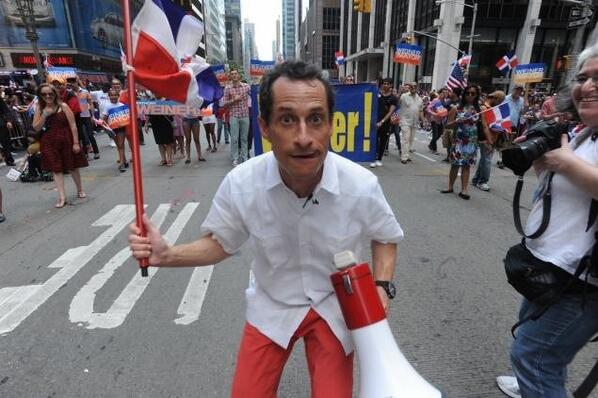 Anthony Weiner
Weiner would be a great sidekick to Pig Maher. They are both obnoxious, misogynistic progressive liberal extremist assholes.
Maybe HBO will give Weiner a show. They could call it the Carlos Danger Power Hour or something.
Ok, I'm a little scared now. I actually agree with Obama's million dollar pig Bill Maher over something! He actually had some balls to softly bash Islam on his lame show yesterday and leftists who continue to make excuses for it. Of course Maher didn't bash Islam without getting some digs in claiming that somehow that Muslim countries were 'conservative.' Muslim countries are far from conservative. They control what their people do, who they are allowed to worship, decide to who can drive and who can't, and are involved in every part of one's life. Does that sound conservative? No, it sounds like a progressive American Democrat. Conservatives (not Karl Rove Republicans) want government out of people's lives, Democrats want people involved at every point one someone's life. Tell me again how 'conservative' Saudi Arabia and other Muslim countries are.
Self proclaimed 'comedian' Bill Maher is back to joking about Sarah Palin's down syndrome son Trig Palin. That's was passes as comedy for a liberal. Bill Maher donated one million dollars to Obama's campaign was year, supports Bradley Manning, and doesn't support Edward Snowden. Pig Maher told his 'joke' in Las Vegas during one of his stand up routines. After the show, someone named Ron Futrell started heckling Maher over the 'retard' Palin joke and a reference to Halliburton. Ron Futrell was kicked out of the Pearl Theater in Las Vegas on June 8. Today, once news of Pig Maher's 'retard' jokes about Sarah Palin's special needs child spread, she came out swinging on Twitter:
I'm in your neck of the woods this weekend, little Bill. Care to meet so I can tell you how I really feel? shar.es/wLpR6

— Sarah Palin (@SarahPalinUSA) June 13, 2013
Hey bully, on behalf of all kids whom you hatefully mock in order to make yourself feel big, I hope one flattens your lily white wimpy a#*.

— Sarah Palin (@SarahPalinUSA) June 13, 2013
Of course Sarah Palin is right. The little lily white wimpy ass Bill Maher wouldn't meet directly with Palin and say that crap to her face.
Read more
Leave it to Obama's million dollar pig Bill Maher to whine about America's 'overreaction' to Muslim terrorism. Only in America could a talentless, crass pig like Bill Maher makes millions of dollars of rubes, then whine about them.
"C'mon, this is the U.S.A., we're pretty good at putting people in prison, We have a higher incarceration rate than Iran or China, or for that matter every other country on Earth."

"We're also pretty good at executing people. Ninety percent of the countries in the world don't," he said, "but we do. So, yes, I'm afraid little Dzhokhar f*cked with the wrong peace-loving Christian people."
This is just priceless. Bill Maher again went on one of his anti-gun anti-Second Amendment rants again, calling Americans 'morons' and 'complete idiots.' Then Maher went on the blame Senate 'gerrymandering' for no gun control bill. Yes, Senate gerrymandering is the reason why there has been no gun grab bill. Who knew, someone as 'brilliant' as Bill Maher knows something I never knew. They gerrymander the Senate! Of course, this was complete and utter BS, and Maher was corrected by a guest. Watch the following video, and watch Maher-tard's facial expression after being corrected by his guest on the topic of senate gerrymandering. Maher' facial expression is priceless.
But, don't all you evil rich people have to 'pay your fair share' or something? Suddenly, Obama's million dollar pig Bill Maher doesn't like paying his fair share. Since he gets paid millions of dollars per year to spew what some people actually call comedy, he is in California's highest tax bracket. Between the federal taxes and state taxes, this mean Mahertarded pays over 50% of his 'earnings' in taxes. Poor little piggie Maher doesn't like that though and whined on his show about how California 'may lose him' if they continue with their tax jihad. Hey Maher, if you are looking to leave California, I bet you'd feel right at home in Colorado these days.
Read more
You know something? I really love Twitchy. It never misses a beat when idiot leftists so called 'celebrities' make asses of themselves, regardless if its behind a keyboard or phone on Twitter, or in the general public. Here is Obama's million dollar pig Bill Maher calling Americans stupid again. Actually, it's stupid American who 'thing' God cares about the Super Bowl or something. I'm assuming the dimwit meant 'think' but when you are a stupid American like Bill Maher, who the hell knows.
Read more
Oh wait. I get it. Pig Bill Maher is a 'comedian' so making racist jokes like telling Obama to become an 'angry black man' is all cool.  But should any conservative 'comedian' utter the same statement, he'd be forced out of his 'comedic' gig, be 'blacklisted' in the entertainment industry, and would have the news going 24/7 like they are with Gen. Petraeus' sex scandal.
Read more
If Mitt Romney is too 'white' to be president, then doesn't that mean piggy boy Bill Maher is too white to have a 'comedy' show on HBO? Just imagine if you will if any so called 'comedian' asked if Obama is too 'black' to be president. Yea, you get the point. If progressive liberal Democrats like Bill Maher didn't have double standards, they wouldn't have any standards at all.
Read more
Ever hear the phrase 'A fool and his money are soon parted?' In Bill Maher's case, it's a jackass and his money are soon parted. Poor piggy Maher was so distressed at Obama's Denver debate performance that he went on a sort of mini rant to open his lame show on Friday. Pig boy Maher said:
"It looks like he took my million and spent it all on weed"
You can watch the video of Maher's whining if you want. Be forewarned, that the as is typical for pig Maher, there's a lot of profanity, If that bothers you, then you probably shouldn't watch.
Read more
Wow, so Obama's million dollar pig Bill Maher  thinks most Muslims are radical extremists who want to kill someone if they insult the Prophet? Is this what passes as standards for Obama donors like Bill Maher  branding an entire religion as extremists? Well, yea it probably is because Christians are branded like this almost on a daily basis. But with tingle leg Chris Matthews appearing on Obama's million dollar pig Bill Maher's show, he still had the nerve to claim that most Muslims think it's ok to kill someone if the prophet Mohamed is insulted.' Most Muslims? Please. There's a significant chunk of them in those third world cesspools (and maybe Dearborn, Michigan), but I'd hardly brand 'most Muslims' this way. So umm, CAIR, where are you to denounce the thrill up his leg bashing Muslims?
Read more