Ah yes. Laura Dimon. Another white trash liberal with white guilt. Laura Dimon is with both CBS and the New York Daily News. Her Twitter profile describes her as:
Investigations @InsideEdition (CBS). Past: @NYDailyNews, Columbia Graduate School of Journalism '13. Send tips to laura.a.dimon[at]gmail[dot]com.
She's mad and hates the country now because the cop that killed Eric Garner will not be charged by a grand jury. Her tweets read like a typical white guilty progressive liberal.
Didn't think I could be any more disappointed with my country's criminal justice system. I was wrong. #EricGarner

— Laura Dimon (@LauraDimon) December 3, 2014
So with #MichaelBrown, we didn't have video. No indictment. #EricGarner, we have horrific video. Still no indictment. What will it take?

— Laura Dimon (@LauraDimon) December 3, 2014
Staten Island has never been worse. #EricGarner

— Laura Dimon (@LauraDimon) December 3, 2014
Cop cleared in #EricGarner case. You've got to be fucking kidding me.

— Laura Dimon (@LauraDimon) December 3, 2014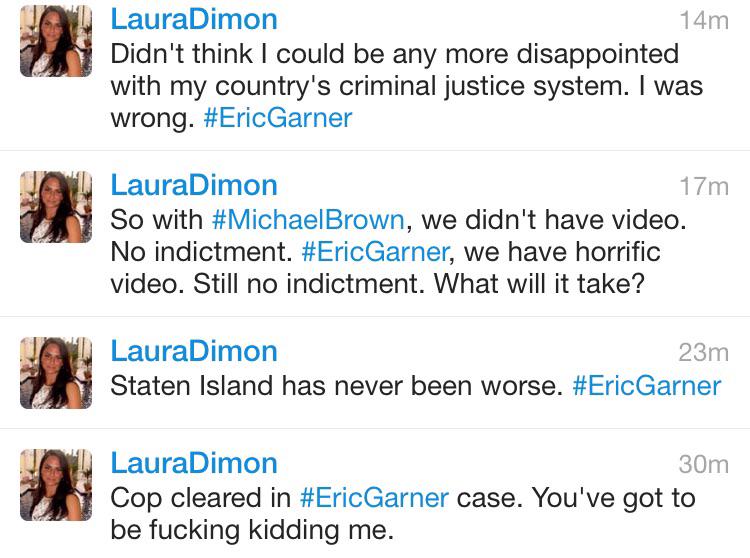 'Impartial' CBS hack Laura Dimon reacts to Eric Garner
Because you know, the pasty white Laura Dimon has been such a victim of cops, and racism herself, she's really mad that Eric Garner's killer wouldn't be charged.
Read more
Jason La Canfora decided to tweet and delete Arbeit Macht Frei. That's a Nazi slogan which means "work makes you free." Signs with this phrase were on signs at Auschwitz camps too. Arbeit Macht Frei is the title of The Libertines' song but is best known for having been placed over the entrances to numerous Nazi concentration camps during World War II. Well done CBS and Jason La Canfora. Your Nazi mask slips off yet again as you reveal what your entire organization is all about. Below is a picture of La Confore's Nazi tweet of Arbeit Macht Frei before he deleted it:
CBS now tweeting Nazi slogans Arbeit Macht Frei
Be proud CBS and Jason La Canfora. You just revealed once again what your true feelings are.
More than two years after the Benghazi terrorist attacks and the presidential elections, it's now coming out that CBS intentionally hid a clip from an Obama interview with 60 minutes refusing to call the Benghazi attack an act of terrorism. It's not hard to understand why. The Obama regime is well connected with CBS. One of Obama's main advisers is Ben Rhodes, who just so happens to be the brother of David Rhodes. He is the president of CBS News. Nice connections there Barry. Just another fine example about how corrupt the media in the country really is.
CBS intentionally hid 60 minutes clip of Obama refusing to admit Benghazi was a terrorist attack
Former CIA directory (and part of the Benghazi cover-up) went to work for Ben Rhodes' brother at CBS. David RHodes is the brother of 'big Ben' and president of CBS News. Need any other reasons why CBS has ignored the latest e-mail released about the Benghazi cover-up? Surely there isn't a conflict of interest there right? Need another reason why Sharyl Attkinson left CBS?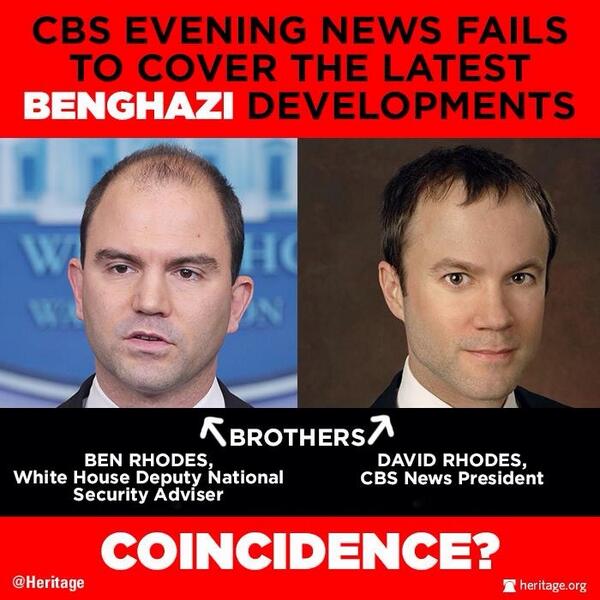 Former CIA director Mike Morell went to work for Ben Rhodes' brother at CBS
Emails sent by senior Obama adviser Ben Rhodes to other top regime officials reveal an effort to insulate Obama from the attacks on Benghazi that killed four Americans, and to blame the Youtube video as an excuse. Ben Rhodes also just happens to be the brother of CBS News president David Rhodes. Sharyl Attkisson was recently forced out of CBS for having the audacity for doing investigations into things like Benghazi, Fast and Furious, etc.
E-mails show regime worked a coordinated effort to blame Benghazi on video, insulate Obama
Stephen Colbert proves yet again there really is white privilege in this country. If you are a racist, progressive liberal Democrat like Stephen Colbert you get rewarded with a multi million dollar contract from CBS to host the Late Show once the horny old pervert David Letterman retires in 2015. CBS will be full of anti-Asian jokes once Colbert takes over for Letterman. I guess this is a decent consolation prize after Stephen Colbert's sister got destroyed in her run for Congress.
Stephen Colbert rewarded for his racism, hired by CBS to replace David Letterman
CBS' top choice to replace the misogynist David Letterman is none other than racist assclown Stephen Colbert. According to Mashable, the job is Colbert's if he's up to it. I can count two times I've ever found Colbert funny. Once was when he interviewed some Occupy Wall Street morons, including someone named 'Ketchup.' The other was when he did his Ham Rove skit.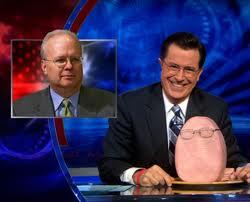 Stephen Colbert is CBS' top choice to replace the retiring David Letterman, and has indicated that he's willing to take over the Late Show when the time comes, people familiar with both sides of the discussions tell Mashable.

Colbert has not had any formal contract discussions with CBS, and no agreement is in place, but sources tell Mashable that he first engaged with network executives while Letterman was still mulling the timing of his retirement. Though CBS has had conversations with other candidates, including Colbert's Comedy Central counterpart Jon Stewart, individuals with knowledge of the situation say Colbert is currently the front-and-center candidate.

Colbert's contract to host The Colbert Report on Comedy Central runs through the end of 2014, which would free him up in time to move over to CBS when Letterman ends his 33-year run in late-night TV. Letterman left the exact date of his departure vague while announcing his retirement plans on Thursday.

Other names that have come up in discussions for Letterman's replacement have included Neil Patrick Harris, who just finished up How I Met Your Mother on CBS, and Craig Ferguson, who comes on after The Late Show With David Letterman. Harris could remain a wild card, but Ferguson, though well-liked by the network in his later slot on The Late Late Show With Craig Ferguson, has never been seen as the heir apparent.
Chelsea Handler is supposedly in talks with cBS to replace old, crusty pervert David Letterman next year. If this is the best CBS can come up with to replace the old coot, then they are really in trouble. For instance, Conan O'Brien's contract with TBS is up in 2015. Jay Leno is a free agent. So CBS is going for Chelsea Handler? Yawn. Late night comedy just isn't the same since Johnny Carson left. Chelsea Handler will leave E! in December. I guess it would be ironic though, a woman replacing a womanizer like Letterman.
Chelsea Handler to replace David Letterman next year?
Sharyl Attkisson has resigned from CBS with no reason given. You could probably figure it out and put two and two together. Sharyl Attkisson was one of the few real journalists that CBS had. She covered stories fairly, without any hint of leftist bias. Sharyl Attkisson also strongly pursued the Benghazi story (and still does) much to the chagrin of CBS.
I have resigned from CBS.

— Sharyl Attkisson (@SharylAttkisson) March 10, 2014
No details were given about Attkisson's resigination. It seems odd just out of the blue like this. Is CBS trying to censor something that she discovered on Benghazi? Who knows. Hopefully Fox News picks her up.
One has to wonder if CBS pushed her out the door and forced her resignation because of her revealing stories about Obama. Hopefully, we'll learn more about this soon.
So now CBS/WRAL is running telethons for ObamaCARE? Raleigh is basically the San Francisco of North Carolina, but this is beyond ridiculous. CBS WRAL even offered bilingual ObamaCARE navigators for Spanish speaking people. Does North Carolina have that many Latinos?
With the deadline for enrollment fast approaching, Raleigh's WRAL brought in 27 Obamacare "experts" — including navigators, certified application counselors, and marketplace-savvy insurance agents – to answer callers' questions from noon until seven in the evening. WRAL's news broadcast also cut into its normal coverage to advertise the experts and the number to reach them.

"For 1.3 million North Carolinians who are currently uninsured now is the time to think about getting coverage," Renee Chou, a WRAL reporter explained, while standing in front of people answering phones. "More than 160,000 people in our state have already enrolled in the marketplace as of January. Ninety percent — get this — 90 percent qualified for subsidized premiums and only the right plans sold on the marketplace offer lower premiums based on household size and income."

"See if you can qualify for a subsidy by calling 919-744-3861 or 1-800-424-WRAL," she said.
In addition to the phone bank, WRAL has been offering an entire resource center for the ACA, including tutorials about the benefits of Obamacare coverage and an online questions and answer session with an Obamacare marketplace agent named Tony Gutierrez.

Read more: http://dailycaller.com/2014/03/05/local-news-station-opens-phone-lines-for-7-hours-to-obamacare-navigators-video/#ixzz2v7o967Aq
Read more: /#ixzz2v7nufyFB