Anti-Semitic CNN hack Diana Magnay who called Jews/Israelis scum yesterday in a deleted tweet for cheering on Israel's ground operation against Hamas terrorists has been reassigned to Russia. Magnay, the anti-Semitic hack tweeted, then deleted calling these people 'scum.' After photos of her deleted tweet went viral, CNN went into damage control and assigned her to cover Russia instead. A much better fir for this Anti-Semitic hag.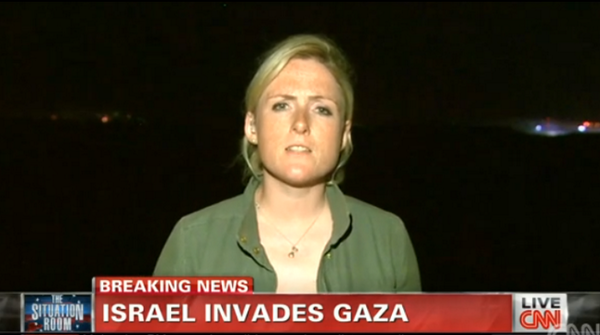 Anti-Semitic CNN hack reassigned to Russia
This is CNN. Diana Magnay, I guess one of their hack reporters is covering the Israeli ground invasion into Gaza to take out Hamas tunnels. While reporting on the offensive, CNN's Diana Magnay tweeted, then deleted the following (calling Israelis,Jews scum):
CNN Diana Magnay tweets/deletes callings Jews 'scum'
And the Jew hating progressive liberal media continues their offensive. I wonder how Wolf Blitzer feels about his anti-Semitic network now?
I'll admit it, I don't know much about Diana Magnay, but this tweet that she cowardly deleted says a whole lot about here, and CNN as an organization.
Funny too how progressive liberals, anti-Semites whine about Israelis cheering on their country after being bombarded with hundreds of missiels from Hamas. These same leftist POS don't say a word when Muslim terrorists like Palestinians cheer on the deaths of Americans and Jews. Remember 9/11 when Palestinian handed out candy and cheered as the WTC towers came crashing down?
Read more
CNN has a message to white gay people. Stop stealing from female black culture.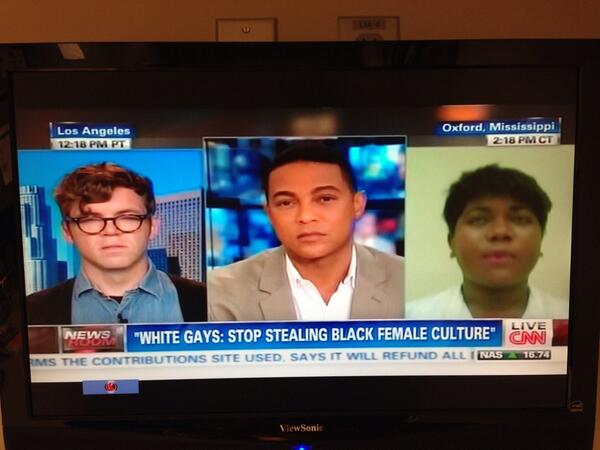 CNN to white gays: Stop stealing black female culture
This is CNN.
CNN's main loon, Ashleigh Banfield (a Canadian BTW) had a meltdown on air about anti-amnesty protesters in Murrieta, CA. This is CNN:
"For any you out there about to tweet me saying that I think immigration is just fine, and they should all be let over the border, stop right there. That's not what this is about. If you've ever been in a war zone, and I have, and I have seen refugees pouring over borders, half their families murdered, the other half tortured, they're running for their lives, many of them women and children, it is devastating. It's devastating. And God help if you're ever in need of help and you show up and there's a bus telling you to get out. This is America. Just read what we're about. Just, just read."
Yea, because you know that war-zone in Winnipeg with all those refugees fleeing the Canadian government to get the America has been especially bloody and brutal right Ashleigh?
CNN tried (and failed miserably) with a pro-amnesty show tonight called 'Documented.' The story revolved mostly around illegal alien Jose Antonio Vargas who is used by the media to pimp amnesty. Vargas has repeatedly been on Fox News spewing his amnesty crap, so it's not limited to just CNN. But CNN wanted their 20 or so viewers tonight to know one thing. Not all illegals are Mexicans. Wow really CNN? Nice stereotyping there.
"Not everyone who is undocumented is Mexican." Get the facts at the #Documented film website, http://t.co/sKFWY7pfx9

— CNN (@CNN) June 30, 2014
CNN wants you to know that not all illegals are Mexican
The idiots at CNN have their heads up their asses as usual. The border crisis right now isn't from Mexicans. It's mostly of people from El Salvador and Guatemala, aka NOT Mexico.
This is CNN.
Read more
Back in the 1990′s, CNN was often called Clinton News Network. Of course back then I was more liberal but didn't care much for politics. Then I grew up and actually was able to think for myself, and became conservative. Since the start of the century, CNN has been bleeding viewers year by year to the point where a good day for them is if they beat low rated MSNBC. CNN is so desperate for viewers that they've tried everything. They hired hack Jake Tapper who some conservatives actually think is a fair reporter. They dumped Piers Morgan and rotate shows in and out of the time slot against Megyn Kelly's Kelly File. Now, they are going full Clinton News Network and giving Killary Klinton free air time with a 'town hall' event next Tuesday for her book and upcoming run for president. How pitiful. Good thing is no one will see it since it's on CNN.
IS THIS YOUR: JOKE FOR A DAY? > @danmericaCNN: @HillaryClinton to take part in live CNN town hall http://t.co/rlVSCwydXI

— ROCKWITHBECK (@ROCKWITHBECK) June 3, 2014
The CNN-Hillary Clinton town hall lovefest on CNN will be moderated by ABC reject Christiane Amanpour. Grab your barf bags.
When are you not only failing as a cable news network, but also your brand is the dumper, what does CNN do? Release an article on their website wondering why Hispanics idnetify as 'white?' I suppose this is from when the media called George Zimmerman a 'white-Hispanic' as CNN and other leftist networks tried to drum up racial tension. This is CNN:
CNN wonders why are Hispanics identifying as white?
How desperate is the corrupt left wing media to indoctrinate people on gun control? Let's take a look at what CNN is doing with their latest poll asking if America needs 'stricter' gun laws. The first problem with CNN's polling is that nowhere on the American page is the poll question being asked. Instead, the poll was put on the CNN International page, asking a bunch of Eurotrash if they think America's gun laws need to be stricter. Am I supposed to really give a damn what the Euros think about our gun laws?
Secondly, according to BuzzPo, those users who try and vote no on CNN's poll aren't even getting their votes counted.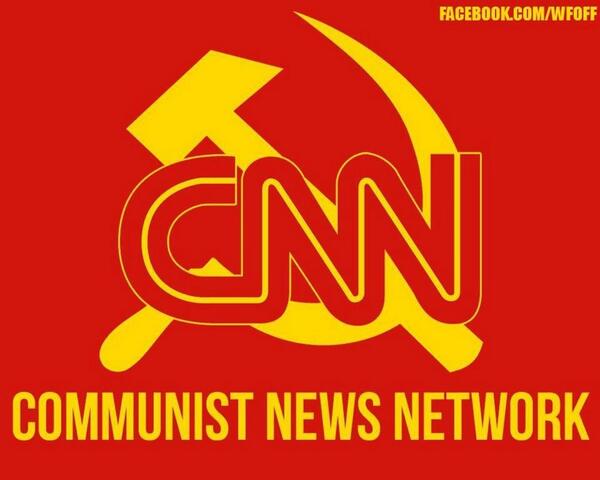 CNN caught sabotaging gun control poll
The second major issue, is that many "No" votes are not being tallied. This was originally brought to attention by "The Truth About Guns" Facebook page. I initially had my doubts, so I began voting "No" from several different computers and mobile devices. Sure enough, the fans from "The Truth About Guns" are right on the money! Many of the "No" votes are not being counted!
Yes, after the Isla Vista shooting, stabbing and car running over the left has revived the gun control debate, and the corrupt media is giddy to help.
Poor little Anderson Cooper. No one watches him on CNN and someone took his picture. Now Andy is all hot and bothered by someone named Larissa Ione who took a selfie on a flight from New Orleans that caught Anderson Cooper Vanderbilt apparently sleeping.
.@LarissaIone nothing better than sitting across from people snapping pictures who then ask me to pose for a selfie with them. Stay classy

— Anderson Cooper (@andersoncooper) May 19, 2014
I don't who Larissa Ione is, but this is the selfie she took on the plane:
Anderson Cooper throws tantrum on Twitter over photo snapped by Larissa Ione
Ione even apologized on Twitter for 'bothering' Anderson Cooper, but that wasn't enough for the snotty, CNN hack:
@dogmom27 I'm happy to pose for a pic with anyone, just ask. don't sit there taking pics thinking I don't see you. And not when I'm asleep

— Anderson Cooper (@andersoncooper) May 19, 2014
@LarissaIone while I was sleeping?

— Anderson Cooper (@andersoncooper) May 19, 2014
Poor little Anderson Cooper. Makes millions of dollars while sucking up to Democrats and flies first class from New Orleans to New York. Doesn't Anderson Cooper's SOB story just bring a tear to your eye?
Read more
You got to wonder. Did CNN pay Donald Sterling for their 'big, exclusive' interview with Anderson Cooper tomorrow? CNN is sure hyping the interview with the racist Democrat donor. Donald Sterling is reportedly going to apologize for his racism (as if that will help.) Their ratings are in the toilet, have been going down, down down over the past several years, so why would Sterling choose to go with CNN and Anderson Cooper if he wants to claim he was set up? No one will see it live basically. Maybe CNN didn't pay Sterling. Maybe he just feels comfortable around his progressive liberal like-minded pals at CNN. All I know is Donald Sterling has always been hated in Los Angeles. This whole racism charade is just the icing on the cake.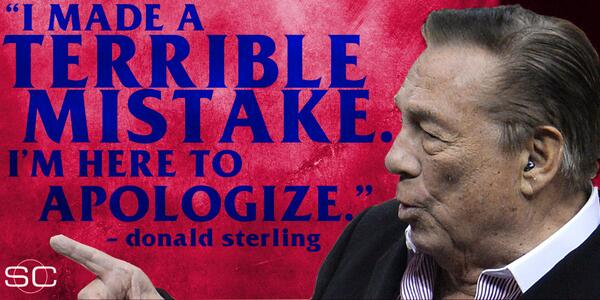 How much did CNN pay Donald Sterling for the Anderson Cooper interview?