Just how pathetic and desperate for ratings is CNN? They are looking to create a polical game show, with Anderson Cooper as the host. This is not a joke either. CNN Is really exploring this.
Twitchy already came up with aa few ideas for the new CNN game show. My personal favorites are 'To not tell the truth' and:
Let's play #CNNgameshowpitches ! Me first: Who's Smarter Than Wolf Blitzer? https://t.co/XIsMqnoZtT

— Michelle Malkin (@michellemalkin) January 21, 2015
#CNNgameshowpitches The $18,100,000,000,000 Pyramid Scheme

— Howard Roark Laughed (@Major_Skidmark) January 21, 2015
What's My Lie? #CNNgameshowpitches

— Nels (@debitking) January 21, 2015
Are You Smarter Than a Don Lemon? #CNNgameshowpitches pic.twitter.com/XIwhC2JF4V

— IMZ (@IMZ_Politics) January 22, 2015
and…
#CNNgameshowpitches CNN Biggest Loser pic.twitter.com/4IvaaZRIyU

— Scott (@m4zdaman) January 22, 2015
Pathetic! CNN looking to do a game show
The stupid of the RNC just burns. Wolf Blitzer will moderate a GOP primary debate on CNN in September, December and even March of 2016. That's three CNN Republican primary debates. Reince Pribus and the rest of the Karl Rove hacks at CNN obviously didn't learn their lesson from the 2012 Candy Crowley debacle.
RNC chooses liberal Wolf Blizter to moderate primary debate
If the RNC insists on allowing CNN to do three debates, they should have at least demanded someone who 'appears' moderate, like a Jake Tapper. So many conservatives are fooled by Jake Tapper thinking he's not just some liberal hack, so maybe he would be a better moderator. Wolf Blizter is basically no difference than Candy Crowley, other than about 200 pounds.
Anti Semite Jim Clancy is out at CNN at 34 years of his anti-Jew rhetoric. Clancy, who took to Twitter to basically blame the Jews for the Clarlie Hebdo terrorist attack released closed down his Twitter account in hopes that his antisemitism would just float away without anyone noticing. Too bad for Clancy, a lot of people noticed, and now he's done at CNN. It's ok for all you anti-Jew CNN lovers. CNN still has plenty of anti-Semites at their network, just like Clancy and Iranian Christiane Amanpour.
Veteran CNN anchor Jim Clancy stepped down on Friday, one week after a series of Twitter posts in which he mocked pro-Israel tweeters on a thread discussing the Charlie Hebdo massacre.
Neither CNN nor Jim Clancy gave a reason for his departure, which was reported by AdWeek. Clancy had worked at CNN for 34 years.
I think we all know why Clancy is done at CNN> People saw how anti-Semitic he was and complained to CNN. Here is just one of the tweets from Clancy, blaming the Jews for the Paris terrorist attacks.

Anti semite Jim Clancy out at CNN
CNN leftist cowards are again refusing to show a Charlie Hebdo cover. This time, it's the newest cover from Charlie Hebdo that is set for release on Wednesday. There are three million copies of the new Charlie Hebdo, which will feature all new Mohammed cartoons. CNN's excuse for not showing the new Charlie Hebdo cover is 'sensitivity about Muslim audiences.'
Instead of showing new #CharlieHebdo cover, here's what @CNN's home page looks like: http://t.co/3DVg7n72jK pic.twitter.com/LfN6e6MXzs

— Oliver Darcy (@oliverdarcy) January 13, 2015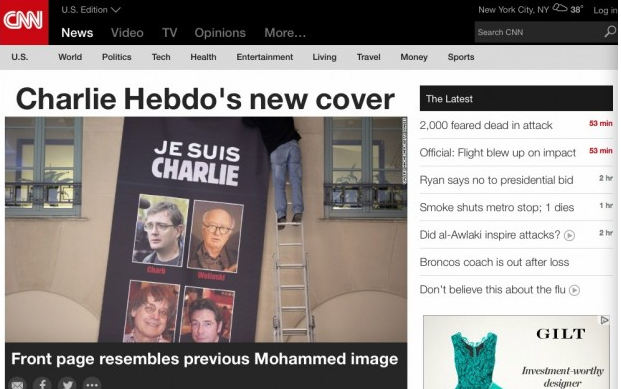 CNN cowards refuse to show new Charlie Hebdo cover
CNN is of course the same network that called the Paris terrorists 'activists.'
.@CNN refuses to show #CharlieHebdo cover over "sensitivity about Muslim audiences." Where was sensitivity for #MalaysiaAirlines families?

— BldyTpcl (@BldyTpcl) January 13, 2015
Maybe I jumped the gun here blaming CNN. It's not just them. NBC, NPR, BBC, Mashable, UK Telegraph and UK Daily Mail are also refusing to show the new Charlie Hebdo cover. Really pathetic.
AFRAID ?!?! CNN, NBC, BBC, NPR, Mashable, Telegraph, Daily Mail are refusing to show the new #CharlieHebdo cover. pic.twitter.com/dxr2OMybcd

— Israel News Alerts (@ILNewsAlerts) January 13, 2015
CNN Christiane Amanpour thinks Paris terrorists are simply activists. Christiane Amanpour who was such a bust at ABC that they canned here said:
CHRISTIANE AMANPOUR (in a broadcast on the day of the massacre, perhaps even shortly after it took place, given that CNN considered it "Breaking News"): On this day, these activists found their targets, and their targets were journalists. This was a clear attack on the freedom of expression, on the press, and on satire.
Amanpour actually called these Paris terrorists 'activist' on the day of the attack on Charlie Hebdo.
CNN's love affair with Muslim terrorists is just astounding. You had Jim Clancy who is a CNN Correspondent & Anchor for International Affairs blaming Jews for the terrorist attack on Paris (before the attack on the Kosher grocery store.)
CNN Christiane Amanpour calls Paris terrorists activists
It seems that Chris Cuomo can't distinguish between a black American and a French, black terrorist. During the first reports on the terrorist attack at the Kosher grocery story in Paris, CNN's Chris Cuomo described Amedy Coulibaly as an African American. This is CNN: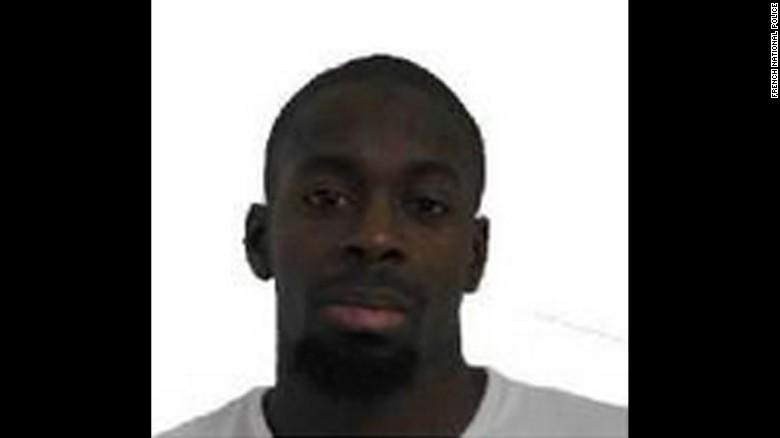 Chris Cuomo calls black French terrorist African-American
Chris Cuomo, as dumb as Ashleigh Banfield, as left wing as his father, and as corrupt as his New York Democrat governor brother.
CHRIS CUOMO: And again, just to, kind of, bring you up to date – right now, you're looking at slightly-delayed video that we're getting from friends on French television. In the back of the picture, by the blinking lights of that small vehicle, there was someone who was being treated there. They've since been moved. You're watching that group of men moving them. You're looking at the hostages that were released from the grocery store – this happened. Was it all of them? Were any injured? We don't know the details yet. But certainly, many of them made it out okay.

We're also being told, as you see on your screen – three hostage takers dead. That calculus, as far as we know at this point, are the two brothers, who were taken out in a separate assault and a separate standoff in an industrial area; and the African-American man who'd been pictured as a suspect in a separate shooting yesterday.
CNN Jim Clancy I expected the media and leftists to do a lot earlier. Blames the Jews for the Paris terrorist attack. Usually leftists like CNN Jim Clancy try to mask their hatred of Jews using terms like 'Zionists.' But Clancy didn't hide his, blaming 'Pro-Israel voice.'
This is great. Pro-Israel voice try to convince us that cartoonists were really anti Muslim and that's why they were attacked. FALSE.

— Jim Clancy (@clancycnn) January 8, 2015

(Update: looks like the CNN coward deleted this tweet, but there are more that he didn't):
These accounts are part of a campaign to do PR for #Israel @JewsMakingNews @elderofziyon Nothing illegal – but PR not HR : Human Rights

— Jim Clancy (@clancycnn) January 8, 2015
While the Pals have little hope of convincing anyone of warcrime charges at #ICC they have huge prospect of success with #SETTLEMENTS

— Jim Clancy (@clancycnn) January 8, 2015

(Pals being Palestinians)
The Hasbara (Israeli explaining the inconsistencies of Human Rights) team has declared victory over @ClancyCNN – next up, #ICC

— Jim Clancy (@clancycnn) January 8, 2015
Here's the rub: @JewsMakingNews @elderofziyon are accounts with about 50 followers…who are also part of a PR campaign that is anti-Muslim

— Jim Clancy (@clancycnn) January 8, 2015

Jim Clancy is a CNN Correspondent & Anchor for International Affairs.
Funny how CNN wouldn't show the Charlie Hebdon cartoons because 'it might offend Muslims', yet they have no problem blaming Jews for a terrorist attack conducted by Muslims.
CNN Jim Clancy: real villains of Paris terror: the Jews
Last night CNN had a correspondent in Havana Cuba at the Tropicana to celebrate New Years Eve. What could we expect next for New Years Eve 2015? Anderson Cooper and Kathy Griffin rinining in 2016 from Havana?
There's a reason why CNN is called Communist News Network in this country, and it showed perfectly during their New Years Eve celebrations last night. I guess now we can also call CNN the Castro News Network.
CNN via Don Lemon have won a very prestigious award. Don Lemon has been named to the 'Worst Journalism of 2014′ list by Columbia Journalism Review, Congrautalations Don Lemon! You earned it bro!
CNN Don Lemon named to Worst Journalism of 2014 list
Here are some of Don Lemon's 'highlights' from 2014:
So which Reporters Union rep is responsible for escorting Don Lemon back to his rubber room? http://t.co/DhKtDpF3CL

— Duncan Lathlin (@MrEMonkey) March 21, 2014
I liked a @YouTube video http://t.co/vKGGHjn9c6 Don Lemon On Ferguson: 'Obviously There Is The Smell Of Marijuana In The Air As

— Carl DeVaughn (@CarlDeVaughn) December 24, 2014
. @DonLemon: "As a victim myself, I would never want to suggest that any victim could have prevented a rape." http://t.co/PHVHXGSltP

— POPSUGAR (@POPSUGAR) November 19, 2014
…also. "White guy in trouble also." MT @AnnCoulter: Black celebrity punches wife. White guy in trouble. http://t.co/AxbAgwKcgB

— Ryan Sloane (@RyanSloaneCNN) September 11, 2014
This Outspoken CNN Liberal Thinks The Redskins Name Is Comparable To This Offensive Racial Slur http://t.co/8W168VUW0c

— DreamBigGhettoFab (@DreamBigGhettoF) June 23, 2014
There are plenty more. I just don't have all day to post it.
CNN is trying so hard to cover for the anti-cop thugs. But tonight it became comical. As a CNN hack was declaring how 'peaceful' everything has been at the NYPD memorial were two officers were basically executed by a black Muslim over the weekend, you could hear leftist thugs yelling and mocking those who turned out for the NYPD memorial.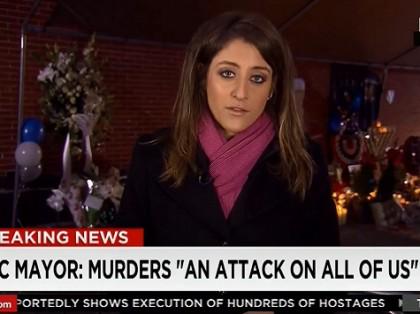 Anti-cop leftists mock, yell at cops at NYPD memorial VIDEO