Bill O'Reilly has a lot of nerve. He compared Bundy Ranch supporters to those leftist scum in Occupy Wall Street. I must also say I'm very disappointed in Brit Hume. He went along with O'Reilly, bashing the Bundy Ranch supporters. I guess they are all just big government, paid for Karl Rove Republicans at Fox News. Someone needs to ask O'Reilly when a Bundy Ranch supporter ever took a crap on a car, or had to set up rape tents.
Bill O'Reilly compares Bundy Ranch supporters to Occupy Wall Street
How many Bundy Ranch supporters were ever arrested, O'Reilly? Why didn't you ask him that Hume? How much in property damage was caused by Bundy Ranch supporters compared to Occupy Wall Street leftist thugs?
Read more
Bill O'Reilly the gasbag has found a reason for yesterday's Fort Hood shooting by Ivan Antonio Lopez. It's not because Lopez had mental issues or anything. Instead, the reason why Lopez went on his killing spree yesterday is because this country has too much 'freedom.' O'Reilly suggested America become more like China and take away freedoms in order to prevent more mass shootings like Lopez's at Fort Hood.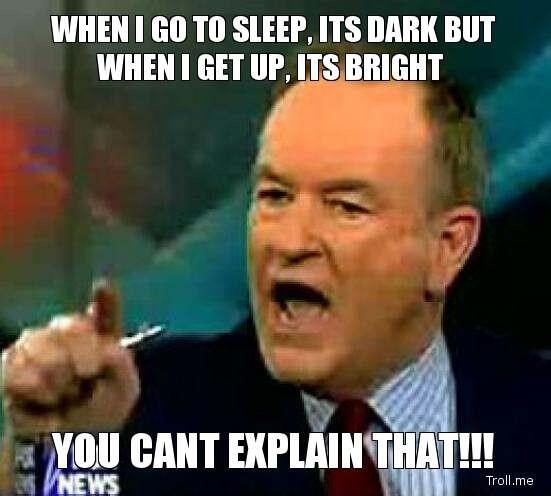 Bill O'Reilly blames Fort Hood shooting on 'Freedom' VIDEO
So lets review Bill O'Reilly's ideology. He sucks up to Obama during his Super Bowl interview that he hypes as 'hard hitting.' He is in favor of amnesty after years of being against it, has Valerie Jarrett on his show to spew Obama propaganda to Fox News viewers, and even lets Zsa Zsa Huffington on his show. Now, America has too much freedom according to O'Reilly and we need to be more like China or something.
Read more
John Kerry made time for four Sunday news shows today. Unsurprisingly, they were all Obama/liberal friendly. Kerry appeared on ABC, CBS, CNN and of course NBC. But Lurch Kerry refused to appear on Fox News Sunday, in yet another FU from the Obama regime to Fox News. This despite Bill O'Reilly's constant Obama ass kissing, and letting Valerie Jarrett spew her crap last week.
John Kerry refuses to appear on Fox News Sunday even after all of Bill O'Reilly's Obama ass kissing
Of course Lurch may have done Fox News Sunday viewers a big favor. Nothing he said on the four other Democrat propaganda shows amounted to anything but the usual bluster.
Just as expect Bill O'Reilly had a softball, fawning interview with the current 'real' POTUS Valerie Jarrett. O'Reilly who always like to claim 'he's looking out for the 'folks.' He had a chance to challenge Jarrett over Obama's abuse of power via executive orders. Jarrett didn't hide anything. She said it right to O'Reilly's face that Obama will bypass Congress whenever he sees fit. Yet, O'Reilly acted like a coward and didn't once challenge Valerie Jarrett over Obama's abuse of power. Instead, most of the interview was about O'Reilly and Obama's lovefest at the White House earlier today. Apparently, O'Reilly really think's this 'My Brother's Keeper' schtick that Obama bloaviated about today is actually going to work.
Coward Bill O'Reilly fails to challenge Valerie Jarrett over Obama's abuse of power
Obama went out of his way to praise Bill O'Reilly at his My Brother's Keeper propaganda event. No wonder bill O'Reilly has gone out of his way lately to praise Obama, calling him a 'patriot' who 'loves America.' All of the gasbag O'Reilly bluster about Al Sharpton was just for show too as the two attended, and were praised by Obama at the 'My Brother's Keeper' event. This is yet another way for the Obama regime to discriminate against whitey. The My Brother's Keeper initiative is aimed at 'young men of color' aka not whites, and certainly not 'white-Hispanics.' Valerie Jarrett is going to be the O'Factor tonight. More propaganda for the Obama regime to get out to 3 million people.
The remains that under Obama's reign of terrorist, all minority groups have fared worse under Obama than any other president in american history. Yet somehow, blooter Bill O'Reilly thinks Obama is helping young minorities.
Soon they are going to have to change the name of the O'Reilly Factor to the Obama Factor. At this point, Bill O'Reilly is basically turning into Chris Matthews for his love of Obama and Sharpton. I guess gasbag BillO doesn't mind being used as a political prop.
Read more
Bill O'Reilly's sucking up to Obama has gotten beyond stale at this point. His Super Bowl interview was a joke, allowing Obama to lie threw his teeth without challenging him once during the interview. Tonight, Bill O'Reilly threw a tantrum at Jason Chaffetz for 'throwing a cheap shot on Obama' and not subpoenaing Leon Panetta.
Bill O'Reilly throws a tantrum at Jason Chaffetz for 'throwing a cheap shot on Obama'
I'm just waiting for O'Reilly to pull a Chris Matthews and declare he gets a thrill up his leg when he hears Obama speak. O'Reilly also said later inn the show that he doesn't think Obama is purposing doing anything to harm the country. Uh, everything Obama has done has been on purpose and to harm this country O'Gasbag.
Read more
Serpent Head James Carville becomes Fox News contributor. In yet another attempt by Fox to move left, they hired Carville, probably anticpating Hillary Clinton's run for the White House in 2016. This way, with Carville, he lick her ass every time she makes a campaign speech, and it can be considered 'fair and balanced.' Carville was with CNN before they fired him. My cable company really needs to get The Blaze so I can dump Fox News once and for all.
Bill O'Reilly interviewed Obama before the Super Bowl. You can watch the interview video below. This interview mirrored 2011. It was typical O'Reilly softball style for Obama, kissing his ass in hopes he can get another interview with Obama in the future. O'Reilly concluded his interview with Obama be declaring 'Your heart is in the right place.' If Fox News really wanted a tough, non-softball interview with Obama, they should have sent Bret Baier, not O'Reilly. Obama did get in a swipe at Fox News and O'Reilly with his 'You and Your TV Station' Push Benghazi, IRS, etc. Obama obviously doesn't watch much of the O'Reilly Factor. Most of the show is devoted to stupid crap like his 'is it legal segment' or pimping his Killing Jesus book. Basically, Obama filibustered and dominated BillO, and Billy Boy let him and seemed to enjoy it.
Sometimes, it's hard to tell the difference between O'Reilly and Chris Matthews these days. O'Reilly wants a hike in the minimum wage, wants amnesty, and ignores the IRS, HHS, DHS and EPA scandals. Oh, and O'Reilly continually seems to be sucking up to Jon Stewart.
Bill O'Reilly interviews Obama before Super Bowl (Video)
Wah! Wendy Davis is a victim because she's a woman or something. That's the latest excuse for Abortion Barbie's lies about her past to advance her political career according to Kirsten Powers in the Daily Beast leftist rag. You see, despite Wendy Davis and her staff mocking their oppenentss for a disability, and lying to advance her political career, Wendy Davis is the victim in all of this because she's a female. This is the same faux feminist Kirsten Powers who once dated Anthony Weiner, and defended the right of a teacher to view porn in the class room and by paid for. Powers not only attacks conservatives, but also Breitbart writers. Funny how Powers never had such passion for defending female conservatives who are routinely smeared when they tell the truth by her ilk. Kirsten Powers yet again proves exactly what progressive liberals 'feminists' are. They are nothing but hypocrites.
Kirsten Powers once again demonstrates that liberalism is a mental disorder. Powers defended pervert Wisconsin teacher Andrew Harris who will return to the classroom next week after being out for years after being caught viewing porno during instructional time in a Wisconsin school, on school grounds. Kirsten Powers, is often defended by conservatives because she's 'fair' or something. Powers is nothing but a leftist hack, and her temper tantrum in favor of a union pervert teacher Andrew Harris demonstrates it again. Watch Kirsten Powers throw a tantrum on the O'Reilly Factor:
Kirsten Powers defends pervert Wisconsin teacher Andrew Harris viewing porno on school grounds
Mary Katharine Ham had a baby named Georgia back in August. You would think a six month old baby would be off limits for Bill O'Reilly, but you would be wrong. After last week's ass whoopin' by Mary Katharine Ham of Bill O'Reilly over a discussion about pot, the two were at it again tonight, The slimy O'Reilly who got his ass handed to him yet again went after Mary Mary Katharine Ham's baby to try and make his anti marijuana points. Basically what gasbag O'Reilly's argument was is that he was fine with adults doing pot, just not children. Isn't that exact;y what the Colorado and Washington laws state? As you would expect, Mary Katharine Ham wasn't happy about having her child brought up by bully O'Reilly. Watch the following video below.
Mary Katharine Ham hammers Bill O'Reilly for bringing up for baby in pot talk groups
It's funny how O'Reilly claims that Ham is 'dodging' when she is the one who answered the questions. It was O'Reilly who dodged. He's gotten owned two weeks in a row by MKH, so you know O'Reilly is stung. He didn't have race hustler/O'Reilly sucker Juan Williams on the protect him from
Ham this week either.
Read more
Rush Limbaugh speaks the truth yet again. Fox News has become the predictable Chris Christie cheerleader. If Chris Christie has any direct connection to the George Washington Bridge closure, then he's officially done. Personally, I think he's done now with the media frenzy, but I could be wrong. So who will Fox News cheer-lead for next? Jeb Bush or Marco Rubio?
Rush Limbaugh: Fox News becoming predictable Chris Christie cheerleader – Video Mofo Politics (via I'm 41)