A Muslim terrorist has killed a British Woolwich solider in the street of London. The terrorist even bragged about it on video holding the bloody meat cleaver as the dead Woolwich soldier's body lay in the streets of South London. The terrorist yelled Allahu Ackbar and severed the head of the British solider in typical barbaric Muslim fashion. Right now it is not known if there is just one terrorist, or two. Some reports, such as Sky News report there may be a second terrorist, both with blood-stained hands and holding two bladed weapons.
Muslim terrorist brags about bead-heading Woolwich soldier
Sharyl Attkisson is a rarity. She's a CBS journalist who's tried to get answers on Benghazi. Rumors started that the eggheads at CBS were so frustrated by Attkisson's reporting on Benghazi, that they were getting ready to dump her because of it. Now we learn someone (or some agency) has been snooping around Sharyl Attkisson's computer.
Sharyl Attkisson, the Emmy-award winning CBS News investigative reporter, says that her personal and work computers have been compromised and are under investigation.

"I can confirm that an intrusion of my computers has been under some investigation on my end for some months but I'm not prepared to make an allegation against a specific entity today as I've been patient and methodical about this matter," Attkisson told POLITICO on Tuesday. "I need to check with my attorney and CBS to get their recommendations on info we make public."

In an earlier interview with WPHT Philadelphia, Attkisson said that though she did not know the full details of the intrustion, "there could be some relationship between these things and what's happened to James [Rosen]," the Fox News reporter who became the subject of a Justice Dept. investigation after reporting on CIA intelligence about North Korea in 2009.
Fort Hood Muslim terrorist Nidal Malik Hasan is still being paid with your tax dollars. Because the Obama regime refused to classify the Fort Hood attack a 'terrorist attack' and instead called it workplace violence, it's been a gold mine for the terrorist Hasan. while families of injured or dead soldiers struggle financially to recover, a terrorist is being paid nearly $300,000 with your tax dollars. Does it piss you off yet?
The Department of Defense confirms to NBC 5 Investigates that accused Fort Hood shooter Major Nidal Hasan has now been paid more than $278,000 since the Nov. 5, 2009 shooting that left 13 dead 32 injured.

Meanwhile, more than three years later soldiers wounded in the mass shooting are fighting to receive the same pay and medical benefits given to those wounded in combat.

Retired Army Spc. Logan Burnett, a reservist who, in 2009, was soon to be deployed to Iraq, was shot three times when a gunman opened fire inside the Army Deployment Center.

"I honestly thought I was going to die in that building," said Burnett. "Just blood everywhere and then the thought of — that's my blood everywhere."

Burnett nearly died. He's had more than a dozen surgeries since the shooting, and says post-traumatic stress still keeps him up at night.

Burnett is now fighting a new battle; only this one is against the U.S. Army.

The Army has not classified the wounds of the Ft. Hood victims as "combat related" and declines to label the shooting a "terrorist attack"
Get the transcript Candy! That fat cow on CNN Candy Crowley who lied in front of millions of people during the Romney/Obama debate claiming Obama called Benghazi an act of terror asked Dan Pfeiffer today:
"Why didn't the president just say, yeah, it was a terrorist attack?"
Candy Crowley to Obama Advisor: 'Why Didn't the President Just Say, Yeah, Benghazi Was a Terrorist Attack?'
The arrogant hack Candy Crowley actually asked the question with a straight face. The same Candy Crowley who claimed during the debate that Obama called Benghazi an act of terror when he didn't. This is beyond infuriating.
Looks like the Obama moron hacks have invented yet another word to defend their corrupt Chicago thug. 'Irrelevant' seemed to be Obama adviser Dan Pfeiffer's favorite word of the day. On ABC where he spun the IRS scandal, he defended the IRS while claiming the law is 'Irrelevant' to the IRS. Try telling that the people who are bullied by the IRS if they miss a tax payment.
Obama adviser Dan Pfeiffer defends IRS – Law Is Irrelevant VIDEO
Pfeiffer also claimed Obama's whereabouts during the Benghazi attack were 'irrelevant fact' when asked by Fox News Sunday's Chris Wallace:
Read more
Obama adviser Dan Pfeiffer made the Sunday news show rounds like Susan Rice did after Benghazi. Also, like Susan Rice, Dan Pfeiffer spread Obama lies and propaganda and had some real whoppers. One of them was on ABC's This Week where Dan Pfeiffer actually had the nerve the say Republicans owe liar Susan Rice an apology. As Andrew Breitbart once said, Apologize for what?
Dan Pfeiffer – Republicans Owe Susan Rice An Apology
Muslim terrorist Dzhokhar Tsarnaev left behind a note in the boat he was found hiding in last month. Dzhokhar's boat note is about 'collateral damage' to Americans for their 'crimes' against other Muslims in Iraq and Afghanistan. Remember when the left and media initially blamed conservatives, and the tea party for the attack because it was on 'Patriot's Day' in Boston? So much for that narrative.
Dzhokhar Tsarnaev boat note – terrorist attack collateral damage for American crimes against Muslims
"Basically the note says that he does not mourn his brother Tamerlan, that Tamerlan was a martyr now and that he was in paradise, that Dzhokhar expected to join him there soon," Miller said. "That the bombings were in retribution for the US crimes against Muslims in places like Iraq and Afghanistan; that the victims of the Boston bombing were 'collateral damage,' the same way innocent victims have been collateral damage in US wars around the world, summing up that when you attack one Muslim, you attack all Muslims."
According to Obama's former senior adviser and current NBC hack David Axelrod, the Benghazi story nothing but 'bs.' You see, the lies for weeks about the spontaneous demonstrations is bs. The four dead Americans? BS. The changing of the Sunday show talking points twelve different times? That's just BS too according to Axelrod.
@jmartpolitico @stephenfhayes @joenbc Because, as I said, I think this story is BS, a high hard one aimed at HRC, to try to keep her out!

— David Axelrod (@davidaxelrod) May 15, 2013
There is no there, there. Obama's words with blood on his hands. Obama got angry again when asked about Benghazi during a joint press conference with British Prime Minister David Cameron. You see, Obama doesn't like being challenged. He's not used to it. So when he does, he gets angry. Obama's temper tantrum was epic and full of his usual lies. There is no there, there was his best line of the whine fest. It's like Bill Clinton's 'it depends on what the meaning of the word is, is.' When Obama goes on to whine about fundraising. You know, the same man and party who went fundraising off Newtown?
Obama on Benghazi – There is no there, there.
Here's a glimpse at what Ambassador Chris Stevens Facebook status would have looked like on the night of September 11th, 2012 during the Benghazi terrorist attack: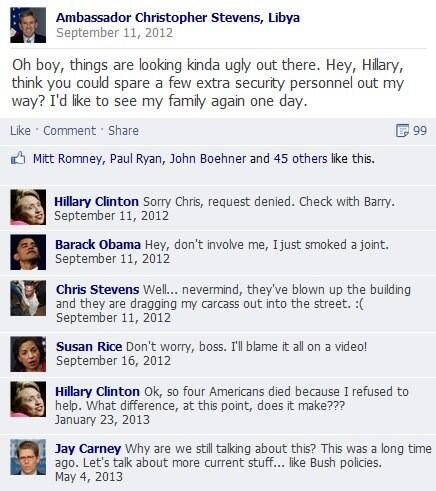 Ambassador Chris Stevens Facebook during Benghazi attack
Credit for the image to EricaRN4USA:
Read more
Dianne Feinstein is far more concerned about Hillary Clinton's political future than she is at getting to the bottom of the Benghazi cover up and terrorist attack. Feinstein took a few minutes off her soap box of grabbing legal gun holder's guns and whined about Hillary Clinton being the 'target' on Meet the Press. You see, Feinstein doesn't like the fact Hillary Clinton's name was mentioned 32 times during the Benghazi hearings last week. It's not like Hillary Clinton was at the forefront of the cover up or Secretary of State at the time right DiFi?
Dianne Feinstein more concerned about Hillary Clinton than dead Americans in Benghazi
Why would NBC 'News' spike a story about Gregory Hicks being a Democrat, voting twice for Obama and Hillary Clinton in the 2008 Democrat primaries? Maybe because it would kill the lame stream media's narrative that the whole Benghazi investigation is nothing but a 'partisan witch hunt?'
Victoria Toensing, attorney for Benghazi whistleblower Gregory Hicks, says Hicks is a Democrat who voted for Hillary Clinton during the 2008 primaries, and President Obama twice for President. Toensing also said that NBC News "spiked" the story this week, prior to Hicks' dramatic testimony before Congress.
Pat Smith had a message for Hillary Clinton this Mother's Day. Pat Smith the mother of Benghazi victim Sean Smith wished Hillary Clinton a happy Mother's Day. Smith said Hillary has a child, and she doesn't have hers for the first time this Mother's Day because of Hillary Clinton.
Pat Smith – I don't have a child this Mother's Day because of Hillary Clinton
Chelsea Clinton should feel really proud of her mother. Letting four Americans die for purely political reasons. The blood still drips from Obama and Hillary Clinton's hands even eight months later.
Read more
Leave it to the leftists at Saturday Night Live on Obama's main propaganda arm NBC to mock the Benghazi victims. But they didn't stop with Benghazi. They also mocked the Cleveland victims with an 'Ariel Castro' character skit while mocking Benghazi. What really is funny is how NBC completely ignored the Benghazi story for as long as they could. Until it blew up in Obama and Hillary Clinton's face this past week, NBC wasn't interested in covering Benghazi, or the cover-up. Now suddenly, it's 'cool' to mock the victims.
Saturday Night Live new low – mocks Benghazi and Cleveland victims
Saturday Night Live hasn't been funny since Dennis Miller did his 'Weekend Update' skits on the show. Much like other 'comedy' on television today, the humor is crass at best.