Another day, another violent Muslim attacks a Christian in America. This one, in Oklahoma involved Muslim Jimmy Stepney who didn't like Christian man Jerome Bullock and critcizm about Mulism beheadhings. According to KOCO, Bullock and Stephney were arguing about the bible and quran. Jerome Bullock said to the Muslim:
"We were watching the news," said Bullock. "He said he felt like more Muslims need to step up to the plate and do certain thing. He was talking about beheading people."
Muslim Jimmy Stepney didn't like criticism of his cult like religion and whipped out a knife, and tried to stab Bullock (allegedly).
Bullock's mother, came out with a baseball bat and started swinging at Stepney.
Muslim Jimmy Stepney slashes Christian man with knife in Oklahoma
ISIS really looks like they are being degraded and destroyed by Obama huh? ISIS has now expanded their caliphate into Libya.
The sources say the Derna branch of ISIS counts 800 fighters and operates half a dozen camps on the outskirts of the town, as well as larger facilities in the nearby Green Mountains, where fighters from across North Africa are being trained.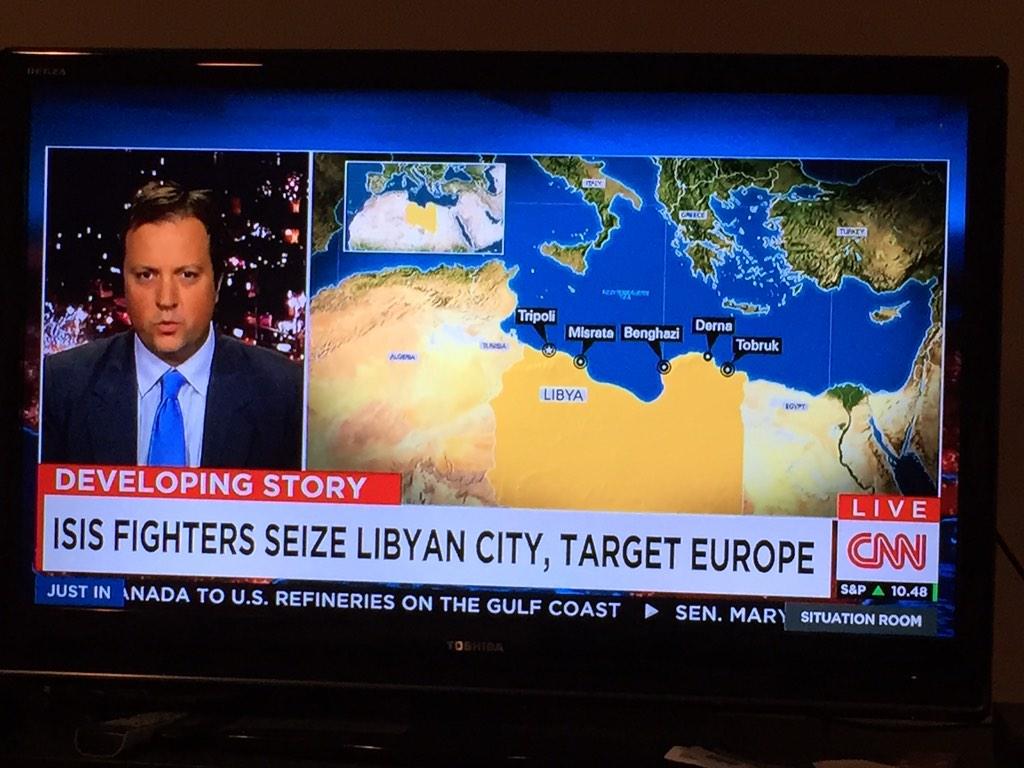 ISIS expands their caliphate into Libya
Filthy Palestinian Muslims celebrated the terrorist attack at a synagogue in Jerusalem earlier today. These filthy pieces of sh*t even handed out candy and pastries to celebrate the two terrorists as 'martyrs'. Watch the following video if you think your stomach or blood pressure can handle it:
Filthy Palestinians celebrate Jerusalem terrorist attack (Video)
While the terrorist attack in Jerusalem is no where near the scale that 9/11 was, let's take a look back on September 11th, 2001 when filthy Palestiain Muslims had a very similar celebrationg when the World Trade Center towers fell:
Filthy Palestinians celebrate 9/11 back in 2001.
Let's also remember here that three Americans were killed by in this terrorist attack. It wasn't just Israeli's who suffered from this terrorist attack.
Read more
Muslim terrorists have attacked a synagogue in Jerusalem. There are reports of several injuries, but the only deaths so far are the Muslim terrorists who carried out the attack. Check out how CNN described the attack:
2 men entered Kehilot Yakov Synagogue after 7am, began hacking at men at prayer. 5 killed/5 wounded. Attackers shot dead outside #Jerusalem

— Anshel Pfeffer (@AnshelPfeffer) November 18, 2014
At least five people wounded in a "terror attack" at a synagogue in Jerusalem, Israeli military spokesman @LTCPeterLerner says on Twitter.

— CNN Breaking News (@cnnbrk) November 18, 2014
Why is terror attack in quotes? Is CNN trying to infer it wasn't a terrorist attack on the synagogue in Jerusalem? You know, with the Hamas loving media, especially at CNN, I wouldn't be surprised.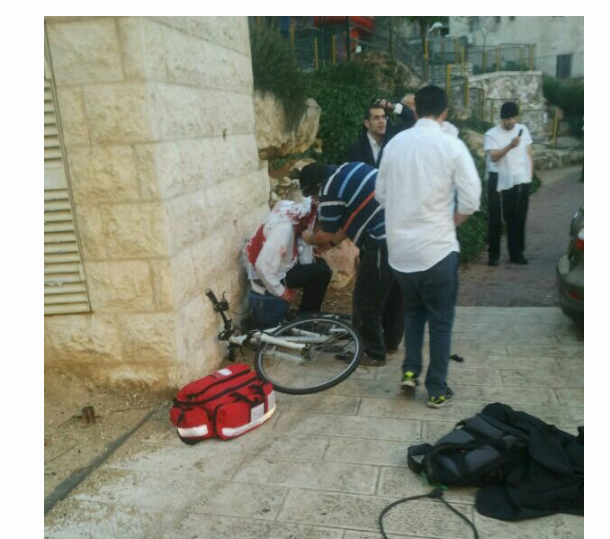 Muslim terrorists attack Jerusalem synagogue
ISIS is actually seven times bigger than was reporting by the American homeland security stooges. They claimed ISIS 'only' had about 30,000 members or so. It's actually closer to 200,000 according to this report from the Independent UK (again, not American media).
ISIS grows to over 200,000 members
Looks like Obama has really 'degrade and destroyed' ISIS. So much as that ISIS terrorist have beheaded a third American today named Peter Kassig. Aside from this, the corrupt American media continues to call these ISIS terrorist 'militants'. They are not militants, they are terrorists. The PC crap is getting beyond old. Peter Kassig converted to Muslim, went by the name of Abdul-Rahman and was providing aid in Syria when these ISIS terrorist captured him.
The video of the Peter Kassig beheading is a little different than the previous ISIS videos. This one, which I am not going to embed on this site only shows Kassig bloody head in the hands of an ISIS terrorist. It doesn't show the full execution like previous video did.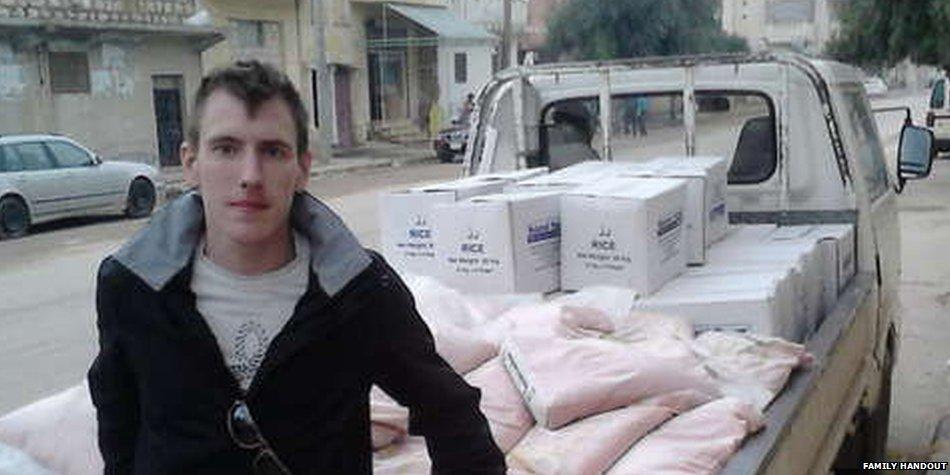 ISIS Muslim terrorists behead American hostage Peter Kassig Abdul-Rahman
Kassig's family, via Facebook released the following statement:
Meet Imam Hamad Chebli. He lead a Muslim prayer on the House floor this past week, praising Allah, after being introduced by Weeper Boehner. All members of the House bowed their heads as Chebli read is Islamic prayer.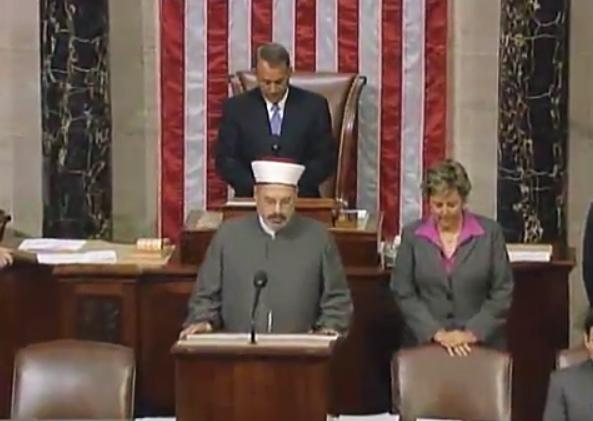 Meet the Imam that Boehner allowed to praise Allah on House floor
But who is Imam Hamad Chebli? Is he another one of those faux moderate Muslims we always hear about? Walid Shoebat has the details about who this Imam really is (and worse yet who Boehner let spread Islamic propaganda on the floor of the House of Representatives).
Despite western portrayals of Chelbi as a moderate, he absolutely is not.

When it comes to Muslim prayers being delivered on the House floor or at the National Cathedral, unfortunately, this is not new. The precedent was set by Boehner's predecessor – Speaker Dennis Hastert – less than one year prior to 9/11. As for the National Cathedral, none other than President George W. Bush shared a podium with Muzammil Siddiqi, then president of the Islamic Society of North America (ISNA).

First up, on February 7, 2001, Chairman of the Dar al-Hijrah mosque Bassam Estwani delivered a prayer on the floor of the House as well. As the chairman of Dar al-Hijrah, Estwani represented perhaps the most notorious mosque on American soil. It was visited by three of the 9/11 hijackers and was home to Anwar al-Awlaki, the inspiration for the Fort Hood shooter. Estwani was the chairman of the mosque at that time:
Isn"t Turkey supposed to be a 'moderate' Muslim country and an ally of the US? Three American sailors from the USS Ross were mobbed and attacked by Muslims on the shores of Turkey. Objects were thrown, sailors where shoved and the Muslims even put plastic bags on the sailors heads to try and suffocate the sailors. You can see it in the following video. It's likely to make your blood pressure rise, like it did mine: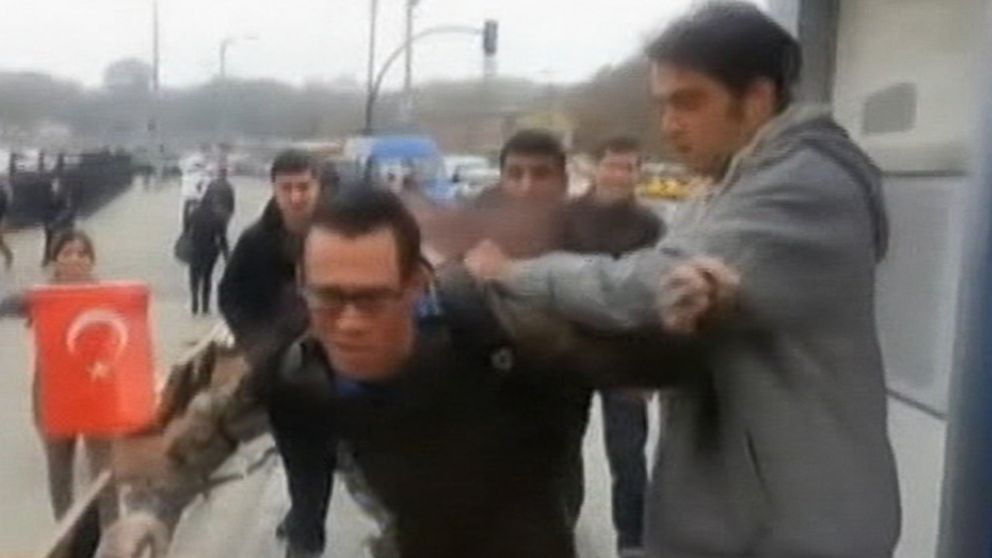 3 U.S. Navy sailors attacked by Muslims in Turkey VIDEO
CNN Chris Cuomo is just like his fascist liberal progressive brother who is the governor of New York. A Muslim sympathizer who doesn't think Osama Bin Laden had to 'lose his life' when the Navy Seals put at least three bullets in the terrorists head. Watch for yourself as little Cuomo whines on CNN about Bin Laden 'losing his life':
CNN Chris Cuomo didn't want Bin Laden 'Having To Lose [His] Life'
And what the hell was Alisyn Camerota thinking when she went from Fox News to CNN? Does she not want to be seen on TV or something? I hope she got a helluva pay day to join that toilet network.
More than two years after the Benghazi terrorist attacks and the presidential elections, it's now coming out that CBS intentionally hid a clip from an Obama interview with 60 minutes refusing to call the Benghazi attack an act of terrorism. It's not hard to understand why. The Obama regime is well connected with CBS. One of Obama's main advisers is Ben Rhodes, who just so happens to be the brother of David Rhodes. He is the president of CBS News. Nice connections there Barry. Just another fine example about how corrupt the media in the country really is.
CBS intentionally hid 60 minutes clip of Obama refusing to admit Benghazi was a terrorist attack