Obama has a reason for negotiating with terrorists now according to White House spokesman Eric Schultz. The difference in the case of deserter Bowe Bergdahl getting freed for 5 dangerous Islamic radicals, and James Foley being left for ISIS to behead, is simply military service. So let it be known from this day forward, no every American's life is as valuable to Obama and the progressive liberal Democrats. Of course, if Obama really cared about the military then Andrew Tahmooressi would have been freed from Mexico months ago.
Obama excuse on difference between Bergdahl and Foley: military service
WH spox Schultz says difference between Bergdahl and Foley (regarding negotiating with terrorists) was military service.

— Rory Cooper (@rorycooper) August 22, 2014
Isn't that disgusting?
Eric Schultz was also very combative and obnoxious when defending Obama's golf game after the video of Foley's beheading went public.
Pope Francis calls family of James Foley who was beheaded by ISIS Muslim terrorists. The pope offered his condolences to John and Diane Foley, the parents of James Foley. What about Obama? He's been too busy golfing and vacationing to bother even calling John and Diane Foley. Obama made a tepid statement about the beheading, claiming it was not Islam, but hasn't bothered to even call James Foley's parents to offer his condolences. Of course, arriving at the golf course eight minutes after giving his phony press conference should tell you all you need to know about how much Obama cares about ISIS beheading Americans.
Pope Francis calls family of James Foley while Obama golfs
Ali Muhammad Brown is a black Muslim who has 'allegedly' killed four Americans, all in the name of Islam, and for all the bad things America has done in Iran, Iraq and Afghanistan. This Muslim was basically a jihadist, yet the media completely ignored Ali Muhammad Brown's killing spree. As usual, the media aside from Fox News and a few local reports have completely ignored this terrorist. While the media has been busy race hustling in Ferguson, this is a majority story. Ali Muhammad Brown 'allegedly' killed four people coast to coast, from Seattle to New Jersey.
Of course the black Muslim terrorist only killed white people, so that could be another reason why it's not newsworthy.
Terrorist in America already killing Americans – Ali Muhammad Brown – 4 dead !

— PC Free (@alltooclear) August 22, 2014
Ali Muhammad Brown,self professed Jihadi killing 4 Americans,in America and MSM cannot report it?

— G A on Rock 94 1/2 (@GARock945) August 22, 2014
White Brendan Tevlin murdered in cold blood by Black muslim Ali Muhammad Brown. Not a peep from the usual suspects. pic.twitter.com/SwuWCB4gzw

— Scott Allan (@commonguy123) August 21, 2014
Leftists like to forget that the kidnapping and murder of three Israeli teens is what set up the latest Israel-Hamas 'war.' Naftali Frankel, Eyal Yifrach and Gilad Shaar were kidnapped by Hamas in late Spring, and eventually murdered by the Muslim terrorist group Hamas that runs Palestine. After news came out that the teens were killed, Israel began it's offensive to get rid of Hamas terrorist tunnels into Israel. A Hamas official finally admitted that it was in fact Hamas who killed these three innocent teens. You would think this would be big news. But alas, Fox News covered it, and it got little mention elsewhere in the Hamas media complex in this country.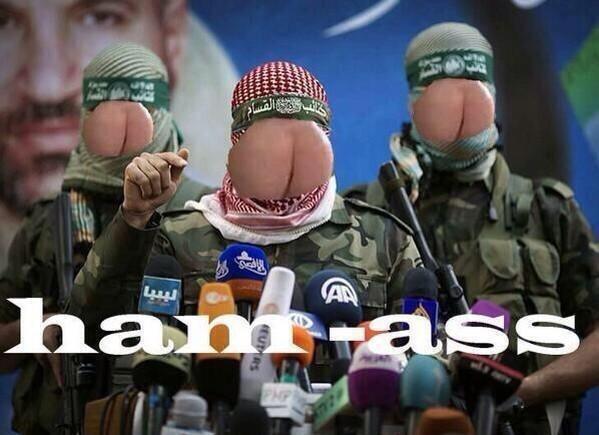 Hamas official admits kidnapping murder Israeli teen – media silent
Turns out that the Muslim terrorist who beheaded journalist James Foley may have been a Gitmo detainee, released by Obama. The terrorist who beheaded Foley had a British accent. According to the Washington Post, the terrorist was a British resident who joined up with ISIS.
Did Obama released terrorist who beheaded James Foley from Gitmo?
Obama gave a token statement on the beheading of American journalist James Foley by ISIS terrorists. He called it 'appalling.' Obama then showed how concerned he really is for the family of James Foley and all those affected by the Ferguson riots, as he headed right back to the golf course, AGAIN!
Obama on the beheading of James Foley and Ferguson – FORE!!!!!!!
As Steven Sotloff's family braces themselves. RT @ZekeJMiller: Pool: after statement Obama headed to the Vineyard Golf Club

— CatsPolitics (@CatsPolitics) August 20, 2014
David Cameron left his vaca to find out the identity of the ISIS member who beheaded Foley. Obama went to the Martha's Vineyard golf course.

— AR (@literallymandii) August 20, 2014
As one would expect. POOL REPORT: "Obama delivered his remarks. Afterward, drove to the Vineyard Golf Club." @cspanwj #tcot #tgdn #SCOAMF

— Va. Texan ☆ (@VaTxn) August 20, 2014

Compare this with the reaction of UK PM David Cameron cancelled his vacation because of the beheading.
The New Black Panthers took over the Jay Nixon press conference disaster earlier in St. Louis. Tonight, the New Black Panthers are 'marching' and 'rallying' for Michael Brown and having supporters chant the following:
What do we want?
– Darren Wilson
How do we want him?
– Dead
Don't believe me? CHeck out the following video posted by Gateway Pundit:
Blacks in Ferguson chant: What do we want? Darren Wilson How do we want him? Dead (Video)
Darren Wilson now has a huge target on his back thanks to the corrupt leftist media and black race hustlers. If he isn't already out of Missouri, he should get the hell out of the state.
The curfew in Missouri is set to begin at midnight, and last until 5am. People in Ferguson, who have already been whipped into a frezy by black race hustlers are even more pissed about the curfew. Tonight could get really nasty in Ferguson, or it could be quiet. I guess we'll see.
When you have Eric Holder's 'poeple' the New Black Panther getting people fired up, you really have to worry about the area.
Obama's chickens, are coming home to roost. Powerline Blog reports that leading terrorist fighters who were once terrorist detainees. Most of these terrorists were likely released by Obama.
Leading ISIS fighters are former terrorist detainees
If you hang an American flag on your home, you will 'offend' people and be forced to take it down by local property owners. However, in Garwood New Jersey, you can hang an ISIl-ISIS flag and a Turkish flag with no problem until the picture goes viral on social media. Free Beacon has the story and a screenshot of the home in Garwood New Jersey with the ISIL-ISIS flag hanging from it. We sure have come far in America haven't we? American flags are offensive and ISIL-ISIS are cool.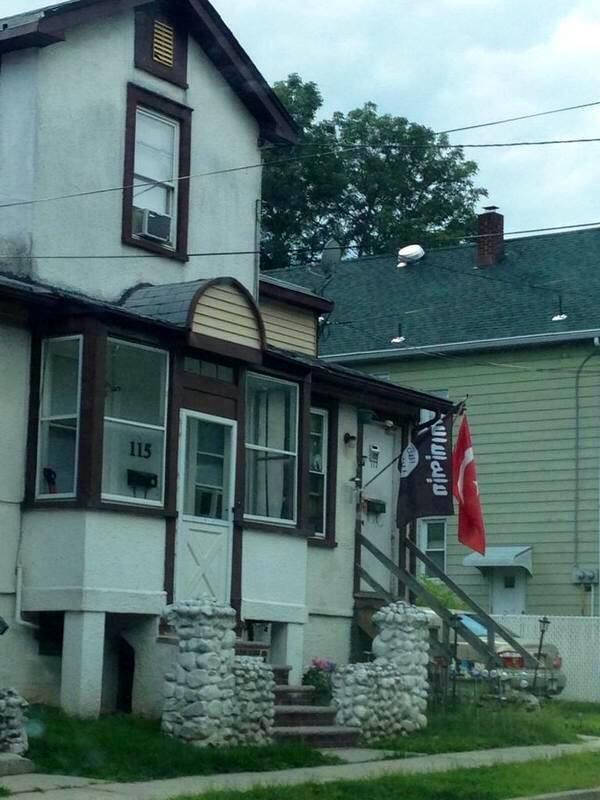 ISIS-ISIL and Turkish flag hang from home in Garwood New Jersey
Saudi father Nasser al-Shayeq has two young boys, Abdullah and Ahmed. They are 11 and 10 years old respectively. They are Abdullah and Ahmed are the latest to join the ISIS terrorists in Syria. As usual, Reuters refers to ISIS as 'militants', not terrorists. Nasser al-Shayeq posted a picture of his two young sons of the two sons crouching in front of Islamic State's black flag, with AK-47 rifles. One of the boys also held a grenade in his other hand. This comes just days after an Australian Muslim posted a picture to twitter of his seven year old hold a severed head cut off by his father.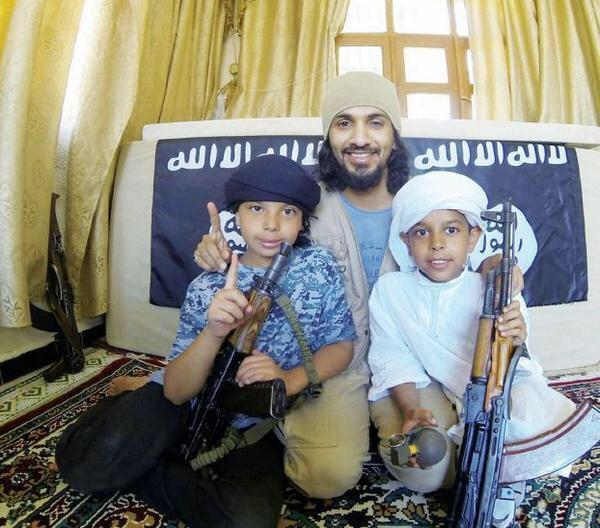 Saudi father Nasser al-Shayeq takes young kids to join ISIS