Want a perfect example of how dumb progressives are and why ObamaCARE is such a flaming, stinking mess? Check out ObamaCARE goon Tara McGuinness who's excuse for poor February Obama enrollment numbers is because 'there are fewer days in January than February.' Tara McGuinness must not remember from kindergarten that February has only 28 days (29 in a leap year) and 31 days in January. Common Core education on display once again.
.@AaronBlakeWP @washingtonpost there are fewer days in January than February.

— Tara McGuinness (@HealthCareTara) March 11, 2014
I just have to do a face-palm when I see these stupid Obama hacks like McGuinness put their stupidity on for the whole world to see. Does EVERYONE in this regime need a teleprompter?
At least 15% of those enrolled in Covered California (the state's ObamaCARE exchange) haven't even paid for their month's bill and are endanger of losing health care coverage. Remember, Covered California was being touted as one of the ObamaCARE 'success' stories.
People who haven't paid the bills are being contacted via e-mail to pay up or get kicked off ObamaCARE.
In December, payment deadlines were pushed up to handle the so called 'huge' amount of enrollees in Covered California. So much for that.
California even sucks at paying their ObamaCARE bills, something the leftists in that state pushed hard far. I just have to chuckle at yet another California/ObamaCARE failure.
Heading to Las Vegas for some gambling? Have fun, because Las Vegas casino workers union are now considering a strike. Why? Because of ObamaCARE of course! If you want to gamble, why not just go to some Indian casinos instead. You won't have to worry about greedy union thugs striking over something they lobbied for in the first place.
ObamaCARE's stated goal is to get every American insured for health care. That's the stated goal, the real goal is obviously a single payer, European/socialist style health care system. ObamaCARE's insurance marketplaces are failing at an even bigger rate than anyone could have imagined. Only 10% or 1 in 10 uninsured Americans are actually signing up for health care with the marketplaces.
This is painful. I hate the Federal Reserve, but this time I have to agree with them. The Federal Reserve says ObamaCARE is screwing up the economy. Of course, we don't need the Federal Reserve to state the obvious.
The "Beige Book," is published 8x year by the federal reserve. Each Federal Reserve Bank gathers anecdotal information on current economic conditions in its District through reports from Bank and Branch directors and interviews with key business contacts, economists, market experts, and other sources.'
The latest "Beige Book" was issued on Wednesday and it warns about Obamacare doing bad things to the economy including higher costs for employees and slowing down hiring.

Instead Of Handing Out Raises Due To Savings Under ObamaCare, Employers Have Had To Pass Higher Health Care Costs To Employees
In 2010, Obama Promised That ObamaCare Would Provide "Cost-Savings" To Employers That Could Result In Raises For Their Employees. OBAMA: "Americans who get their insurance through the workplace, cost-savings could be as much as $3,000 less per employer than if we do nothing. Now, think about that. That's $3,000 your employer doesn't have to pay, which means maybe she can afford to give you a raise."
According to today's report, While Employers Are Passing On Higher Health Care Costs To Employees. "Contacts in Chicago indicated that higher health care premiums increased non-wage labor costs, while a growing number of employers in Cleveland reported passing through rising health care costs to their employees."
Merchants Noted That Increasing Health Care Premiums "Were Having A Negative Impact." "Merchants reported a slow start to the year with sales growth declining. Many contacts noted that the drop in sales growth was partially attributed to the unusual winter weather experienced in parts of the region. Others indicated that increased health care premiums were having a negative impact."
Rising health care costs are widespread, thanks to ObamaCARE. Employers are remaining scepical about hiring because of ObamaCARE and concerns remain over ObamaCare Throughout The Staffing Industry.
King Obama once again unilaterally changed ObamaCARE this afternoon, without a peep from Republicans. Health Care plans that were cancelled this year can now be kept through 2017 (ironically, not only helping Democrats this year, but Hillary Clinton in 2016.)
King Obama unilaterally changes ObamaCARE AGAIN! – health plans canceled this year may stay active into 2017
#Breaking: Insurance plans supposed to be canceled this year may stay active into 2017 under new Obamacare policy change

— POLITICO (@politico) March 5, 2014
This is an obvious payback to the Clintons for campaigning for Democrats in states that Obama wouldn't dare enter this year.
So now CBS/WRAL is running telethons for ObamaCARE? Raleigh is basically the San Francisco of North Carolina, but this is beyond ridiculous. CBS WRAL even offered bilingual ObamaCARE navigators for Spanish speaking people. Does North Carolina have that many Latinos?
With the deadline for enrollment fast approaching, Raleigh's WRAL brought in 27 Obamacare "experts" — including navigators, certified application counselors, and marketplace-savvy insurance agents – to answer callers' questions from noon until seven in the evening. WRAL's news broadcast also cut into its normal coverage to advertise the experts and the number to reach them.

"For 1.3 million North Carolinians who are currently uninsured now is the time to think about getting coverage," Renee Chou, a WRAL reporter explained, while standing in front of people answering phones. "More than 160,000 people in our state have already enrolled in the marketplace as of January. Ninety percent — get this — 90 percent qualified for subsidized premiums and only the right plans sold on the marketplace offer lower premiums based on household size and income."

"See if you can qualify for a subsidy by calling 919-744-3861 or 1-800-424-WRAL," she said.
In addition to the phone bank, WRAL has been offering an entire resource center for the ACA, including tutorials about the benefits of Obamacare coverage and an online questions and answer session with an Obamacare marketplace agent named Tony Gutierrez.

Read more: http://dailycaller.com/2014/03/05/local-news-station-opens-phone-lines-for-7-hours-to-obamacare-navigators-video/#ixzz2v7o967Aq
Read more: /#ixzz2v7nufyFB
I love Neo Orleans. I've been there twice, and I know it's a leftist cesspool, but I still love it there. As we approach 'Fat Tuesday' on March 4th, this weekend is full of celebration. So far, there have been at least two anti-ObamaCARE floats spotted at the Mardi Gras in liberal New Orleans (which also happens to be porker Mary Landrieu's hometown.) The first one was discovered by Gateway Pundit on Twitter.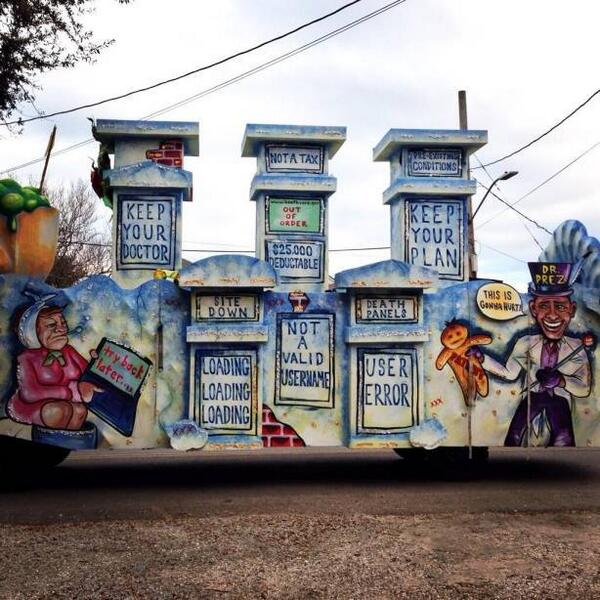 Two anti-ObamaCARE floats spotted at Mardi Gras in liberal New Orleans
I'm sure there will be plenty of leftist cries of racism since this Mardi Gras anti-ObamaCARE float shows Obama in a less than flattering manner.
Another anti-ObamaCARE float with 'death panels' also appeared mocking Obama and ObamaCARE.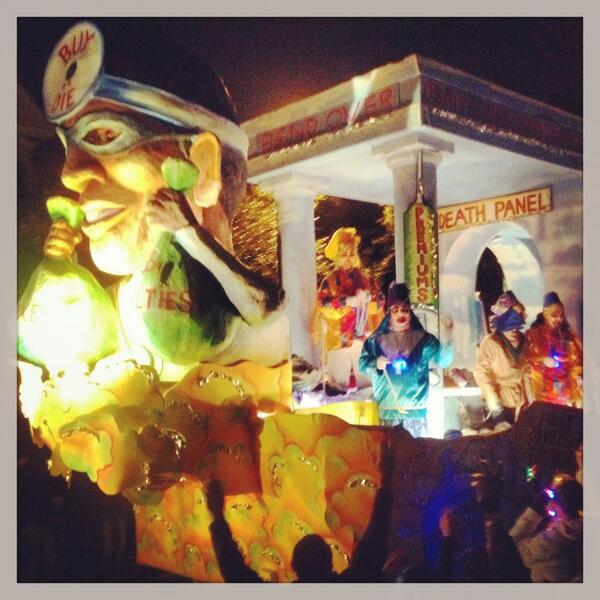 anti-ObamaCARE Mardi Gras float with 'death panels'
Very impressive and creative by those who created these floats.
Update: found another one, this makes at least three anti-ObamaCARE floats:
Read more
Rasmieh Yousef Odeh a convicted Muslim terrorist worked as an ObamaCARE navigator, appropriately in Chicago. You just can't make this stuff up. Rasmieh Yousef Odeh is no spring chicken. Oden was convicted in Israel for her role in several terrorist attacks. One of them was a bombing at a grocery store in 1969 that killed two Hebrew University students. Last October, Rasmieh Yousef Odeh Odeh was indicted for allegedly lying on her immigration and naturalization papers. This is the type of 'person' who has access to your private and personal data if you sign up for ObamaCARE. Muslim terrorists.
Rasmieh Yousef Odeh – convicted terrorist worked as ObamaCARE navigator in Chicago
So not only are convicted felons working as ObamaCARE navigators, but so are Muslim terrorists. Really makes you want to run out and sign up for ObamaCARE doesn't it?
Read more
It's really nice to have the media in your back pockets. The Obama regime said that 7 million people needed to be enrolled (and paid) for ObamaCARE by the end of March. As we approach March, the Obama regime claims 4 million have enrolled in ObamaCARE. That's debatable as the number includes several hundreds of thousands of people who never paid one dime for coverage, or just selected a plan on the site and left it in their shopping cart. Even if there was 4 million people signing up for ObamaCARE as Obama claims, that would still be 3 million short of the goal needed by the end of March. But that didn't stop Politico from lying, and changing the ObamaCARE target. Politico is now claiming '4 million down, 2 million to go.' Politico actually writes that the Obama regime's target for ObamaCARE enrollment by the end of March is only six million, not seven. When did we lose a million on the ObamaCARE target?
Or is it just some sort of Common Core math that Politico is using to total the number needed to reach the enrollment goals?
Four million down. Two million to go. Five weeks to get it done.
When you file your taxes next year, you will notice a new tax called the Shared Responsibility Payment. Obama's IRS which added 16,500 IRS agents because of ObamaCARE will include this new tax on your 2014 tax return. An almost Orwellian term will be the ObamaCARE tax you will be forced to pay if you don't have health care coverage this year.
Gator's Dockside, a restaurant in Florida is following in the footsteps of an L.A. French restaurant. Gator's Dockside is adding a surcharge to every customer's bill in order to pay for ObamaCARE. The ObamaCARE surcharge is being used to fund healthcare costs for it's 500 employees.
Gator's Dockside restaurant in Florida adds ObamaCARE surcharge to customer's bill