Obama is so toxic in America that MSNBC and Ronan Farrow traveled to Kenya to try and locate Obama fans. That's how bad it's gotten for Obama and his official propaganda cable news outlet. Farrow didn't locate and ask Obama's brother who's living in a hut on $1 per day that Barack Obama refuses to help. You know, my brother's keeper and all?
Rand Paul has won the CPAC2014 straw poll. Just like with his daddy, Ron Paul, the Paulians flocked to the straw poll to give him a huge win. It wasn't even close as Rand Paul beat Ted Cruz 31% to 11% – a 20 point margin!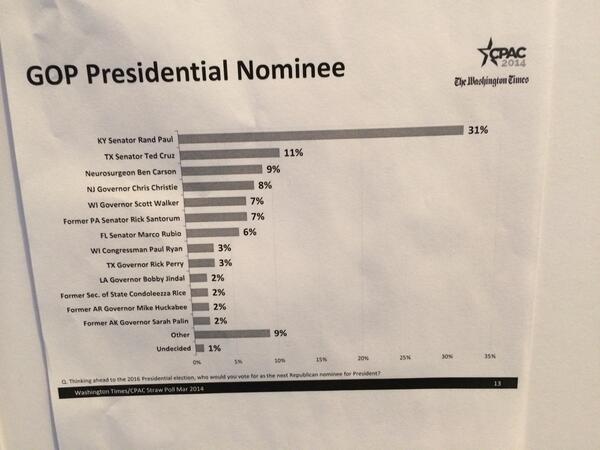 Rand Paul win the CPAC2014 straw poll
I guess the only real surprise for me in this poll is that Lousiana Governor Bobby Jindal only received 2% of the vote. I thought Jindal would have fared better. Also, Ben Carson only got 9%. I thought he'd pull in bigger numbers than just 9%.
Slip slidin' away. Obama has fallen to 38% in the latest Fox News poll, his lowest approval rating ever recorded. Of course leftists will try and claim 'oh it's Fox News, it's biased and racist.' Bad news for the left is that this a scientific poll, compressed of 40% Democrats and 34% Republicans. Obama is even tanking among Democrats. Only 71% of those polled approve of the job he's doing, the lowest ever recorded among Democrats. Republicans as you would expect give Obama low marks. But the key to this poll is the independents. Obama's approval ratings among non-affilated voters stands at a meager 28%.
On the economy, health care and foreign policy, it gets over worse for Obama. Gee, I can't imagine why that would be could you?
No amount of Bill O'Reilly's constant ass kissing of Obama and those in regime could save him in this poll.
In even more bad news for progressives (Republicans this time) is that most people polled don't think Krispy Kreme Chris Christie would make a good president. Fat boy is done.
Read more
Mary Landrieu in trouble in Louisiana. She already is trailing possible GOP challenger Bill Cassidy in polling. The latest Rasmussen pull finds Cassidy getting 44% of the vote with only 40% going to Landrieu. These are terrible numbers for an incumbent candidate in any state.
Mary Landrieu in trouble – trails GOP challenger Bill Cassidy in polling
A new statewide telephone survey of Likely Louisiana Voters finds Cassidy, a U.S. congressman, with 44% support to Landrieu's 40%. Five percent (5%) like some other candidate in the race, while 11% are undecided.
There are a number of factors to consider with this though. Cassidy is now slam dunk to get the GOP nomination to take on Landrieu. Rob Maness is the tea party conservative candidate that could beat Cassidy and his 'moderate' voting record.
Read more
Thom Tillis is Speaker of the North Carolina House of Representatives and probably the best known of the six Republican candidates who have declared to run against far left progress Kay Hagan this fall for North Carolina's US Senate seat. So far, Hagan is looking in bad shape. Far left progressives like Kay Hagan aren't exactly loved in North Carolina, and Hagan's support of Obama's is even more troublesome for her. According to the latest Rasmussen poll, Thom Tillis leads Hagan by a whopping 7% at this stage (poll was taken in late January.) Tillis leads Hagan 47% to 40%. While this is obviously great news, it's a long time between now and the November election. These are the six Republicans who have declared to run against Hagan and her far left progressive liberal policies:
Ted Alexander, former Mayor of Shelby
Greg Brannon, physician and Tea Party activist
Heather Grant, nurse practitioner
Mark Harris, pastor of First Baptist Church of Charlotte and President of the Baptist State Convention of North Carolina
Edward Kryn, retired physician
Thom Tillis, Speaker of the North Carolina House of Representatives
Tea Party Dr. Greg Brannon (who I know nothing about) also leads Hagan. His lead is four – 43% to 39%.
Looks like The Hill is going the way of Politico. The Hill has resorted to lying about Obama's approval rating on the latest ABC/Wapo poll. Obama's approval in that poll (heavily Democrat bias) stands at 46%. Yet, somehow The Hill thinks it's 50%! Leftists never were really any good at math. The leftist media is desperate to try and boost Obama's image before the State of the Union address on Tuesday, but lying about poll numbers is pretty pathetic, even for The Hill. The ABC/Wapo poll oversamples Democrats by +7.
The Hill shills for Obama, lies about approval ratings
So let's review. The Hill reports Obama's approval ratings at 50%, even though he's at 46% in a far left biased poll that heavily oversamples Democrats. Obama hasn't seen approval ratings in the 50s since early 2013. Keep trying leftist media. Your failure and demise is enjoyable.
There is also some really bad news for Democrats in this poll that The Hill fails to mention. Even with the heavy Democrat sample, the plurairty of those polled would vote for Republicans over Democrats in the upcoming mid-term elections. Tea Party approval ratings are way up in this poll, and Republicans are more trusted on issues like gun control, size of government and personal values.
We can thank Barack Hussein Obama and the radical progressive liberal left for one thing. They've waken up at least some people to the dangers of big government. According to a Gallup poll, a record 72% of Americans say big government to America's future. The previous record was 65% set in 1999 and 2000 when BJ Clinton was president.
Gallup: Record High number of Americans say big government is greatest threat
As one would expect, over 9 in 10 Republicans say big government is the biggest threat. But even more than half of Democrats polled say the same thing. That's shocking considering Democrats are the party of big government progressive liberalism.
56% Democrats big government the greatest threat
As Obama begins his latest campaign, called ObamaCARE 2.0 by the media, his approval ratings have hit record lows everywhere. The averages from the various polls, including the left wing biased ones that oversample Democrat between 8 and 10 percent have fallen under 40% for the first time ever on Real Clear Politics. Ironically, Obama does best on Rasmussen. Remember when all the leftists claimed they were a 'right wing' polling outfit?
Slip slidin' away. Obama has crashed and burned to his lowest approval and highest disapproval level ever on liberal biased CNN polling. The joke of their polling outfit is that they don't even poll registered voters. They just polled 'adults.' The CNN joke of a poll also uses a D+8 sample size to make sure their Messiah Obama doesn't fall into the 30% range. They use a sample of 31% Democrats, 23% Republicans and 46% independents.
percentage points or less. At total of 843 'adults' were used in this poll. Not exactly a large sample size either.
Read more
Remember how the media was touting ObamaCARE getting 'more popular' during the government shut down? Well, they wouldn't report on this bit of news. According to Gallup, the approval of ObamaCARE has hit a brand new record low of 40%. Disapproval of ObamaCARE has hit a record high at 55% in the same poll.
Approval of ObamaCARE hits record low on Gallup poll
Currently, 73% of Democrats, 39% of independents, and 8% of Republicans approve of the healthcare law. Approval is down at least marginally among all three groups since Gallup's last update in late October.
What is the main reason why people disapprove of ObamaCARE? It's not because of a glitchy website, it's because of government's intrusion into our lives, and forcing people to do things.
Approval of ObamaCARE hits record low on Gallup poll – Government intrusion
Hillary Clinton is already damaged goods. No matter how hard BJ Clinton tries to distance his wife from Obama, it just isn't working. It's gotten so bad that fat boy Chris Christie leads Hillary Clinton 43-42% in a hypothetical 2016 presidential poll by Quinnipiac. I can easily say that if Chris Christie is the GOP nominee in 2016, I'll either not vote, or waste mine a third party candidate. Still, seeing the 'invincible' corrupt Hillary Clinton losing does bring at least a small smile to my face. Of course, this is still three years away so like Hillary Clinton said about the dead Americans in Benghazi, what difference does it make?
Obama's lapdogs at NBC are really on suicide watch. NBC-Wall Street Journal poll released tonight with a Democrat oversampling of D+9 shows Obama at a record low approval rating of 42% for this poll. You wouldn't know it by the headline of the story. You have to scroll all the way to the end of the article that states Obama's approval rating is now at a record low in an NBC poll. Another interesting stat from this poll is Hillary Clinton's approval ratings. Only 46% polled have a favorable view of Hillary.