It's really got to suck to be a progressive liberal these days. Their 'peaceful protests' are being exposing as nothing more than a bunch of spoiled little 20 year olds, looting stores, setting businesses on fire, and blocking traffic. Now, more bad news for them. For the first time in over 20 years, Americans support gun rights over gun control.
More matter how much th eleft wing corrupt media wants to use things like the Sandy Hook shooting to push their anti-gun agenda, it just isn't working anymore. It's really got to suck for Piers Morgan too. Not only did CNN dump his ass, but this whole gun control arguement was the entire basis of his show. DOesn't looking like anyone will be running to hire him anytime soon for TV.
Americans support gun rights more than gun control – first time in over 20 years
For the first time in more than two decades of Pew Research Center surveys, there is more support for gun rights than gun control. Currently, 52% say it is more important to protect the right of Americans to own guns, while 46% say it is more important to control gun ownership.
The first poll for the December 6 runoff between Bill Cassidy and far left Marxist Mary Landrieu is out, and it's as bad as piggie Landrieu can expect. Bill Cassidy leaders the Washington DC resident Landrieu by 21 points! The poll shows Bill Cassidy getting 59% of the vote with Landrieu only getting 38%. But there are also some rather interesting things about this Gravis poll.
The poll is skewed with a Democrat oversample D+8. That's a rather odd sample, considering the voter breakdown was R+1 according to CNN's exit polls in the November 4th election.
The poll also samples 25% of the voters being black. This actually undersamples the black vote in the original mid-tere election, as 30% of the total vote was black.
First Louisiana runoff poll: Bill Cassidy leads by 21
The Democrats are really in trouble. According to Gallup, Democrat favorable ratings have hit an all time low of just 36%. Republicans, who typical have low favorable ratings are actually ahead of Democrats by six points. Again, we can thank Obama and other arrogant progressive liberal Democrats like Jonathan Gruber for waking up more of the population. Democrats have even hit an all time low for favorable ratings among independent voters at just 25%. The Democrat party is in trouble. They are looking a lot like the Republicans did in 2008.
Democrat favorable ratings hit all time low
Heckuva job there Debbie Wasserman-Schultz! You deserve a promotion! No Republican could have destroyed the Democrats as quickly as Debbie Wasserman-Schultz and Obama have.
Read more
Thom Tillis has taken a two point lead over corrupt Democrat Kay Hagan in the final Harper poll released. This poll has a D+9 bias and assumes 20% of the voters will be black. In 2012, during a presidential election, the exit polls showed that D+6 voted in that election, with 23% of the vote being from blacks. There is no way tomorrow's election will turn out Democrats at a higher rate than a presidential election, and with a lower voter turnout, the black vote isn't likely to hit 20% of the total vote in North Carolina.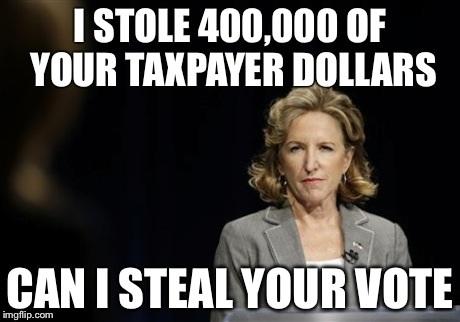 Thom Tillis takes two point lead in D+9 poll
The latest New England College Polling Center finds Scott Brown slightly ahead of far left liberal extremist Jeanne Shaheen for the New Hampshire Senate seat. Brown has 49% of the vote to Shaheen's 48%. The good news is that in this poll, Scott Brown leads extremist Shaheen by nine percentage points with independent votes. That voting bloc is big in New Hampshire, though it tends to be a blue state. Of course you'll also have to factor in the inevitable Democrat voter fraud too.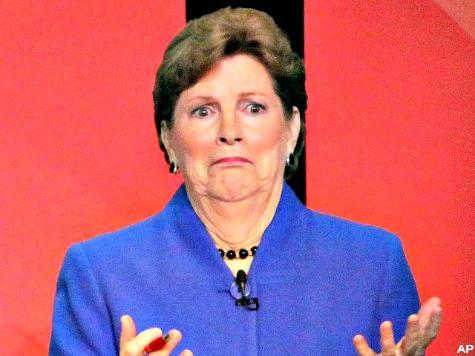 Scott Brown takes small lead over Jeanne Shaheen
Hussein Obama has hit a brand new low in personal favorability ratings according to left-wing biased ABC/Washington Post latest polling. Just 44% like Obama personally. Obama has generally been able to maintain the charade about him being a likable guy for most of the last six years, but even that now is starting to fade away. Another charade that Obama had been able to maintain (with the help from the Washington Post and ABC) is that generally believed for whatever reason believed that Obama understands the problems of people like them. Well, that's at a new low too, as just 46% of those polled feel like Obama 'feels their pain'. The fact there are still this many dolts who believe it though also says a lot about the electorate and why Obama was able to win two elections.
Obama hits new low for favorability on ABC-WaPo poll
Joni Ernst is pulling away from Bruce Braley in Iowa! The latest Des Moines Register poll shows Ernst up seven points of Bruce Bailey (Braley). Democrats can't even pronounce Braley's last name right and apparently Iowa voters don't want him either. This poll shows Ernst over the 50% mark at 51% as Braley continues to fade away.
Joni Ernst has charged to achieve a 7-point lead over Democrat Bruce Braley in a new Iowa Poll, which buoys the GOP's hope that an Iowa victory will be the tipping point to a Republican takeover of the U.S. Senate.
This great news comes on the heals of Harry Reid declaring that if Ernst wins in Iowa, the Democrat majority will be wiped out in the Senate. Harry Reid is afraid of Joni Ernst, and now you can see why.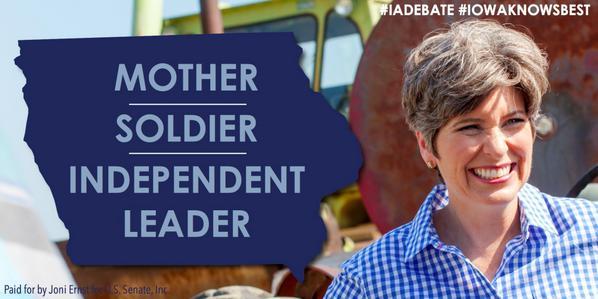 Des Moines Register poll shows Joni Ernst up 7 points
Tom Cotton has taken a double digit lead (13 points) over far left extremist Mark Pryor in the latest University of Arkansas Poll for Senate. Democrats have been trying desperately to save Mark Pryor's liberal ass, and they are failing badly. Pryor votes with Obama 90% of the time, and that isn't what Arkansas want. The latest University of Arkansas poll not only shows Cotton up 13 points, but shows Obama with just a 27% approval rating. This poll even has a D+3 sample (as you would expect from a liberal college).
This poll also shows a big lead in the race for Arkansas governor for Asa Hutchinson. Current Democrat governor Mike Beebe is term limited and toast.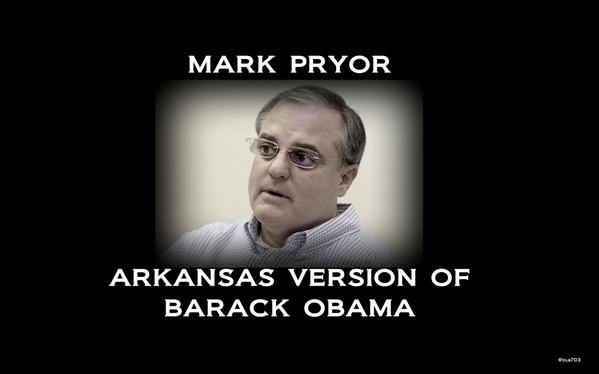 Tom Cotton takes double digit lead over leftist Mark Pryor
The polls for the Wisconsin governor's race have shifted heavily in favor of Scott Walker. According to the latest Marquette Law School Poll, Walker now leads left wing extremist Mary Burke by 7 percentage points at 50% to 43%. Wisconsin Reporter revealed that Mary Burke did in fact lie about being fired from Trek, ask one of their executives confirmed the Burke firing:
Executive with Trek tells Wisconsin Reporter that Mary Burke's position was eliminated because she was fired. "There was no reorganization."

— Wisconsin Reporter (@wisconsinreport) October 29, 2014
Mary Burke tells mainstream media she wasn't fired, Trek just "reorganized and eliminated the position that I had."

— Wisconsin Reporter (@wisconsinreport) October 29, 2014
This is of course devastating news for the union thugs and left wing extremists in Madison.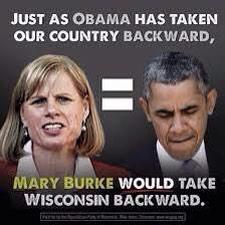 Mary Burke was fired from Trek despite her lies
Since 2009, Democrats in Kentucky have declined by a whopping 13%. In 2009, 52% of Kentucky identified themselves, or leaned Democrat according to Gallup. Today, that number is down to just 39%.
Obama approval rating in Kentucky now under 30%
Obama's approval ratings in Kentucky are also in the toilet, like everywhere else. In 2009, Obama's approval rating in Kentucky was 53%. Today? Obama's approval is at a pitiful 29%.
Obama's approval ratings in Kentucky are also in the toilet, like everywhere else. In 2009, Obama's approval rating in Kentucky was 53%. Today? Obama's approval is at a pitiful 29%.
It's not that Mitch McConnell is so popular in Kentucky, it's just how corrupt the Democrat party is.
Read more