Mary Landrieu has just imploded. She was given a softball interview with Chuck Todd on Meet the Press for this Sunday. As is typical for liberal Democrats, Landrieu played the race and sexist card. You see, according to Mary Landrieu, her numbers stink because Louisiana is racist and hate Obama. Yep, she went there. Watch the following video where Landrieu just blew the lid off her campaign calling all of Lousiana and the south racist and sexist: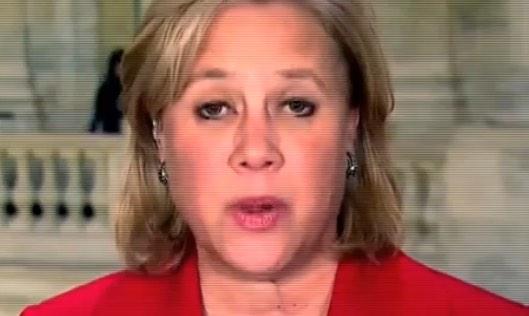 Mary Landrieu calls all Louisiana and southern voters racist and sexist (Video)
This is Mary Landrieu's Todd Akin moment. Her crack about racism and sexism might send shockwaves through the races in Arkanasas, Georgia and North Carolina, where Democrats there have already upped the race hustling.
Read more
So is the grand jury finished the case and decided not to indict Darren Wilson? We may hear the decision later this week, even possibly as early as Wednesday. This was posted to Instagram earlier tonight. Of course, I could be just pure BS, as we've heard the Daren Wilson no indictment decision may come out several times already.
Darren Wilson decision this week? No indictment?
If this is true, and the decision is released to the public tomorrow, Wednesday is shaping up to be a very busy day. ISIS is threatening to behead Peter Kassig and you know if this decision comes out, Ferguson will go nuts, riots and looting will start, and it will total carnage. You may even see violence in other cities as leftists race hustlers have been trying to gin up the anger since the story first broke about Brown being shot.
Earlier, Gateway Pundit mentioned to expect more leaks on the Darren Wilson indictment later this week. If this is the leak, look out.
Oh, and we're still waiting for the big James O'Keefe Project Veritas video release of voter fraud he's been mentioning on Twitter too.
You probably already know just how sick, twisted, and downright pitiful progressive liberal Democrats are. If you've paid any attention to politics since the year 2000, you know. But this ad, being sent out by Georgia Democrat on behalf of Michelle Nunn is beyond the pale. Check out this ad, targeted at Georgia's blacks:
Disgusting Georgia Democrat mail ad – Image credit: @AdamscharlesP
Basically, Georgia Democrats are saying vote against Republicans, or there will be another Ferguson. Aka, a black kid will be shot by a Republican cop.
Read more
Vest or Vote is a new, racist Democrat ad by some left wing group called 'Dream Defenders'. The ad is targeted at blacks, and is basically telling them that unless they vote, a cop will shoot them or something. Yep. This is where Democrats have come as far as 'issues' to campaign on. The 'War on Women' BS is backfiring on Mark Uterus Udall. The stock market is crashing, and the economy still sucks, so Democrats can't run on that. ISIS is establishing a caliphate and beheading Americans. So what's left for Democrats to run on? Vest or Vote race hustling of course.
Vest or Vote – racist Democrat ad – vote or cops will shoot you VIDEO
Of course this Vest or Vote ad by Dream Defenders fails to mention that 98% of all blacks shot in this country are by other blacks. If Democrats had any dignity, they would disown this ad and tell Dream Defenders to pull it from Youtube. But remember, Democrats thrive off BS like this. Democrats have absolutely no integrity.
Read more
So now Joe Biden is a racist too. We already knew he was a plagiarist, and the dumbest Vice President in American history. But today, while campaigning for the Democrat candidate for governor in South Carolina, Biden declared himself to be 'the only white boy on the east side of Wilmington.' Joe Biden is lucky he's a Democrat, and the media licks his and Obama's butt. Had this been Dick Cheney, or any Republican Vice President saying this, there would be 24/7 media coverage and the Congressional Black Caucus demanding him resign.
Racist Joe Biden says he is: 'the only white boy on the east side of Wilmington'
Biden's words of racism are buried deep in a CNN article about Biden's campaigning today.
More whites are killed than blacks by cops ever year in this country. Yet if you listen to the liberal news, or race hustling blacks, you'd think blacks are getting slaughtered Yazidis at the hands of ISIS. Problem for black race hustlers and the media though, it's whites who are more often killed by cops than blacks.
More whites are killed than blacks by cops – race hustlers silent
When a white is killed by the cops, you never see rioting, looting, or threats against the cop's life. These numbers are in spite of blacks committing about 67% of the crimes in this country.
Read more
Updates:
Police pepper spraying thuggish protesters.. Whoa!
#shawshooting "@Yamiche: Police officer just maced the crowd. People –and me–are coughing and crying. https://t.co/MMtBONNpRy"

— Arlette (@arletteacosta) October 10, 2014

American flag burned at this 'protest'. Just like radical Muslims or left wing extremists.
American flag burning Vine video added:
Blacks burn American flag at Shaw Market protests.
Protesters steal flag from Beauvais Manor Nursing Home:
RT @argusnewsnow: Protester in crowd takes down flag of nursing home on Grand. pic.twitter.com/XiXPEQf7O1 #shawshooting

— Staci D Kramer (@sdkstl) October 10, 2014
One of the several American flags burned tonight in St. Louis was stolen from someone's house:
To add insult to injury, it seems that at least one of the flags burned was STOLEN from the porch of a nearby house. #shawshooting

— Nick (@9Joe9) October 10, 2014

Now let's remember. This kid who was shot yesterday wasn't unarmed like Michael Brown. This gangsta thug shot at the off-duty cop first. Yet, I guess this is how his supporters 'protest'.
Protester puts St. Louis Post Dispatch reporter Valerie Schremp Hahn in headlock, tried to steal her iPhone.
Some guy asked what I was tweeting and I said nothing. He basically but me in a headlock and asked to get my phone. I said no

— Valerie Schremp Hahn (@valeriehahn) October 10, 2014
I screamed "get away from me! Get away from me!" And ran towards the crowd. My press pass fell off but I still have my damn phone.

— Valerie Schremp Hahn (@valeriehahn) October 10, 2014
It was some guy who saw me tweeting about the bricks. If it makes him feel better I didn't get his picture.

— Valerie Schremp Hahn (@valeriehahn) October 10, 2014
Vonderrit Myers Jr. shot by off-duty cop in St. Louis last night that sparked more riots in the city torn by the Ferguson riots. Police say Vonderrit Myers Jr. shot at an off-duty cop in St. Louis and the cop fired back, killing Myers in self-defense. His mother however claims he wasn't armed, even though she wasn't there when it happened. Vonderrit Myers Jr. sandwhich was mistaken for a gun, according to left wing sites and those defending the gangsta thug. I guess we'll have to wait and see what happens, and the Vonderrit Myers Jr. 'gentle giant' narrative will be echoed by left wing media hacks. Below is a picture of Vonderrit Myers Jr. flashing gang signs with his homies.
Vonderrit Myers Jr. flashing gang signs with his 'homies'
According to Gateway Pundit, Vonderrit Myers Jr. already had a gun felony charge. He was also wearing an ankle monitoring bracelet. Yep, Vonderrit Myers Jr. was another gentle giant. Let the media narrative begin.
An off-duty cop in South St. Louis near the 4100 black of Shaw Market shot and killed a black male. This is being dubbed the #shawshooting on social media. According to Fox2Now, the police claim an off-duty officer working a second job attempted pedestrian check. The suspect fled on foot, and off-duty officer pursed the suspect. This time the cop had a perfectly logical reason for shooting the suspect. According to the story, the suspect turned and fired a gun at the officer. The officer fearing for his life returned fire fatally wounding the suspect.
As you would expect, riots are starting up again near St. Louis because of the #shawshooting. They rioters are still with that stupid chant of 'hands up don't shoot' but that doesn't work in this case. The rioters have been reportedly breaking cop car windows and attack other cops. A riot gear is on the way as I type this. The black male who was shot near Shaw Market was 18 years old. This did not happen in Ferguson. It was in South St. Louis.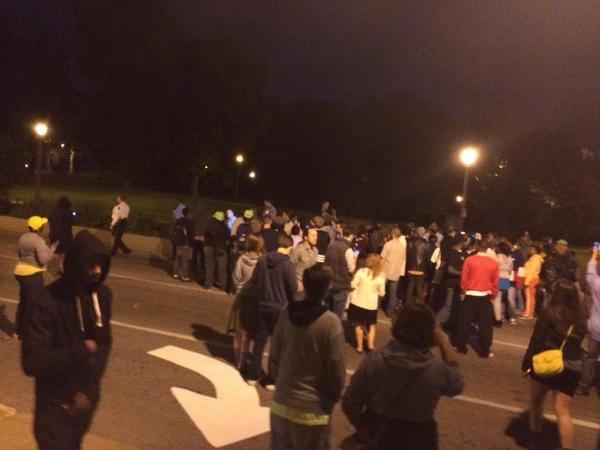 St. Louis off-duty cop shoots-kills black male #shawshooting
BREAKING: Police have issued a riot call; militarized police are inbound. #STL #ShawShooting

— TheAnonMessage (@TheAnonMessage) October 9, 2014
Get ready for the usual racial demagogues to take advantage of this as well as the corrupt liberal media. I wonder if Obama will come out between fundraisers and say, If I had a son, he'd look like (whoever shot at the cop).
Gangsta Michael Brown protesters latest disgusting dispplay is disrupting St. Louis Symphony last night in St. Louis City. According to The Gateway Pundit, it all happened as the St. Louis Symphony Orchestra and Chorus were preparing to perform Brahms' Requiem just after the intermission. The Michael Brown thugs stood up after intermission, hung signs and began to 'sing' Which side are you on? Justice for Mike Brown. Video below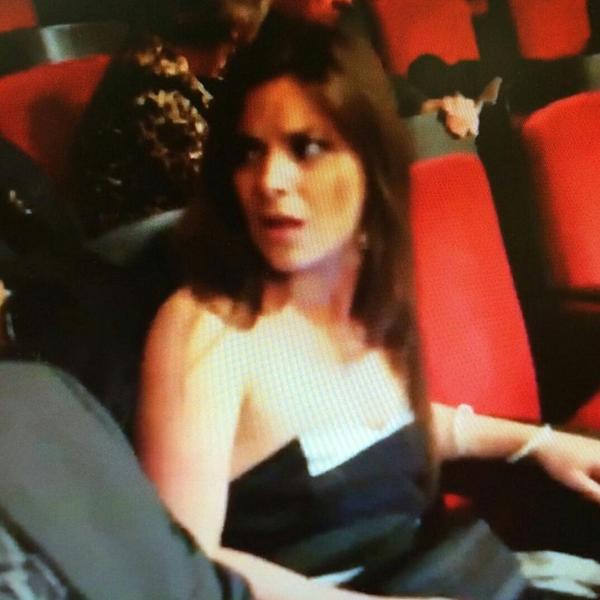 Michael Brown thugs disrupt St. Louis Symphony (Video)
Because you know, all the musicians and those who just went to listen to music are racists who shot Mike Brown for being black or something, Am i right?
Read more