Meet David Anthony Wiggins. He's a black guy running for Sheriff of Baltimore. You know Baltimore don't you? One of the highest crime areas in the country and the armpit of Maryland? David Anthony Wiggins doesn't seem to like white people or Jews either. During a 'rally' for Ray Rice said "White People should just shut the fuck up." Oh, and apparently, whitey are the most violent people in the world too.
Check out the following video (via; Moonbattery)
Black Baltimore Sheriff Candidate says white people should just shut the fuck up (Video)
He also pulled a Joe Biden by claiming "Jews get away with everything."
Read more
Elswart Richard Bodden is the latest black thug to kill whitey. He 'allegedly' stabbed Annika Horn 20 times. He also stole cash and a gun from Horn. What's that? You didn't hear about this on CNN or Fox News? That's because this story, yet again because it's black on white is only covered a little bit by the local media. Reverse the races here, and this would be the new Trayvon or Michael Brown. Annika Horn is currently in critical condition.
Elswart Richard Bodden (black thug) stabs Annika Horn 20 times to death
Looks like the Michael Brown thug protesters are back in Ferguson. A few protesters were arrested while trying to block Highway 70 near Hanley. Below are some pictures from Twitter of the 'protests' and arrests. Pant's up, don't loot!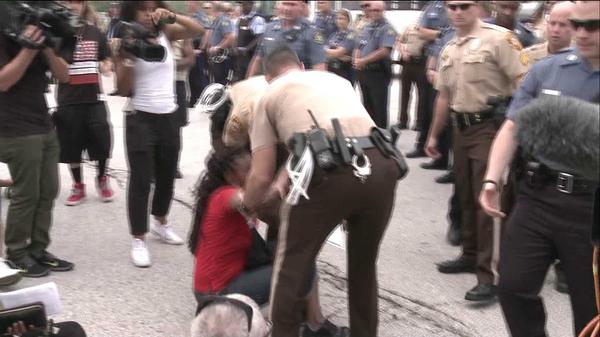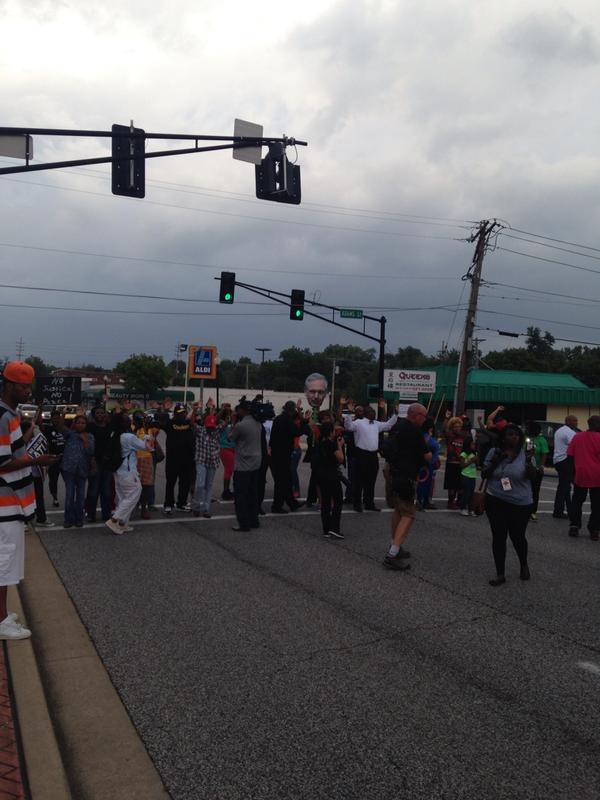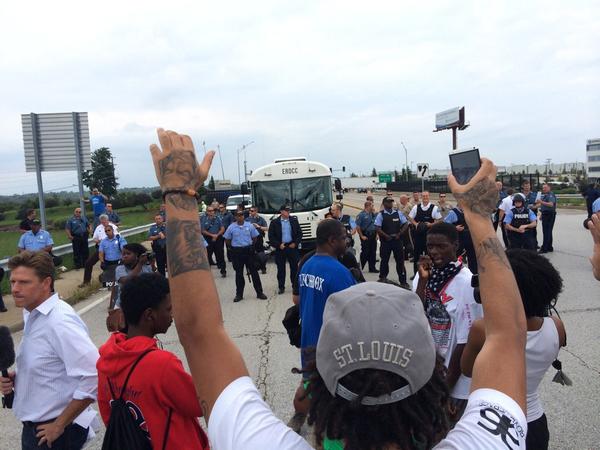 Michael Brown protesters arrested for blocking Highway 70 at Hanley (Pictures)
And as usual, the leftist race hustlers are doing what they do best on Twitter, playing keyboard cowboys.
White person arresting black person; white person arresting black person; and white person arresting black person #Ferguson

— Brian Thill (@Brian_Thill) September 10, 2014
Stay woke people. They'd rather arrest 100 black protesters than one murderous white cop. White supremacy is REAL. #Ferguson

— Ms. Lowe to you… (@MsLoweToYou) September 10, 2014
Stay woke?
Read more
Two female black thugs decided to 'allegedly' rob a white couple in their Brooklyn apartment. But that's not the main story. These two female black thugs also forced the people to flee their apartment at gunpoint 'allegedly' claiming 'they are tired of the white people moving in' to the hood. There names are Precious Parker, 30, and Sabrina James, 23. I bet Eric Holder doesn't launch a DOJ investigation over this 'precious' anti-white attack.
Two female black thugs allegedly rob whites, force them to flee apartment in Brooklyn because 'they are tired of white people moving in'
Sometimes, even when you think no one can defend the indefensible, people find a way to surprise you. Check out the reaction of some blacks and liberal extremists who actually blame Janay Rice for being knocked out by now unemployed football player Ray Rice. 'Bitch had it coming' is the most common defense for Ray Rice. BTW, anyone hear anything from 'back of the hand' Debbie Wasserman-Schultz about this?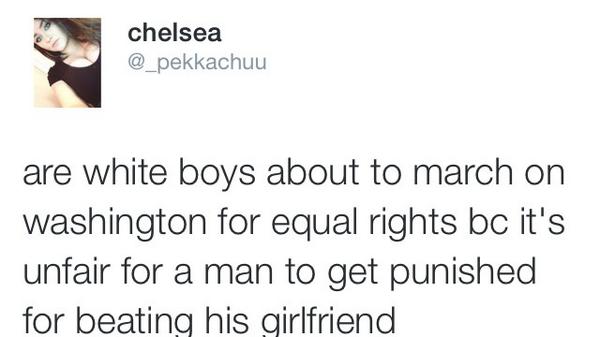 Blacks and leftists on Twitter blame Janay Rice for beating
The racist witch hunt and moral chest thumping in situations like Ray Rice is really getting old. Utter stupidity

— Chris Cox (@chriscox_317) September 8, 2014
So going after Ray Rice for knocking out his then girlfriend is a 'witch hunt'? Umm.. Ok.
JUSTICE FOR @RayRice27 THE NFL IS RACIST. THIS IS UNFAIR. HE DONT DESERVE THIS LEVEL OF PUNISHMENT. ITS CUZ HE BLACK.

— Jon Gotti (@POONsoaker) September 8, 2014
It because Ray Race is black..
How do we know it's even Ray Rice? What if you're just racist and think all black people look alike?

— FanSince09 (@FanSince09) September 8, 2014
Who was it then genius? Ray Rice's stunt double?
Ray rice is that man, that bitch had it coming

— Dave Kessler (@cocainecowboy92) September 8, 2014
That ray rice shit dumb.. If a bitch act up she deserve it

— tyler (@_GOTTI410) September 8, 2014
The 'bitch had it coming.'
Here is some more from this 'Tyler' idiot:
The bitch was drunk and actin stupid makin him look dumb soo

— tyler (@_GOTTI410) September 8, 2014
Dayum! 'They got a white dude!' That's just some of the reaction on the video of a mob of 20 or so black thugs beating up two white Kroger employees and a customer Saturday night in Memphis. Yet another racially motivated attack goes on the books and the media remains silent along with the rats Jesse Jackson and Al Sharpton.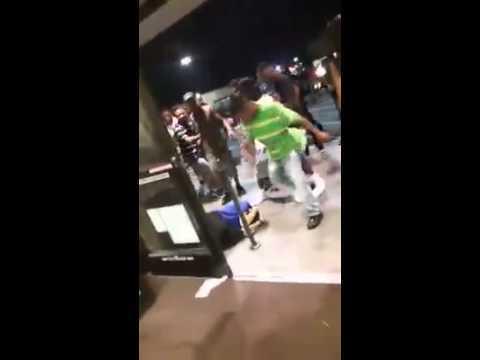 Gang of black thugs beat white Kroger worker, customer unconscious in Memphis (Video)
Time for the corrupt Eric Holder Department of Justice to divert attention away from Obama's failures in the middle east and ISIS. The race hustling DOJ is set to open a civil investigation of the entire Ferguson, Missouri, Police Department. Just as things finally started to calm down in Ferguson, and riots, looting stopped, the Obama regime is pouring gas on the fire to get it going again.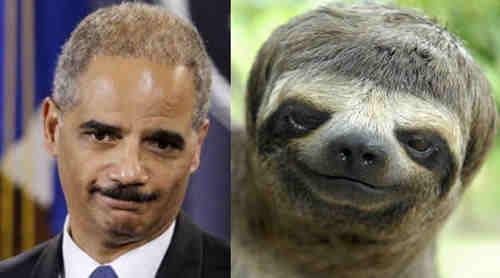 Corrupt Department of Justice to open a civil investigation in Ferguson
Black thug Edward J. Fall was charged with assault, reckless endangerment and criminal possession of a weapon as part of a hate crime, according to police. Of course since Edward Fall is black and the jogging victims were white, don't expect this story to get any national media attention. Also, you can rest assured that Al Sharpton and Jesse Jackson will not have any comment on the latest hate crime against whites by blacks.
Edward J. Fall charged with as hate crime for pellet gun shooting
Police say due to further investigation, Fall has been charged with another similar assault where a 34-year-old jogger was hit in the head with a pellet gun near Central Park North and East Drive. He faces the same charges of assault, reckless endangerment and criminal possession of a weapon. That incident occurred on Sunday, August 17 around 9:05 p.m., according to police.
As WCBS 880's Jim Smith reported earlier Saturday, two men were being questioned by police and a third suspect is being sought.
The NYPD Hate Crime Task Force is investigating the incident as a possible hate crime after police say the woman was shot in the back of the head with a BB gun while exiting the park near 60th Street and West Drive around midnight.
Wesley Lowery, the smug little WaPo leftist and race hustler is accusing Gateway Pundit and Progressives Today of posting 'forged' x-rays of Darren Wilson's orbital fracture. This is kind of funny since Lowery's paper the Washington Post posted about Darren Wilson's orbital fracture, as did three other news sites. This erupted as Wesley Lowery was trying to white-wash Michael Brown gangsta rap lyrics as used by any rapper/rock band. While using words like 'bitch, ho and cum' may be common in gangster rap, I don't know of too many rock bands who include those words in their lyrics for their songs. Check out Lowery accusing Gateway Pundit of posting forged x-rays.
Wesley Lowery accuses Gateway Pundit of posting forged x-rays of Darren Wilson's orbital fracture
@ProgsToday you're linking to the blog of someone who forged x-rays to advance a made up "orbital fracture" story. Real credible

— Wesley Lowery (@WesleyLowery) September 1, 2014
Of course, this is the same Wesley Lowery who went along with Michael Brown being shot in the back, which was proven to be complete and utter BS. Lowery is just your typical leftist, DC crank who thinks race hustling and smearing conservatives will get people to read his columns in a newspaper that's been bleeding readers for years now.
Read more
Today in Ferguson was the Michael Brown "Peace and Justice" rally in Ferguson. Among those in attendance were Communists, socialists, union thugs, Hamas apologists and even a de-faced American flag. A couple dozen showed up for the rally which was mostly out of towners.
Defaced American flag in Ferguson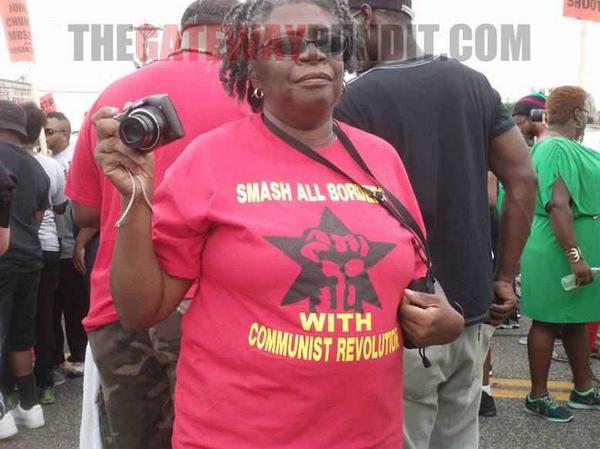 Communists at Michael Brown Peace and Justice rally in Ferguson – Photos: Gateway Pundit