Samuel L Jackson has released a video whining about 'racist cops'. Jackson like a typical Hollywood privileged leftist also bashes those who took the ALS Ice Bucket Challenge and not standing up to so called 'racist' cops. Samuel l Jackson also calls on people to sing about the racist police. Of course if you do watch the video, you'll probably notice that Jackson appears either stoned, drunk, or both. Watch the following video of Samuel L Jackson whining about racist cop and doing what the left does best.
Samuel L Jackson video whines about 'racist cops'
Samuel L Jackson is a mediocre actor in Hollywood who makes millions off the evil whitey, and even the so called 'racist police'. This video reveals what I like to call Hollywood Privilege. Jackson is just another in the long line of Hollywood race hustling idiots who is trying to make a name for themselves. When your acting skills are mediocre at best like Jackson, you have to do something stupid like this.
I wonder if Samuel L. Jackson things the security guards who protect his life are racist. Or even the cops that are hired to protect his worthless ass during movie filming. If you go by his attitude in this video, then maybe he does.
This video is basically Samuel L. Jackson's CHarlie Sheen moment. He knows he's fading away in Hollywood so he's desperate for attention.
Congressional Black Caucus staffers get paid with our tax dollars. Get paid far more than they are worth, and get all perks of a congressional staffers So what they do? They walked off the job, to protest Mike Brown and Eric Garner. These spoiled congressional staffers are really no better than the Berkeley or Ferguson rioters.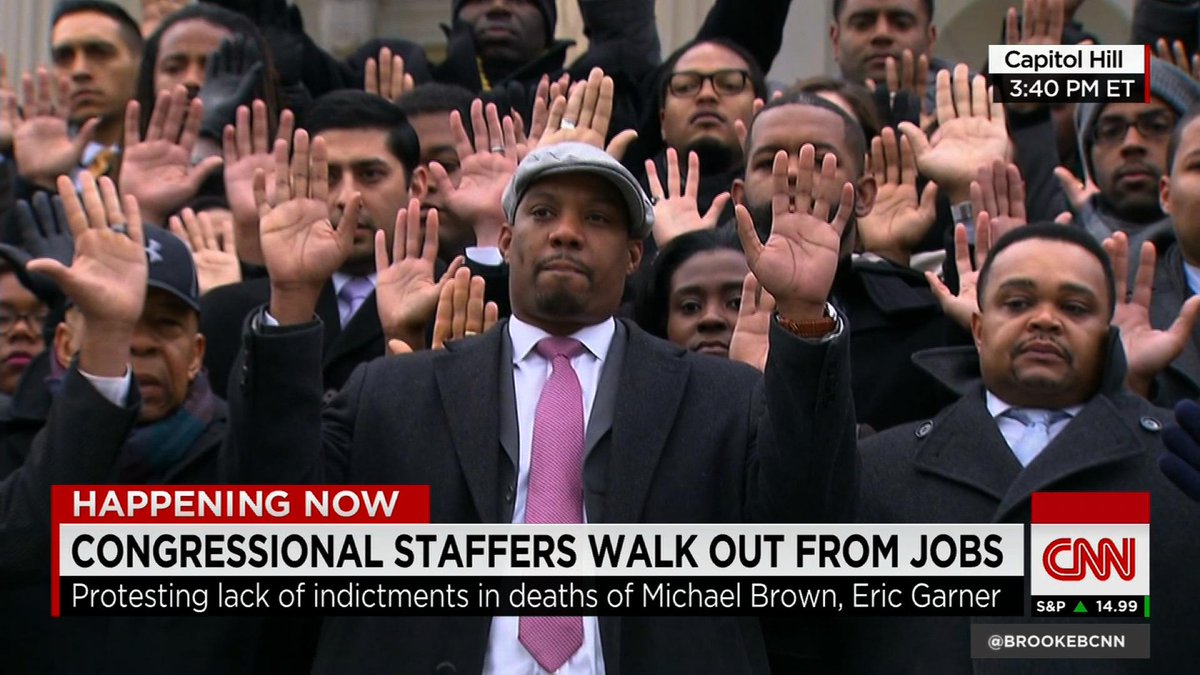 Congressional staffers walk out from jobs over Garner, Brown
JUST IN @CNN: Congressional staffers walk out from jobs, protesting lack of indictments: http://t.co/Sj1ka3tSGB pic.twitter.com/6XVLBMg1nI

— The Situation Room (@CNNSitRoom) December 11, 2014
Oh and guess what? We still will pay their salary. Plus, The Boehner CROmnibus bill gives the Congressional Black Caucus and other federal workers a pay raise next year.
Congressional Black Caucus Staffers walk out with hands up over #Ferguson – incredible how the hands up lie refuses to die. #tcot #Tgdn #NRx

— Virginia Dare (@vdare) December 11, 2014
Yea, because these Congressional Black Caucus staffers are such victims of the evil white man, and racist cops right?
Read more
Your tax dollars at work. The Eric Holder Department of Social Justice had meetings with Ferguson residents about 'white privilege'. And your tax dollars paid for them too.
When Department of Justice officials arrived in Ferguson, Mo., one day after the death of Michael Brown, it wasn't just to conduct an investigation on potential civil-rights violations. In fact, officials from one Justice Department office were conducting meetings with Ferguson residents to educate them on subjects such as "white privilege."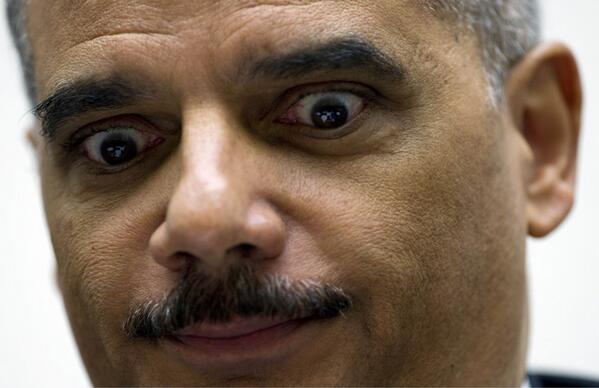 DOJ had meetings with Ferguson residents about 'white privilege'
Davin Joseph, a scrub guard for the St. Louis Rams is starting the race hustling crap. Picking up where the St. Louis Rams left off last week, Davin Joseph decided to write 'I can't breathe' on his cleats. This race hustling idiots still apparently don't realize that Eric Garner died of cardiac arrest in an ambulance, not when the cop put him in the choke hold. But facts like these don't matter to the St. Louis Rams or race hustlers like Davin Joseph. Not only did he write 'I can't breath' on his cleats, he also decided to tweet a picture of it to show everyone how much he 'cares' about Eric Garner and his family.
R.I.P Eric Garner pic.twitter.com/i84grny7pR

— Davin Joseph (@DavinJoseph75) December 7, 2014
BTW, how much money has Davin Joseph donated to Eric Garner's family to help with their loss? $0. Hypocrite.
The Gateway Pundit also compiled some pictures as fans reacted on Facebook to the race hustling Rams:
Rams G Davin Joseph writes I can't breathe on cleats. Facebook reacts
These Facebook posters make excellent points. Where's the outrage over the two white, Bosnian attacked with hammers by black thugs coming back from a Ferguson rally?
It's time for this idiots the understand the facts. Eric Garner died of cardiac arrest in an ambulance after the innocent with police. Personally, i don't think it was right for the cops to go that crazy on a man who just was selling cigarettes, but it wasn't the cop who killed him. Eric Garner didn't choke to death because of the hold on him.
Read more
Why the hell is Al Sharpton getting air time on Meet the Press? Al Sharpton is nothing more than a racial agitator who thrives and profits off racial divide. Do the idiots at NBC and especially Obama lapdog Chuck Todd really think that Al Sharpton adds anything to the conversation?
Pitiful – Meet the Press gives Al Sharpton air time
Meet the Press has been lousy credibility ever since Tim Russert died. After allowing Sharpton on the spew his propaganda today, Meet the Press has absolutely no credibility left.
Esaw Garner, the widow of Eric Garner had some very bad news for race hustlers. It wasn't racism that killed her husband Eric Garner selling cigarettes. It wasn't a black and white issue. Esaw Garner is a breath of fresh air amongst all the race hustlers out there trying to make the death of Eric Garner a race issue when he's not. Eric Garner died in the ambulance from cardiac arrested. He didn't die when the cop put the choke hold on him.
Esaw Garner does say so thinks her husband was murdered, even though he died in the ambulance. But I have no problem with what she said today. That could be her true feeling. Anyone who watches that video of the NYPD video and Eric Garner may tend to agree with her.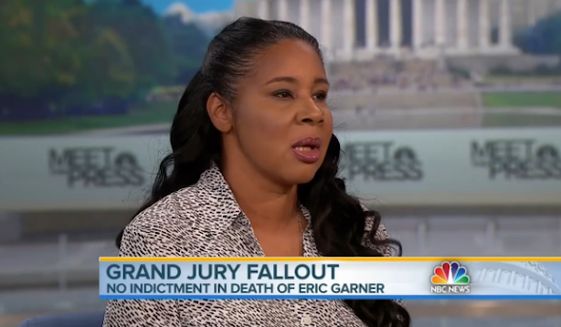 Esaw Garner – It wasn't racism that killed my husband VIDEO
Megyn Kelly wasn't having any of racist black Rep. Al Green from Houston. The clown show that is the Congressional Black Caucus is nothing more than a race hustling arm of the House and Senate for blacks. They basically do what the NAACP and Al Sharpton, while being paid by the American tax payer. Watch the following video of Megyn Kelly destroy Al Green as he tried to make excuses why the grand jury came to the decision they did in Ferguson. You see, according to Al Green, all of the black witnesses who described Mike Brown rushing the cop simply made 'mistakes' or something. Megyn Kelly wasn't having any of Al Green's bs: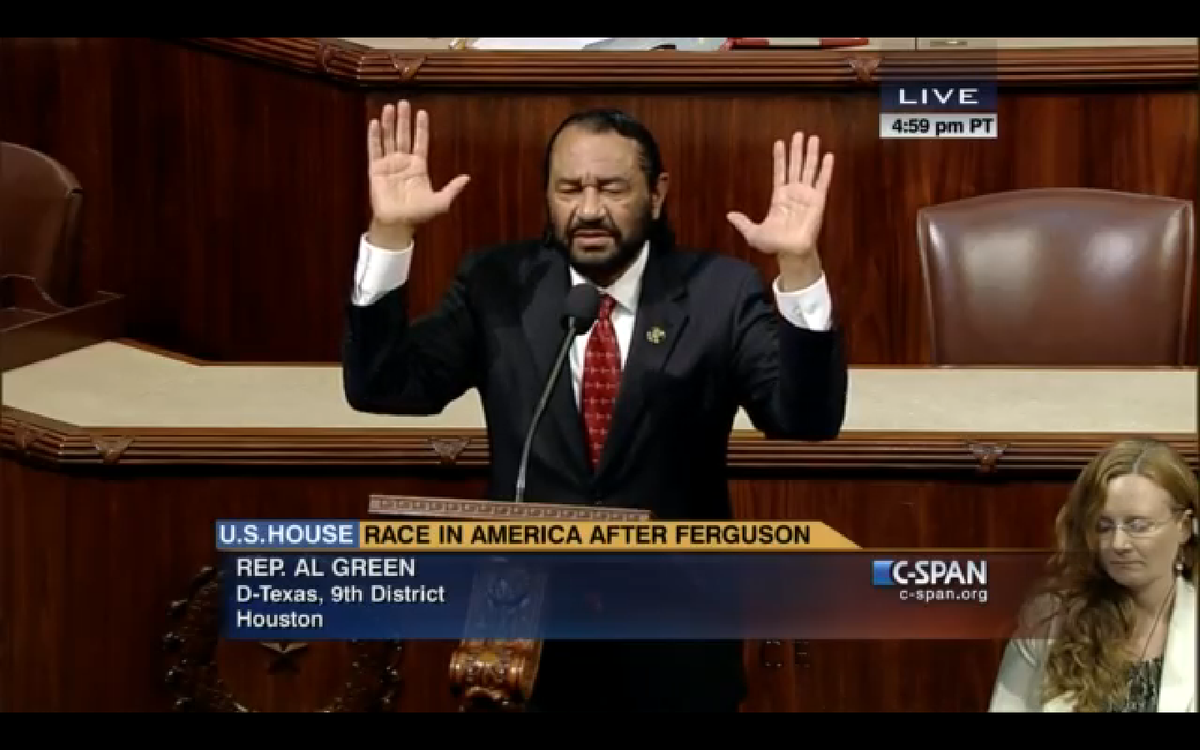 Megyb Kelly owns and destroys racist Rep. Al Green VIDEO
Al Green looks like some washed up 1960's hippie who works with Al Sharpton. The Congressional Black Caucus' little 'hands up don't shoot' stunt last night just proves yet again what a joke the CBC really is.
BTW Al Green. How much money have you donated to the businesses that were looted and burned down in Ferguson? I'd bet zero. What's the matter with Houston. Al Green and Sheila Jackson-Lee. Houston, you really have a problem!
Read more
Boo hoo. Leftists are all mad at Don Lemon. Last night during the Ferguson riots, Lemon said 'Obviously There Is The Smell Of Marijuana In The Air As Well'. Watch the following video: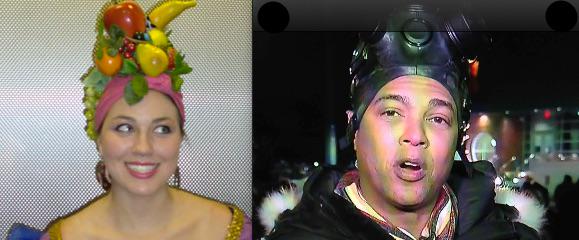 Leaflets in Ferguson: If Murdering Pig Walks Amerikkka Must Be Brought To A Halt
Don Lemon's marijuana crack didn't sit well with leftists, or blacks:
My boss, a white man, says to me,"Don Lemon holds contempt for other blacks. Racist will use him&turn on him. They know he's opportunistic."

— Iamhumbled (@melaninisthekey) November 25, 2014
I doubt if @donlemon from us … He don't represent us but only protect White Racist supremacist @CNN lies

— Real Jews R MELANIN (@ohhJerusalem) November 25, 2014
Wait, he's black, and liberal, so he must be a white supremacist.
Between the racist remarks, terrible reporting, arrogance, and rape-victim-blaming, why is @donlemon still employed with you @CNN? #Ferguson

— Kerri Sullivan (@cashmoneykerri) November 25, 2014
Obviously, every time an unarmed black man gets killed by a racist cop, Don Lemon gets a pair of wings. #DonLemonReporting

— Brandon Miguez (@CrayolaInfantry) November 25, 2014
Couldn't tweet @ the time but @donlemon saying 'obviously the smell of marijuana is in the air' is so blatantly racist. WTF dude. Smh.

— Tanya Barrios (@tbarrios47) November 25, 2014
Good thing the bitter fruit Don Lemon is at CNN were hardly anyone saw him. Imagine if he was with Fox News and made that remark. It would be a bigger story than the riots last night in Ferguson.
These tweets mocking the bitter fruit are funny:
Read more
Blogger Adam Sharp from the blog Sharp Elbows was physically removed from the Al Sharpton press conference. You can watch it from the video below. Sharp had the 'audacity' to ask Al Sharpton about his tax dodging, esspecially when calling on all of 'racist' white American to pay more taxes for reparations.
Blogger Adam Sharp physically removed from Sharpton press conferenc (Video)
I never realized that Adam Sharp was so big where they needed a mob of people to remove him from the church where Sharpton was spewing his race hustling crap. Dude must be a real giant to need all of those people to remove him
Adam Sharp of Sharp Elbows blog must be the one who Don Lemon whined about earlier today when he called bloggers 'agitators.'
Here are a couple of tweets from Adam Sharp:
Read more
The looting in Ferguson has begun.
Watching video stream of looting in #Ferguson. Scanner reports of shots fired. So much for peaceful protests we were promised.

— Scott Sands (@scottsands) November 25, 2014
Also gun shots were heard outside of the Ferguson PD.
Looting now, also shots fired outside Ferguson PD.

— Dana Loesch (@DLoesch) November 25, 2014
To make things even worse, Obama decided to speak after the Ferguson press conference ended. And he played the race card which will stir up more animosity. Mission accomplished Al Sharpton.
Looting in Ferguson begins – Gun shots too