So not only did black Muslim Alton Nolen aka Jah'Keem Yisrael become a jihadist when he beheaded a woman in Oklahoma last week, he was also a racist who didn't like white people. Now, maybe it's time for Al Sharpton and Jesse Jackson to jump on his bandwagon. Of course, this may be the excuse the corrupt federal government can use to label the attack workplace violence instead of terrorism. Oh, and Nolen/Yisrael also had an infatuation with beheadings. Can you think of the only 'religion' that has such infatuation? Yep, Islam.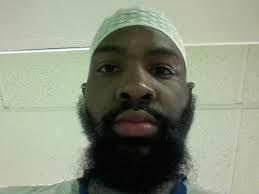 Black Muslim Alton Nolen didn't like white people either
You may be racist, according to Obama. In fact, 'most Americans' are racists says King Putts. Obama made his claim about how us Americans by pointing to a poll that shows 'most Aemricans' don't trust the criminal justice system. I hate to break it to Barry, but 'most Americans' have never trusted the so called 'justice system'. When they see Hollywood 'stars' or athletes getting slaps on the wrists that would land any other normal American in jail for years, it's kind of hard to trust it. I know, Obama is just doing to bidding of Al Sharpton, Jesse Jackson and the rest of race hustling grievance industry.
Obama – 'Most Americans' are racist
Updates:
Second cop shot!
2nd cop shot in the #Ferguson area…Seriously not good…

— Shiraz (@winefollie) September 28, 2014

Now they claim the cop that was shot was a man. Also, two or more suspects reported on the lose, not just one.
War on women? Female cop shot!
#BREAKING Woman #Police Officer Shot In #Ferguson Details Still Emerging http://t.co/tjD9xf9o5b #news #BreakingNews #STL

— Furrystoat (@Furrystoat) September 28, 2014
White man is the devil.. The typical rhetoric.
Listening to #Livestream of #Ferguson protestors shouts "The White Man is the Devil" whose racist?

— DianaWatt (@DianaWatt) September 28, 2014
Cop shooter not dead. Still on the loose.
MORE: Ferguson police officer shot. Suspect still on the loose. – @KellyJKSDK

— NewsBreaker (@NewsBreaker) September 28, 2014
Live stream of Ferguson added. It looks like it's going to be a long night.
Hey, remember Ferguson Missouri where a black gangsta was fatally shot by a white police officer, then the city burned to the ground? After riots calmed down for a couple weeks, they are starting up tonight. Tonight's shooting of a cop has yet again stirred tensions from Michael Brown shooting. Several of the 'protesters' cheered the news of a cop being shot in just the latest thuggery coming out of Ferguson. The perpetrator was not shot dead as first reports claimed. Pants up, don't loot!
Cop shot in Ferguson, Missouri
Ferguson, Missouri, police officer was shot Saturday evening, St. Louis County Police spokesman says. The officer was not killed.

— CNN Breaking News (@cnnbrk) September 28, 2014
Dammit. "@Nettaaaaaaaa: Apparently someone shot a #Ferguson Police officer in #Dellwood, person got killed by police. #MikeBrown"

— AMJ not Amanda… (@AmandaMichelle) September 28, 2014
#breaking a #Ferguson police officer has been shot. Working for more info now. @kmov

— Laura Hettiger KMOV (@LauraKHettiger) September 28, 2014
Oh good grief. Al Sharpton is helping the Obama White House pick who the next Attorney General will be. What could possibly go wrong here? BTW, wtf is an NBC paid employee doing anything with the corrupt Obama regime. Isn't this like some sort of conflict of interest? I guess they just don't have to hide it anymore.
Al Sharpton helping Obama pick next Attorney General
Jesse Leroy Matthews, a black thug who was last seen with Hannah Graham and then sped off is now wanted in Virginia. Jesse Leroy Matthew is wanted in the abduction of Hannah Graham with intent to defile.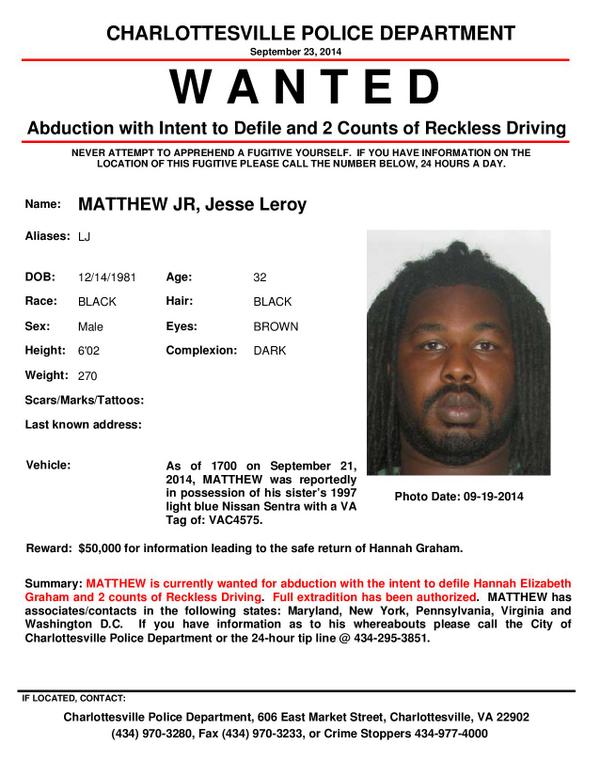 Jesse Matthew now wanted for abduction with intent to defile in Hannah Graham case
Lets see if the racial grievance industry CEOs Al Sharpton and Jesse Jackson come out to protect their victim Jesse Matthew.
Read more
Two black thugs rob six elderly whites in a racial motivated robbing in Missouri. The two black thug who robbed the six elderly whites (between the ages of 59-61) yelling 'The is for Mike Brown'. Not so surprisingly, the CEO of the race hustling grievance industry like Al Sharpton, Jesse Jackson and the NAACP are silent.
Two black thugs rob six elderly whites in Missouri yelling 'This is for Mike Brown'
Police say two thieves robbed six people in the 1100 block of Mississippi Saturday night and said "This is for Mike Brown" before fleeing the scene.
According to investigators, the six victims, whose ages range from 59-61, were leaving a restaurant and walking north on Mississippi when the two suspects approached them. One suspect pulled out a gun and the other demanded the victim's property.
The victims complied and the suspects fled the scene.
Meet David Anthony Wiggins. He's a black guy running for Sheriff of Baltimore. You know Baltimore don't you? One of the highest crime areas in the country and the armpit of Maryland? David Anthony Wiggins doesn't seem to like white people or Jews either. During a 'rally' for Ray Rice said "White People should just shut the fuck up." Oh, and apparently, whitey are the most violent people in the world too.
Check out the following video (via; Moonbattery)
Black Baltimore Sheriff Candidate says white people should just shut the fuck up (Video)
He also pulled a Joe Biden by claiming "Jews get away with everything."
Read more
Elswart Richard Bodden is the latest black thug to kill whitey. He 'allegedly' stabbed Annika Horn 20 times. He also stole cash and a gun from Horn. What's that? You didn't hear about this on CNN or Fox News? That's because this story, yet again because it's black on white is only covered a little bit by the local media. Reverse the races here, and this would be the new Trayvon or Michael Brown. Annika Horn is currently in critical condition.
Elswart Richard Bodden (black thug) stabs Annika Horn 20 times to death
Looks like the Michael Brown thug protesters are back in Ferguson. A few protesters were arrested while trying to block Highway 70 near Hanley. Below are some pictures from Twitter of the 'protests' and arrests. Pant's up, don't loot!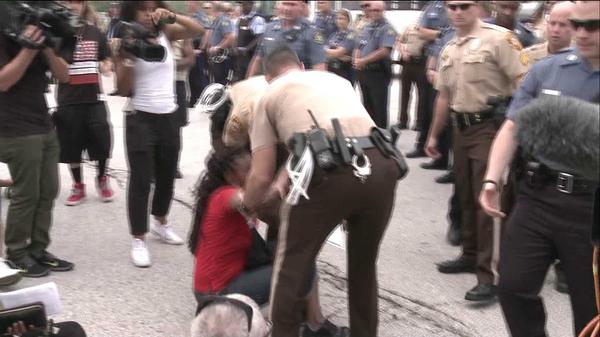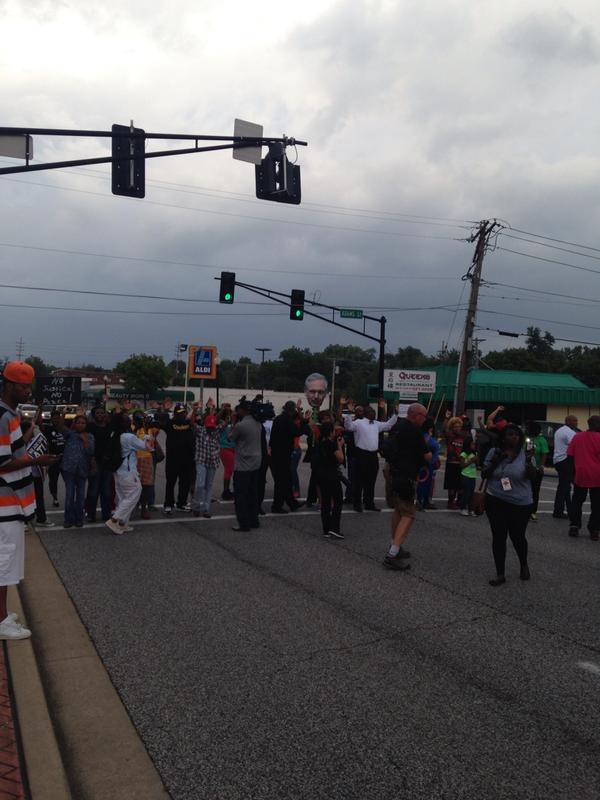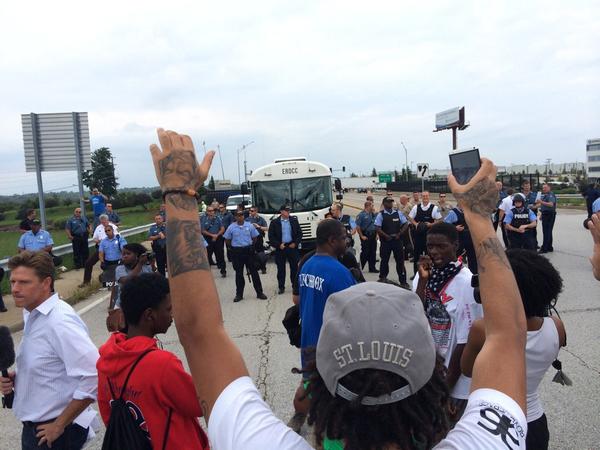 Michael Brown protesters arrested for blocking Highway 70 at Hanley (Pictures)
And as usual, the leftist race hustlers are doing what they do best on Twitter, playing keyboard cowboys.
White person arresting black person; white person arresting black person; and white person arresting black person #Ferguson

— Brian Thill (@Brian_Thill) September 10, 2014
Stay woke people. They'd rather arrest 100 black protesters than one murderous white cop. White supremacy is REAL. #Ferguson

— Ms. Lowe to you… (@MsLoweToYou) September 10, 2014
Stay woke?
Read more
Two female black thugs decided to 'allegedly' rob a white couple in their Brooklyn apartment. But that's not the main story. These two female black thugs also forced the people to flee their apartment at gunpoint 'allegedly' claiming 'they are tired of the white people moving in' to the hood. There names are Precious Parker, 30, and Sabrina James, 23. I bet Eric Holder doesn't launch a DOJ investigation over this 'precious' anti-white attack.
Two female black thugs allegedly rob whites, force them to flee apartment in Brooklyn because 'they are tired of white people moving in'