Al Sharpton was an FBI informant who snitched on the mob in New York? Wow, You learn something new everyday. Yes, the same Al Sharpton, infamous for race hustling, Tawana Brawley fiasco and resist we much was an FBI informant according to Smoking Gun which released documents showing that Sharpton was a mob snitch. In a way, it's kind of ironic. Al Sharpton is part of the 21st century race hustling progressive liberal mob.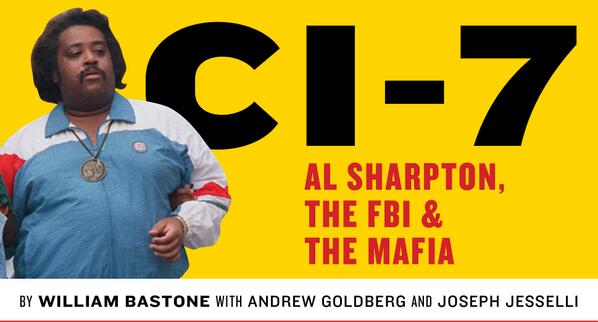 Al Sharpton was an FBI informant?
Last night's racist MSNBC tweet isn't the first time the mask has slipped off and the racism of NBC/MSNBC/Comcast has been shown. Check out the following videos of MSNBC's racist comments. The racism isn't limited to conservative blacks either. MSNBC is racist towards whites, Latinos and Asians too. They are equal opportunity racists.
MSNBC – Blinded by the White (Martin Bashir show)
MSNBC Al Sharpton – Greek homos, Chinamen,
NBC really loves their black homophobes. They give millions to Tracy Murray and 30 Rock despite threatening to kill his son if he was gay. They also give millions to Al Sharpton for his leftist/race hustling propaganda show on MSNBC. Al Sharpton, famous for the Tawana Brawley fiasco in the 1980s is also famous for being a homophobe. He doesn't like those 'Greek Homos' you know. Of course GLAAD and the leftists are completely silent on Sharpton's homophobia as well.
Al Sharpton on 'Greek Homos' – NBC loves black homophobes
After the Al Sharpton race pimping March on Washington contained a lot of trash (in terms of speakers.) The National Mall was also left in garbage after the race pimp rally ended. There was plenty of 'white trash' there too, including one who desecrated the American flag with Obama's face.
MT @EmilyMiller "Is this Martin Luther King's legacy? National Mall covered in garbage." – http://t.co/uWJWejSQxT ~ pic.twitter.com/zPbIHSTOgt

— Adam Baldwin (@AdamBaldwin) August 26, 2013
Just like the Tea Party! Oh wait, Tea Party protesters left the National Mall spotless, unlike these ghetto scum.
Read more
Ayo Kimathi of Obama's DHS has been prepping blacks for a 'race war.' I guess he didn't get the memo as it's already started. Below are just a few examples of blacks targeting 'evil whitey' just since the Trayvon Martin shooting last year. You'll notice it started in April of 2012. That's when NBC deceptively edited the 911 call with Zimmerman on the night of the shooting to make him look bad. NBC's deceptive edit of Zimmerman's 911 call occurred in April of 2012. Right about the time you saw the spike in black on white violence.:
After arrest of Zimmerman:
April 2012 Ohio – Elderly white man Dallas Watts beaten by six juveniles in Ohio while they yelled – THIS IS FOR TRAYVON
April 2012 Chicago – Two black teen beat up a white male in because "they were mad about Trayvon Martin case"
April 2012 Gainesville, Florida – 5 to 8 could blacks attack white man leaving permanent damage to face while yelling Trayvon
April 2012 Baltimore – Black mob beats white tourist in Baltimore – crowd laughs and steals his belongings
April 2012 Arizona – Black male shoots and kills 29 year old 'white-Hispanic' Daniel Adkins who had mental capacity of a 12-year-old
April 2012 Oklahoma – Tyrone Woodfork beats to death elderly couple – rapes 85 year old woman
May 2012 Texas - Black man Matthew Lee Johnson robs, sets 76 year old Nancy Harris on fire – she died from her injuries
May 2012 Texas – Antowann Davis takes butcher knife stabs 29 year old Martha Jones at Target store in Dallas
May 2012 Georgia – Black mob of three beats to death Marine and Iraq War Veteran
May 2012 Virginia – Mob of between 30-100 black teens brutally beat white male and female reporters
May 2012 Tampa Florida – Four blacks beat and rob young U.S. Army soldier
June 2012 Georgia – Two black teens allegedly stab to death white pizza delivery woman and mother.
July 2012 Indiana – 24-year-old Jacqueline Gardner (Mother of two) 'allgedly' killed by three blacks over $85 tip money
July 2013 Georgia – Joshua Chellew beaten, killed by four blacks
After not guilty verdict for Zimmerman:
July 2013 Baltimore – Blacks yell 'This is for Trayvon' beat up Hispanic in Baltimore
July 2013 Houston – Blacks assault white grandmother in Houston during Trayvon protests
July 2013 South Carolina – Marley Lion 17 year old shot to death by four black gangbagers for no reason
July 2013 Connecticut – Five or six black teens for the savage beating of a New Haven Connecticut businessman, steal scooter
July 2013 Maryland – 3 black thugs beat, rob white man in Maryland yelling this is for Trayvon Martin
August 2013 Oklahoma – Australian baseball player Chris Lane killed by two black teens because 'they were bored.'
August 2013 Memphis – David Santucci murdered 'allegedly' by 3 blacks in Trayvon Martin revenge killing
August 2013 Spokane – Delbert Belton World War II veteran beaten to death by two black thugs
August 2013 Memphis – Two blacks douse white man with gasoline, set on fire
August 2013 Poughkeepsie New York – Jovan Tyrek Rogers black thug kills 99-year-old Fannie Gumbinger
August 2013 Indiana – Iquise Taylor (black thug) charged with rape, burglary and strangulation of 93 year old white woman Amelia Rudolf
August 2013 ? – When white people piss black people off – blacks now bullying white toddler
Notice a pattern here?

These black thugs aren't the only ones who should be blamed in all this. The liberal biased media wanted a race war, and now they got one. Only problem is, one side is fighting it. I blame Hollywood hacks like Jammie Foxx who bragged about 'how cool it was to kill white people.' Less than a week after Foxx made his stupid comments, Adam Lanza went out and killed innocent children at Sandy Hook Elementary school. Then you have the racial grievance industry with CEOs of Al Sharpton and Jesse Jackson. Their entire lifestyle and income is based on ginning up phony racial tension. Obama of course tries to stir the racial pot whenever he thinks it will benefit him. Anyone who dares disagree with Obama on anything is automatically branded a racist. But lets not forget the corrupt liberal progressive biased media. All during the George Zimmerman case, they tried to make Trayvon Martin look like some innocent little school kid, show pictures of him when he was just 12 years old. They also tried to make George Zimmerman out to be some evil racist hunting down black people. Current pictures of Trayvon Martin show him flipping off screens, wearing gangsta rap style clothes and a hoodie. Of course, the only current picture the media showed of Trayvon Martin was him in the hoodie as that became the staple of the race mongers theme. Whatever you think of the George Zimmerman and Trayvon Martin case is your opinion. Many people thought OJ Simpson was guilty of killing Nicole Brown Simpson and Ron Goldman, but he got off. Did those evil white people riot, and start beating blacks after the verdict? No. Of course, that was just a couple of years after the blacks started rioting when they didn't like the Rodney King verdict.
The tainting of MLK's legacy continued today at the 50 Anniversary of the 'March on Washington.' Race pimps like Al Sharpton were the main attractions. There were also race hustling protesters (including plenty of white trash) who chanted 'All these dirty racist cops, we don't need 'em'
MOW protesters: 'All these dirty racist cops, we don't need 'em'
Always remember, in order to be a good progressive liberal Democrat, and race pimp, you must always blame someone else for your troubles, or troubles of society. Never take personal responsibility for your own actions, and call anyone who disagrees with you a racist. Seems to work well in the 21st century.
Al Sharpton and the race hustlers were out in full force today for the March on Washington 'rally' to taint the legacy of Martin Luther King yet again. Al Sharpton, who's income is entirely from the grievance industry (and his pitiful MSNBC show) was out pimping racism again declaring that America's check 'has bounced.' Sharpton then went on to say something that sounded like a call to violence:
"We gonna make you make the check good, or we gonna close down the bank."
Race pimp Al Sharpton March on Washington 'America's check bounced'
Aside from the fact that Jesse Jackson and Al Sharpton are flat out racists, there is also another reason why these two race pimps remain silent about black on white murders. It's all about the bling, $$$.
Why Jesse Jackson and Al Sharpton stay silent about black on white murders
Al Sharpton, a leader in the greaivance industry and MSNBC racial propagandist defending the Chris Lane killing. He actually said there was no evidence of race playing a factor (despite James Edwards racist tweets and Facebook posts), and that the 'System worked' or something. One dead Australian, out for a jog being ganged up on by these black thugs shows the system worked? Who the hell is Al Sharpton? Janet Napolitano? Oh, and apparently if you think there was a great injustice done by these black thug, you are uninformed and think Obama is to blame for Hurricane Katrina.
Al Sharpton on Chris Lane killing – System worked
Race hustlers of the world unite! Whitey has been found guilty! Whitey Bulger the mob boss was convicted of 31 of 32 counts by a federal jury.
Apex of @toure's career has been reached. pic.twitter.com/ctdcY0a5wa

— Matthew H. (@Matthops82) August 12, 2013
Al Sharpton, the second happiest 'man' in America should be interesting later too.
Read more
Tawana Brawley phony rape case hustled by Al Sharpton seems like yesterday. But it was 25 years ago in 1987 when Brawley/Sharpton tried to gin up race riots and failed miserably. According to the New York Post, Tawana Brawley issued 10 checks totaling $3,764.61. They were delivered to ex-prosecutor Steven Pagones. These were the first payments made by Brawley to Pagones since the case was dismissed. Today, Brawley is a little more chubby and works as a nurse in Virginia. Al Sharpton has of course moved on from Tawana Brawley with a cushy job at NBC while he tries to start race riots through the Trayvon Martin verdict.
Last night Bill O'Reilly exposed the fact that Al Sharpton is using Lil Wayne's group 'Cash Money' to pimp his race hustling book. This despite the fact that Lil Wayne gangster rap crap contributes to the violent culture among many young blacks. Predictably Sharpton whined about O'Reilly and 'right-wingers' in his response today.
In the time since George Zimmerman's acquittal," Sharpton declared, "some right-wingers have gone into overdrive to push the most negative stereotypes of the African-American community for their own gain." He lumped O'Reilly in with Rush Limbaugh and Sean Hannity as the "unholy triumvirate of right-wing reaction" that has "been desperate not to have a real conversation about the injustices of the justice system."

Sharpton mocked O'Reilly and others for their sudden concern about gang violence in Chicago, something he said "many of us in African-American community" have been talking about for months. "Better late than never, I guess." On O'Reilly's focus on the breakdown of the African-American family, Sharpton asked, "Is Bill O'Reilly saying George Zimmerman shot Trayvon Martin because Trayvon was born out of wedlock, even though he wasn't? That's ridiculous, right?"

"All of this is an effort to avoid addressing the urgent topic that something is fundamentally flawed with our justice system if laws like Stand Your Ground allow a kid to be gunned down," Sharpton continued. "But Rush, Hannity, O'Reilly don't want to talk about that."