Why the hell is Al Sharpton getting air time on Meet the Press? Al Sharpton is nothing more than a racial agitator who thrives and profits off racial divide. Do the idiots at NBC and especially Obama lapdog Chuck Todd really think that Al Sharpton adds anything to the conversation?
Pitiful – Meet the Press gives Al Sharpton air time
Meet the Press has been lousy credibility ever since Tim Russert died. After allowing Sharpton on the spew his propaganda today, Meet the Press has absolutely no credibility left.
Blogger Adam Sharp from the blog Sharp Elbows was physically removed from the Al Sharpton press conference. You can watch it from the video below. Sharp had the 'audacity' to ask Al Sharpton about his tax dodging, esspecially when calling on all of 'racist' white American to pay more taxes for reparations.
Blogger Adam Sharp physically removed from Sharpton press conferenc (Video)
I never realized that Adam Sharp was so big where they needed a mob of people to remove him from the church where Sharpton was spewing his race hustling crap. Dude must be a real giant to need all of those people to remove him
Adam Sharp of Sharp Elbows blog must be the one who Don Lemon whined about earlier today when he called bloggers 'agitators.'
Here are a couple of tweets from Adam Sharp:
Read more
The looting in Ferguson has begun.
Watching video stream of looting in #Ferguson. Scanner reports of shots fired. So much for peaceful protests we were promised.

— Scott Sands (@scottsands) November 25, 2014
Also gun shots were heard outside of the Ferguson PD.
Looting now, also shots fired outside Ferguson PD.

— Dana Loesch (@DLoesch) November 25, 2014
To make things even worse, Obama decided to speak after the Ferguson press conference ended. And he played the race card which will stir up more animosity. Mission accomplished Al Sharpton.
Looting in Ferguson begins – Gun shots too
Geraldo Rivera, aka Gerry Rivers really likes his BFF Al Sharpton. So much so that tonight on the O'Reilly Factor, Geraldo declared the race hustling, grecivance induststy CEO Sharpton to be the the premiere civil right leader in America today. Say WHAT? Watch the following video of Gerry or Geraldo sticking up for his bud Sharpton
Geraldo Rivera: Al Sharpton is the premiere civil right leader in America today VIDEO
This explains why Rivera did his own bit of race hustling after the mid-term election on Tuesday, claiming that only 'angry, old-white men' voted. If there is anyone who has an ego that can match Obama's, it's Gerry Rivera aka Geraldo.
Read more
So what does Obama do after his latest ass kicking in a mid-term election? According to Weasel Zippers, Obama invites over race hustling NBC hack Al Sharpton to discuss 'how to work with the GOP'. Maybe Obama can teach Al Sharpton how to better read a teleprompter. You would think Obama inviting over a NBC hack to discuss how he's going to work with the opposite would be a conflict of interest. But obviously NBC is cool with it.
Al Sharpton invited to White House for 'how to work with GOP'
Al Sharpton thinks it's important that you know October is breast awareness month. Here, I always thought October was breast CANCER awareness month. Watch the race hustling boob SHarpton instruct all of us evil racists about breast awareness month in the following video:
Al Sharpton wants you to be aware of breast awareness month VIDEO
What a quality hire there NBC! The idiot can't even say Breast Cancer Awareness month? WTF Kind of sick mind does Sharpton have. Isn't this like a war on women or something? Breasts we much!
Of course, we all know Sharpton is desperate for attention. This will likely grab the attention of a few straight male progressives, and lesbian feminist progressive.s
You may be racist, according to Obama. In fact, 'most Americans' are racists says King Putts. Obama made his claim about how us Americans by pointing to a poll that shows 'most Aemricans' don't trust the criminal justice system. I hate to break it to Barry, but 'most Americans' have never trusted the so called 'justice system'. When they see Hollywood 'stars' or athletes getting slaps on the wrists that would land any other normal American in jail for years, it's kind of hard to trust it. I know, Obama is just doing to bidding of Al Sharpton, Jesse Jackson and the rest of race hustling grievance industry.
Obama – 'Most Americans' are racist
Oh good grief. Al Sharpton is helping the Obama White House pick who the next Attorney General will be. What could possibly go wrong here? BTW, wtf is an NBC paid employee doing anything with the corrupt Obama regime. Isn't this like some sort of conflict of interest? I guess they just don't have to hide it anymore.
Al Sharpton helping Obama pick next Attorney General
Here is a full, hour long video of race hustler Al Sharpton's eulogy for gangsta thug Michael Brown. Some of those in attendance today included CAIR, Obama regime officials, and the usual hands up, don't loot posse.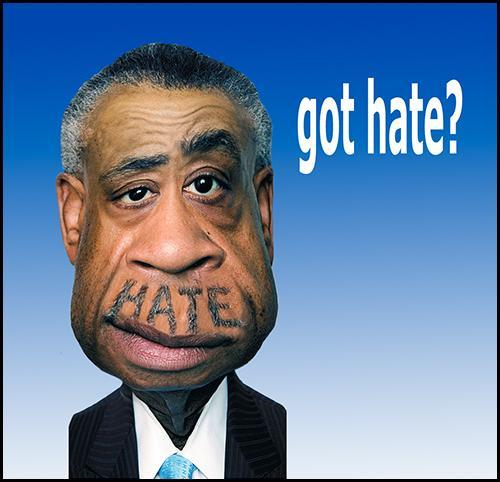 Michael Brown Funeral Eulogy Al Sharpton full video
The Al Sharpton eulogy video was your typical race hustling, thug victim speech. And NBC pays this pile of dung while giving these eulogies and speech to stoke racial tension all over the country. Something is wrong in this country when you have CAIR attending this kid's funeral and NBC is paying Al Sharpton while race hustling in public.
Read more
Want to see why Meet the Press has gone down the toilet in quality and ratings since the passing of Tim Russert? Look no further than today's episode of Meet the Press featuring race hustler Al Sharpton who will give a eulogy at Michael Brown's funeral. Meet the Press gave Sharpton an unchallenged platform to spew his race hustling propaganda and his involvement in Ferguson.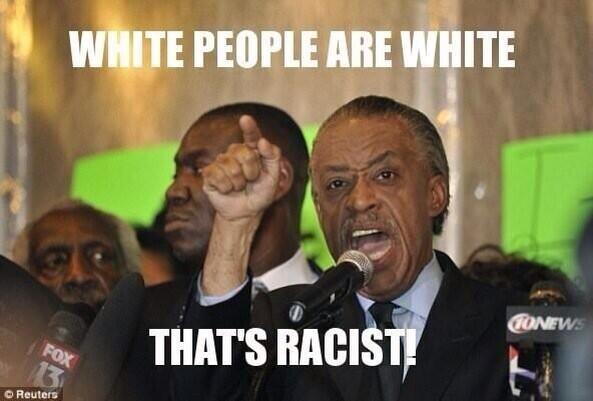 Meet the Press gives Al Sharpton platform to spew propaganda