Oops. This is kind of like the Rick Perry moment during the 2012 debates only worse. While McCain was bashing away at Rand Paul on Hannity, he had a slip of the tongue and basically admitted he met with ISIS while in Syria. You know, that photo with him and terrorists in Syria? At least two of them were ISIS members. McCain and his defenders like to claim they were the 'moderate' Syrian rebels. Watch the following video. If you want to skip ahead of the start of the McCain bs, start the video at about 2 minutes and 30 seconds. BTW, anyone notice how chummy Hannity has been with McCain lately? For awhile, Hannity was bashing the old coot because conservatives can't stand him. I guess 'Brother Rove' set Sean Hannity right on McCain.
John McCain slips up on Hannity, admits meeting ISIS
I've grown tired of Rand Paul's flip-flopping becoming a typical DC insider. But on this issue he is right. Arming the so called 'moderate' Muslims in Syria will just end up arming ISIS as the so called 'moderates' either get killed fighting, or simply join up with ISIS.
Not many people realize that your tax dollars are actually funding ISIS in Iraq and Syria. One of the slugs you can thank for ISIS funding is John McCain. He was praised by ISIS in their new online magazine called Dabiq. In it, ISIS praises the 'crusader' John McCain for the 'blessed events unfolding today'. That would be the beheading, stoning and other barbaric Muslim acts that ISIS is conducting today in Iraq and Syria.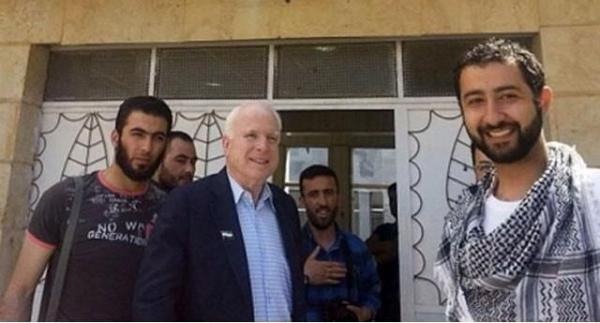 ISIS praises crusader John McCain for blessed events unfolding today
The terrorist organization just released an online magazine called "Dabiq" for its English readership for Ramadan. In the magazine, ISIS justifies stoning women for adultery and mass executions of their enemies, while touting their compassion and generosity with orphans and the impoverished. Additionally, ISIS goes after only one American politician—Senator John McCain (R-AZ), for a June 12 floor speech of he delivered about ISIS:

"…the crusader John McCain came to the Senate floor to rant irritably about the victories the Islamic State was achieving in Iraq. He forgot that he himself participated in the invasion of Iraq that led to the blessed events unfolding today by Allah's bounty and justice."
John McCain is back in his element in Turkey. Meeting with Syrian rebels (who are a part of ISIS) again, like he did late last year. McCain is clueless is he thinks the Syrian rebels aren't a part of ISIS, but we already knew that. I wonder how much these middle-east junkets that McCain keeps take is costing the tax payers.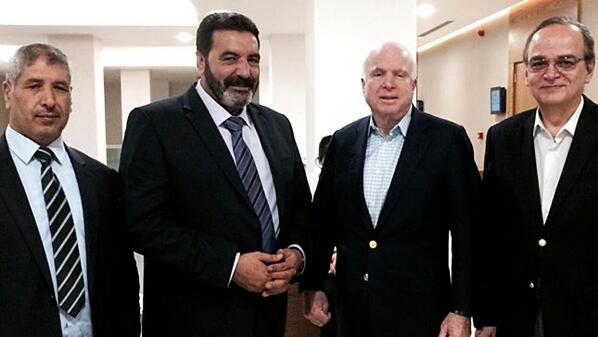 John McCain back to Syria, meeting with ISIS rebels
Communist love is in the air in Davos. John McCain, better known as Songbird McCain by some of his Vietnam mates is chilling in Davos with George Soros. After being censured for a second time this weekend for his liberal policies, McCain decided to certify his liberal street cred by chilling with Soros.
Check out the picture of the two lovebirds in Davos at Weasel Zippers. They really do make a nice little couple don't they? It's hard to tell which of those two Communist old coots is older, or more corrupt and progressive.
George Soros is the scum of the earth and John McCain is the scum of the U.S. Senate. The only question now is, did John McCain wag his tongue for Soros.
Maricopa County GOP leadership decided to censure worthless Arizona RINO Senator John McCain. Out of over 1,500 votes, it wasn't even close. McCain was censured by a margin of 1,169 to 368. The resolution was drafted by Precinct Committeeman Tim Schwartz. The resolution read:
Read more
Arizona Republicans are set to vote this coming weekend on whether to censure RINO John McCain. Why? because of his "long and terrible record of drafting, co-sponsoring and voting for legislation best associated with liberal Democrats." While Arizona Republicans are considering censuring John McCain for sucking up to leftists, why don't they do the same to Jeff Flake who is really not much different than McCain.
Read more
Your ruling class in Washington DC isn't interested in hearing from you. After Ted Cruz's 21 hour filibuster of funding ObamaCARE, the phone lines lit up so much at the DC switchboard to RINO Senators supporting ObamaCARE, that they had to respond. The RINO Senators responded like the children they are and took phones off the hook because of so many calls. The leader of the off the hook RINOs was none other than cellphone poker playing John McCain.
John McCain is often called a 'war hero' because of the time he spent as a POW in Vietnam. He is no hero of anything. While he may have fought for this country in Vietnam, and suffered in the POW camps, John McCain has proven to be nothing more than John Kerry with an R by his name. Today, after the Ted Cruz ObamaCARE defunding filibuster, Mr. Cellphone Poker McCain bashed Ted Cruz and actually defended ObamaCARE on the Senate floor in a disgusting display of Democrat/Obama loyalty. Of course John McCain is now a big fan of ObamaCARE, since he wouldn't be subject to it as a member of the Senate.
Songbird John McCain bashes Ted Cruz, defends ObamaCARE in Senate
When are you a washed up old coot like John McCain, you tend to get cranky. John McCain, who supports al-Qaeda in Syria has a new enemy and it's those pesky Los Angeles Dodgers. You would think McCain would have more pressing issues to deal with, being a Senator and all, but I guess not. The whiny old warmonger got pissy because some Dodgers players jumped in the Arizona Diamondbacks stadium poll after they clinched the National League West yesterday.
No-class act by a bunch of overpaid, immature, arrogant, spoiled brats! "The #Dodgers are idiots" http://t.co/KfZZliBFBV

— John McCain (@SenJohnMcCain) September 20, 2013
McCain is so bitter. The Diamondbacks lead the Dodgers by 9 1/2 games in June and then got blown away in the division. An American politician is the last person who should be complaining about someone else being 'overpaid, immature, arrogant, spoiled brats.' John McCain just described the entire United States government with that one tweet but he doesn't seem to realize it. A big difference though is that baseball players aren't paid for with our tax dollars with idiot politicians like McCain are. Would be nice if Songbird McCain would use whatever little energy he has left in him to direct it towards Obama and the Democrats instead of always sucking up to them.
Newest Dodger Brian Wilson (who appears to be a leftist) owned McCain on Twitter.
Senator McComplain knows a thing or two about coming in second and watching someone take a plunge in the pool (I mean poll) #POoLITICS

— Brian Wilson (@BrianWilson38) September 20, 2013
Warmongering old coot John McCain may finally be in his last term in the Senate. He hinted at the possibility pf retiring in 2016, when his BFF Obama's term is up and will also go away.
"The president and I, he's in his last term, I'm probably in mine, the relationship we have had over the past three years is quite good," McCain told The Wrap in an interview. "Quite good."
Isn't that cute? John McCain and Obama are such good friends.