Your ruling class in Washington DC isn't interested in hearing from you. After Ted Cruz's 21 hour filibuster of funding ObamaCARE, the phone lines lit up so much at the DC switchboard to RINO Senators supporting ObamaCARE, that they had to respond. The RINO Senators responded like the children they are and took phones off the hook because of so many calls. The leader of the off the hook RINOs was none other than cellphone poker playing John McCain.
John McCain is often called a 'war hero' because of the time he spent as a POW in Vietnam. He is no hero of anything. While he may have fought for this country in Vietnam, and suffered in the POW camps, John McCain has proven to be nothing more than John Kerry with an R by his name. Today, after the Ted Cruz ObamaCARE defunding filibuster, Mr. Cellphone Poker McCain bashed Ted Cruz and actually defended ObamaCARE on the Senate floor in a disgusting display of Democrat/Obama loyalty. Of course John McCain is now a big fan of ObamaCARE, since he wouldn't be subject to it as a member of the Senate.
Songbird John McCain bashes Ted Cruz, defends ObamaCARE in Senate
When are you a washed up old coot like John McCain, you tend to get cranky. John McCain, who supports al-Qaeda in Syria has a new enemy and it's those pesky Los Angeles Dodgers. You would think McCain would have more pressing issues to deal with, being a Senator and all, but I guess not. The whiny old warmonger got pissy because some Dodgers players jumped in the Arizona Diamondbacks stadium poll after they clinched the National League West yesterday.
No-class act by a bunch of overpaid, immature, arrogant, spoiled brats! "The #Dodgers are idiots" http://t.co/KfZZliBFBV

— John McCain (@SenJohnMcCain) September 20, 2013
McCain is so bitter. The Diamondbacks lead the Dodgers by 9 1/2 games in June and then got blown away in the division. An American politician is the last person who should be complaining about someone else being 'overpaid, immature, arrogant, spoiled brats.' John McCain just described the entire United States government with that one tweet but he doesn't seem to realize it. A big difference though is that baseball players aren't paid for with our tax dollars with idiot politicians like McCain are. Would be nice if Songbird McCain would use whatever little energy he has left in him to direct it towards Obama and the Democrats instead of always sucking up to them.
Newest Dodger Brian Wilson (who appears to be a leftist) owned McCain on Twitter.
Senator McComplain knows a thing or two about coming in second and watching someone take a plunge in the pool (I mean poll) #POoLITICS

— Brian Wilson (@BrianWilson38) September 20, 2013
Warmongering old coot John McCain may finally be in his last term in the Senate. He hinted at the possibility pf retiring in 2016, when his BFF Obama's term is up and will also go away.
"The president and I, he's in his last term, I'm probably in mine, the relationship we have had over the past three years is quite good," McCain told The Wrap in an interview. "Quite good."
Isn't that cute? John McCain and Obama are such good friends.
John McCain got a taste of what Democrats got in 2010 over ObamaCARE. This time however, it was over Syria. There were numerous hecklers at McCain's town hall meeting in Phoenix today telling him not to bomb Syria. As is typical for McCain, he was crass, arrogant and obnoxious to the people who attended.
John McCain heckled and owned over Syria at town hall in Phoenix – 9/5/13
A Syrian woman also took Songbird McCain to school over Syria:
John McCain heckled and owned over Syria at town hall
The whole Syrian war thing is turning out to be this year's ObamaCARE. Obama wants it, Congress wants to ram it down American's throats and people are getting pissed off.
Remember back in 1990 when John McCain and four other Democrat Senators were involved in the Keating Five scandal? The five senators included Alan Cranston (Democrat of California), Dennis DeConcini (Democrat of Arizona), John Glenn (Democrat of Ohio), John McCain (Republican of Arizona), and Donald W. Riegle, Jr. (Democrat of Michigan.) John McCain eventually got off, and was just criticized for 'poor judgment.' Even back in the Lincoln Savings and Loans day McCain was a corrupt bastard. 23 years later, nothing has changed as he continues his warmongering in Syria. Here'a video of John McCain's Keating Five problem in 97 seconds:
John McCain's Keating Five problem In 97 Seconds
Too bad for McCain that they didn't have iPhones back then. He could have played poker during the keating Five hearings too.
John McCain decided to play poker today during an important hearing on attacking Syria that he is pushing for. Even the old coot McCain isn't taking the attack seriously that he's pushing! Drudge Report got the snap shot of McCain 'doing work' playing poker during the Syria hearing.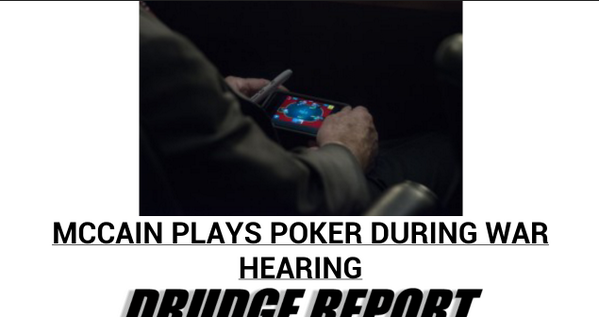 John McCain plays iPhone poker game during Syria hearing
Frankly, I'm surprised the old codger even knows how to operate an iPhone and play a poker game. The snotty McCain who was caught red handed during the Syria hearing is being sarcastic about it on Twitter:
Scandal! Caught playing iPhone game at 3+ hour Senate hearing – worst of all I lost!

— John McCain (@SenJohnMcCain) September 3, 2013
If McCain can't even stay focused for three hours for hearings on a war that he wants, then he needs to leave the Senate and retire.
Read more
Every time I think back in 2008 to voting for warmonger John McCain I just cringe. He would have been no different than Obama. The only good thing would have been having Sarah Palin as Vice President instead of that idiot Joe Biden. So what is John McCain's concern about a no vote in Congress to bomb Syria? Poor old coot McCain is worried that if Congress votes no, it would "undermine the credibility of the president of the United States and America." The old codger Songbird John McCain doesn't even consider the circumstances if we do attack Syria. Help al-Qaeda get in power, give Muslim terrorists another excuse to attack us, distract away from Iran getting nuclear weapons, etc. In a little over a week, it will be the one year anniversary of Benghazi. There still hasn't been anyone arrested over this, and these same worthless RINOs have done nothing to get answers from Obama and Hillary Clinton. Wouldn't it be great if the worthless RINOs like McCain and Graham invested half the time and energy into getting to the bottom of Benghazi instead of bombing a country that poses no national security threat to us? I know, wishful thinking.
Apparently John McCain can decide which campaign to run against Democrats in next year's midterm elections. John McCain, the loser who couldn't beat George W. Bush in the 2000 GOP primary, or Obama in 2008 is now lecturing the NRSC not to run ads about amnesty against Democrats in vulnerable districts next year. Doesn't really matter anyway. It's not like I'll ever donate to the NRSC or any other GOP group in the future anyway after today.
Hey John McCain. You'd better lay off those tantrums. It's not good for the heart, especially at your advanced age and limited intellect. John McCain threw another tantrum on the Senate floor against those who refuse to support the RINO amnesty bill. McCain deemed the illegal aliens already in this country by breaking our laws to come her as the victims.
John McCain throws a tantrum on Senate floor over amnesty
Suddenly Obama deserves the benefit of the doubt on Benghazi? The man embroiled in the biggest White House scandal since Watergate deserves a benefit of the doubt? John McCain has lost it. He actually lost it years ago, but today was his swan song. Obama who has participated in the Benghazi cover up, then flew off the Las Vegas for a fund raiser the day after the attacks somehow deserves a benefit of the doubt? Do us all a favor John McCain. Please retire. At least don't run again in 2016. Take your pudgy daughter with you when you go.
RINO John McCain wants to give Obama benefit of the doubt on Benghazi
Now that Joe Biden and John McCain are BFFs, they are working on ways to screw the American people. Both Biden and McCain are looking to ram gun control through Congress, even after the latest rejection a week ago in which five desperate for re-election Democrat Senators voted against. But that isn't stopping Joe Biden who threatened (or promised) that gun control will pass through Congress before the end of 2013.
On gun control, Biden said it's never been a simple issue, but that Congress has miscalculated how deeply the public feels about it and has failed to stand up to groups like the National Rifle Association, particularly after the shootings in Newtown. He said the public is looking to Congress to be mature enough to figure out a way to diminish the chance it will happen again.

"For the first time ever, you have people who are for gun safety, for increasing background checks," Biden said. "Two out of three of them say it will be a major determining factor in how I vote. That's the political dynamic that has changed. So I think we're going to get this anyway. I think this will pass before the year is out, within this Congress."