Below is a RNC Benghazi Attack Ad that never ran during the 2012 presidential election cycle. Why? Because coward Mitt Romney nixed it. The ad is a copy of the Hillary Clinton 3am phone call ad which uses Benghazi consulate building burning and gun shots in the background. It would have been a really effective ad from the RNC, if Mitt Romney didn't nix it. Looks like ole Mitt pulled a John McCain.
RNC Benghazi Attack ad that never ran thanks to Mitt Romney
Thanks Willard!
Mitt Romney is done running for office, so why is he going to speak at CPAC 2013? Makes no sense to me, but what do I know? I guess it's because Mitt Romney is so 'severely conservative' or something. What's Romney going to talk about? How to lose an election? How to let Obama off the hook on everything?
Read more
Damned if it he, damned if he doesn't. Had Americans actually elected Mitt Romney instead of the clownshow known as Obama, we might not be on the brink of the fiscal cliff and another deep recession. But alas, Americans chose Obama over Romney because Romney lacked 'charisma.' Romney was bashed by the media as being the rich, out of touch white guy who couldn't relate to the average American's problems, unlike Obama. Now that the election is over, Mitt Romney has gone to work for Marriott, and he still can't escape being bashed by the corrupt media. Washington Post hack Dana Milbank is now whining that Mitt Romney is going to work for Marriott while instead of helping Obama avoid the fiscal cliff. Why the hell should Mitt Romney offer Obama any help? After Romney was smeared, slandered, called murderer and felon by Obama's 'team,' he's expected to help Obama now? This is why the media, and the country is a joke. Personally, Romney was more cordial than I would have been, having lunch with Obama last week. I would have flipped Obama the bird. But Milbank and the Washington Post think it's somehow Romney's responsibility to be president even though he lost the election after all the smears. He even bashed Romney for pumping his own gas, going to Disneyland with his wife, and driving around in an Audi. And you wonder why newspapers are being used for little more than toilet paper these days?
Read more
I'm not going sit here and blame tub of lard Chris Christie. I'm not going to blame Mitt Romney. I actually gained a lot of respect for the man over the last few months of the campaign, as before the primaries he would have been my last choice as a candidate. I thought the pick of Paul Ryan as his running mate was great. My pick would have been Marco Rubio, but my second choice would have definitely been Paul Ryan. As far as Christie, if enough gullible people changed their vote just because he gave Obama a bear hug, then there is nothing that could have been done. If people are truly that stupid to fall for the pathetic photo op of Obama and Christie, then this country is lost to the far left. Below is Mitt Romney's gracious concession speech. You can judge Christie and Mitt Romney yourself.
Read more
One state Obama won in 2008 has already flipped back to Mitt Romney. Romney is currently winning over 60% of the vote. In Kentucky, another early call, Romney is winning at the time of this post 70% to 29%. As expected, hippie land Vermont went to Obama.
Read more
More bad news for Barry Obama. 60% of those who participated in the exit polls by cBS 'News' said the economy is the most important issue for their vote. The last CBS/NYT poll that had a heavy Democrat skew had Mitt Romney leading Obama 51% to 45% on who was better to handle the economy.
Remember some of the latest polls from the corrupt media that heavily over-sampled Democrats showing that people were getting more satisfied with the economy? I guess that was complete BS. The first set of exit polls are trickling out, and there is mass dissatisfaction with the state of the economy. 60% also say the economy is their #1 issue, and only 25% say they are better off than they were four years ago! Bad news Barry!
The First Exit Polls Are Coming Out, And There's Mass Dissatisfaction With The Economy read.bi/PVbTWr

— Business Insider (@businessinsider) November 6, 2012
Rocky Mountain high! According to Breitbart, Colorado Secretary of State Scott Gessler has released early voting numbers from the state, and it's great news for Mitt Romney and disastrous news for Obama. Early voter turnout so far for Mitt Romney grabs him 688,303 votes. Democrats on the other hand are only sitting 653,450 votes. Independents have cast 547,437 voters in early voting. So not only is the early voter turnout R+3, but if independents break towards Romney as many polls have down, he leads by an even bigger margin! voted early.
In yet another ridiculously Democrat oversampled polled, this time from ARG, the race for the White House is tied (like several other polls) at 49% each. This poll again has a heavy Democrat sample of +6 at 39D/33R/28I. 2008′s turnout was 39D/32R/29I. So ARG is assuming that Democrats will duplicate the turnout in 2008 and Republicans will somehow, only have a 1 point bump in their turnout.  This is a complete farce, since turnout tomorrow is expected to be anywhere from R+1 to D+1 nationally. But there is yet again a key in this oversampled poll. Mitt Romney crushes Obama by double digits (again). Romney leads Obama 54% to 43% independents, which is who will decided the election.
Read more
Good News! Mitt Romney's internal polls show him leading on Ohio, and tied in Wisconsin and Pennsylvania. As usual, you have to rely on foreign media to get this information as the corrupt, lap dog American media wouldn't publish this helpful bit of information for Mitt Romney and disastrous news for Obama. Romney is also leading by three points in New Hampshire and two points up in Iowa.
This is incredible. In a deep blue state like Pennsylvania, anywhere from 25,000 to 30,000 turned out to see Mitt Romney and the atmosphere was described as 'electric.' Romney's massive rally was in Buck's County, just outside of Philadelphia.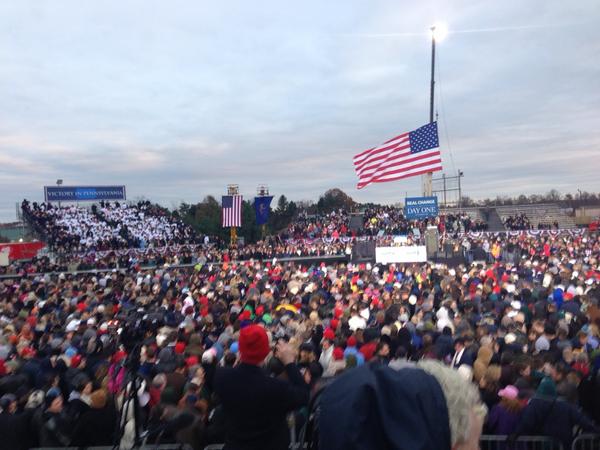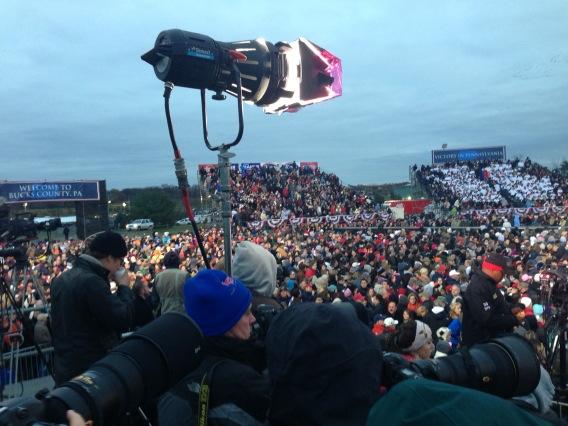 At Romney Victory Rally in Yardley PA. More security here than #Benghaziat least 25k-30k #tcot

— Captain (@klittleton1) November 4, 2012
While heaping praise on Obama, including this past weeks lousy jobs report that Crowley refers to as 'strengthening the number of hires' she referred said Presidendet Romney to Ohio Senator Rob Portman. Expect the Obama regime to punish her for her Freudian Slip. If Tuesday turns out like many are starting think it will, the media meltdown will be so delicious!
Read more