Not only is the GOP about to cave to Obama on funding ObamaCARE, raising the debt ceiling, and opening the government again. They have an extra goodie for Obama. They are getting rid of Obama's sequester cuts too! You would think that a cave like this would come from Senate RINOs like John McCain and Lindsey Graham. But the GOP cave's architect is none other than Wisconsin so called conservative Paul Ryan. Yes, I admit it. I was fooled by Ryan's credentials during the election last year. We all knew the GOP cowards would cave eventually, but even I didn't think it would be this pathetic.
Paul Ryan was such an epic flop as a Vice Presindetial candidate, he's looking to outdo himself. Ryan the RINO spilled the beans about the House's plan to vote on amnesty sometime in October. Great move Eddie Munster!
Yes, the same Paul Ryan who couldn't deliver his home state in the general election, and the same Paul Ryan who in December said how bad Obama's tax hikes were, then voted for them anyway during the fiscal cliff debacle will be the keynote speaker at this year's CPAC conference, which will be held in March.
Read more
You know, when Mitt Romney picked Paul Ryan to be his running mate in August, I thought he was a great pick. My first choice of course at the time was Marco Rubio, but Paul Ryan was a sold choice in my opinion. What followed was a lackluster campaign by Ryan, and miserable debate performance against the dunce Joe Biden, and the failure to win his home state of Wisconsin in the general election that Scott Brown won in 2010, and then with a bigger margin in the recall election. So what does Paul Ryan do since the election? In December he tweeted about how bad Obama's tax hikes were for job growth and don't fix the debt crisis. So what does he do today? He votes for the tax hikes that are bad for jobs and don't fix the debt. The bill raises taxes on 77.1% of American households.
President Obama's tax hikes are bad for jobs and don't fix the debt crisis, as this chart shows. #SpendingIsTheProblem twitter.com/RepPaulRyan/st…

— Paul Ryan (@RepPaulRyan) December 13, 2012
I don't know what to make of this rumor (as it stand now, it's only a rumor.) I like Paul Ryan, but feel he's too much a part of the establishment just like Weeper Boehner or Eric Cantor. Still, there is no way Ryan could be any worse of a Speaker of the House than the crybaby Boehner, who's been rolled over and over again by Obama. Laura Ingraham mentioned the rumor while filling in for BillO on the O'Reilly Factor. But Ryan also supporter Weeper  Boehner's 'Plan B.'
I'm not going sit here and blame tub of lard Chris Christie. I'm not going to blame Mitt Romney. I actually gained a lot of respect for the man over the last few months of the campaign, as before the primaries he would have been my last choice as a candidate. I thought the pick of Paul Ryan as his running mate was great. My pick would have been Marco Rubio, but my second choice would have definitely been Paul Ryan. As far as Christie, if enough gullible people changed their vote just because he gave Obama a bear hug, then there is nothing that could have been done. If people are truly that stupid to fall for the pathetic photo op of Obama and Christie, then this country is lost to the far left. Below is Mitt Romney's gracious concession speech. You can judge Christie and Mitt Romney yourself.
Read more
Yesterday there was a poll from Minnesota, home of Al Franken, Jesse Ventura and Walter Mondale showing Mitt Romney beating Obama by a point, and leading with independents by 13 points. I had to do a double take from a state that also sends the likes of Keith Ellison to represent them. But apparently the poll seems to reflect the feeling in Minnesota, as Paul Ryan was able to draw nearly 7,000 by himself in Minnesota for a rally. No Mitt Romney, just Paul Ryan, and they get crowd numbers like this, in MINNESOTA! Read more
Paul Ryan is in Pennsylvania today, Mitt Romney is expected to be there tommorow. Check out the gathering that Paul Ryan got in the Keystone State on the heels of the 30,000 in Ohio the night before:
Obama said he wants a 'Secretary of Business.' Of course, the media idiots didn't cover this gaffe. We already have a secretary of business. That's what the Secretary of Commerce's job is. Paul Ryan owned Obama over his stupid statement earlier today:

Read more
So far, it's a wipe-out in Florida. Republican votes by absentee-ballot are crushing Democrats 45% to 39% with over 700,000 Florida voters already voting. In 2008, there were over 8.2 million total votes cast. This year may be less as Democrat enthusiasm is way down, so this is likely going to be around 9-10% of the vote so far.
Read more
Check out this picture of the huge crowd in Dayton Beach, Florida as the crowd listens to John Rich warms up the crowd for Mitt Romney and Paul Ryan. These crowds are getting like Obama sized crowds in 2008.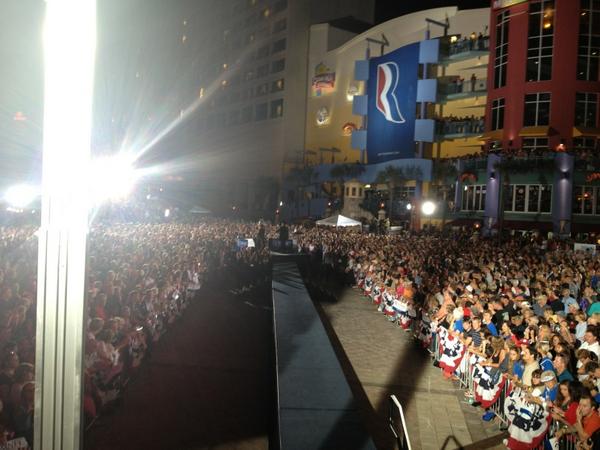 Read more
Forget BenghaziGate, forget Fast and Furious, forget the foreign donations Obama is getting via his website. We finally have a real scandal from the media! Apparently Paul Ryan was washing dishes in Ohio yesterday that the media described as 'mostly clean.' OMFG!! NO!!! That's it! This campaign is over! First of all, why would Paul Ryan (or anyone) wash dishes that appeared 'mostly clean?' Secondly, what is 'mostly clean?' Is that like white-Hispanic or something? Check out Felicia Sonmez tweet, a Washington Post leftist hack's tweet:
Ryan and his family donned some aprons and offered to wash some dishes. The metal pans they washed appeared to be mostly clean, though

— Felicia Sonmez (@feliciasonmez) October 13, 2012
And then you have Buzzfeed hack 'Zeke' Miller:
Read more