Imagine for a second if Lindsey Graham does run for president in 2016 and you have three choices. Jeb Bush, Lindsey Graham or Chris Christie. If you are like me, you either don't bother voting or just vote third party. That nightmare scenario may not be too far fetched, as Daily Caller is reporting that Lindsey Graham is considering a run for president in 2016. I vowed in 2004 after traitor Lurch Kerry was elected as the Democrat nominee for president never to vote for another Democrat for the rest of my life. I wouldn't go back on that, I just wouldn't vote for the Republican either. Graham's BFF John McCain is 'nudging' him to run for president (and God knows what else).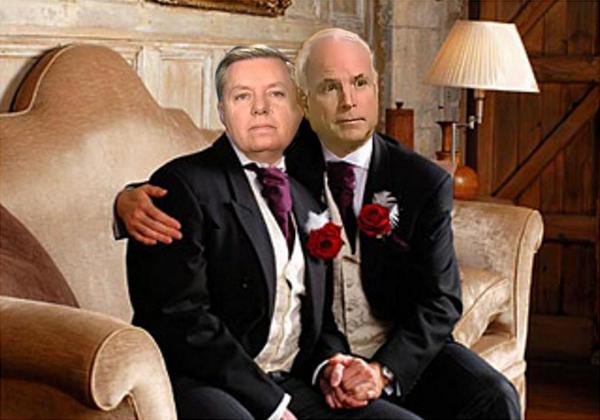 Lindsey Graham may run for president in 2016
Looks like Republicans finally found a way to get the black vote. In Mississippi the polls proved to be wrong yet again, as the Karl Rove hack Republicans went after blacks and Democrats to vote for Thad Cochran, and it worked. Most polls has McDaniel winning by 8-12%, but black turnout was huge in Mississippi, just like Karl Rove hacks, the Chamber of Commence, amnesty pimpers, and big government Republicans had hoped. So yet again the GOP gives the middle finger to it's base. Eventually, this is going to catch up to the Karl Rove hacks.
Democrats and establishment hacks propel Thad Cochran to victory over Chris McDaniel
AP has called it for Cochran. Wow. #mssen

— Matt Mackowiak (@MattMackowiak) June 25, 2014
#BREAKING GOP Sen. Cochran wins Mississippi primary runoff over Tea Party challenger http://t.co/lSLhENDpGt

— USA TODAY (@USATODAY) June 25, 2014
BREAKING: AP projects Miss. Sen. Thad Cochran defeats Tea Party-backed challenger Chris McDaniel in GOP runoff

— Fox News (@FoxNews) June 25, 2014
BREAKING: AP projects Miss. Sen. Thad Cochran defeats Tea Party-backed challenger Chris McDaniel in GOP runoff

— Fox News (@FoxNews) June 25, 2014

So Cochran will end up getting another six years wasting tax payer dollars, as he wouldn't lose to any Democrat in November. He's been in the Senate since the 1970's. I guess that's all you could expect from the rubes in Mississippi.
Lets review: A Republican would rather go to Democrats to beg for votes than actually legislate like a conservative and appeal to his own 'Republican base.' The GOP should be very proud of this. Rinse Prius or whatever his name is probably doing cartwheels tonight.
It's kind of pitiful how Thad Cochran is going out, after being in the Senate since the days of Jimmy Carter, bell bottoms and disco. A Cochran staffer named Lee Ellis Blair, a member of the DeSoto County GOP executive committee and Cochran campaign staffer, was arrested late Sunday and charged with "malicious mischief," according to Breitbart News. I'm really going to enjoy watching Cochran get slaughtered tomorrow night.
Thad Cochran staffer caught stealing McDaniel campaign signs
New York RINO Michael Grimm who ran as a tea party candidate in 2010, then quickly became a Karl Rove big government Republican was indicted and 20 counts of fraud and other issues after being arrested in New York today. The corrupt Obama DOJ made sure to go after Grimm after the period of being able to remove yourself from the ballot for the November election this year. This means, with all of Grimm's alleged corruption, he's probably toast in November. Should Grimm lose in November, he wouldn't be missed. You'll also notice that the various media reports all mention that Grimm is a Republican. Had Grimm been a Democrat (even though he votes like one), his party affiliation would still be a mystery to some people now.
New York RINO Michael Grimm indicted on 20 counts of fraud and other charges
RINO filth Bob Corker is blocking a bill in the Senate for sanctioning human rights abusers in Venezuela. I wonder if Corker has some oil interests in Valero or something? Why could this piece of RINO trash be blocking a bi-partisan bill to sanction the socialist government? Or maybe Corker just doesn't want to hurt his golf buddy Obama's feelings, since both Maduro and Obama follow the same political ideology.
Bob Corker blocking Venezuela sanctions bill
Here's another reason to #ditchMitch. Mitch McConnell gave an interview to leftist Time magazine. In the interview, McConnell told Time that he wants to emulate George Mitchell, a Democrat should become Senate Majority Leader next year. George Mitchell, the Maine Democrat who held the job from 1989 to 1995. You'd expect to hear this kind of bullshit from a Republican RINO in a blue state like a Mark Kirk or a Susan Collins, but Kentucky? If McConnell is ever elected Senate Majority Leader again, he will make John Weeper Boehner look like a strong conservative. Let this be a warning to you Republicans. If you take back the Senate thanks to us conservatives getting out the vote and re-elect McConnell as majority leader, you'll see your power stripped in 2016. If you want to suck Democrat toes, then do it elsewhere.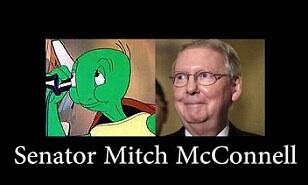 Mitch McConnell wants to govern the Senate like a Democrat
Lindsey Graham was caught on a hot-mic earlier today offering to help John Kerry (on Ukraine, climate change etc.) Graham, who is a flaming RINO running for re-election this year said to long faced Kerry: 'Let Me Know What I Can Do To Help You With Boehner.' So now we know. Orange crybaby John Boehner takes his marching orders for Lindsey Graham and the RINOs in the Senate.
)
Lindsey Graham to John Kerry on hot-mic 'Let Me Know What I Can Do To Help You With Boehner'
North Carolina amnesty pimp Rep. Renee Ellmers, who read the tea party wave to election in 2010 had an epic meltdown on the Laura Ingraham radio show as she tried to defend her support for amnesty. Ingraham owned Ellmers, and exposed her for the big government, big business, amnesty pimp she really is. Ellmers lost it. Renee Ellmers called Laura Ingraham "small minded," "ignorant," and claimed to be the author of a ubiquitous immigration talking point, adopting the third person to say "Renee Ellmers thinks for herself." Below is the audio clip of Ellmers' meltdown, provided by Breitbart:
Rep. Renee Ellmers meltdown over amnesty on Laura Ingraham radio show
Senate progressive Republicans aka RINOs instructed the Senate clerks not to announce the yea or nay votes on the debt-ceiling raising bill. The reason is so they could change their votes if they needed to get the 60 votes for cloture (which they did.) This was yet another pitiful attempt by Karl Rove Republicans Mitch McConnell and Jon Cornyn to protect their asses because they face tough primary elections. Yea, these idiots are so arrogant that they don't realize that this little trick wouldn't leak out and go viral on the Internet.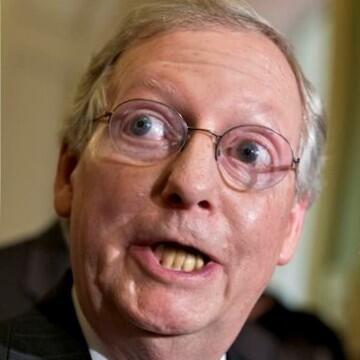 RINOs told Senate clerks not to announce names on debt-ceiling vote
It just wasn't right. Aww. RINO Utah Senator Orrin Hatch switched his vote on cloture from no to yes in order to protect his big government, Karl Rove Republican pals Mitch McConnell and Jon Cornyn. Orrin Hatch is a slimy RINO who has been in the Senate for 40 years, and should have been booted out of office in 2012. Unfortunately, he won his primary, then general election so he will be around until at least 2018. In all, 12 Rove Republicans voted for cloture to raise the debt ceiling no strings attached. The vote itself to actually raise the debt ceiling on took 50 votes to pass, and with 55 Marxist Democrat Senator, it wasn't ever in doubt it would pass after cloture. The Republicans who voted for cloture tried to cover their asses by voting no on the actually hike of the debt ceiling. They will campaign on fiscal responsibility and claim they voted against raising the debt debt, when anyone with half a brain knows that these 12 Republicans enabled the Democrats to raise it.