RINO filth Bob Corker is blocking a bill in the Senate for sanctioning human rights abusers in Venezuela. I wonder if Corker has some oil interests in Valero or something? Why could this piece of RINO trash be blocking a bi-partisan bill to sanction the socialist government? Or maybe Corker just doesn't want to hurt his golf buddy Obama's feelings, since both Maduro and Obama follow the same political ideology.
Bob Corker blocking Venezuela sanctions bill
Here's another reason to #ditchMitch. Mitch McConnell gave an interview to leftist Time magazine. In the interview, McConnell told Time that he wants to emulate George Mitchell, a Democrat should become Senate Majority Leader next year. George Mitchell, the Maine Democrat who held the job from 1989 to 1995. You'd expect to hear this kind of bullshit from a Republican RINO in a blue state like a Mark Kirk or a Susan Collins, but Kentucky? If McConnell is ever elected Senate Majority Leader again, he will make John Weeper Boehner look like a strong conservative. Let this be a warning to you Republicans. If you take back the Senate thanks to us conservatives getting out the vote and re-elect McConnell as majority leader, you'll see your power stripped in 2016. If you want to suck Democrat toes, then do it elsewhere.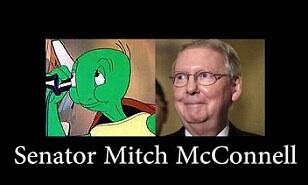 Mitch McConnell wants to govern the Senate like a Democrat
Lindsey Graham was caught on a hot-mic earlier today offering to help John Kerry (on Ukraine, climate change etc.) Graham, who is a flaming RINO running for re-election this year said to long faced Kerry: 'Let Me Know What I Can Do To Help You With Boehner.' So now we know. Orange crybaby John Boehner takes his marching orders for Lindsey Graham and the RINOs in the Senate.
)
Lindsey Graham to John Kerry on hot-mic 'Let Me Know What I Can Do To Help You With Boehner'
North Carolina amnesty pimp Rep. Renee Ellmers, who read the tea party wave to election in 2010 had an epic meltdown on the Laura Ingraham radio show as she tried to defend her support for amnesty. Ingraham owned Ellmers, and exposed her for the big government, big business, amnesty pimp she really is. Ellmers lost it. Renee Ellmers called Laura Ingraham "small minded," "ignorant," and claimed to be the author of a ubiquitous immigration talking point, adopting the third person to say "Renee Ellmers thinks for herself." Below is the audio clip of Ellmers' meltdown, provided by Breitbart:
Rep. Renee Ellmers meltdown over amnesty on Laura Ingraham radio show
Senate progressive Republicans aka RINOs instructed the Senate clerks not to announce the yea or nay votes on the debt-ceiling raising bill. The reason is so they could change their votes if they needed to get the 60 votes for cloture (which they did.) This was yet another pitiful attempt by Karl Rove Republicans Mitch McConnell and Jon Cornyn to protect their asses because they face tough primary elections. Yea, these idiots are so arrogant that they don't realize that this little trick wouldn't leak out and go viral on the Internet.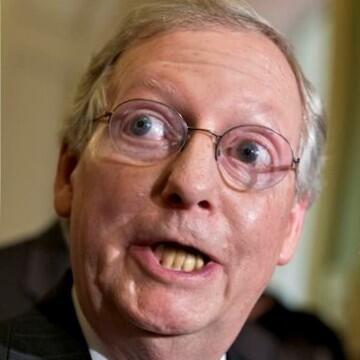 RINOs told Senate clerks not to announce names on debt-ceiling vote
It just wasn't right. Aww. RINO Utah Senator Orrin Hatch switched his vote on cloture from no to yes in order to protect his big government, Karl Rove Republican pals Mitch McConnell and Jon Cornyn. Orrin Hatch is a slimy RINO who has been in the Senate for 40 years, and should have been booted out of office in 2012. Unfortunately, he won his primary, then general election so he will be around until at least 2018. In all, 12 Rove Republicans voted for cloture to raise the debt ceiling no strings attached. The vote itself to actually raise the debt ceiling on took 50 votes to pass, and with 55 Marxist Democrat Senator, it wasn't ever in doubt it would pass after cloture. The Republicans who voted for cloture tried to cover their asses by voting no on the actually hike of the debt ceiling. They will campaign on fiscal responsibility and claim they voted against raising the debt debt, when anyone with half a brain knows that these 12 Republicans enabled the Democrats to raise it.
So which so called Republicans voted most for the Obama/Democrat agenda in 2013? The top of the list is of course Susan Collins, a liberal progressive Republican from Maine. You aren't going to get anyone more conservative in Maine to win a Senate seat, so it's no surprise. But then you have Lisa Murkowski of Alaska, voting 72% with Obama and the Democrats in 2013. Alaska is hardly a liberal state, and this is unacceptable. Then you have the two Arizona assclowns McCain and Flake. Again, why in a conservative state like Arizona are the two Republican Senators voting for progressive liberal polices?
Senate Rs voting with Obama in 2013: Collins 76% Murkowski 72% McCain 59% Flake 56% Isakson 54% Portman 54% Hatch 53% Graham 52% Corker 51%

— Phil Kerpen (@kerpen) February 4, 2014
Communist love is in the air in Davos. John McCain, better known as Songbird McCain by some of his Vietnam mates is chilling in Davos with George Soros. After being censured for a second time this weekend for his liberal policies, McCain decided to certify his liberal street cred by chilling with Soros.
Check out the picture of the two lovebirds in Davos at Weasel Zippers. They really do make a nice little couple don't they? It's hard to tell which of those two Communist old coots is older, or more corrupt and progressive.
George Soros is the scum of the earth and John McCain is the scum of the U.S. Senate. The only question now is, did John McCain wag his tongue for Soros.
17 worthless Republicans voted for the $1.1 omnibus spending bill. This bill will fund the government through the end of September and will fully fund ObamaCARE. It now goes to King Obama to sign. These are the names of the 17 Republicans who helped fully fund ObamaCARE. Many of them big government Karl Rove Republicans aren't up for re-election until 2016, however some are up for re-election later this year. Time for some primary challengers.
Lamar Alexander (Tennessee – 2014 primary)
Kelly Ayotte (New Hampshire – next election 2016)
Roy Blunt (Missouri – next election 2016)
John Boozman (Arkansas – next election 2016)
Dan Coats (Indiana – next election 2016)
Thad Cochran (Mississippi – 2014 primary)
Susan Collins (Maine – 2014 primary)
Mark Kirk (Illinois – toast in 2016)
Lindsey Graham (South Carolina – primary 2014)
Orrin Hatch (Utah – next election 2018)
John Hoeven (North Dakota – next election 2016)
Johnny Isakson (Georgia – next election 2016)
Jerry Moran (Kansas – next election 2016 )
Lisa Murkowski (Alaska – next election 2016 )
Richard Shelby (Alabama – next election 2016 )
David Vitter (Louisiana – next election 2016 )
Roger Wicker (Mississippi – next election 2018 )
Paul Ryan has really turned out to be a piece of shit. Ryan tried to convince Hugh Hewitt that the veterans pension cuts, whining like a progressive about how 'he didn't want to do it.' Hewitt wasn't buying any of snake oil salesman Paul Ryan's BS. Listen to the audio clip of the exchange between Hugh Hewitt and slimy Ryan:
Hugh Hewitt destroys Paul Ryan over veteran pension cuts – Audio Clip Daily Caller
Maricopa County GOP leadership decided to censure worthless Arizona RINO Senator John McCain. Out of over 1,500 votes, it wasn't even close. McCain was censured by a margin of 1,169 to 368. The resolution was drafted by Precinct Committeeman Tim Schwartz. The resolution read:
Read more
So what's the bigger scandal? A traffic jam in New Jersey, or Obama's IRS targeting their 'political enemies' not seen since the Nixon administration? The answer to this question is obvious. The corrupt American state run media is so Obama biased that the traffic jam has gotten 17 more coverage than Obama's IRS targeting got in the last six months. Both stories are about targeting 'political enemies.'