Scott Brown moved to New Hampshire last year, many people thought he would run for Senate in a slightly less loon state than Massachusetts. Seems that's exactly what Brown's plans were as he is ready to launch an exploratory committee for New Hampshire Senate against Marxist Democrat Jeanne Shaheen. In a state that not only has Shaheen, but also the female RINO John McCain clone Kelly Ayotte, Scott Brown is about the best you could expect from a Republican running in that leftist state.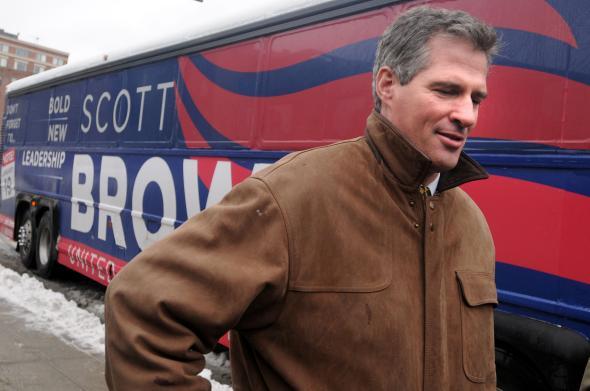 Scott Brown to launch exploratory committee for New Hampshire Senate run
Scott Brown is expected to launch an exploratory committee to run for Senate in New Hampshire as soon as Friday, sources confirmed to POLITICO, another boost for Republicans pushing to expand the map of competitive races into purple states.
The former Massachusetts senator, who moved to the neighboring Granite State this winter, has told multiple people that he plans to challenge Democratic Sen. Jeanne Shaheen.
So the man who couldn't even beat a raving loony toon like Elizabeth Warren in Massachusetts thinks he can take out a Marxist Democrat in a state just to the north of Massachuttes? Good luck there Scotty. Make sure to mention that you drive a truck this year too. Personally, I don't think Scotty boy has a chance.
After Scott Brown's boring fill in for Bill O'Reilly on Monday, it's become clear that Scott Brown isn't cut out for TV. Maybe Brown is realizing that as he is now dropping hints that he may run for the Senate in New Hampshire next year. New Hampshire isn't as hard-left as Massachusetts, but it's not really that far off based on this past election. Would Brown have a better chance at winning a Senate seat in New Hampshire than the open seat in Massachusetts?
Read more
Fox News has really been on a roll lately. They did one good thing by dumping Dick Morris, but they continue to sign snorefests. The latest Fox News signing is none other than Massachusetts RINO Scott Brown. You know, the guy who was elected to stop the passage of ObamaCARE, but never did? You know, the same guy who was the deciding vote on the Frank-N-Dodd bill, the same guy who wants your tax payers to continue paying for Planned Parenthood abortions. Yes, that Scott Brown is the latest Fox News stooge, joining recent signings of Karl Rove, Jesse Jackson's daughter, Dennis Kucinich, and Mark Sanford.
Read more
Lets go over some of Fox News recent hires. Dennis Kucinich, Jesse Jackson's daughter, Soros Monkey Sally Kohn, Mark Sanford, etc. So how is Fox going to top themselves? Reportedly, they are in discussions with failed Massachuttes RINO Senator Scott Brown to become a 'contributor.' Why? WTF can Scott Brown provide? More RINO talk? More Northeastern Republican viewpoints? Maybe some updates on his truck?
Read more
I'm shocked I tell you! Shocked! Scott Brown is basically Olympia Snowe in drag. He's a Democrat with a (R) by his name. But that's probably the best your going to do from a Northeastern Senator, especially from Massachusetts. On top of that, he's running against whack job Elizabeth Warren, so I have no option but to support him. So the story just breaking that he's calling on corrupt Attorney General Eric Holder to resign because of his misleading Congress comes as a pleasant surprise.
Read more
The story earlier about Elizabeth Warren's alleged plagiarism of a book called All Your Worth reported by the National Review turns out to be a flip flop. Seems that Warren's book came out before the alleged plagiarism, so she can't be accused in this case. The book includes a passage that appears to include parts of two paragraphs that mirror a book called Getting on the Money Track by Rob Black. Warren's book came out before Black's. But enough about Warren. Remember Joe Biden in 1987?

Of course there was also the time in 1987 when then Senator Joe Biden "borrows" a speech from British politician Neil Kinnock.

Then Joe Biden pulled out of the 1988 presidential election in 1987 because of all the plagiarism. Remember the "Good Ole Days" when the media would actually report on corrupt Democrats? Those were the days.

Read more
Not paying their fair share as usual. According to Newsmax, up to 98,000 of Obama's federal workforce owe back taxes totalling up to $3.4 billion! This also includes members and staffers of the Democrat controlled U.S. Senate. It is estimated that Senate Democrats and their aids owe up to $2 million alone! It's also reported that about 36 members of Obama's executive staff owe more than $800,000 in back taxes! Pay your fair share you fcking hypocrites!
While I really can't stand Scott Brown, and he has been to be an epic RINO fraud, he still would be better than Marxist Elizabeth Warren in the Senate. Basically in far left states like Massachusetts, Scott Brown is the best you can hope for, even if he's really just Olympia Snowe or Susan Collins in drag. Republicans need four Senate seat gains to gain control and make dingy Harry Reid Minority leader. They can't afford to lose any seats, and this one is probably the most vulnerable. The good news is that according to the latest Suffolk University poll, Brown is leading Marxist Warren 49% to 40%. Scott Brown crushes Warren 60 percent to 28 percent among independent voters.
Looks like truck driving Scottie Brown is starting to open his mouth as his Massachusetts Senate reelection bid season begins. Scott Brown has proven to be a major disappointment since beating Martha Coakley win the Senate seat vacated after Chappaquiddick Ted Kennedy kicked the bucket. Scott Brown has proven to be nothing more than the male equivalent of the Maine twins Olympia Snowe or Susan Collins. So he has to try and prove his "conservative" side by claiming that Obama's illegal alien uncle Omar Onyango should be deported back to Kenya. The Hill reported on RINO Scott Brown's remarks.
It's getting about time for RINO Scott Brown to pull his Arlen Specter and switch parties already. This bullsh*t about how he is some sort of "Republican" has played it self out already. He fooled many people (including me) last year when he won the election to fill Ted Kennedy's Senate seat, but the mask has fully come off. Brown never stopped ObamaCARE from passing like he campaigned he would do. He voted for the Frank-N-Dodd Wall Street Bill, voted to repeal DODT, and voted to weaken America with the START treaty in the lame duck session. Now the Democrat in Republican's clothings is claiming that Republican spending cuts are "irresponsible". From the Daily Caller:
He's Scott Brown. He drives a truck. And as we've learned over his first year in office, he's also a flaming RINO in the mold of Olympia Snowe. He's so big of a RINO, he thinks YOU should continue to fund Planned Parenthood with your taxpayer money because the proposed GOP cuts "go too far." According to The Hill, the flaming RINO from Massachusetts said Tuesday he does not support a GOP proposal to slash funding for Planned Parenthood saying:
"I support family planning and health services for women," Brown said in a statement. "Given our severe budget problems, I don't believe any area of the budget is completely immune from cuts. However, the proposal to eliminate all funding for family planning goes too far."
He was once a "Scott Brown Republican." He rode the support of the tea party to beat Martha Coakley in last year's special election in the People's Republic of Massachusetts to fill the Senate seat once held by Ted Kennedy. He bragged about "driving a truck." Since then, he's proven to be the chowder-head male version of the Maine twins, voting with progressive liberal crap like the START Treaty and the Frank-n-Dodd financial reform bill. He also voted for repealing Don't ask Don't tell which isn't really an issue for me, but is for a lot of people. Now's he's pimping a book about himself, and running around to the media talking about how he was sexually abused by a 13 year old kid. Amazing timing considering what happened to Lara Logan, and that he needs an attention grabber to pimp his book. Now, all of a sudden Scott Brown is claiming he is a "Reagan Republican" instead of a "Scott Brown Republican", but don't just call him a tea partier.