You had plenty of media egging on the rioters in Ferguson during a week of unrest, looting, and burning down of businesses. Now that the violence has stopped, the corrupt leftist media doesn't care abut what's going on in Ferguson anymore. That's why they don't bother reporting on the tea party helping riot ravaged businesses rebuild in Ferguson now that the violence has stopped. Biz Pac Review covered this story, but none of the 'big' media outfits bothered to. Not even Fox News. The St. Louis Tea Party is organizing a "BUYcott" of businesses along the now-infamous Florissant Avenue where some of the worst looting took place. Hennessey's View also has more on the BUYcott: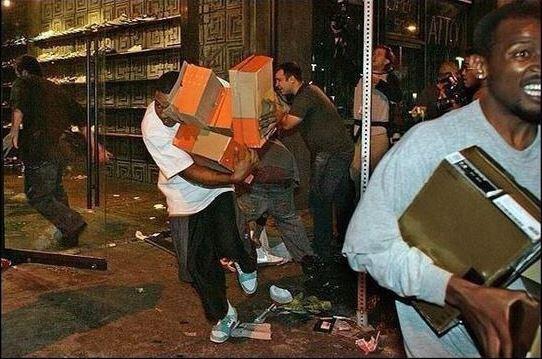 Tea party helps riot-ravaged Ferguson businesses rebuild — media silent
Sorry I'm so late on this. This sounds whiny, I know, but I have a really involved week at work this week. Sorry. Crap always seems to work out this way, though. When there's a great need for Tea Party services, I'm tied up with work obligations. Something has to give, and it's usually the thing that doesn't generate revenue.

But we all have work to do. Ferguson businesses and families are still struggling with the effects of the riots. The demonstrations didn't break their windows or steal their inventories. Rioters did. Looters did. And the shop owners in Ferguson and Dellwood weren't rioting. They were watching their American Dream of owning their own lives go out through broken windows.

Everybody shops on Labor Day Weekend. All we're asking is that you consider doing that shopping in Ferguson and Dellwood.
The only time the media bothers to check out what the tea party is doing is googling James Holmes during a mass shooting at a theater like ABC hack Brian Ross.
All i've heard this election cycle from the media and the Karl Rove establishment Republicans is how the tea party is dead and not coming back. There just isn't the same enthusiam as there was in 2010 or something. Well after Dave Brat crushed establishment RINO hack Eric Cantor last night, lets take a look at other 'dead' tea party wins so far this spring. Keep in mind, that only about half of the primary season is done so far.
Check out the 2014 'dead' tea party wins so far
In Nebraska – Tea party favorite Ben Sasse cruises to an easy win in the GOP primary, crushing 'moderate, Karl Rove backed Sid Dinsdale by 27 percentage points.
In Texas – Tea Party challenger Dan Patrick, slaughters Lt. Gov. Dewhurst. David Dewhurst is a prototypical Karl Rove style Republican.
In Mississippi – Tea Party challenger Chris McDaniel ends up with more votes than dinosaur Thad Cochran who has been in the Senate since Richard Nixon was president. A run-off is scheduled for June 24th, and most people expect McDaniel to beat the washed up RINO Cochran.
Read more
The FBI is far too busy to bother with filing criminal charges against those responsible for the IRS targeting of conservative groups. The FBI has far more pressing things to deal with, like Chris Christie's traffic jam. So as you would expect the IRS will end up getting off scott free with their 'targeting of Obama's enemies' conservative groups.
Breaking: FBI doesn't plan to file criminal charges over the IRS's targeting of conservative groups. http://t.co/LemyHdiPTr

— Wall Street Journal (@WSJ) January 13, 2014
WAH! The Tea Party is racist! I guess we are back to this fallacy. Richard Dick Fowler was Dana Loesch's debate victim tonight on Hannity. As is typical, DICK Fowler couldn't site any examples of proven racism in the tea party.
Dana Loesch destroys leftist race hustler Richard Fowler
Apparently, something called 'Stormfront.com' is a part of the tea party? Really? If you go to Stormfront.com right now, you'll get a typical page for a parked domain. So a parked domain is some racist and a part of the tea party? Loesch fired back at Dick Fowler mentioning how the Black Panthers are a part of the progressive movement. But Fowler quickly claims that he condemns them or something.
So if this 'Stormfront.com' is some race thing that's a part of the tea party, why isn't the same thing that the Black Panthers are part of the far left progressive liberal Democrat movement? Yea…
Thomas J. Ritter is some leftist kook who sadly teaches fifth grade Sally B. Elliott ­Elementary in Irving, Texas. Thomas Ritter isn't much of a fan of ObamaCARE, but just loved how Obama mocked Sarah Palin and the 'tea baggers.' Ritter has since put the letter up for sale. I guess even leftists likw the idea of capitalism when they can make a quick buck.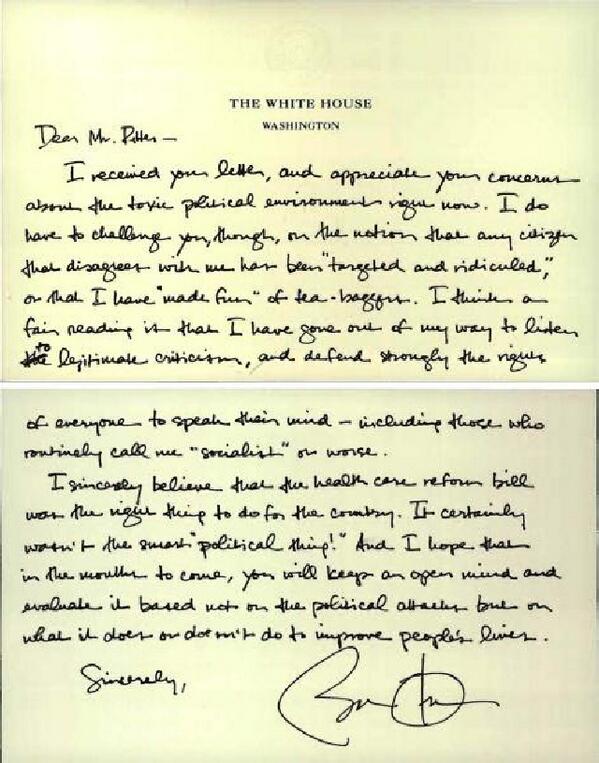 Obama calls conservatives 'tea baggers' in letter to Thomas J. Ritter
Apparently, it was the tea party who killed JFK in 1963, not some Communist progressive liberal like Lee Harvey Oswald. Yes, the Washington Post has gone there basically claiming the tea party has 'roots' back to the assassination in Dallas 50 years ago. You see, according to the Washington Post, and their moron writer Bill Minutaglio the country was 'angry' and there was a lot of 'political polarization' back then. It was all driven by a band of zealots. So that's how Bill Minutaglio and the Washington Post link the Tea Party to the Kennedy Assassination. JFK cut taxes, fought the Communists, was pro-life and patriotic. Today's Democrat party and their media enablers are basically carbon copies of Lee Harvey Oswald when it comes to ideology, yet it"s somehow the Tea Party who's linked to the '63 assassination.
William Bill Minutaglio / Washington Post: Tea Party killed JFK in 1963
Like clockwork, Paul Ciancia is a member of the Tea Party or something. The media's proclamation of Ciancia having 'strong anti-government views' has accomplished exactly what they wanted. Divert attention away from the ObamaCARE disaster and try once again to smear tea party and conservatives. Remember, the media also declared Chris Dorner as having 'strong anti-government views' too.
Sounds like a Tea Partier|NBC News' Pete Williams: LAX Shooter Paul Anthony Ciancia Had 'Strong Anti-Government Views'- #teaparty #lax

— Jorge (@hora_del_cafe) November 1, 2013
$10 says the #LAX shooter, Paul Ciancia, is a Tea Party member. #tcot

— LugarRocks2012 (@LugarRocks2012) November 1, 2013
Turns out the 23 y/o LAX shooters and murderer (Paul Ciancia) was a very anti-government Tea Party Member from a conservative family in NJ.

— T▼MMY (@im_T_licious) November 1, 2013
Of course, it's leftists like Chris Dorner who refer to cops as 'pigs' just like Chris Dorner:
23-year-old Paul Ciancia referring to police as "pigs" — that doesn't sound very Tea Party-ish, eh? @BeccaJLower #LAX #tcot

— Robert Stacy McCain (@rsmccain) November 1, 2013
Who knew? According to leftist radical nut job Alan Grayson, NBC leftist hack Martin Bashir is a tea party collaborator. Grayson didn't like being criticized by the progressive liberal Martin Bashir over those Tea Party KKK fund raising letters he set out. Much like baby Obama, Alan Grayson isn't responsible for his own actions, and just blames someone else. You see, since Martin Bashir actually (and surprisingly) called Grayson out for the fund raising letters, he's now a tea party collaborator. Who's next from NBC? Rachel Maddow? Chris Matthews? Of course both Bashir and Grayson still fail to mention that the KKK was started (and still run by) Democrats. A KKK Grand Wizard, Robert Byrd (Democrat) was once Senate Majority Leader. But lets not let facts get in the way of progressive liberal Democrat propaganda.
Alan Grayson calls NBC leftist hack Martin Bashir a tea party collaborator
The only coverage the million veterans march got over the weekend was the Democrat plant holding a Confederate flag in front of the White House. Today, Obama sent out his paid Organizing for America thugs to protest to re-open the government. What was the story of the OFA protest? Aside from the minuscule crowds, protesters had signs that read 'Thank you Tea-Tards.' So it's cool for Obama's leftist drones to mock those with special needs, but somehow it's a major racial story for someone to hold a Confederate flag in front of the White House.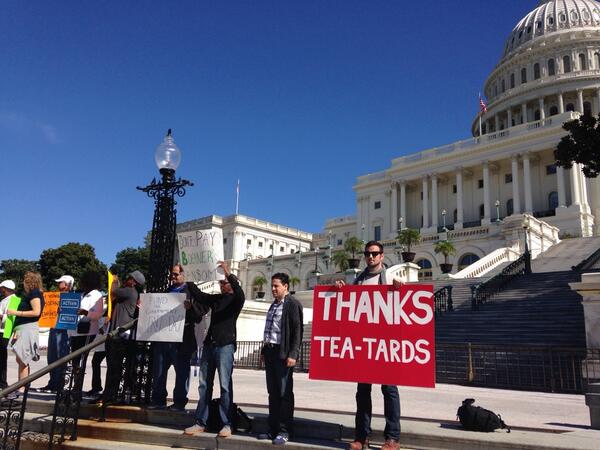 Obama OFA hold signs marked 'tea-tards' – hate speech ignored by media
Let's use leftist logic. Since they claimed the one person with the Confederate flag in front of the White House was reflective of the entire crowd on Sunday (including the 90+ year old veterans), then this idiot holding the Thank you Tea-Tards sign is reflective of Obama, and all leftist minions view about those with special needs. You see leftist idiots? We can play the same game too.
See here for the lovely #TeaTards sign. pic.twitter.com/6sfbRjXri7 Oh, and @Deanofcomedy, we should judge all of @OFA over this one sign, right?

— JR Schueller (@schuellerj) October 15, 2013
Don Lemon is one of the most left wing biased 'reporters' there are. However, he agreed with Bill O'Reilly's statements last week about race in America. Below is a video of Don Lemon agreeing with O'Reilly's stance:
Don Lemon of CNN agrees with O'Reilly – gets attacked by racist leftists/blacks
I have no respect for Don Lemon, or anyone at CNN for that matter. But I respect Lemon finally straying away from the Democrat plantation (if even just for a few minutes)
As usual, racist leftists and blacks are attacking Lemon for actually straying away from the plantation. Here are a few examples from the NOH8 'left' calling Don Lemon Uncle Tom, fag, and other vulgar things:
Don Lemon is an Uncle Tom.

— heterophobic. (@Tacky_Nerd) July 28, 2013
uncle Tom bit revealed itself. RT @__shAdrian: What did Don Lemon do?

— I'm bald like Xavier (@_ProfessorX) July 28, 2013
@goldietaylor He just needs to be quiet. Last thing the world needs is another uninformed Black man regurgitating fallacies for white folks.

— Michael Arceneaux (@youngsinick) July 27, 2013
@DonLemonCNN You are a 47 year old FAG and nobody's criticizing u about that. How dare u agree with a racist like @o'reilly regarding Blacks

— Rap Referee™☻ (@RapReferee) July 28, 2013
Accurate LOL RT @AlphaGemini_ Don Lemon LOOKS like a house nigger. Just like the guy from the catcher freedom episode

— West Indian Ahki (@Ahki117) July 28, 2013
@DonLemonCNN go suck bills dick and eat his shit u fag!!!!

— I AM MS.MOXIE (@IAMMSMOXIE) July 28, 2013
@DonLemonCNN you nasty ass fag!! U r a nigga charle for CNN bitch talks bout black ppl

— I AM MS.MOXIE (@IAMMSMOXIE) July 28, 2013
Oh, Don Lemon is apparently a tea party member now too.
Read more