You had plenty of media egging on the rioters in Ferguson during a week of unrest, looting, and burning down of businesses. Now that the violence has stopped, the corrupt leftist media doesn't care abut what's going on in Ferguson anymore. That's why they don't bother reporting on the tea party helping riot ravaged businesses rebuild in Ferguson now that the violence has stopped. Biz Pac Review covered this story, but none of the 'big' media outfits bothered to. Not even Fox News. The St. Louis Tea Party is organizing a "BUYcott" of businesses along the now-infamous Florissant Avenue where some of the worst looting took place. Hennessey's View also has more on the BUYcott: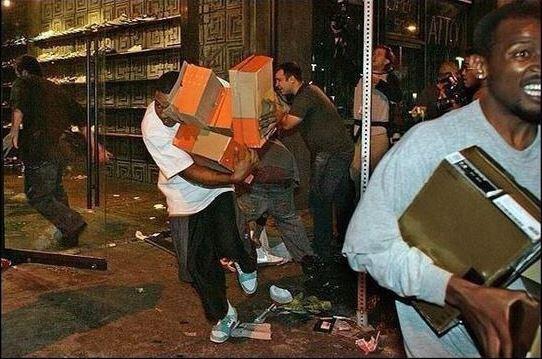 Tea party helps riot-ravaged Ferguson businesses rebuild — media silent
Sorry I'm so late on this. This sounds whiny, I know, but I have a really involved week at work this week. Sorry. Crap always seems to work out this way, though. When there's a great need for Tea Party services, I'm tied up with work obligations. Something has to give, and it's usually the thing that doesn't generate revenue.

But we all have work to do. Ferguson businesses and families are still struggling with the effects of the riots. The demonstrations didn't break their windows or steal their inventories. Rioters did. Looters did. And the shop owners in Ferguson and Dellwood weren't rioting. They were watching their American Dream of owning their own lives go out through broken windows.

Everybody shops on Labor Day Weekend. All we're asking is that you consider doing that shopping in Ferguson and Dellwood.
The only time the media bothers to check out what the tea party is doing is googling James Holmes during a mass shooting at a theater like ABC hack Brian Ross.
The Democrats are already in deep trouble this November, when they are likely to lose the Senate and more seats in the House. If Obama goes ahead with his unilateral amnesty actions around Labor Day like some are predicting, this would be the final nail in the Democrat's coffin. Now, there are reports that Obama may wait until after the mid-term elections to do his unilateral amnesty.
Obama may delay unilateral amnesty until after mid-terms
The Obama administration hinted on Friday that it might delay a some of its unilateral and controversial changes to U.S. immigration policy until later this year, instead of his original deadline of the end of the summer.

In his Friday briefing to reporters, White House Spokesman Josh Earnest refused to answer direct questions about whether President Barack Obama's announcement would still be made by the end of the summer. Earnest dodged that question several times, and also noted that Obama still doesn't yet have any formal recommendations to consider — both are possible signs that this deadline will now be pushed back.
But I thought all the border invaders were just poor children from Central America looking for a better life? Turns out, much like everything else a progressive says, that complete and utter BS. Muslim terrorists are operating in the Mexican border city of Ciudad Juarez and planning to attack the United States with car bombs or other vehicle born improvised explosive devices (VBIED). The DOJ and defense department are all on alert for an imminent terrorist threat according to Judicial Watch.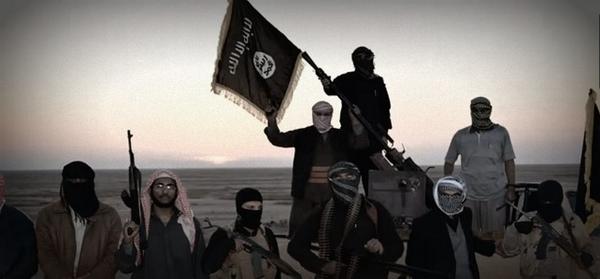 Imminent terrorist attack warning by Feds on US Border
Obama has three fundraisers in New York tonight. After those fundraisers he will travel back to DC tonight, then back out the New York on Saturday to attend the wedding of MSNBC hack Alex Wagner and Obama's personal chef Sam Cass. What a waste of money that is, and a big carbon footprint to boot. Of course progressive liberal Democrats like Obama and those who scream bloody muder over global warming don't seem to care when one of their own, whether it's Obama or Al Gore spew carbon into the air from their private jets. Also, this is just another conflict of interest between Obama and his staff intertwined with the corrupt progressive liberal Democrat media complex. Good to know Obama has plans for his weekend, even though he has none for ISIS.
Obama to attend MSNBC Alex Wagner wedding on Saturday
Iceland Bárðarbunga volcano has finally started it long awaited eruption. So far, a "Fissure eruption" has occurred near Bárðarbunga , but doesn't appear to have "significant explosive activity." The last eruption was in 2010. This one isn't expected to be as bad as it was then.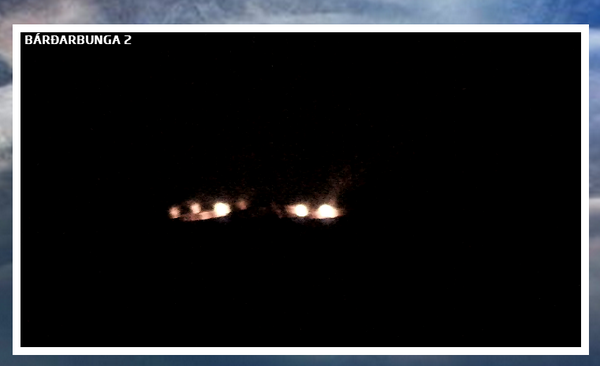 Iceland volcano eruption starts between Barðarbunga and Askja
A fissure eruption has started north of Dynjujökull, seen in the photo. A live YouTube stream is available below

Authorities in Iceland say the fissure is ~10 km north of Vatnajökull and currently measures about 100 meters long. The eruption started shortly after midnight on August 29 in Iceland, however the eruption seems to be subsiding in recent hours.
The Fort Hood terrorist attack is still not classified a terrorist attack by the Obama regime. Muslim terrorist Nidal Hassan is still alive, and wants to join ISIS. He wrote a letter to ISIS:
"I formally and humbly request to be made a citizen of the Islamic State,"Hasan says in the handwritten document addressed to "Ameer, Mujahid Dr. Abu Bakr al-Baghdadi."
Obama still claims this is 'workplace violence' so that families of those killed by Hassan at Fort Hood can't collect benefits.
Fort Hood shooter Nidal Hassan wants to join ISIS
Obama has no plans to stop Nidal Hassan from signing up.
Read more
Leftists in Missouri are mad. Police had military style weapons (given to them by Democrat Gov. Jay Nixon). You knew these lawsuits were coming. This won includes six plaintiffs and is demanding a a whopping $40 million according to Reuters. Pants up, don't loot!
Missouri police sued for $40 million over Ferguson riots
Obama may not have a plan for ISIS-ISIL (and stupidly announce it to the world) but he has plans for Friday. Obama will schmooze with 250 Wall Street hacks at three different fundraisers. At least one of the fundraisers is $32,000 per person to attend. Nice to see Obama has his priorities right.
Obama's doing 3 fundraisers tomorrow. He's got a strategy for that.

— toddstarnes (@toddstarnes) August 28, 2014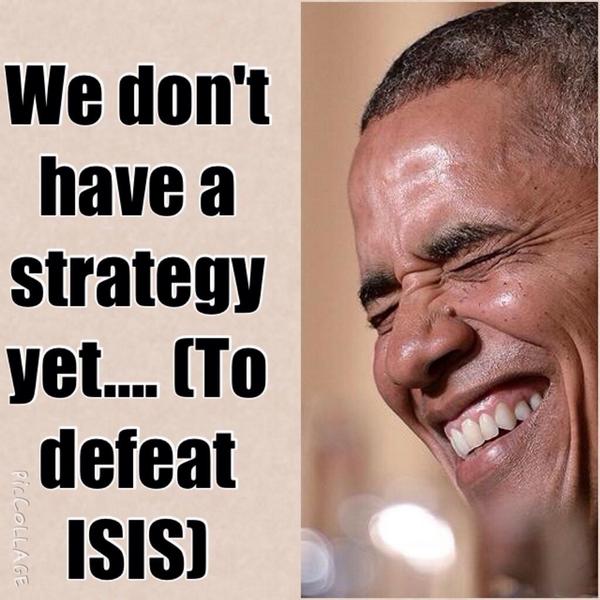 Obama has a plan for this: three fundraisers on Friday
Well this is comforting isn't it? Obama gave yet another propaganda press conference to the media lapdogs today, delaying the press briefing for hours. The biggest takeaway from Obama's press conference was when he was asked about the brutal Muslim terrorist group ISIS or ISIL who just beheaded American journalist James Foley. Obama actually said about ISIS-ISIL "We don't have a strategy yet." Obama's JV ISIS-ISIL has been on the march since at least January, and he still doesn't have a strategy? This is what you get when you elect a community organizer. Jimmy Carter must be smiling from ear to ear today. So too is ISIS-ISIL. You don't announce to the world you don't have a strategy in place to deal with terrorists trying to kill you. Thanks again BarryO. Video added.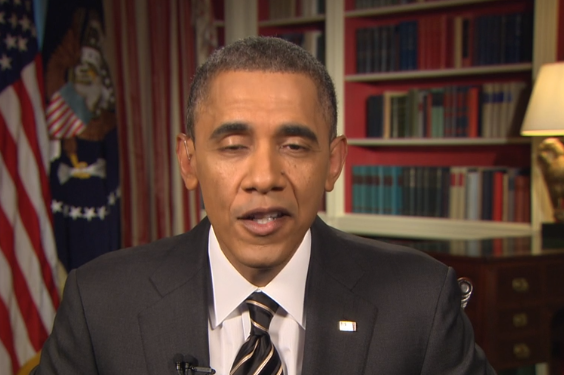 Biggest takeaway from Obama's latest presser about ISIS-ISIL – We don't have a strategy yet
Obama on #ISIL: "We don't have a strategy yet."

— Golnaz Esfandiari (@GEsfandiari) August 28, 2014
Here is your prototypical protester in Ferguson for gangstas Michael Brown. They love terrorists, but hate cops for daring to defend himself. Check out the shirt on this Ferguson protester that reads 'I'd rather be stopped by a ISIS terrorist than the Ferguson PD.' Hey jackwagon, why don't you follow through and move to Iraq or Syria if you have it so bad in this country? I'll bet ISIS would welcoem you with open arms. Oh, bt. you're Messiah refuses to call ISIS 'ISIS'. Instead he calls them ISIL. Get with the program.
Ferguson protester would rather be stopped by ISIS than PD