Not only did Obama bow and shake the hands of Cuba dictator Raul Castro, but he also shook the hands of a mass murdered. Robert Mugabe, the President of Zimbabwe is a mass murder and apparently a good friend of Obama. Of course you wouldn't know that if you relied on the media reports about Obama's day at the Mandela memorial. All the buzz is around Obama and Castro. The media has been doing back flips to try and claim it was no big deal that the president of the United States would bow and shake hands with the Cuban dictator. In fact, NBC originally reported that Obama shook hands with the mass murdered Mugabe. Then, it was quietly deleted from their news story.
Read more
Christiane Amanpour was such a failure at ABC that she had to be scooped up by CNN. Amanpour, like CNN (especially CNN International) are widely known to be anti-Semitic. Now, Christiane Amanpour somehow found South Africa during the apartheid era to present day Israel.
Apparently, Michelle Obama doesn't like the Prime Minister of Denmark Helle Thorning-Schmidt. At first Michelle Obama was seated next to the PM of Demmark. But something happened, and Michelle Obama decided to swap seats with Barry to not sit next to Helle Thorning-Schmidt. Look at the glares Michelle Obama gives Thorning-Schmidt. I don't know what happened between the two, but you can see the bad blood in Michelle's eyes. So classy.
Michelle Obama doesn't like Prime Minister of Denmark Helle Thorning-Schmidt
Barry Obama had a grand ole time. Sucking up to Castro, Mugabe, and taking selfies. I'd sure like to have been a fly on the wall to what pissed off Michelle Obama and Helle Thorning-Schmidt
The new budget deal that Paul Ryan and Patty Murray have been working on will get rid of some, if not all the sequester cuts that were agreed upon in 2011 and signed by Obama. I can't say I'm surprised anymore. I was fooled into thinking Paul Ryan was a fiscal conservative. This proves he is just another big government Karl Rove Republican. Ryan is also pushing to pass amnesty.
Read more
While Obama was busy shaking hands and bowing to Cuba Communist leader Raul Castro, Alan Gross an American contractor is still jailed in Cuba. Obama smiled, bowed, and shook the hands of Castro with Alan Gross imprisoned in Cuba. Castro is trying to use Gross as a pawn to swap Cuban spies that were arrested in this country back in the '90s under BJ Clinton.
Obama honored the Communist/Terrorist Nelson Mandela by shaking hands and smiling with Cuba's Communist leader Raul Castro. This despite the fact Americans are still being held as political prisoners in Cuba. Fidel Castro was too old to attend, so Obama shook hands with the next best thing with Raul Castro.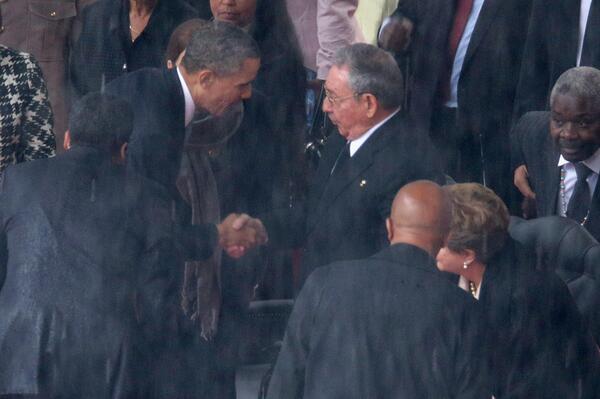 Obama shakes hands with Cuba Communist leader Raul Castro at Mandela funeral – Image Credit: Getty Images
Obama won the Cuban vote in Florida last year. I wonder how they feel about him now.
Read more
It's not nice to laugh at people who lose $18 million pf their own money. But Alan Grayson is really more caveman than anything, so HAHHAHAHAH! The Florida slimy Democrat was the 'victim' of a so called criminal scheme run by a Virginia Man named William Dean Chapman who's going to jail for 12 years.
Hey Alan, your $18 million 'investment' died quickly!
Read more
Conservative Texas Rep. Steve Stockman with launch a primary campaign against Texas RINO Senator John Cornyn who is up for re-election next year. After all of John Cornyn's backstabbing of Ted Cruz during the Obama shutdown, it looks like karma has finally caught up with the RINO.
One of Washington's most reliably conservative lawmakers is breaking the news that he will challenge a mainstay of the Republican establishment – all because the incumbent GOP senator "undermined Sen. Ted Cruz's fight to stop Obamacare."

Rep. Steve Stockman, R-Texas, told WND exclusively that he will run against against Sen. John Cornyn, R-Texas, in the state's primary race. Cornyn is running for re-election to the U.S. Senate in 2014.

With his campaign little more than an hour old, Stockman had already picked up some major support.

Jenny Beth Martin, president and co-founder of Tea Party Patriots, told WND, "Congressman Stockman has proven himself to be a fighter for freedom who votes in the House of Representatives based on constitutional principles. We need more senators who will do the same."
The knockout game has come to Las Vegas. What happens in Vegas doesn't stay in Vegas this time. A black thug attempted a 'knockout game' or 'polarbear' on a female, and the results were awesome. It wasn't the female who got knocked out. Instead, the black thug got his ass kicked as the woman fought back. Watch the following video of the attack and how the cowardly black thug ends up lying on the ground in the fetal position with a bloody nose.
Black thug gets owned after woman turns the tables in knockout game in Las Vegas – Image credit: Opposing Views:
I wish more victims of these attacks would do the same as this woman did. Though some are actually knocked unconscious or just completely stunned by the attack.
More from Opposing Views:
In an apparent case of the "Knockout Game" gone wrong, new video shows a man attempting to hit a girl and knock her down as part of the game, but his plan backfires when the woman hits him back.

The incident, which happened in a Las Vegas shopping mall, shows the woman retaliate as soon as she is hit by the man. She starts to beat him on the head when another man, who is reported to be her boyfriend, runs back to try to break it up when he realizes that the guy hit her.

"You hit a girl?" the apparent boyfriend asks before springing into defense mode and helping the woman beat the man. People are watching the incident unfold, asking what happened, before the woman and her boyfriend angrily walk away.
Dr. Scott Gottlieb revealed yet another great side effect of ObamaCARE. If you like your prescription drug coverage, you can't keep them under ObamaCARE. Well, maybe you'll be able to keep your prescription drugs. Like Zeke Emanuel said about your doctor, you'll just have to pay a lot more for it. People have their own opinions prescription drugs. Some swear by them, others hate them like the plague. If you are one who uses them, not even the ObamaCARE platinum plan will help.
If you like your prescription drugs you can't keep them under ObamaCARE says Dr. Scott Gottlieb
Have you signed up for an ObamaCARE state exchange in Minnesota, Hawaii, Nevada, Colorado, New Mexico, New York, Maryland or Washington DC? If so, you should be happy to know that your personal information sent to the state (or DC) ObamaCARE exchanges are vulnerable to being exposed. A simple Wi-FiM attack can allow hackers (or whatever they are called now) to grab your private information and usernames/passwords. This isn't even including the security problems at healthcare.gov. On top of all this, Google, who is hosting these sites is reportedly collecting MAC addresses to identify your computer/router.
Ok, Obama, his wife, kids, mother in-law are all going to Mandela's funeral. So are three other living presidents to honor the Communist/Terrorist Mandela. But why in the hell are Eric Holder, Valerie Jarrett, Benghazi liar Susan Rice and lily white Ben Rhodes to go too? Oh yea, I forgot, they aren't paying for it, we are, so lets have a big party on the tax payers' dime. We know why Valerie Jarrett is going. She's the unelected POTUS who pulls Obama's strings. He can't go anywhere without her.