Last night on Justice with Judge Jeanine Pirro interviewed former CIA officer Joshua Katz. According to his sources, there are already ISIS recruits in Boston, one of the most anti-American cities in this country. The number of ISIS recruits believed to be in Boston already is believed to be in the double digits. When you consider other anti-American cities in this country like New York City, Chicago and San Francisco, there could already be hundreds of ISIS recruits in this country.
Dozens of ISIS recruits already in Boston (Video)
Omar J. Gonzalez, the White House fence jumper on Friday apparently had a knife. As far as the fence hopper today, we don't know about him yet. Obama had already left for a vacation, taking his kids and their friends on our tax dollar. Maybe Omar Gonzalez was the latest ISIS recruit. You know those terrorists love their knives.
Cellphone video shows man who jumped White House fence Fri; he was later found to have a knife http://t.co/ggvwWwYSJ2 pic.twitter.com/7IUmggbnEE

— KTLA (@KTLA) September 21, 2014
BREAKING NEWS: White House intruder was carrying a knife http://t.co/MzUgXru6B0

— Fox News Alert (@foxnewsalert) September 21, 2014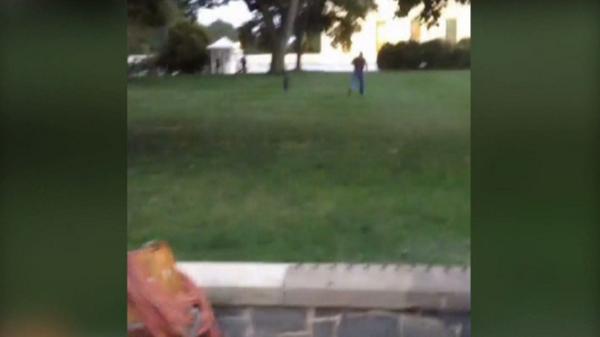 Omar J. Gonzalez – White House fence jumper had a knife
Brandon Darby has the best take on Omar Gonzalez and White House 'security'.
Read more
In the last two days, you've had two nut jobs jump the fence at the White House. Meanwhile, Obama isn't even at the White House. The lazy Hussein decided to go on yet another vacation, this weekend at Camp David. As the world burns, lazy Obama goes on vacation. So typical. Looks like they brought the kids friends along on the trip too. Who cares right? It's just us paying for it, not Obama.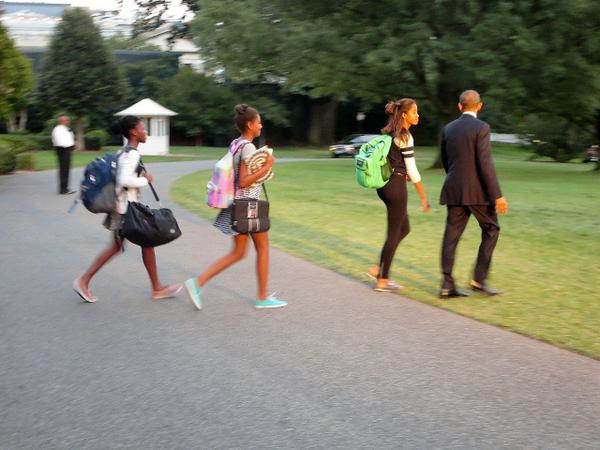 Lazy Obama on vacation again at Camp David
Pres Obama leads daughters Malia and Sasha and a friend to Marine One for flight to weekend at Camp David. pic.twitter.com/JEEHjO3w6X

— Mark Knoller (@markknoller) September 19, 2014
#WhiteHouse evacuated after intruder spotted on grounds. Witnesses say President #Obama was en route to Camp David

— CBC News Alerts (@CBCAlerts) September 20, 2014
Vladimir Putin is teasing obama again (assuming Obama even cares). Six Russian nuclear bombers buzzed Alaska according to the Free Beacon. The bombers include two Bear H nuclear bombers, two MiG-31 fighter jets and two IL-78 refueling tankers were intercepted by F-22 fighters on Wednesday.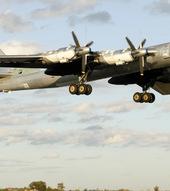 Six Russian nuclear bombers buzz Alaska
Ok WTF is this? Doofus Chuck Hagel is asking for information U.S. military's relationships with the National Football League. Why now? It's because some in the NFL have turned out to be wife beaters or child abusers. What the hell does this have to do with our military though?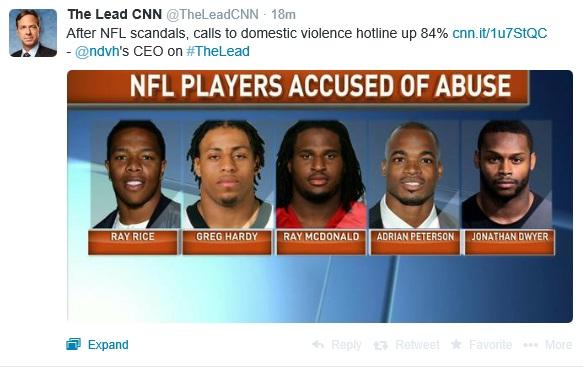 Chuck Hagel asks for information about military ties to NFL
Ah yes, Chicago. Rahmville, Obamaville, Jesse Jackson land and Louis Farrahkhan's home for the mothership. Four black thugs were charged in the shooting, kill of a 9 year old boy in Chicago, yet agan this doesn't get any media attention. Could it be because it's just Chicago being Chicago? Could it be because it's black on black? Whatever the reason for the blackout, it's pathetic. Below is a picture of three the monsters 'allegedly' involved in the killing of a 9 year old. Derrick Allmon, 19 has been identified by police as the suspected gunman. The three others allegedly involved in the killing are: Jabari Williams, 22; Paris Denard, 19; and Michael Baker.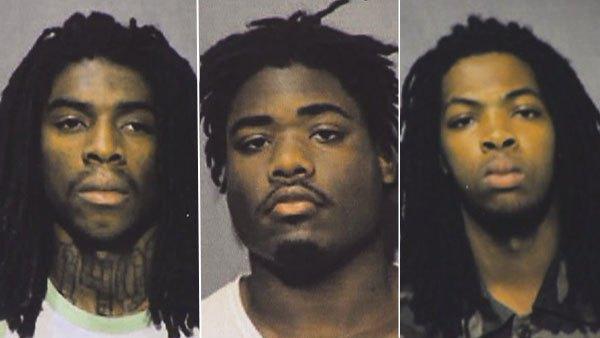 4 black thugs kill 9 year old boy in Chicago – media silent
ISIS posted another video on YouTube today called Flames of War. It featured an America masked ISIS terrorist. This was first reported at the UK Daily Mail, and hasn't gotten much attention an American media. I don't know why. I know the media doesn"t want to make Obama look bad, but they've been pretty good in covering ISIS. The unidentified masked male terrorist in the video spoke good English with a non-specific accent.
ISIS Flames of War video features American
Glen Doherty's family suing Obama State Department over Benghazi. The lawsuits (two in total) are being led by Glen Doherty's mother, Barbara. According to the AP, She filed a claim with the two government agencies last week seeking one million dollars in each suit. The lawsuits are being filed against the CIA and State Department, for wrongful death. Doherty's friend and executor of his estate, Sean Lake, filed a separate claim seeking a little over $1 million. I hope they win and expose Obama and Hillary Clinton for their lack of security, concern and lies.
Glen Doherty's family suing Obama State Department over Benghazi
This is your legacy Hillary Clinton!
Read more
Benjy Bronk of Howard Stern show mocks code pink hags and Roger Goodell at the press conference earlier today. As they try and toss Bronk out, he screams 'Don't put me in a elevator' in an obvious reference to the Ray Rice beating of his then girlfriend. Watch the following video. It's actually quite funny, espeically when you consider who Benjy Bronk is mocking.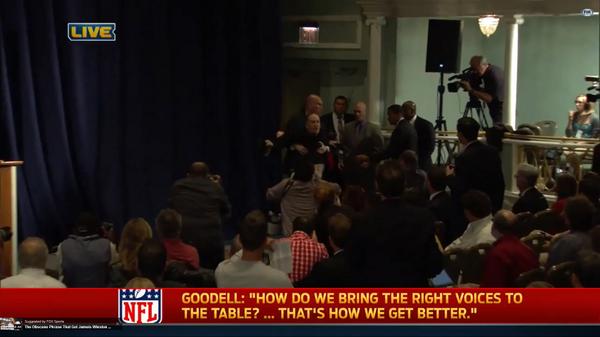 Benjy Bronk of Howard Stern show mocks Goodell Don't put me in a elevator (Video)
Well done Benjy. But the Anthony Weiner press conference crash was still my favorite.
The New York Times (or Slimes as Mark Levin accurately calls it) pulled this schtick with Dinesh D'Souza book not being placed on their review list. Now, David Limbaugh's Jesus on Trial is the target of the liberal censors. New York Times best-seller list is denying best-seller status to Limbaugh. The book is already #1 on Amazon.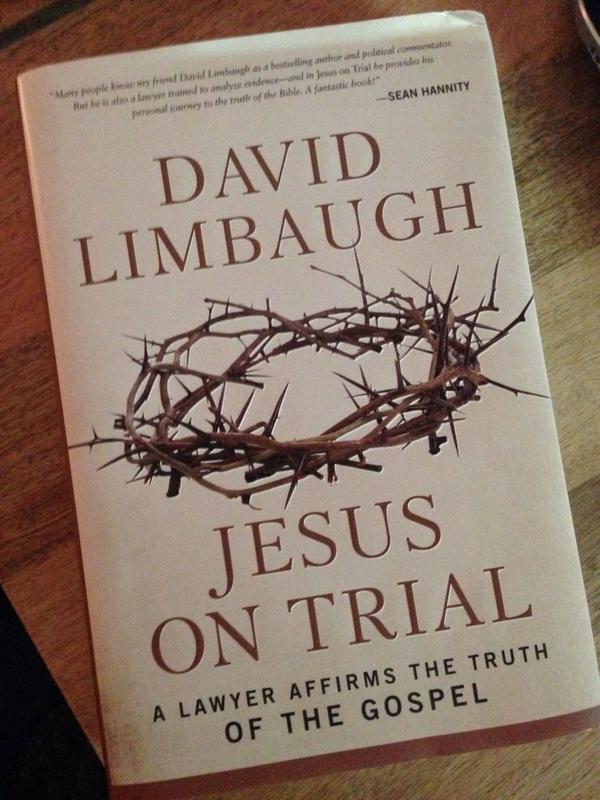 NY Times Book Review Banishes David Limbaugh's Jesus on Trial