Rick Perry gave a rousing speech that fired up the CPAC crowd today in DC. If you didn't know any better, you'd think he was going to try again to run for president in 2016. He's not my first, second, third or fourth choice. But i'd vote for him over a Chris Christie or Jeb Bush. At least he remembered the words of his speech and didn't have another ooops moment.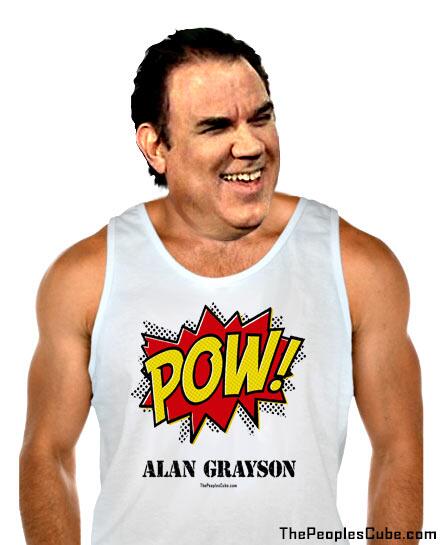 Alan Grayson's wife Lolita accused him of shoving her during domestic incident. Pictures released to News 13 Orlando (via Gateway Pundit) show bruises sustained by Lolita Grayson (she says during his tirade.) Only Lolita and Alan Grayon know if this really occurred. If it did, it just continues the progressive liberal's left war on women, Grayson, Filner, Weiner, Spizter, Clinton, etc. The list goes on and on.
Alan Grayson's wife shows off her bruises from his alleged domestic violence – Image credit News 13
ObamaCARE's stated goal is to get every American insured for health care. That's the stated goal, the real goal is obviously a single payer, European/socialist style health care system. ObamaCARE's insurance marketplaces are failing at an even bigger rate than anyone could have imagined. Only 10% or 1 in 10 uninsured Americans are actually signing up for health care with the marketplaces.
Wayne LaPierre full speech at CPAC 2014 is about the only other thing that could drive leftists as crazy as the earlier Ted Cruz speech. Wayne LaPierre's 18 minute speech was about what you'd expect. Expect the NRA to fight gun grabbing Democrats in the 2014 mid-terms. He also made the state 'government itself has proven unworthy of our trust.' He's right on the button with this, but this isn't only a recent trend.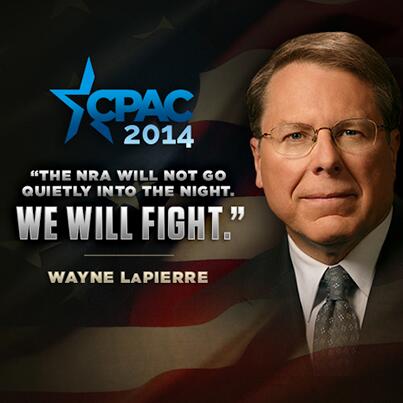 Wayne LaPierre full speech at CPAC 2014
Here's a sample from the transcript:
Read more
That nuke deal is really working great huh? Over half a billion dollars is being given by Obama to Iran this coming Friday just as Iran was caught shipping weapons to Gaza. Even the Iranians are laughing at how easy it is to play Ayatollah Obama.
Read more
If leftists didn't have double standards, they wouldn't have any at all. Just as expected, leftists are bitching and moaning and crying racism over Darrell Issa cutting the mic to pathetic tantrum throwing Elijah Cummings at the Lois Lerner hearing. Yet, the same leftists don't seem to want to mention, or remember 2008 when pig nose Henry Waxman threatened to physically remove Darrell Issa from a hearing because Waxman wasn't folowing regular order. Remember this video? in 2008, Democrats held the majority in the House.
Remember when Henry Waxman threatened to kick Issa out of hearing room in 2008?
This is painful. I hate the Federal Reserve, but this time I have to agree with them. The Federal Reserve says ObamaCARE is screwing up the economy. Of course, we don't need the Federal Reserve to state the obvious.
The "Beige Book," is published 8x year by the federal reserve. Each Federal Reserve Bank gathers anecdotal information on current economic conditions in its District through reports from Bank and Branch directors and interviews with key business contacts, economists, market experts, and other sources.'
The latest "Beige Book" was issued on Wednesday and it warns about Obamacare doing bad things to the economy including higher costs for employees and slowing down hiring.

Instead Of Handing Out Raises Due To Savings Under ObamaCare, Employers Have Had To Pass Higher Health Care Costs To Employees
In 2010, Obama Promised That ObamaCare Would Provide "Cost-Savings" To Employers That Could Result In Raises For Their Employees. OBAMA: "Americans who get their insurance through the workplace, cost-savings could be as much as $3,000 less per employer than if we do nothing. Now, think about that. That's $3,000 your employer doesn't have to pay, which means maybe she can afford to give you a raise."
According to today's report, While Employers Are Passing On Higher Health Care Costs To Employees. "Contacts in Chicago indicated that higher health care premiums increased non-wage labor costs, while a growing number of employers in Cleveland reported passing through rising health care costs to their employees."
Merchants Noted That Increasing Health Care Premiums "Were Having A Negative Impact." "Merchants reported a slow start to the year with sales growth declining. Many contacts noted that the drop in sales growth was partially attributed to the unusual winter weather experienced in parts of the region. Others indicated that increased health care premiums were having a negative impact."
Rising health care costs are widespread, thanks to ObamaCARE. Employers are remaining scepical about hiring because of ObamaCARE and concerns remain over ObamaCare Throughout The Staffing Industry.
It's really getting bad for leftists in Texas. The primary election was a disaster for Wendy Davis, a sign of things to come in November. Now, Texas is closing down more abortion clinics. By September, there are expected to be only six abortion mills left in the state of Texas. We can all thank Abortion Barbie Wendy Davis for waking Texans up to the brutality that is abortion. The abortion mills will have to take up residence in leftist states like California instead.
Texas closes more abortion clinics – down to six remaining in the state by September
In probably the least surprising move of the today, the House has approved a billion dollar loan package to Ukraine to help them deal with thug Vladimir Putin.
House approves $1B loan guarantee package for Ukraine – Obama goes golfing.
BREAKING NEWS: House approves $1B loan guarantee package for Ukraine http://t.co/b9JgqwAznv

— Fox News Alert (@foxnewsalert) March 6, 2014
NOW: House of Representatives votes 385-23 to approve $1 billion loan guarantee for #Ukraine http://t.co/49GB6Jp8Hc

— NewsBellGlobal (@newsbellglobal) March 6, 2014
Meanwhile, while Obama whines about income inequality, he's going on another, expensive, lavish vacation to Florida with family this weekend, mostly to golf. That'll surely show Vladimir Putin!
The first day of CPAC 2014 featured some great patriots like Ted Cruz. Mike Lee and Tim Scott. It also featured progressive RINOs like Chris Christie, Mitch McConnell and Paul Ryan. Below is a video of Ted Cruz's CPAC speech. It brought the House down as you would expect on leftists are going crazy over it on social media. You can also watch Mike Lee and Tim Scott's speech videos below.
Kicking off this morning's roster of speakers at CPAC 2014 was Texas senator Ted Cruz.

In introducing Cruz, the president and publisher of Regnery Publishing said this:

"If you've attended CPAC in the past, you know that the speakers you'll hear from will shock, delight, amaze, inform, incense and inspire you. So what better way to start off this conference than with a man who has provoked every one of those emotions in just his first year in Washington: Senator Ted Cruz."

The Texas senator talked about the importance of standing on principles and outlined a series of proposed solutions to provide a better future for the country.
Ted Cruz, Mike Lee, Tim Scott speeches at CPAC (VIDEOS)
If you want to watch more videos, including John Bolton's speech, check out Daily Gator for more speeches.
Pay to play? Dr. Joseph Piacentile, who was convicted in 1991 for Medicare fraud and tax evasion donated $100,000 to Obama's Organizing for America PAC. NBC claims that Joseph Piacentile is seeking a presidential pardon from Obama. In order to grease Obama's palms, I guess the doctor felt the $100,000 would be enough. The money was allegedly accepted by OFA consultant Samantha Maltzman. This woman is no stranger to fund raising for corrupt Democrats. She's also been a fundraiser for Cory Booker and Hillary Clinton.
According to emails obtained by NBC News, Maltzman had collected the check as part of an effort to raise money from big donors for an OFA dinner with President Barack Obama on Tuesday. She also took steps that could have kept the doctor's cash secret, returning the check and asking Piacentile to write a new one to another political nonprofit that she described as "one of our partner organizations." That group — unlike OFA — does not have a policy of voluntarily disclosing its donors.
OFA officials said Maltzman, who previously had worked as a fundraiser for New Jersey Sen. Cory Booker and Hillary Clinton during her 2008 presidential campaign, had been dismissed. One OFA official, who spoke with NBC News on condition of anonymity, said Maltzman "consistently did great work but made a mistake in this instance."
On Feb. 6, with the pardon application pending, Piacentile wrote a $100,000 check to Organizing for Action. The emails obtained by NBC News show that Piacentile's check was written in response to an OFA fundraising appeal for the dinner and reception with Obama. "It is $25,000 per person to attend and for those that raise or write $100K, there will be small clutch with the president," Maltzman wrote in a Jan. 15 email to another New Jersey doctor and potential donor, Munr Kazmir, who was an acquaintance of Piacentile and invited him to be his guest at the dinner.
The Texas primary turnout smashed the voter turnout of 2010 during the conservative 'wave.' What we can tell from the Texas primary voter turnout is that Wendy Davis has about a snowball's chance in hell of winning the Texas gubernatorial election this coming November. Not only did Abortion Barbie Wendy Davis get nearly 100,000 less votes in the Democrat primary than 2010 challenger Bill White did, she couldn't even capture 80% of the Democrat vote. Davis even lost a few counties to Democrat no-name challenger Ray Madrigal. But that's not the only bad news for Abortion Barbie Wendy Davis. While Democrat turnout was much lower than the 2010 primary, Republican turnout skyrocketed. Greg Abbott received 1.2 million votes. Contrast that with Rick Perry in 2010 who only got about 750,000.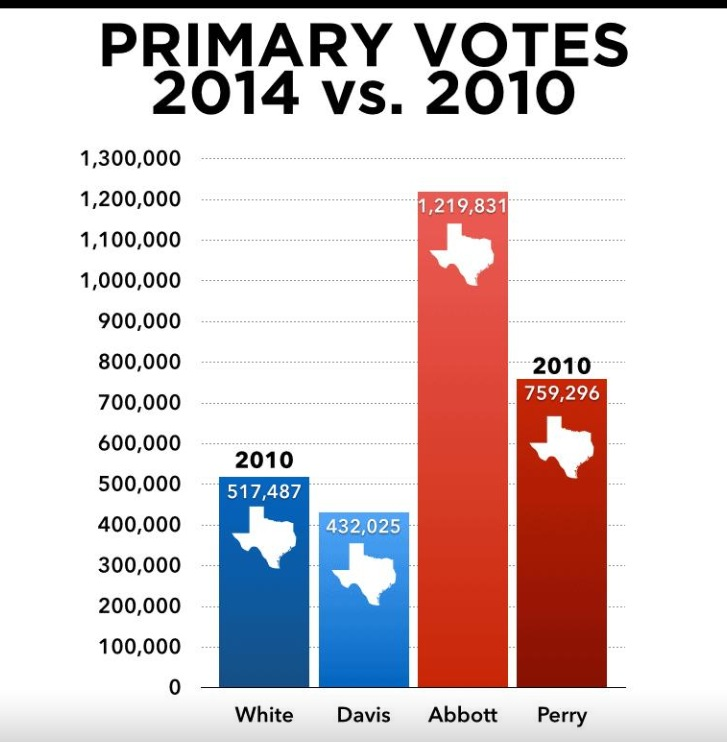 Texas primary turnout smashes 2010 levels – Wendy Davis is toast