Ebola infecting Americans? No problem. ISIS causing havoc and on the brink of beheading a third American? Eh. Enterovirus killing American children? Obama's response: FORE!!! Yep, Obama hit the links once again, for the 201st time during his reign of terror. Obama has now golfed every weekend since May 3rd. He even took ESPN hack Tony Kornheiser with him. Oh, did I mention that today is also the 201st stright day that the Mexicans have held Sgt. Tahmooressi hostage? Obama can't be bothered with things like that.
Ebola, ISIS, Enterovirus – Obama says FORE! Golfs again
President Obama is playing golf today at Fort Belvoir in Virginia. His partners are two of the usual junior White House aides, Joe Paulsen and Marvin Nicholson, and sportswriter Tony Kornheiser.

It's the 44th time the 44th president has played this year and outing #201 of his presidency.
Human remains that could be those of Hannah Graham have been found in Albemarle County, Charlottesville. Hannah Graham's parents have been notified that these remains might be those of their daughter.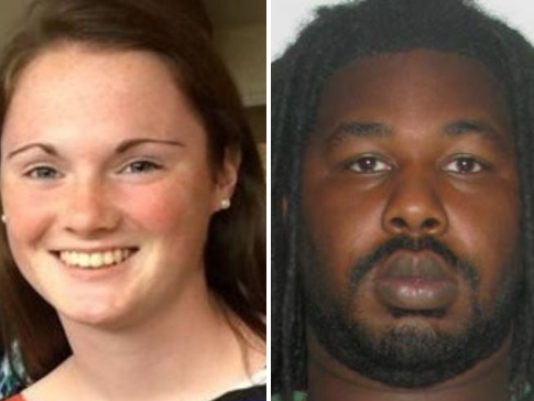 Human remains that could be Hannah Graham found
Remains found in Hannah Graham search http://t.co/2hv5JvMhXh

— WXII 12 News (@WXII) October 18, 2014
Remains found in Virginia, police say: The parents of the missing University of Virginia student were contacte… http://t.co/JcS6EyeR3a

— Germita Taruan (@MaranathaTaruan) October 18, 2014
Body found believed to be missing student Hannah Graham http://t.co/lOWBZmPafb

— N.Hagimoto (@nafk10) October 18, 2014
Authorities looking for Hannah Graham — the University of Virginia student who went missing last month — found human remains Saturday in Albemarle County, Charlottesville Police Chief Timothy Longo said Saturday.
Hey, did you hear? The unemployment rate is down to 5.9%. If you listen to the leftist propaganda media, or the Obama regime, you'd think the American economy was booming. Problem is, the reason why the unemployment rate is down to 5.9% is not because of a booming economy. It's from two factors. Obama's corrupt regime cooking the book, and the labor participation rate falling to it's lowest rate since the days of previously worst president in modern American history, Jimmy Carter. This chart explains it perfectly: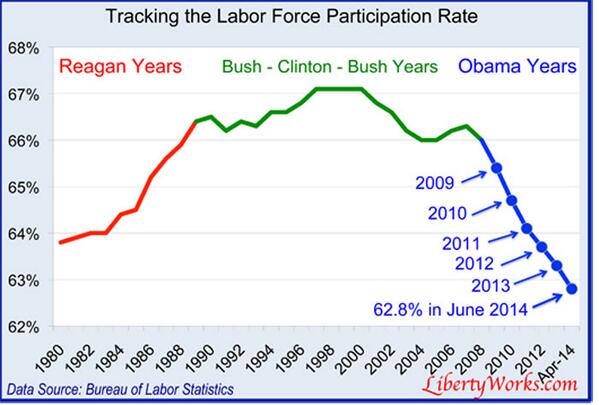 Obama's jobless recovery
#FAIL Obama's jobless economy… pic.twitter.com/aKcUQXx5tX @hankishtwit @Vbiii241 @HostileUrbanist @kyleraccio

— Kelly (@KLSouth) October 18, 2014
I suppose less labor participation and more people dependent on governor could be considered a success by progressive liberal Democrats.
Read more
The New York Times let the cat out of the bag yesterday. Buried nicely in in the article is the state that evidence so far doesn't support civil rights charges against Officer Wilson. This is likely what set off Mike Brown supporting thugs to start up last night in Ferguson. If this ends up being the ruling by the grand jury, then Ferguson may end up burning to the ground. At least, that's what some blacks have threatened.
Evidence so far doesn't support civil rights charges against Officer Wilson
The officials said that while the federal investigation was continuing, the evidence so far did not support civil rights charges against Officer Wilson. To press charges, the Justice Department would need to clear a high bar, proving that Officer Wilson willfully violated Mr. Brown's civil rights when he shot him.
You probably already know just how sick, twisted, and downright pitiful progressive liberal Democrats are. If you've paid any attention to politics since the year 2000, you know. But this ad, being sent out by Georgia Democrat on behalf of Michelle Nunn is beyond the pale. Check out this ad, targeted at Georgia's blacks:
Disgusting Georgia Democrat mail ad – Image credit: @AdamscharlesP
Basically, Georgia Democrats are saying vote against Republicans, or there will be another Ferguson. Aka, a black kid will be shot by a Republican cop.
Read more
So not only is Ron Klain a Democrat political hack and a lobbyist, but he will also answer to Susan Rice. Yes, that would be the same Susan Rice who went on five Sunday news shows after Benghazi and lied about the video. The same Susan Rice who has absolutely no medical experience. You would think this Ron Klain hack if he really was going to be an 'Ebola Czar' would either answer to Obama, and maybe the HHS. But Susan Rice?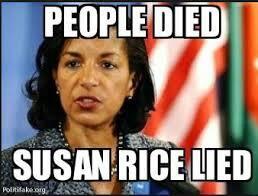 Ebola czar will report to Susan Rice
It's like a regular clown show with this regime. Obama hires a Democrat political hack, with absolutely no medicial experience in his life to manage the Ebola 'crisis'. He answers to Susan Rice, a Democrat propagandist hand picked by Valerie Jarrett with no medical knowledge whatsoever.
Read more
After Obama's ATF shot two in Ferguson earlier today, I wondered if protests would break out in again. Well, they have. Protesters are blocking traffic and laying in the streets in front of the Ferguson Police Department. We'll wait for the eventual looting and property damage later that usually accompany these protests. You can watch the livestream below:
It has now been 200 days since Sgt. Tahmooressi made a wrong turn at the US/Mexico border. In those 200 days, Mexico has basically taken Sgt. Tahmooressi as a hostage. They've beat him, starved him and abused him. What has Obama said in those 200 days? Absolutely nothing? What has Lurch John Kerry done about this? NOTHING. I guess Sgt. Tahmooressi has one last choice. Maybe if he gets Ebola, Obama will free him from the Mexicans. If he had been a deserter like Bowe Bergdahl, Tahmooressi would have been home weeks ago. I'd say boycott the filthy country of Mexico, who really goes there anyway?
Sgt. Tahmooressi now held captive in Mexico 200 days
As many as 1,000 people in America are under some sort of watch for Ebola and symptoms. Remember just a few days ago when this number was under 100? Also, about 1,000 people come into this country every week from Ebola infected countries. Feel safe yet? So far, none of these thousand or so people have had any Ebola like symptoms.
1,000 in America being watched for Ebola
As of Friday, a pool of about 1,000 people are being watched for symptoms, have been asked to monitor themselves or have been urged to check with a counselor at the Centers for Disease Control and Prevention. The group includes a handful of people who have been ordered into quarantine, a larger group that is being closely watched with temperatures taken at least daily and a much larger group of travelers who may haven flown on a Frontier Airlines jetliner used at some point by an Ebola patient traveling with a low-grade fever.
So Ron Klain has no medical experience whatsoever, yet qualifies to be Obama's Ebola Czar. If you want to know about Klain's 'judgement' skills, lets go back to 2011 and Solyndra. Four years ago Valerie Jarrett (the un-elected acting POTUS) e-mailed then Biden chief of staff Ron Klain about Solyndra. Jarrett asked Klain his thoughts on Solyndra. Klain responded with:
Klain contacted Energy Department officials and then wrote back to Jarrett, saying "Sounds like there are some risk factors here – but that's true of any innovative company that POTUS would visit. It looks like it is OK to me, but if you feel otherwise, let me know."
So what happened with Solyndra? After half a billion in tax payer dollars, the solar panel company in California went belly up. This says a lot about Klain's judgement. Feel better now that he is the Ebola czar?
If Klain's judgement on Ebola is as good as it was on Solyndra, we're screwed.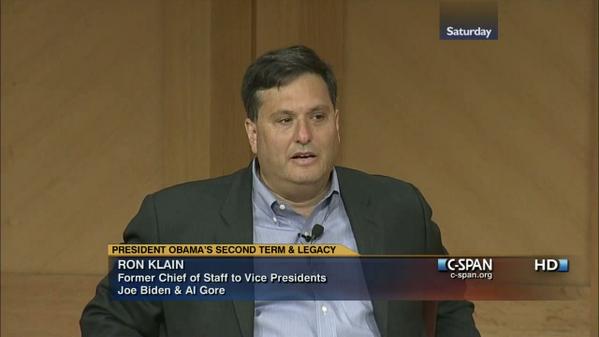 Ron Klain on Solyndra in 2010 – Looks OK to me