Jennifer Lawrence, Kate Upton nude photos leak are now being investigated by FBI, unlike Lois Lerner's e-mails targeting conservatives. Apple is even getting involved in the investigation. As if I' supposed to care about some Hollywood hacks nude photos being spread around the Internet. This just shows you what a bizarre world we live in. High crimes at the IRS with an e-mail trail gets completely ignored by the FBI while Jennifer Lawrence, Kate Upton nude photos leak gets priority. Welcome to Obama's America.
Ariana Grande and Mary Elizabeth Winstead photos were also leaked. No, I'm not providing any links to where you can find the nude photos. Google is your friend and so is Twitter, Facebook and Instgram if you are that desperate to get the nude photos.
Jennifer Lawrence, Kate Upton nude photos leak being investigated by FBI
To those of you looking at photos I took with my husband years ago in the privacy of our home, hope you feel great about yourselves.

— Mary E. Winstead (@M_E_Winstead) August 31, 2014
Progressivism, or liberalism is an ideology of consistent inconsistency. Daily Gator nailed in their article exposing the hypocrisy of leftists. Liberals are like, stay out of my body, yet they support government run health care. Leftists are for dissidence when a Republican is in the White House, but will smear you or call you racist if you dare bash Obama. Leftists always claim they are for the poor and middle class, yet these same progressive liberals continue to smack regulations and taxes on anything that hurt the poor and middle-class more than those evil 'rich' people. Finally, progressive liberals always claim how they are for the American worker. Yet, it's these same progressive liberal Democrats (along with a few progressive Republicans) who want to import millions of illegal aliens that will absolutely flood the job market, drive wages down, and make it harder to find work over the cheaper illegal labor.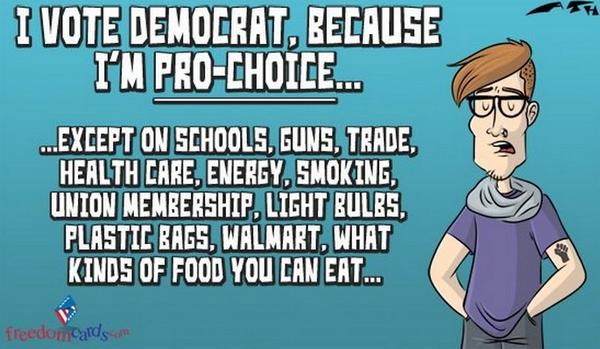 Liberalism is an ideology of consistent inconsistency
Special forces have been moved into London as British officials fear a 'Mumbai Style' terrorist attack is imminent. THe Mumbai terrorist attack occured shortly after Obama was elected the first time in November of 2008. Pamela Geller has quite the summary of that terrorist attack that occured nearly six years ago. Muslims staged 11 coordinated shooting and bombing attacks across Mumbai, killing 164 people and wounding at least 308. The carnage was unimaginable, the torture unspeakable.
Special Forces move into London, fear of "Mumbai-Style" terrorist attack
Now, the Brits are preparing for the same from ISIS. THere are plenty of targets in the UK that the Muslim terrorists could target. Meanwhile, back in this country, Obama is golfing and John Kerry s kiteboarding.
So now we know what Obama and Kerry do when a US Embassy is taken by Muslim extremists in Libya. Obama goes golfing while John Heinz-Kerry goes kiteboarding in Nantucket.
Lurch Kerry goes kiteboarding as US Embassy is taken in Libya – Image credit Daily Caller
Isn't it comforting to know what our 'leaders' are hard at work dealing with the imminent ISIS terrorist threat that could hit America any time now? Isn't it great to know they are trying to get our sovereign territory back in Libya? Maybe it's time for more hashtahg diplomacy. #BringbackOurEmbassy
O.J. Simpson, the double murderer and thief wants to become a Muslim now according to Radar Online. Could you think of a better match than O.J. Simpson and Islam? It's like a match made in Mecca. O.J. is already dressing like a Muslim, wearing the traditional Kufi prayer cap. He's even studying the Koran. But O.J. does have a problem. He cheated during the fasting month of Ramadan and didn't fast like Muslims are supposed to do. Bad O.J. That should be worth cutting off a few fingers shouldn't it.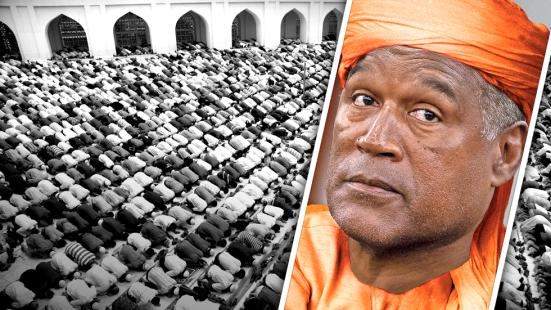 O.J. Simpson wants to become Muslim – Image credit Radar Online
Maybe O.J. Simpson, the double murderer can join up with ISIS some day. He's already killed two people here, including one Jew.
Read more
Remember when the corrupt media and other leftists used to complain when George W. Bush would golf during the Iraq war? Remember, how they always harped on that video of George W. Bush saying 'watch this drive' as he tee'd off? Well now that the world is about to explode and the US Embassy in Libya has been taken over by Muslim radicals, lets compare George W. Bush's number of golfing outings in eight years compared to Obama as he nears his sixth year of his reign of terror.
Rounds of golf played by George W. Bush VS. Obama
The DCCC is so desperate they are sending out e-mails to those on their mailing list entitled 'everything has failed.' Apparently the DCCC is also drowning after sending out e-mails from Obama, Wasserman-Schultz Pelosi and serpent-head James Carville this weekend.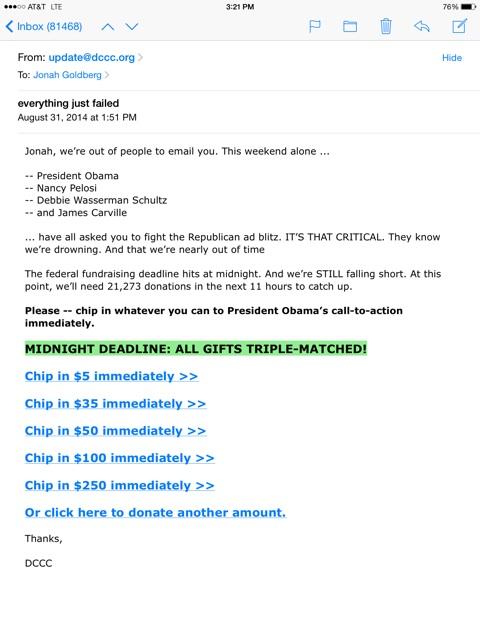 DCCC: everything failed e-mail begging for money
Pathetic isn't it?
The US Embassy in Libya has been taken over by Islamic radicals. So what? Ukraine and Russia are in the brink of war? Mulligan. ISIS continues to grow and threatens a 9/11 style attack in the US. Obama's response? FORE! Yep, he went golfing AGAIN today after after a weekend of fundraisers and attending a MSNBC hack's wedding.
After 4-hour round of golf at Ft. Belvoir, Pres Obama is back at the WH.

— Mark Knoller (@markknoller) August 31, 2014
Obama took time out of his busy golf schedule to spend your tax dollars to attend the wedding of an MSNBC anchor. http://t.co/ijkETdwj8Z

— Doc Thompson (@DocThompsonShow) August 31, 2014

Obama golfs as US Embassy in Libya is taken
Chances are, since Monday is a holiday, he'll be playing with it putter again tomorrow. It's not like being president is a 24/7 job for Obama or anything.
Chalk up another one for Obama and his foreign policy 'team.' The US embassy in Tripoli, Libya which was evacuated weeks ago is now in the hands of Muslim radicals in Libya. What was once US sovereign terrorist now belongs to Islamic radicals. Thanks again BarryO? Fore! The only consolation this time is that no one was killed like with Benghazi.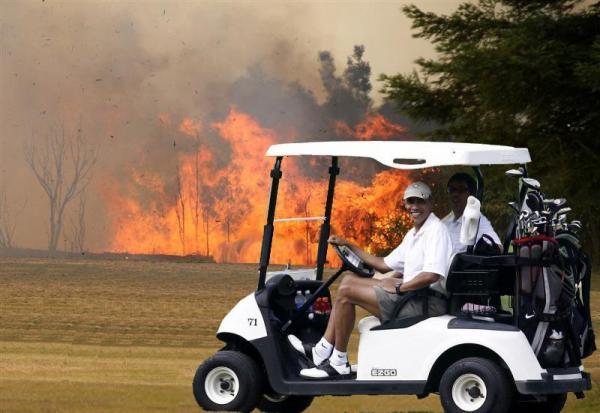 Islamic radicals take over US embassy in Tripoli
Radical Muslim British Cleric Anjem Choudary is still licking his wounds after getting thoroughly destroyed on Hannity earlier in the week. Appearing on CNN's 'Reliable Sources,' the first question posed to Choudary by CNN Hack Brian Stelter was "Why would you agree to go on a show like [Hannity]?" Seems the host took a liking to the cleric because of his shouting match with Hannity. Typical CNN garbage. The Muslim radical explained to Brian Stelter that he spreads his Islamic radical propaganda anywhere, regardless if it's that 'evil' Fox News, or the failing network of CNN.
As it turns out, Choudary, was cracking 9/11 jokes when asked to count to ten and check his mic. All of a sudden, he wasn't as big of an idol to Stelter anymore.
The conversation abruptly ended when Stelter said, "here's what bothers me: when we were setting up for our interview here, the audio engineer asked you to count to ten to check the mic, and you started to do that — but then you said 9/11, 7/7, 3/11. Is this all some sort of joke to you?"

"You know," Choudary said, "if you had a sense of humor, you would have laughed at that. It was just a soundcheck. You shouldn't take any of these things that seriously. If you want to make it a big deal, then do so, but it makes you look much more shallow, really."

"I have nothing more to say," Stelter responded.
Anjem Choudary cracks 9-11 jokes on CNN (Video)