Bulgasem Zehaf is the father of dead Canadian terrorist Michael Zehaf-Bibeau fought in Libya in 2011 according to the Globe and Mail. Bulgasem Zehaf is also a businessman from Quebec.
Bulgasem Zehaf (father of dead terrorist) fought in Libya in 2011
His father's history offers a hint of what Mr. Bathurst was concerned about. In 2011, a Montrealer named "Belgasem Zahef" was quoted in a Washington Times dispatch from the front in Libya, where he had travelled to join the rebel fight. The man described being detained at the Zawiyah oil terminal, where he witnessed torture.
In yet another unusual twist, the terrorist's mother Susan Bibeau is the deputy chairperson of a division of Canada's Immigration and Refugee Board and lives in Montreal. Bulgasem Zehaf divorced his wife in 1999.
Vandon Gene is a Sun-TV Contributor in Ontario, Canada. Anderson Cooper of course was sent to Ottawa to cover the terrorist attack. Cooper is a pissy little worm, who doesn't like to be bothered. Vandon Gene says Cooper told him to "a fucking break" when Gene asked if he could take his picture. This is your entitled little Anderson Vanderbilt who went to Ottawa to exploit the terrorist attack for CNN. Of course, hardly anyone watches CNN, so I don't know why they even bother.
So @andersoncooper is an ass. Told me to give him "a fucking break" then went on a rant: https://t.co/YuMyhbUZ5B #AC360 #CNN #OttawaShooting

— Vandon Gene (@vandongene) October 23, 2014
Anderson Cooper cusses out Vandon Gene Sun-TV Contributor
Cooper didn't like being called out and whined back on Twitter:
.@vandongene I can't believe any station employs you, and if you want to be a journalist, learn how to behave when covering a story

— Anderson Cooper (@andersoncooper) October 23, 2014
This is really funny and ironic coming from someone like Anderson Cooper who called the tea party 'tea baggers' back in 2010 and giggled about it on CNN.
Read more
The White House is on lockdown after a piece of sh*t fence jumper kicked and punched a dog. The Secret Service actually got this pile of garbage before he could actually make it into the White House. I wish the dog would have ripped this asshole limb from limb. Watch the video (if you can stomach it) of this POS kicking and punching the dog:
White House fence jumper kicks, punches dog (Video)
Another fence jumper at the White House. The suspect barely made it over before being detained by Secret Service. pic.twitter.com/gWxiKPHDA1

— CNN Wire (@CNNWire) October 22, 2014
Michael Joseph Hall was the original name of the Ottawa shooter. That is before he converted to Islam and became Michael Zehaf-Bibeau. The Muslim convert Michael Joseph Hall killed Cpl. Nathan Cirillo before the Canadian Parliament's Sergeant at Arms Kevin Vickers took the terrorist out. The media will probably end up using the more western sounding name in their reports on the Ottawa shooting.
#Ottawa shooting suspect recent convert to Islam: From 'Michael Joseph Hall' to 'Michael Abdul Zehaf Bibeau' after conversion #IS

— René Arnaud (@RSeize) October 22, 2014
Hall was wearing a Palestinian keffiyeh when he started his shooting spree earlier today in Ottawa.
Ottawa suspect changed his name from Michael Joseph Hall, apparently as part of conversion to Islam #OttawaShooting

— Alistair MacDonald (@macdonaldajm) October 22, 2014
Michael Joseph Hall Ottawa shooter's pre Islam convert name
Michael Joseph Hall was born in Quebec City in 1982. Now, he gets his 72 virgins in hell.
Say sorry @AzzurroMilan MT "@ajmontgomery: CBS is reporting that the killer changed names, was born in QC as Michael Joseph Hall"

— Matteo Maldini (@Carbo21MT) October 22, 2014
Nathan Cirillo is the Canadian soldier shot dead in Ottawa during the terrorist attack at the National War Memorial. Nathan Cirillo was a 24 year-old reserve soldier with the Hamilton Argyll and Sutherland Highlanders.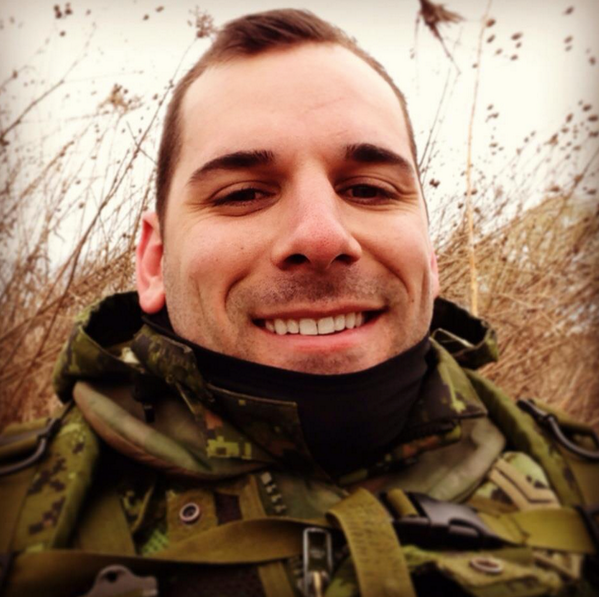 Nathan Cirillo – Canadian soldier shot dead in Ottawa
#Breaking: Soldier killed at war memorial identified as Cpl. Nathan Cirillo #ottawashooting http://t.co/vlj96XOoSm pic.twitter.com/LOzoL7IjVI

— The Globe and Mail (@globeandmail) October 22, 2014
rip to Nathan Cirillo and the other two that were shot. May you rest in peace

— Banaz (@Banaz101) October 22, 2014
Cpl. Nathan Cirillo identified as soldier shot, killed in Ottawa today, aunt says – @globeandmail http://t.co/oVrp10U6uG

— Breaking News (@BreakingNews) October 22, 2014
Michael Zehaf-Bibeau (Muslim) has been identified as Ottawa shooter. Below is a picture of Michael Zehaf-Bibeau:
Michael Zehaf-Bibeau identified as Ottawa shooter (Picture)
The strange thing about the release of this terrorist's name is that it was ISIS who announced his name and posted his picture to Twitter. Was this attack at the Ottawa Parliament an ISIS terrorist attack?
#ISIS Media account posts picture claiming to be Michael Zehaf-Bibeau, dead #OttawaShooting suspect. #Canada pic.twitter.com/kWam0E4tyX

— Military Studies (@ArmedResearch) October 22, 2014

Michael Zehaf-Bibeau was born in Canada in 1982, so he's not from the middle-eastern Jihadist regions. On the video of Zehaf-Bibeau shooting in the Paraliment building, it sounds like he was yelling Allahu Ackbar, but this hasn't been confirmed or denied yet.
Still don't have any details about the Ottawa Parliament shooter from the Canadian government (Gee I wonder why). However, Breitbart is reporting that the Ottawa Parliament shooter was wearing on Arabic scarf covering his face. Also, during the video of the shooting inside the Parliament shooting, it kind of sounds like someone is yelling Allahu Ackbar, though it's hard to decipher exactly what is being yelled.
Ottawa shooter wore Arabic scarf covering face
One parliamentary staffer has described the first gunman as being around 5 foot 9 tall, overweight and with an 'Arabic scarf' covering his face. It is not known if this was the gunman killed by the master-at-arms inside the parliament building.
The attack comes just 48-hours after another attack on service personel in Canada, in which a recent convert to Islam ran down two soldiers with his car and was then shot as he charged police officers. One of the soldiers hit died in the incident.
Josh Wingrove, a reporter who is within the building says that a gunman is within the building and that he has heard "dozens" of gunshots.
So voter fraud doesn't exist eh? Mark Udall advocates condone and have no problem with voter fraud. James O'Keefe dropped his latest bombshell today of Mark Udall advocates condoning and even laughing about voter fraud. Watch the following video: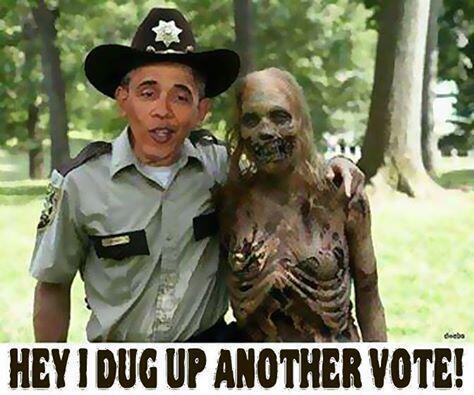 Mark Udall advocates condone voter fraud (Video)
"Awesome" is a very common word used by Democratic operatives in Colorado when discussing potential voter fraud. Project Veritas Action went undercover in the Centennial State to reveal just how prone their mail-in ballot system is to likely voter fraud.

This video exposes workers from these three organizations condoning voter fraud:

Work For Progress
Greenpeace
Rep. Joe Salazar campaign
This wannabe Valley Girl even tells James O'Keefe where he can find discarded mail in ballot that he can go get and use them for voter fraud to help Mark Udall.
Still don't know if it was a Muslim terrorist attack in Canada today yet. but in Jerusalem, a Muslim Palestinian rammed his car into a group of pedestrians at the Ammunition Hill tram stop. Three Americans were injured among the group of nine people who were hit, and a baby was killed. This is similar to the terrorist attack carried out in Quebec yesterday when a Muslim rammed into Canadian soldiers killing one. Watch the following video of the Muslim terrorist attack in Jerusalem: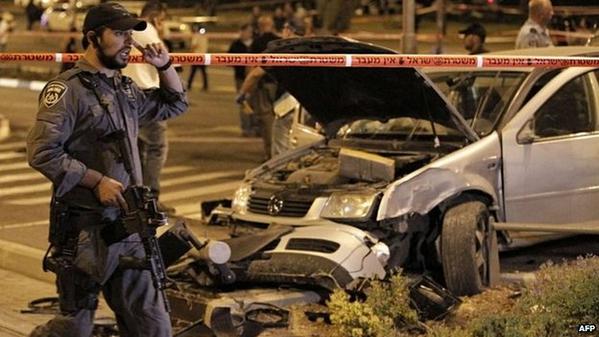 Three Americans hurt during terrorist attack in Jerusalem
The baby who died in this latest terrorist attack was a three month year old. Well done Hamas/Palestinian apologists. You should be very proud of yourselves.
Latest Arab Terror Attack in Jerusalem, Too Similar to "Mine" – http://t.co/lyqIJMxL8X pic.twitter.com/mB06YF6atn

— The Jewish Press (@JewishPress) October 22, 2014
Watch VIDEO –BREAKING: Infant Dead, Pedestrians Hurt as Hamas Terrorist Rams Train Station in Jerusalem (VIDEO… http://t.co/TTL8gZ7Cn0

— Pamela Geller (@atlasshrugs) October 22, 2014
Palestinian driver kills baby at #Jerusalem train station: http://t.co/K7NayzEPMf pic.twitter.com/M0bWyXsugz

— Fox News (@FoxNews) October 22, 2014
Check out this video from the Toronto Globe and Mail of the shooting inside the Ottawa Parliament building. You can almost hear 'Allahu Ackbar' being yelled before the shots start ringing out.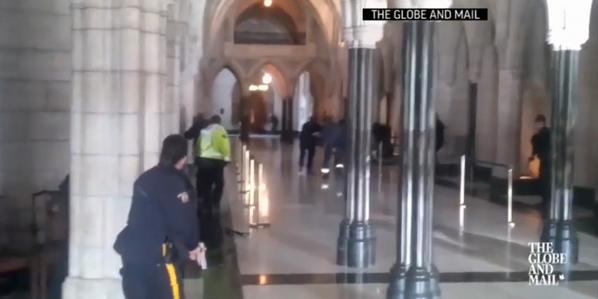 Video: shooting inside Ottawa Parliament building (USA TODAY screengrab)
Listen very carefully before the shooting starts. Doesn't it kind of sound like someone is yelling Allahu Ackbar?
This is some scary stuff. The Canadian Royal Mounted Police should be praised for how they handled this situation. This video of the shooting inside the Ottawa Parliament building demonstrates how this could have been a lot worse with more killed besides the one solider who was shot dead at the National War Memorial.