Now that all the services are over in France for the victims of Muslim terror, let us not forget that France (along with other European countries) has a Muslim problem. You would think chidren, even Muslims wouldn't understand the sickness of their religion and would show at least a little respect for those killed in the Paris terrorist attacks. I guess that was too much to ask as French Muslim kids refused to participate in a moment of silence for the terrorism victims at their schools. We aren't just talking a handful of kids either. According to Pamela Geller, the overwhelming majority of Muslim children refused to participate in Thursday's moment of silence for the victims.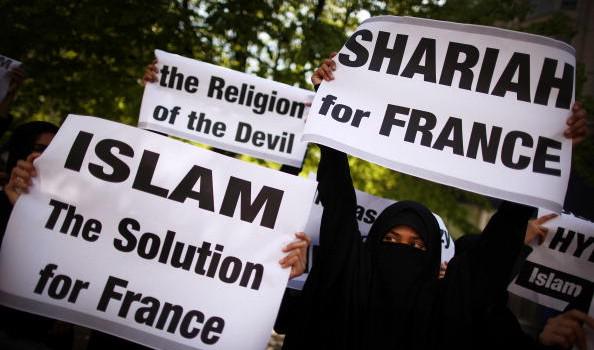 French Muslim kids refuse to participate in moment of silence for jihad victims
All leftists are whining about how voter turnout was down this year, and that's why they got their asses kicked in the mid-term election. Problem for leftists is that facts are a stubborn thing. Voter turnout as actually up over 1010 levels in key states like North Carolina, Montana, Alaska, Arkansas, Louisiana, Colorado, Iowa and New Hampshire. In key governors races in states like Florida, Wisconsin and Maine, voter turnout was also higher than 2010 levels. But let's now confuse the poor progressive liberals with actual facts. Check out this tweet from a whiny ABC:
US voter turnout was down from 2010 in almost every state: http://t.co/JIVikr6G7i – @NateSilver538 pic.twitter.com/UE3AkRC5Yo

— ABC News (@ABC) November 8, 2014
Hey ABC and lefties, not all states had important elections. Also, propositions in each's states ballots drove turnout, and not every state that anything important worth voting for. The key states had higher voter turnout over 2010 and that's all that matters. Sorry ABC.
Take for instance California. Voter turnout was down 9.2% from 2010 levels. They had no senator up for re-election and everyone in the state knew Moonbeam Jerry Brown was going to win easily. What's the point of voting in California?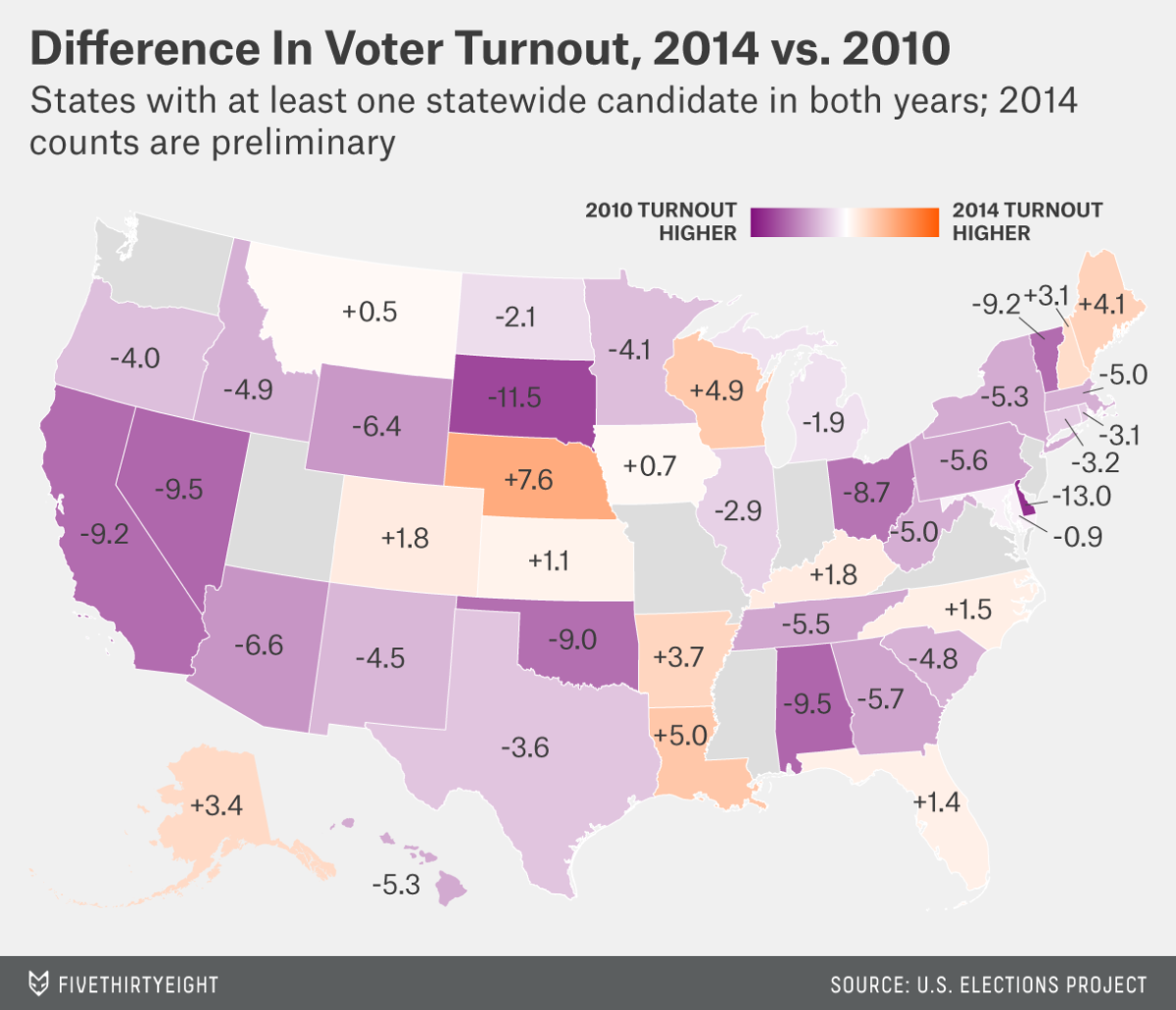 Voter turnout up in key Senate races over 2010
Obama's 'speech' on September 10th, about his so called 'ISIS' strategy has had one effect so far. More terrorists are joining up with ISIS, and are motivated to do Jihad all thanks to Obama's speech. Thanks again Hussein Obama! So far there have been no strikes in Syria. Just a couple of pin prick air strikes in Iraq. Most of the new ISIS recruits are from 'moderate' Turkey too.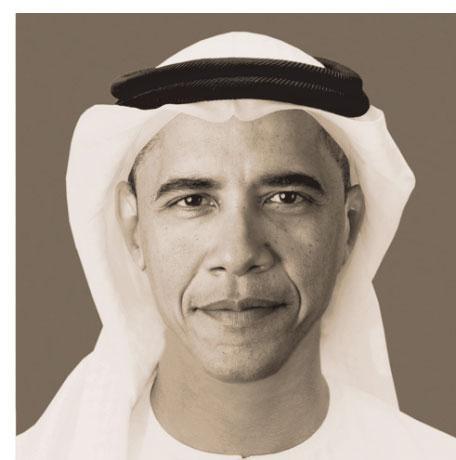 Thanks Barry! Obama speech leads to more ISIS recruit
ISIS has released a video of the beheading of British hostage David Haines. But remember, as Obama said, ISIS isn't Islamic, and as Lurch Kerry said, we aren't at war with them.
BREAKING: Video claims to show beheading of British aid worker David Haines by #ISIS.

— Fox News (@FoxNews) September 13, 2014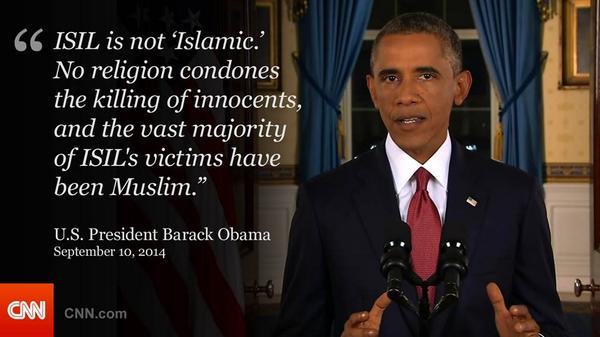 ISIS releases video beheading British hostage David Haines
BREAKING: Video purports to show beheading of British aid worker David Haines by Islamic State group

— The Associated Press (@AP) September 13, 2014
Islamic State terror group claims it has beheaded British hostage David Haines – more to follow

— Telegraph News (@TelegraphNews) September 13, 2014
These filthy Muslim pigs need to be nuked back to the stone age. Pray for the family of David Haines (like James Foley and Steven Sotloff).
If thought it's after 2am in the UK, David Cameron posted his outrage on Twitter:
The murder of David Haines is an act of pure evil. My heart goes out to his family who have shown extraordinary courage and fortitude.

— David Cameron (@David_Cameron) September 13, 2014
We will do everything in our power to hunt down these murderers and ensure they face justice, however long it takes.

— David Cameron (@David_Cameron) September 13, 2014
Steven Sotloff, who was the second American journalist beheaded by Muslim ISIS terrorists had a Twitter account and was a frequent tweeter until Muslim terrorists kidnapped him and eventually killed him today. Seems Sotloff was from Miami and was a Head fan. His last tweet 395 days ago was about his favorite NBA team and read:
How much of an impact with big man #GregOden have with #MiamiHeat next season?

— Steven Sotloff (@stevensotloff) August 3, 2013
On his Twitter profile, Sotloff described himself as:
Stand-up philosopher from Miami. Currently in Libya. I've been published in TIME, National Interest, FP, CSM, The Diplomat, LWJ, & more.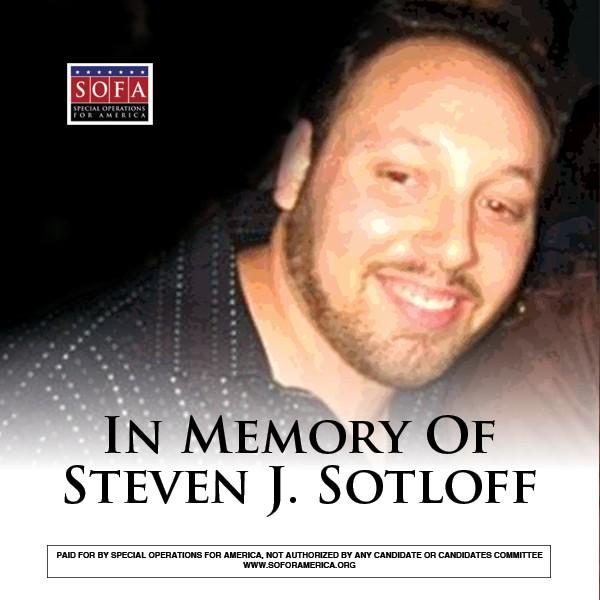 Steven Sotloff
Of course, I'm not one who typically defends American journalists, but even if this was Chris Matthews, Andrea Mitchell or Keith Olbermann, I would still have the exact same outrage against these ISIS terrorists. These subhuman scum need elimination from this planet. ISIS and other terrorist groups don't need 'stopping' they need total eradication. It's as simple as that.
Democrats are all giddy that Mitch McConnell with run again for the Senate in Kentucky, and their far left progressive liberal darling Alison Lundergan Grimes won her primary. But Democrats have a bigger problem before their wet dream about winning the Senate in Kentucky and Georgia. Democrat voter turnout continues to plummet over 2010 levels (the last non-presidential election primary year.) In 2010, the 'big tea party year', Democrats got a total of 521,659 votes between their various Senate candidates. The winner Jack Conway faced Rand Paul and got crushed in the general election. Republicans in 2010 in Kentucky only got 352,275 between their 2010 Senate candidates.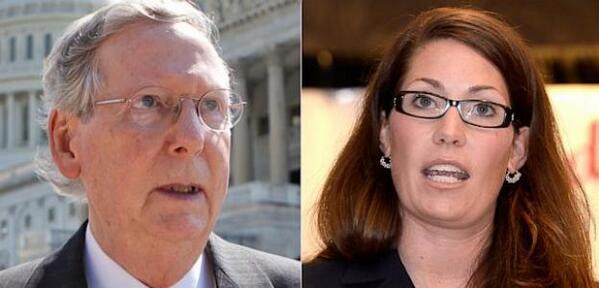 Democrat turnout in Kentucky plummets compared to 2010 levels
This year with about 98% of the vote counted, the Democrats only got around 400,000 total votes. A nice drop of 121,000 or so primary votes of 2010. Maybe leftists and the media can blame the weather like they did for the crappy economy or something.
Read more
How fitting. Charlie Crist may claim to have been a Republican once, but he really was nothing but a Democrat running as a Republican in a conservative state like Florida so he could get elected. Crist showed his true colors during the 2010 mid term elections when Marco Rubio crushed him in the Republican primary. Crist so desperate to win a Senate seat, he decided to run as an independent. Crist once again got crushed by Marco Rubio. Crist was so bitter he finished out his term as governor and became an ambulance chaser. Now, two years later Crist is still as bitter as ever. He endorsed Obama over the past weekend, and has been awarded with a speaking slot at the DNC Convention. Snort. That should really bring in the big crowds. Crist is so insignificant in the state of Florida that Jeb Bush is far more popular than him, Yes, a Bushie. I guess Crist is the Democrat's answer to the Republicans getting Artur Davis to speak at their convention.
Arlen Specter is whining in a new book that Obama ditched him after he was the 60th vote to pass ObamaCARE. According to The Hill, Specter is also whining that Harry Reid not uphold his promise to grant him seniority accrued over 28 years of service in the Senate as a Republican. If these stories are true, I really have to give some credit to both Obama and dingy Harry Reid. Good for them for stabbing this back stabber in the back.
Progressive liberal Tim Bishop managed to win New York's 1st congressional district, as Randy Altschuler has conceded. This was the last seat that needed to be decided for the 112th Congress. The final total gives Republicans a historic 63 seat gain. The final total for the House in the 112th Congress will be 242 Republicans and only 193 Democrat Marxists. This race was rated a toss up be Real Clear Politics. Altschuler released this statement:
Read more
If only RINO John McCain was joining Russ Feingold on the unemployment line this coming January. Poor John is going to miss his Wisconsin Obama clone Russ Feingold. Sniff.  While we still wait for the whole tax issue to get resolved, poor Johnny bid a heartfelt goodbye to Feingold, who was crushed by Republican Ron Johnson in the November election:
"I have to confess I think the Senate will be a much poorer place without Russ Feingold in it," McCain said in a floor speech.
;_;
These two should get a room on New Year's eve or something. McCain also said: