ABC DNC hack Donna Brazile is basically the equivalent of Fox News' Bob Beckel. Both ran failed Democrat campaigns in the '80s, both are obnoxious pigs, and both are corrupt. Donna Brazile think she's big shit because ABC pays her to recycle liberal extremist Democrat lies. But do you remember the real Donna Brazile? She's the one who was forced to resign from the 1988 Michael Dukakis campaign after she spread lies about George H.W. Bush having an affair?
Remember when Donna Brazile had to resign from Dukakis campaign over H.W. Bush adultery lies?
Donna Brazile is one of ABC an CNN's so called 'educated' progressive liberal-Democrat extremists. Today, on ABC she tried to talk tough on ISIS and the caliphate, yet admitted she doesn't even know what the hell caliphate means. What an idiot!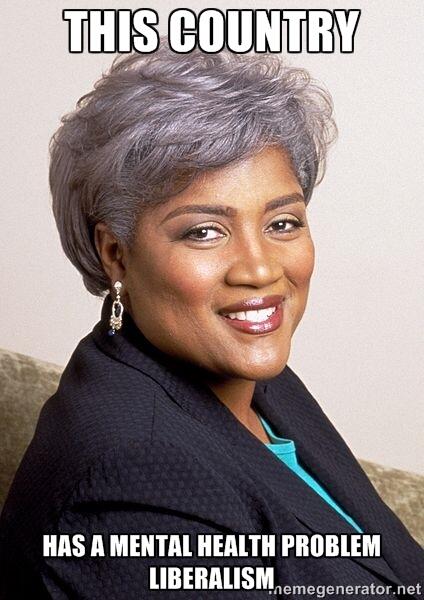 Dumb Donna Brazile doesn't know what caliphate means
Ah yes. Eric Holder. the same racist goon that while in college participated in 'armed' takeover of former Columbia U. ROTC office. Eric Holder also called this country a nation of cowards shortly after being hand picked by Valerie Jarrett, errr Obama to be Attorney. He got a softball interview on ABC today, and took time to whine about how Americans are racist if they disagree with Obama on policy. He even got a jab in at Sarah Palin.
Racist Eric Holder bashes Palin on ABC
ABC hack Martha Raddatz did her best to try and smear Rick Perry during an interview this morning discussing the southern border and Obama's human trafficking o spreading 300,000 diseased illegals into this country. Raddatz, a type leftist ABC hack used Obama talk points to try and dismiss Rick Perry's claims that either Obama is simply incompetent on the border situation, or he is in on the human trafficking, which is more likely. Watch the video below from Newsbusters as Raddatz gets snotty with Perry over the border and Obama:
ABC hack Martha Raddatz nasty interview with Rick Perry uses Obama talking points
Dude! Obama's foreign policy decisions are now been affected by soccer games. Yes, Obama actually admitted to ABC's top Obama cheerleader and former Clinton hack George Stephanopoulos that with all the stuff happening in the middle east, with the American Marine held in Mexico, and with the Taliban holding three more Americans (other than Bergdahl), that Obama's number one priority is soccer.
"We had elements — which I won't detail — of our foreign policy that have been shaped around the World Cup," Obama told Stephanopoulos. "Phone calls meetings initiatives we had to think about."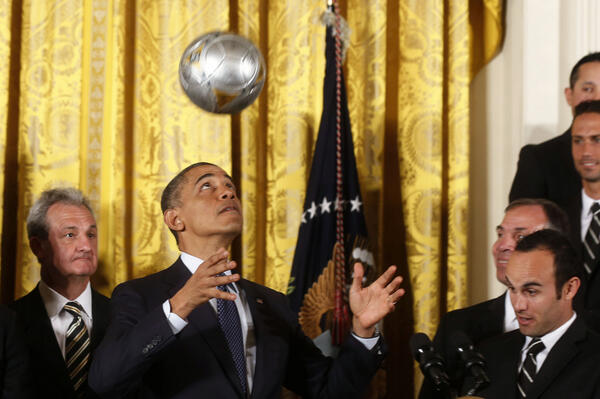 Obama: World Cup schedule affecting foreign policy moves
Eric Holder decided to pay FBI rat Al Sharpton a visit and speak at the race hustling NAN event organized by Sharpton rat. Holder lost it during his speech, throwing a tantrum, and playing the race card. ABC deems Eric Holder as 'fed-up.' I got a little news for you hacks at ABC. We, the American people are fed up with Eric Holder, his lawless regime, and constant race hustling. Get it ABC hacks? Message to Eric Holder. If you've got it so bad, and America is so racist, then resign and move to a more 'friendly' country. Cuba comes to mind.
Eric Holder throws another tantrum at Al Sharpton's NAN event
ABC Family channel caved to militant Muslims and killed a child's cartoon called Alice in Arabia.
Ellen DeGeneres Oscar selfie is going for a retweet record on Twitter.
If only Bradley's arm was longer. Best photo ever. #oscars pic.twitter.com/C9U5NOtGap

— Ellen DeGeneres (@TheEllenShow) March 3, 2014
ABC decided to add a picture of Barack Obama hugging Michelle Obama as a part of the Ellen DeGeneres Oscar selfie, as they hype the tweet for a 'retweet record.' It's actually kind of cute that ABC wants to use the 'Four more years' tweet from 2012 (the previous record holder). Funny, though, if there's a new retweet record coming, don't you think you should show the Ellen tweet as the big picture? Talk about state run media!
How many retweets does this @TheEllenShow tweet need to beat the world record? She's close. https://t.co/JmqhCfXH3w pic.twitter.com/if5JBCVrz2

— ABC News (@ABC) March 3, 2014
How many retweets does this @TheEllenShow tweet need to beat the world record? She's close. https://t.co/54RpuTaF6d pic.twitter.com/HxGmpkmdd4

— Good Morning America (@GMA) March 3, 2014
Donna Brazile is a far left, racial hustling progressive liberal who always appears on CNN and ABC. Today, her mask slipped off and she wants Obama to go full dictator mode.
.@BarackObama. Enjoy #PresidentsDay. With Congress on recess, this is action day! Let's move America forward.

— Donna Brazile (@donnabrazile) February 17, 2014
Sorry Donna. This is still America. We don't have Kings or dictators. I'm sure you'd like Obama to be dictator, but it don't work that way. Donna Brazile is just another fine example as to why the media in America is a joke. Activist progressives like Donna Brazile should stick to ginning up fake racial tension, or the phony war on women.
If you don't like how the political system is set up in this country, I suggest you move to Cuba, Venezuela, or North Korea.
ABC displayed their own brand of progressive liberal 'humor' when Jon Karl went on a rant about Ted Cruz's popularity among establishment Republicans. According to Karl, Ted Cruz is so hated by establishment Republicans that 'he's going to need a food taster' or something. Is ABC and Jon Karl suggestion someone should poison Ted Cruz? If Ted Cruz is that unpopular among establishment RINO hacks like John McCain, Mitch McConnell and John Cornyn, then he must be doing something right. Watch the following video:
ABC humor: Ted Cruz is so unpopular he's going to need a food taster
As you watch the video, listen to Bill Clinton lackey George Stephanopoulos chuckle in the background. Apparently, ABC progressive humor now includes jokes about poisoning people they don't agree with politically.
Imagine for one split second, if Fox News joked about Obama's policies being so unpopular, that he may need a food taster. All hell would break loose in the corrupt media, lead by ABC calling Fox News racist and saying that Fox News is suggesting someone assassinate Obama. But since it's Ted Cruz, it's funny to ABC and the eggheads at the network. Making jokes about killing Ted Cruz is considering ABC's progressive humor.