The media has come absoutely batsh*t crazy claiming some obscure GOP staffer was cyberbullying the Obama kids by commenting on the Obama kids wardrobe. Ok then, if that's cyberbullying, then what was ABC doing comparing the bored Obama kids to the Griswolds (from the Vacation movies in the '80s).
Was ABC cyberbullying Obama kids when they compared them to the Griswold in Europe?
Either the obnoxious Obama kids were bored on one of their many tax payer funded vacations to Europe or they just didn't appreciate it. But comparing them to the Griswolds from the 1985 mive National Lampoons European Vacation sounds like bullying to me. That is of course if you the media standards who are going after the GOP staffer who made comments about the kids clothes.
Read more
Bob McCulloch is a flaming liberal, progressive Democrat, and is a favorite target of the race hustling left over the Darren Wilson non-indictment. But did you know Bob McCulloch was a member of Obama's truth squad in 2008? The 'truth squad' thing was set up by the Obama regime to respond to:
"respond quickly, forcefully, and aggressively when John McCain or his allies launch inaccurate claims or character attacks about Barack Obama, or when they distort Barack Obama's record or plans."
So if Bob McCulloch is such a 'racist' and evil guy, why did he work for Obama's truth squad? If McCulloch was such a racist, why would he support Obama so much in 2008? Maybe he supported Obama's white half or something.
Many of the Obama Missouri Truth Squad members have law enforcement powers, such as St. Louis County Circuit Attorney Bob McCulloch, St. Louis City Circuit Attorney Jennifer Joyce, and Jefferson County Sheriff Glenn Boyer.
Frankly, I'm a little surprised that this story about McCulloch and Obama hasn't completely been wiped by ABC.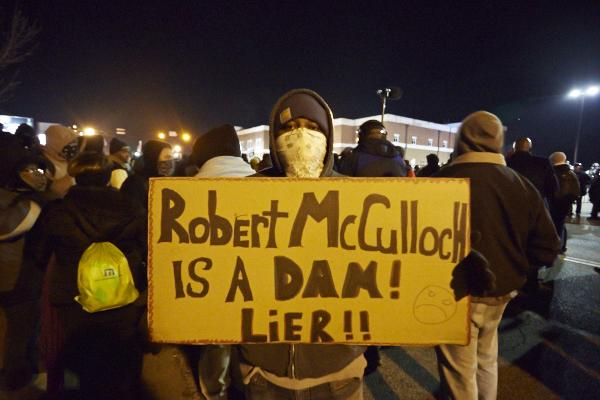 Bob McCulloch was a member of Obama's truth squad in 2008
All leftists are whining about how voter turnout was down this year, and that's why they got their asses kicked in the mid-term election. Problem for leftists is that facts are a stubborn thing. Voter turnout as actually up over 1010 levels in key states like North Carolina, Montana, Alaska, Arkansas, Louisiana, Colorado, Iowa and New Hampshire. In key governors races in states like Florida, Wisconsin and Maine, voter turnout was also higher than 2010 levels. But let's now confuse the poor progressive liberals with actual facts. Check out this tweet from a whiny ABC:
US voter turnout was down from 2010 in almost every state: http://t.co/JIVikr6G7i – @NateSilver538 pic.twitter.com/UE3AkRC5Yo

— ABC News (@ABC) November 8, 2014
Hey ABC and lefties, not all states had important elections. Also, propositions in each's states ballots drove turnout, and not every state that anything important worth voting for. The key states had higher voter turnout over 2010 and that's all that matters. Sorry ABC.
Take for instance California. Voter turnout was down 9.2% from 2010 levels. They had no senator up for re-election and everyone in the state knew Moonbeam Jerry Brown was going to win easily. What's the point of voting in California?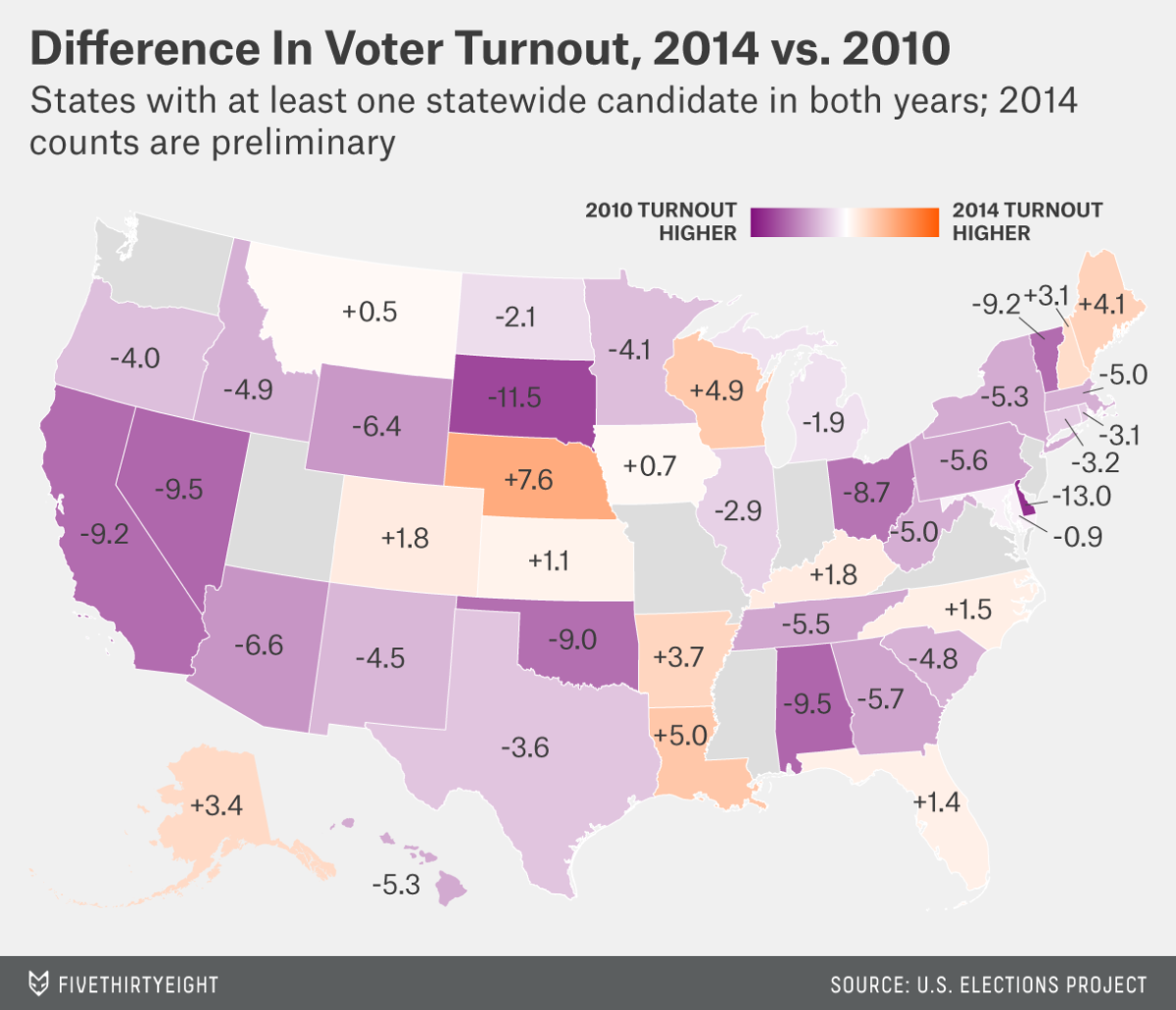 Voter turnout up in key Senate races over 2010
ABC DNC hack Donna Brazile is basically the equivalent of Fox News' Bob Beckel. Both ran failed Democrat campaigns in the '80s, both are obnoxious pigs, and both are corrupt. Donna Brazile think she's big shit because ABC pays her to recycle liberal extremist Democrat lies. But do you remember the real Donna Brazile? She's the one who was forced to resign from the 1988 Michael Dukakis campaign after she spread lies about George H.W. Bush having an affair?
Remember when Donna Brazile had to resign from Dukakis campaign over H.W. Bush adultery lies?
Donna Brazile is one of ABC an CNN's so called 'educated' progressive liberal-Democrat extremists. Today, on ABC she tried to talk tough on ISIS and the caliphate, yet admitted she doesn't even know what the hell caliphate means. What an idiot!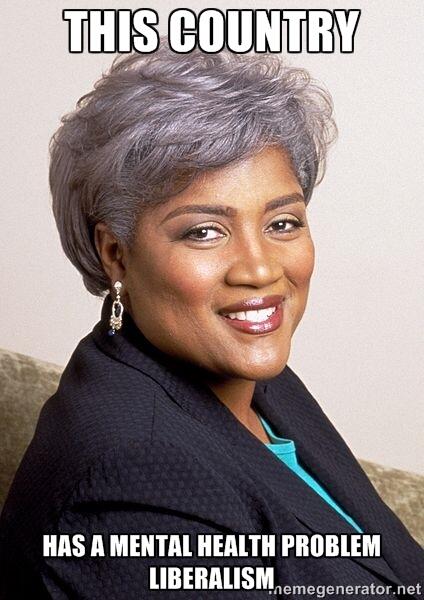 Dumb Donna Brazile doesn't know what caliphate means
Ah yes. Eric Holder. the same racist goon that while in college participated in 'armed' takeover of former Columbia U. ROTC office. Eric Holder also called this country a nation of cowards shortly after being hand picked by Valerie Jarrett, errr Obama to be Attorney. He got a softball interview on ABC today, and took time to whine about how Americans are racist if they disagree with Obama on policy. He even got a jab in at Sarah Palin.
Racist Eric Holder bashes Palin on ABC
ABC hack Martha Raddatz did her best to try and smear Rick Perry during an interview this morning discussing the southern border and Obama's human trafficking o spreading 300,000 diseased illegals into this country. Raddatz, a type leftist ABC hack used Obama talk points to try and dismiss Rick Perry's claims that either Obama is simply incompetent on the border situation, or he is in on the human trafficking, which is more likely. Watch the video below from Newsbusters as Raddatz gets snotty with Perry over the border and Obama:
ABC hack Martha Raddatz nasty interview with Rick Perry uses Obama talking points
Dude! Obama's foreign policy decisions are now been affected by soccer games. Yes, Obama actually admitted to ABC's top Obama cheerleader and former Clinton hack George Stephanopoulos that with all the stuff happening in the middle east, with the American Marine held in Mexico, and with the Taliban holding three more Americans (other than Bergdahl), that Obama's number one priority is soccer.
"We had elements — which I won't detail — of our foreign policy that have been shaped around the World Cup," Obama told Stephanopoulos. "Phone calls meetings initiatives we had to think about."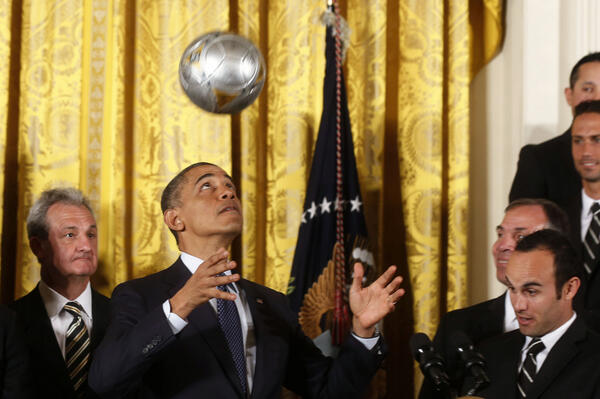 Obama: World Cup schedule affecting foreign policy moves
Eric Holder decided to pay FBI rat Al Sharpton a visit and speak at the race hustling NAN event organized by Sharpton rat. Holder lost it during his speech, throwing a tantrum, and playing the race card. ABC deems Eric Holder as 'fed-up.' I got a little news for you hacks at ABC. We, the American people are fed up with Eric Holder, his lawless regime, and constant race hustling. Get it ABC hacks? Message to Eric Holder. If you've got it so bad, and America is so racist, then resign and move to a more 'friendly' country. Cuba comes to mind.
Eric Holder throws another tantrum at Al Sharpton's NAN event
ABC Family channel caved to militant Muslims and killed a child's cartoon called Alice in Arabia.