First it was the loon toons state of Vermont to fire Jonathan Gruber. Now, it's North Carolina.
"Gruber's comment that it was all right to mislead people to get to a desired outcome that he favored led our auditors to determine he had at least the appearance of an independence impairment," Bill Holmes, a spokesman for the auditor's office, told WRAL.
Gruber had been hired to study the use of a managed care program in North Carolina, spending about five months analyzing data from the Department of Health and Human Services.
Run coward! David Webb on the Sean Hannity show confronted Jonathan Gruber who has called American dumb, racist and other choice names when talking about ObamaCARE. David Webb tried to get Gruber to apologize, or at least say something about his insulting comments about the American voter. Like a typical arrogant progressive liberal Democrat, Gruber refused to talk other than to say 'no comment'. Gruber basically pulled a Lois Lerner when confronted as you can see in the following video: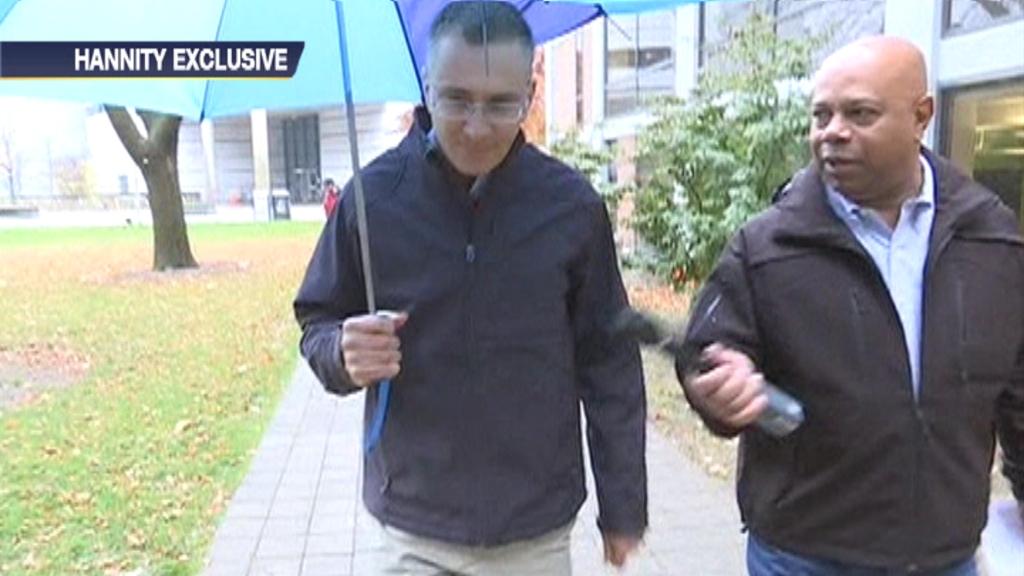 Watch coward Jon Gruber run away from David Webb on Hannity (Video)
So Obama called Jonathan Gruber 'just some policy guy' in Austlria when asked about him? That's funny, because in 2006 Obama bragged about how stole ideas from Gruber 'liberally'. Watch the following video: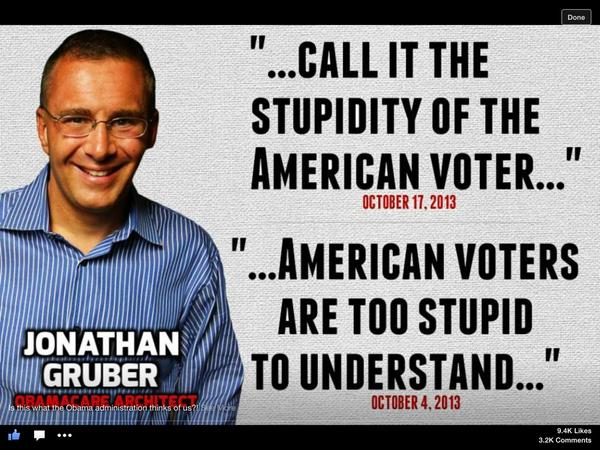 Obama 2006: I Have Stolen Ideas from Jon Gruber Liberally VIDEO
"You have already drawn some of the brightest minds from academia and policy circles, many of them I have stolen ideas from liberally, people ranging from Robert Gordon to Austan Goolsbee; Jon Gruber; my dear friend, Jim Wallis here, who can inform what are sometimes dry policy debates with a prophetic voice."
The hits just keep on coming from ObamaCARE architech Jonathan Gruber. In the sixth video, posted on Hot Air, Gruber brags about mislabeling Obama at the Pioneer Institute's public policy research in 2011. This video was always out there. Why the hell didn't Romney use this against Obama in 2012? This a long video. To skip the boring, irrelevant stuff, skip ahead in this video to 30 minutes and 38 seconds.
Jonathan Gruber Video #6 – mislabeling Obamacare
Even now, with the sixth video on Gruber released, the media continues to ignore the story. You can read why here
I think we know why the media is ignoring the Jonthan Gruber/Stupid Americans/ObamaCARE story. They are corrupt liberal enterprises. But it goes deeper than just simple liberal media bias. Look at some of those in high positions at the networks who are ignoring the story:
Let's start with ABC. Ben Sherwood, currently the president of ABC News will become the president of ABC-Disney when 2015 starts. Sherwood's sister is married to Obama special adviser Elizabeth Sherwood-Randall. Of course you also have Claire Shipman, the wife of former Obama press secretary Jay Carney. You also had Ian Cameron who is married to Susan Rice (Benghazi liar) who was executive producer of ABC's 'This Week'. He left that position earlier in the year.
CBS: David Rhodes is the president of CBS. He just so happens to be the brother of top Obama adviser Ben Rhodes. It's highly possible that Sharyl Attkisson was forced out at CBS because of the Rhodes brothers positions. Why else would Attkisson be blocked on reporting important stories and then eventually let go? Do the math.
NBC: there are currently no known Obama regime hacks married or related to anybody at NBC. But NBC is such a disaster with MSNBC and Al Sharpton, they are practically family anyway.
CNN: Virginia Moseley is the president of CNN and is married to Hillary Clinton's Deputy Secretary Tom Nides. That's probably why CNN is often called the Clinton News Network.
Why is the media ignoring the Jonathan Gruber story?
In this third video of Jonathan Gruber insulting the American voter, In this video, Gruber brags about the 'exploitation of the lack of economic understanding of the American voter':
"It's a very clever, you know, basic exploitation of the lack of economic understanding of the American voter," Gruber said at the Honors Colloquium 2012 at the University of Rhode Island. "Who are the people going to blame? The evil insurance companies."
Third video of Jonathan Gruber insulting Americans
The insults start from Gruber at about 29 minutes and 26 seconds into this video.
This video was posted in November of 2012. I don't know when it was actually recorded. If Gruber's insult was earlier than November 2012, it would have made a great campaign ad for Mitt Romney.
Read more
Megyn Kelly on the Kelly File revealed a second video of ObamaCARE architect Jonathan Gruber calling the American voters stupid. This video is from October of last year and could have also been used in the mid-term elections this, but for whatever reason wasn't. Here is the second video of Jonathan Gruber calling the American voter stupid. If you want to skip ahead in this video of Megyn Kelly's earlier discussion, right the Gruber's remarks, go to 2 minutes and 22 seconds.
Second Jonathan Gruber video calling Americans stupid
Jonathan Gruber has your prototypical progressive liberal view point of the American people. The people are too stupid to know what's best for them, so they must be controlled the way liberals want them to be. Getting people, especially minorities attached to welfare for instances drives down the motivation to better their lives.
A one size fits all health care system does NOT work for 50 states. RomenyCARE might work in Massachuttes, but what makes these arrogant progressive liberals think that if it works in Massachuttes, it will work in Idaho?
Read more
Hello 'dumb' Americans. ObamaCARE architect Jonathan Gruber thinks Americans are stupid. The same Americans who ended up paying Jonathan Gruber almost $400,000 in tax payer funded money to design ObamaCARE and lie about it! Of course, Gruber's admitting that Obama and the designers purposely lied to Americans about ObamaCARE because they are too stupid to know what's best for them isn't getting any media coverage. Well, outside of Fox News that is. According to a story on ABC from 2010, Gruber was given a $95,000 contract than another a $297,600 contract with HHS for providing "Technical Assistance in Evaluating Options for National Healthcare Reform."
Gruber has been a go-to voice for reporters seeking a respected academic view on health care reform costs — and as far as I can tell, few if any knew that in March he was awarded a $95,000 contract with HHS and in June a $297,600 contract with HHS for providing "Technical Assistance in Evaluating Options for National Healthcare Reform."
It would be nice if the media would follow up on this story. Aside from a softball interview with little watched Ronan Farrow earlier today, no other media outside of Fox News is touching this story.
Hey dumb Americans, you paid Jonathan Gruber $400,000 for ObamaCARE
So Lorreta Lynch is friends with Eric Holder's wife Sharon Malone. The pick of Lynch to replace Holder makes even more sense now that Sharon Malone's BFF Loretta Lynch will act as sort of a 'gate-keeper' to prevent any investigation into the corruption of Eric Holder. He needs all the help he can get with the IRS targeting scandal, Fast and Furious gun running, the targeting of AP and Fox News reporters, etc. There's just so much to investigate about Eric Holder. But Loretta Lynch will make sure that never happens. Of course, anyone who dares critcize Loretta Lynch for not following up on the Holder corruption will instantly be called racist and sexist. So she's the perfect pick to replace Holder.
Loretta Lynch friends with Holder's wife
Texas Democrat Ron Reynolds was convicted on six misdemeanor charges, including 'ambulance chasing'. The corrupt Democrat Reynolds, who is a Texas state rep. still managed to win his election this past week with over 66% of the vote. Says a lot about the people this corrupt Democrat represents.
Democrat Ron Reynolds convicted on six charges