Rick Perry wasn't the only one who fired up the crowd at CPAC 2014 today. Rand Paul also smashed progressives, Obama, the NSA and spying on Americans. Probably the most appropriate line from Paul's speech was: 'I believe what you do on your cell phone is none of their damn business.' Of course, Rand Paul is damn right about this. Regardless if you have nothing to hide, the government has no business monitoring your calls and texts. Below is a video of Rand Paul's CPAC 2014 speech. It's about 19 minutes.
Rand Paul speech at CPAC 2014 slames Obama-NSA spying VIDEO
Pay to play? Dr. Joseph Piacentile, who was convicted in 1991 for Medicare fraud and tax evasion donated $100,000 to Obama's Organizing for America PAC. NBC claims that Joseph Piacentile is seeking a presidential pardon from Obama. In order to grease Obama's palms, I guess the doctor felt the $100,000 would be enough. The money was allegedly accepted by OFA consultant Samantha Maltzman. This woman is no stranger to fund raising for corrupt Democrats. She's also been a fundraiser for Cory Booker and Hillary Clinton.
According to emails obtained by NBC News, Maltzman had collected the check as part of an effort to raise money from big donors for an OFA dinner with President Barack Obama on Tuesday. She also took steps that could have kept the doctor's cash secret, returning the check and asking Piacentile to write a new one to another political nonprofit that she described as "one of our partner organizations." That group — unlike OFA — does not have a policy of voluntarily disclosing its donors.
OFA officials said Maltzman, who previously had worked as a fundraiser for New Jersey Sen. Cory Booker and Hillary Clinton during her 2008 presidential campaign, had been dismissed. One OFA official, who spoke with NBC News on condition of anonymity, said Maltzman "consistently did great work but made a mistake in this instance."
On Feb. 6, with the pardon application pending, Piacentile wrote a $100,000 check to Organizing for Action. The emails obtained by NBC News show that Piacentile's check was written in response to an OFA fundraising appeal for the dinner and reception with Obama. "It is $25,000 per person to attend and for those that raise or write $100K, there will be small clutch with the president," Maltzman wrote in a Jan. 15 email to another New Jersey doctor and potential donor, Munr Kazmir, who was an acquaintance of Piacentile and invited him to be his guest at the dinner.
Wow look, Obama lied again! It's almost a broken record at this point. Obama blocked his aides from cooperating with the investigation on IRS probe, even after promising that he would allow those same aides to cooperate with the investigation.
You knew it was coming right? Darrell Issa is getting attacked by left wing loons for being 'racist' because he cut Elijah Cummings mic during his meltdown protecting Obama and the corrupt IRS.
Daryl Issa ' s performance today proves he's not on a political witch hunt it exposes him for the racist bigot he is!

— Larry seffinger (@sexfinger) March 5, 2014
@dougamos11 @wkamaubell @alexwagner @DarrellIssa have you seen issa do that to a white man? no. looks like issa is indeed racist

— Anonymously Me (@allabouthonesty) March 5, 2014
Fucking Issa is a racist clown…he is worthless and needs to be investigated for abuse of his committee.

— GStuedler (@GStuedler) March 5, 2014
If Darrell Issa is racist, then what does that make Elijah Cummings? I'll tell you. Cummings is a black racist, trying to protect Obama (and probably his own) ass on the IRS corrupt scandal. The only reason why race hustlers like Cummings get so animated during these testimonies is because Obama is half black.
Remember a couple of weeks ago when accused Catherine Engelbrecht of being racist with True the Vote?
Rep. Elijah Cummings accuses Catherine Engelbrecht and True the Vote of racism
Elijah Cummings meltdown at today's IRS targeting hearing was such an Oscar award winning performance that Cummings may be in the running for the award next year. Elijah Cummings, a black race hustler who is desperate to shield the Obama regime for their corruption and involvement in the IRS targeting scandal had a meltdown today after Lois Lerner pleaded the fifth again (after Issa claimed she wouldn't on Fox News Sunday.)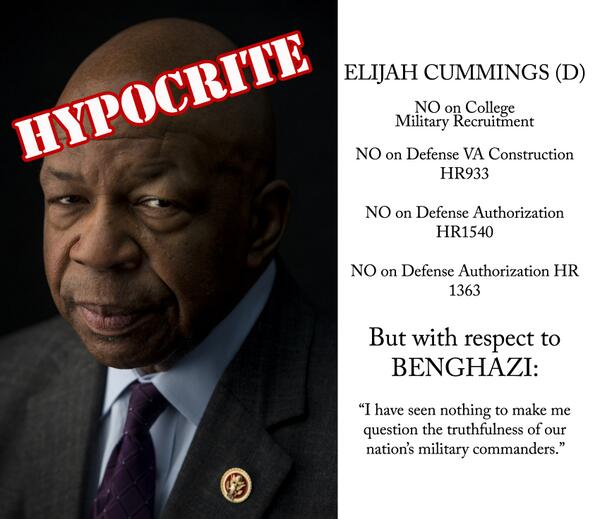 Elijah Cummings meltdown at IRS targeting hearing
Cummings also tries to pull similar stuff during the Benghazi hearings, although never quite going off the rails like today. It should be obvious now that the Cummings and the Democrats are hiding something for Obama. Maybe it's time to give Lerner immunity and get those answers.
Joe Wilson was given a resolution of disapproval by the Nancy Pelosi controlled House after he yelled 'YOU LIE' during an Obama State of the Union address. Elijah Cummings deserves at least this, and probably contempt of Congress for his pitiful actions.
Read more
Lois Lerner is still playing games over her IRS testimony on targeting conservative tea party groups at thee IRS. All of a sudden now, Lerner is asking for a one week delay in her testimony because 'she fears for her life.' Sorry bitch, not buying it.
Lois Lerner fears for her life if she testifies openly before the House Oversight and Government Reform Committee Wednesday, according to her attorney.

House oversight committee chairman Rep. Darrell Issa announced Sunday that Lerner will testify at Wednesday's hearing, but Lerner's attorney Bill Taylor said that Lerner will seek to continue invoking her Fifth Amendment rights and will also seek a one-week delay of her testimony.

Oversight members are reportedly open to granting Lerner a one-week delay if she petitions for one in person at Wednesday's hearing. The delay would allow Lerner's lawyers to continue negotiating for immunity, which they have been doing since at least September.

"I advised the staff that calling Ms. Lerner knowing that she will assert her rights was not only improper but dangerous. Ms. Lerner has been the subject of numerous threats on her life and safety, and on the life and safety of her family. I left with the staff recent evidence of those threats," said Taylor in a letter to Issa.
Read more: http://dailycaller.com/2014/03/04/lois-lerner-fears-for-her-life-if-she-testifies-at-wednesdays-oversight-hearing/#ixzz2v2NUuyhg
Lois Lerner suddenly had a change of heart and will testify this coming week in front of Congress about her IRS Tea Party targeting scandal. Did she get some sort of deal or something? Or is Lerner's testify going to be a big nothing=burger where she claims 'I don't know' to every question asked? Darrell Issa on Fox News Sunday said they didn't offer Lerner any immunity.
Lois Lerner will testify before congress about IRS targeting Tea Party
Lois Lerner's attorney William Taylor said that the crooked Lois Lerner will return and testify under her conditions. Taylor is demanding either immunity for Lerner or a requirement by a federal court to testify.
Obama's EPA is the latest department to join in on the regime's lawlessness. The Obama EPA reportedly blocked a probe a senior officials who cost tax payers nearly a million dollars. Somehow, this latest corrupt scandal in the Obama regime isn't newsworthy though.
Read more
Darrell Issa is recalling corrupt IRS official Lois Lerner to a March 5th hearing. Issa is demanding she resume her testimony. Of course, this is all for nothing as she will just invoke her fifth amendment rights again because she wouldn't dare sell Obama down the river.
Ex Chicago Democrat Rep Mel Reynolds has been deported from Zimbabwe. The pervert Democrat Reynolds was arrested in Zimbabwe last week. Mel Reynolds was allegedly in Zimbabwe illegally since December, making pornographic films in hotel rooms with at least 10 models. Mel Reynolds has quite a history. After being elected to the Illinois State Senate, he was indicted for sexual assault and criminal sexual abuse for engaging in a sexual relationship with a 16-year-old campaign volunteer that began during the 1992 campaign.
Mel Reynolds – Chicago Democrat arrested then deported from Zimbabwe
The AP/CBS report on Reynolds deportation from Zimbabwe fails to mention that he is a Democrat. Had Reynolds been a Republican, it would be plastered all over CBS and the AP.
Battleground Texas Field Organizer Jennifer Longoria was caught on video by James O'Keefe's group Project Veritas violating Texas law. According to the Secretary of State of Texas, it is unlawful to transcribe, copy, or otherwise record a telephone number furnished on a voter registration application. Battleground Texas and Jennifer Longoria don't seem to care though. Battleground Texas is pushing for Wendy Davis to be elected as Texas Governor this coming Fall. Battleground Texas is the new Acorn.
Democrat group Battleground Texas illegally copying voter data