George Soros isn't the only progressive liberal Democrat sugar daddy. There's also Tom Steyer, a San Francisco based environmental wacko who forced Obama to put off a decision on budiling the Keystone Pipeline until after the mid-term election. Like Soros, Steyer pulls the strings of Democrats, promising $100 million in campaign funds for this year's mid-terms. One of Steyer's whores is Colorado Democrat Senator Mark UDall who already faces a tough re-election campaign because of his and other Democrats stance against gun rights in Colorado.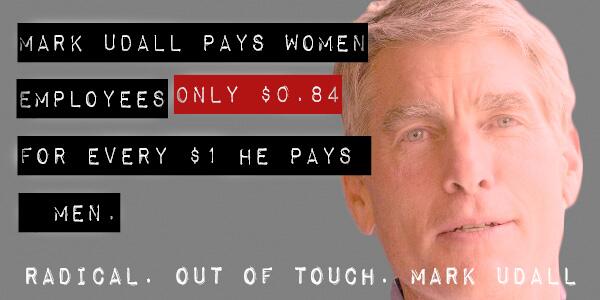 Democrat Mark Udall takes Tom Steyer money who opposes Keystone Pipeline
Hey remember progressive liberal Democrat hero Bob Filner? He was a 10 term California Congress and Democrat Mayor of San Diego before he was forced to resign because so many woman came out and accused filthy Filner of sexual harassment. Well, Marilyn McGaughy is the latest to file a sexual harassment lawsuit again Filner. Marilyn McGaughy accuses filthy Filner of kissing, massaged and groping her at a an elementary school. Marilyn McGaughy is an anti-domestic violence activist.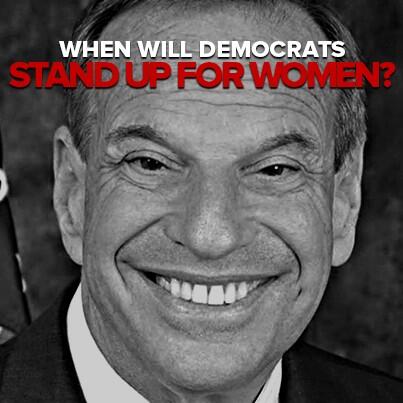 Marilyn McGaughy files sexual harassment lawsuit against Democrat Bob Filner
The Democrat party is, and will always be the party of KKK and racial hatred. It was Democrat president Lyndon Johnson who was famous for saying 'we'll have those niggers voting Democrat for the next 200 years.' Planned Parenthood founder Margaret Sanger was famous for saying that we needed Planned Parenthood to 'exterminate the Negro population.' It's also no coincidence that KKK Grand Dragon was Senate Majority Leader for the Democrats during the '70 sand '80s.
Democrats: The KKK party – hate without end
We should hire three or four colored ministers, preferably with social-service backgrounds, and with engaging personalities. The most successful educational approach to the Negro is through a religious appeal. We don't want the word to go out that we want to exterminate the Negro population, and the minister is the man who can straighten out that idea if it ever occurs to any of their more rebellious members.
So when last week's Jewish Center shootings invovled a white supremacist Demcrat who yelled Heil Hitler after he killed three Christians, it's no surprise that the media and progressive liberals tried to spin how this guy wasn't a Democrat, when in fact he was. Donald Douglas of American Power blog has a great summart of Democrat hatred and the KKK:
Read more
The Sharia Democrats are at it again. Dr. Lynette Bryant is a Democrat candidate for governor of Arkansas. Yet the Democrats barred her from speaking at a local political dinner, forcing Bryant to file a complaint against the state Democrats.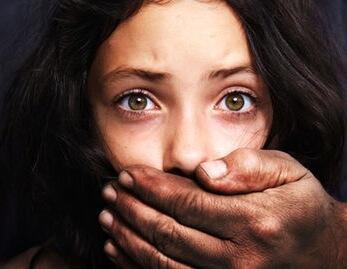 War on women! Arkansas Democrats bar Dr. Lynette Bryant from speaking at upcoming political dinner
Nazi Frazier Glenn Miller finally found a Jew he liked. Max Blumenthal, a far left progressive liberal Democrat hack who previously worked for Media Matters was a favorite of Miller. Max Blumenthal is notorious self loathing Jew who constantly bashes conservatives and Israel. Kind of like Nazi boy Frazier Glenn Miller. I guess those Southern Democrats aren't really all that different than the 21st century Democrats of today.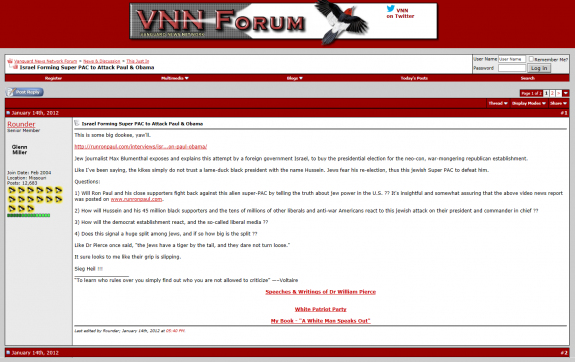 Nazi Frazier Glenn Miller found inspiration from progressive Democrat Max Blumenthal
Not only has Harry Reid's BLM thug kept over 100 over Cliven Bundy's cattle, but the cattle that was returned is reported to have been mistreated and damaged. So where the f*ck are you Peta? Carol Bundy, wife of Cliven says the animals were abused, mistreated and not given water after the BLM thugs rounded up the cattle.
Feds mistreated, damaged cattle during Bundy Ranch standoff
Carol Bundy, Cliven Bundy's wife, showed Fox News a calf named Liberty that she said was born during the standoff. The calf's mother fled in fear and can't be found, she said. As a result, Liberty won't grow as strong as the others and will likely end up as a pet.

Carol Bundy was critical of the BLM and "contract cowboys" who rounded up the cattle, saying the animals were mistreated.

"They were abused. They didn't have water. They had very little feed," she told Fox News. "Cattle prods were laying everywhere.
Harry Reid really wants that land for his son Rory and that Chinese solar company. Gotta burn up the birds in the desert anyway you can, even if that means mistreating cattle.
Read more
Harry Reid's obsession with the Koch Brothers is rather entertaining if you watch the Oscar worthy performance Reid performs on the Senate floor every day whining about those 'evil' Koch Brother. Funny though, Harry Reid took Koch Brothers money in 2004 without any problems though according to Open Secrets. In fact, many other of the same progressive liberal hypocritical Democrats whining about the Koch Brothers have taken money for them, including Obama and Joe Biden.
Harry Reid took Koch Brothers money in 2004
Also taking thousands of Koch money include: Dianne Feinstein, Carl Levin, Mary Landrieu, Mark Pryor, Chuck Schumer and others took Koch money. In this election cycle alone, Delaware Marxist Chris Coons has already taken Koch money. House Democrats including John Barrow, Jim Matheson, Colin Peterson, Sanford Bishop and nut job Eric Swalwell has taken money this cycle. Even the Butcher of Benghazi Hillary Clinton took Koch Brothers money. Of course, when the media obbesses over the Koch Brothers, you never hear about these inconvenient details.
The names of the three people killed by neo-Nazi Glenn Miller during a shooting at the Overland Park Jewish Community Center have been released, and all three of them have something in common. Dr. William Lewis Corporon and his 14 year old grandson, Reat Griffin Underwood were killed by 'allegedly' by Miller at Overland Park Jewish Community Center. Another woman, 53-year-old woman, Terri LaManno, of Kansas City was killed at the parking lot of Village Shalom. What do the three victims have in common? They were all Christian. Glenn Miller's target was elderly Jewish people, and he yelled Heil Hitler as cops dragged him away.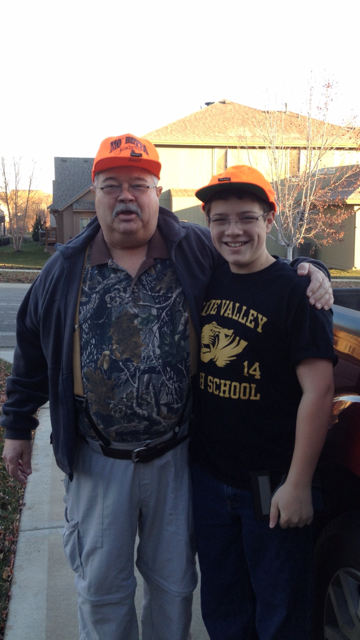 Dr. William Lewis Corporon and his 14 year old grandson, Reat Griffin Underwood – Image credit 41 Action News
And more leaks about #jccshooting suspect Frazier Glenn Miller come home to roost. Now we know his last run for political office was as a Democrat in 2006. It seems that Miller also was concerned about 'Israel trying To Buy Election For Neo-Con Republican Establishment.' Who does that sound like? The 21st century Democrat party, that's who. That explains why Miller ran as a Democrat for Congress in 2006. If you want to head over the White Supremacist site Vanguard News Network, you can read some of 'Rounder's' posts about those evil neo-con loving Jews in the message boards.
#Jccshooting suspect claimed Israel trying To Buy Election For Neo-Con Republican Establishment
Frazier Glenn Miller most recently ran for Congress as a Democrat in 2006. Even left wing kook site Daily Kos worried about Frazier Glenn Miller running for Congress in Missouri (as a Democrat). Leftists who immediately came out and blamed conservatives, the tea party and NRA after news about Frazier Glenn Miller shooting spread have been spinning all night to try and explain why it doesn't matter Glenn Miller ran as a Democrat instead of a Republican. If you want a great example of leftist hypocrisy, check out American Power blog. There is a leftist troll spinning that Glenn Miller only ran as a Democrat because of 'the lack of a primary challenger in his 2006 Missouri bid.' This is of course a load of bullshit. The Democrats did run a primary challenger against Glenn Miller in 2006. His name was Jack Truman and got over 30% of the vote in the general election against Roy Blunt.
Even Daily Kos worried about Democrat Frazier Glenn Miller in 2006
Dumb Rhode Island Democrat Sen. Sheldon Whitehouse was asked by Chris Wallace of Fox News Sunday what he likes about ObamaCARE. WHitehouse's response? Uh, umm umm for a response. The dumb Democrat WhiteHouse couldn't even name one thing he liked about ObamaCARE right on the spot until he 'came to him' about the donut hole when pressed on a simple question. Watch the following video and laugh:
Rhode Island Democrat Sen. Sheldon Whitehouse but can't remember what he likes about ObamaCARE (Video)
"Over and over again," he went on, "people still on the uh… healthcare benefits from uh, the… um… um… of the seniors who are… uh… getting their, uh, pharmaceuticals paid for… I'm struggling for the, for the — donut hole! There we go!"
Sheldon Whitehouse is of course one of those left wing environmental loons who yells global warming when the tempertures drop in the winter and rise in the summer. Maybe he was just too busy thinking about those polar ice caps or something.
Read more
Dingy Harry Reid behind BLM land grab and cattle stealing of Bundy Ranch in order to benefit a big donor. Allegedly, Harry Reid is trying accommodate top donor Harvey Whittemore. The whole excuse of about the tortoise is a big crack of sh*t. Why am I not surprised. Lets hear some more from Dingy Reid about those evil Koch brothers or something! Slimy POS.
Harry Reid behind BLM land grab of Bundy Ranch