If leftists didn't have double standards, they wouldn't have any at all. Just as expected, leftists are bitching and moaning and crying racism over Darrell Issa cutting the mic to pathetic tantrum throwing Elijah Cummings at the Lois Lerner hearing. Yet, the same leftists don't seem to want to mention, or remember 2008 when pig nose Henry Waxman threatened to physically remove Darrell Issa from a hearing because Waxman wasn't folowing regular order. Remember this video? in 2008, Democrats held the majority in the House.
Remember when Henry Waxman threatened to kick Issa out of hearing room in 2008?
Elijah Cummings meltdown at today's IRS targeting hearing was such an Oscar award winning performance that Cummings may be in the running for the award next year. Elijah Cummings, a black race hustler who is desperate to shield the Obama regime for their corruption and involvement in the IRS targeting scandal had a meltdown today after Lois Lerner pleaded the fifth again (after Issa claimed she wouldn't on Fox News Sunday.)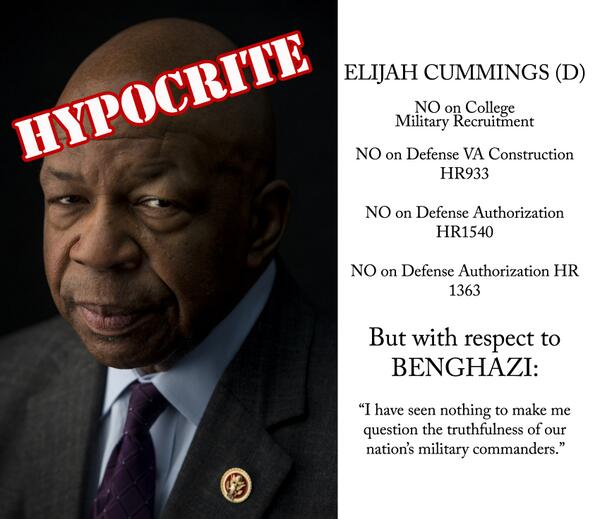 Elijah Cummings meltdown at IRS targeting hearing
Cummings also tries to pull similar stuff during the Benghazi hearings, although never quite going off the rails like today. It should be obvious now that the Cummings and the Democrats are hiding something for Obama. Maybe it's time to give Lerner immunity and get those answers.
Joe Wilson was given a resolution of disapproval by the Nancy Pelosi controlled House after he yelled 'YOU LIE' during an Obama State of the Union address. Elijah Cummings deserves at least this, and probably contempt of Congress for his pitiful actions.
Read more
Lolita Grayson is the wife of neanderthal progressive liberal Democrat Alan Grayson. Lolita Grayson claims that Alan shoved her during a domestic incident and has been granted a protective order. Alan Grayson, the nut job leftist Democrat has denied he shoved his wife. Just another fine example of the true war on women Democrats are conducting every day. Don't expect this to get any press coverage though. Since nutty Alan Grayson is a Democrat, he will get a free pass if it turns out he really did shove his wife. Remember, Alan Grayson is the same nut job who claimed Republicans want you to 'die quickly' without ObamaCARE and compared the tea party to the KKK even though the KKK is a Democrat legacy.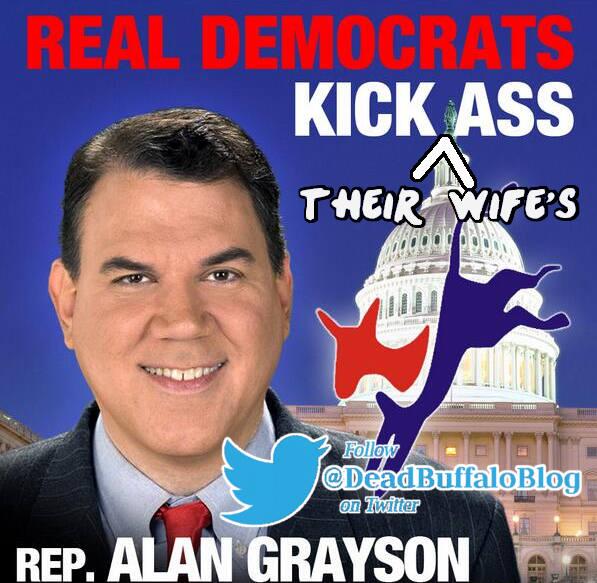 Lolita Grayson wife of Alan Grayson claims he shoved her during domestic incident
Communist Party USA isn't hiding their allegiance to the progressive liberal Democrat party anymore. In June they will hold a convention in Chicago (how appropriate.) Their goal? To push the progressive liberal Democrat agenda of tax the rich and 'transformation' of America.
The Communist Party USA is returning to the site of its founding, and President Obama's home town, for its annual convention in June. At the Chicago convention they will lay out their party platform, which, by golly, is the same as the Democrat Party platform. What an odd coincidence.

The vision of the party is also in line with the Occupy Movement, which was supported by Senate Majority Leader Harry Reid, House Minority Leader Nancy Pelosi, and even President Barack Obama. In their announcement, they make a proclamation against 'the 1%."

'The people of the United States face enormous challenges today, 'We live in a capitalist system where 99% of people struggle every day to survive and the richest 1% control the vast majority of wealth and power. Capitalism cannot meet the needs of the vast majority.' The notice goes on to take aim at three common adversaries of the working class including 'the rich and powerful', 'the extreme right', and 'the Republican Party'.

The group echoes Obama's determination to fundamentally transform America as they lay out the plan for the conference and the issues that they will address. (Read More)

At least the members of the CPUSA don't lie about their devotion to Marxist ideology the way the Democrats do.
Alex Sink is a far left progressive liberal Democrat running in Florida's special election to fill the seat vacated by the now deceased Bill Young. The Republican, David Jolly is leading Sink, by just a few points in the polls. The election is scheduled for March 11th. Last night, during a televised debate, Alex Sink revealed the typical progressive liberal Democrat mantra. Alex Sink thinks Immigrants are nothing more than landscapers and hotel maids, so that's why we need amnesty for them. Here is Alex Sink in her own words:
Progressive Democrat Alex Sink thinks immigrants are just landscapers and hotel maids
Ex Chicago Democrat Rep Mel Reynolds has been deported from Zimbabwe. The pervert Democrat Reynolds was arrested in Zimbabwe last week. Mel Reynolds was allegedly in Zimbabwe illegally since December, making pornographic films in hotel rooms with at least 10 models. Mel Reynolds has quite a history. After being elected to the Illinois State Senate, he was indicted for sexual assault and criminal sexual abuse for engaging in a sexual relationship with a 16-year-old campaign volunteer that began during the 1992 campaign.
Mel Reynolds – Chicago Democrat arrested then deported from Zimbabwe
The AP/CBS report on Reynolds deportation from Zimbabwe fails to mention that he is a Democrat. Had Reynolds been a Republican, it would be plastered all over CBS and the AP.
John Dingell, the far left extremist progressive liberal Democrat from Michigan has been in Congress since 1955. Dingell is the poster boy for term limits. Now, Dingell is finally retiring, after 59 years in Congress. Think about it. 56 years this dingelberry has been collecting a tax payer funded pay check to try and bring the country down.
John Dingell – the poster boy for term limits finally retires
Term limits are needed so that dirtbags like Dingell can't make it a career out of screwing the American people as politicians.
Read more
Just how slimy are the Democrats? Gary Peters, the Democrat running for the Michigan Senate seat vacated by Carl Levin (retirement) is trying to silence Julie Boonstra, a woman with leukemia who appeared in anti-ObamaCARE ads. Peter's desperation goes beyond trying to silence Julie Boonstra. He's even threatening lawsuits against TV stations that run the anti-ObamaCARE ad with Boonstra in it. This is how slimy and desperate Democrats are.
The follow is a video of the ad that has lead Gary Peters threatening Boonstra and television stations:
Democrat Gary Peters trying to silence Julie Boonstra (woman with leukemia)
New Jersey Democrats are looking to pass their own version of New York's 'SAFE Act' and limit ammo magazines to 10 bullets. With fatboy Chris Christie on the ropes because of the faux scandal known as 'BridgeGate' they know they have him in a corner. Christie even before all his scandals was into gun control and cowering to Democrats so he could make the appearance of being a 'moderate.' As is typical for slimy progressive liberal Democrats, and the media enablers, they are using the Sandy Hook massacre as an excuse to pass this stupid law limiting ammo. This is another reason why important things never get done like balancing budgets, tax code reform and fighting crime. They are too busy on their high horses passing stupid laws that only harm the people and do nothing more than stroke their egos.
Read more
Communist Mayor of New York City Bill de Blasio is not only into speeding and rolling stops, but he's into jaywalking too, just days after he lectured New Yorkers on traffic safety. Comrade De Blasio was elected by the idiots of New York City and won with over 70% of the vote last November. Now, he's becoming the laughing stock of American mayors. He makes former L.A. Mayor Antonio Villaraigosa seem like a good mayor. Like a typical progressive, comrade de Blasio refused to speak to journalists who asked him about his hypocrisy and 'transparency.' New Yorkers deserve the obnoxious Communist Bill de Blasio and he deserve obnoxious New Yorkers.
Battleground Texas Field Organizer Jennifer Longoria was caught on video by James O'Keefe's group Project Veritas violating Texas law. According to the Secretary of State of Texas, it is unlawful to transcribe, copy, or otherwise record a telephone number furnished on a voter registration application. Battleground Texas and Jennifer Longoria don't seem to care though. Battleground Texas is pushing for Wendy Davis to be elected as Texas Governor this coming Fall. Battleground Texas is the new Acorn.
Democrat group Battleground Texas illegally copying voter data
Mel Reynolds a former Illinois Democrat State senator from district 2 was arrested in Zimbabwe. Mel Reynolds was allegedly in Zimbabwe illegally since December, making pornographic films in hotel rooms with at least 10 models. But that's not the only thing Reynolds is famous for. Mel Reynolds has quite a record in America too. After being elected to the Illinois State Senate, he was indicted for sexual assault and criminal sexual abuse for engaging in a sexual relationship with a 16-year-old campaign volunteer that began during the 1992 campaign.
Mel Reynolds – Chicago Democrat arrested in Zimbabwe for porn
In 1995, Mel Reynolds was convicted on 12 counts of sexual assault, obstruction of justice and solicitation of child pornography.
His resignation lead to the another jailbird beginning his political career, Jesse Jackson Jr who won the seat after Reynolds resigned.