North Carolina Democrat Rep. Deb McManus has resigned from her state House seat after being arrested on embezzlement charges. McManus represented District 54, which covers Chatham County and part of Lee County.
Democrat Rep. Deb McManus resigns after embezzlement arrest – Image credit WRAL
It's come to this. Democrat Rep. Emanuel Cleaver is now comparing his one year old granddaughter and her 'glitches' to ObamaCARE. If you didn't think Democrats could get any more stupid, they just did. Democrat Cleaver actually said that on Thanksgiving his one year old granddaughter had 'glitches' like ObamaCARE, but they didn't 'throw her away.' This was on MSNBC too.
"I've got a one-year-old granddaughter, and on Thanksgiving Day she had a number of little glitches, but we're not ready to throw her away because of a glitch here and there."
Democrat Emanuel Cleaver – My granddaughter has glitches like ObamaCARE but we don't throw her away
Get ready for Road Usage Fee Pilot Program or H.R. 3638. This bill, filed by Oregon extremist progressive liberal Democrat Earl Blumenauer will double the gas tax, resulting in taxing you every mile you drive in America.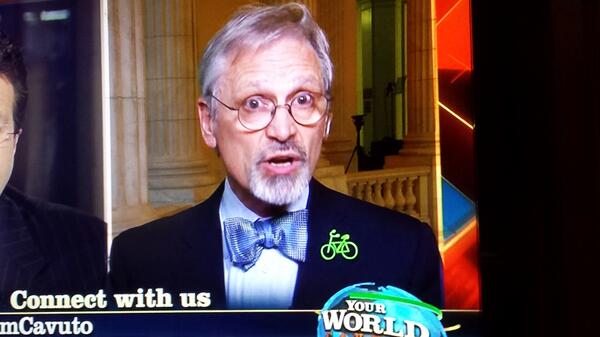 Oregon Democrat Earl Blumenauer files bill to tax Americans every mile driven
Missouri Democrat state Rep. Steve Webb has been charged with a felony for stealing campaign funds and using it himself. Steve Webb, who represents Florissant has stepped down from office. Webb, who was the leader of the Missouri black caucus denies the charges against him:
It's all your fault America! Keith Ellison, the Muslim Congressman from Minnesota put words into Obama's mouth about the whole 'if you like your plan' lie and blamed Americans for 'misunderstanding' what Obama actually said.
Keith Ellison puts words in Obama's mouth, blames Americans for ObamaCARE 'misunderstanding'
Newsbusters:
But on today's "This Week with George Stephanopoulos," Ellison wound up putting words in the president's mouth that quite literally added insult to injury. Ellison first falsely claimed that Pres. Obama had said "if you like your decent insurance, your insurance that works, then you can keep it." Obama of course never said any such thing. Moreover, according to Ellison, by his apology Obama meant "if you misunderstood what I was trying to say, I'm sorry." So the fault lies not with Obama for having blatantly misled the American people. No, it's those ignorant Americans—too dense to dig the real meaning of the great man's words—who are to blame.
I had to ask, who was Paul Walker when the news broke about his death in Southern California from a car crash? Turns out Paul Walker was an actor in the Fast And The Furious franchise. Leftists on Twitter are mourning Paul Walker's death by wishing it was Scott Walker (Republican governor of Wisconsin) instead. Keep it classy progressive liberal leftists.
why couldn't it be scott walker. #wisconsintweets

— Erin Gloria Ryan (@morninggloria) December 1, 2013
This leftist pig is Erin Gloria Ryan. She's a 'news' editor for Jezebel and ex writer for VH1′s Best Week Ever. She even doubled down on her disgusting Tweet:
Wow conservatives are about as bad at jokes making fun of celebrity worship as they are at governing wisconsin.

— Erin Gloria Ryan (@morninggloria) December 1, 2013
Seems Gloria Ryan deleted her tweet, here's a sceenshot of it: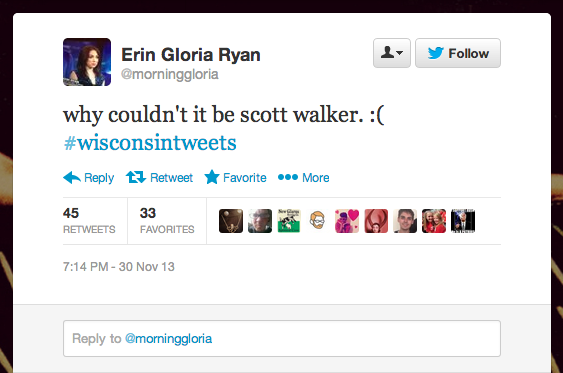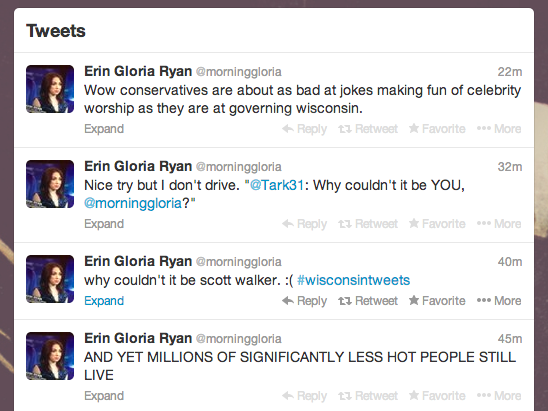 Jezebel editor on Paul Walker's death (deleted Tweet): why couldn't it have been scott walker?
Dang why It had to be Paul walker and not Scott walker lol

— That Nigga Ralph (@mfkn_lowkey) December 1, 2013
RIP Paul Walker. If only asshole governor Scott Walker had been in the car instead of you.

— nathan timmel (@nathantimmel) December 1, 2013
"@mfkn_lowkey: Dang why It had to be Paul walker and not Scott walker lol"
If this country had a real leader for POTUS he (or she) would stand up and fix the problem known as ObamaCARE. Alas, we have Barack Hussein Obama as POTUS and his merry gang of Marxists, so they don't do leadership or take responsibility. Herman Cain via Director Blue reminds of us seven lies by seven Democrats on ObamaCARE. LIke your health care before ObamaCARE? You could keep it, period according to these seven liars:
1. Max Baucus
"If you like what you have you can keep it."

2. Harry Reid
"Those fortunate enough to have health insurance will be able to keep theirs."

3. Mark Begich
"If you have an insurance program or a health care policy you want of (inaudible), you keep it"

4. Mary Landrieu
"While those individuals who like the coverage they already have will be able to keep their current plan. This is a very accurate description of this bill before us – The Patient Protection and Affordability Act. It's very accurate."

5. Hillary Clinton
"You keep the insurance you have if you like it."

6. Nancy Pelosi
"If you like what you have and you want to keep it, you have the choice to do that."

7. Barack Obama
"If you like your health care plan you will be able to keep your health care plan. Period."
Liars. Every single one of them. The only conceivable defense against this charge would be for them to say th
People in Colorado love their guns. They found out the hard way that the Marxist Democrats that they elected to office don't love them as much as they do. That's lead to two Democrat state senators being recalled and a third being forced to resign in order to keep the Democrats in the state Senate majority.
Despite passing some of the strongest gun control restrictions in the nation, Colorado is reporting strong gun sales this Black Friday. According to Ryan Parker of the Denver Post, 3,382 criminal background checks for firearm sales were processed by the end of the day.
Colorado Democrat State Senator Evie Hudak, who was next up in the Colorado recall elections has decided to resign from office in order to avoid an embarrassing recall election. With Hudak's seat vacant, the Colorado State Senate now stands at 17 Republicans and 17 Democrats. Back in the summer, two Democrats were recalled over their support of Hickenlooper's gun grabbing. The Senate began it's session with 20 Democrats and 15 Republicans. Quite a swing.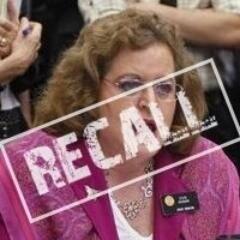 Colorado gun grabbing Democrat Evie Hudak resigns to avoid recall election
State Sen. Evie Hudak has decided to resign rather than risk facing a recall election that, should she lose, would flip control of the senate to Republicans, FOX31 Denver was first to report Wednesday.

Later Wednesday morning, Hudak made her resignation letter public.

"In the interest of preserving the progress made over the last year, I am resigning as State Senator for District 19, effective immediately," Hudak wrote.

Hudak, D-Westminster, could have been the third Democratic lawmaker to face a recall over a package of gun control bills they helped pass earlier this year.
Al Franken isn't only a lousy comedian. He's also a terrorist and hostage taker if you use the Democrat definition. Back in October, after Republicans caved on defunding ObamaCARE, they simply wanted to delay the ObamaCARE mandate until the website was fixed. All the progressive liberal Democrat scum and their enablers in the media called the GOP hostage takers and terrorists.
Al Franken – Hostage Taker-Terrorist wants to delay ObamaCARE mandate
One of the filthy hypocritical Democrats to vote on the nuclear option today was Louisiana porker Mary Landrieu. Funny thing about this extremist progressive liberal Democrat, is that Mary Landrieu was really against the so called 'nuclear option' for judicial nominees back in 2005 when Republicans held the majority in the Senate. Here's a statement still on her website from 2005: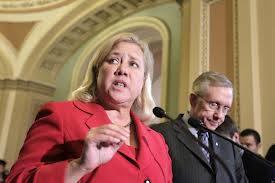 Mary Landrieu – against the nuclear option before she was for it
Harry Reid, like the rest of the filthy progressive liberal Democrats were against changing the filibuster before they were for it. Harry Reid magically removed the following from his website:
Harry Reid removes this from website: Responsible Republicans stand up against nuclear option – Image Credit: The Blaze