I'm of the mindset that other countries can take care of themselves and don't need our aid. But since Obama basically funds Hamas, the Central American traffickers, Hezbollah and other terrorist organizations around the world, I'm not going to get too worked up about helping out an ally like Israel. Obama and the Democrats hate Israel, and it was proven yet again as Harry Reid and the Senate blocked an aid bill that would help Israel deal with the tunneling Muslim terrorists killing their people and taking hostages. The aid package included $225 million for Israel's Iron Dome missile defense shield, but was blocked by Democrats anyway. I'll never understand why Jews support the Democratic party. They hate Jews.
Harry Reid, Democrats block aid to Israel
Instead of dealing with this, or even the border invasion, Dingy Harry Reid gaveled out the Senate for a five week Summer vacation.
Read more
The Democrat war on women continues, well at least the offspring. Carroll Cullerton, is the son of Illinois State Senate President (and Chicago Democrat) John Cullerton. The son was arrested n Memphis was arrested and charged with sexual battery for 'allegedly' fondling her breast of the victim. CBS Chicago waited until the last paragraph to mention that Cullerton is a Democrat. I suppose that's an improvement for CBS, as they usually don't mention the political party at when a scandal involves a Democrat.
Carroll Cullerton – son of Chicago Democrat arrested on sexual battery
Good news everyone! Killary Rotten Klinton in her Fox News interview with Bret Baier and Greta Van Sustern says that she would have traded the traitor for the same Taliban Five let out of Gitmo. Hillary Clinton even says that the Taliban Five poses no threat to American, if they stay in Qatar or something. Umm, ok Hillary.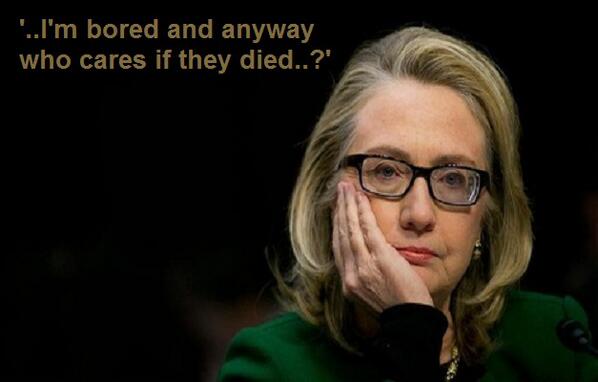 Hilllary: Taliban 5 no threat to US if they stay in Qatar
. @HillaryClinton thinks terrorists in Qatar are not a concern for Americans.

— Richard Grenell (@RichardGrenell) June 17, 2014
Hillary: 5 Taliban Commanders aren't a threat to the US if they're in Qatar. Um, what about after the travel ban? 1st really weak answer.

— Guy Benson (@guypbenson) June 17, 2014
.@HillaryClinton on Taliban swap: "Those 5 men" right now are "not a danger" if they are kept where they're supposed to be kept.

— Oliver Darcy (@oliverdarcy) June 17, 2014
Muslim terrorists are ready for Hillary!
I'll admit it. I'm biased, and I kind of liked Garcetti's F-Bomb during the Kings celebration of the Stanley Cup championship today after the parade in Staples Center. Some however, may not have liked it, and Garcetti's F-Bomb wasn't bleep out on Fox Sports West before he dropped it. Of course, if Garcetti were a Republican, there would be a national leftist media push to have him recalled or impeached for such 'harsh' language. Again, even though Garcetti is a socialist Democrat, I didn't mind the F-Bomb. Watching Communist New York City Mayor Bill De Blasio sing I Love L.A. on Kimmell later tonight will be that much sweeter. Watch the video below of Eric Garcetti dropping the F-Bomb.
Democrat LA Mayor Eric Garcetti drops F-Bomb at Kings celebration (Video)
21st century Democrats are a lot of things. They act like progressive fascists when you dare speak against them. They are also closet Communists who believe that the government should run everyone's life, and that if you disobey, you get punished. Ear wax eating Florida Democrat Joe Garcia finally admitted the truth. He and other Democrats love Communism.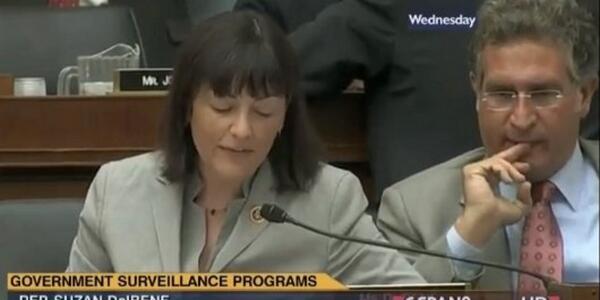 Democrat finally admits he loves Communism
Appropriately, Garcia was talking about amnesty when he bragged that Communism works. Joe Garcia should ask his parents how well Communism works. His parents fled Cuba during the Cuban Revolution and Fidel Castro's Communist regime took power.
Hey Joey. If you love Communism so much, why not trying living in your parents homelands for a while. See how well Communism works in your parent's native Cuba you dumbass.
Oh and Joey, go back to eating ear wax. You were much more 'professional' then.
The NBA has become nothing more than a glorified WWE. The refs are corrupt and one admitting to betting on games. Former NBA commissioner (and Democrat) David Stern blocked a trade of Chris Paul to the L.A. Lakers 'for basketball reasons' but let him go to Sterling's Clippers for a worse package for the New Orleans Pelicans (then the Hornets). Jerry Buss when he was alive generally donated to Republicans, while Sterling donates to Democrats. There may have politics at work in the voided Chris Paul to the Lakers trade too. Now, the NBA has imitated charges to terminated the ownership of the L.A. Clippers from Donald Sterling. It's time to grab some popcorn and watch the fun as Sterling has threatened to sue the NBA if they tried to strip him of ownership.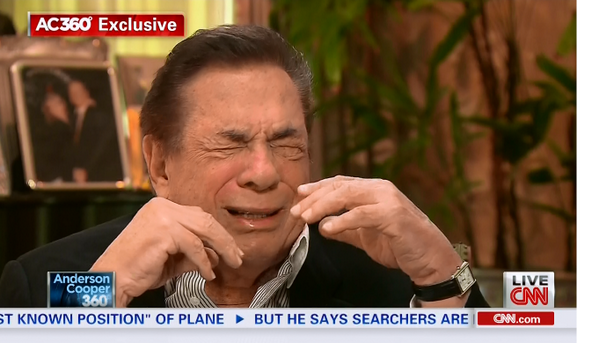 NBA initiates charge to terminate Democrat donor Donald Sterling as Clippers owner
Missouri Democrat Stacey Newman is a real piece of sh*t. On Twitter tonight, Stacey Newman mocked the victims and families of the victims in Benghazi, by tweeting:
Missouri Democrat Stacey Newman mocks Benghazi
Thinking of saying "Benghazi" while debating tomorrow on the House floor. Just to see what happens. #moleg

— Rep. Stacey Newman (@staceynewman) May 7, 2014
I guess this is what progressive liberal Democrats consider humor or something. I hope karma bites Stacey Newman in the ass soon.j The people who elected this bitch in Clayton, University City, Richmond Heights, Brentwood and Ladue should be very proud of themselves for sending this vile, nasty hag to the state House.
Democrat Adam Schiff is suddenly worried about wasting tax payer dollars! How cute! He doesn't want to waste any on a select committee for Benghazi, and calls it a 'colossal waste of time.'
Democrat scum Adam Schiff wants to boycott Benghazi investigation
Go ahead Adam, take your Democrats and boycott the select committee. Show America those what disgusting individuals you and progressive liberal Democrats really are.
Brett Hulsey, the KKK hood loving Democrat and gaped toothed goober who is running as a Democrat to replace Scott Walker has quite the past. Seems Hulsey was charged with inappropriate contact with a minor back in July of 2012. Brett Hulsey pleaded no contest to the charges in court and was given a slap on the wrist of a citation. The extend of Hulsey's alleged inappropriate contact with a minor isn't well documented, but this typically involves molestation, kid sex and things like that. Don't know how far Brett Hulsey's 'inappropriate contact' went though. Sure would like to know.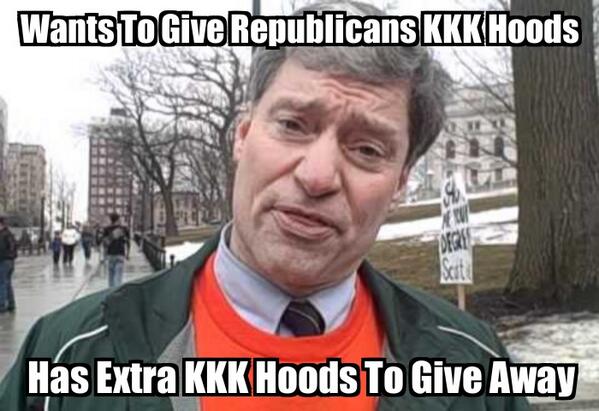 Brett Hulsey – KKK hood Democrat allegedly had inappropriate contact with a minor
Wisconsin Democrat Rep. from Madison Brett Hulsey is really trying to gin up his base. It's pretty obvious that Scott Walker will win re-election in Wisconsin for Governor this coming November, unless major happens to change that. So Walker's Democrat opponent Brett Hulsey needs to get his progressive liberal Democrat base fired up. Hulsey is passing out KKK hoods in the Milwaukee area in order to bring the Democrats back to their KKK/Robert Byrd days.
Wisconsin Democrat Brett Hulsey hands out KKK hoods to gin up his base
Ironic too that Milwaukee is about 85% Democrat, which make sense for wanting to get blacks back on the plantation.